The best areas to stay in Malta for both first-time and returning tourists are the neighborhoods of Valletta, Sliema and Gzira, St Julians Bay & Paceville, Mellieħa, St Paul's Bay, Gozo, and Marsaskala.
This blog post will give you some great information on where to stay in Malta for the first time, without a car, for family, couples, beaches, diving, nightlife, and sightseeing.
Despite its small size, the island nation of Malta has three inhabited islands, each very different from the other. The biggest island is Malta itself, and there are many contrasting places here that offer spectacular historical sights and beautiful beaches, and the lovely countryside characteristic of the Mediterranean islands.
The quieter islands of Gozo and tiny Comino are sleepy places where often the best thing to do is to just chill out in a shady spot and watch the world go by. These are perfect for a low-key restorative holiday. The island's best beaches are in the Northern part. The most popular beach resorts are St. Paul's Bay and nearby Mellieha.
The capital of Valletta is the best area for first-timers because it has a central location, with many tourist amenities. If you book a hotel in Malta's capital city, you will be located within walking distance to the famous tourist attractions, hotels, shops, restaurants, and wine bars.
If you are looking for the best place to stay in Malta without a car, look into Valletta neighborhood because it is the transport hub of island. With its well-connected public transportation by bus and ferry, you can easy travel to other parts of Malta.
It is important to remember that the nation of Malta has three inhabited Islands. Independent travelers and anybody seeking a relaxed and low-key Mediterranean island holiday would be well advised to consider staying in pretty Gozo. This smaller island has one main town and several satellite villages.
If you travel to Malta as a family, you might choose to stay in one of the areas with a good tourist infrastructure like St. Paul's Bay. These places have plenty of activities and feature larger hotels and resorts with plenty for the kids to do.
13 Best areas to stay in Malta for tourists
1. Valletta, where to stay in Malta for first time tousists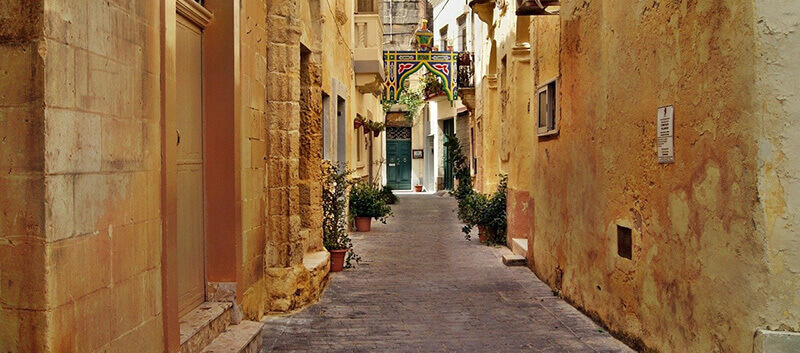 Located on the central east coast of the island, Valletta is Malta's capital city. Valletta is the best area in Malta for first-time due to its prime location. Booking a hotel here, you will be located within walking distance to the famous tourist attractions, with a vibrant nightlife, many shops, restaurants, wine bars, and well-connected public transportation.
Valletta is also a fabulous destination for history lovers since the entire town has been placed on the UNESCO World Heritage list due to the huge number of historical buildings with many dating back the 16th century that are located here.
The town lies in a stunning setting, occupying a long peninsula of land surrounded on three sides by the clear waters in the Mediterranean. It's built on peninsula between two deep harbours, Marsamxett Harbor and Grand Harbor. Valletta is named after its founder, Jean Parisot de la Valette, and was built by the Knights of the Order of St. John.
Since Valletta is Malta's transport hub, it is a convenient place to stay if you plan to travel around the island without a car. Valletta is also convenient if you arrive or leave Malta by ferry since this is a departure point for ferries to Sicily, Sliema, and The Three Cities. From here, you can take a ferry to Marsaxlokk, Blue Grotto, fortified Mdina, Dingli Cliffs, and Haġar Qim Temples.
The number of historical sites to see in Valletta is truly impressive. The relatively ordinary exterior of St John's Co-Cathedral belies the delights of the Baroque interior. This ancient church features fabulously ornate ceiling frescoes, marbled floors, and ancient tombs. The nearby Cathedral Museum contains works by Caravaggio.
Other notable buildings include the National Library, Fort St. Elmo, Grand Master's Palace – once the home of the Knights of Malta, and the Upper Barrakka Gardens, a great park with fabulous waterfront views across the Grand Harbour over to the Three Cities.
Valletta also has several museums, including The National Museum of Archaeology, The National War Museum, The Malta Experience, and the traditional art museum MUŻA. Spazju Kreattiv (the Centre for Creativity) in St James Cavalier is a cool place for art lovers.
The National Museum of Archaeology provides a wide range of artifacts that date back to the Neolithic period and Phoenician periods including Venus of Malta from Hagar Qim Temples, Bronze Age daggers from Tarxien Temples, Sleeping Lady from Hal Saflieni Hypogeum, as well as Horus and Anubis pendan.
To reach the capital city from its international aiport, you can take a private taxi or shared shuttle bus. There is also ferry come here from Sliema, Bormla, and Gozo island. The area is compact, you can easily explore by foot. If you travel with a car, it's a bit hard to find a parking!
The most popular accommodations in Valletta are boutique hotels, luxury 4-star to 5-star resorts, and rental apartments. There are not many accommodations for backpackers and budget travelers. Valletta can get crowded during summer (June–August), be sure to book well in advance in the high season!
Stay in Valletta if this is your first visit; you want lots of sightseeing; you travel without a car; you want great restaurants and wine bars; you love shopping; you want easy access by public transport.
Best places to stay in Valletta:
luxury ($$$): Grand Hotel Excelsior this 5-star seafront hotel is located outside the historic entrance to Valletta and within easy walk from Valletta's main bus terminus. It offers free private underground car parking, landscaped gardens, a private beach and a spa. Enjoy seafood and vegetarian food at three restaurants.
mid-range ($$): The Embassy Valletta Hotel This 4-star hotel is located near many tourist attractions such as University of Malta – Valletta Campus, Upper Barrakka Gardens and Manoel Theatre. There are beaches nearby including Tigné Point Beach, Rock Beach, and MedAsia Beach. There is 24-hour front desk, a shuttle service to Malta International Airport.
budget ($): Osborne Hotel This 3-star hotel is loacted in ancient fortifications of Valletta, within easy walk from Malta's St. John's Cavalier, Republic Street, and St. John's Co-Cathedral. There is rooftop swimming pool, lounge bar, the Blue Lounge, and a buffet restaurant.
FIND BEST HOTELS IN VALLETTA
See more:
2. Sliema, best place to stay in malta for couples
Located to the north of Valletta, Sliema is a modern town and popular tourist resort. It is more as a residential suburb of the main city than an independent town. It is Malta's commercial capital, and perhaps the most developed part of Malta.
Sliema along with Valletta are both best places to stay in Malta. Sliema is less touristy and quieter than Valletta. Sliema is closer to the nightlife hub of Malta in Paceville and St Julian's. So, if you are couples, or those are looking for a quieter, closer to nightlife hub, and a large selection of shops selling international goods, Sliema is your kind of place to stay.
Sliema area is located right beside the Mediterranean and has a lovely seaside promenade walkway full of little restaurants, bars, and cafes with fantastic sea views. It's is really a great place for a couple's getaway to Malta. There are small rocky beaches and Roman Baths here that are excellent for swimming.
Some of the interesting sights to see in Sliema are the Independence Garden, the small watchtower, Saint Julian's Tower, and the former British military barracks, Fort Tigné. The Point complex and The Plaza Shopping Centre nearby are good spots for shopping.
While Sliema has a scattering of budget accommodation, B&Bs, and apartments more exclusive and expensive, the majority of the hotels and resorts here cater to a mid-range higher-end budget. This is quite an affluent residential area, so you will also find some high-class restaurants and bars in this classy and sophisticated part of Malta.
Sliema has a ferry terminal that provides a convenient service across the harbor to Valletta, running every half hour during the daytime. You will reach the capital Valletta within 10 minutes by ferry. You can also easily visit attractions like Gozo island, Comino island, Mdina, Riviera Beach, Hal Saflieni Hypogeum and Tarxien Temples archeological sites by public transport.
Stay in Sliema if you want to stay close to the central shopping area of the island; you travel as a couple; you want a good range of tourist-friendly with fine and casual dining restaurants, bars, and facilities; you want to stay in a wealthy, largely residential area.
Best Places to stay in Malta in Sliema:
luxury ($$$): AX The Palace this 5-star hotel is beautiful place to stay in Malta for couples. Located within easy walk from Sliema's bus terminus and Valletta Ferry, it offers a car parking nearby, a rooftop spa with infinity pool overlooking the Mediterranean Sea. You can choose to book the room with Valletta and the harbour views.
mid-range ($$): 1926 Hotel & SPA Located close to the beachfront, Point Shopping Mall, and ferry terminal to Valletta, this 4-star hotel has rooms and suites with air conditioned, private bathroom. You can use the seasonal Beach Club with a beach, parasols and sun loungers and an outdoor infinity pool. This is a great location and facilities for couples.
budget ($): Azur Hotel by ST Hotels this 3-star hotel is located close to numerous of beaches such as Balluta Bay Beach, Rock Beach and Qui-Si-Sana Beach. It offers paid airport shuttle service to Malta international airport. There is an outdoor swimming pool, a private car parking, a tour desk, free wifi, and currency exchange for guests.
FIND BEST HOTELS IN SLIEMA
3. St Julian's Bay, where to stay in Malta for nightlife

St. Julian's or San Giljan is another suburb of Malta's central urban area surrounding the capital of Valletta. St Julians is slight to the north of Valletta, a former small fishing village, and it is a very tourist-oriented town. It is where you find Paceville, which is the center of nightlife and clubbing in Malta.
You can aslo see some of the most romantic bays in Malta including Spinola Bay, Balluta Bay, St. George's Bay, and Portomaso.
Other popular points of interest are the 98 meters Portomaso Tower, the tallest building in Malta, the Love Monument, and the 17th century Spinola Palace. If you visit in August, you will take part in the traditional summer Festa.
The Lapsi Church was originally built by the Knights of St John in circa 1560, while the modern church, St Julian's Parish Church has the views of Balluta bay, built in neo-gothic style, and is dedicated to Our Lady of Mount Carmel.
St Julians is also an excellent place to arrange trips, tours, and activities all over the island since there are plenty of travel agencies here. If you are looking for a place to stay with excellent tourist facilities, with lots of good dining, drinking, and entertainment, St. Julian's is a perfect choice.
St. Julian's is also the nightlife center of Malta and its night scene is popular with visitors and locals alike. Don't miss out on some of the best clubs, bars in the area such as Saddles, The Thirsty Barber, Native Bar, Havana 808, and Sky Club.
St Julian's lies on the coast just north of Valletta, and even though it doesn't boast the wealth of historical buildings of its larger neighbor, there are some beautiful views to be had along the waterfront promenade.
St. Julian's is one of Malta's best destinations in Malta for young adults. This east coast town always has lots going on because it is very well developed for tourism. It is a great place to book active and adventure activities, and St. Julien's is also an excellent jumping-off point to explore the rest of the island.
Here you will find many luxurious hotels, predominantly in the mid-range category, although there is a good choice at all price ranges. If you have a car, make sure the hotel offers private parking as public parking is limited here.
Stay in St Julian's Bay if you're looking for malta's best nightlife, you want plenty of tourist facilities, you want accommodation for all budgets, you are traveling as a group.
Best places to stay in St Julian's:
luxury ($$$): Hilton Malta This 5-star hotel is located on the seafront in Saint Julian's. It has spacious rooms with air-conditioned, a tea, coffee maker. You can choose to stay in a rooms that have ocean or Portomaso marina views. There are car parking, and two on-site restaurants: Oceana Restaurant and Blue Elephant that serves Thai food.
mid-range ($$): be.HOTEL Located in Baystreet Tourist Complex, easy walk from St George's Bay Beach, this 4-star hotel is surrouned by many pubs, bars and clubs, and the lively nightlife of Paceville. There are family rooms, private car parking, a family entertainment centre, a bowling alley in the complex.
budget ($): Holiday Inn Express – Malta, an IHG Hotel Set in St Julian's, this 3-star hotel is close to lively Paceville area and a short ride by taxi from Malta International Airport. All rooms come with air conditioning, a pillow menu, as well as a private bathroom has free toiletries and a hairdryer.
FIND BEST HOTELS IN ST. JULIAN'S
4. St. Paul's Bay, Qawra, Bugibba, where to stay in Malta for families
Buġibba, Qawra, and St. Paul's Bay are three coastal towns and resorts on the quieter Northern shore of Malta. Buġibba and Qawra are popular destinations among tourists, especially families with children and couples, and can be busy during the summer months. St Paul's Bay is quieter but still retains a little Maltese village feel.
You will find that this area is very well prepared for international tourists with a variety of accommodations to suit different budgets travelers, mostly budget-friendly hotels, guesthouses, and mid-range hotels, and no luxury resorts.
There are some excellent beaches in this area, and since the sea is relatively calm, this is a popular choice for swimmers. Ghadira Bay, one of Malta's most popular beaches, can easily be reached from St Paul's Bay. You can try a variety of watersports here as well as just soaking up the rays on the sands.
There is also a rocky and pebbly beach Qawra Point Beach (Ta Fra Ben Beach), an artificial sandy beach at Buġibba Perched Beach, and a few smaller spots for swimming in St. Paul's Bay such as Bajja tax-Xama, Bajja ta' l-Għażżenin, and Fekruna Beach.
This Northern part of the island has fewer historical sites, and the activities here are more beach holiday-oriented. One notable place of interest to visitors is Malta's National Aquarium, a diverting place to check out some aquatic life.
If you are fortunate enough to stay in St. Paul's Bay around the end of July, you may be able to experience the fun of a traditional Maltese village feast or festa. This annual event features parades, fireworks, and the whole area come alive at this time.
This area has a stunning promenade, and some of the attractions are Malta Classic Car Museum, the parish church- dedicated to St. Francis of Assisi, the 16th-century fort Wignacourt Tower, the Salina Nature Reserve, Għadira Nature Reserve, Għajn Tuffieħa, and Ras il-Qammieħ viewpoint.
Stay in St. Paul's Bay if you're traveling with family; good mid-range hotels accommodation, you want a beach resort close to some pretty beaches, you want good restaurants and bars.
Best places to stay in St. Paul's Bay, Bugibba, and Qawra:
mid-range ($$): Dolmen Hotel Malta Located in seafront at St. Paul's Bay, this 4-star hotel has a free private beach and 6 swimming pools. There is a casino, a diving school, family suites, on-site car parking. Enjoy Maltese and Mediterranean food at its on-site restaurants. If you book the all-inclusive option, it will include breakfast, lunch, afternoon tea and dinner.
mid-range ($$): Seaview Hotel – Adults Only 16 Plus this 4-star hotel is only 5-minute walk from Bugibba centre, Bugibba Perched Beach. It offers easy access to nearby rocky and sandy beaches. You can try Maltese and English specialities at its on-site restaurant.
budget ($): Mayflower Hotel Malta this 3-star hotel is set within easy walk from Malta National Aquarium and Bugibba Perched Beach. It has a car parking, family rooms, family rooms, free wifi, airport shuttle bus. All air conditioned rooms have wardrobe, a flat-screen TV, a kettle and a private bathroom.
FIND BEST HOTELS IN ST. PAUL'S BAY
5. Mellieha, where to stay in Malta for best beach vacation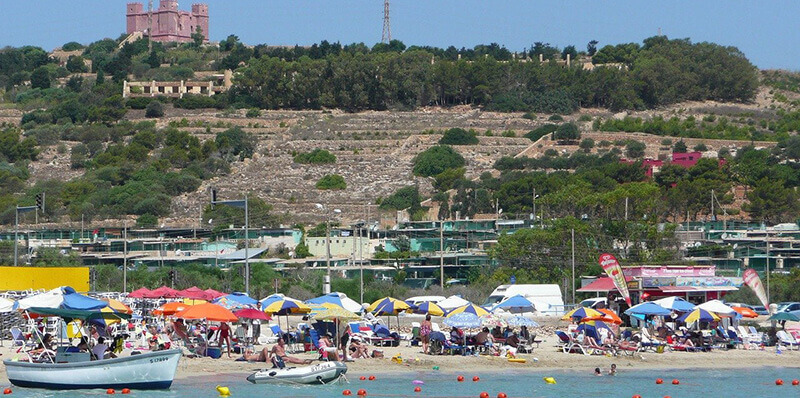 Located in the far north of the island on the eastern coast, Mellieha is the best place in Malta to stay if your main focus is on attractive sandy beaches. This small town is located on the top of the hill overlooking Malta's biggest sandy beach. It's just a 5-10 minutes drive to Ċirkewwa where you can catch ferries to Comino and Gozo island.
Mellieha Bay (also known as Ghadira Bay) features an attractive sandy beach and is the location of many mainly mid-range beachfront hotels and resorts, holiday complexes, and self-catering apartments. The Blue Flag beach is a great place for swimming for families with young children and plenty water sports like windsurfing, kite surfing, canoeing, water-skiing.
So many beaches are nearby and easy to reach like Golden Bay, Għajn Tuffieħa, Paradise Bay, Slugs Bay, Imġiebaħ Bay, Anchor Bay Dive Site, White Tower Bay, and Armier and Little Armier Bay.
Other than the beaches, there is little in the way of local sights here, but one point of interest is Popeye Village, which is located nearby. This place was the setting of the 1980 movie of the same name and is a great place to bring children.
Mellieha is home to the 19th-century Baroque building with traditional Maltese stone the Parish Church of Our Lady of Victory (Parish Square), In September you can take part in a lively festival the Mellieħa Feast (Il-Viorja) which features marching bands and fireworks honoring Our Lady of Victories.
Nearby, you can check out the five paintings by Giuseppe Calì, the famous Maltese artist; visit The War Shelter and the Tunnara Museum to learn more about the history and culture of the area.
The Red Tower (St. Agatha's Tower) is a watchtower along the coastline, was built in 1649. The small watchtower overlooking Armier Bay, White Tower was built in 1658; The Għajn Tuffieħa Tower was built in 1637, to protect Golden Bay and Għajn Tuffieħa (Riviera bay).
The Ghadira Natural Reserve and Il-Majjistral Nature and History Park are natural reserves in the area. For an interesting day trip, you can visit the Foresta 2000 Riserva & Koperattiva Rurali Manikata.
The town is relatively remote from Valletta and the rest of the island, although Malta has a good local bus service. If you plan to travel by bus, it is worth investigating this special 7-Day pass that allows unlimited travel on Maltese public transport.
Stay in Mellieha if you want to be close to Malta's best beaches: Golden Bay Beach, you want self-catering or apartment accommodation., you are traveling with family or as a group.
Best places to stay in Mellieha:
luxury ($$$): Radisson Blu Resort & Spa, Malta Golden Sands This 5-star hotel is located in Golden Bay, a short drive by car from the harbor where ferries depart for Gozo. It offers arge swimming pool, a lagoon pool and a children's pool. It also has a private beach and a spa.
mid-range ($$): Maritim Antonine Hotel & Spa This 4-star hill side is located in the hillside village of Mellieha. It has a rooftop pool, a spa, and 3 restaurants, and free private car parking on-site.
budget ($): Shamrock Flats THis guest house is located a 5-minute drive by car from Ghadira Bay sandy beach. You can choose to stay in a room that has the views of Mediterranean Sea and Mellieha Cathedral.
FIND BEST HOTELS IN MELLIEHA
6. Rabat and Mdina, ancient Malta historical site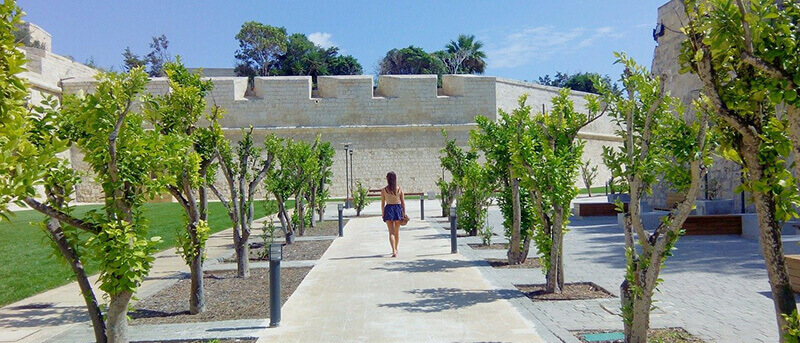 Rabat and Mdina are neighboring areas of central-western Malta with an outstanding collection of historical sites of interest.
Mdina, known as The Silent City, was the capital of Malta from prehistory until medieval times. This splendid walled city is a fabulous place to visit and wander around, exploring all of the ancient palazzos or small palaces.
This part of Malta has been inhabited since the 8th century BC, and Mdina was a significant Roman settlement. It was only in more recent times that the focus of Maltese power and administration moved eastwards to Valletta.
In Mdina, you also have the Natural History Museum, the Magisterial Palace, the Carmelite Church and Priory, St. Paul's Cathedral, and The Palazzo Falson Historic House Museum on Villegaignon Street.
Rabat (Victoria) is a nearby town just to the west of Medina. This town is also rich in history, and beautiful ancient buildings are to be found all over. In particular, for such a small town, there are a huge number of old churches, including the Church of The Nativity of the Virgin Mary, the Church of St. Catherine, The Church of The Blessed Virgin, and The Augustinian Priory.
Don't forget to check out the Citadel, The Grand Basilica, 18th century -Independence Square, Villa Rundle, Casa Bernard, The Folklore Museum, the Old Prison, the Wignacourt Museum, Saint Dominic's Convent, and Gozo Cathedral.
As long as you don't have claustrophobia, then you really should check out St. Paul's Catacombs. These are a labyrinth of underground corridors and rooms that were constructed as an ancient Roman underground cemetery complex.
And if you fancy a change from all of the historical sites, then you can visit Wildlife Park Malta, the island's only zoo.
The majority of the accommodation in this area is in small boutique guest houses and apartments, especially if you want to stay close to the historical center.
Stay in Rabat and Mdina if you want to explore ancient Maltese historical sites, you don't need to stay beside the sea, you like boutique-style hotels in ancient buildings, you want to sample the local way of life.
Best Places To Stay In Mdina And Rabat:
Luxury ($$$): The Xara Palace Relais & Chateaux Located in the medieval fortified city of Mdina, the old capital of Malta tihs 5-star hotel has 17 rooms and suites with antique furniture and paintings.
Mid-range ($$): Casa Azzopardi Guesthouse Located in Rabat, within a 10-minute walk of Roman Villa, this guest house offers rooms with a flat-screen TV, a private bathroom, bed linen and towels.
Budget ($): Point de vue This guest house is located in Rabat, 100 m from the town's medieval walls. It has a terrace and a children's playground and free public car parking.
FIND BEST HOTELS IN RABAT
7. Three Cities: Birgu, Cospicua, and Senglea

Birgu, Senglea, and Cospicua are known as The Three Cities. Birgu also has the name Vittoriosa, but since the Maltese still call it Birgu, you probably should as well. Senglea is also known as L'Isla, Cospicua is also known as Bormla.
Birgu has a lovely waterfront location that lies just a few hundred meters across the water across the Grand harbor from Valletta. This is a central and convenient place to stay, and Birgu is an excellent choice for people who want to explore all of the ancient sites of Valletta but stay a little bit outside the busy center.
Since Malta is so extraordinarily well endowed with historical buildings, you will find plenty of history to explore in Birgu. The most striking place to visit is Fort San Angelo, a grand white-walled fortification located right at the tip of a peninsula jutting into the Grand Harbor.
You also have the love Couvre Porte, The Parish Church, Notre Dame Gate, the Malta Maritime Museum, and the Inquisitor's Palace which is a museum now.
If you like boutique-style accommodation, you will be delighted with some of the places to stay in Birgu. There are a number of small apartment and guest house rentals scattered around the maze of central streets. Most of the accommodation here is in the mid-range category.
Stay in Three Cities: Birgu, Cospicua, and Senglea if you want to be a little way away from the busy center of Valletta, you like unique boutique-style accommodation in old buildings, you want a good selection of mid-range accommodation, you want to explore the cafes and eateries of the ancient city.
Best Places To Stay In Malta In The Three Cities:
luxury ($$$): Cugo Gran Macina Grand Harbour This 5-star hotel is located in Senglea, 5 minute by ferry from Valletta Waterfront. It has 24-hour front desk, outdoor pool, and airport transfers.
mid-range ($$): BOCO Boutique Hotel This guest house is set in Cospicua. It offers rooms with views of the Grand Harbour and Valletta.All guest rooms are equipped with air conditioning, flat-screen TV, a safe and a minibar.
budget ($): Nelli's B&B This hotel is located in Cospicua, close to Rock Beach and Tigné Point Beach. Each guest room has private bathroom with shower, a hairdryer, and free toiletries.
FIND BEST HOTELS IN BIRGU
8. Birżebbuġa, charming seaside town on the southeast soast
Birzebbuga is a seaside town at the southern tip of Malta. This place is popular with Maltese domestic tourists and is an interesting place to visit if you want to stay away from the more conventional international tourist spots.
There are fewer historic sites here than elsewhere on the island, although an exception is Ghar Dalam(Dark Cave), a local cave that was inhabited as far back as the Neolithic period. There are also the remains of a bronze-age settlement at nearby Borg in-Nadur. Ghar Hasan is also an interesting cave to visit.
Birzebugga has some nice guesthouses and smaller hotels. The nearest beach is the attractive but difficult to pronounce Wied Ix-Xaqqa, and then there is another good beach at the aptly named Pretty Bay. The area of coast that surrounds Birzebbuga is a quieter part of the island-dotted with a fishing village.
Stay in South-East Coast and Birżebbuġa if you want a holiday where the locals do, you want apartment-style accommodation, you want to avoid the tourist crowds, you want to explore the South Coast of Malta.
Best places to stay in Birżebbuġa:
FIND BEST HOTELS IN BIRZEBBUGA
9. Gozo Island, smaller & quieter than Malta, 20 minute ferry ride away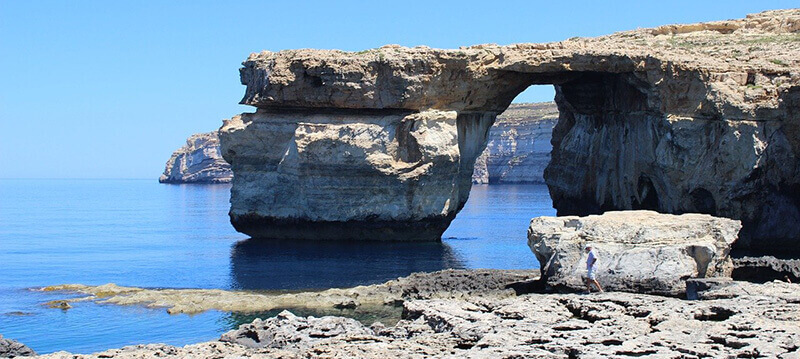 Gozo is the northernmost of the three inhabited Islands that comprise Malta. It's is a short ferry ride from Cirkewwa on the Island of Malta. If you want to sample a traditional laid-back Mediterranean island atmosphere, this island is a great choice.
You won't find as many historical destinations on Gozo as you do in Malta, but the Ggantija Temples are an intriguing exception. These large limestone structures date back to around 3,000 bc.
You also have plenty of cultural attractions such as Victoria – a fortified medieval city, the most important archaeological site of the Maltese Islands – Marsalforn, Grandiose Baroque churches, Inland Sea, The Citadel, and the Azure Window.
Gozo is very popular with backpackers, and the island's accommodation offers a good selection of budget guesthouses and hostels. Gozo is also popular with older travelers who appreciate its slow-paced and relaxed atmosphere.
The majority of Gozo's accommodation, restaurants, bars, and tourist facilities are located in Gozo Town in the island's center. But the island features many smaller villages and little beachside destinations such as Ramla Beach, Xlendi, and Mgarr.
Since Gozo is mostly a farming Island, you will find some excellent local produce on offer in the local shops and restaurants. Local delicacies include sun-dried tomatoes, olives, and of course the local wines. You can tour a local vineyard and sample their produce too, which is a fun way to spend an afternoon.
Stay in Gozo Island if you want a quieter destination than Malta; you want cheaper than in Malta; you are a couple seeking romantic tranquility; you're looking for the pretty countryside and lovely beaches; you plan to take boat tours.
Best places to stay on Gozo Island:
Luxury ($$$): Kempinski Hotel San Lawrenz Located in Gozo Island, in the small village of San Lawrenz, this 5-star hotel is 15 minute drive by car to Gozo Ferry Terminal for ferry to Malta. You can try Mediterranean, Italian cuisines, and drinks at L'Ortolan restaurant, Trattoria San Lawrenz, and Il-Baldakkin Lounge.
Mid-range ($$): DGolden Valley Boutique This B&B is set in Xagħra, near the Ramla Beach and Xwejni Bay Beach. It offers 4 outdoor swimming pools, a garden with a barbecue. All guest rooms have flat-screen TV, and a private bathroom.
Budget ($): Quaint Hotel Xewkija Located in Xewkija, this hotel has Full English/Irish breakfast option. The hotel can help with bike hire and car hire. All air-conditioned rooms has a desk, a kettle, a fridge, and a safety deposit box.
FIND BEST HOTELS IN GOZO ISLAND
10. Il-Gżira and Msida, budget-friendly area with local vibe
Some tourists prefer to make their base away from the main tourist areas to get a better flavor of the life of locals. If that is you, then Il-Griza and Msida, which are primarily residential districts, maybe just be what you are looking for?
They are working towns, middle-class overall, next to Sliema. If you want budget accommodation, this is a place to investigate in Malta. As a result, backpackers head here first with hostels readily available. The bus service links these towns to both Sliema/St. Julian's and the capital, Valletta.
Msida is a harbor town, the former old fishing village in East Malta. Today it's a lively student town with an increasing student population of the University of Malta and the Junior College.
Gzira is a modern town neighboring Msida, with things to do like Manuel Island, Gzira Harbour, Duck Village, Fort Manuel (was featured in Game of Thrones Tour), and take a ride at Luna Park if you visit the island between May and July.
There is a medieval fortress here while the marina is regularly filled with sailing boats cruising the immediate area and the Mediterranean as a whole. The church overlooking the harbor makes a beautiful photograph.
Stay in Il-Gzira and Msida if You are looking for budget accommodation, Observing the lives of locals is important to you, You want to be close to a marina.
Best places to stay in Msida:
budget ($): Corner Townhouse 1Km from University Located in a quiet residential area, but close to the capital city Valletta, University of Malta, the shopping areas of Sliema and St. Julians, and Balluta Bay Beach. It provides a shared lounge, a garden, and air-conditioned accommodation with a patio and free WiFi.
budget ($): Black Gold Private Room This bed & breakfast is set in Msida, 2.8km from Valletta and St Julian's; also close to the University of Malta, Valletta Waterfront, The Point Shopping Mall, Manuel Dimech Street, and National Museum of Archaeology.
FIND BEST HOTELS IN MSIDA
11. Marsaskala, where to stay in Malta on a budget

While Marsaskala still has a working fishing fleet, tourism has changed it from just a small fishing village. The boats head out from the harbor early in the morning and their catch is sold from the quayside on their return. Fish is recommended when it comes to dinnertime.
Its location on two bays, Marsaskala and St. Thomas result in two promenades to enjoy. Accommodation is simple and clean, more rooms to let and guest houses than hotels. The result is that it is popular with backpackers and those looking for budget accommodation in general.
There are three nightclubs as well as popular bars and restaurants so visitors and the local population of around 15,000 are not short of night-time options. By day, there is the fortress of the Knights of St. John to admire as the main landmark.
Marsaskala is also home to some towers. The eighteen-meter high St Thomas Tower was built by Grand Master Wignacourt for guarding the bay and storing weapons. Mamo Tower was privately built in 1657 by the Mamo family. Tal-Buttar Tower is also privately owned, a national monument contains a watermill and the well-known De Redin Tower at Zonqor point.
Zonqor Battery is set on the southern end of St Thomas Bay while Briconet Redoubt, marvelously preserved near Marsaskala's parish church and used as a police station.
Other attractions are San Gaetan Chapel, St Anthony Chapel, and The Three Crosses monument, which was built in 1615 to indicate the confines between Żabbar and Żejtun.
Marsaskala is very well-connect with the capital Valletta with daily buses and direct buses to Malta International Airport within 30 minutes.
Stay in Marsaskala if you want a quiet seaside holiday on the east coast of Malta; Simple accommodation is all you need, you are a budget travelers; You want to enjoy fresh fish from the Mediterranean.
Best places to stay in Marsaskala:
budget ($): TJ Boutique This guest house is set within a short stroll from Wara l-Jerma Bay Beach and St. Thomas Bay Beach; it features air conditioning rooms with a TV, a kettle, a fridge, a private bathroom, and free wifi. Also close to Fort Rinella, Tarxien Temples, Barrakka Lift, and University of Malta – Valletta Campus.
budget ($): Sunrise Creek This budget apartment is located in St. Anne Street, Marsaskala. It has free car parking on site, air-conditioned rooms with a balcony, and free wifi. All units come with kitchen with a fridge and an oven, wardrobe, and private bathroom.
budget ($): Cerviola Hotel This 3-star guest house offers a seasonal rooftop pool, a sun terrace, a bar, and air-conditioned rooms. it's 15km from St Julian's, and 13km from Valletta.
FIND BEST HOTELS IN MARSASKALA
12. Marsaxlokk, charming traditional Maltese fishing village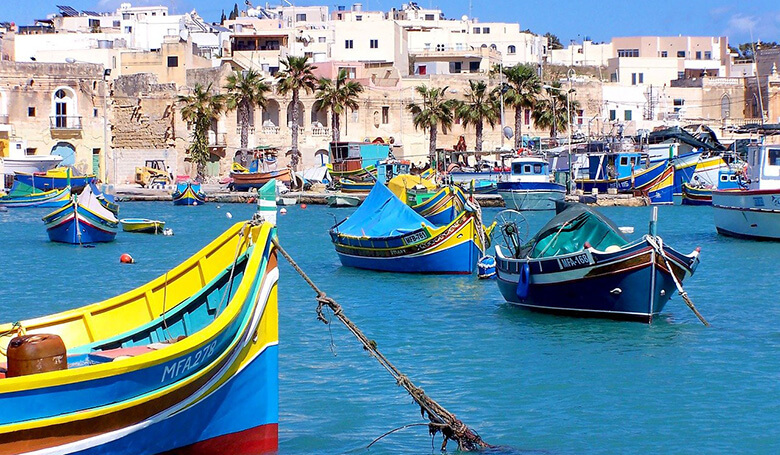 Marsaxlokk on the south coast of Malta still retains the charm of a traditional Maltese fishing village. This is very much authentic Malta even today although it does attract tourists. Fishing remains more important to the local economy although tourists do add to the demand for the catch.
There are two markets each week while the seafood restaurants attract day-trippers as well as those living or staying in Marsaxlokk. Walk along the seafront and enjoy the colours, some provided by the fishing fleet.
You will not find quality hotels in Marsaxlokk but there are rooms and guest houses for accommodation so budget travellers are attracted. They find a natural environment worth exploring with St. Peter's Pool and the Blue Lagoon in Curries both worth visiting.
Marsaxlokk is the perfect place to visit for quiet time away from the hustle and bustle of busy towns. You have attractions like the 1897 Marsaxlokk church is dedicated to the Madonna of Pompeii. If you visit the village in May, August, and October, you will take part in the annual religious celebration of the village.
Fort St Lucian was built in 1610, to protect Marsaxlokk Bay against Turkish attacks in order of the Order of Saint John. Other attractions are Xrobb l-Għaġin Nature Park, Marsaxlokk markets, Fort Tas-Silġ, and Marsaxlokk Harbour.
Stay in Marsaxlokk if You are a budget traveler; you want to stay in a traditional fishing village; You enjoy good seafood.
Best places to stay in Marsaxlokk:
mid-range ($$): South Wind Guesthouse this guest house is set in Marsaxlokk, close to Il-Ballut Reserve Beach and Qrajten Beach. It offers a paid airport shuttle service to Malta International airport and continental breakfast.
budget ($): Fisherman's Cove Guesthouse this is a Bed and breakfast, located near Il-Ballut Reserve Beach, Qrajten Beach and St George's Bay Beach. It offers both continental and buffet breakfast, as well as all the unit has a balcony.
budget ($): Dun Gorg Guest House Located in Marsaxlokk, this guest house offers guest rooms with a private bathroom and shower, air conditioning, a flat-screen TV and a fridge.
FIND BEST HOTELS IN MARSAXLOKK
13. Comino Island, Blue Lagoon, popular day trip from Malta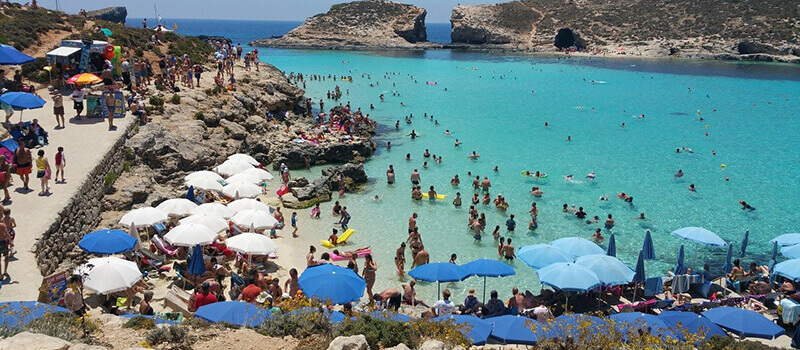 If even Gozo is too busy for you, then you may find what you're looking for on a tiny, almost uninhabited, Comino island. It is a popular destination for hiking and camping.
The island only has one place to stay, the appropriately named Camino Hotel, which is a decent mid-range establishment. Outside of the tourist season, the island has a permanent population in the single figures.
Most tourists visit the island on day trips, and a large area of Comino is a designated nature reserve. Perhaps the most visited tourist spot on the island is a beautiful lagoon on the island's northwest coast, almost entirely encircled by rocky cliffs. This natural swimming pool is known as Blue Lagoon; it is a stunning sight and a lovely place to spend some time.
To get to Blue Lagoon, there is a 15-minute ferry ride from Mgarr on the island of Gozo, and a 30-minute ferry ride from the port of Marfa or Cirkewwa on Malta island.
Camino Island has one Dive center at the hotel. There are several excellent diving and snorkeling spots not far offshore. The waters off Comino are especially clear, and there are several beaches, including Blue Lagoon Beach, Santa Maria Bay, and Crystal Lagoon.
And tiny Comino has an even smaller uninhabited neighbor called Cominotto. This attractive island lies off the West Coast of Comino and has an attractive sandy beach.
See more: Frequently Asked Questions about Best Places to Stay in Malta
Check out my virtual tour of the best places to stay in Malta in this video:
See More:
This guide should have given you all of the information you need to plan where to stay in Malta and find the best areas to stay in this lovely island. All you need to do now is pick a time and destination that best suits your requirements and start planning your trip. Have a great stay!