Where to Stay in Lyon: TOP 8 Best Areas
Where you stay in Lyon can make or break your experience there. So before you book your trip to this amazing destination, read on for the best areas to stay in Lyon!
Lyon is the 3rd largest city and the second-largest urban area in all of France. With a history dating back to the Roman era, it is a destination that has history and culture on offer in abundance, making it an ideal destination for all kinds of visitors.
See Also: When is the Best Time to Visit France
Before we begin, I want to give you a few tips and some information about the city. These will be issues that you may or may not have considered that could easily make or break your trip.
For instance, anyone who is planning to spend a large portion of their trip relaxing in bars and cafes or browsing through shops will be best suited to stay in La Presqu'lle, as that is where the greatest density of them is.
In a similar vein, if culinary is your focus but you are looking for something a little higher class and more exclusive, I would suggest you perhaps consider Brotteaux, as that is the region known for being the home of some of the city's finest restaurants.
If history is the focus of your trip, the obvious choice would be Vieux-Lyon. As the old town of the city, it has an incredible number of historical attractions to be discovered.
That said, there are other locations that have plenty of their own history to offer as well. For example, Fourviere is home to a collection of Roman ruins unmatched by anything in the city, while La Croix Rousse offers a unique insight into the long and storied history of silk merchants in the city.
You may even have something less specific in mind. Perhaps you are simply travelling on a budget or want to stay in a newer, more up and coming neighbourhood. That could make choices like Perrache or Confluence your ideal destination.
Maybe you just want to sample a diverse location that has a little bit of everything on offer, in which case I'd highly suggest taking a closer look at Guillotiere.
Whatever it is you are looking for, chances are Lyon will have a destination that can help you to achieve it. If you take things like this into consideration and ensure you know exactly what you want while reading, it will help you make your decision as quickly and easily as possible.
>> FIND BEST HOTELS IN LYON <<
Where To Stay In Lyon, France: 8 Best Areas to Stay in Lyon
So, now you know exactly what you're looking for, I'm going to show you the 8 best areas to stay in Lyon. I will go over what each one has to offer, why I have included it, and what could make it the ideal place for you.
Best areas to Stay in Lyon map
1. La Presqu'lle, where to stay in Lyon first time visitors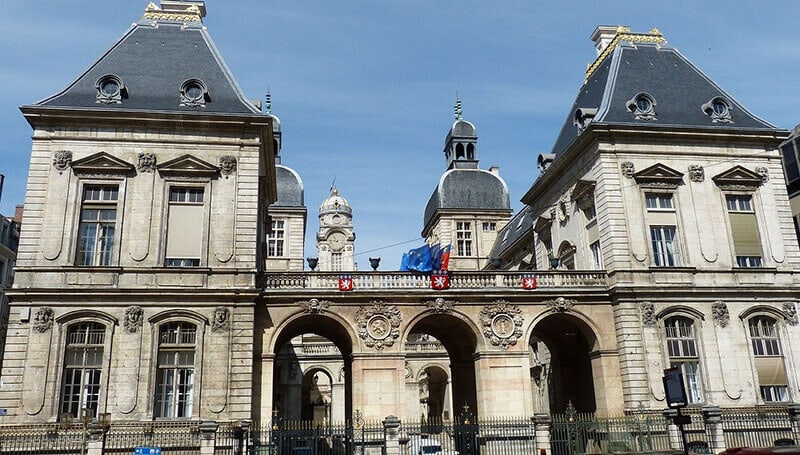 La Presqu'lle literally translates to "The Peninsula" and is the heart of Lyon, located at the centre of the city. Stretching from the foot of the Croix Rousse hill to the confluence of the Rhone and Saone rivers, it contains both the 1st and 2nd arrondissements, as well as part of the 4th and the city hall.
Filled with an abundance of cafes, restaurants, department stores, luxury shops and cultural institutions, as well as banks and government buildings, it is an ideal location for visitors, whether you are travelling on business or simply looking to have an enjoyable vacation, relaxing and soaking up some culture.
Iconic, historical locations are abundant in this part of the city, with the most prominent being the Church Of St Nizier. Originally built in the 6th century, it wasn't fully completed until the 16th, when the spires that tower over the city were completed.
You also have locations like the Hotel De Ville, which is the city's 17th century city hall, located between two stunning squares, Place Des Terreaux and Place De La Comedie. There is the Saint Pierre Palace, which was built in the 17th century as a royal Benedictine abbey. It now houses the Museum Of Fine Arts and features a public garden, decorated by the works of famous sculptors.
There are even a number of historic theatres, museums and major cultural centres, all connected by a maze of picturesque, historic streets. When you combine these historical and cultural offerings with the traditional tourist luxuries and business facilities, it makes La Presqu'lle perhaps the most well-rounded destination in all of Lyon.
La Presqu'lle is the best area to stay if:
You are interested in the history of the city
You want to enjoy a great range of shops, bars and restaurants
You are travelling on business
You want to visit some of Lyon's most iconic locations
Best places to stay in La Presqu'Ile
Hotel Le Royal Lyon – MGallery is the best luxury hotel in centre of Lyon. This 5 star hotel is located right next to Bellecour station, just 10-minute walk from Lyon's Old Town and 5 km from Cité Internationale, close to attractions such as: Fine Arts Museum, Confluence museum, Part-Dieu Train Station, or Perrache. The location is excellent, near the shopping area and close to cafes and restaurants.
Mercure Lyon Centre Beaux-Arts is a 4 star hotel has a perfect location for seeing all the main sights in Lyon. It's also very central to a lot of nice bar and restaurant areas close by. The hotel is a 8-minute walk from Lyon old town and a 5-minute walk from Bellecour Square and close to Bellecour Station.
Hôtel Vaubecour is a budget hotel in Lyon is on the 2nd floor of the building accessed via a lift. It is close to Lyon Perrache Train Station, and Lyon's Museum of Fine Arts. You are just one street away from the stu
Check out my virtual tour of the best places to stay in Lyon in this video:
See More:
2. Vieux Lyon- Old Town, the best area to stay in Lyon for sightseeing, walking
Vieux Lyon, the Old Town section of the city, is located in the 5th arrondissement. It makes up Lyon's largest Renaissance district and one of the most extensive in all of Europe, split up across the 3 parishes of Saint-Paul, Saint-Jean and Saint-Georges.
It was the first place in France to be protected under the Malraux law, which aims to protect the country's cultural sites, as well as being designated a UNESCO world heritage site.
The district is famed for its stunning collection of churches and cathedrals, demonstrating the deep religious history of the city. The Cathedral Of Saint Jean, The Saint Paul Church and St Georges Church are the focal points of their respective parishes, while a number of smaller but equally beautiful offerings lay in the area around them.
A popular spot for tourists, due to the history and culture on offer, hotels are routinely located in buildings from the middle ages, featuring stunning gothic architecture. This allows guests to immerse themselves in the culture of their location for the duration of their stay.
A number of delightful cafes and traditional restaurants are found throughout the area, providing plenty of places to fill up on local fare. Meanwhile, a number of museums, such as the Lyon Historical Museum, historical buildings, stunning traditional streets and locations to buy unique souvenirs will allow you to remain enthralled and purchase keepsakes for both yourself and your friends and family, ensuring this is an incredible experience you remember for years to come.
Old town is the best area to stay if:
You are interested in the history and culture of the city
You enjoy museums
You are a fan of traditional architecture
You want to stay in a hotel built in the middle ages
Best Hotels in Vieux Lyon – Old Town
La Nuit Saint Georges is located in the heart of Lyon Old town, close to main sights such as: Vieux Lyon Metro Station, Place Bellecour, Lyon Perrache Train Station, and St Jean Cathedral. This is fantastic self-catering apartment with great decor.
MiHotel Tour Rose Conveniently located in the 5th arr. It is in walking distance to Basilica of Notre-Dame de Fourviere, Museum of Fine Arts of Lyon.
Le Gourguillon is situatted in the heart of the old town, close to Saint Jean Cathedral and Vieux Lyon Metro Station, Fourvière Basilica and 2 km away from Part-Dieu Train Station.
3. Fourviere, the most romantic area to stay in Lyon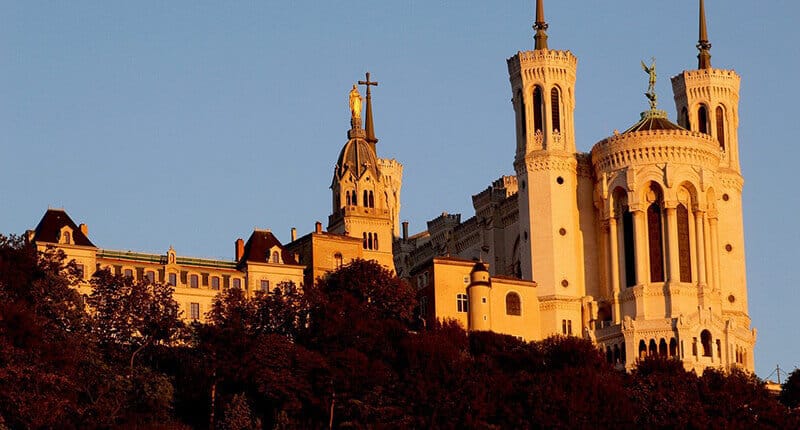 Fourviere is a district located immediately to the west of the old town, located on a hill rising from the River Saone. It was originally settled as the Roman town of Lugdunum in 43 B.C and, as such, features a vast collection of Roman ruins.
Roman baths, a Roman theatre and a Roman Odeon can all be seen in different states of ruin, ideal for those who want to experience a very different side to the city's history. A museum has been constructed to help visitors learn about the legacy of the area, while a number of concerts and operas are held here throughout the summer, which are an incredibly special thing to witness for those lucky enough to be visiting at the times they are taking place.
Its Roman history isn't the only attraction that makes Fourviere a popular destination though. La Tour Metallique is perhaps the most iconic feature of the region, which is a structure that was built to rival the Eiffel Tower. It features an incredibly similar style to its more famous counterpart, while actually being higher at its summit, which is the highest point in Lyon, due to its location atop a hill.
You also have the world's oldest 2 active funicular railway lines, the Basilica Of Fourviere, a legendary golden statue of the virgin Mary and the Festival Of Lights, which attracts thousands of visitors to the city each year. All of this combines to make Fourviere part of the city's UNESCO world heritage site, as well as an exciting and diverse place for tourists to visit.
Fourviere is the best area to stay if:
You are interested in Lyon's Roman history
You want to see a structure built to rival the Eiffel Tower
You are attending the Festival Of Lights
You want to ride on the world's oldest funicular railways
Best Hotels in Lyon Fourvière
Fourvière Hôtel is situated in Fourvière Hill above the Lyon Old Town, offering views over the city. All rooms have air conditioning, soundproofing and hardwood floors. The Hotel close to Basilica of Notre-Dame de Fourviere , Museum of Fine Arts of Lyon, and Lyon – Saint Exupery Airport is just 35km away.
Villa Maïa sits on Fourvière Hill in Lyon and offers panoramic views over the city. The 5 star hotel is a 10-minute walk from the old town and a 5-minute walk from The Ancient Theatre of Fourvière. The property is in partnership with the 1-star Michelin Têtedoie restaurant, located a 1-minute walk away, and guests can reserve a table directly at Villa Maïa. It is within walking distance to Place des Terreaux and Basilica of Notre-Dame de Fourviere.
4. La Croix Rousse, one of the best areas to stay in Lyon for families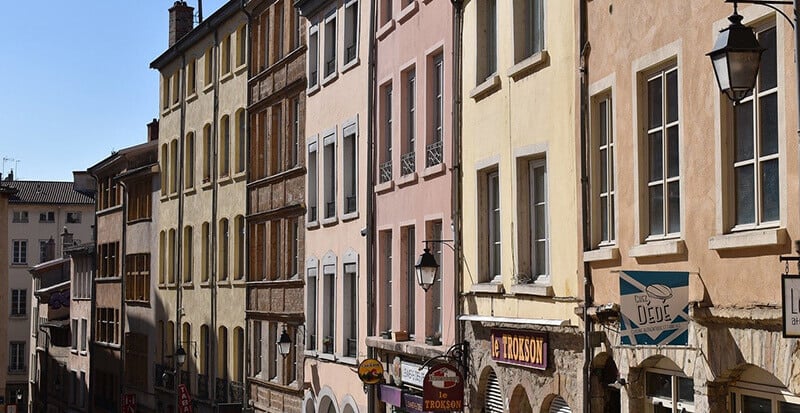 La Croix Rousse is a hill that stands over 250 metres tall and takes its name, which means "the red cross", from a reddish-brown stone cross that was erected upon it in the 16th century. The neighbourhood is divided into two separate regions, with Les Pentes, or the slopes, lying in the 1st arrondissement, while the peak of the hill, Le Plateau, lies within the 4th arrondissement.
It is known throughout the city as la colline qui travaille, meaning "the hill that works", due to its contrast to our previous destination, Fourviere, and its nickname la colline qui prie, "the hill that prays".
The area received its first major developments in the 18th century, when the silk workshops and the Canuts (silk workers) who worked in them moved out of the city centre. As such, a vast majority of the buildings that are found there today bear the signs of this industry.
Tall structures with large, vaulted ceilings, exposed wooden rafters and a greater internal height than will be found elsewhere in the city were originally constructed to provide ample working room for the silk looms housed within them. A network of covered walkways, known as traboules, can also be seen throughout the district, which were used for transporting silk between the buildings while being sheltered from the rain.
In recent years, the area has become gentrified and developed a vibrant cultural scene. This makes it a perfect choice for those who want to enjoy a combination of its unique history, stunning views, and the plethora of enjoyable entertainment options that can be found within its boundaries.
La Croix Rousse is the best area to stay if:
You are interested in the history of the city's silk workers
You seek a thriving cultural scene
You enjoy stunning views
You want to visit the location of one of France's first worker uprisings
Best Hotels in Lyon La Croix Rousse
Hôtel Lyon Métropole is a great 4 star hotel just outside Lyon centre. Brilliant for those looking for a relaxing break mid-road trip involving use of the hotel's indoor or Olympic-size seasonal outdoor swimming pool or a spa with a hammam, saunas, hot tub and fitness centre.
5. Confluence, where to stay in Lyon for nightlife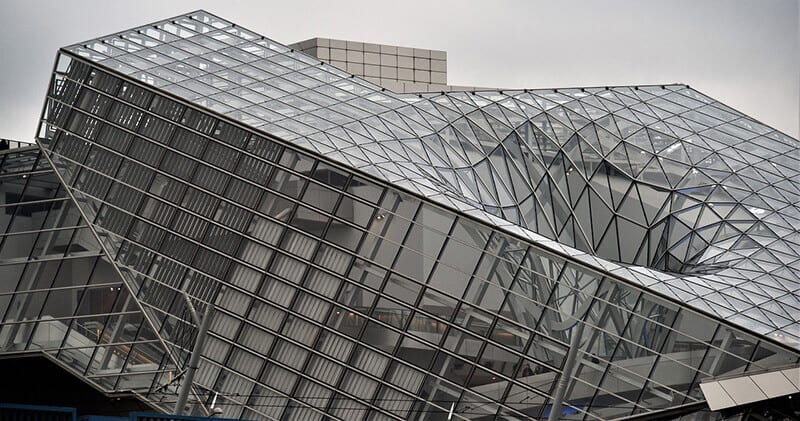 Located in the 2nd arrondissement, Confluence owes its name to its location, as this is where the Rhone and Saone rivers converge. Once the industrial section of the city, featuring numerous factories, prisons and even the city's main port, it has gradually been transformed and urbanised, starting in the late 20th century.
Gone are the stream of vehicles transporting industrial materials around and in their place are stunning new buildings, many of which have been designed by some of the world's leading designers and architects.
Perhaps the best such example of this is the Musee Des Confluences. A stunning Deconstructivist building, designed to resemble a floating cloud of steel and glass as a nod to the region's past, it is a museum housing exhibits on nature, science, anthropology and arts and crafts.
In addition to stand out attractions like this, it has also helped the city to expand out to the river by providing shops, bars, restaurants, hotels, homes and offices. In turn, this has brought tourists, locals and new residents alike into the area, spending money, taking up residence and breathing new life into what was once a drab, uninviting part of the city.
Confluences is the best area to stay if:
You plan to visit the Musee Des Confluences
You enjoy beautiful river views
You want to stay in a newer, more up and coming neighbourhood
Best Hotels in Lyon Confluence
MOB HOTEL Lyon Confluence is a mid-range hotel in Confluence, a very modern facility with a great hotel restaurant. It is located within walking distance to Musée des Confluences, shopping centre, Tram Stop, Gerland Stadium, and La Sucrière Cultural Centre.
Quality Suites Lyon Confluence is a 4 star hotel, set in Lyon's 2nd arrondissement, 450 m from Lyon-Perrache Train Station and 600 m from Perrache Metro Station, within walking distance to Sainte-Blandine Tram Stop, shopping centre, Place Bellecour and Confluences Museum.
Novotel Lyon Confluence is set in the centre of Lyon on the banks of the Saône River, featuring a terrace and a bar with panoramic river views. The hotel is situated next to the Confluence Commercial Centre and 800 m from Lyon Perrache Train Station.
6. Perrache, home to the largest and busiest station in Lyon
The quarter of Perrache is located in the 2nd arrondissement, south of Le Presqu'lle and upstream of Confluence, between the Rhone and the Saone. An area that has been largely neglected through the years, it has earned the nickname "derriere les voutes", which means "behind the vaults".
However, in recent years it has become the focus of a redevelopment effort, with money being poured in to try and modernise the area, in order to bring in both residents and tourists. As such, it is a location that can offer incredibly affordable rates on accommodation, so is ideal for those travelling on a budget.
Even better is the fact that it is also the home of the Lyon-Perrache train, tram and metro station. Once the largest and busiest station in Lyon, it has lost that distinction in recent years but remains a busy and popular hub for public transport. That means you can enjoy the lower prices on offer in the area and still have quick and easy access to the more popular parts of the city.
Perrache is the best area to stay if:
You are travelling on a budget and need more affordable accommodation
You are travelling by train
You want to stay in an up and coming neighbourhood
Best places to stay in Perrache
MEININGER Hotel Lyon Centre Berthelot is in a great location, not far from the metro and tram. Next to the hipster neighborhood of Lyon 7eme where you have good bakeries, local shops, restaurants, bars. Downtown is just on the other side of the bridge maybe a 20' walk.
Hôtel du Simplon is conveniently located between Place Bellecour and the Lyon-Perrache railway station. It is just 450 m from the Ampère Victor Hugo Metro (line A), making it easy to explore Lyon.
7. Brotteaux, one of the safest areas to stay in Lyon
Les Brotteaux is a quarter in the 6th arrondissement of the city, situated between the Rhone River and the city's main railway track. Also known as the Morand quarter on occasion, it began being urbanised in the late 18th century by renowned architect Jean-Antoine Morand Jouffrey, with many of the buildings displaying his distinctive style.
Some of the more notable examples of his work in the region include the Gare Des Brotteaux, an old railway station that has been out of service since 1983, the Palais De Flore and the Boulevard Des Belges. For true fans, there is also the Parking Morand, a site dedicated to his life and works. You then have a number of buildings, houses and mansions, sporting a 1930's Art Deco style, dotted around the area, offering a little diversity to the architecture.
Beyond the historical architecture of the buildings, perhaps the main thing that draws visitors to the area is its reputation as one of Lyon's gastronomical hotspots.
It features a large number of renowned restaurants, perhaps the most notable of which being Le Splendid, owned by esteemed chef Georges Blanc. It is even the home of La Brasserie Des Brotteaux, an establishment built on honouring Lyon's culinary traditions With the range of restaurants offering both local and international cuisines, it makes it a must visit location for anyone wanting to sample the best food the city has to offer.
Brotteaux is the best area to stay if:
You are a fan of Jean-Antoine Morand Jouffrey
You want to dine in some of the city's finest restaurants
You want to experience some of Lyon's culinary traditions
Best places to stay in Brotteaux
Radisson Blu Hotel, Lyon is a 4 star hotel, features an on-site bar & restaurant with panoramic views of Lyon from the 32nd floor of the iconic Part Dieu Tower. It is within walking distance to the shopping center, metro station and just 27km from Lyon – Saint Exupery Airport.
Ibis Budget Lyon Centre – Gare Part Dieu Excellent location with the hotel only 100m from the airport train stop. The room is modern, functional quiet, and clean. The buffet breakfast is also very good value.
Mercure Lyon Centre – Gare Part Dieu The location and ease of access to city centre. 5 minutes away from the train station, quiet, very clean, and comfortable. Close to public transportation, I will definitely stay here again next time I visit Lyon.
8. Guillotiere, one of the best places to stay in Lyon for nightlife
Guillotiere is located mostly in the 7th arrondissement but also stretches into the 3rd. Known for featuring one of the most diverse mixes of people from both social and ethnic backgrounds that you will find anywhere in the city, the range of attractions on offer for tourists tends to be equally well rounded and appealing to a wide range of visitors.
For the history buffs out there, attractions such as the 15th century Castle Of La Motte, the stunning 19th century Notre-Dame Saint Louis church and the Cemeteries Of La Guillotiere will provide days of entertainment, taking in their beautiful exteriors and uncovering the secrets that they hold.
For those whom gastronomy plays a central part of their vacation, the Chinatown area provides a range of shops and restaurants unlike anything else you will find in the city.
Even if you want a simple and relaxing trip, the station provides fabulous transport links to get you around, while the array of shops and traditional dining options ensure you will have everything you need right at your fingertips.
Best described as a melting pot of history, culture and entertainment, this may be the best destination for those who don't have anything specific they want to see during their stay and merely want to sample a little bit of everything that Lyon has to offer.
Guillotiere is the best place to stay if:
You want to stay in a culturally and ethnically diverse location
You want to visit the Chinatown area of the city
You want to experience a little bit of everything that Lyon has to offer
Best places to stay in Guillotière
Hotel Carlton Lyon – MGallery Hotel Collection is located on Lyon's Presqu'île, a 5-minute walk from Cordeliers Station. This 4 star hotelis in walking distance from Place Bellecour, Place des Terreaux.
InterContinental Lyon – Hotel Dieu, an IHG hotel is overlooking the river in one side, and direct into the central shopping area and place Bellecour on the other. The renovation of the Hotel Dieu complex is absolutely beautiful and I loved the mix of the cloisters and renovated chapels along with design boutiques just outside the door. Exquisite decor and friendly staff. Beautiful restaurant.
Globe Et Cecil is a hotel located in the heart of Lyon on the Presqu'Ile, just 50 m from Place Bellecour and its metro station, and 5 minutes' walk from Vieux Lyon. It is set within a 19th century building and free WiFi is available throughout. It is also close to Lyon-Perrache Train Station and Museum of Fine Arts.
While most of you will have worked out the best place for you to stay by this point, there will no doubt be others who still have lingering questions. That's why before I go, I am going to answer a few of the most frequently asked questions people have about Lyon, to try and ensure everyone can get their destination absolutely spot on
Which Arrondissement To Stay In Lyon?
Suggesting just a single arrondissement to stay in during your time in the city is a challenge, as they each have their own unique quirks and selling points. That said, the further out from the centre you go, the less they tend to have to offer for the average tourist, making it more likely the majority will prefer to stay in the heart of the city.
With that in mind, I am going to suggest the 3 arrondissements located between the city's two rivers, arrondissements 1, 2 and 4, as the ideal place to start. With ease of access to one another and featuring many of Lyon's most famous attractions, they are the most likely to please visitors who are coming to the city without any specific plan in mind.
Where To Stay In Lyon For One Night?
For those staying in Lyon for a single night, I would have to recommend staying in La Presqu'lle. Featuring a plethora of attractions, bars, shops and restaurants, as well as being at the heart of the city, surrounded by many of the other most popular locations, it gives you the greatest ability to maximise your time and fit in as much as possible.
The Intercontinental Lyon is a stunning, 5-star hotel, set in a historical building on the bank of the river. It perfectly combines style, luxury and convenience, to optimise the experience you get of the city during your limited time there, while also allowing you to treat yourself a little in the process.
Where To Stay In Lyon Near The Airport?
As with many major cities, the airport is actually located well outside of the traditional city limits. With around a 20-minute drive to the outskirts of the city and at least half an hour to any of the locations we have looked at so far, you aren't going to get a location that offers quick easy access to both the airport and the city.
If staying near the airport is your priority, then I would recommend you simply prepare to do a lot of travelling in to do your sightseeing and book yourself into the nicest hotel in its vicinity.
With that in mind, I would recommend staying at the NH Lyon Airport. A beautiful, 4-star hotel, it features comfortable, stylish rooms, a restaurant providing international cuisine and a buffet breakfast, both of which include vegetarian options, as well as amenities like a gym, bar and sauna.
This is a great choice because you won't feel like you have to stay in the city after you finish seeing the sights, as you will have plenty to keep you occupied back at the hotel.
Where Should I Stay In Lyon?
Again, there is no right or wrong answer to this question, as everyone will have their own needs, wants and desires when it comes to what they hope to get from the trip.
My best suggestions for those who are still undecided would be to stay in the heart of the city, in either La Presqu'lle or arrondissements 1, 2 and 4, as these provide the most bang for your buck and have plenty of other attractions located close by.
How Long To Stay In Lyon?
Lyon is a beautiful city with plenty to see and how long you should stay depends largely on just how much you want to do during your time there. That said, it isn't a city with endless attractions that will keep your average tourist entertained indefinitely.
With that in mind, I would recommend making your first trip to Lyon a long weekend, around 4 days or so. That should give you ample time to see everything at the top of your itinerary but not so long that you start to struggle for things to do or end up seeing things you really weren't interested in just to pass the time.
Conclusion
Lyon is a fabulous city, steeped in history and culture, that has plenty to offer whether you want an educational sightseeing trip, or a relaxing break enjoying the French way of life.
By this point you should all have worked out the best part of the city to stay, in order to meet your own personal needs. Now all that's left is for you to go and get things booked, so you can get prepared to jet off and start experiencing it all for yourself.