The best areas to stay in Lyon for first-timers are La Presqu'lle, Vieux Lyon (Old Town), Fourviere, La Croix Rousse, Confluence, Perrache, Brotteau, and Guillotiere. These are popular and safe neighborhoods for tourists that offer a wide variety of attractions and amenities.
This blog will help you to decide where to stay in Lyon for the first time, for one night, nightlife, family, and the best hotels in Old Town and near Lyon airport.
Located in the Auvergne-Rhône-Alpes, Lyon, the Capital of Lights is the 3rd largest city and the second-largest urban area in all of France. With a history dating back to the Roman era, it is a destination that has history and culture on offer in abundance, making it an ideal destination for all kinds of visitors.
La Presqu'lle is the best arrondissement to stay in Lyon for first-timers because it is Lyon's city center. If you book a hotel here, you will be in the heart of the city, within walking distance to the famous attractions such as Place des Terreaux, Lyon's Hôtel de Ville, and Lyon Musee des Beaux Arts, as well as many restaurants, bars, and shops.
If history is the focus of your trip, the obvious choice would be Vieux-Lyon. As the old town of the city, it has an incredible number of historical attractions to be discovered. You can also take a look at Fourviere which is home to a collection of Roman ruins unmatched by anything in the city, and La Croix Rousse which offers a unique insight into the long and storied history of silk merchants in the city.
Perhaps you are simply traveling on a budget or want to stay in a newer, more up-and-coming neighborhood. That could make choices like Perrache or Confluence your ideal destination.
And if you wondering how long to stay in Lyon, I would recommend making your first trip to Lyon a long weekend, around three days or so. That should give you ample time to see everything at the top of your itinerary but not so long that you start to struggle for things to do or end up seeing things you really weren't interested in just to pass the time.
🎬 To get an overall idea of where to stay in Lyon first time, check out this video:
8 Best Areas to Stay in Lyon for tourists
So, which arrondissement to stay in Lyon, I'm going to show you the 8 best areas to stay in Lyon. I will go over what each one has to offer, why I have included it, and what could make it the ideal place for you.
1. La Presqu'lle, where to stay in Lyon first time visitors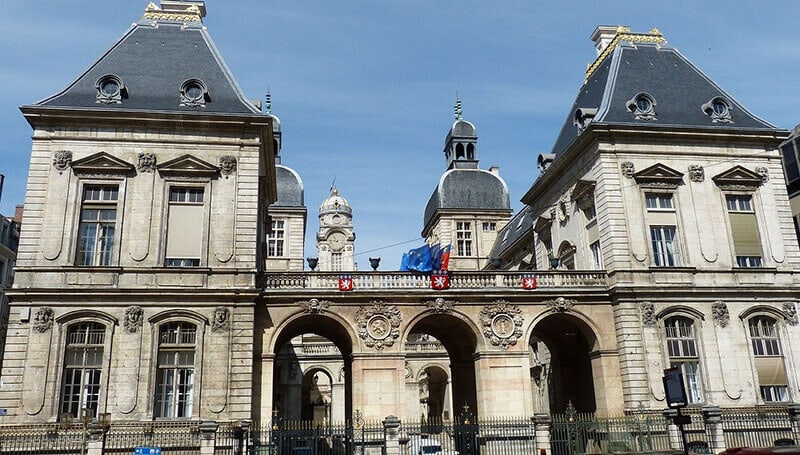 La Presqu'lle is the best area to stay in Lyon for first-time travelers due to its prime location. Located at the center of the city, La Presqu'lle is packed with top attractions, high-end shopping, pedestrianized streets, plenty of accommodations, and good public links. If you stay here, you will be located in the middle of action!
La Presqu'lle literally translates to "The Peninsula" and is the heart of Lyon and is a UNESCO World Heritage site. Stretching from the foot of the Croix Rousse hill to the confluence of the Rhone and Saone rivers, it is bordered by Perrache station and the Confluence to the south and Pentes de la Croix-Rousse to the north.
La Presqu'lle contains both the 1st and 2nd arrondissements, as well as part of the 4th and the city hall. The 1st arr is the nightlife district where you can find the Hôtel de Ville, Place de la Comédie and Opera Nouvel. The 2nd arrondissement is a commercial and shopping district that is home to the Lyon-Perrache station and Place Bellecour.
Filled with an abundance of cafes, restaurants, department stores, luxury shops, and cultural institutions, as well as banks and government buildings, it is an ideal location for visitors, whether you are traveling on business or simply looking to have an enjoyable vacation, relaxing and soaking up some culture.
Highlights attractions stretch from the north of Place des Terreaux to the south of Place Bellecour. In the center of Place des Terreaux is the 19th-century Fountain de Bartholdi, designed by Auguste Bartholdi, the father of the Statue of Liberty in New York. it's the meeting point of young people for various bars and restaurants.
In the 2nd district, Place Bellecour is the largest pedestrian square in Europe. This famous square is a start point of four major streets: rue de la République, the main shopping street, which leads you to Hôtel de Ville and the Opera; rue Victor Hugo and rue du Plat take you to Perrache; and rue du Président Édouard Herriot, offers many of luxury shops all the way to the Place des Terreaux.
You can see examples of surgical instruments and pharmacy items from the past in the Hotel Dieu Hospital on the Rhone river bank. It was built in the 12th century and renewed in the 17th century.
Iconic, historical locations are abundant in this part of the city, with the most prominent being the Church Of St Nizier. Originally built in the 6th-century, it wasn't fully completed until the 16th when the spires that tower over the city were completed.
To 1st arrondissement, you will find the Hotel De Ville, the city's 17th-century city hall, located between two stunning squares, Place Des Terreaux and Place De La Comedie.
Nearby, the Lyon's Opera House, the Opera Nouvel is named after Jean Nouvel, who redesigned the building, with the facade and the foyer remain of the original building, and adding a large steel and glass barrel-shaped roof.
There is the Saint Pierre Palace, which was built in the 17th-century as a royal Benedictine abbey. It now houses the Musée des Beaux-arts (Museum Of Fine Arts) and features a public garden, decorated by the works of famous sculptors.
There are even a number of historic theatres, museums, and major cultural centers, all connected by a maze of picturesque, historic streets. When you combine these historical and cultural offerings with the traditional tourist luxuries and business facilities, it makes La Presqu'lle perhaps the most well-rounded destination in all of Lyon.
La Presqu'lle offers a wide range of accommodation options that suit all budgets from backpacker hostels to luxury hotels.
Stay in La Presqu'lle if you are first-time tourists; you are interested in the history of the city, you want to enjoy a great range of shops, bars, and restaurants, you are traveling on business, you want to visit some of Lyon's most iconic locations.
Best places to stay in Lyon in La Presqu'Ile:
luxury: Hotel Le Royal Lyon – MGallery This 5-star hotel is located right next to Bellecour station, close to Lyon's Old Town, Cité Internationale, Confluence museum, Part-Dieu Train Station, or Perrache. The location is excellent, near the shopping area and close to cafes and restaurants.
mid-range: Mercure Lyon Centre Beaux-Arts is a 4-star hotel that has a perfect location for seeing all the main sights in Lyon. It's also very central to a lot of nice bar and restaurant areas close by. It's a 5-minute walk from Bellecour Square and closes to Bellecour Station. it offers air-conditioned, art deco style rooms with a satellite flat-screen TV and a minibar, an en suite bathroom with a bathtub or walk-in shower, free wifi.
budget: Hôtel Vaubecour This 2-star hotel is on the 2nd floor of the building accessed via a lift. It has non-smoking guest rooms with a desk and a TV with satellite channels, private bathrooms have a shower, and free wifi.
If you are already settled with your accommodations, I suggest reading 24 Best things to do in Lyon to know more about what are the best things to do and see in Lyon for your next trip!
2. Vieux Lyon (Old Town), where to stay in Lyon for sightseeing
Vieux Lyon, the Old Town section of the city, is located in the 5th arrondissement on the west bank of the Saône river. It makes up Lyon's largest medieval and Renaissance district and is one of the most extensive in all of Europe split up across the 3 parishes of Saint-Paul in the northern Old Town, Saint-Jean in Old Town center, and Saint-Georges in southern Old Town.
Vieux Lyon is the best area to stay in Lyon for sightseeing. It's home to many medieval and Renaissance buildings, museums, and churches. It was the first place in France to be protected under the Malraux law, which aims to protect the country's cultural sites, as well as being designated a UNESCO world heritage site.
The district is famed for its stunning collection of churches and cathedrals, demonstrating the deep religious history of the city. The Cathedral Of Saint-Jean, Saint Paul Church, and St Georges Church are the focal points of their respective parishes, while a number of smaller but equally beautiful offerings lay in the area around them.
St-Jean Cathedral is the beginning point of Rue St Jean, the most famous religious site of the Lyon. It held important events such as the mass in honor of the royal wedding between Henri IV and Marie de Médicis in 1600, Councils in 1245, the coronation of Pope Jean XXII in 1316.
The end of Rue St Jean is the Loge du Change, which was Lyon's stock exchange and turned into a protestant worship house and gained the name of Temple du Change. From the square, Rue Lainerie and Rue Juiverie both take to the St Paul subdistrict.
You can hike up or take the funicular to the top of the Fourvière hill. It is filled with historic attractions and the remains of the Roman city such as the most iconic monument, the Basilica Notre Dame de Fourvière, the Gier Aqueducts, the Gallo-Roman Amphitheaters, and the Roman bathhouses.
A number of delightful cafes and traditional restaurants are found throughout the area, providing plenty of places to fill up on local fare. Meanwhile, a number of museums, such as the Lyon Historical Museum, Gadagne Museums that show the Renaissance era and the puppetry art of the city, the Movies and Miniature Museum, and the Museum of Gallo-Roman Civilisation.
There are also historical buildings, stunning narrow cobbled streets, silk shops, local food specialties, vintage stores, and locations to buy unique souvenirs that will allow you to remain enthralled and purchase keepsakes for both yourself and your friends and family, ensuring this is an incredible experience you remember for years to come.
A popular spot for tourists, due to the history and culture on offer, guest houses or boutique hotels are routinely located in buildings from the middle ages, featuring stunning gothic architecture. This allows guests to immerse themselves in the culture of their location for the duration of their stay.
Stay in the Old town if you are interested in the history and culture of the city, you enjoy museums, you are a fan of traditional architecture, you want to stay in a hotel built in the middle ages.
Best Places to stay in Lyon in Vieux Lyon – Old Town:
Luxury ($$$): Cour des Loges Lyon, a member of Radisson Individuals This five star hotel offers a spa with an indoor swimming pool, fitness centre, a rooftop garden, valet parking, sauna, hammam and a hot tub. It has a daily breakfast buffet, continental breakfast and an onsite restaurant Les Loges has a Michelin star, the bistro Café-Epicerie, and the La Petite Loge, where you can take cooking classes, wine tasting, and private dinners with the chef.
Mid-range ($$): MiHotel Tour Rose Conveniently located in the 5th arr, this hotel offers guest rooms with air-conditioned with facilities such as a wardrobe, a kettle, a microwave, a fridge, a safety deposit box, a flat-screen TV and a private bathroom.
Budget ($): La Loge Du Vieux Lyon This Bed and breakfast provides self-catering accommodation in a historical building. The apartment has a flat-screen TV and a fully-equipped kitchen.
3. Fourviere, where to stay in Lyon for Roman history buffs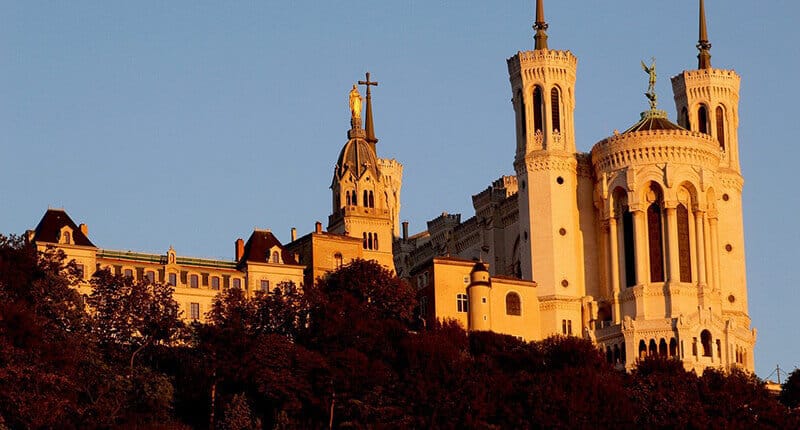 Fourviere is a district located immediately to the west of the old town, located on a hill rising from the River Saone. It was originally settled as the Roman town of Lugdunum in 43 B.C and, as such, features a vast collection of Roman ruins.
Roman baths, a Roman theatre, and a Roman Odeon can all be seen in different states of ruin, ideal for those who want to experience a very different side to the city's history.
The Nuits de Fourvière festival is held in this Roman theatre from 1 June to 30 July each year. It is an incredibly special thing to witness for those lucky enough to be visiting at the times they are taking place.
Gallo-Roman Museum of Lyon-Fourvière, or Lugdunum, is where visitors learn about the legacy of the area. it is housed in a building that was designed by Bernard Zehrfuss and was inaugurated in 1975.
Its Roman history isn't the only attraction that makes Fourviere a popular destination though. La Tour Metallique (The Metallic Tower) is perhaps the most iconic feature of the region, which is a structure that was built to rival the Eiffel Tower.
It features an incredibly similar style to its more famous counterpart, while actually being higher at its summit, which is the highest point in Lyon, due to its location atop a hill.
On the top of "the hill which prays" stands the Basilica of Notre-Dame de Fourvière with its Romanesque, Gothic, and Byzantine architecture.
It was built between 1872 and 1884, and delicate to the Virgin Mary who saved Lyon from the Black Death. Each year on December 8, Lyon celebrates the Festival of Lights to thank the Virgin for saving the city.
It's recommended to take a funicular railway to the top and walk down to enjoy the scenery without quite the strain on your legs.
All of this combines to make Fourviere part of the city's UNESCO world heritage site, as well as an exciting and diverse place for tourists to visit.
Fourviere offers cheaper accommodations compared with Vieux Lyon. You can find plenty of choices of accommodations, from guest houses to apart-hotels.
Stay in Fourviere if you are interested in Lyon's Roman history, you want to see a structure built to rival the Eiffel Tower, you are attending the Festival Of Lights, you want to ride on the world's oldest funicular railways.
Best Places to stay in Lyon in Fourvière:
4. La Croix Rousse, where to stay in Lyon for silk lovers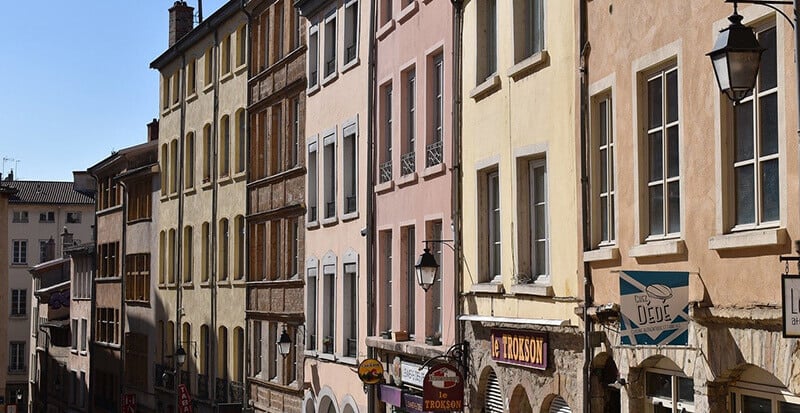 La Croix Rousse is a hill that stands over 250 meters tall and takes its name, which means "the red cross", from a reddish-brown stone cross that was erected upon it in the 16th-century.
The neighborhood is divided into two separate regions, with Pentes de la Croix-Rousse, or the slopes, lying in the 1st arrondissement, while the peak of the hill, Le Plateau, lies within the 4th arrondissement.
It is known throughout the city as la colline qui travaille, meaning "the hill that works", due to its contrast to our previous destination, Fourviere, and its nickname la colline qui prie, "the hill that prays".
The area received its first major developments in the 18th-century when the silk workshops and the Canuts (silk workers) who worked in them moved out of the city centre. As such, a vast majority of the buildings that are found there today bear the signs of this industry.
Tall structures with large, vaulted ceilings, exposed wooden rafters and a greater internal height than will be found elsewhere in the city were originally constructed to provide ample working room for the silk looms housed within them.
A network of covered walkways, known as traboules, can also be seen throughout the district, which was used for transporting silk between the buildings while being sheltered from the rain.
In recent years, the area has become bohemian, gentrified, and developed a vibrant cultural scene. This makes it a perfect choice for those who want to enjoy a combination of its unique history, stunning views, and the plethora of enjoyable entertainment options that can be found within its boundaries.
In the bohemian district of Les Pentes, you can find bars and clubs, cafes, and music venues on Rue Sainte Catherine and Croix-Paquet; for the best restaurant scene, visit the areas around Rue Royale in the east and Rue de la Martinière in the west; for artist shop and boutiques, visit the Village des Créateurs and Montée de la Grande-Côte;
The les pentes is a maze of secret passageways with a bohemian atmosphere. It is where you can find the famous food market Marché de la Croix-Rousse on Boulevard de la Croix-Rousse for the food market; Rue de Belfort and Rue du Mail for restaurants, cafes, and bars
Lyon is also known as the City of Murals. In the La Croix Rousse neighborhood, art lovers will want to check out the Mur des Canuts, famous painted murals in the trompe-l'oeil style (trick the eye).
If you love silk history, head to the Maison des Canuts museum, or Silk Workers' House, to learn more about the silk industry.
You can also find the Amphithéâtre des Trois Gaules which is the oldest Roman Amphitheatre of Gaul. And the statue of Joseph Marie Jacquard, who invented the Jacquard Loom in 1801 can be found in its main square.
You can visit by taking the funicular to the top and then walking down to the center to enjoy the views of the city.
Accommodations in Pentes de la Croix-Rousse are mostly guesthouses, and more affordable than the city center.
Stay in La Croix Rousse if you are interested in the history of the city's silk workers, you seek a thriving cultural scene, you enjoy stunning views, you want to visit the location of one of France's first worker uprisings
Best Places to stay in Lyon in La Croix Rousse:
See More:
5. Confluence, a modern and trendy place to stay in Lyon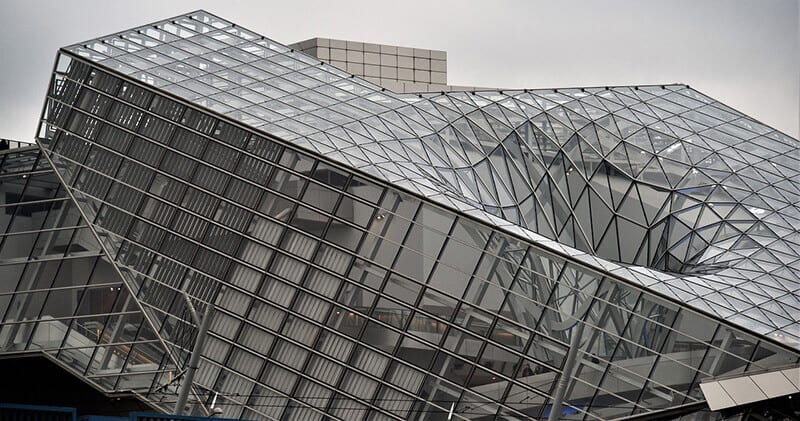 Located in the 2nd arrondissement, Confluence owes its name to its location, as this is where the Rhone and Saone rivers converge. Once the industrial section of the city, featuring numerous factories, prisons, and even the city's main port, it has gradually been transformed and urbanized, starting in the late 20th-century.
Gone are the stream of vehicles transporting industrial materials around and in their place are stunning new buildings, many of which have been designed by some of the world's leading designers and architects.
It's well-served by public transport with Perrache train station, with its national and regional lines. It has a direct link to Part-Dieu Station and St-Exupéry Airport through the Rhône-Express trams.
Perhaps the best such example of this is the Musee des Confluences. A stunning Deconstructivist building, designed to resemble a floating cloud of steel and glass as a nod to the region's past, it is a museum housing exhibit on nature, science, anthropology and arts and crafts.
You can have a walking tour around this neighborhood stop at Musée des Confluences Lyon, quirky office buildings Orange Cube, Euro News Building, Shopping Center Pôle de Commerces et de Loisirs de Confluence, Pont des Arts, and Various Riverfront Housing Complexes.
In addition, to stand out attractions like this, it has also helped the city to expand out to the river by providing shops, restaurants, hotels, homes, and offices.
Confluences also has a great nightlife with many bars along the river Saône, especially around the Marché Gare and Le Sucre for big music venues and clubs.
In turn, this has brought tourists, locals, and new residents alike into the area, spending money, taking up residence, and breathing new life into what was once a drab, uninviting part of the city.
Stay in Confluences if you plan to visit the Musee Des Confluences, you enjoy beautiful river views, you want to stay in a newer, more up-and-coming neighborhood.
Best Places to Stay in Lyon in Confluence:
6. Perrache, where to stay in Lyon on budget
The quarter of Perrache is located in the 2nd arrondissement, south of Le Presqu'lle and upstream of Confluence, between the Rhone and the Saone. An area that has been largely neglected through the years, it has earned the nickname "derriere les voutes", which means "behind the vaults".
However, in recent years it has become the focus of a redevelopment effort, with money being poured in to try and modernize the area, in order to bring in both residents and tourists. As such, it is a location that can offer incredibly affordable rates on accommodation, so is ideal for those traveling on a budget.
Even better is the fact that it is also the home of the Lyon-Perrache train, tram and metro station. Once the largest and busiest station in Lyon, it has lost that distinction in recent years but remains a busy and popular hub for public transport. That means you can enjoy the lower prices on offer in the area and still have quick and easy access to the more popular parts of the city.
Stay in Perrache if you are traveling on a budget and need more affordable accommodation, you are traveling by train, you want to stay in an up-and-coming neighborhood.
Best places to stay in Perrache:
7. Brotteau, where to stay in Lyon for foodies
Les Brotteaux is a quarter in the 6th arrondissement of the city, situated between the Rhone River and the city's main railway track. Also known as the Morand quarter on occasion, it began being urbanised in the late 18th-century by renowned architect Jean-Antoine Morand Jouffrey, with many of the buildings displaying his distinctive style.
Some of the more notable examples of his work in the region include the Gare Des Brotteaux, an old railway station that has been out of service since 1983, the Palais De Flore and the Boulevard Des Belges.
For true fans, there is also the Parking Morand, a site dedicated to his life and works. You then have a number of buildings, houses and mansions, sporting a 1930's Art Deco style, dotted around the area, offering a little diversity to the architecture.
Beyond the historical architecture of the buildings, perhaps the main thing that draws visitors to the area is its reputation as one of Lyon's gastronomical hotspots. From traditional bouchons which are restaurants that serve typical lyonnais cuisine, to other European delights.
It features a large number of renowned restaurants, perhaps the most notable of which being Le Splendid, owned by esteemed chef Georges Blanc. It is even the home of La Brasserie Des Brotteaux, an establishment built on honoring Lyon's culinary traditions.
Nearby, within easy walking distance from the Gare de Lyon-Part-Dieu, you can find the Les Halles Paul Bocuse, an indoor food market of the gastronomic capital of France. Named after the master chef Paul Bocuse, here you will find some of the best of Lyonnaise Cuisine.
With the range of restaurants offering both local and international cuisines, it makes it a must-visit location for anyone wanting to sample the best food the city has to offer. Check out 5 Michelin-starred places like the modern Peruvian Miraflores and the traditional Pierre Orsi.
Apart from Lyonnaise Cuisine, families and children can relax at the Parc de la Tête d'Or, the largest urban park in France. Here, you can find a Lyon Zoo, boating lake, botanical gardens, miniature railway, pony rides, walking, jogging, or bicycling trails.
Stay in Brotteaux if you want to dine in some of the city's finest restaurants, you are a fan of Jean-Antoine Morand Jouffrey, you want to experience some of Lyon's culinary traditions.
Best places to stay in Brotteaux:
8. Guillotiere, where to stay in Lyon for nightlife
If you are looking for vibrant nightlife, the young, multicultural, and studenty neighborhood of Guillotiere is a good choice. It is full of trendy bars, clubs, and concert venues.
Guillotiere is located on the east bank of the Rhône, mostly in the 7th arrondissement but also stretches into the 3rd arrondissement.
Known for featuring one of the most diverse mixes of people from both social and ethnic backgrounds that you will find anywhere in the city, the range of attractions on offer for tourists tends to be equally well rounded and appealing to a wide range of visitors.
For the history buffs out there, attractions such as the 15th-century Castle Of La Motte (Château de la Motte), the stunning 19th-century Notre-Dame Saint Louis church and the Cemeteries Of La Guillotiere will provide days of entertainment, taking in their beautiful exteriors and uncovering the secrets that they hold.
Centre d'Histoire de la Résistance et de la Déportation or CHRD is a French Resistance in WWII.
For walking and cycling, check out the Berges du Rhône, along the river, and the Piscine du Rhône with attractive outdoor pools with slides and fountains.
For those whose gastronomy plays a central part of their vacation, the Chinatown area provides a range of shops and restaurants unlike anything else you will find in the city.
Here you can also find an interesting Musée & Institut Lumière, where the Lumière brothers, Auguste and Louis Lumiere, invented the Cinématographe and made history by making the first film in 1895.
Even if you want a simple and relaxing trip, the station provides fabulous transport links to get you around, while the array of shops and traditional dining options ensure you will have everything you need right at your fingertips.
Best described as a melting pot of history, culture, and entertainment, this may be the best destination for those who don't have anything specific they want to see during their stay and merely want to sample a little bit of everything that Lyon has to offer.
Stay in Guillotiere if you want to stay in a culturally and ethnically diverse location, you want to visit the Chinatown area of the city, you want to experience a little bit of everything that Lyon has to offer.
Best places to stay in Guillotière:
Where Should I Stay In Lyon?
My best suggestions for those who are still undecided would be to stay in the heart of the city, in either La Presqu'lle or arrondissements 1, 2, and 4, as these provide the most bang for your buck and have plenty of other attractions located close by.
Which Arrondissement To Stay In Lyon?
The 3 arrondissements located between the city's two rivers, arrondissements 1, 2 and 4, as the ideal place to start. With ease of access to one another and featuring many of Lyon's most famous attractions, they are the most likely to please visitors who are coming to the city without any specific plan in mind.
Where To Stay In Lyon For One Night?
For those staying in Lyon for a single night, I would have to recommend staying in La Presqu'lle. Featuring a plethora of attractions, bars, shops, and restaurants, as well as being at the heart of the city, surrounded by many of the other most popular locations, it gives you the greatest ability to maximize your time and fit in as much as possible.
The Intercontinental Lyon is a stunning, 5-star hotel, set in a historical building on the bank of the river. It perfectly combines style, luxury, and convenience, to optimize the experience you get of the city during your limited time there, while also allowing you to treat yourself a little in the process.
Where To Stay In Lyon Near The Airport?
As with many major cities, the airport is actually located well outside of the traditional city limits. With around a 20-minute drive to the outskirts of the city and at least half an hour to any of the locations we have looked at so far, you aren't going to get a location that offers quick easy access to both the airport and the city.
If staying near the airport is your priority, then I would recommend you simply prepare to do a lot of traveling in to do your sightseeing and book yourself into the nicest hotel in its vicinity.
With that in mind, I would recommend staying at the NH Lyon Airport. A beautiful, 4-star hotel, it features comfortable, stylish rooms, a restaurant providing international cuisine and a buffet breakfast, both of which include vegetarian options, as well as amenities like a gym, bar and sauna. This is a great choice because you won't feel like you have to stay in the city after you finish seeing the sights, as you will have plenty to keep you occupied back at the hotel.
See more: Where to Stay in Marseille
Located close to the Swiss border and the Alps, Lyon is a fabulous city, steeped in history and culture, that has plenty to offer whether you want an educational sightseeing trip, or a relaxing break enjoying the French way of life. By this point, you should all have worked out the best part of the city to stay in, in order to meet your own personal needs. Now all that's left is for you to go and get things booked, so you can get prepared to jet off and start experiencing it all for yourself.