Where to stay in Ljubljana first time? In this guide, we will be looking at the best areas to stay in Ljubljana for first-time tourists (include video and map), and the best hotels to sleep in Ljubljana for all budget travelers.
Rarely included on people's travel bucket lists, the Slovenian capital is a wildly underappreciated gem. The lively university town is a hub of arts and culture, full of history, tradition, and first-class hospitality. From its charming Old Town to its edgier urban districts, Ljubljana is definitely well worth a visit.
Where to Stay in Ljubljana?
The best areas to stay in Ljubljana for first-timers are Old Town, City Centre, Koseze, Metelkova, Krakovo, and Trnovo. These are very popular and safe neighborhoods for tourist that offers a wide variety of attractions and amenities.
The Old Town is the best overall place for first-time visitors due to its central location. Staying here allows you to be located in the middle of everything, within walking distance to famous attractions, as well as many restaurants, bars, and shops.
If you prefer a more urban vibe, the edgier Metelkova neighborhood is bursting with attitude and street art. Families may appreciate the peace and space of suburban Koseze. Meanwhile, the best nightlife can be found in the lively city center.
For all that Ljubljana is the largest city in Slovenia, it is still relatively compact. The city is just a couple of miles wide and the central districts are all easily walkable. Whichever neighborhood you choose, you won't have to compromise much when it comes to exploring the other areas.
To book hotels, I recommend spending at least three days in Ljubljana to explore the city. Three days is enough to see ll of the main sites, tourist attractions, and get the feel of the city. You can also take a day trip to Postojna Cave and Predjama Castle in the Park Postojnska Jama.
🎬 To get an overall idea of Ljubljana, check out this short video, or continue reading:
Map of areas and neighborhoods in Ljubljana:
The Best Areas to stay in Ljubljana for tourists are:
1. Old Town
Old Town is the best overall area to stay in Ljubljana for first-timers due to its prime location. Loated on the right bank of the Ljubljanica River, In the historic heart of Ljubljana, the Old Town is a charming medieval neighborhood with beautiful baroque buildings and narrow cobblestone streets.
The Old Town is the most central district in the city, so even if you don't care for the historic architecture and romantic atmosphere, you can still benefit from its sheer convenience.
This is where you will find most of Ljubljana's top attractions. It is perfect for first-time visitors to the city whose priority is seeing as many sights as possible. Within walking distance of most other central districts, the Old Town is also perfect for shorter stays, allowing you to pack more into your limited time.
The star of the Old Town is Ljubljana Castle. Settled atop a hill overlooking the city center, you can walk or drive up to the castle along with one of several roads winding through the trees.
Alternatively, hitch a ride on the funicular railway, taking in stunning views of the city from the glass-walled cable cars. Built in the 11th century, the beautiful castle has weathered centuries of tumultuous history. That history is displayed in permanent exhibits throughout the various wings of the castle. There is also a lovely restaurant from which you can appreciate the hilltop city views.
At the foot of the castle hill is Ljubljana Cathedral. Also known as the Cathedral of Saint Nicholas, the church was built in the early 18th century and features a blue dome and twin clock towers that loom over the surrounding buildings. The interior is particularly ornate, with gilded moldings and intricate frescoes.
You can also find a famous Baroque monument, Robba Fountain (also known as The Fountain of Three Carniolan Rivers) at the edge of the Mestni trg square. It was built between 1743 and 1751 by Francesco Robba, a Venetian-born sculptor and architect.
Within walking distance to the Robba fountain, you will find Town Hall (known as Mestna hiša by locals). It was constructed by the master-builder Peter Bezlaj in the late 15th century.
Straddling the Ljubljanica river, there are several historic bridges connecting the two halves of the city. A particularly lovely way to appreciate the history and design of these bridges is by heading out on a cruise along the river. Several tour companies operate along this stretch of the Ljubljanica, providing insights into the sights along the riverbanks.
The most iconic of Ljubljana's bridges is the Dragon Bridge. One of the first reinforced concrete bridges in Europe, the copper dragon statues that guard each end of the bridge are a major symbol of the city. There are a further sixteen smaller dragons along the length of the bridge, so make sure you use this crossing at least once.
Any couples visiting Ljubljana will want to stop by Butchers Bridge. A little plainer in its construction, the bridge is notable for the various sculptures populating its length. Its biggest claim to fame, however, comes from the colorful padlocks hung along the railings. They are traditionally placed there by couples hoping to lock in the romantic entanglements.
Old Town is packed with restaurants, bars, cafes, and shops that offer you plenty of opportunities to try traditional Slovenian food, buy souvenirs and Slovenian wine.
The Old Town is very compact, you can easily explore its attractions on foot. There is a decent mix of hotels in the area. As you would expect from the city center, there are some pretty pricey options, perfect for indulgent luxury breaks. However, there are also several more mid-range hotel options to choose from too, if you don't want to break the bank on accommodation.
Stay In The Old Town If You want to stay in the most central area of the city; It is your first time visiting Ljubljana; You are visiting for a short stay; You love being surrounded by historic buildings and an old-world atmosphere;
Best places to stay in Ljubljana Old Town:
MORE HOTELS IN OLD TOWN
See more:
2. City Centre
The city center district encapsulates the Old Town area, along with the more contemporary neighborhoods immediately surrounding it. Full of historic sights, museums, art galleries along with more modern attractions and entertainment, the city center is a catch-all with something to offer everyone.
The center of Ljubljana's social calendar is Prešeren Square. The lively plaza often hosts festivals and open-air shows. When not hosting any events, the many cafes spilling onto the square make it a popular meeting place for both tourists and locals.
Prešeren Square is overlooked by several historic buildings, the most notable being the 17th-century Franciscan church. With its vibrant pink façade, the church makes an exquisite backdrop for the various events that take place here.
For stunning panoramic views of the city, you will want to head to Nebotičnik. The tallest building in the former state of Yugoslavia when it was built in 1933, Nebotičnik is home to various shops on the lower levels whilst the top floors are home to a bar and restaurant with a beautiful viewing terrace.
History buffs will want to visit the National Museum of Slovenia which is the oldest and the largest Slovene museum. It was founded by the Carniolan State Parliament in 1821.
For art lovers, you must visit the National Gallery and the Jakopič Gallery where you can find the country's largest collection of fine art from the High Middle Ages.
To try some of the best local dishes, head to Central Market. Located close to the south end of Dragon Bridge, the market is a combination of pitched stalls and formal stores. Part farmers' market, part street-food bonanza, Central market is perfect to sample both local produce and traditional delicacies.
If you want a break in the fresh air, head to Tivoli Park. The huge park contains manicured lawns and lush forests. There are statues and fountains to be appreciated in the gardens of Tivoli castle, whilst various little churches are nestled amongst the trees.
The park is home to several museums and galleries. The west end of the park is also home to Ljubljana Zoo. With plenty to see and tons of space to spread out in the fresh air, Tivoli Park is the perfect family-friendly location to spend a laid-back afternoon.
After dark, the city center takes on a new wave of life, as the epicenter of Ljubljana's nightlife. With its thriving student population, it is no surprise that there are tons of fabulous bars and nightclubs to enjoy in the city. if you prefer your evenings to stay a little more sedate, there are more than enough excellent restaurants to try out too.
Stay In The City Centre If You want to stay right at the heart of the city; You are visiting Ljubljana for the first time; You want to stay close to the historic city center but in a more modern neighborhood; A lively nightlife scene is a priority.
Best places to stay in Ljubljana City Center:
MORE HOTELS IN CITY CENTRE
3. Koseze
Laid back Koseze is a pretty suburb in the northwest of Ljubljana. Just over a mile from the bustling away from the historic old town, Koseze offers a quieter alternative, without straying too far from the excitement.
If you are planning a family vacation, especially with young children, Koseze is one of the best choices in Ljubljana.
You won't have to worry about losing the little ones in city center crowds, but you can still nip in and out easily enough when you want to enjoy some sightseeing.
Koseze runs along the north edge of Tivoli Park. The open lawns and leafy forests provide ample space for kids to burn off some energy, whilst older visitors appreciate the many churches, museums, and sculptures.
You will also be just a comfortable walk away from Ljubljana Zoo.
The perfect family day out, Ljubljana Zoo is home to over a hundred different species of animal for you to observe and learn about. Cafes within the zoo and throughout the park mean you can take a break whenever you get tired of pounding the trails.
Being a residential suburb, Koseze is also ideal if you want to get away from your fellow tourists and live like the locals do. You can spend your time relaxing in family-run restaurants and cozy bars, experiencing everyday life for the city's residents.
You can also easily travel around Slovenia with the A2 motorway nearby this neighborhood. It links several major Slovene cities, like Kranj, Ljubljana, and Novo Mesto, and is part of Pan-European Corridor X
Rental accommodation is a little scarcer here than in the more popular tourist districts. You can enjoy the local hospitality at one of the charming guesthouses, or really dive into the local lifestyle with a self-catered apartment.
Either way, prices here are more affordable than in the city center, so you won't have to compromise your budget.
Stay In Koseze If you want a quieter, more suburban neighborhood; you are traveling with children; you don't mind being a little bit removed from the city center; you need a more affordable area.
Best places to stay in Ljubljana in Koseze:
MORE HOTELS IN CITY CENTRE
4. Metelkova
Metelkova is probably the coolest district in Ljubljana and an absolute must-visit for any art enthusiasts. The area is well known for its grassroots urban culture and arts scene.
Metelkova was once a military barracks, built in 1911 by the Austro-Hungarian Army, including seven barracks buildings. But today it's a hub of arts.
A vibrant hub of creativity, any visitor to Ljubljana should spend some time in Metelkova, even if you choose not to stay here. The area is particularly well known for its incredible street art.
The buildings around this area are completely covered in extensive graffiti and brilliant murals. Sculptures and installations frequently pop up too and, with the murals being constantly covered over with newer works, there is always something new to discover, even for returning visitors.
The Museum of Contemporary Art Metelkova | +MSUM provides a more formal and contained exhibition of artworks. Housed within former barracks, the museum is perfect for rainier days, when you would rather not be out on the streets.
If you find yourself getting tired of all the art, take a short walk around the block to the Slovenian Ethnographic Museum. Here you can take in exhibits detailing the history and development of Slovenia and its people
Metelkova is also the center of Ljubljana's music culture. Local bars host live performances from Ljubljana's up-and-coming musicians, covering a wide range of genres. If you are looking for an edgier night out, you should definitely head to Metelkova.
Metelkova is also within walking distance of both the central bus station and Ljubljana Train Station. With connections throughout Slovenia and into neighboring countries, staying close to these transport links is ideal for backpackers on a tour around Europe.
Being just a short walk away from the sights and attractions of the city center, Metelkova is perfect for shorter trips. You won't have to waste time traveling between your transport and your hotel or your hotel and the sights.
Stay In Metelkova If You want to stay in the coolest neighborhood in Ljubljana; You love art, especially street art; Staying relatively central is ideal; Keeping close to transport links is a priority.
Best places to stay in Ljubljana in Metelkova :
MORE HOTELS IN CITY CENTRE
5. Krakovo
Krakow is a compact little district just south of the city center, on the banks of the Ljubljanica River. Once an independent fishing village, the area retains some of its old-world charms, in the form of charming cottages lining the riverbanks.
If you are looking for somewhere to really feel like you are just living in Ljubljana, you can't beat Krakovo. From its quaint local bakeries to its lively markets, Krakovo has everything you could want to soak up the local community atmosphere.
Just a short walk from the city centre attractions, Krakovo is ideal for those who want a slice of laid-back, suburban life, without straying too far from main attractions.
You don't need to worry about getting bored by the sleepy village vibe when you are just minutes from the hustle and bustle of the city.
You will find several trendy bars and restaurants, hill hang-out spots for the expat and students in the neighborhood.
Don't expect to find any big hotels in Krakow. Instead, you can stay in charming guesthouses or quirky hostels, all in keeping with the small-town atmosphere of the neighborhood. Being removed from the city center, it is pretty affordable too.
Stay In Krakovo If You want a sleepy village vibe close to the excitement of the city centre; You want to be surrounded by historic charm; Being right in the heart of the city is not your top priority.
Best places to stay in Ljubljana in Krakovo:
MORE HOTELS IN CITY CENTRE
6. Trnovo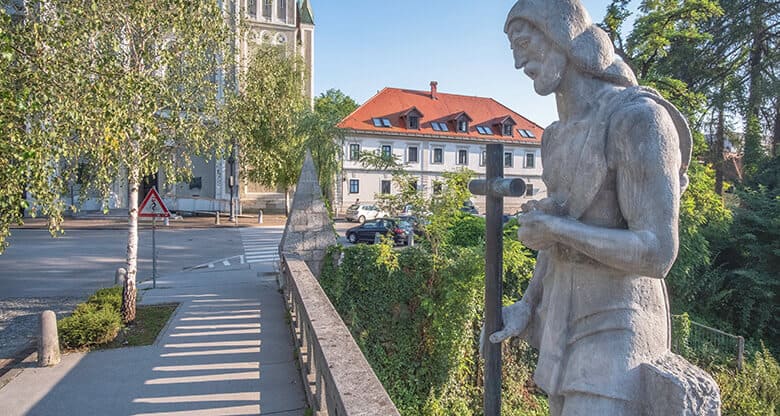 Trendy Trnovo is a large suburb extending to the south of Ljubljana. Close to the University of Ljubljana, the area is student-centered and especially popular with the city's younger crowd.
There are tons of cozy coffee shops and cool bars to spend your time in when you are not taking in the sights. Speaking of sights, the north end of Trnovo is just a short walk away from the city center.
It is far enough away to be quieter and less crowded with tourists, but still close enough that you can easily visit all the major attractions.
There are some interesting sights to see within Trnovo itself, too. In keeping with the academic theme of the student district, there are several curious museums dotted around the neighborhood.
The remains of an ancient Roman wall and city gate can be found in the north of the district. Thousands of years old, the ruins are a testament to how long Ljubljana has been developing as a city and community.
The beautiful Janeza Krstnika Church is also definitely worth a visit. The twin spires tower over the surrounding area, drawing people towards the charming building.
The lovely church is approached by the iconic Trnovo bridge which, along with several features from the interior of the church, was designed by local architect Jože Plečnik. A museum celebrating Plečnik's work is also located nearby, in his former home.
Trnovo is just far enough outside of the city center that prices for accommodation are considerably more reasonable. Just a comfortable walk from the main attractions, this is the top choice for anyone trying to keep costs down, without compromising too much on location.
Stay In Trnovo If you want to stay in one of the trendiest neighborhoods in the city; you are trying to stick to a smaller budget; you don't mind being removed from the city center.
Best places to stay in Ljubljana in Trnovo:
MORE HOTELS IN CITY CENTRE
Read more about Europe trip here:
For all that Ljubljana is a small and often underacknowledged city, there are plenty of reasons to pay a visit to the Slovenian capital. Whether you are just passing through on a European road trip, or you are looking for somewhere a little more offbeat to spend a vacation, Ljubljana is a charming option.
Overall, I recommend Old Town as the best area to stay in Ljubljana for first-time tourists due to its central location. If you stay here, you will be located in the heart of the city, within walking distance to many sights, as well as some of the best nightlife, shopping, and dining venues.