Where to stay in Krakow for first-time visitors? In this guide, we will be looking at the best areas to stay in Krakow for first-timers (include map and video), and best hotels in Krakow for all budget travelers.
Located in on the Vistula River in the Lesser Poland region, Kraków is the second largest city in Poland after Warsaw. Known for its well preserved historic quarters and buildings, Krakow is a fascinating city to visit. From the myth of its founding by a dragon slaying prince to its more factual history, Krakow is a city bursting with culture.
Krakow Old Town along with salt mines in Bochnia and Wieliczka is UNESCO World Heritage Site from 1978. it is home to biggest market square in Europe, Rynek Glowny!
The comprehensive public transport system with a whopping twenty-seven tram lines will allow you to explore the whole city easily and quickly, no matter where you choose to stay. Krakow's John Paul II International Airport is only 15km from city center, easily reachable by train, bus, taxi, or car rentals.
Where to stay in Krakow first time?
The best areas to stay in Krakow for first-timer are the Old Town, Kazimierz- Jewish Quarter, Kleparz, Podgorze, Grzegórzki, and Ludwinow. These are the city's most popular neighborhoods for tourist that offers a wide variety of tourist attractions and amenities.
Krakow is compact and walkable, I recommend to spend at least 3-4 days, which is a good amount of time to do sightseeing and get the sense of the local culture and history. If you have more time, you can take a day trip to Auschwitz Birkenau, Wieliczka Salt Mine, and Zakopane.
Overviews of best areas to stay in Krakow for first-time tourists
Here is an overview of recommended areas in Krakow for first-time visitors:
| Best areas in Krakow for first-time tourists | Why should you stay in this area? |
| --- | --- |
| Stare Miasto (Old Town) | is the heart of Krakow and offers a vibrant atmosphere with historical sites like the Main Market Square, Wawel Castle, and St. Mary's Basilica. It's a great choice for those who want to be close to major attractions, restaurants, and nightlife. |
| Jewish Quarter (Kazimierz) | Known for its rich Jewish heritage, Kazimierz is a trendy neighborhood filled with charming streets, synagogues, and Jewish-themed restaurants and cafes. It's a vibrant area with a bohemian vibe and a great place to experience the city's artistic and cultural scene. |
| Kleparz and Wesoła | Located just north of the Old Town, this area offers a more local and residential feel. It's a quieter neighborhood with beautiful parks and a local market (Kleparz Market) where you can find fresh produce and other goods. |
| Grzegórzki | Situated east of the Old Town, Grzegórzki is a mix of residential and commercial areas. It's a great choice for a more authentic local experience, away from the tourist crowds with some interesting architecture and the Galeria Kazimierz shopping center. |
| Podgorze | Located across the Vistula River from the Old Town, Podgórze was once a separate town and has a unique character. It's home to attractions like the historic Jewish Ghetto, Schindler's Factory Museum, and the striking Podgórze Market Square. It's a quieter area with a relaxed atmosphere. |
| Ludwinow | Situated west of the city center, Ludwinow is a residential district known for its green spaces and beautiful gardens. It's a peaceful area away from the hustle and bustle, perfect for those seeking a tranquil retreat. |
| Nowy Świat | located near the Old Town, offers a mix of residential and commercial spaces. It's a convenient location with good transport links and easy access to the city's main attractions. |
| Salwator | Situated on the western side of the Vistula River, Salwator is a charming and picturesque neighborhood known for its lovely park, Błonia Krakowskie. It's a quieter area with a relaxed ambiance and offers beautiful views of the river and the city. |
| Nowa Huta | a district built during the communist era. It has a distinct architectural style and a fascinating history. The area offers a glimpse into the past and has attractions like the Nowa Huta Central Square and the famous steelworks. |
🎬 To get an overall idea of Krakow, check out this short video, or continue reading:
Map of areas in Krakow:
Best areas to stay in Krakow for first-time tourists are:
1. Stare Miasto (Old Town)
The Old Town is the best overall area to stay in Krakow for first-timers beacause it is the centremost point of Krakow. It is home to many tourist attractions including the famous St. Mary's Basilica and Wawel Royal Castle, as well as plenty of amenities such as hotels, restaurants, and shops.
Known as Stare Miasto in the native Polish, the historic Old Town is surrounded by a belt of lush Planty Park and is packed with winding cobbled streets, churches, synagogues, and squares.
Stare Miasto is one of two districts of Krakow that were granted UNESCO World Heritage status back when the very first list was created in 1978. The whole area is packed with stunning historic buildings that create a delightfully charming old world atmosphere.
Krakow is a compact city, you can easily explore on foot or by public transport. It has good public tranport system with cheap and reliable buses and trams. You can consider to buy the Krakow City Card which is inexpensive and allows you to enter almost all Krakow's museums.
The heart of the old town is the Main Market Square, better known locally as Rynek Glowny. As the largest medieval market square in central Europe and over eight hundred years old, Rynek Glowny is steeped in history. There are several monuments, fountains, and ancient buildings within and around the square.
The centrepiece of the market square is Cloth Hall, or Sukiennice. The grand building was once a bustling covered market. It is now populated with small souvenir shops, outdoor restaurants and café's, many with tables spilling out into the square. A lovely place to enjoy lunch on a pleasant day or buy amber jewelry, which Poland is known for.
Overlooking the main square from the east is the massive St Mary's Basilica. The mighty, red brick cathedral features two spired towers and a stunningly ornate interior. Both the outside and inside are worth exploring, with many relics, bronzes, and artworks to discover.
Beneath the market square is the Rynek Underground. The high tech underground museum winds through the ancient streets upon which the square was built. Entry is free on Tuesdays, so plan your visit accordingly if you want to save some cash.
Numerous other museums are crammed within the Old Town. As you would expect, there are multiple history museums:
The 14th century Town Hall Clock Tower, a must-see landmark, located in the main square.
The Historical Museum of the City of Kraków is great for learning specifically about the city.
The Princes Czartoryski Museum, housed within an old palace, displaying a collection of artworks, sculptures, handicrafts, and Leonardo Da Vinci's paintings.
The Jan Matejko House, located in the former house of the famous Polish painter Jan Matejko, displaying both his works and furniture
The Bunkier Museum of Contemporary Art for modern artworks.
At the northern end of Stare Miasto you can exit the Old Town via St Florian's Gate. The gate was built in the 14th-century as part of the city's defensive walls and now acts as a pretty entryway into leafy Planty Park.
Just beyond St Florian's Gate is Krakow Barbican. Another fortified gateway, this one built in the 15th century, the Krakow Barbican has a much more imposing, castle style. The fortress now acts as a branch of the city's history museum.
The lovely Florianska Street is one of the main streets in the center of the Old Town where you will find many cafes, bars, and restaurants. It's a romantic walk to stroll along for couples. The Royal Route starts from St. Florian's Gate and ends at the Wawel Royal Castle, which is located on the top of the hill overlooking Wisła river.
On Florianska Street, you can also find Museum of the Jagiellonian University Medical College and House of Jan Matejko.
If you want to shop, you can head to the largest shopping mall in Krakow in the east of the old town, Galeria Krakowska. Alternatively, Bonarka City Center is just a short drive away and less crowded.
Apart from sightseeing, you can enjoy the food at Wierzynek restaurant and Morskie Oko restaurant. Located is right on the Main Market Square, Wierzynek restaurant is one of Krakow's oldest restaurants that served famous people such as George Bush, Kate Moss, and Fidel Castro.
Being the centre of tourism in Krakow, this is one of the most popular places for visitors to stay. As such, you will have plenty of accommodation options to choose from, but it is also more expensive than elsewhere in the city. You can still find some more budget options, but they will be a lot more basic than what you could enjoy elsewhere in the city for the same money.
Stay in Old Krakow (Stare Miasto) If you are visiting Krakow for the first time; you are only in Krakow for a shorter trip; you want to stay right at the heart of the city centre; you want to be completely immersed in Krakow's rich history.
Best places to stay in Krakow Old Town for first-timers:
MORE HOTELS IN OLD TOWN
See more: Best areas to Stay in Warsaw
2. Jewish Quarter (Kazimierz)
Kazimierz along with Krakow Od Town was designated as one of the first ever UNESCO World Heritage sites. Kazimierz has developed into one of the coolest areas in the city with a bohemian vibe.
Due to its central location, conveniently located between the Old Town and Vistula River, Kazimierz is one of the best places to stay in Krakow for the first time.
Kazimierz is where much of the classic movie Schindler's List was filmed. Although the real life events took place in another district, the old synagogues and Jewish cultural hubs made a perfect backdrop for the movie.
Around a 20 minute walk from the Old Town, you will be staying comfortably close to the top attractions of the city. Keep your eyes peeled when walking around the area. You are sure to spot some of the incredible street art decorating various buildings.
Previously a much rougher area, rejuvenation efforts over the last few decades have elevated Kazimierz into a vibrant centre of culture, hospitality, and entertainment. You will find tons of bohemian bars, nightclubs and restaurants here, making this one of the best areas in the city for nightlife.
Kazimierz is great for foodies, packed full of some of the best restaurants in Krakow. There's a huge range of food available to try here from Japanese and Georgian to traditional Polish cuisine.
If you are after something a little less formal, head to the Okrąglak building. The permanent, circular street food market surrounds a central food court. It is a cool and cosy place to try various dishes prepared by local vendors.
If you need something to wash all that good food down, then you will be pleased to know that Kazimierz is also a haven for craft beer fans. Within the district you will find microbreweries and numerous small pubs and bars offering a wide variety of beverages.
If you are looking for some evening entertainment, you will want to head back to Plac Nowy, the square in which the Okrąglak food market is located. Whilst during the day the square is a bustling hub of hungry locals, it becomes the centre of Krakow's nightlife in the evening, as it is surrounded by trendy bars.
Szeroka Street is where you can find traditional Polish Jewish restaurants and bars. There are numerous cultural landmarks on the street such as Oppidum Judaeorum, Popper Synagogue, the 15th century Old Synagogue, and the Remah Synagogue.
Following their persecution during the second world war, the Jewish population of Kazimierz largely disappeared. However, it has built back up over the intervening years, making Kazimierz a true Jewish Quarter once again.
The history and culture of Krakow's Jewish population is celebrated at the Jewish Cultural festival each summer. The festival is spread over two weeks, with hundreds of events ranging from concerts and parties to lectures and workshops.
The Jewish Quarter is home to various museums detailing the history of Krakow's Jewish population, such as:
The Galicia Jewish Museum, with exhibits on the local Jewish culture, and the impact of the holocaust.
the Engineering Museum.
the Ethnographic Museum.
Whilst the area is primarily populated with synagogues, there is one particularly lovely cathedral in the area. The Corpus Christi Basilica was built in the 15th-century by King Casimir III the Great and still towers over the surrounding buildings. Church on the Rock is also a must-see, that is dedicated to St. Michael the Archangel and St. Stanislaus.
Like the Old Town, Kazimierz is wildly popular with tourists and can get pretty pricey as a result. However, you will have an easier time finding great quality affordable accommodation here compared to Old Town.
Stay in The Jewish Quarter (Kazimierz) If You want to stay in a historic yet trendy neighbourhood; Staying at the heart of the city's top nightlife district would be ideal; You love food and want to try as much as possible during your trip;
Best places to stay in Krakow in Kazimierz for first-time visitors:
MORE HOTELS IN KAZIMIERZ
3. Kleparz and Wesoła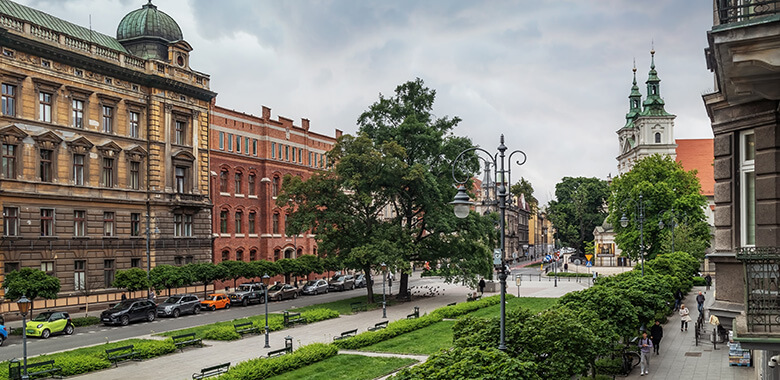 Kleparz and Wesoła are much more of local neighbourhoods, located just north of the Old Town and are perfect for anyone who wants to keep close to the city centre whilst avoiding the tourist crowds.
You can also get a bit more cheaper accommodation compared to in the Old Town. It's a great location for backpacker who travel on a budget.
Kleparz is known to be one of the more upscale neighbourhoods in Krakow. In contrast to the neighbouring Old Town, the buildings here are largely of an Art Nouveau style, offering a more contemporary elegance. That is not to say there are no historic attractions here at all. Far from it, as Kleparz is still one of the older areas of the city.
St Florian Church, for example, dates back to the 12th-century, although it has burned and been reconstructed and altered numerous times throughout the centuries. Its current façade is in the baroque style, with pretty mouldings, domes, and towers.
On the road leading from Kleparz into the Old Town is the Jan Matejko Square. The square honouring the talented Polish artist is home to several monuments. The most significant of these is the Grunwald Monument, a bronze and granite plinth commemorating the 15th-century Battle of Grunwald.
While you are here, you should definitely stop by Stary Kleparz. This iconic covered market is the oldest still running market in Krakow, having been founded over eight hundred years ago. The eclectic stalls sell pretty much anything you could want to buy. Food, clothes, spices, knickknacks, you will find it all in Stary Kleparz.
If you are after a more contemporary shopping experience, then you should head to Galeria Krakowska instead. Galeria Krakowska is the largest shopping centre in Krakow, with over 250 stores, coffee shops, food stalls, and restaurants.
Kleparz is a student friendly neighorborhood, where you can find campuses of Jagiellonian University, AGH and the University of Economics.
One of the top benefits to staying in Kleparz is keeping close to Krakow Glowny Train Station. As Krakow's main train station, Krakow Glowny is particularly well connected, with lines leading both through and out of the city. You can reach Warsaw within 3 hours by train with a lot of sights to see.
If you are hoping to explore outside of Krakow, Krakow Glowny is the perfect gateway to the surrounding area. You can easily hop on a train for day trips to places such as the infamous Auschwitz-Birkenau Concentration Camp. If you are not confident about navigating the trains on your own, there are various tour companies that will take you to the camp.
Being within walking distance of the city centre and all the attractions therein, whilst being much less busy itself, Kleparz is a great choice for families visiting Krakow with children. There are also quite a few options for keeping kids entertained such as Womai Centre, the children's playground in Ogród Kasztanowy Park, and Park Kleparski.
Being a more upmarket area, the accommodation options in Kleparz and Wesola are similarly fancy. You will have your pick of boutique style hotels, luxury guesthouses, and stylish apartments. It is not the top choice for budget travellers, but it is a little better than the city centre.
Stay in Kleparz and Wesoła If you want a quieter neighbourhood that is still close to the city centre; you travel on a budget; you are a family visiting with children;
Best places to stay in Krakow in Kleparz for the first time:
MORE HOTELS IN KLEPARZ
4. Grzegórzki
Located directly east of the Old Town, it is just a short walk from the attractions of central Krakow, so it is one of the best neighbourhoods to stay in Krakow on a budget or want to avoid crowds whilst still seeing all the sights.
Grzegórzki is very much a diamond in the rough neighbourhood. Aesthetically utilitarian, the district nevertheless has plenty to offer for those willing to look beyond its grey façade.
Ignored by most tourists, Grzegórzki offers a brilliant opportunity to really experience life like the local people. Within the neighbourhood you will find lots of small family run restaurants and local bars, where you can get to know the locals.
Another way to mingle with the local people and experience domestic life in Krakow is to visit Hala Targowa. The Sunday flea market is a wonderful, lively place to browse for antiques and trinkets or pick up unique souvenirs. There are always some fantastic street food vendors to grab lunch from too.
If you would rather browse more contemporary stores, then head to Galeria Kazimierz instead. The modern shopping centre boasts over 160 stores, restaurants, and leisure facilities.
One of the top attractions within Grzegórzki itself is the Jagiellonian University Botanical Garden. The 18th-century botanical gardens are home to thousands of plant species. It is especially beautiful in the sunshine, but the glistening glass houses ensure it is comfortable to visit, whatever the weather.
In the middle of a roundabout just across the road from the botanical gardens are the Bastion V Lubicz ruins. The ruins are the remains of a 19th-century fort and worth keeping an eye out for if you are driving around the area.
This student hub area is also home to the Kraków University of Economics and Kraków Opera House.
Meanwhile, Krakow Glowny Train station sits right between Grzegórzki and Kleparz, making this another great location to stay if you want to keep close to transport links.
Being that Grzegórzki is less popular with tourists, it is much more budget friendly for those who do choose to stay here with small, family-run guesthouses and holiday apartments. If you are want to stay in budget friendly area, without straying too far from the city centre, this is a fantastic option for you.
Stay in Grzegórzki If you want to stay close to the city centre without being swamped by tourists; you want to stay close to Krakow's major train station; you want to stay in a less touristy neighbourhood, where you can experience living like a local.
Best places to stay in Krakow in Grzegórzki for first-timers:
MORE HOTELS IN GREGORRZKI
5. Podgorze
Located on the right bank of Wisla river, opposite the Jewish quarter, Podgorze is an up-and-coming neighbourhood, retaining its local atmosphere whilst boasting an ever growing selection of cool bars and restaurants.
Separated from the city centre by the Vistula river, Podgorze is connected across to Kazimierz by a footbridge. You can enjoy the peace and quiet of being removed from the main tourist centre, whilst knowing you are just a pleasant walk away.
Speaking of pleasant walks, Podgorze contains a lot of lovely green spaces to enjoy the fresh air in. Most notable is the lush Bednarski Park, a forested city park offering multiple trails winding through the trees. In the east end of the park is the old Fort Benedict, an impressive, red brick round fortress.
On the edge of Bednarski Park is St Joseph's church. Built in the early 20th-century, this is far from the most historic church in the city, but it is still very impressive for its stunning, gothic architecture.
In another swathe of green further south is the the ancient Mound of Krak.. Aside from being a popular place to watch the sunset, this prehistoric mound is believed to be the tomb of King Krakus, the legendary founder and namesake of Krakow.
A particularly interesting attraction just south of Podgorze is the Wieliczka Salt Mine, also known as the Salt Cathedral. The labyrinth of underground tunnels bored into salt rock boasts beautiful pools of crystal blue water and several chapels with religious figures carved out of the salt.
Once home to the Jewish ghetto during the second world war, Podgorze has risen from its dark history into one of the more fashionable areas of the city. That is not to say that said history has been forgotten. Many of the significant locations from the Nazi occupation have been preserved as historic monuments.
Ghetto Heroes Square is one of the more haunting monuments in the city, as well as among the most impactful. The installation consists of seventy iron chairs spread out across an otherwise empty square. The square was once the meeting place of the Jewish resistance and the empty chairs represent those lost to the Nazi crusade.
The Eagle Pharmacy Museum overlooks the square. The museum offers further insights into life in Krakow during the Nazi occupation.
If you are familiar with the film Schindler's List, or the true story that it is based on, then you will want to visit Oskar Schindler's Factory. The factory where Schindler employed the 1200 Jews that he saved from the concentration camps has been converted into a museum.
When you need a reprieve from the heaviness of the holocaust monuments, you can head to Krakow Chocolate manufactory. Here you can sample various delightful sweet treats or even make your own.
Outside of the city centre, this is a much more affordable place to stay. You will be able to choose from a fantastic selection of mid range and affordable but good quality accommodation options.
Stay in Podgorze if Being right at the heart of central Krakow is not a priority; you like to have plenty of green space to relax in; you have a particular interest in Krakow's connection to the holocaust;
Best places to stay in Podgorze for first-time visitors:
MORE HOTELS IN PODGORZE
6. Ludwinow
Ludwinow – Dębniki along with Grzegórzki, Kleparz, is one of the best place to stay Krakow on a budget. The scenic, riverbank suburb of Ludwinow is a laid-back alternative to the hustle and bustle of the city centre. That is not to say that it is boring however, being one of the trendier areas of the city with the locals.
Just across Vistula river from Wawel Castle, Ludwinow is a neighborhood in Dębniki district wonderful views of the historic buildings across the water. It's just a short walk across the Grunwald Bridge to Kazimierz and the Old Town.
The riverbank around Dębniki is covered in manicured lawns and public pathways. It is a lovely place to take a stroll and watch the river boats drift past the castle.
The Forum Hotel is big block on the banks of the Wisla River. It was once a Krakow landmark, but now is home to a Forum Przestrzenie, a nice cafe in the reception area with cooked pizza, burgers and parmo.
Full of hip coffee shops and trendy bars, Ludwinow is super popular with the younger population of Krakow. The area is a centre of the arts in Krakow, with numerous events venues, convention centres, and chic galleries.
In the summer, locals gather on Plaza Krakow to relax. The artificial riverside beach boasts soft white sand imported here to create the atmosphere of a tropical paradise. Whilst you can't go swimming in the river from the beach, you can hire a kayak or small boat and head out on the water instead.
There are plenty more places to kick back and unwind in Ludwinow. Particularly, there are lots of green spaces within easy reach. Rod Ludwinow Garden takes up much of the south of Ludwinow, whilst Zakrzówek park, with its glistening lake, stretches out from the west.
Dębniki is very much an up and coming area. Investments are being made to develop the neighbourhood, with lots of new hotels and convention centres springing up all the time. The ICE Congress Centre is one of the largest such venues in Krakow.
Whilst you might not expect to travel to Poland to learn about Japanese culture, the most popular museum in Dębniki is the Manggha Museum of Japanese Art. The hyper-modern building hosts exhibitions and events celebrating Japanese art and culture.
One of the focal points of life in Dębniki is Rynek Dębnicki. The little public square hosts a small, open-air market, with vendors selling wares from food and flowers to clothes.
Accommodations in Ludwinow- Dębniki are mostly budget-friendly, with several hostels and mid-range hotels.
Stay in Ludwinow If you do not mind being a little further from the city centre; you are looking for where to stay on a budget; you prefer relaxing over sightseeing; you want easy access to plenty of green space;
Best places to stay in Krakow in Ludwinow- Dębniki:
BEST HOTELS IN DEBNIKI
7. Nowy Świat
Nowy Świat is a tiny little neighbourhood, immediately west of the Old Town. Home to cosy cafes, cute bakeries, and local restaurants, this is a slice of small town Poland right at the heart of Krakow.
The neighbourhood is separated from the Old Town by the narrow strip of Planty Park. Staying here means you will be within walking distance of the city's top attractions, whilst staying in a much less touristy area.
Nowy Świat overlooks the Vistula river to the south. Many of the hotels in the area are located along the riverbank, so it is ideal if you are hoping for a room with river views.
At the south of Nowy Świat is Wawel Castle, the largest castle in Poland and one of the top attractions in the city. Wawel Castle was built in the 13th-century, although there are some pre-existing structures within that date to the 10th-century.
The baroque style castle consists of fortified walls surrounding several other buildings. The various parts of the castle were built independently over the centuries. As such, the castle is a fantastic place to observe the various architectural styles present in the city through the ages.
For many centuries, the castle was a royal residence, whilst the cathedral within was where polish monarchs were crowned. Now that the Polish royal family has been disbanded, Wawel Castle has been repurposed as a museum and art gallery.
Beneath the castle is a cave network known as the Dragon's Den. According to legend, a fierce dragon once lived here, terrorising the townspeople, until it was slain by King Krak, the namesake of Krakow. Over the summer, visitors are able to enter and explore the tunnels.
The Stained Glass Workshop and Museum has been housed here since 1906. Visitors can not only view stunning works of art but also observe the craftspeople creating new pieces using centuries old techniques.
There is, of course, a gift shop, where you can pick up a beautiful souvenir. Alternatively, participate in one of their workshops and create something yourself to take home.
There's a wide range of hotels here, including some of the big international brands. This offers a lot of choice, both in terms of price and quality.
Stay in Nowy Świat If you want to stay super close to the city centre; you are a first-timer; you are hoping to stay in a room with views over the Vistula river.
Best places to stay in Krakow in Nowy Świat for first-time tourists:
MORE HOTELS IN KRAKOW
8. Salwator
Salwator is a relatively new suburb, about a twenty minute walk west of the Old Town. The leafy residential neighbourhood is refreshingly quiet, offering a relaxed alternative to the crowded city centre, whilst still being within easy reach of its popular attractions.
Located along the north bank of the Vistula river, bisected by the Rudawa canal, and especially verdant with a sprawling park to the west, Salwator is one of the most scenic neighbourhoods in Krakow.
For all that it is quiet and residential, there is actually a surprising number of things to see and do around Salwator.
The most convenient to get to is the Convent of the Norbertine Sisters. Originally built in the 12th century, the convent has been destroyed by invaders multiple times throughout its history, being swiftly rebuilt after each sacking.
To the west of Salwator is the fortified Kosciuszko Mound. The artificial mound was constructed in the early 1800s to honour Tadeusz Kościuszko, a Polish military leader and national hero. The mound was later surrounded by a red brick fortress wall and used as a defensive watch tower.
Visitors can book a tour of the mound, as well as the fortifications and buildings that surround it. Alternatively, you can head to the top to enjoy excellent views of the city. From here you should be able to see the bulbous green towers of the Camaldolese Monastery nestled amongst the trees of Wolski Forest.
Also within the forest is another memorial mound, this time dedicated to Józefa Piłsudskiego, along with Krakow Zoo. The zoo is home to over three hundred animal species in a variety of habitats.
Stay in Salwator If You want a quieter, more laid back suburb; You like spending time outdoors; Staying right in the heart of the city centre is not a priority;
Best places to stay in Krakow in Salwator:
MORE HOTELS IN KRAKOW
9. Nowa Huta
Well out of the way of the city centre, Nowa Huta is a suburb right on the far eastern edge of Krakow. A couple of miles away from the Old Town, this is one of the least touristy districts in this neighbourhood guide. So, if you are looking to stay as far from tourists as possible, Nowa Huta is a good location to consider.
If you are looking for somewhere where you can really experience what living like a local is like, Nowa Huta is pretty unbeatable. The district is the definition of a no-frills residential area.
Being so far from the attractions of the city centre, I do not recommend Nowa Huta for anyone visiting Krakow for the first time. However, it does make an interesting option for returning visitors, particularly those interested in Poland's communist history.
Boasting many relics of Poland's communist heritage, Nowa Huta offers an alternative historical experience to that of the city centre. In fact, there are so many communist artefacts and sights in the area that several companies offer guided tours around them.
Aside from the various communist relics, there are also a few other curious sights to see. Mogiła Abbey has been here since the 13th-century.
Alternatively, indulge in the local legends and pay a visit to the Wanda Mound. One of the many mounds of Krakow, the Wanda Mound is the burial mound of the legendary Princess Wanda. Whilst it has proved impossible to definitively date the mound, records of it exist as far back as the 13th century.
Stay in Nowa Huta If It is not your first time visiting Krakow; You are happy to be well away from the city centre and surrounding districts; Sightseeing is not your priority; You are interested in Poland's communist history.
Best places to stay in Nowa Huta:
MORE HOTELS IN NOWA HUTA
Where should I stay in Krakow for the first time?
Stare Miasto is the best overall area to stay in Krakow for first-timers due to its close proximity to famous tourist attractions and a wide choice of accommodation. If you stay here, you will be located in the middle of everything.
What are the best areas to stay in Krakow?
The Old Town, Kazimierz- Jewish Quarter, Kleparz, Podgorze, Grzegórzki, and Ludwinow are the best areas to stay in Krakow for tourists because they are the most popular and safe neighborhoods that offer a wide variety of attractions and amenities.
How many days in Kraków is enough?
If you want to explore Kraków thoroughly, we recommend spending at least three to four days in the city. This should give you ample time to visit the main attractions and soak up the city's unique culture and charm.
Where is the main area in Kraków?
The main area in Kraków is the Old Town, or Stare Miasto, which is the historical and cultural heart of the city. It features many attractions, including Wawel Castle, the Main Market Square, and St. Mary's Basilica.
See more:
In conclusion, Old Town, Kazimierz- Jewish Quarter, Kleparz, Podgorze, Grzegórzki, and Ludwinow are the best places to stay in Krakow for tourists and first-time travalers. Stare Miasto is ideal for those seeking historical charm, while the Jewish Quarter caters to those interested in Jewish heritage.
Kleparz and Wesoła suit budget travelers, Grzegórzki is great for its central location, and Podgorze provides a peaceful ambiance. Ludwinow is perfect for families, Nowy Świat offers a lively atmosphere, and Salwator appeals to nature lovers. Lastly, Nowa Huta suits history enthusiasts. Choose your preferred area based on your interests and preferences.
Overall, Old Town is the best area to stay in Krakow because it has a central location, close to the city's most famous tourist attractions. If you stay here, you will be within easy access to some of the best shopping, dining, and nightlife venues in city.