The best areas to stay in Krabi for first-timers are Ao Nang Beach, Railay Beach, Krabi town, Phi Phi Islands, Klong Muang, Ko Jum, and Ao Nam Mao Beach. These are the most popular and beautiful neighborhoods for tourists that offer a wide range of attractions and amenities.
In this blog post, I will help you to decide where to stay in Krabi for the first time, for couples, families, and backpackers.
Krabi is a province located on the mainland of southern Thailand, with Andaman Sea and Phuket in the west, Phang Nga in the north, Surat Thani in the east, Trang in the south. It's a popular stop-off for backpackers visiting Koh Phi Phi, Koh Lanta, Koh Tao, and Koh Phangan.
With its breathtaking beaches and islands, and outstanding natural beauty with towering limestone cliffs, waterfalls, and caves, Krabi is one of the must-visit destinations in Southeast Asia.
Ao Nang is the best place to stay in Krabi for first-timers due to its close proximity to some of the best beaches in Krabi province such as Ao Nang Beach, Railay Beach, and Phranang Cave Beach. The area also offers many choices on lodging, shopping, dining, and nightlife.
Krabi town is the capital city of Krabi province, and has a more laid back and authentic local vibe than in the touristy Ao Nang Beach. It is best to stay in Ao Nang if you are on a beach vacation and want to stay right on some of the most beautiful beaches of Krabi.
While Ao Nang is an all-rounder destination for families, couples, and backpackers, Klong Muang Beach and Tubkaek Beach are the best place to stay in Krabi for couples due to its peaceful, tranquility, and a good range of luxurious beachfront resorts.
Krabi international airport is located within 10 km from Krabi town and about an hour from Ao Nang. You can easily get around by taxi, tuk tuk, songthaews, scooters, motorcycles, and longtail boats between beaches and islands.
The good amount of time to explore the highlights of the Krabi region is 3 to 5 days. If you have more days, you can enjoy the beaches and landscapes at a more relaxing pace.
Where to stay in Krabi? 7 Best areas to stay in Krabi for tourists
1. Ao Nang, where to stay in Krabi for first-timers
Ao Nang is the best area to stay in Krabi for first-time travelers because it is the tourist hub of Krabi province. If you stay here, you will be located in the middle of action, with a good selection of accommodations, restaurants, bars, and shops. You can easily access famous attractions such as Railay Beach, Phi Phi islands, and Tiger Cave Temple.
Ao Nang is a small town located in the Krabi province in Southern Thailand. You can easily reach from Krabi Airport, and a short boat ride from islands between Phuket and Krabi. Motorbike is the best way to get around Ao Nang.
Ao Nang Beach is the main beach of Ao Nang Town. It is a 1 kilometer long white sandy and crystal clear water beach. The beach is a popular place for sunbathing, swimming, and watching the sunset. The beach is packed with restaurants, cafes, bars, and shops.
The ends of Ao Nang Beach boast longtail boat operators, providing trips to nearby islands and beaches such as Railay Beach and Phra Nang Beach. You might have to wait in the low season because most longtail boats only leave when 80% full.
The 4 Island Tour is a popular boat trip to the most beautiful islands in Krabi from Ao Nang. The 4 islands are Koh Gai (Chicken Island), Koh Poda, Koh Tub and Koh Mor. Activities during the trip are swimming, sunbathing, snorkeling, and photography. The island hopping tour also stops at Phra Nang Cave Beach on the Railay peninsula.
Apart from the main beach, there are numerous other beautiful beaches in Ao Nang. Tonsai Beach is a hidden gem beach with a laid back hippie vibe, a great place to relax. The beach has lots of cheap good street food and cool beach bars. Popular activities are swimming, rock climbing, kayaking, diving, and island hopping.
If you want to be a bit more laidback away from the backpacker crowd and partygoers, head to Noppharat Thara beach, which is 6km from Ao Nang Beach.
Noppharat Thara beach is a famous 3 km long soft white sand, divided into two parts by the Klong Haeng River, lined by local casuarina trees and coconut groves, a part of Hat Noppharat Thara-Mu Ko Phi Phi national park. You can walk to Koh Kao Pak Klong island at one end of the beach at low tide.
If you head to the southern end of Ao Nang Beach, you will find a 1 km wooden pathway, Monkey Trail, connecting Ao Nang Beach with Pai Plong Beach, fronts the popular Centara Grand Beach Beach Resort & Villa. The trail goes around the cliffs and offers lovely ocean views. If you are lucky, you can spot some monkeys.
Don't miss out on the Ao Nang night market, located at the Landmark, close to the 7/11 store. It is the food market with a stage, and live music. You will find all kinds of local Thai food and seafood.
Nearby the Ao Nang Krabi Stadium attracts lots of locals and tourists with fights on Monday and Friday nights. If you are interested in Muay Thai, this is a place to go.
Families and children can visit Ao nang Fiore Zipline adventure park, enjoy a unique variety of adventurous activities such as ziplines, cross rope bridges, dangling cables under the guides of professional assistants. Aonang Elephant Sanctuary is also worth a visit!
There are many other day trips from Ao Nang including a day trip to Emerald Pool & Krabi Hot Springs, Tiger Cave Temple, Hong Island, Dragon Crest Mountain, and Diamond Cave.
Ao Nang town offers great shopping opportunities with many shops along the main road where you can buy souvenirs for friends and families. After sightseeing, shopping, and beach day, you can get a traditional Thai massage at one of many massage salons around town.
Ao nang town has a lively nightlife with plenty of bars, restaurants, cafes, and nightclubs to party on the main street and the beachfront area. The cabaret show is fun to watch.
Ao Nang has plenty of accommodation options ranging from luxury beachfront hotels to budget backpacker hostels around the tourist center and the beach. There are also boutique hotels and self serviced apartments.
Best places to stay in Krabi in Ao Nang for first-timers:
2. Railay Beach, fabulous beaches, caves, rock climbing
Railay, or Rai Leh by locals, is a headland, part of Laem Phra Nang peninsula, located to the south of Ao Nang beach and is only accessible by longtail boat. Railay is one of the most beautiful parts of Krabi, famous for its imposing limestone cliffs, fine white sandy and turquoise water beaches, caves, as well as unforgettable activities such as rock climbing, hiking, snorkeling, and kayaking.
Railay actually has three beaches including Railay West Beach, Railay East Beach, and Phra Nang Beach. These beaches are connected by walking paths, and can be reached by long tail boat or on foot by taking small trails through the jungle.
Railay West Beach is the longest beach of three, bordered by towering limestone cliffs. With shallow and calm water, turquoise waters of the Andaman Sea, it is ideal for sunbathing and swimming. There are several hotels, beach bars, and restaurants behind the beach.
Within a 45 minute jungle hike, North of Railay West lies the TonSai Beach, a popular place for backpackers and climbers. These two beaches are most beautiful at sunset.
Railay East Beach is located with a 5 minute walk from Railay West. It's the arrival point for the longtail boats from Krabi Town. It is dotted with mangrove, and mudflats , not good for swimming but a good place to see the sunset. Many bars are located on this eartern side.
Phranang Beach is located within 15 minutes walk from Railay West Beach. Known as Phranang Cave Beach, the beach is famous for its majestic limestone cliffs and Phranang Cave. Known as Princess Cave, the cave is dedicated to the ancient goddess of fertility, containing a sacred Buddha image.
In front of Phranang Beach is the Koh Rang Nok and Nai, famous for snorkeling. There are ladies offering massages under shaded trees, and the food boats with delicious Thai food such as pad Thai and pancakes.
You can hike up to Railay viewpoint and enjoy stunning ocean views. Be warned, it can be a challenging trek for those not familiar with climbing or hiking. The Railay's Hidden Lagoon nearby is a great place to swim, and recommended for experienced rock climbers.
Another must see is the Diamond Cave (Tham Pranangnai), located a 5-minute walk from the Railay East Pie, and close to Diamond Cave Resort. You can view stunning stalactites, stalagmite, and even bats. The fee is 100 baht per person.
Railay Walking Street is the major thoroughfare of Railay, connecting Railay East and Railay West. The street is packed with bars, craft shops, cafes, restaurants, shops selling gear for rock climbing.
There's no shortage of accommodation options on Railay. There is always something for every budget traveler, from backpacker hostels to luxury resorts and bungalows. Railay East has some of the most affordable accommodation options in Railay Beach.
Best places to stay in Krabi in Railay Beach for first-time visitors:
3. Phi Phi Islands, one of the most popular island in Thailand
Phi Phi islands is located in the Andaman Sea, 40 kilometers from Krabi and Phuet. It has two main islands Phi Phi Don and Phi Phi Leh. While Don is inhabited with hotels, restaurants, and bars, Leh is completely uninhabited.
Phi Phi Don is small and the whole island is easy to explore by foot and bicycle. No cars and motorbikes are allowed here. There are longtail boats from Don to Bamboo Island and Leh. Nui Bay and Monkey Beach can be reached by kayaking.
Maya Bay is one of the top attractions in Koh Phi Phi islands along with Pileh Lagoon, and Monkey Bay. Maya Bay is located on Phi Phi Leh island, and is one of the most famous beaches in the world. This is a famous beach in the movie The Beach starring Leonardo DiCapri.
Surrounded by tall limestone cliffs, the beach has clear turquoise water, white sand, and coral reefs. Popular activities here are sea kayaking, snorkeling, and diving. There is a small shack behind the beach that sells snacks and drinks, no food.
Located near stunning Maya Bay beach is the Pileh Lagoon. With its clean, clear, and shallow water, it is a popular place for swimming and snorkeling. Pileh Lagoon is only accessible by boat.
Head to the north of Pileh Bay on the east coast of Phi Phi Ley, you will see Viking Cave. The Viking Cave is famous for its unique drawings and home to a famous bird's nest which used to make soup.
Phi Phi Don is home to Phi Phi Viewpoint, offering panoramic ocean views. Hike start from Ton Sai Village, you will have to climb a lot of steep stairs to reach the 3 viewpoints of Koh Phi Phi. There are 30 baths for viewpoint 1 and 2, 20 baths for view point 3.
You can visit a tiny Bamboo Island (Koh Pai), which is located 5 km off the northern tip of Koh Phi Phi Don. This is a breathtaking destination of the Phi Phi Islands. There is a fee to enter because it is a part of the Koh Phi Phi national park.
Another popular spot on Don island is Monkey Bay (Ao Ling) is a popular spot on Phi Phi Don Island, located close to Dalum Bay. This small cove has good coral reefs nearby, good spot for snorkeling.
To the other side of Phi Phi Don from Monkey Bay stands Monkey Beach. The beach has fine powder-like sand and crystal clear water. Monkeys inhabit the forested cliff.
Nui Beach is located in front of Nui Bay on the west coast of Koh Phi Phi Don. This small cove is framed by tall karsts. It is a great place for snorkeling and rock climbing.
Koh Phi Phi has a lively nightlife, lots of beach bars, shops, and restaurants along Ton Sai Beach and Ton Sai Village. The island is ideal for honeymooners and families.
There are plenty of accommodation options in Phi Phi Don, especially around Ton Sai Village, Loh Dalum, Laem Thong, and Long Beach.
Best places to stay in Phi Phi islands for first-timers:
4. Krabi town, more laid back, and cheaper lodging compared with Ao Nang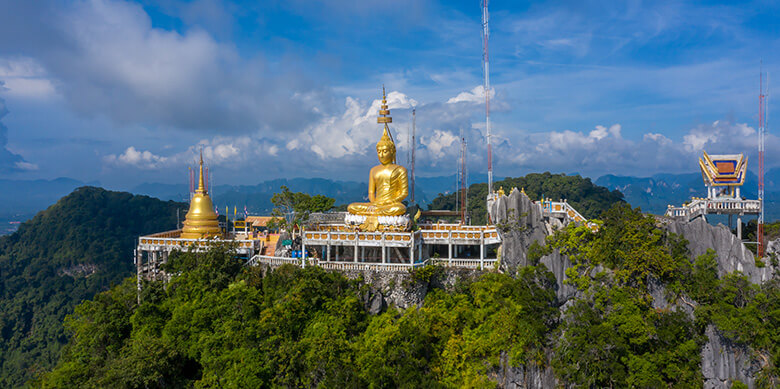 Krabi Town doesn't have a beach like Ao Nang, but it is the hub between mainland and the islands of the Andaman Sea due to its close proximity to the airport and the ferry terminal. Krabi Town is less touristy than Ao Nang, so it is a place to go for an authentic and relaxing atmosphere, as well as budget-friendly accommodations.
Krabi Town is the capital of Krabi province, located next to Krabi River, 15 km away from Ao Nang, and Krabi airport. The cheapest way to get to Ao Nang from Krabi town is to catch the bus from Krabi Bus Terminal.
One of the most popular attractions in Krabi town is the Tiger Cave Temple, also known as Wat Tham Sua. This Buddhist temple is located north-northeast of Krabi. To reach its summit or see the footprint of the Buddha, you have to climb up to 1237 steep stairs.
You can stroll along the waterfront, enjoy the stunning views of the river, and see the crab statue. There are traditional long-tail boats from Chao Fah Park Pier to Khao Khanab Nam Caves and pass through the mangrove forests.
Khao Khanab Nam is the twin limestone mountains. Enjoy exploring amazing stalactites and stalagmites, as well as a large number of human skeletons in its beautiful caves.
There is a walk through nature called Mangrove Walkway, a popular trail for biking, hiking, and birding. If you are bird lovers, this is a place to go.
In the center of the town sits Wat Kaew Korawaram, which is a largest Buddhist temple, located on a hill overlooking the downtown. Originally dating back to 1887, when people settled at Baan Paknam, this temple is one of the best temples in the entire region.
Once you explore all the town centers, you can take a day trip to the Emerald Pool and Krabi hot springs. Emerald Pool is a beautiful natural crystal lagoon in the Khao Phra Bang Khram Nature Reserve. Krabi Hot Springs is located 15 minutes drive from Emerald Pool. The Hot Springs is a great place to dip in bubbling thermal pools, a natural hot tub jacuzzi.
Krabi town offers plenty of cheap restaurants, cafés, bars, authentic traditional Thai markets, travel agencies. The town offers cheaper accommodations compared with the beaches.
There are plenty of night markets in the town center. Krabi Town Walking Street is a popular place to buy souvenirs, handicrafts, clothes, and delicious street food. Talad Sod is a market that sells fresh food. In the waterfront area, there is Chao Fah Night Market.
Krabi is a great place to stay for an authentic local and laid back vibe, and away from tourists of Ao Nang and Railay. There are plenty of inexpensive accommodations much cheaper than the touristy beach town of Ao Nang.
Best places to stay in Krabi Town for first-time tourists:
5. Klong Muang Beach, where to stay in Krabi for couples and honeymooners
Located away from the busy tourist resort area of Ao Nang, Klong Muang Beach is one of the most relaxed beaches in Krabi. With pristine beaches, a collection of upmarket resorts, as well as privacy and tranquility, Klong Muang Beach is the best place to stay in Krabi for couples and honeymooners.
Klong Muang Beach has soft sand and is quiet. It is an ideal place for unwinding, recharge batteries, and sunbathing. While the northern part of the beach is the most beautiful part and a swimming spot, the southern area has stunning rock formations.
There are plenty of restaurants and beach bars along the beach, so you can grab a drink any time, and grab dinner during the sunset.
To the north of Klong Muang is Tubkaek Beach, which is the location of the beach wedding scenes in the Hangover 2 Hollywood movie. Phulay Bay Ritz-Carlton Hotel is a part of it. There are several luxury resorts along the beachfront area.
Another attraction at the end of Tubkaek Beach is the Dragon Crest Mountain, also known as Khao Ngon Nak or Hang Nak. You can hike to its top, enjoy breathtaking views over the Andaman Sea, Phang Nga Bay, and astonishing photo opportunities.
Klong Muang and Tubkaek Beach offer lots of amazing luxury beach resorts for couples wanting the tranquil and secluded environment. The hotels here are private, luxurious and self-contained with on-sites spas, pools, restaurants.
Best places to stay in Klong Muang for the first time:
6. Ko Jum, small, quiet and peaceful island
Ko Jum is a small and peaceful island located in Krabi Province, close to Koh Lanta. If you prefer a quiet atmosphere and affordable accommodations, Koh Jum is a good base.
Ko Jum can be reached by longtail boat, ferry, and speedboat from Krabi Town, Koh Lanta, and Laem Kruat port. You can bring a motorbike to the island.
Koh Jum Village is filled with numerous restaurants, shops, and travel agencies. The beach has white sandy beach, crystal clear water. Golden Pearl Beach, Long Beach, Ao Si Beach, and Magic Beach are some of the best places for swimming and sunbathing. There are also Coconut Beach, Sunset Beach, and Secret Beach.
December to April is the best time to visit Koh Jum and islands on the Andaman sea. You can stay here for a night or two to enjoy the beaches at a relaxing pace.
Best places to stay in Krabi in Ko Jum:
7. Ao Nam Mao Beach, an escape from the crowds of tourist
Ao Nammao Beach is located within a bay, a few km from Ao Nang, between Krabi-Town and Railay Beach. It is a hidden gem not many people know about. This is a place to go if you want a quiet, private, tranquil, and relaxing vacation.
Ao Nammao Beach has mixed sands and is not suitable for swimming.There is a small floating pier called Ao Nam Mao Pier at the far end of the beach. The ferries go to Koh Samui and Koh Phangan.
Shell Cemetery Krabi (Susan Hoi) is located 2.8 km away from Ao Nam Mao Beach. This ancient petrified shell cemetery houses fossils, dated back about 40 million years. If you are interested in geology, this is a place to visit. The shell is a part of Fossil-Shell national park. Also take a look at the Chinese temple nearby.
There are several guest houses, hotels, shops, cafes, and restaurants along the highway. The beach offers a tranquil environment where visitors can relax and enjoy nature.
Best places to stay in Ao Nam Mao Beach for first-timers:
Where should I stay in Krabi for the first time?
Ao Nang is the best area to stay in Krabi for first-timers because it is the tourist hub of Krabi province. There are plenty of attractions and amenities, as well as you will be located right on the famous Ao Nang Beach, and easy access to Railay Beach, Tonsai beach, and Phranang Beach.
What are the best areas to stay in Krabi?
Ao Nang Beach, Railay Beach, Krabi town, Phi Phi Islands , Klong Muang, Ko Jum, and Ao Nam Mao Beach are the best areas to stay in Krabi for tourists because they are the most popular areas that offers plenty of things to do and see.
Is it better to stay in Krabi town or Ao Nang?
Ao Nang is better than Krabi Town if you want to stay right on the famous beach, and you want to stay in a tourist area that offers everything you need. Krabi Town is the capital city, has a more laid back vibe, and a transit area between the mainland and the beach.
See more:
Overall, Ao Nang is the best area to stay in Krabi for first-timers due to its close proximity to top beachess, as well as many choices of hotels, restaurants, bars, and shops. So there you have it, where to stay in Krabi for the first time, all you need to do now is to book your hotels, and get ready to go!