Where to Stay in Koh Tao Thailand: Best Areas and Hotels
If you're wondering where to stay in Koh Tao, or where is the best area to stay in Koh Tao, you're in the right place. I will give an insight into 6 best places to stay in Koh Tao for first time visitors, couples, families, backpackers, all budget travelers; read on as I show you the best of Koh Tao.
Where to Stay in Koh Tao Thailand – 5 Best Area to stay in Koh Tao
For such a small island, Koh Tao has a surprisingly large variety of areas to stay. From a busy port town to relaxed and chilled-out hidden beaches, you are sure to find a location that calls out to you.
So, Where is the best area to stay in Koh Tao Thailand? In this section, we'll help you to explore the 6 best areas to stay in Koh Tao are: Sairee beach, Mae Haad bay, Chalok Baan Kao bay, Tanote Bay, Shark Bay.
Where to Stay in Koh Tao Thailand – 5 Best Areas to stay in Koh Tao
Where to Stay in Koh Tao Thailand Map
To see more detail of Where to Stay in Koh Tao, go to Google Map.
1. Sairee Beach, Where to Stay in Koh Tao for Nightlife
Sairee Beach is a long stretch of sand that runs along a large bay that fills out the middle of the island's West Coast. It is the most developed beach on the island, and there are a host of bars, restaurants, shops and facilities.
There is also a huge range of accommodation to suit all pockets from budget hostels and dorms to some swanky high-end five-star resorts that dot command fine sea views from the cliff tops to the North.

The beach is, of course, perfect for sunbathing and there is some good snorkeling on the reef that lies not far offshore. It is just a hop and a skip away from Mae Haad port and is one of the best and most convenient spots to stay on the island.
YOU SHOULD STAY IN SAIREE BEACH IF:
You want to party the night away
You want a great choice of accommodation
You want to watch the sun setting over the sea
You want a great choice of international cuisine
You are traveling with family
BEST HOTELS IN SAIREE BEACH:
2. Mae Haad Bay, Where to Stay in Koh Tao for Shopping
Mae Haad is the port and also the main town of Koh Tao. You will arrive and depart from here and it is a good choice of place to stay for the convenience of shops, banks and other amenities. There are a large number of international restaurants and bars that offer mouth-watering and impressively cosmopolitan fare.

Despite being a sea-port Mae Haad has a lovely beach that stretches away on both sides of the main pier.
So, the center of the town is quite busy, but as you head out to the north and south things quieten down. Staying at the edge of the town is a good idea if you want to combine convenience with quiet. You can find some good quality budget dorms and hostels as well as less budget-conscious resorts.
YOU SHOULD STAY IN MAE HAAD BAY IF:
You want good value budget accommodation
You're Leaving early or arriving late
You want the convenience of banks and infrastructure
You're a keen shopper
You are a solo traveler
BEST HOTELS IN MAEE HAAD BAY
3. Chalok Baan Kao Bay, Where to Stay in Koh Tao for Families, Snorkeling
Chalok Baan Kao Bay is a large beach on Koh Tao's South Coast that offers shallow waters for relaxed swims & good snorkeling. There is a good selection of casual bars and eateries along the beach.
Chalok Baan Khao is a great place to stay if you plan to get out and explore some of the sheltered coves and clifftop viewpoints that are dotted around the South Coast of Koh Tao.
You will find some good mid-range and higher-end resorts as well as a few budget choices. You can choose to stay in beachside bungalows or opt for the majestic sea views offered by the resorts that perch along the hillside.
YOU SHOULD STAY IN CHALOK BAAN KAO BAY IF:
You're in search of a chilled-out atmosphere
You are looking for mid-range or more expensive accommodation
You want to swim and snorkel right off the beach
You're with your family
You are keen to explore
BEST HOTELS IN CHALOK BAAN KAO BAY:
4. Tanote Bay, Where to Stay in Koh Tao for Quiet Holiday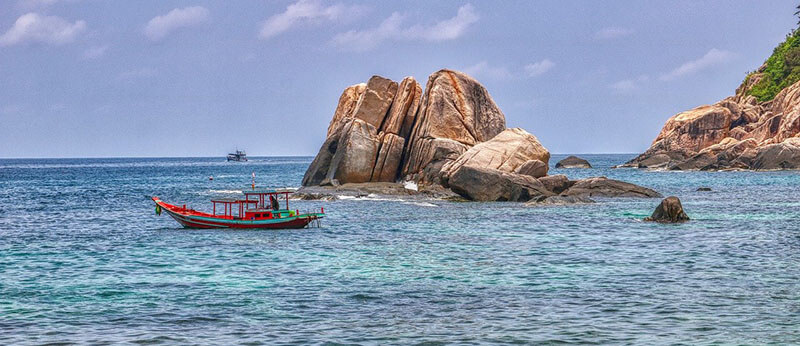 Tanote Bay is located mid-way down Koh Tao's East Coast and is the largest settlement on that side of the island. It is far from crowded, though, and it is a good place to stay for people who want a great combination of seclusion and amenities.
As with most of Koh Tao's beaches, you can jump into the warm sea and enjoy good snorkeling just off the beach.
Despite being on the opposite coast of Koh Tao from the ferry port Tanote Bay is only about 3 kilometers away by road. So you are just a short taxi ride away from all the amenities. Tanote Bay is the perfect base of operations from which to discover the delights of Koh Tao's Eastern Coast.
YOU SHOULD STAY IN TANOTE BAY IF:
You're after chilled, relaxed, laid back, and horizontal
You want to stay somewhere with an air of sophistication
You don't mind being out of the busiest areas
You're looking for a great resort for a little more money

BEST HOTELS IN TANOTE BAY:
5. Shark Bay, Where to Stay in Koh Tao for Little Luxury Holiday
Shark Bay is also known as Tian Og. It is a quiet and private little bay on the South Coast of Koh Tao, about 2 kilometers away from the main port of Mae Haad. It is a relaxed and picturesque beach and, while it isn't anything like as busy as Sairee Beach you can still dine well and enjoy beachside cocktails.

By the way, don't worry about the name. The sharks that give the place its title are black-tipped reef sharks. They are harmless and if you are lucky enough to see one, it will be more scared of you than you are of it.
YOU SHOULD STAY IN SHARK BAY IF:
You're looking for a little luxury
You want to be away from the crowds
You don't mind a bit of travel
You'd like to see a shark!
BEST HOTELS IN SHARK BAY:
Where to Stay in Koh Tao: Tips & Info
Here, I answer a few of the most common visitor questions regarding where to stay and what to do while on Koh Tao. These will give you some good ideas on where to choose as the base for your exploration of the island. The idea is to help to ensure that you have a happy, safe and fulfilling visit to the island.
Where To Stay In Koh Tao For Nightlife?
Sairee beach is the overwhelming favorite choice for visitors looking for a lively night scene on Koh Tao. There are plenty of bars here where DJs will whip up some top tunes for you to strut your stuff. The biggest party nights are New Year's eve and on full moon nights but there is plenty going on at other times.
And if you're looking for a slightly more restrained evening, then there are plenty of restaurants offering all kinds of international fare. Having a seafood BBQ on the beach is a classic choice. In many places a beachside fire-juggling show will accompany your meal.
Where To Stay In Koh Tao for Backpackers?
Koh Tao is the place in Thailand to get yourself a good diving certification at a budget price, so it is extremely backpacker-friendly. You will find good-value guesthouses and dorms all over the island.
Having said that, the biggest concentration of backpacker-friendly accommodation is definitely in the port of Mae Haad and at bustling Sairee beach. These places are convenient for onward travel and at the heart of all the action. And if you'd like a bit of peace and quiet then just take a look around the outskirts of both settlements, where things are a bit more chilled-out.
Where To Stay In Koh Tao For Snorkeling?
One of the biggest appeals for travelers to Koh Tao is its clear waters and great sea-life. You can find some nice snorkeling just off the shore at several of the island's beaches and bays. In particular, Chalok Baan Kao Bay, Laem Tien, and Tanote Bay are great snorkeling spots.
But if you want to see the best corals and fish, you should jump on one of the boat trips that will take you to a few of the best shallow reefs in and around the island's waters.
Is Koh Tao Worth Visiting?
While Koh Tao is perhaps most famous for diving, the island is far from being a one-trick-pony. You can find some great nightlife there that offers a slightly more restrained alternative to the full-on full-moon parties of neighboring Koh Phangan.
Also, there are super beaches and lovely hidden bays to explore, and the forested hills of the interior of the island offer some great trekking and even rock-climbing opportunities.
And Koh Tao's location in the azure waters of the Gulf of Thailand makes it the perfect springboard for boat trips that explore the natural delights of the locale.
Is Koh Tao Safe? Is Koh Tao Really Dangerous?
Regrettably, in recent years Koh Tao has featured in the news sometimes for the wrong reasons and it would be foolish to suggest that a visit to the island is guaranteed to be risk-free. But, even if you are a solo traveler, all that you need to do to ensure a safe and trouble-free visit to Koh Tao is to take a few basic steps, much as you should anywhere that you travel.
So, do these things to keep yourself safe. Don't walk alone at night, especially in dark or quiet areas. If you're traveling alone, then maybe stay in a hostel or centrally-located accommodation. Keep a careful eye on your drinks, making sure nothing gets put into them. Let people know where you are going. Be careful on the roads and always travel with medical insurance. That's it!
Can you walk around Koh Tao?
Koh Tao is very walkable since it is only a couple of kilometers wide and about eight kilometers long. But remember that it is hilly and also that you're in tropical Thailand. It can get very hot indeed in the middle of the day.
By all means, walk from place to place, it is a great way to see the sights, and it is great exercise too. But always bring a bottle of water with you on your explorations. Staying hydrated in the tropics is important.
Trash Hero Koh Tao sells refillable water bottles that you can top up for free at over thirty locations on the island. Traveling with a refillable bottle is a great way to reduce the trash in the beautiful places you visit.
How long should I stay in Koh Tao?
The length of your visit to Koh Tao will inevitably be determined by what you choose to do there. If you are learning to dive, that usually takes about three days of concentrated study, or longer if you are taking your time.
It is also well worth taking a boat trip while you're here. The best way to experience many of the delights of the local area is from the water. And a couple of chill-out days never did anyone any harm, did it? Some of the hidden beaches and bays of Koh Tao are perfect spots to sample laid back island life.

So, as a minimum, you should consider staying for three or four nights on Koh Tao. But a week or more will give you the best opportunity to see all that this beautiful island has to offer.
What Is Koh Tao Known For?
Koh Tao has developed an international reputation for good diving at budget prices and, consequently, it has become a magnet for backpackers and independent travelers.
It is more relaxed than nearby Koh Phangan and less developed than Koh Samui and has a charm all of its own. So, it is a great place to visit for diving and snorkeling but, equally, it has some great nightlife and some lovely secluded bays that practically beg you to kick back and relax.
Where Is The Best Area To Stay In Koh Tao?
Sairee beach is the bustling, brassy heart of the island. It is a lovely sandy beach on the sunset side of the island and is a perfect spot from which to begin your exploration of Koh Tao. And even if you're looking for peace and quiet, all that you need to do is to head to the Northern outskirts of the village where things are a bit more relaxed than in the center.
Conclusion
So, those are my tips on the best places to stay on Koh Tao. Just choose the location that appeals to you most and you can't go wrong. As you can see, there are plenty of great reasons for you to come and check out this pretty little Thai island. I hope that you enjoy your trip!
---
---