Where to stay in Koh Tao? Some of the best areas to stay in Koh Tao are Sairee Beach, Mae Haad bay, Chalok Baan Kao bay, Tanote Bay, and Shark Bay. These areas offers a wide range of accommodation options for all budget travelers.
In this post, I will help you to find the best areas and beach towns in Koh Tao for first-time visitors, couples, families, backpackers, and the best hotels in Koh Tao for all budget travelers.
Koh Tao is part of a set of three islands, along with Koh Phangan and Koh Samui, in the Gulf of Thailand which is famous for its scuba diving and snorkeling. The island is called Koh Tao, but that translates to Turtle Island. If divers are lucky, they will see turtles on some of the more than 20 diving spots around the coast.
Koh Tao has developed an international reputation for good diving at budget prices and, consequently, it has become a magnet for backpackers and independent travelers.
It is more relaxed than nearby Koh Phangan and less developed than Koh Samui and has a charm all of its own. So, it is a great place to visit for diving and snorkeling but, equally, it has some great nightlife and some lovely secluded bays that practically beg you to kick back and relax.
You can catch a train/ferry from Bangkok to Surat Thani, you can take a plane to Surat Thani and book onwards accommodation on the island, or you can make it easy on yourself and book a bus/ferry combination ticket from Khao San Road, the backpacker road in Bangkok.
Getting to Koh Tao has been made ridiculously easy in recent years. Popular overland destinations are available from Phuket, Krabi, and Koh Lanta. Minivans and buses will leave each day with Koh Tao as a destination.
For such a small island, Koh Tao has a surprisingly large variety of areas to stay. From a busy port town to relaxed and chilled-out hidden beaches, you are sure to find a location that calls out to you.
Where to stay in Koh Tao first time?
The best areas to stay in Koh Tao for first-timers are Sairee Beach, Mae Haad bay, Chalok Baan Kao bay, Tanote Bay, and Shark Bay. Whether you prefer a lively atmosphere, convenience, relaxation, or a nature-focused vacation, Koh Tao has options to suit a range of tastes.
Keep in mind that Koh Tao is a relatively small island, and getting around by taxi or motorbike is easy, so you can easily explore different areas during your visit. It's always a good idea to book your accommodation in advance, especially during peak tourist seasons.
Overviews of the best areas to stay in Koh Tao for tourists
Here is an overview of recommended areas in Koh Tao for first-time visitors:
| Best areas in Koh Tao for tourists | Why should you stay in this area? |
| --- | --- |
| Sairee Beach | the most popular and lively area on Koh Tao. It offers a vibrant nightlife scene with numerous bars, restaurants, and shops. It's an ideal choice for young travelers or those who enjoy socializing, partying, and meeting new people. There is a beautiful sandy beach and a wide range of accommodations to suit various budgets. |
| Mae Haad Bay | the main port area of Koh Tao and serves as a transportation hub. It is a convenient location with easy access to ferries, dive centers, and the island's main shopping area. If you prefer a central location with good amenities and proximity to other parts of the island, Mae Haad Bay is a suitable choice. The bay has a decent beach, and there are several accommodation options available. |
| Chalok Baan Kao Bay | located in the southern part of Koh Tao and offers a more laid-back and relaxed atmosphere compared to Sairee Beach. It is known for its tranquil surroundings, stunning views, and calm waters. This area is perfect for visitors seeking a quieter experience, families, or couples looking for a peaceful getaway. Chalok Baan Kao Bay has a range of accommodations, from budget-friendly to more upscale resorts. |
| Tanote Bay | situated on the eastern side of Koh Tao and is renowned for its crystal-clear waters and excellent snorkeling and diving opportunities. The bay is surrounded by lush hills and cliffs, providing a serene and picturesque setting. If you are an avid snorkeler or diver, Tanote Bay is an excellent choice. Accommodations in this area are generally more secluded and cater to nature lovers. |
| Shark Bay | located on the southern tip of Koh Tao and offers a unique experience. It is known for its stunning coral reefs and the opportunity to swim with blacktip reef sharks. This area appeals to nature enthusiasts, snorkelers, and those seeking a peaceful escape. Accommodation options in Shark Bay tend to be more secluded and cater to eco-tourism. |
Map of areas to stay in Koh Tao:
🎬 To get an overall idea of Koh Tao, check out this video:
The Best Areas to stay in Koh Tao for tourists are:
1. Sairee Beach – best overall area to stay in Koh Tao for first-timers
Sairee Beach is one of the best areas to stay on Koh Tao island for first-timers because it is the island's largest and liveliest beach that offers plenty of things to do and see.
Sairee Beach is one of the best and most convenient spots to stay on the island. It is located just a hop and a skip away from Mae Haad port, which is Koh Tao's main pier where all the ferry boats arrive.
Sairee Beach is a long stretch of sand that runs along a large bay that fills out the middle of the island's West Coast. It is the most popular area on the island with white sand, lazy palm trees, great nightlife, and beautiful sunset.
Walking Street runs parallel to Sairee Beach with the highest concentration of bars, restaurants, hotels, dive stores, and shops. The street leads to Mae Haad Pier, and you can stop at Ladyboy Cabaret Show along the road.
If you come to Koh Tao for a party, Sairee Beach is the best part of the island to stay in. Fishbowl Beach Bar and AC Bar Beach Club are the popular bars in this area. Other bars are Banyan, FIZZ beach lounge, Lotus Beach Bar, Good Vibe Bar, and The Beer Masons.
Sairee beach is, of course, perfect for sunbathing, beach volleyball, frisbee and there is some good snorkeling on the reef that lies not far offshore. You can enjoy incredible sunset views from the beach.
Sairee beach has shallow and calm water, making it a safe beach for families and kids. There are a couple of tree swings to enjoy and take a photo with.
Koh Tao is one of the best places to dive in Thailand. Sairee is home to many diving schools and travel agencies where you can book a dive or snorkel trip to popular sites for diving, such as Tanote Bay and Aow Leuk.
Sairee Beach is easily explored by foot, taxi boats, scooters, songthaews, and taxis. You can take boat trips to Nang Yuan island.
There is also a huge range of accommodation to suit all pockets from budget hostels and dorms to some swanky high-end five-star resorts that dot command fine sea views from the cliff tops to the North.
Stay in Sairee Beach if you want vibrant nightlife; you want a great choice of accommodation; you want to watch the sun setting over the sea; you want a great choice of international cuisine; you are traveling with family.
BEST HOTELS IN KOH TAO IN SAIREE BEACH:
Blue Tao Beach Hotel is 3-star hotel, located within 1.9 km of Jansom Bay Beach and 1.3 km of Mae Haad Pier, Blue Tao Beach Hotel offers accommodation with a terrace and as well as free private parking for guests who drive. Guests at the accommodation will be able to enjoy activities in and around Koh Tao, like snorkelling.
Budchui Village2 is situated in a quiet area, the property is 4 km from Freedom Beach and 2 km from Mae Haad Pier., 500 m from Sairee Beach on Ko Tao. Good location, not far walk from the town/beach. Nice pool and rooms. Laundry service good and cheap.
Naroua Villas is a luxury hotel in Koh Tao, offers villas with a private pool and a wide range of services for their guests. The property is 1.4 km from Mae Haad Pier and 2.2 km from Sunken Ship. Samui Airport is located 65 km away.
See more:
2. Mae Haad Bay – a convenient base to stay in Koh Tao
Mae Haad is the port and also the main town of Koh Tao. You will arrive and depart from here and it is a good choice of place to stay for the convenience of shops, banks, government offices are, the post office, police station, 7-Eleven, and other amenities.
Mae Haad is also easy to reach from the popular areas of Sairee or Chalok Baan Kao. It is a great place to shop for Thai souvenirs, beachwear, and handmade jewelry.
There are a large number of international restaurants and bars that offer mouth-watering and impressively cosmopolitan fare.
Mae Haad is also is a great place for swimming, snorkeling, and diving. the best spot is around the shallow shipwreck at the south end of the bay. There are lots of shaded palm trees on the north side of the Mae Haad beach to hide on the hot, sunny day.
Despite being a sea-port Mae Haad has a lovely beach that stretches away on both sides of the main pier. You can also find attractions like Sai Nuan Beach, Koh Tao Temple, Jansom Bay.
From the area of Mae Haad village, you can take longtail boat taxis and drivers to visit many places such as the Koh Nangyuan island, Mango bay, Shark bay, Saideng.
So, the center of the town is quite busy, but as you head out to the north and south things quieten down. Staying at the edge of the town is a good idea if you want to combine convenience with quiet.
Mae Haad offers a wide range of accommodation options, from hostels, bungalows, hotels, resorts, and many beachfront accommodations. You can find some good quality budget dorms and best hostels in Koh tao for solo travelers as well as less budget-conscious resorts.
Stay in Maee Haad Bay if you're a keen shopper; you want good value budget accommodation; you're Leaving early or arriving late; you want the convenience of banks and infrastructure; you are a solo traveler.
BEST HOTELS IN KOH TAO IN MAEE HAAD BAY:
The Miracle Guesthouse & Diving is just 300 m from Mae Haad Pier, close to Sunken Ship and Mango Bay. Guests can enjoy various activities in the surroundings, including snorkeling and diving. For those interested in diving, Dive Wishes & More is an in-house diver operator that has its own speedboats and offers special discounts on diving courses for guests staying at the property.
Sensi Paradise Beach Resort this hotel overlooks Mae Haad Beach is a short walk from shops and restaurants, a short boat ride from Koh Samui and Koh Phangan Islands. Guests can go on fishing or island-hopping trips, and the resort provides rental of snorkeling equipment. Laundry and taxi services are available. Wi-Fi is free throughout the resort.
Koh Tao Central Hostel is just 50 m from the beach and Mae Haad Pier. The beautiful Sairee Beach is a 10-minute walk away. Across the street at Reef Bar, there is a pool table, free board games, and a travel library. Additional shops, restaurants, and bars are in the surrounding area.
3. Chalok Baan Kao Bay – where to stay in Koh Tao for families
Chalok Baan Kao Bay is the 3rd largest beach on the island, located on Koh Tao's South Coast that offers shallow waters ideal for families with children for relaxed swims and good snorkeling.
Chalok Baan Kao Bay has a good selection of casual bars and eateries along the beach. There are numerous dive centres, travel agencies, massage parlours, restaurants, and bars, as well as a 7-Eleven and a pharmacy.
Chalok Baan Khao is a great place to stay if you plan to get out and explore some of the sheltered coves and clifftop viewpoints that are dotted around the South Coast of Koh Tao. It overlooks the Koh Samui, Koh Phangan, and the Ang Thong Marine National Park.
In addition to the beautiful Chalok Baan Kao Bay Beach, some of the attractions in the area are:
the Freedom Beach, quiet and private beach, with one wooden restaurant nearby
the John Suwan viewpoint, offering a unique view over the ocean
the June Juea Bay, remote bay with a pleasant beach and beautiful sunset, located near Cape Ja Te Kang at Tao Thong.
the Hin Taa Toh (Buddha Rock), close to freedom beach.
You will find some good mid-range and higher-end resorts as well as a few budget choices. You can choose to stay in beachside bungalows or opt for the majestic sea views offered by the resorts that perch along the hillside.
Stay in Chalok Baan Kao Bay if you're with your family; you're in search of a chilled-out atmosphere; you are looking for mid-range or more expensive accommodation; you want to swim and snorkel right off the beach; you are keen to explore.
BEST HOTELS IN KOH TAO IN CHALOK BAAN KAO BAY:
Assava Dive Resort Very beautiful and super clean bungolows next to the beach. I liked the interior design a lot and also were the beds super comfy and there was water, coffee and tea avaiable. The hotel is close to Mae Haad Pier, Sunken Ship. Assava provides accommodation with a restaurant, free private parking, an outdoor swimming pool and a bar..
The Dearly Koh Tao Hostel The hostel is really clean, the showers are powerful, the rooms are spacious. The staff are really friendly. The hostel has a rooftop relaxing area, as well as a common room with a flat-screen TV, books and a computer.
Greenery Resort Koh Tao is located in the south of Koh Tao Island, 1.3 km from Mae Haad Pier, offeres a sun terrace and views of the mountain. Surrounded by local shopping places, Aukotan Store can be reached within a short walk from the property. Guests can engage in various activities, such as snorkelling and diving
4. Tanote Bay – great base in Koh Tao to explore the east coast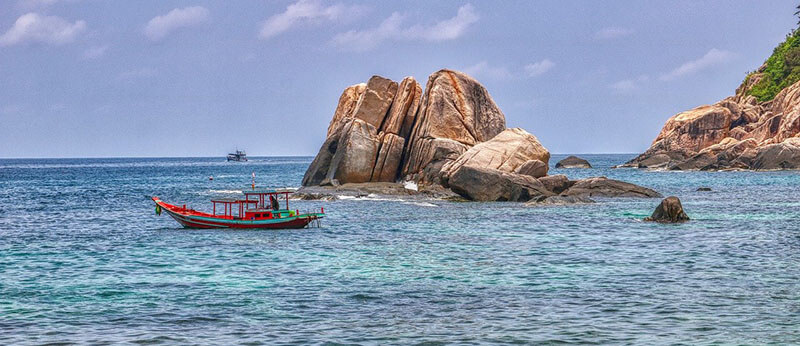 Tanote Bay is located mid-way down Koh Tao's East Coast and is the largest settlement on that side of the island. It is far from crowded, though, and it is a good place to stay for people who want a great combination of seclusion and amenities.
As with most of Koh Tao's beaches, you can jump into the warm sea and enjoy good snorkeling just off the beach.
Despite being on the opposite coast of Koh Tao from the ferry port Tanote Bay is only about 3 kilometers away by road. So you are just a short taxi ride away from all the amenities.
If you like hiking, you can hike up to the mountain and enjoy stunning viewpoints at West Coast Viewpoint, the water reservoir, and Tanote Peak.
Tanote Bay is the perfect base of operations from which to discover the delights of Koh Tao's Eastern Coast.
Stay in Tanote Bay if you're after a chilled, relaxed, laid back, and horizontal; you want to stay somewhere with an air of sophistication; you don't mind being out of the busiest areas; you're looking for a great resort for a little more money
BEST HOTELS IN KOH TAO IN TANOTE BAY:
Ecotao Lodge is located in Koh Tao and has a restaurant, room service, bar, garden, outdoor pool and terrace. Popular points of interest near Ecotao Lodge include Sunken Ship, Tanote Bay and Laem Thian. A bicycle rental service is available at the accommodation, while cycling can be enjoyed nearby.
Tanote Villa is situated on a hill, a 5-minute walk from Tanote Bay, close to Koh Tao Pier, Mae Haad Pier. To relax, guests can take a stroll in the garden. Travel and sightseeing arrangements can also be made at the tour desk.
5. Shark Bay – best place to stay in Koh Tao for snorkeling
Shark Bay is also known as Thian Og Bay, one of the best snorkeling spots on the island. It is a quiet and private little bay on the South Coast of Koh Tao, about 2 kilometers away from the main port of Mae Haad.
It is a relaxed and picturesque beach and, while it isn't anything like as busy as Sairee Beach you can still dine well and enjoy beachside cocktails.

By the way, don't worry about the name. The sharks that give the place its title are black-tipped reef sharks. They are harmless and if you are lucky enough to see one, it will be more scared of you than you are of it. Attractions nearby are Sai Daeng Beach, Koh Tao Leisure Park.
YOU SHOULD STAY IN SHARK BAY IF you like snorkeling; you're looking for a little luxury; you want to be away from the crowds; you don't mind a bit of travel; you'd like to see a shark!
BEST HOTELS IN IN KOH TAO IN SHARK BAY:
The Fisherman's Villas is surrounded by peace and nature in Koh Tao, The Fisherman's Villas offers cosy self-catering villas with stunning ocean views. Free transfers upon arrival and departure from/to Mae Haad and free shuttle service can be arranged upon request. Shark Bay, popular area for snorkelling and diving is only 400 m away.
Cape Shark Villas offers luxurious villas and a private beach area. Each stylish villa boasts a private terrace, a dining area and air-conditioned bedrooms.
Jamahkiri Resort & Spa provides luxurious accommodation, It has a private beach, a pool and a PADI certified diving centre. The resort's prime location, allows guests to enjoy excellent diving and snorkelling spots.
Frequently Asked Questions
Where should I stay in Koh Tao for the first time?
Sairee Beach is the best area to stay in Koh Tao for first-timers because it is the most popular for accommodation and offers backpacker huts on the beach, alongside modern low-rise resorts with all mod cons.
What are the best areas to stay in Koh Tao?
Sairee Beach, Mae Haad Bay, Chalok Baan Kao Bay, Tanote Bay, and Shark Bay are the best areas to stay in Koh Tao because they are the most popular and safe neighborhoods for tourists that offer a wide range of attractions and amenities.
Where To Stay In Koh Tao for Backpackers?
Koh Tao is the place in Thailand to get yourself a good diving certification at a budget price, so it is extremely backpacker-friendly. You will find good-value guesthouses and dorms all over the island.
Having said that, the biggest concentration of backpacker-friendly accommodation is definitely in the port of Mae Haad and at bustling Sairee beach. These places are convenient for onward travel and at the heart of all the action. And if you'd like a bit of peace and quiet then just take a look around the outskirts of both settlements, where things are a bit more chilled-out.
Is Koh Tao Worth Visiting?
While Koh Tao is perhaps most famous for diving, the island is far from being a one-trick-pony. You can find some great nightlife there that offers a slightly more restrained alternative to the full-on full-moon parties of neighboring Koh Phangan.
Also, there are super beaches and lovely hidden bays to explore, and the forested hills of the interior of the island offer some great trekking and even rock-climbing opportunities.
And Koh Tao's location in the azure waters of the Gulf of Thailand makes it the perfect springboard for boat trips that explore the natural delights of the locale.
Is Koh Tao Safe? Is Koh Tao Really Dangerous?
Regrettably, in recent years Koh Tao has featured in the news sometimes for the wrong reasons and it would be foolish to suggest that a visit to the island is guaranteed to be risk-free. But, even if you are a solo traveler, all that you need to do to ensure a safe and trouble-free visit to Koh Tao is to take a few basic steps, much as you should anywhere that you travel.
So, do these things to keep yourself safe. Don't walk alone at night, especially in dark or quiet areas. If you're traveling alone, then maybe stay in the best hostels in Koh Tao for solo travelers or centrally-located accommodation. Keep a careful eye on your drinks, making sure nothing gets put into them. Let people know where you are going. Be careful on the roads and always travel with medical insurance. That's it!
Can you walk around Koh Tao?
Koh Tao is very walkable since it is only a couple of kilometers wide and about eight kilometers long. But remember that it is hilly and also that you're in tropical Thailand. It can get very hot indeed in the middle of the day.
By all means, walk from place to place, it is a great way to see the sights, and it is great exercise too. But always bring a bottle of water with you on your explorations. Staying hydrated in the tropics is important.
Trash Hero Koh Tao sells refillable water bottles that you can top up for free at over thirty locations on the island. Traveling with a refillable bottle is a great way to reduce the trash in the beautiful places you visit.
How long should I stay in Koh Tao?
As a minimum, you should consider staying for three or four nights on Koh Tao. But a week or more will give you the best opportunity to see all that this beautiful island has to offer.
Read more: How many days in Koh Tao is Enough?
Read Also:
Summary – Where to stay in Koh Tao?
In conclusion, Sairee Beach, Mae Haad, Chalok Baan Kao, Tanote Bay, and Shark Bay are some of the best places to stay in Koh Tao. They offer great accommodation options and amenities for visitors to stay and explore the island.
Sairee Beach caters to those seeking a lively atmosphere, while Mae Haad Bay offers convenience and accessibility. Chalok Baan Kao Bay provides a tranquil setting, Tanote Bay is perfect for snorkeling enthusiasts, and Shark Bay offers a unique opportunity to swim with these majestic creatures.
With these options, visitors can find the perfect spot to make their Koh Tao experience unforgettable.