The best areas to stay in Koh Samui for first-timer are Chaweng Beach, Lamai, Bophut Beach, Mae Nam, Choeng Mon Beachs, Chaweng Noi Beach, Bang Rak Beach, Bang Po Beach, Lipa Noi. These districts are very popular and safe for tourist that offers a wide variety of attractions and amenities. In this post, I will help you to find where to stay in Koh Samui for couples, honeymoon, family, full moon party, and for backpackers.
Koh Samui is the largest of the three main Gulf of Thailand islands and is one of Thailand's and Southeast Asia's tourist mainstays and is the perfect vacation spot for backpackers and package tourists alike.
Samui is part of three islands on the coast of Surat Thani, with the smallest Koh Tao to the Full Moon Party island of Koh Phangan and then Koh Samui, which is the largest and most populated.
Chaweng and Lamai are the best area to stay in Koh Samui for first-timers because they are the tourist hubs of the island. Chaweng is a better option if you are looking for island's best nightlife with lots of bars and restaurants, while Lamai is a better place to stay if you want a more laid back, quieter, and romatic getaway for couples. Lamai has cheaper accommodations, and food.
If you want crowds and excitement, you should plump for Chaweng or Lamai on the Eastern sunrise coast. To get away from it all, look at quieter locations such as Choeng Mon Beach, Bang Po Beach, or Lipa Noi Beach. And if you want somewhere in the middle, then Chaweng Noi Beach or Bophut are good options.
Known as the second largest island in the country, Koh Samui has well over a thousand hotels and resorts, hostels, and guesthouses. There is so much to choose from that visitors will have no problem finding something that suits their price range.
If this is your first visit, I recommend spend at least three days in Koh Samui, but 4 to 7 days is good amount of time. With three days, you can stick to one town such as Chaweng and explore around. If you have more days, you can do things in a slower pace, relaxing, and take some island-hopping.
🎬 To get an overall idea of where to stay in Koh Samui first time, check out this video:
Best areas to stay Koh Samui for tourist
1. Chaweng, where to stay in Koh Samui for nightlife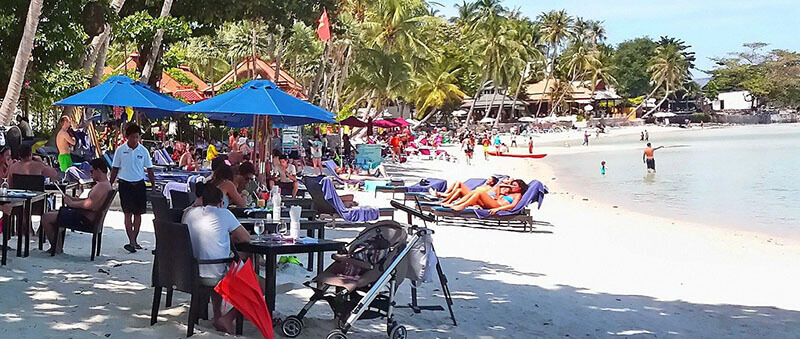 Chaweng is the best place to stay in Koh Samui for first-timers because it is the most popular place in Koh Samui. If you want to be right at the heart of the action, then Chaweng Beach on the east side of the island is the choice for you. If you come to Koh Samui for nightlife and party, I recommend to book hotel at Chaweng.
In Koh Samui's nightlife capital, you will find all the beach bars, night clubs, and nightlife that you could wish for along the beach and on the main street. Quiet, it isn't, but Chaweng Beach is one of the most developed and touristy beaches in Samui, and if you're happy with crowds, then this will be the perfect base.
Located on the North East tip of Koh Samui island, Chaweng Beach is a 7 km long beach, making it the longest beach on the east coast. Chaweng Beach offers lots of watersports activities, there are many places to rent jet-skis, canoes, SUP Boards, and the like.
There are shops, restaurants, markets, massage shops and spa, and tourist-friendly facilities all over Chaweng. Soi Green Mango in Chaweng town is packed with pubs, bars, cabaret shows, and girlie bars.
There are ladyboy cabaret show at Cabaret Paris Follies, 18 hole golf course at Samui Football Golf, Mini Golf International, and Muay Thai boxing stadium in Soi Reggae. Families and kids can visit Aquapark Chaweng with giant inflatables in the sea.
If you like shopping, head to Central Festival, which is Koh Samui's largest shopping center. The Walking Street and its market are also attracts lots of tourists and locals come to shop and eat. You can find almost everything here from Thai food to handicrafts and clothing.
Chaweng has Koh Samui's largest number of accommodations that suit almost any budget. In particular, there are some good hostels here. These are a fairly rare find on tourist-oriented Koh Samui, so Chaweng is a great destination for backpackers who love the bright lights.
Stay in Chaweng if you are first-time tourist; you are after vibrant nightlife and shopping; you want to be in a busy, buzzing place; you're looking for hostels and budget accommodation; you want a great beach with good watersports;
Best places to stay in Koh Samui in Chaweng:
luxury ($$$): Anantara Lawana Koh Samui Resort -SHA Extra Plus Located within a short distance from Chaweng Beach and Samui Airport, this 5-star luxury provides Thai-style suites, spacious villas, a spa and an outdoor infinity pool. You can enjoy buffets and seafood at Ocean Kiss Restaurant, Tree Tops Restaurant, and Crab Shack Restaurant.
mid-range ($$): Chura Samui Located 10-minute drive by car from Samui International Airport, this 4-star resort boasts relaxing massage treatments and a white marble infinity pool overlooking Chaweng Beach. This hotel offers air-conditioned rooms with a flat-screen TV and private bathrooms with double sinks.
budget ($): Montien House – SHA Plus this beautiful beachfront resort offers a large outdoor pool and memorable dinners on the beach. It provides massage services and luxurious accommodation with private terraces. Enjoy Thai and Western dishes at its on-site restaurant.
MORE HOTELS IN CHAWENG
See more:
2. Lamai, where to stay in Koh Samui for couples

Lamai Beach Koh Samui is the second most popular on the island after Chaweng Beach. If Chaweng is the tourist capital of Koh Samui, then Lamai is its second city. Lamai is also on Samui's East Coast only 25 minutes drive by car to the South of Chaweng. Lamai also has good nightlife but is more laid back, cheaper accommodations, and food.
It is another destination with every tourist facility you can imagine and many hotels, resorts and bungalows, with some great hostels and budget places. It is home to most of the backpacker accommodations on the island.
The nightlife in Lamai is not quite as high octane as Chaweng, but there are still many bars and restaurants but a little less crowded than Chaweng Beach.
The East Coast of Koh Samui is, of course, on the wrong side for sunsets over the sea. Instead, why not set your alarm and head down to watch the sunrise? Watching the crimson sun emerging from the turquoise ocean is a beautiful sight and well worth an early start. If you are couples who are looking for romantic getaway or honeymoon, Lamai is best place to book your accommodation to explore Koh Samui island.
Lamai beach is the fine white sandy and long beach with calm and clear waters. It is surrounded with restaurants and bars. There are water sport activities such as kayaking, surf boarding, and banana boat.
You can have great views of Koh Samui from Lamai Viewpoint on the top of Laem Mai mountain. To reach the viewpoint, you can hike or take a ride on the cable car. Lamai viewpoint is a great place to watch sunset. From the viewpoint, you can find Valentine stone, a natural fish spa, as well as Siva Tara waterfall with a pond. The exciting 80 meter high zipline ride through the tropical rain forest is also worth a try for thrill seekers.
The unusual sight, Mummified Monk at Wat Khunaram, is a special place to visit. The monk, Luong Pordaeng, died in 1973 in a seated meditative position, and ever since his body has been on display at the temple.
Another must-see place is the Lamai Sunday Night Market. This street market is where you can find delicious Thai street fod, street entertainers, live music, and bargain shoppings.
Lamai offers lots of activities for families with young children. There is a Coco Splash water park with 14 slides and rides and a 6,500 sq. ft arcade, while Buffy Game Park is a smaller amusement park with six rides.
There is a Muay Thai Boxing stadium near the Lamai night market on Had Lamai road. You can watch lady fights here beside teenagers and adult male fighters.
Stay in Lamai if you travel as a couples; you want good nightlife, but not quite as in-your-face as Chaweng; you travel on a budget; you want more a relax and laidback atmosphere.
Best places to stay in Koh Samui in Lamai:
luxury ($$$): Silavadee Pool Spa Resort this is a beautiful resort for couples, located a hill in Koh Samui. It has a private beach and an outdoor infinity pool, a Wellness Spa. You can enjoy seafood, Thai dishes at The Height Restaurant, and The Moon Restaurant. There is free shuttle services to Lamai and Chaweng.
mid-range ($$): Beluga Boutique Hotel This 4-star hotel is conveniently located at Lamai Beach, within easy walk from Hin Ta Hin Yai, nightlife of Lamai, and 30-minute drive from Samui International Airport. The hotel can help with car rentals, water sports, and laundry services. Great location and facilities for couples.
budget ($): Three Trees Samui Resort – Sarocha Villa This 3-star hotel is located in Lamai Beach, 10-minute walk from Grandmother and Grandfather Rock, as well as a short drive by car from Koh Samui Airport and the Seatran Ferry Pier. Guest rooms are nestled within tropical gardens. They all come with air-conditioned, a cable TV, a minibar.
MORE HOTELS IN LAMAI
3. Bophut Beach, best area to stay in Koh Samui for families

Located on Koh Samui's northern coast, the quiet Bophut Beach is best known for its night market Fisherman's Village Walking Street, and the iconic Big Buddha, 12-meter tall gold statue of Buddha is nearby. In fact, there are two beaches at Bophut, both nestling in the same bay. Bophut beach is a beautiful white sand beach, spanning from Big Buddha temple to Maenam beach.
Until fairly recently, Bophut was an out-of-the-way place to stay, but these days there is plenty of hotels, resorts, and tourist development. You will find some excellent resorts, especially in the mid-range to high-end price brackets.
The historic fisherman's village offers a more traditional Thai experience. it consists of a collection of old wooden Chinese buildings that have been renovated and filled with boutique hotels, seafront bars, restaurants, cafes, and traditional shops. It is a picturesque spot and unique in Samui.
There is a shopping plaza, The Wharf, at the end of Fisherman's village. A watersports centre neaby offers parasailing, jet ski, wakeboarding, and stand up paddle board.
You can find luxury villa on the hills above the village with the amazing ocean views.There is also a 9 hole golf course on the hill. This area is also one of the best in Koh Samui for shopping. Bophut is great for families with children who want a laid-back and local vibe.
Stay in Bophut if you travel as a family; you want a nice five-star resort; you like plenty of facilities but not crowds; you want somewhere close to the Airport; you are a keen shopper.
Best places to stay in Koh Samui in Bophut:
luxury ($$$): Mantra Samui Resort Located within a short drive by car from Phut Beach, Fisherman's Village and Samui Airport, this resort offers outdoor infinity pool and a pampering spa. All rooms come with dark wood furnishings, a flat-screen cable TVs, free tea/coffee making amenities and a safe.
mid-range ($$): Peace Resort Samui this hotel is located Bo Phut Beach, within easy walk from Walking Street at Bophut's Fisherman's Village. Guest can enjoy International and Thai dishes at Wrap Restaurant and pool bar. All bungalows has a private bathrooms with a hairdryer.
budget ($): Smile House – SHA Extra Plus this 3-star hotel is set on white beaches of Bo Phut, and is surrounded by tropical gardens and coconut palm trees. It has Traditional Thai bungalows with a private terrace and a minibar. It's only 20-minute ferry ride from Phangan Island.
MORE HOTELS IN BOPHUT
4. Maenam Beach, where to stay in Koh Samui on budget
Located on the North Coast of Koh Samui, Maenam is a long and quiet beach that is home to many cheap accommodations. It's a popular destination for backpackers and budget travelers. It is a short drive from the airport but is far enough away that you won't be disturbed by aircraft noise.
Maenam Beach has golden sands that shelve very gently into the sea. Since it is shallow, it is a great place for kids to play in the water in supervised safety. This beach is a nice place for families to stay, and there are some good family resorts in the mid to upper price range.
You can try frisbee golfing at Samui Frisbee Golf, zip-lining at Canopy Adventures, or learn a kitesurfing lesson.
There are supermarkets, 7-eleven, ATM, post office and exchange offices on the main street. You can have a nice dinner at some good restaurants around Chao Eng Sae Shrine, or grab a drink at one of the small beach bars on the beach, to enjoy sunset views. The is a night market on Walking Street every Thursday night.
Koh Samui tourism is beginning to specialize in private villa rentals, some of which are self-catering and some full board. Mae Nam has some great villas, some of them truly spectacular. If money is no object, then you might consider a villa rental as an interesting alternative to a hotel or resort. And if you prefer a complete service, then Mae Nam has some well-appointed resorts too.
Stay in Mae Nam if you want to be away from the tourist center; you're budget travelers; you're traveling with family.
Best places to stay in Koh Samui in Maenam Beach:
luxury ($$$): Explorar Koh Samui – Adults Only Resort and Spa this 5-star hotel is set in a beachfront location along Mae Nam Beach on the northern coast of Samui. You can choose to stay in rooms, suites and villas with air-conditioning, a flat-screen TV and a minibar, as well as en suite bathroom with a shower, hairdryer and free toiletries.
mid-range ($$): Paradise Beach Resort, Koh Samui Located on Maenam Beach, this is a perfect place for couples and families who want relaxation. There is shuttle service to Fisherman's Villa and Chaweng's city center.
budget ($): Ampha Place this 3-star hotel is set a short distance from Mae Nam Beach, Mae Nam Village, and Samui International Airport. The hotel can help with car and motorbike hire.
MORE HOTELS IN KOH MAE NAM
5. Choeng Mon Beach, upscale area to stay in Koh Samui

Choeng Mon is a small and exclusive beach that caters to slightly higher-end tourism, although there are some more economical places to stay for budget travelers and backpackers.
The Beach is in the Northeast corner of Koh Samui, conveniently located for airport transfers. Choeng Mon Beach is a one-kilometer-long bay with fine white sand, shallow warm clear water, great for families with kids.
Since Choeng Mon is a quieter and more relaxed spot than much of Samui, it is a perfect choice for couples or anyone who wants a low-key place to spend their holiday relaxing by the sea.
Even though there are fewer facilities than at some of Samui's beaches, there are still some nice beach restaurants and bars on the beach. On the main road, you can find a 7-Eleven, restaurants, bars and massage parlors.
If you choose a place to stay up on the hill behind the beach, you can enjoy some fabulous views over the beach and the two small islands Koh Fan Yai and Koh Fan Noi that lies just offshore. You can walk there at low tide. There are a five star Cope Fahn Hotel and The Crest Restaurant here.
Stay in Choeng Mon Beach if you want a private and luxurious 5-Star resort; you want to stay somewhere quiet, but close to busy beaches; you travel as a couple.
Best places to stay in Choeng Mon Beach:
luxury ($$$): SALA Samui Choengmon Beach Resort Located along Choeng Mon Beach, this 5-star hotel has an 80 m private beach and 2 beachfront pools. You can try a a massage in one of the spa pavilions, or exercise in the fitness centre. There are SALA Samui Restaurant and Pangaea Restaurant & Bar, as well as a beach bar to enjoy food and drinks.
mid-range ($$): Melia Koh Samui Located on Choeng Mon Beach, this is ideal place for romantic getaways and family holidays. It has 30 stunning boat suite. the hotel's Breeza Beach Restaurant and Bar offer excellent food.
budget ($): PS Thana Resort This 3-star hotel is set within a short drive by car from Samui International Airport and Chaweng Beach, and Big Buddha Temple. All rooms are air-conditioned and offer a cable TV, a seating area and a fridge. En suite bathrooms come with a bathtub and shower facilities.
MORE HOTELS IN CHOENG MON BEACH
6. Chaweng Noi Beach, peace and tranquility area
Chaweng Noi is the little sister beach to Chaweng. It is separated from the southern end of Chaweng Beach by a rocky headland. Chaweng Noi comprises a pristine one-kilometer stretch of golden sand that is fronted by mainly four-star resorts.
Since the beach is difficult to access without going through hotels, it is far less busy than its larger neighbor. So Chaweng Noi is a great choice of location for people who want access to a comparatively peaceful beach that is also really close to all the action of Chaweng.
There are some good restaurants and bars in the hotels, but you should note that there isn't really much in the way of shopping or infrastructure, you'll need to go to Chaweng for that.
Stay in Chaweng Noi Beach if you want a quieter beach, you want a place that's close to nightlife but peaceful, you love to sunbathe or just chill on the beach, you're happy without nearby shops and facilities.
Best places to stay in Koh samui in Chaweng Noi Beach:
luxury ($$$): Vana Belle, A Luxury Collection Resort, Koh Samui this 5-star hotel offers luxurious suites and villas with a private pool. It is a short drive from Samui Airport, Big Buddha Temple, and Hin Ta Hin Yai Rocks. Each unit has iPod docking station, a coffee machine and a safety deposit box.
mid-range ($$): Impiana Resort Chaweng Noi, Koh Samui this 4-star resort offers rooms with private balcony, a minibar and TV with satellite channels. You can relax with body massage or spa treatment. A free shuttle service is also available to and from Chaweng Noi Beach.
budget ($): Baan Sukreep Resort this 3-star hotel is located only 5-minute walk away from Chaweng Noi Beach. It has outdoor pool and air-conditioned rooms with free Wi-Fi and a daily buffet breakfast.
MORE HOTELS IN CHAWENG NOI BEACH
7. Bang Rak Beach, for laid-back atmosphere
Bang Rak Beach is also known as Big Buddha Beach, because there is the large statue that sits on a small island just offshore. It is a great location with a long sandy beach. Bang Rak Beach is not the best beach on Koh Samui for swimming.
There is a limited choice of accommodation in Bang Rak and less development than many Koh Samui Beaches. And that's the point since Bang Rak appeals to people looking for an exclusive and private place to stay.
Much of the accommodation in this area consists of private villas. These are often extremely luxurious and architecturally impressive. Independently-minded travelers who have the budget can find some great places to stay here.
It is worth remembering that busy Bophut is in the next bay to the west, so even though this is a quieter spot, you aren't far from plenty of things to do.
Bang Rak also has a pier where you can take a boast to the famous Koh Phangan for its Full Moon Parties.
Stay in Bang Rak Beach if you want to stay in a private beachfront villa, you want a laid-back atmosphere, you don't want great swimming off the beach.
Best places to stay in Bang Rak Beach:
luxury ($$$): The Privilege Hotel Ezra Beach Club this is a 5-star hotel in Bangrak Beach, close to Big Buddha and Fisherman's Village. It has a secluded beach area, an outdoor pool, sun terrace, on-site restaurant. Enjoy snorkelling and diving nearby.
mid-range ($$): Prana Resort Samui this 4-star hotel has Tropikana Beach Club & Bistro, a poolside café, rooftop spa, fitness centre, 24-hour reception. It is a short drive away from Samui Airport, Fisherman's Village, Big Buddha, and Central Festival Samui.
budget ($): Villa Tanamera this hotel has Thai-style furnishings and include a TV, air conditioning and a kitchenette. Some villas have pool views or ocean views. Enjoy relaxing massages at the Tanamera's massage rooms.
MORE HOTELS IN BANGRAK BEACH
You can also check out How Many Days in Koh Samui is Enough? and these best hotels in Chaweng area.
8. Bang Po Beach, good choice for a quiet family retreat
Bang Po Beach is a long beach on the western side of Koh Samui's North Shore. It stretches from a little stony cape Laem Noi in the west to a beach Ban Tai in the east. It is a relatively out-of-the-way place and lacks the frenzy of beaches like Chaweng and Lamai. So, it is a good choice for a quiet family retreat.
Bang Po Beach is as 20m width, fine and light sandy blanket beach with shallow water, good for small kids. The beach is pretty, but offshore swimming is not the island's best. There is a small coral reef on a short distance from the beach makes Bang Po a reasonable place to snorkel.
Some of the interesting attractions nearby are Buddhist Temple Wat Sisu Wanna Ram, Zen Painting Exhibition, and Mountain Viewpoint Bang Por.
This beach is a handy choice location if you are traveling to or from Koh Samui by ferry since Nathorn Town and the pier is a short drive to the South.
Koh Samui's main circuit road runs close to Bang Po Beach beach here. The majority of the places to stay are beach bungalow resorts in the budget to mid-range categories.
Stay in Bang Po Beach if you are looking for a quiet budget or mid-range resort, you are traveling with family, you want stunning views of nearby islands, you want to be close to Nathan Pier for the ferry to Surat Thani.
Best places to stay in Koh Samui in Bang Po Beach:
luxury ($$$): Four Seasons Resort Koh Samui Located on the island's northwestern tip, a quiet oasis on Laem Yai Bay, this 5-star hotel has private infinity pool, private bar and iPod dock. It offers cruising boat to Marine National Park.
mid-range ($$): Code this 4-star hotel offers free shuttle service to and from Bang Por Beach and Maenam Beach. It has 24-hour front desk, infinity outdoor pool, a tennis court and pampering spa treatments.
budget ($): Coco Palm Beach Resort this 3-star hotel is set a 1-minute walk from Lomprayah Pier. Enjoy Thai massage, a business centre, tour desk and water sports facilities.
MORE HOTELS IN BANG PO BEACH
9. Lipa Noi, beautiful sunset coast
Lipa Noi Beach is one of the few resorts on Koh Samui's Western sunset coast. It is situated to the South of Nathon town and North of a Thai naval base. The location doesn't sound too glamorous, but it is a very attractive beach with some good places to stay.
Lipa Noi's accommodation consists of good, largely mid-priced resorts, all with restaurants and bars. What Lipa Noi doesn't have is a great number of restaurants, bars, and shops outside of the resorts. If you are a keen diner or shopper, then this might not be the beach for you.
But, if you enjoy relative peace and quiet and pretty sunsets, Lipa Noi is a good option.
Stay in Lipa Noi if you want a long but narrow beach, great for walks, you are looking for a chilled-out place, you want to stay on the sunset side of the island, you want to be close to Nathan Pier for the ferry.
Best places to stay in Lipa Noi:
luxury ($$$): Nikki Beach Resort & Spa Koh Samui this 5-star hotel is just a few steps away from Lipa Noi's beautiful sunset coast. It has modern bungalows, a beachfront pool, fitness facilities and soothing massages.
mid-range ($$): Lipa Lodge Beach Resort this 4-star, beach-front accommodation is a 10-minute drive from Raja Pier. It has outdoor pool, spa treatments and the award-winning Restaurant Lipa Lodge.
budget ($): Viva Vacation Resort Close toLipa Beach, this property has spacious Thai-style villas set within tropical gardens. It offers an outdoor pool, a restaurant, and free Wi-Fi. Nathon Pier and Samui International Airport are short drive by car away.
MORE HOTELS IN LIPA NOI
See More:
Overall, Chaweng is the best area to stay in Koh Samui for first-timers because it is the tourist hub of the island. If you stay here, you will be located in the middle of actions, within walking distance to many tourist attractions, as well as restaurants, bars, and shops.
By now, as you know all where to stay in Koh Samui, you won't be a Koh Samui newbie anymore. Armed with the information and recommendations above, you are now ready to make a choice, book a place, and set out on your adventure to discover the delights of this unforgettable island. Enjoy your trip!