Where to Stay in Koh Samui Thailand: Best Areas and Hotels
Wondering where to stay in Koh Samui for couples, honeymoon, family, nightlife, full moon party, backpacker? We'll help you find the best areas to stay in Koh Samui in this guide.
Koh Samui is Thailand's second-largest island and one of the country's premier tourist destinations. It is a beautiful place with lots to offer, but choosing where to stay on such a large island can be challenging. But fear not! I'll take you on a virtual tour of all of the best places that Koh Samui has to offer and help you to pick a base perfectly tailored to your needs.
Where to Stay in Koh Samui Thailand – 9 Best Area to Stay Koh Samui
One of the beauties of Koh Samui is that it has lots of great beaches, so there is sure to be one that suits your needs. Here I'll go through the nine best places to stay on Koh Samu. I will give you some information on what each beach has to offer. I'll explain what they are like and what type of traveler each would suit. Then all you have to do is pick the one (or ones) that appeals to you.
Where to Stay in Koh Samui Thailand Map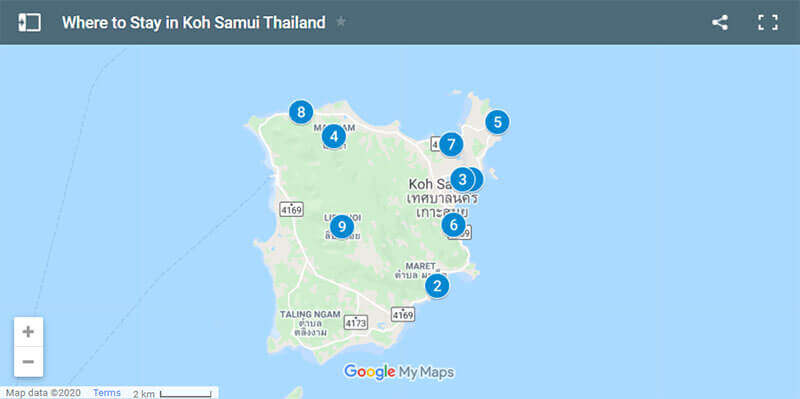 To see more detail of where to stay in Koh Samui Map, go to google map.
1. Chaweng, Where to Stay in Koh Samui for Nightlife, Shopping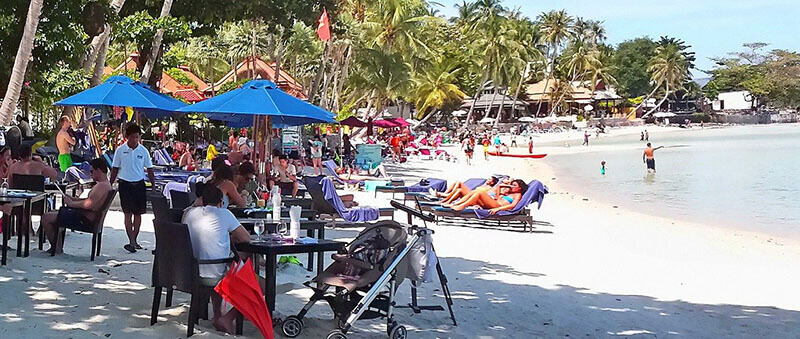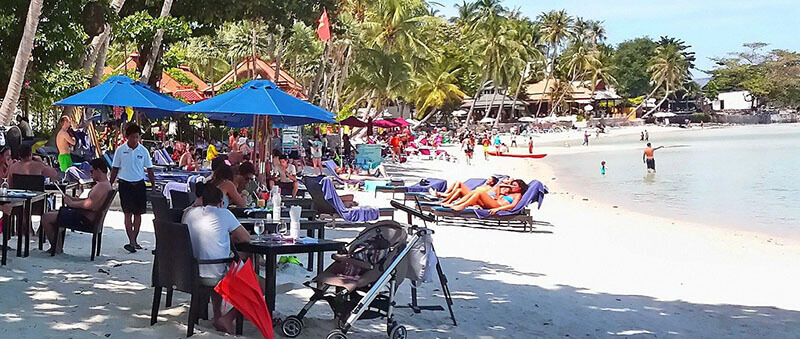 If you want to be right at the heart of the action, then Chaweng Beach is the choice for you. Here you will find all the bars, clubs and nightlife that you could wish for. Quiet, it isn't, but Chaweng Beach is one of Samui's most attractive beaches, and if you're happy with crowds, then this will be the perfect base.
Chaweng has Koh Samui's largest number of accommodations, so there are good places to stay here that will suit almost any budget. In particular, there are some good hostels here. These are a fairly rare find on tourist-oriented Koh Samui, so Chaweng is a great destination for backpackers who love the bright lights.
Chaweng Beach is also the place to head if you are keen on watersports. There are lots of places that rent jet-skis, canoes, SUP Boards, and the like.
There are shops, restaurants, banks and tourist-friendly facilities all over Chaweng and if you want everything to be easy to organize and arrange for your stay, you will love it here.
YOU SHOULD STAY IN CHAWENG IF
You're looking for nightlife
You want to be in a busy, buzzing place
You're looking for hostels and budget accommodation
You want a great beach with good watersports
You're looking for good shopping
2. Lamai, Where to Stay in Koh Samui for Budget Travelers


If Chaweng is the tourist capital of Koh Samui, then Lamai is its second city. Lamai is also on Samui's East Coast just to the South of Chaweng. It is another destination with every tourist facility you can imagine and many hotels, with some great hostels and budget places. The nightlife here is not quite as high octane as Chaweng, but there are still many bars and restaurants.
The East Coast of Koh Samui is, of course, on the wrong side for sunsets over the sea. Instead, why not set your alarm and head down to watch the sunrise? Watching the crimson sun emerging from the turquoise ocean is a beautiful sight and well worth an early start.
YOU SHOULD STAY IN LAMAI IF
You want good nightlife, but not quite as in-your-face as Chaweng
You want a good choice of accommodation at all price ranges
You want a wide choice of restaurants
You're happiest in a busy place
You're traveling on a budget
3. Bophut, Where to Stay in Koh Samui Close to the Airport

Bophut is a beach in North Koh Samui that is best-known for its fisherman's village, and the iconic "Big Buddha" statue is nearby. In fact, there are two beaches at Bophut, both nestling in the same bay.
Until fairly recently, Bophut was an out-of-the-way place to stay, but these days there are plenty of hotels, resorts, and tourist development. You will find some excellent resorts, especially in the mid-range to high-end price brackets.
The fisherman's village consists of a collection of old wooden buildings that have been renovated and filled with boutique hotels, bars, and cafes. It is a picturesque spot and unique in Samui. This area is also one of the best on Koh Samui for shopping.
YOU SHOULD STAY BOPHUT IF
You want to explore the famous fisherman's village
You want a nice five-star resort
You like plenty of facilities but not crowds
You want somewhere close to the Airport
You are a keen shopper
4. Mae Nam, Where to Stay in Koh Samui for Families
Mae Nam is a beach on the North Coast of Koh Samui. It is a short drive from the airport but is far enough away that you won't be disturbed by aircraft noise. This beach is a nice place for families to stay, and there are some good family resorts in the mid to upper price range.
Mae Nam beach has golden sands that shelve very gently into the sea. Since it is shallow, it is a great place for kids to play in the water in supervised safety.
Koh Samui tourism is beginning to specialize in private villa rentals, some of which are self-catering and some full board. Mae Nam has some great villas, some of them truly spectacular. If money is no object, then you might consider a villa rental as an interesting alternative to a hotel or resort. And if you prefer a complete service, then Mae Nam has some well-appointed resorts too.
YOU SHOULD STAY MAE NAM IF
You want to be away from the tourist center
You want to be close to the airport
You're looking for luxury and tranquility
You're traveling with family
5. Choeng Mon Beach, Where to Stay in Koh Samui for Couples

Choeng Mon is a small and exclusive beach that caters to slightly higher-end tourism, although there are some more economical places to stay for budget travelers and backpackers. The Beach is in the Northeast corner of Koh Samui, conveniently located for airport transfers.
Since Choeng Mon is a quieter and more relaxed spot than much of Samui, it is a perfect choice for couples or anyone who wants a low-key place to spend their holiday relaxing by the sea.
Even though there are fewer facilities than at some of Samui's beaches, there are still some nice beach restaurants and bars. If you choose a place to stay up on the hill behind the beach, you can enjoy some fabulous views over the beach and the small island that lies just offshore.
YOU SHOULD STAY IN CHOENG MON BEACH IF
You want a quiet beach
You are traveling as a couple
You want a private and luxurious 5-Star resort
You want to stay somewhere quiet, but close to busy beaches
6. Chaweng Noi Beach, Where to Stay in Koh Samui for Peaceful Nightlife
Chaweng Noi is the little sister beach to Chaweng. It comprises a pristine one kilometer stretch of golden sand that is fronted by mainly four-star resorts.
Since the beach is difficult to access without going through hotels, it is far less busy than its larger neighbor. So Chaweng Noi is a great choice of location for people who want access to a comparatively peaceful beach that is also really close to all the action of Chaweng.
There are some good restaurants and bars in the hotels, but you should note that there isn't really much in the way of shopping or infrastructure, you'll need to go to Chaweng for that.
YOU SHOULD STAY IN CHAWENG NOI BEACH IF
You want a quieter beach
You want a place that's close to nightlife but peaceful
You love to sunbathe or just chill on the beach
You're happy without nearby shops and facilities
7. Bang Rak Beach, Where to Stay in Koh Samui for Laid Back
Bang Rak Beach is also known as Big Buddha Beach after the large statue that sits on a small island just offshore.
It is a great location with a long sandy beach
There is a limited choice of accommodation in Bang Rak and less development than many Koh Samui Beaches. And that's the point since Bang Rak appeals to people looking for an exclusive and private place to stay. Much of the accommodation in this area consists of private villas. These are often extremely luxurious and architecturally impressive. Independently-minded travelers who have the budget can find some great places to stay here.
It is worth remembering that busy Bophut is in the next bay to the west, so even though this is a quieter spot, you aren't far from plenty of things to do.
YOU SHOULD STAY IN BAGN RAK BEACH IF
You want to stay in a private beachfront villa
You want a laid back atmosphere
You don't want great swimming off the beach
8. Bang Po Beach, Whereto Stay in Koh Samui for Families
Bang Po Beach is a long beach on the western side of Koh Samui's North Shore. It is a relatively out-of-the-way place and lacks the frenzy of beaches like Chaweng and Lamai. So, it is a good choice for a quiet family retreat.
This beach is a handy choice location if you are traveling to or from Koh Samui by ferry since Nathorn Town and the pier is a short drive to the South.
Koh Samui's main circuit road runs close to Bang Po Beach beach here. The majority of the places to stay are beach bungalow resorts in the budget to mid-range categories. The beach is pretty, but offshore swimming is not the island's best.
YOU SHOULD STAY IN BANG PO BEACH IF
You are looking for a quiet budget or mid-range resort
You are traveling with family
You want stunning views of nearby islands
You want to be close to Nathorn Pier for the ferry
9. Lipa Noi – Best Area to Stay in Koh Samui for Best Sunset Views
Lipa Noi Beach is one of the few resorts on Koh Samui's Western sunset coast. It is situated to the South of Nathon town and North of a Thai naval base. The location doesn't sound too glamorous, but it is a very attractive beach with some good places to stay.
Lipa Noi's accommodation consists of good, largely mid-priced resorts, all with restaurants and bars. What Lipa Noi doesn't have is a great number of restaurants, bars, and shops outside of the resorts. If you are a keen diner or shopper, then this might not be the beach for you.
But, if you enjoy relative peace and quiet and pretty sunsets, Lipa Noi is a good option.
YOU SHOULD STAY LIPA NOI BEACH IF
You want a long but narrow beach, great for walks
You are looking for a chilled-out place
You want to stay on the sunset side of the island
You want to be close to Nathorn Pier for the ferry
Where to Stay in Koh Samui: Tips & Info
Koh Samui has no shortage of lovely beaches. You can find nice sandy beaches on all four coasts of Samui, but the best beaches are on the West and North sides of the island.
Choosing the best beach depends very much on what you're looking for in your holiday. If you want crowds and excitement, you should plump for Chaweng or Lamai on the Eastern sunrise coast. To get away from it all, look at quieter locations such as Choeng Mon Beach, Bang Po Beach, or Lipa Noi Beach. And if you want somewhere in the middle, then Chaweng Noi Beach or Bophut are good options.
Koh Samui has well over a thousand hotels and resorts, hostels, and guesthouses. There is so much to choose from that visitors will have no problem finding something that suits their price range.
Areas of Samui that have plenty of budget and backpacker-friendly accommodation include Chaweng, Bophut, and Lamai. If you are looking for a mid-range place to stay, almost all of the island's beaches will have some good choices. For five-star luxury, you might consider hiring a private villa, of which Samui has a plentiful supply. Choeng Mon Beach and Mae Nam Beach are two places with luxurious villas and exclusive resorts.
A good idea that allows you to enjoy a holiday of contrasts is to spend some time at one of the busier beach resorts like Chaweng or Lamai and then move on to a more out-of-the-way beach like pretty Chong Mon, Bang Rak or Lipa Noi Beach. This two-stop holiday allows you to explore Samui to the fullest.
Where Is Koh Samui?
Koh Samui is a large island in the Gulf of Thailand off Thailand's Eastern Coast. It is about 35 kilometers offshore from Surat Thani town and is connected to the mainland by a car ferry. It takes around an hour and a half to get to Samui from the mainland by car ferry, or 45 minutes on the passenger-only high-speed catamaran.
Koh Samui, along with its neighboring islands Koh Phangan and Koh Tao, form the Koh Samui Archipelago, part of Thailand's Southern Chumphon Province.
Koh Samui International Airport links the island to the outside world. The airport is owned by Bangkok Airways, and this airline and a few other licensed carriers are licensed to fly here.
Where To Stay In Koh Samui For Couples/Honeymoon?
Newlyweds and couples are typically looking for a quiet, romantic beach to spend lazy days with their significant other. On Koh Samui, couples will be well rewarded by choosing Choeng Mon Beach.
Choeng Mon ticks all the boxes for a romantic getaway destination. It is a quiet and unspoiled beach with fabulous views and crystal sands. There are private resorts here spread out along the beach. So it is quiet, but not dead; there are also a good number of restaurants and bars to while away those romantic evenings.
For more lively couples that want to be closer to the action but still enjoy comparative isolation, another option would be Chaweng Noi beach. This is close to the maelstrom of Chaweng but much more relaxed.
Where To Stay In Koh Samui For Nightlife?
The pulsing heart of Koh Samui nightlife is unquestionably Chaweng Beach. This busy, sometimes chaotic resort on Samui's East coast was originally a backpacker's hangout that began to develop a reputation for full-moon parties.
Those days are long gone now, and today Chaweng is Samui's go-to option for tourists who want to spend the night partying at the scores of bars and clubs strung along Chaweng Beach and center. You will find a young crowd here.
Solo travelers or people wanting a slightly less full-on scene would do well to consider Lamai Beach. Lamai is also very developed for nightlife but is a touch more restrained. If Chaweng is turned up to eleven, then Lamai clocks in at maybe an eight or a nine on the party scale.
Where Is The Best Area To Stay In Koh Samui?
Bophut Beach is the area of Samui that offers the best all-round holiday experience because it has something to suit travelers of all budgets and tastes.
Bophut is developed but not overdeveloped, so there are plenty of entertainment and activity options from restaurants and nightlife to trips and watersports. There is a great beach for sunbathing and chilling out and admiring some great ocean and island views. The famous Fisherman's Village is a great place for shoppers and diners, and lovers of culture.
Where To Stay In Koh Samui With Family?
Mae Nam Beach is the best place to stay on Koh Samui for family groups. The beach here is a great place for kids to play in the sand and sea with the safety of shallow waters. Mae Nam offers some good accommodation for families with some excellent mid and upper-range hotels. Another idea is to rent a private villa. Mae Nam has some stunning serviced villas with pools that offer families comfort, safety, and privacy.
Another good family choice is Bang Po Beach. This beach has good family-friendly beach swimming and resorts. Bang Po is conveniently close to Samui Airport.
Which Is The Best Beach In Koh Samui?
There are so many beautiful beaches on Koh Samui, all with beautiful sands, crystal clear water, and tropical palms that it is tough to choose the best one. But, all things considered, I reckon that Mae Nam Beach is the best beach on Koh Samui.
Mae Nam is quieter than more established beach resorts like Chaweng and Lamai, so it has a relaxed ambiance, and you can enjoy the place without being surrounded by crowds. There are some superb resorts and villas here and plenty of places to eat and drink.
If you are looking for a beautiful unspoiled beach with just the right amount of development, Mae Nam is the place to be.
Best Place To Stay In Koh Samui For Full Moon Party?
Party central on Koh Samui is Chaweng Beach, and this is undoubtedly the best place on the island to experience the hedonism of a Thai full moon party and tick that off your bucket list.
Neighboring Koh Phangan has the wildest full moon celebrations and is still the backpacker's choice of full-moon destination. But the beach bars and clubs of Chaweng also attract top international DJs who pump out house, trance, and techno until the small hours.
A Chaweng full-moon party is loud, brash, and uninhibited; everything that is should be really. So, grab a whistle, paint your face, and head on down.
How Many Days Do You Need In Koh Samui?
A Koh Samui holiday is all about the beach. Of course, there are all kinds of other things to do, like diving, watersports, boat trips, visiting temples, waterfalls, and exploring the hills and rocks of the island's interior.
But the main reason you visit Samui is to unwind, relax, and bask in the splendor of the perfect beaches.
You should plan to stay on Koh Samui for at least a week. Seven days gives you enough time to see some sights and to get into the swing and unhurried pace of island life. After all, you are on holiday; there's no need to rush!
Is Koh Samui Safe For Tourists?
Koh Samui is a perfectly safe place to visit for visitors as long as they take a few simple precautions.
The death toll on the roads of Thailand is shocking. If you rent a motorbike, make sure you have an international driving license and wear a helmet. And even as a pedestrian have a special respect for the eccentricities of other road users.
It is hot here. Drink plenty of water and apply sun-cream, especially in the middle of the day. Also, use insect
repellent, particularly around sunset, when mosquitoes are most hungry.
Solo travelers should avoid isolated and dark places and make sure someone knows where they are.
Theft is rare but not unheard of. Keep an eye on personal items and don't carry large quantities of cash.
Is Koh Samui Or Phuket Better?
Phuket is Thailand's Largest island, and Koh Samui is the second-largest; Phuket is near twice the size of Samui. In terms of places to explore, Phuket has more simply because it is the bigger of the two.
But Phuket is connected to the mainland by a road bridge, so technically, you can consider it a part of the mainland. Phuket has much more traffic and many more domestic tourists than Samui.
Samui is the better place to visit if you want that unique Thai island experience. It has busy resorts and quiet corners and, overall, feels less packed and frantic than Phuket.
Is Koh Samui Expensive?
Islands are always more expensive than the mainland because almost everything must be shipped over by ferry, adding to costs. But Koh Samui has a good regular ferry link to Surat Thani, and the island factor doesn't push up prices excessively.
Since Samui is an overwhelmingly touristy destination, prices are higher than the everyday Thai rates. But when you compare the prices of food, drink, and hotels with Western countries, you will still be pleasantly surprised.
Also, there is a lot of competition on Samui, and this drives prices down. Samui is no more expensive than most other Thai islands, and if you are on a budget, you can find economical eating, drinking, and accommodation to make your money go a long way.
Best Place To Stay In Koh Samui For Singles?
Lamai Beach is a good destination for single travelers, particularly single women travelers. Lamai is a busy beach, so a single traveler won't ever feel isolated, but it lacks the sometimes crazy and over-the-top atmosphere of neighboring Chaweng.
Lamai has hostels and guesthouses that are good places to meet people in a safe and sociable environment, and its busy beach is a great place to throw down a beach towel and catch some rays.
Best Place To Stay In Koh Samui For Backpackers?
Bophut is still the most backpacker-friendly destination on Koh Samui. Even though the area is gradually drifting upmarket, there are still plenty of hostels and guesthouses and budget restaurants and bars that hark back to its roots as a backpacker's beach retreat.
There is plenty for travelers to see and to in the Bophut area. Several local dive centers will be happy to arrange diving and snorkeling trips. And on the landward side, visitors can enjoy the charms of the nearby Fisherman's Village and visit temples, view some nice rock formations and discover even quieter beaches nearby.
Best 5 Star Hotels In Koh Samui
So money is not too much of an object, and you have decided to treat yourselves one the very best hotels that Koh Samui has to offer. Congratulations, because you will find fabulous places to stay here with world-class facilities in picture-perfect locations.
Here are two of the very best 5-star hotels on Koh Samui.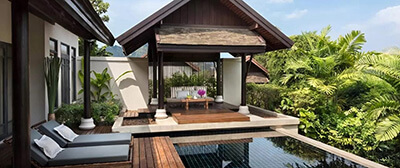 Anantara Lawana in Chaweng Beach is one of the very best resorts on Koh Samui. It offers world-class facilities and service that is genuinely five-star. There are stunning views over the ocean from the infinity pool.
Guests rate the resort very highly for the attentiveness and attention to detail of the staff.
Facilities include a well-appointed spa, a library, a fitness center, and three restaurants. All kinds of trips and tours to explore Samui are also simple to arrange with hotel staff.
The hotel is just a few minutes away from the excitement of central Chaweng, so it offers guests the perfect blend of privacy and convenience.
The beautiful Four Seasons Resort has a commanding view over Laem Yai Bay in the Mae Nam area of the Northwest of Koh Samui. It is a five-star resort and offers superb facilities, including tennis courts, beach sports, and a fitness center. The resort also has its boat, "siamseas," on hand to take guests exploring nearby sights.
This hotel has very high guest approval, and in particular, they are impressed by the beautiful beach and the high quality of the food and cocktails on offer.
This hotel would be a fabulous choice for travelers looking for privacy and service at the very top level.
Best 4 Star Hotels In Koh Samui
Koh Samui has an enormous choice of top-quality 4-star hotels. Perhaps the best way to pick one that stands out from the bunch is to look at places that are very highly praised by visitors.
The good news is that I've done this for you already, so take a look below to find two of the most popular upper-mid-range hotels on Koh Samui.
Baan Sawan Samui Resort is a small and private family-run resort that offers privacy and exclusivity without forgetting to provide four-star facilities and services. Pretty and popular Chaweng Noi Beach is just 300 meters away from the resort.
There are two swimming pools on-site, with spectacular evening lighting, and all of the hotel's Thai-style rooms face onto a pool patio.
Guests comment on the friendliness and helpfulness of the owners, who are only too happy to assist with trips and tours and local recommendations. The food is also highly rated, with particular praise given to their delicious Pad Thai. Baan Sawan is a cozy hotel that spoils guests with privacy, convenience, and comfort.
The Pearl of Samui is one of Samui's best four-star hotels. Situated in the most popular area of Lamai Beach, it is convenient for all local shops, restaurants, and activities.
The resort inhabits a tropical garden with a large outdoor pool surrounded by sun loungers and cushions, all fronting onto the private beach area. It is a perfect place to relax and unwind.
Despite only having opened recently, this resort has already gained a loyal following of guests. Visitors particularly appreciate the breakfasts and the standard of food and service in general.
Best 3 Star Hotels In Koh Samui
You can find some fabulous 3-Star places to stay all over Koh Samui. There are many budget-friendly places all over the island. These places offer extremely good facilities at affordable rates.
If you are looking for better value accommodation, then it's a good idea to consider choosing a location that is a little way back from the beach. This way, you can find a great hotel at a price that's friendly to your pocket. Here are a couple of the most popular 3-star hotels on Koh Samui.
Chaweng's Siam Sunrise Seaview is a mid-range hotel with great value-for-money facilities. The hotel perches on a hilltop, and there are superb views out over Chaweng Bay from the infinity pool.
The hotel is a family-run place establishment that offers an exceptional welcome, to the extent that guests comment that the Thai-Western owners treat all of their guests like family.
The excellent facilities include a strong WiFi connection throughout, and all rooms have flat-screen TVs and a private balcony. This hotel is ideally suited to travelers looking for a peaceful and friendly stay with stunning views that is a little more secluded and peaceful than some of the more centrally located places.
Samui Hills is a bold and strikingly designed modern boutique hotel located at Taling Ngam Beach. It features a two-story structure with all rooms facing the large swimming pool and garden.
This place is one of Koh Samui's best-established and most highly rated budget hotels and receives universal praise from people who stay here.
The rooms are a good size and are well-equipped given the budget price, with good aircon, flatscreen TV and an a la carte breakfast is also available.
Motorbikes are available for hire to explore Samui and the friendly staff is also happy to give advice and arrange transport, trips, and tours.
CONCLUSION
By now, you won't be a Koh Samui newbie anymore. Armed with the information and recommendations above, you are now ready to make a choice, book a place, and set out on your adventure to discover the delights of this unforgettable island. Enjoy your trip!
---
---