In this blog post, I'll give you all the insider info about Where to stay in Koh Lipe, the best areas and beaches to stay in Koh Lipe and the best hotels in Koh Lipe for all budget travelers.
Koh Lipe is a small treasure of an island located deep in the Andaman Sea. In recent years this island has become one of the most popular new destinations in Thailand, and it is a major draw for domestic and international visitors. Travelers to Koh Lipe are delighted by beautiful beaches and gorgeous scenery.
Since Koh Lipe is such a small island, choosing where to stay won't have quite as much effect on your visit as it would on a larger island like Phuket. This is because it is quick and simple to get around Koh Lipe on foot.
You can also hail long-tail boats that will be happy to drive you from beach to beach as you desire. Motorbike taxis are also available. But if you decide not to walk, then it's really cool to zip from place to place by long-tail. 
🎬 You can watch this very short video (only 1 minute) about the best areas in Koh Lipe, and continue reading:
Where to stay in Koh Lipe first time?
The best areas to stay in Koh Lipe for first-timers are Walking Street/Village, Pattaya Beach, Sunrise Beach, and Sunset Beach. These areas offer a wide range of accommodation options for all budget travelers.
Ultimately, the best area to stay in Koh Lipe depends on your preferences. Consider what type of atmosphere, beach access, and nearby amenities you desire when making your decision.
Here is an overview of recommended areas in Koh Lipe for first-time visitors:
| Best areas in Koh Lipe | Why should you stay in this area? |
| --- | --- |
| Walking Street/Village | the heart of Koh Lipe, lined with shops, restaurants, and bars. Great base for being in the center of the action and want easy access to amenities. It offers a vibrant atmosphere, bustling nightlife, and a wide range of dining options. |
| Pattaya Beach | one of the main beaches on Koh Lipe, ideal for travelers looking for a balance between convenience and relaxation. You'll find various resorts, guesthouses, and restaurants along the beachfront. Great base to enjoy beachside activities. |
| Sunrise Beach | is known for its breathtaking views of the sunrise. This beach is quieter and less crowded compared to Pattaya Beach, making it a suitable option for those seeking a more tranquil and serene environment. |
| Sunset Beach | located on the western side of the island, offers picturesque views of the sunset. This area is known for its laid-back atmosphere and natural beauty. It's a bit farther away from the main action, so you may need to take to use a taxi to reach the other areas. |
Map of areas and towns in Koh Lipe: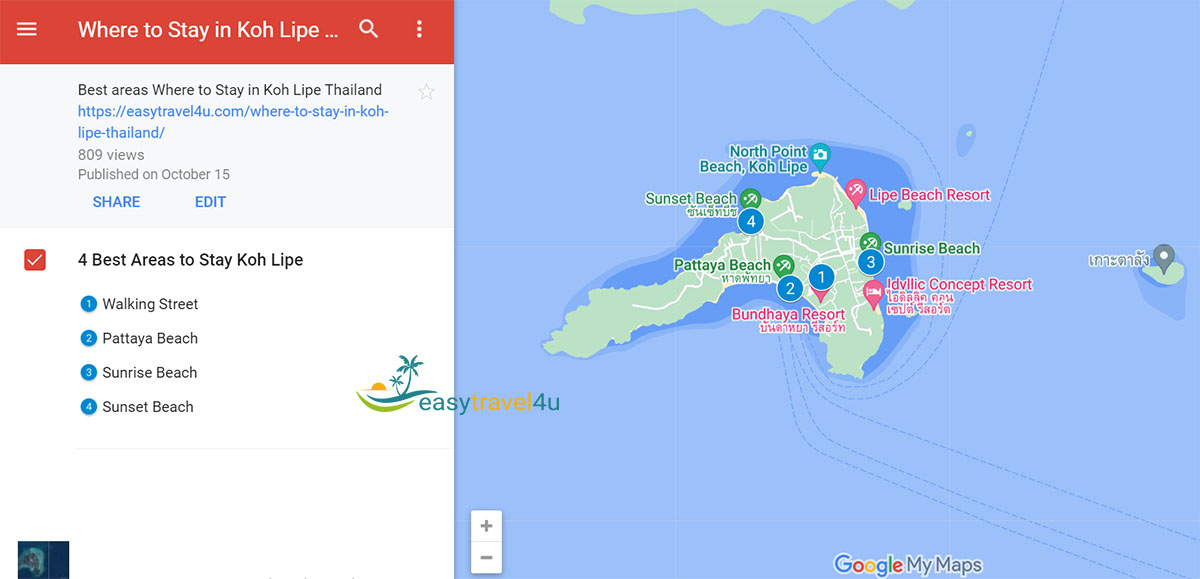 The 4 Best Areas to Stay Koh Lipe for tourists are:
1. Walking Street/Village
Walking Street runs through the center of the main village of Koh Lipe. Here you will find the busiest spot on the island for eating, drinking, and partying.
There are also lots of shops, Dive centers, travel agencies, and other services in the village. Altogether, this area is the most convenient location on the island.
Walking Street is the first part of Koh Lipe that visitors see since the island's one ferry arrival point is just a few meters away down the beach.
If you choose to stay at one of the clusters of guesthouses and hostels in this area, then your reward for sacrificing a beach location will be the most economical accommodation on the island.
Advantages: lively and bustling atmosphere; easy access to all the main attractions; wide range of accommodation options; vibrant nightlife scene; plethora of shopping opportunities;
Disadvantages: can get quite noisy, particularly at night; can become crowded, especially during peak tourist seasons; prices for accommodation, food, and drinks in Walking Street tend to be higher compared to other areas on the island.
Stay in Walking street if you're on a budget; you're seeking a vibrant atmosphere, easy access to amenities, and a bustling nightlife; you want to stay somewhere central; you don't mind not being on a beach.
Best hotels in Koh Lipe on Walking Street:
FIND BEST HOTELS IN KOH LIPE
2. Pattaya Beach
This Beach is on the South Coast of Koh Lipe, next to the main ferry pier. Pattaya Beach is conveniently close to all of the activities and entertainment of the main village. Pattaya Beach is the most popular beach on the island with plenty of choices of hotels, restaurants, boutiques, and bars.
As you head along the beach, you will find some excellent mid to higher-end beach resorts. Some places have swimming pools, and all of them have lovely beachfront locations.
This mixture of convenience for amenities and an absolute beachfront location is an attractive combination for visitors who want to explore Koh Lipe from a central base.
Advantages: centrally located and offers easy access to the main attractions; picturesque beaches; Wide Range of Accommodation; a hub for water activities;
Disadvantages: tends to be more crowded compared to other beaches on Koh Lipe, especially during peak tourist seasons; may be challenging to find secluded spots on the beach;
Stay in Pattaya Beach if you enjoy a lively atmosphere, easy access to amenities, and water activities; you want to be near the center of town; you want to stay close to the ferry terminal;
Best places to stay in Koh Lipe in Pattaya Beach:
FIND BEST HOTELS IN PATTAYA BEACH
3. Sunrise Beach
Sunrise Beach (Haad Chao Ley) is a long and beautiful sandy beach that runs down Koh Lipe's Eastern shore. The beach has great views across the Andaman Sea towards Koh Turatao.
This beach has a good selection of mid-range resorts. If you are on a budget, then just a row back from the sand, you will find budget resorts and hostels.
There are also plenty of beach bars and restaurants just a block away from the beach. Since Koh Lipe is so small, this beach is as much a part of the central village as is Pattaya Beach to the South.
Advantages: stunning views of the sunrise and a picturesque coastline; Relatively Quiet; excellent snorkeling spots; numerous beachfront resorts and bungalows available;
Disadvantages: bit farther away from Walking Street, requiring a walk or a taxi ride to reach it; Limited Dining Options; Lack of Nightlife.
Overall, Sunrise Beach is an excellent choice for those seeking a peaceful beach stay, great views, and easy access to snorkeling spots. If you prefer a more lively atmosphere with a wide range of dining and nightlife options, you might consider staying closer to Walking Street.
Best hotels to stay in Koh Lipe on Sunrise Beach:
FIND BEST HOTELS IN SUNRISE BEACH
4. Sunset Beach
It is a little misleading to call Koh Lipe's Western Coast a beach, singular. This side of Koh Lipe actually features a series of small sandy beaches in little coves.
Here you can get as close to isolated as anywhere on the island, and it is a good place to stay if you are looking for a little bit of peace and quiet.
The beach bars and restaurants on this coast are very popular at sunset since this is the only side of the island where you can watch the reddening sun drop into the ocean.
Even if you don't choose to stay in a resort on this beach, you should come and soak up the special atmosphere of a tropical island sunset here.
Advantages: tranquil atmosphere, breathtaking views of the sun setting over the Andaman Sea, close to some excellent snorkeling spots, quieter environment.
Disadvantages: fewer accommodation options, restaurants, and shops compared to the busier areas like Pattaya Beach; may require longer walks or the use of transportation to reach other parts of the island; Limited Nightlife;
If you prioritize tranquility, beautiful sunsets, and easy access to snorkeling, it could be an excellent choice. If you prefer a livelier atmosphere with a wider range of amenities and nightlife options, other areas might be more suitable.
Best hotels to stay in Koh Lipe in Sunset Beach:
FIND BEST HOTELS IN SUNSET BEACH
FAQs on Where to stay in Koh Lipe
Where is Koh Lipe?
Tiny Koh Lipe is one of Thailand's more remote island locations. It is located deep in the Andaman Sea just off larger Koh Ra Wi and Koh Adang on the West Side of Ko Turatao National Park. This location, far offshore, is one of the things that makes Koh Lipe such a special destination.

The island is in Thailand's Satun Province, which borders Malaysia. It is possible to travel between Koh Lipe and several places, including Koh Lanta, Koh Lipe, Trang, Koh Phi Phi, Pak Bara, and Langkawi in Malaysia.
Best Places To Stay In Koh Lipe?
If you want to wake early to be greeted by the tropical sun rising over the ocean, stay on the Sunrise Beach side of Koh Lipe. But if sipping a sunset cocktail is more your thing, then Sunset Beach on the West Coast is a better choice.
You will find the best selection of bars, restaurants, shops and the like in the main village, sandwiched between the South and East Coasts of the island. This central area also has the best selection of hostels and budget accommodation.
Pattaya Beach is the closest beach to the ferry so maybe this beach offers the best opportunity to stay somewhere convenient while still feeling the sand between your toes. 
How Many Days Do You Need In Koh Lipe?
Four or five nights is a decent minimum amount of time to plan to spend on Koh Lipe. It's quite hard to get here, after all, so you might as well give yourself the luxury of spending a few days unwinding beside the beach.

If you are planning a more active visit like diving and snorkeling or exploring some of the islands in the Koh Turatao National Park, then you should factor in a few more days.

How long you stay is very much up to you, but I strongly suggest that you give yourself enough time to allow the charms of this beautiful tropical island to rejuvenate you.
Which Month Is Best For Koh Lipe?
The best time to visit Koh Lipe depends on what you want most from your visit. If you're a diver, then the best visibility is usually in April and May. This time of year is also the start of the rainy season, but it doesn't rain underwater does it?
The peak tourist season is from December to April, so if you want to be on Koh Lipe when the island is really buzzing, this is the time for you. Alternatively, if you're looking for a bit more breathing space, then come to Lipe at other times of the year. And remember that even in the rainy season you can often enjoy good weather.
How Do You Get Around Koh Lipe?
Koh Lipe is so small that getting around the island is a piece of cake. Walking is often the best option, but a fun alternative is to jump on a long-tail boat, which will zip you to your destination for a very reasonable fee.

Thankfully there aren't any motorbikes for hire on the island but there are some motorbike taxis which offer another decent transport option.

If you arrange a pickup or drop off with your resort, then, of course, they will be waiting to pick you up at the island's only ferry pier.
Can You Walk Around Koh Lipe?
Koh Lipe is a tiny but perfectly formed island that is only about 1.5 kilometers across at its widest point. So walking from place to place is easy. There isn't much in the way of hills either, so that helps.
It does get hot though, remember that you are in the tropics. So I suggest that you always carry a bottle of water. Why not buy a refillable one from Trash Hero, and then you can fill up for free at many places on the island? Then you can walk all around Koh Lipe from Sunrise Beach to Sunset Beach, exploring all the other pretty little hidden coves.
Is Koh Lipe Crowded?
Koh Lipe is certainly not a well-kept secret these days, and the island can become very busy during the high season from around Christmas to April. At these times, you should definitely consider booking your hotel or hostel in advance. But don't be put off. Koh Lipe has plenty of beaches, and there are many places to explore, so even when the island is busy, it never feels oppressive.
If you are especially determined to get away from it, just choose one of the more out-of-the-way resorts, or come in the offseason. The best diving and snorkeling is actually in April and May at the very start of the monsoon season.
Are There Monkeys On Koh Lipe
Koh Lipe is home to crab-eating macaques. These intelligent monkeys are one of the very few species of animals that have the ability to use tools. They are enterprising and opportunistic and are a common sight in tourist areas.
They are very cool animals and the babies, in particular, are very cute. Remember, though, that they are still wild animals and can give you a painful bite. So, enjoy them from a distance, and please, please, don't feed them.
Where Can I Snorkel In Koh Lipe
There are plenty of excellent corals just off the beaches of Koh Lipe, and the snorkeling is especially nice just off of Pattaya Beach.

However, you should take care to watch out for the longtail boats that whisk up and down the beaches. Don't expect them to see you while you're happily watching all of the sea life.
You can also go snorkeling with one of the many boat trips and tours. A snorkeling trip is a great idea since the captains will take you to the very best spots, which are often otherwise inaccessible.
Read Also:
In conclusion, Walking Street/Village, Pattaya Beach, Sunrise Beach, and Sunset Beach are the best places to stay in Koh Lipe for tourists. Each area offers various accommodation options, catering to different budgets and preferences.
Walking Street/Village is perfect for those seeking a vibrant nightlife and shopping experience. Pattaya Beach suits travelers looking for a central location with easy access to restaurants and water activities.
Sunrise Beach is ideal for nature lovers, offering breathtaking views and tranquility. Sunset Beach is a great choice for those seeking a peaceful retreat with stunning sunsets. Choose the area that aligns with your preferences and make the most of your stay in Koh Lipe.