Where to stay in Kauai for first time? without a car, as well as for families, couples, and budget travelers. In this guide, we will be looking at the best areas to stay in Kauai for first time (include map and video), and the best hotels in Kauai for all budgets.
Where to stay in Kauai first time?
The best areas to stay in Kauai for first-timers are Poipu, Koloa Town, Lawai, Hanapepe, Waimea, Hanalei, Princeville, Kilauea, Wailua – Waipouli, Kapaa, Lihue, and Kawaihau.
First time tourists who want to spend their trip in a purpose-built resort town should lean towards Poipu. With some of the finest beaches and resorts on the entire island, it is ideal for a relaxing vacation in the sun.
Or perhaps you like the sound of the beaches and amenities of Poipu but want something more traditional? In that case, I'd recommend Koloa. Located just a mile from Poipu, you can access all it has to offer while staying in a quieter area containing some of the island's most historic buildings.
If you want to stay in a more built-up area, the Kawaihau and Royal Coconut Coast region on the east side of the island is much better suited. Towns like Kapaa and Wailua provide infinitely more in the way of large businesses, giving you as close to a city break experience as you will find in Kauai.
Further down the east coast, you also have Lihue. Home of the island's airport, Lihue Airport, it is the perfect choice for anyone worried about transportation.
Those looking for a more remote, secluded experience will want to look towards the north of the island. Areas like Princeville, Hanalei, and Kilauea provide many of the draws of other areas, just with significantly fewer tourists around to ruin the atmosphere.
Map of the best areas to stay in Kauai:
The South Shore: Poipu, Koloa, and Lawai:
The Southside of Kauai has the best weather because it has sunny and dry weather for both summer and winter, great for swimming in the stunning calming beaches. The south side has the best beaches because it's home to Poipu Beach and Spouting Horn.
Poipu is Kauai's most popular tourist area, it has the biggest concentration of luxury hotels including big resorts, condos, golf courses, great shopping, nightlife, and dining options. Other towns on the south side are Lawai, Old Koloa Town, Omao, and Kalaheo.
South shore is best area to stay in Kauai for families and couples who want plenty of tourist amenities and good weather all year arpound. But if you want less crowded tourist area, it is best to stay in North shore.
Best areas to stay in Kauai for first-time tourists are:
1. Poipu
Poipu is a high-end beach destination in the south shore of the island, perfectly suited to travelers seeking an iconic Hawaiian getaway. Luxurious resorts, golf courses, and gorgeous beaches provide plenty of ways to relax in style.
Poipu Beach Park is perhaps the most popular offering in the area. Its sandy beach is considered by many to be the best in all of America, with lifeguard stations protecting snorkeling and swimming areas, while the waves are ideal for experienced swimmers.
Poipu Beach Park is divided into 2 areas by Nukumoi Point. The eastern side of the beach is home to the endangered Hawaiian Monk Seal.
Poipu Beach even backs onto the beautiful botanical gardens of the Moir Gardens. Full of cacti, orchids, succulents, bromeliads, and lily ponds, it allows you to experience both sides of the island's nature.
While Poipu beach can get quite crowded from time to time, there are plenty of other picturesque beaches for you to choose from.
Shipwreck Beach is one of the more secluded beaches on Kauai, located on the east side of the area. Its powerful waves aren't great for swimming but are ideal for suffers looking for a buzz or sunbathers looking for a slightly quieter destination.
If the powerful waters of Shipwreck Beach aren't for you, perhaps consider the beautiful Kiahuna Beach. Calm waters are ideal for children and weaker swimmers to learn and have fun in the water, while less experienced surfers can hone their skills.
On the west side of Poipu's south shore, you also have Baby Beach, which combines the seclusion and calm waters of our previous two options. Meanwhile, if you are just looking for a place to relax and top up your tan, there are plenty of stellar beaches to choose from.
Outside of beaches, there are also a number of other natural attractions. For example, Makauwahi Cave is the largest limestone cave in Hawaii and maybe the richest fossil site in the Hawaiian islands. This makes it a must-visit location for fans of archaeology and paleontology.
You also have the Spouting Hole, where a lava rock cave beneath the water's surface causes water to shoot upwards from a hole in the rocks. Spouting Horn blowhole is also the starting point of the Koloa Heritage Trail, a 10-mile walk, bike ride, and drive which includes some of the significant attractions in Koloa and Poipu.
Some of the highlight sights on the trail are Prince Kuhio Birthplace & Park, Hanakaape Bay & Koloa Landing, Kihahouna Heiau (ancient Hawaiian temple), Poipu Beach Park, Keoneloa Bay, Makawehi & Paa Dunes, Sugar Monument, Koloa Jodo Mission (a Buddhist temple built in 1910), and Koloa Missionary Church.
For those less interested in the outdoors, you have Poipu Shopping Village, where you can spend your days browsing the stores or stopping for snacks or coffee. Then, on an evening, the incredible array of bars and restaurants will give you plenty of options to perfectly round off each magical day.
Poipu is the most popular area in south Kauai for tourists, it has a wide range of accommodations but lacks budget options.
Stay in Poipu if you want a great choice of stunning beaches, you want to stay in one of the best resorts on the south shore, you want to spend some time on a golf course, you are a fan of shopping, you want a great range of bars and restaurants to relax in.
Best places to stay in Kauai in Poipu:
🔍FIND BEST HOTELS IN POIPU BEACH
See more:
2. Koloa Town
Koloa district stretches from the Kauai's beautiful South Shore in Poipu to Old Town Koloa. The gateway to the Koloa area is the Tree Tunnel, a stretch of the beautiful canopy of Eucalyptus trees line Maliuhi Road first planted a century ago.
Located just inland from the south shores of the island, Koloa has great historical significance as the site of the first sugarcane plantation founded in the Hawaiian islands, which was established in 1835.
Many of the buildings in the oldest part of Koloa town date back to the plantation era and feature exhibits relating to that period of its history. For those genuinely interested, a guided tour is available to take you around the sites.
While much of the Old Sugar Mill Of Koloa has been demolished over the years, parts including a chimney and foundations remain and are designated a National Historic Landmark.
The mill isn't the only historic location in Koloa either, as attractions such as the island's oldest church, the Saint Raphael Catholic Church, built in 1856, add to the area's appeal. There is even a selection of heiaus, traditional Hawaiian temples, to get a real sense of the local culture.
Every third Saturday of the month the Old Koloa Town Market takes place in the historic Koloa Town Courtyard. Local artists, jewelers, craftsmen, and more set up stalls selling local and traditional wares. Food trucks are present to cater to you as you shop, while live musicians perform to really set the mood.
Meanwhile, many of the permanent buildings in the courtyard feature shops selling souvenirs and restaurants serving cuisine representative of the town.
If you happen to be in town in July, you will also be lucky enough to experience the Koloa Plantation Days Parade & Park Celebration. Floats, horseback displays, and decorated vehicles create a vibrant display lasting for over a week.
Locals flood out into the street to take part in the free and low-cost activities of the parade. People dress up and compete to win awards, creating an incredible atmosphere that draws in the whole community.
Koloa is also just over a mile from the town of Poipu. This means you have access to all of the facilities there, as well as many of the best south shore beaches.
Stay in Koloa if you want to attend the Koloa Plantation Days Parade & Park Celebration, you want to experience the Old Koloa Town Market, you want to see historic buildings, churches, and temples, you want to stay in a quiet village with access to a larger town, you don't need to be by the beach, but you want them close by.
🔍FIND BEST HOTELS IN KOLOA
3. Lawai
Located on the south side of the island, Lawai is a beautiful, tropical paradise community with several shops and restaurants. Lawai is home to 2 non-profit National Tropical Botanical Gardens. This makes it perfect for taking in a leisurely stroll and getting to grips with the local plant life.
Allerton Garden covers 80 acres of a beautiful valley intersected by the Lawai Stream. Originally the home of Queen Emma Of Hawaii, it features beautiful garden rooms, pools, waterfalls, fountains, and statues, allowing you to experience nature, art, and architecture all in one place.
Meanwhile, the McBryde Garden is located in the same area but is much more heavily focused on plant life. Flowering trees, heliconias, orchids, palms, and various other plants make up the largest collection of native Hawaiian plants in the world.
With its conservation and horticulture center, nursery, laboratories, and research and education facilities, it is ideal for anyone wanting to study the native plant species in much greater detail.
Outside of these gardens, there is also the Lawai International Center. Featuring traditional shrines and temples hidden amongst the wilderness, you can stroll through nature, learning about the island's history and culture.
If you want to buy some souvenirs, head to Hawaiian Trading Post where you can find authentic local items and hand-made jewelry.
Located just a few km away from the village, Lawa'i Beach is a fabulous beach lies in a sheltered bay, backed by palm trees to the rear and crystal clear, turquoise waters to the front. It's absolutely perfect for those days when you want to get lost in your surroundings and unwind with the area's natural beauty.
Stay in Lawai if you are a fan of botanical gardens and stunning natural landscapes; you want to experience the religious history and culture of the island.
🔍FIND BEST HOTELS IN LAWAI
The West Side: Waimea and Hanapepe:
The west side of Kauai (the leeward coast of Kauai) is mostly undeveloped. The area from Waimea to the Na Pali Coast is home to the most remote beaches with stunning sunset views.
The West Side is a good base if you plan to do a lot of hiking in the state parks of Waimea Canyon and Kokee State Park.
4. Hanapepe
Just a short way along the coast from Lawai is another small town of Hanapepe. Visited by the United States Exploring Expedition in 1940, the town has a rich history, and is one of the few on the island that wasn't originally founded as a plantation.
Its name translates to "Crushed Bay", a reference to the history of landslides in the area. On a similarly dark note, it is also the location of the Hanapepe Massacre that occurred in 1924. This means it can give you a much rawer portrayal of the history of the island's earlier years.
It isn't all doom and gloom though. Known as "Kauai's Biggest Little Town", Hanapepe is located in a beautiful valley, bordered by waterfalls and the Hanapepe River. It was even the inspiration for the setting of Disney's "Lilo & Stitch" franchise.
The town itself looks like something straight out of a western. Many of the buildings have been standing for decades, creating a truly historic and old-fashioned feel. Many of these are home to art galleries and theatres, giving you the perfect opportunity to soak up the local art and culture.
Meanwhile, many of the others contain restaurants, souvenir shops, and local stores. This combination will ensure you can immerse yourself in the feel and food of Hanapepe while having plenty of options to choose souvenirs and wares to take home with you to remember the trip.
Hanapepe also hosts a farmer's market every Thursday where local artists open their galleries to visitors. And there is also the Friday Art Night when local art studios keep open the doors of their studios and galleries longer to celebrate the arts.
Outside of the town itself, its most popular attraction is the Hanapepe Swinging Bridge. Crossing a beautiful river is a perfect representation of the stereotypical beauty of the island. Many stores in town sell walking maps with this on the route, letting you make it part of a much larger adventure.
Another interesting attraction nearby is the Hanapepe is Salt Pond Beach Park, which is a good beach for families for swimming and picnicking. It is the only place in Hawaii where salt is still produced in natural salt ponds.
Stay in Hanapepe if you want to visit a stunning, small, traditional village, you are a fan of art, culture, or Lilo & Stitch, you want to go on adventures in the wilderness.
🔍FIND BEST HOTELS IN KAUAI
5. Waimea
One of the southwest coast's most famous areas, Waimea is considered to be the first place on the island to be visited by Europeans, with legendary explorer Captain James Cook landing here in 1778. A stunning statue of the man still stands at the mouth of the river where he docked.
The historic Waimea Town is a very cultured area, with a people proud of their history. Not only does this give the chance for a very traditional experience, but you may even get to take part in a fabulous festival if you plan your trip at the right time.
Every February since 1978, the town has hosted the Waimea Town Celebration. Over the course of 9 days, people fill the streets to take part in the festivities. There is a celebration of Kauai's last king, a film festival, a lei-making contest, a rodeo, a canoe race, multiple concerts, and many other sporting events.
As for iconic sights, you can see year-round, perhaps none is more famous than the Historic Waimea Theater. One of only 2 movie theatres on Kauai, this 1938 building is a fabulous way for you to combine both classic and modern culture.
Perhaps the most popular reason people stay in Waimea though is to visit Waimea Canyon. Known as the "Grand Canyon Of The Pacific", Waimea Canyon runs for around 10 miles, with parts up to 3000 meters deep.
Formed over millions of years by the current of the Waimea River, which stems from one of the wettest places on earth, there are stunning views and wildlife at every turn. This makes Waimea Canyon perfect for hikers or anyone who loves an adventure.
There Kokee State Park provides infinite opportunities to see wildlife. The Kalalau Lookout and Puu O Kila Lookout provide panoramic views of the Napali Coast.
Stay in Waimea if you are hikers, backpackers want to stay close to state parks; you want to stay in a historic town filled with culture;
Best Places to Stay in Kauai in Waimea:
🔍FIND BEST HOTELS IN WAIMEA
The North Shore: Princeville, Hanalei, and Kilauea:
The North Shore offers beautiful beaches, stunning mountains, lush taro fields with a wide range of accommodations from budget backpacker hostels to luxury resorts. South shore is great for couples looking for a romantic holiday.
The downside of staying on the North Shore is more rainy days than sunny days, especially in the winter (November to March). it also receives big waves to the coast from the North Pacific during the winter months. So if you visit Kauai in winter, it is best to stay in the South shore.
6. Hanalei
Hanalei Bay is a crescent-shaped bay, located at the mouth of the Hanalei River, on the north shore of Kauai. For centuries, Hanalei Bay has attracted a high class of visitors, due to its natural beauty.
Throughout the 1800s the Hawaiian royal family regularly visited Hanalei Bay, using it as a relaxing getaway from their daily responsibilities. Hanalei Bay has also been used as the backdrop for a number of major movie productions, most famously the 1958 musical "South Pacific".
At the heart of Hanalei Bay is Hanalei Town. Originally settled by east Asian rice farmers, many of their descendants still reside there today. This provides visitors with an incredibly unique and traditional experience you are unlikely to find anywhere else during your stay on Kauai.
You will find some of the attractions like Waioli Mission House, Limahuli Garden and Preserve, Hanalei Community Center, Hanalei Valley Lookout, and the historic Hanalei Pier.
With Hanalei Bay being a more remote destination, many of its beautiful natural features are much quieter and more unaltered than you will find elsewhere.
Haena Beach Park offers a beautiful, relaxing place to unwind, away from prying eyes. Lined with trees and featuring beautiful, soft, white sand beaches, including Tunnels Beach, Cannon's Beach, and Haena Beach itself, it is the perfect place to spend days topping up your tan.
The beaches here are great for surfers especially during the winter months when they receive big waves from the North Pacific.
For those with access to a rental car, who are willing to travel a little further, you are also on the outskirts of Na Pali Coast National Park.
Na Pali Coast National Park, sometimes stylised as Napali Coast, is a wilderness area, located on the very northwest coast of the island. Covering over 6,000 acres, Na Pali Coast National Park is home to towering cliffs, secluded beaches, abundant wildlife, and some of the most stunning vistas you see.
This makes Na Pali Coast National Park a must visit attraction for hikers, hunters, explorers, and wildlife fans, as it provides some of the most exhilarating experiences you'll encounter during your stay on Kauai.
Stay in Hanalei if you like surfing; you want to visit Napali Coast National Park, you want to stay in a small, quiet, traditional village, you are planning to rent a car, you want a choice of quiet, pleasant beaches.
Best places to stay in Kauai in Hanalei:
🔍FIND BEST HOTELS IN HANALEI
7. Princeville
Named after Prince Albert of the Hawaiian royal family, Princeville was originally established as a plantation by Godfrey Rhodes and John Bernard, before being leased to Robert C. Wyllie, who gave it its name.
Over the years it was used to grow coffee, then sugarcane, and it even became a cattle ranch for a brief period before it was transformed into a luxury resort and golf course.
This planned community is located on a small cliff with the sea on one side and Hanalei Mountains on the south. It's a short drive from Hanalei Bay in the west and the town of Kilauea in the east.
With its more secluded location on the island's north shore, it has become a popular destination for those who like to finer things in life, but who don't want to be surrounded by noise and people all the time.
A perfect example of this is Hideaway's Beach, one of the most popular attractions in the region. Separated from the resorts by some rugged terrain, it makes access only possible for those who are happy for a trek or climb.
This leaves its natural beauty unspoiled, so the few who are willing to make the trip can enjoy lazing on soft, golden sands in peace, or swimming and snorkeling in waters filled with wildlife.
For those who don't want the hassle though, there are plenty of other beaches for you to enjoy, including Anini Beach, Kalihikai Beach, Sealodge Beach, Teavai's Beach, and Wiley's Beach.
All these allow you to relax and soak in the beautiful north shore weather, swim in the calm waters, and enjoy slightly more amenities, at the price of being surrounded by a few more people. If you do not want to spend your whole trip at the beach though, there are other options to occupy you.
Take for example the Queen's Bath. A sinkhole tide pool, it is a great place to swim for those worried about the open water. Not only will you feel safer and get to enjoy a unique experience, but it is also filled with a number of small fish and creatures, such as sea urchins, for you to see up close.
Stay in Princeville if you want to stay in an affluent area; you want to stay in a remote location on the north shore of Kauai, you want to visit one of Kauai's most secluded beaches.
Best places to stay in Princeville:
🔍FIND BEST HOTELS IN PRINCEVILLE
8. Kilauea
Located a little further east along the north shore of the island, Kilauea is a charming town that began life as a sugar cane plantation. Gradually growing throughout the years, it has developed into a small town with a big reputation.
Its most famous attraction is the Kilauea Point Lighthouse. Built in the early 20th century, it is a historic attraction, surrounded by the Kilauea Point Wildlife Refuge, a conservation area for nesting seabird colonies, as well as animals in the surrounding waters that include dolphins, seals, turtles, and whales.
With species such as albatross, booby, frigatebird, goose, plover, shearwater, tattler, tropicbird, and turnstone, it is a great place for bird watchers to catch a glimpse of some rare and unusual birds, nestled amongst unique plant life.
In the town itself, there is the Kong Lung Historic Market Center. Originally built as a marketplace, its buildings now house businesses such as restaurants, cafes, and soap and candle manufacturers. This makes it ideal to sample some of the local wares and cuisines while taking in its historic architecture.
For those looking for attractions of the more natural kind, there are options such as the Wai Koa Loop Trail. A beautiful trail through former guava plantations, you can take in the beauty of the area and perhaps even stop off for a game of mini-golf along the way.
Then of course, like most of Hawaii, there is a range of great beaches for you to choose from. Kilauea is home to one of the most exclusive beaches on the island's north shore, Kauapea Beach.
Kauapea Beach is a beautiful beach backed by large cliffs, where turquoise waters meet golden sands. Also known as the secret beach, it is only accessible by the Kauapea Beach Trail Head, making it a secluded destination, where you can enjoy a slice of your own private paradise.
Stay in Kilauea if you want to visit a historic lighthouse or marketplace, you want to visit one of the most beautiful, secluded beaches on the north shore, you want to follow a nature trail or play a game of mini-golf, you want to visit a wildlife refuge, you are a fan of bird watching.
🔍FIND BEST HOTELS IN KILAUEA
East Coast of Kauai: Kapaa, Wailua:
East Coast of Kauai (also known as the Coconut Coast) is the most convenient location to explore both the north and south of the island. It has a wide range of accommodations with many budget hotels and also plenty of restaurants and shops.
9. Wailua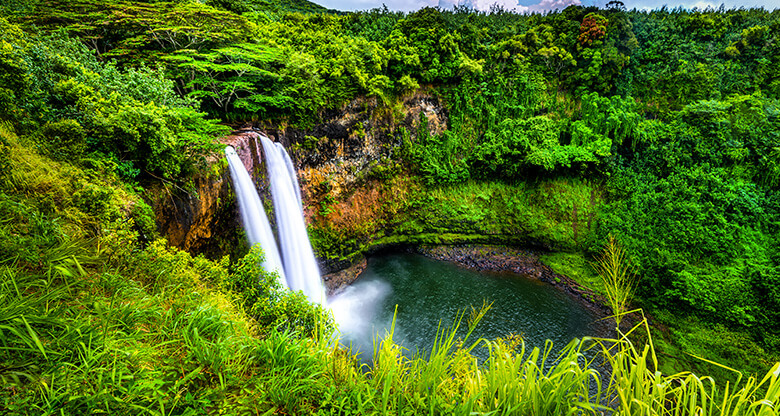 Wailua is located at the mouth of the Wailua River, on the east coast of the island, often referred to as the Royal Coconut Coast. It is known as the coconut coast due to the groves of coconut palms that grow there. Popular points of interest nearby are Wailua River, Fern Grotto, Wailua River State Park with Opaekaa Falls and Wailua Falls, and the Great Sacred Wailua (the Wailua Complex).
The town itself is split into two halves by the Nounou Mountain, known as the "sleeping giant", which stands 1,200 feet tall. Inland Wailua is known as the "bedroom community", being a largely residential area.
It has very little in the way of amenities or attractions but is ideal for anyone looking for a quiet break, with a number of bedroom condo options available for vacation rentals.
Coastal Wailua on the other hand is a hub of commerce and business. Many of the best Kauai hotels on offer are located here, giving you plenty of options for accommodation. Meanwhile, a great range of bars, shops, and restaurants will keep you fed and entertained throughout your stay on Kauai.
The Wailua River is also the only navigable river in all of Hawaii, making Wailua a great choice for those interested in boat trips or water activities away from the currents of the open ocean.
Just slightly south down the east coast, you also have Lydgate Beach Park. A beautiful beach lined with the coconut palms the east coast is famous for, it features jetty-enclosed swimming areas, as well as picnic and camping spots, adding even more choice for those seeking a safe yet exciting outdoor location.
Then, if you go a short way north up the east shore, you'll come to the Waipouli Beach Resort. Waipouli is a fabulous beach resort, with amenities like beach chairs and umbrellas, surrounded by numerous shops, bars, and restaurants, all walking distance apart.
This makes it an ideal option for anyone who wants to combine luxury, convenience, and natural beauty in a single location.
Stay in Wailua – Waipouli if you want to stay on the Royal Coconut Coast (east coast) of the island, you want to sail up the Wailua River, you want to explore Nounou Mountain, you want water activities in a safe environment, you prefer private vacation rentals as opposed to large chain hotels.
🔍FIND BEST HOTELS IN WAILUA
10. Kapaa
Again located on the east side of the island, north of Wailua, Kapaa is the most populated town on Kauai. Being more built-up, amenities and facilities are abundant, creating an incredibly convenient destination.
Numerous shopping and dining businesses provide plenty of choices for you to eat, shop, and drink during your visit. There are also plenty of hotels, so people of all tastes and budgets will be able to find somewhere to stay.
Kapaa offers a unique shopping experience with Kinipopo Shopping Village, Wailua Shopping Plaza, and the Coconut Marketplace where you can find Hawaiian souvenirs, antiques, jewelry, and craft items.
Kapaa Town Park is a great place to relax. The wide-open spaces give you somewhere to walk, while a skate park and water features are ideal for keeping the kids entertained. There's even a weekly farmers market, where you can purchase fruit and veg, flowers, baked goods, and other local wares.
Outside of the town, there are also a number of natural attractions, the range of which will appeal to a variety of different people.
You have Kealia Beach, a beautiful stretch of sand with amenities like bathrooms and picnic pavilions. It is popular with surfers, boogie boarders, and even those who simply want a relaxing day sunbathing.
Kapahi Park, on the other hand, offers visitors a more rugged, rural area, inland towards the center of the island. This can provide a nice change of pace for people who want to add some exploration to their relaxing vacation.
Kapaa is the best area to stay in Kauai if you like shopping; you want lots of choices on budget accommodation options; you want to stay in the island's busiest, most populated town, you want a great choice of amenities and facilities, you want a choice of both beautiful parks and beaches to relax on, you want access to a rural, secluded nature park.
Best places to stay in Kapaa:
🔍FIND BEST HOTELS IN KAPAA
11. Lihue
Staying on the east side of the island but this time moving closer to south Kauai, Lihue is its second-largest and most populated town. Originally established as a minor village, It became the central city of the island during the emergence of the sugar industry, a position it still holds to this day.
As a result, A number of large, important buildings are located here, many of which hold great significance for the region and the island as a whole. For example, this is where you will find the county administration building for the entire area.
Then, you also have locations like the Kukui Grove Center, the largest shopping mall on Kauai. Here you will find the island's only major department store, as well as a collection of other large outlets and eateries, making for a great day out shopping and grabbing a bite to eat.
You'll even find more in the way of tourist facilities too. Bars, restaurants, movie theatres, rental car outlets, and hotels are present in abundance, making life incredibly convenient throughout your trip.
Speaking of convenience, one of the most popular reasons to stay in Lihue is that it is the location of Lihue Airport, the only major airport on the island.
This means it is incredibly convenient for anyone who is worried about missing their flight or dragging their baggage all over town, as well as people on a short trip or stopover, who don't want to waste any of their limited time on the island.
Despite being a more built-up destination than most of the options we have looked at, there are plenty of more relaxed, natural attractions like beaches as well.
Take for example Kalapaki Beach. A beautiful sandy beach in a protective cove, surrounded by upmarket resorts, it allows visitors of all ages to have a relaxing, carefree vacation, lazing on the sand and playing in the water, with all the amenities they could want within walking distance.
Stay in Lihue if you want to stay near to Lihue Airport, you prefer a more built-up area, you want to be surrounded by amenities and conveniences, you are traveling with small children or weaker swimmers.
Best places to stay in Lihue:
🔍FIND BEST HOTELS IN LIHUE
12. Kawaihau
Our final destination of Kawaihau isn't actually a town, Rather, it is a large region of the east side of the island, comprising the towns of Anahola, Kapaa, Kealia, Mololaa, and Wailua. It covers most of what is known as the Royal Coconut Coast.
This means Kawaihau is a destination better suited to those who want to move about during their visit.
Perhaps you want to split your time between a few of the towns, as well as maybe even spend some time camping in the wilderness? This could help you get a real feel for a number of different areas and not limit yourself.
With that in mind, I would suggest that Kawaihau is an absolutely perfect choice for anyone planning a road trip. With the freedom of a car, you can travel from place to place and town to town, making your trip a real adventure from start to finish.
Stay in Kawaihau if you want to go on a road trip, you are planning to rent a car, you want to see a little bit of everything the island has to offer, you don't want to spend your entire trip in one place.
🔍FIND BEST HOTELS IN KAUAI
Check out the video about Kauai in this video:
Which Side Of Kauai Is The Best To Stay?
The best side of kauai depends on the style of vacation you're after, so varies from person to person. The west side is rugged and unspoilt, the north shore has traditional villages, the south side has great tourist resorts, and the east side is more built up and commercial.
Where Should I Stay In Kauai For The First Time?
For first time visitors to Kauai, I would recommend staying in Poipu. It has a great selection of the sort of beaches, natural attractions and amenities Hawaii is famous for, as well as quick and easy access to one of the island's most historic and traditional towns.
Is It Better To Stay On The North Or South Side Of Kauai?
While the north shore of Kauai is beautiful and has plenty to offer, it is also known to be considerably wetter than the south side. That means people looking to spend time on the beach or explore without getting soaked will be much happier in a town on the south side of the island.
What Side Of Kauai Has The Best Beaches?
This depends on what you consider the "best" type of beach. The east side has protected beaches, the south side features plenty of bustling tourist beaches, while there are numerous quiet, secluded beaches along the north shore. I would recommend avoiding the island's west side for beaches though.
See more:
The "Garden Island" of Kauai is a magical, picturesque destination, filled with amenities, beaches, resorts, and natural attractions, to give everyone the chance for a relaxing vacation. Both the north shore and south shore have plenty to offer but making sure you know which suits you better is essential to the success of your trip.
Hopefully, this article will have given you everything you need to decide where to stay in Kauai to make the most of the experience. That means all that's left is to get everything booked, so you can look forward to jetting off on a Kauai vacation of your own, as soon as possible.