In this post, I will help you to find Where to stay in Jeju (for toursts and first-timers), best areas to stay in Jeju (include map) and the best hotels in Jeju island for all budget travelers.
Known as Hawaii of Korea and Honeymoon Island, Jeju island is famous for its sub-tropical climate, white sand beaches, ocean cliff views, picturesque lava rock scenery, tranquil lush vegetation, Mt. Hallasan, and stunning waterfalls. Most of the villages of the island were destroyed during the Korean War but it's restored today.
Jeju island can be divided into 5 zones including north, south, east, west, and center. Jeju City is the main city on the north side of the island. Seogwipo is the main city in the south side of the island.
South Korea is a safe destination for tourists with very low crime rates. Jeju Island is safe for travelers, even for a solo female, but as in any tourist city, you should alway practice common sense and be aware of surroundings.
Jeju island is a year-round destination with stunning natural beauty. Winter here is warmer than the rest of South Korea. You can see snow on the Hallasan Mountain, Camellia Hill in full bloom, mandarin picking, and many more.
Jeju City and Seogwipo are big cities on the island and the best area to stay in Jeju in winter and all year around. Keep in mind that while Jeju's winter is relatively mild compared to mainland Korea, it can still get chilly, so selecting a place with proper heating is important.
Getting around the island is easy by hiring a car, scooter, bicycle, or using public transport. A bus service runs around the island and you can use T-Money Card (Seoul). Taxis can be expensive, and you should avoid them for long distances.
Where to stay in Jeju first time?
The best areas to stay on Jeju island for tourists are Jeju City, Seogwipo, Seongsan, Aewol, Jungmun, and Yongmeori Coast. Jeju City and Seogwipo are by far the most popular areas for first-timers because they are the island's major cities.
Jeju City is the best base for visitors who want to explore the northern part of the island, Seogwipo is the best base for tourists who want to explore the the southern part of island.
While Jeju City offers urban atmosphere, vibrant nightlife, shopping and dining; Seogwipo offers a serene coastal setting, breathtaking natural landscapes with stunning waterfalls and hiking trails.
Jeju City and Seogwipo are the best places to stay on Jeju island without a car. They are both easily accessible by bus, and easily explored on foot. Jeju City is the most convenient area for car-free travelers as it is close to the island's airport, port, and main bus station.
For those traveling with kids, I recommend book a stay in either Jeju City, Seogwipo, and Jungmun. They offer plenty of family-friendly hotels and activities for children of all ages. Many of these hotels feature kids' clubs, children's playgrounds, or children's swimming pools.
Map of areas in Jeju island for tourists: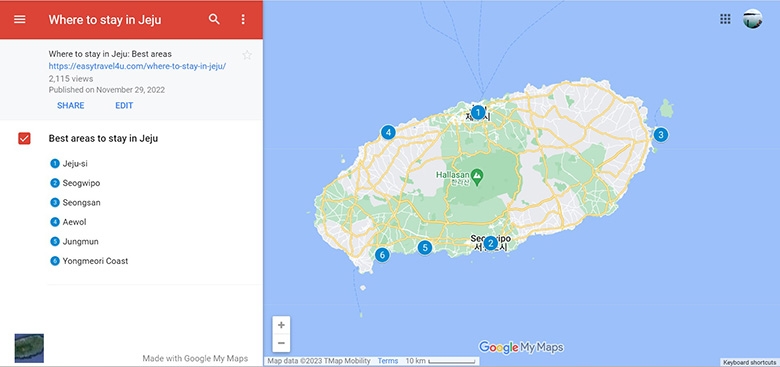 Best areas to stay in Jeju island for tourists are:
1. Jeju City (north)
Jeju City is the overall best area to stay in Jeju island for first-time travelers. It is the capital city and the transport hub of the island, home to Jeju International Airport, bus terminal, and main ferry terminal. Jeju City offers plenty of hotels, seafood restaurants, cafes, karaoke bars, and shops.
One of the major attractions is the Mt. Hallasan, South Korea's highest holy mountain and UNESCO World Natural Heritage Site. There are many hiking trails in the Hallasan National Park but only Gwaneumsa and Seongpanak trails go up to its summit where you can find Baengnokdam Lake.
To the northeast of Hallasan Mountain, you will find Jeolmul Natural Recreation Forest, which has a man-made forest and a natural Japanese cedar forest called Jeolmul Oreum. Hike to the top of the Jeolmul Oreum that offers stunning views of the surrounding area.
You can also check out Jeju Loveland, an outdoor sculpture park based on sensuality and eroticism, opened 2004, created by graduate students from Hongik University. Take a look at the Mysterious Road, Halla Arboretum, and Sumokwon Theme Park nearby.
Jeju is famous for its white sandy, and turquoise, crystal clear waters beaches. Within a short drive from downtown Jeju, you can find numerous beaches, include:
Iho Tewoo Beach, a paradise for leisure sports, known for its red and white horse shaped lighthouse.
Hamdeok Beach, one of the top three beaches on Jeju island, with excellent facilities, private lodgings, and camping grounds. With its shallow water, it is safe for swimming, as well as collecting the shells and snorkeling.
If you head to the north of Jeju City, you will see Dragon Head Rock, also known as Yongduam. It is an imposing basalt rock formation by strong winds and waves over thousands of years. There is a story about the dragon stealing jade from Mt. Hallasan was shot down, and fell down to the ocean, and the body became Yongduam Rock.
You can stroll along the Yongduam Coastal Walk along Olle Route 17 from Yongduam Rock to Dodubong Peak. The coast walk is a popular spot for couples.
In the Yongduam neighborhood you can see Yongyeon Pond, Yongyeon Bridge, and women divers, called Haenyeo. If you are lucky, you can spot a sea mermaid dive to catch seaweed, shellfish, and abalones. There are plenty of cafes, bars, and restaurants in the surroundings.
If you are interested in the island's history, take a look at Jeju National Museum, Jeju Museum of Art, Arario Museum Tapdong Cinema, and Jeju Folklore & Natural History Museum.
Other cultural attractions are the Jeju Gwandeokjeong Pavilion and Gwaneumsa Buddhist Temple. Gwandeokjeong Pavilion is the oldest building on the island. Built in 1448 during the reign of King Sejong by Pastor Sin Suk-Cheong as a training ground for soldiers in the Joseon Dynasty.
There are plenty of shopping opportunities in downtown Jeju at Chilseong-ro traditional shopping mall, Jungang Underground Shopping Mall, Dongmun Street Market,Topdong Plaza, Sanjicheon Plaza, Black Pork Street, and Sanjicheon.
You can shop at Jeju City Five-Day Market, with 1,000 stalls offering different goods, and only open on certain days of the month.
Jeju Island is also well-known for its fresh local seafood and abalones. Myeongjin Jeonbok is one of the most popular abalone restaurants on Jeju island. Abalones are marine snails, traditionally caught by haenyeo female divers. Try seafood hotpot, grilled sea bream, abalone porridge, and raw abalone.
Being located only a short drive by car from Jeju International Airport, as well as the island's port and cruise terminals, and the Jeju Intercity Bus Terminal, Jeju city is the best place to stay in Jeju island without a car.
Jeju City offers a wide range of accommodation ranging from luxury 5-star hotels to budget guest houses. You will easily find a place that suits your budget.
Best places to stay in Jeju City:
Luxury ($$$): Grand Hyatt Jeju, 5-star resort located in the real heart of Jeju, within walking distance from Shilla Duty Free. It has a 24-hour front desk, a year-round outdoor pool, indoor pool, fitness centre and restaurant. It also has rooms for singles, couples, and families.
Luxury ($$$): Lotte City Hotel Jeju, 4-star family-friendly hotel, located in the centre of Jeju City, offering free parking and drop-off service to Jeju International Airport.
Mid-range ($$): Ramada by Wyndham Jeju City Hall, 4-star hotel, that has family rooms, located short distance from Jeju City Hall, a short drive by car from Jeju International Airport and Jeju Port International Passenger Terminal.
Budget ($): Elin Hotel, 3-star hotel, one of the best places to stay in Jeju on a budget, located in the heart of Jeju City, 5-minute walk from Jeju Special Self-Governing Province Office, and a short drive from famous Ihotewu Beach. It has free Luggage storage and on-site parking.
2. Seogwipo (south)
Seogwipo is the main city on the south side of Jeju island, located directly south of Hallasan mountain, 30 km away from the Jeju capital city. With incredible natural landscapes, magnifician waterfalls, a beautiful rocky volcanic coastline, and bathing pools, Seogwipo is the best place to stay in Jeju for nature lovers.
Seogwipo is home to three famous waterfalls. Jeongbang Falls is a 23 m waterfall, located on a high cliff, and falls directly into the sea. There is an observatory at the top of the cliff. To the east of Jeongbang Fall lies Sojeongbang Waterfall.
The next waterfall in Seogwipo is Cheonjeyeon Waterfall, or The Pond of God that consists of three falls. In this area, you can find Cheongju Pavilion, and Seonimgyo Bridge with 7 nymphs carved on the side, and in Cheonjeyeon Valley.
The third waterfall is 22 m high and 12 m wide Cheonjiyeon Falls, also known as sky connected with land, which means it is where heaven meets earth. There is a beautiful Chilipiga Bridge, Cheonjiyeon River, Dampalsu Tree, ticketing booth, and a souvenir shop.
Another must-see in Seogwipo is Seonnyeotang, a natural pool located on Jeju Island's Hwangwoo Coast, located at the beginning of Olle trail #7. According to legend, fairies used to bathe here.
On the Jeju island's Olle trail #7, you can visit the 20 m height Oedolgae Rock near the shores of Sammaebon. It is the filming spot of a Korean drama called Lady Dae Jang Geum. The best time to visit the rock is during sunset.
Olle trail #7 is one of the best hiking paths of the Jeju Olle Trail, which consists of more than 20 tracks. Translated as 'a narrow walkway from the gate of the house to the main road', Jeju Olle Trail was founded in 2007 by the Jeju Olle Foundation, connecting Jeju's forests and beaches.
If you love history, take a look at the:
Teddy Bear Museum to see all types of teddy bears
Lee Joong-seop Art Museum & Culture Street
Alive Museum
Jeju Glass Castle
O'Sulloc Tea Museum for tea lovers.
The Lee Jung-Seop Art Gallery displays work of Lee Jung Seop and other Korean painters. Lee Jung-seop is a famous Korean artist, living as a refugee in Seogwipo with his Japanese wife for a year during the Korean War. Seogwipo city converted his house into the Lee Jung Seop Memorial Hall, and renamed the street nearby into Jungseop-ro street.
You can shop at a traditional Korean market, Seogwipo Maeil Olle Market, grab traditional Korean food such as kimbap, tteokbokki and kimchi pancakes.
Seogwipo Tourist Port is lined with palm trees and fishing boats. You can take a diving trip and boat trip from the port to the ocean to catch seafood and squid, or take a Seogwipo submarine tour at Seogwipo Munseom Island. You can grab a meal at the waterfront seafood restaurants and enjoy the sunset and views of Saeseom Island.
Being centrally located on the south of Jeju island, Seogwipo is one of the best areas to stay in Jeju island without a car. From here, you can easily reach top tourist attractions on the south bus bus including famous Seongsan Ilchulbong, Udo Island, and Yongmeori Coast
Seogwipo can be easily reached from Jeju City by Intercity buses departing from the intercity bus terminals. Seogwipo has a wide range of accommodations for all budget travelers.
Best places to stay in Jeju in Seogwipo:
Luxury ($$$): Seogwipo KAL Hotel, 5-star family-friendly hotel, offering beautiful views of Halla Mountain, short drive from Cheonjiyeon Falls and Seogwipo Port. You can enjoy wide buffet spread of international and local dishes at its on-site restaurant.
Mid-range ($$): GoldOne Hotel & Suites, 4-star hotel, one of the best places to stay in Jeju with family, featuring family rooms and a kids' club for the children, a children's playground, as well as table tennis, darts, and mini-golf.
Budget ($): Parksunshine Jeju, 3-star kid-friendly hotel, located close to the south of Cheonjiyeon Waterfalls, easy access to Seogwipo Port and the Lee Jung Seop Street. It is a budget base in Jeju island for exploring Jeongbang Waterfalls, Saeyeongyo bridge, and Saeseom Island.
3. Seongsan (east)
Seongsan is the best place to stay in Jeju if you want to see the sunrise on the famous Seongsan Ilchulbong and take a day trip to Udo Island. Seongsan Ilchulbong and Udo Island are some of the main attractions on Jeju's east coast.
Seongsan Ilchulbong is a tuff cone crater, created by a volcanic eruption underneath the sea around thousands of years ago. Known as Sunrise Peak, Seongsan Ilchulbong is a UNESCO World Heritage site, and is famous for its spectacular view during the sunrise.
You can climb to the top of the mountain. The slopes of Seongsan Ilchulbong are quite steep, and there are many rest stops and benches along the way. From its top, you can view Udo island and enjoy the stunning sunrise.
There are buses from City Old Bus Terminal, Jeju Airport, and Seogwipo to Seongsan Ilchulbong's entrance. There is a fee to go in and free parking if you drive a car.
From Seingsan, take a trip to Manjanggul Cave, in Gimnyeong-ri. The cave is one of the finest lava tunnels in the world, created hundreds of thousands of years ago when volcano Geomunoreum erupted. Only 1 km open for the public to visit to see stalagmites, stalactites, stone pillars, bats, and trees. The ticket is 2000 won for children, and 4000 won for adults.
Visitors can take a boat trip from Seongsan Port to the nearby Udon island, a lava plateau 3.8km off the coast of Jeju Island. Cars are not allowed on Udon island except on some special occasions, you can easily get around by bus, scooters, and bicycles.
Udo was inhabited in the Joseon Dynasty, and until 1697 during King Sukjong, a horse ranch was built, and later became a popular spot for tourists.
On Udon island, you can visit numerous beaches such as Seobinbaeksa (Sanho Beach), a beautiful white shell beach, as well as Hagosudong Beach and Geommeolle Beach. There are also the Udo Botanical Garden, Mangru Lighthouse, Biyangdo Island, and Udobong Peak.
Another popular place to visit in Spring is the Seongsan Canola Flower Field. In Spring, you can see canola flowers, cherry blossoms, plum blossoms, and camellia flowers.
If you head to the south of Seongsan Ilchulbong Tuff Cone, you will see Seopjikoji, a beautiful coastline established by volcanic activities. You can go horse riding, see the Candy house, lighthouse, amazing rugged coastline, and grab a drink at a cafe nearby. Seopjikoji is the filming location of several Korean dramas.
Within a short ride from Seopjikoji lies Hanwha Aqua Planet Jeju, an extensive aquarium, as well as Sinyang Beach, Jeju Glass House, Yumin Art Nouveau Collection Museum, and Honinji Pond.
Jeju Folk Village is one of the famous attractions on the island. You can learn Jeju island's history, culture in this 19th century ancient village. You can view Joseon dynasty traditional houses, black pigs, and the Dolharubang statue.
Seongsan has numerous accommodations, you can choose to stay in a local pension or typical hotel for a couple of nightlife to see the sunrise on Seongsan Ilchulbong, and experience the countryside vibe.
Best places to stay in Jeju in Seongsan:
Mid-range ($$): Playce Camp Jeju, 4-star hotel, featuring on-site restaurant, free private parking, a gift shop, and bike rental services.
Budget ($): Purmir Pension, family-friendly accommodation, offering sea views. All units come with a seating area, a TV, a private bathroom with slippers and shower.
Budget ($): Thira Hotel, great accommodation that has 24-hour front desk and luggage storage space, free WiFi and non-smoking rooms.
4. Aewol (northwest)
Aewol is the best place to stay in Jeju for a beach holiday because it is located only 1 hour from Jeju city, and it is home to numerous Jeju's best beaches such as Hyeopjae Beach, Gwakji Beach, and Geumneung Beach.
Gwakji Beach is a white sandy beach with crystal clear blue calm waters, attracting many visitors, especially families for children. The beach has facilities such as sun loungers, umbrellas, free toilets, showers, and watersports. The Yongcheonsu Nocheontang, freshwater spring bath house, is located right at the beach.
Connecting Gwakji Beach with Aewol Cafe Street is the 1.2 km Handam Coastal Walk, part of the Jeju Olle Trail. The trail is located close to Handam Beach. The village of Aewol has plenty of stylish cafes and restaurants.
Another popular place to visit in the area is the Hallim Park. This park is located along the ocean, facing the Biyangdo Island. With 100 thousand square meters, the park is home to the Hyeopjaegul, Ssangyonggul, a botanic garden, and amusement park.
Head to the westernmost point of Jejudo Island to see a small oreum called Suwolbong peak. This is a ocean-facing natural formation is home Suwoljeong pavilion that offers stunning views of Chagwido island, Jukdo Island, and Songaksan Mountain.
Other places of interest in the northwest of the island are the Arte Museum Jeju, the largest immersive art museum in Korea, as well as Gueomri stone salt, and Saebyeol Oreum in Bonseong-ri.
Aewol has lots of mid-range and budget-friendly accommodations. If you are couples and families looking for a beach holiday, Aewol is a place to book your stay.
Best places to stay in Aewol for first-timers:
5. Jungmun (southwest)
Jungmun, known as Jungmun Tourist Complex, is one of the best places to stay in Jeju for luxury because it is considered the largest resort in South Korea with a good selection of luxury hotels with white sandy beaches, and charming natural landscape. Jungmun was designated an International Tour Site in 1971.
If you are a couple on a honeymoon, or families wanting a relaxing holiday, Jungmun is the best choice to book your stay. Apart from its brand hotels such as Shilla, Lotte, and Hyatt, there are beautiful beaches and numerous tourist attractions in the area.
Jungmun Saekdal Beach is a fine sandy beach, surrounded by cliffs. It is a popular place for swimming, sunbathing, windsurfing, water skiing and parasailing. There is a natural sea cave, Haesikgul Cave, on the right side of the beach, which is often used as a location for Korean films and dramas.
To the eastern Jungmun Tourist Complex lies the Daepo Jusangjeolli Cliff. Jusangjeolli are dark gray stone columns on the sea, created by the erosion of the lava from Hallasan Mountain into Jungmun's ocean.
Yakcheonsa Temple is easily reached from Jungmun by a short taxi ride. Yakcheonsa is a beautiful buddhist temple dating back to the early Joseon Dynasty. There is a temple stay program at Yakcheonsa Temple along with Gwangmyeongsa and Cheonjesa temples, which is a unique opportunity to experience Korean Buddhism.
There are several museums to visit in Jungmun. The Alive Museum is located in Jungmun Tourism Complex, attracting children and adults to enjoy digital arts. There are also Teddy Beach Museum, Bonte Museum, and the Ripley's 'Believe It or Not' Museum to visit.
In the complex of Jungmun Resort, you can find Pacific Land Dolphin Show, Chocolate Land for chocolate lovers, the digital theme park Jeju Play K-pop for k-pop fans, as well as the Yeomiji Botanical Garden, one of the best botanical gardens in Asia.
Other places of interest nearby are the Cheonsang-yeon Falls, Cheonjeyeon Falls with its Seonim Bridge, Camellia Hill Botanical Garden, and the Jeju International Convention Center.
Jungmun is packed with luxurious 5-star hotels. Many hotels offer spacious rooms, with infinite pools, fitness clubs, kid's play rooms, saunas, even a golf course, and a casino. Don't worry if you are on a budget, there are plenty of good quality 3-star and 4-star hotel options.
Best places to stay in Jungmun for first-time tourists:
Luxury ($$$): Lotte Hotel Jeju, 5-star beachfront hotel, one of the best places to stay in Jeju for couples to experience a paradise-like relaxation. It is a short distance from Teddy Bear Museum and Jungmun Saekdal Beach.
Luxury ($$$): Grand Josun Jeju, 5-star family-friendly hotel, that has an outdoor swimming pool, free private parking, a restaurant, an indoor pool and a sauna. There is also a kids' club and comfortable children bed.
Luxury ($$$): The Shilla Jeju, 5-star hotel, 10-minute walk from the famous Jungmun Beach, and 10-minute drive from Yeomiji Botanical Garden. You can enjoy Korean delicacies, unique Jeju dishes, traditional Japanese food, all-day buffet at its on-site dining.
Budget ($): Minitel Soul, 3-star hotel, one of the best places to stay in Jungmun Seoul on a budget, featuring Family rooms, BBQ facilities, and Free parking.
6. Yongmeori Coast
Yongmeori Coast, also known as Dragon Head Cliff, due to its beach looks like a dragon with its head jumping into the ocean.
Located in the southwest of Jeju island, this rocky coastline with unique cliff formations is where Sanbangsan Mountain stretches into the sea, made of sandstone stacks over millions of years.
There is the Hamel Castaway Memorial, built by the Netherlands Embassy, on the road down to the seashore. You will meet Haenyeo, women sea-divers selling raw seafood like sea cucumber, sea snails along the coast.
Nearby, you can visit Sanbangsan temples and grottos. Sanbanggulsa Temple, or Sanbang Cave Temple, is set on Mt. Sanbangsan. on the cliffside of Sanbangsan Mountain on the Island.
Other places of interest are the Hwasun Golden Sand Beach or Hwasun Beach Resort, Daejeonghyanggyo Confucian School, and the Marine Park.
Accommodation in Yongmeori Coast are most of 3-star and 4-star hotels and guest houses with all facilities that you will need for your stay such as free wifi, and free car parking.
Best places to stay in Yongmeori Coast:
See more:
In conclusion, Jeju City, Seogwipo, Seongsan, Aewol, Jungmun, and Yongmeori Coast are some of the best places to stay in Jeju island for tourists. Each area offers unique experiences, so you can select one that aligns with your interests and travel itinerary.
Personally, I recommend Jeju City as the overall best area in Jeju island for first-timers as it is easily accessible by air and ferries. But you can also consider booking a hotel in Seogwipo, which is a great base to explore the southern part of the island.