Where to stay in Hvar first time? on a budget, for family? In this post, I'll be looking at the best areas to stay in Hvar for tourists (include map and video) and best hotels in Hvar for all budget travelers.
Hvar, along with Split, Zagreb, Dubronik, are the famous tourist destinations in Croatia. Split, Hvar and Dubrovnik are the Three Pearls of Croatia. It is better to stay in Hvar than in Split if you want a quieter, more laid back and relaxing island with plenty of hidden coves, sleepy fishing villages and charming beaches. It is better to stay in Split if you want a better nightlife and bigger island.
Where to stay in Hvar first time?
The best areas to stay in Hvar for tourists and first-time visitors are Hvar Town, Stari Grad, Vrboska, Jelsa, Milna, Zavala, Zastrazisce, Sveta Nedjelja, Gdinj, and Sucuraj. These are popular and safe locations, offering a wide variety of attractions and amenities.
Hvar Town is the overall best area to stay in Hvar for first-time visitors due to its prime location. Staying here allows you to be located in the middle of everything, within walking distance to the top tourist attractions, as well as many restaurants, bars, and shops.
Hvar Town, Jelsa, Stari Grad, and Milna are the most popular places to stay on the island. Hvar Town is the best place travelers seeking a central location, Stari Grad is the best base for visitors seeking a quieter, less touristy, and authentic area with wider range of budget-friendly hotels.
To book hotels, I recommend spending at least three days in Hvar island, which is enough to enjoy nightlife, relax on a beach, visit the famous attractions, try local food and drink. If you have more time, you can take island-hopping tour to Brac, Split, Dubrovnik, and Korcula.
Overviews of the best areas to stay in Hvar for first-time tourists
Here is an overview of recommended areas in Hvar for first-time visitors:
| Best areas in Hvar for first-time tourists | Why should you stay in this area? |
| --- | --- |
| Hvar Town | is the most popular and lively area on the island, offering a mix of history, nightlife, and beautiful beaches. It's best suited for travelers who enjoy a bustling atmosphere, want easy access to restaurants, bars, and clubs, and are looking for a vibrant nightlife experience. |
| Stari Grad | is the oldest town on the island with a rich history and charming architecture. It's best suited for travelers who appreciate a quieter and more laid-back atmosphere, enjoy exploring historical sites, and prefer a more authentic experience. |
| Vrboska | is a picturesque town known as "Little Venice" due to its lovely canals and bridges. It's ideal for travelers seeking a peaceful and romantic setting, with scenic views and a relaxed ambiance. |
| Jelsa | is a family-friendly town with a welcoming atmosphere. It offers beautiful beaches, waterfront promenades, and plenty of outdoor activities. It's best suited for families, couples, and those looking for a more tranquil environment. |
| Milna | is a secluded bay with crystal-clear waters and a peaceful ambiance. It's perfect for travelers who want to get away from the crowds, enjoy nature, and relax in a serene setting. |
| Zavala | is a small fishing village with a stunning coastline and vineyards. It's best suited for travelers seeking a quiet and scenic location, with an emphasis on wine tasting and exploring the natural beauty of the island. |
| Zastrazisce | is a remote village surrounded by lush greenery. It's ideal for travelers seeking a truly off-the-beaten-path experience, immersing themselves in nature and enjoying tranquility away from tourist hotspots. |
| Sveta Nedjelja | is known for its steep vineyards and excellent wine production. It's best suited for wine enthusiasts, hikers, and those who appreciate a peaceful environment with opportunities for outdoor activities. |
| Gdinj | is a secluded inland village, perfect for travelers seeking a quiet escape and an authentic taste of traditional island life. |
| Sucuraj | is a charming town located on the eastern tip of Hvar Island. It's best suited for travelers arriving by ferry from the mainland and looking for a quiet and welcoming place to stay. |
Map of areas and neighborhoods in Hvar:
🎬 To get an overall idea of Hvar, check out this short video, or continue reading:
Best areas to Stay in Hvar for tourists are:
1. Hvar Town
Hvar Town is the best overall area to stay in Hvar for first-timers because it's the capital city and the most popular area on the island that offers vibrant nightlife, attracting many young people from around the world.
The district around the harbor where the ferries dock is busy at any time. Those ferries arrive from the mainland but also link Hvar with other islands. There is a beautiful waterfront promenade around the marina and excellent beaches.
One of the major landmarks in the town is the Spanish Fortress (also known as Spanjola Fortress). This Venetian fortress was built above the old city in the 16th century, offering a breathtaking view of the city and the surrounding Pakleni Islands.
There are many historic buildings lining the narrow cobbled streets with plenty of cafes, bars, and restaurants to choose from as well. When you head up to, St. Stephen's Square, you will see the impressive 16th-century St. Stephen's Cathedral with its renaissance bell tower.
St. Stephen's Square, also called Pjaca, is the largest square in Dalmatia with 4,500 square meters. This superb Renaissance square was built under the Venetian empire.
If you are interested in religious sites, you will find many religious relics behind the cathedral in the museum in the Bishops Palace and museum.
There is also a Benedictine Monastery which was the birthplace of the poet Hanibal Lucić in 1485 and became a community of Benedictine nuns since 1664; the 15-century Franciscan Monastery, and the Church of our Lady of Mercy.
Located near the Bishop's Palace is the Hanibal Lucic Summer Residence, the Dalmatian Renaissance-style summer villa of one of the famous poets in Croatia, Hanibal-Lucic-Lucio. The residence now houses the Hvar Heritage Museum and the state archives.
Other places of interest are the Arsenal and Theater, one of the oldest theaters in Europe; the Venetian Loggia and Clock Tower which is now a part of Hotel Palace;
The beaches are at the end of town, pebbles rather than soft sand. They are worth a visit but just one of the daytime activities that Hvar Town can offer. The Pakleni Islands are just offshore so why not take a boat and explore? Explore inland where the lavender fields produce a unique fragrance.
Hvar Town hotels in the main town are within walking distance of many of the places you will want to visit. It is a pleasure to walk the charming streets of Hvar old town, stopping to sample local wines or just get a cold drink.
Hvar Town has the highest concentration of nightlife venues on the island, the party is 24/7 all summer. Hula-Hula Beach Bar, Kiva Bar, Veneranda, Bonj Les Bains outside the Amphora Beach Resort Hotel, and Carpe Diem nightclub are some of the beach bars in the town! If you like music bars head to Central Park Club, meanwhile the Pink Champagne Club is a great spot for dancing!
The town has a range of places to eat, everything from casual to high-class restaurants patronized by wealthy clientele who seek out the 5-star hotels for their stay. Villas are also available to rent, providing more independence than even the best hotel can offer.
Be sure to book accommodation far in advance in the summer season around June, July, and August because it can get crowded during the peak seasons!
Stay in Hvar town if you are young couples, groups of friends, and first-timers who want vibrant nightlife;
Best places to stay in Hvar town:
luxury ($$$): Palace Elisabeth, Hvar Heritage Hotel, historic 5-star hotel, located in the heart of Hvar, ideal base for first-time visitors. It is within walking distance from major attractions such as the St. Stephen's Cathedral, Hvar's Theatre and Arsenal, Fortica Fortress, and Harbour of Hvar.
mid-range ($$): Adriana Hvar Spa Hotel, great 4 -star hotel, located in central Hvar, in a short distance from St. Stephen's Square, Bishop's Palace, and Hvar Heritage Museum. It has rooms for couples, families, and group of friends.
budget ($): Apartments and Rooms Bonkan Hvar, 3-star hotel, one of the best places to stay in Hvar on a budget, located within walking distance from the waterfront, the Main Square, as well as restaurants, beaches, and other attractions. You can stay in a rooms with views of the island, the sea, and the Paklinski Islands.
🔍 MORE HOTELS IN HVAR TOWN
See more:
2. Stari Grad
Located 20 minutes by car from Hvar Town, Stari Grad is quieter, and has cheaper accommodation than Hvar Town. Stari Grad is a better stay than in Hvar town if you want a quieter, less touristy and more authentic area.
Hvar's third ferry port is Star Grad which sits at the top of a cove in the northwest of the island. Stari Grad means ''old town'' and this is one of the oldest towns on the island, indeed in the whole region. The Greeks colonized it in the 4th Century BC and you will still see references to Faros, the place the Greeks departed from to reach Hvar Island.
If you want a place to relax but still have good facilities for holidaymakers, Stari Grad is a place to investigate closely. Most of the cafes, bars, restaurants, shops, and ice cream shops are in the harbor and marina district. The nighttime atmosphere tends to be very pleasant and fairly quiet.
The beach is nearby but it is a concrete surface although sunbathers still seem to use it in numbers. There are more traditional beaches around the headland that have a backdrop of pine-forested slopes.
If you love history and architecture, walk around the cobblestone alleys running off a number of small squares. Bougainvilleas provide the splash of color amidst the old buildings. The old town walls, a villa from Roman times and 2 Illyrian forts are among the places of interest.
The Greek tower on the Stari Grad Plain, a UNESCO World Heritage Site since 2008, is also worth a mention. The Field of Pharos is an agricultural landscape, home to lavender fields, olive groves vineyards, and working farms.
The Hora Winery offers a unique wine and olive tasting experience. If you like cycling, you can spend a day adventure by renting a bike and riding from Stari Grad to Vrboska, a 6km route through the Stari Grad Plain.
If churches are your thing, Stadi Grad has 9 of them. The Church of St. John is on a site that was first developed in the 5th Century. Several of the churches are very old with modern additions in the 18th or 19th Centuries. The old Dominican monastery, established in 1482, was damaged by the Turks, and later fortified with two round towers.
The 16th century Tvrdalj Castle and the Stari Grad Museum in Palace Blankini are interesting. In the museum, you will see a reconstruction of an old Greek shipwreck, an art collection, relics from Stari Grad Plain, and the 19th Century Captain's Room.
The Mausoleum of Sime Ljubica and the old windmill on the harbor are other points of interest.
Stari Grad will always be cheaper than Hvar Town with accommodation including mid-range hotels as well as private apartments and villas.
Stay in Stari Grad if you are very interested in history and architecture, you're the first time visiting Hvar, relaxing is a priority but there are still some bar and restaurant choices, you want some value for money accommodation options.
Best Places to Stay in Hvar in Stari Grad:
budget ($): Anchor Apartments, 3-star family-friendly accommodation, located in Stari Grad in the Hvar Island region, near Lanterna and Beach Banj. It has free private parking and air-conditioned units have a fully equipped kitchen with a fridge, kettle, and a stovetop.
budget ($): Apartments Ivanković, 3-star children-friendly hotel, located in a quiet area within easy walk from the centre of Stari Grad, and the family-friendly beach with a bar and some sports facilities. The hotel can help arrange jeep safaris and flights over the island.
mid-range ($$): B&B Heritage Villa Apolon, great bed& breakfast, located in Stari Grad, within walking distance from Petar Hektorovic Palace. It has fmaily rooms, shared lounge and luggage storage.
🔍 MORE HOTELS IN STARI GRAD
3. Zastrazisce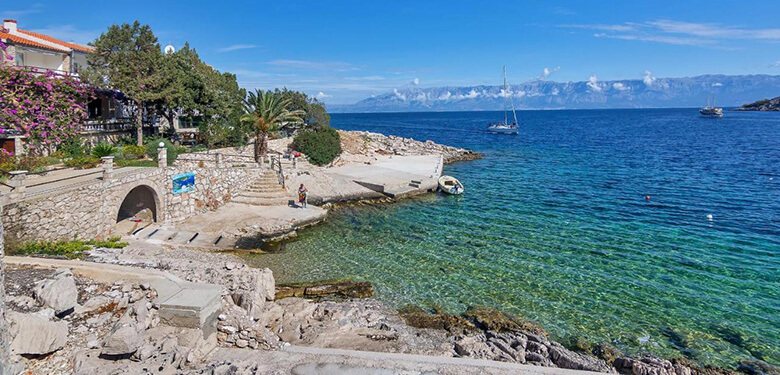 Loated to the east of Jelsa and Zavala, Zastražišće is a village of just 200 people so few holiday destinations offer a better chance for a quiet holiday taking in typical Greek village life. There'll be no tourist crowds if you choose Zastrazisce as your base. Even those 200 live in stone cottages that are spread out over a wide area.
Zastrazisce sits at around 700 feet above sea level thereby giving you great views over the area. You will find just one restaurant, a single shop, a school, and two churches. The closest place of any size is Jelsa, 13 miles away by road.
The locals of Zastrazisce traditionally made their living from agriculture. In years gone by, livestock was the main activity but today it is olives, oranges, and lavender that provide the income for the families. Tourism makes a small contribution. You should probably hire a car if Zastrazisce is your preferred choice as a base.
You may just park up for several days but it is always nice to be able to explore further afield. You could of course cycle if you are fit enough to do it. Several coves and bays are worth a visit, both on the north and south sides of Hvar. Remember Hvar Island is no wider than 6 miles at any point.
The village of Humac and Grapceva Cave with its impressive stalagmites and stalactites are of interest without having to start the car. Rather than man-made landmarks, the highlight of the village is an olive tree that is over 2,000 years old.
Not surprisingly, there are no hotels in the village. Stone cottages that have been modernized are the option.
Stay in Zastrazisce if you want peaceful and relax holiday.
Best places to stay in Hvar in Zastrazisce :
🔍 MORE HOTELS IN ZASTRAZISCE
4. Zavala
Famous for its excellent white wine (bogdanjuša), Zavala is another delight on the southern coast of the island of Hvar. It remains fairly quiet and certainly not over-commercialized. Its pebbled beach sits below hills covered with pine trees with the hypnotic scents from lavender and rosemary fields adding to its appeal. It is definitely a place for tourists wanting to relax.
Even the journey from Jelsa, the best ferry port for you if you want to stay here, is delightful. The road goes through a small village, Pitve, and a long and narrow tunnel which is controlled by traffic lights because it is a single lane and unlit.
Emerging from the dark, a great view of the coastline and the blue Adriatic unfolds in front of you. There are small offshore islands in the setting as well. Once you arrive, you find a small harbor and a nice promenade lined with hotels and apartments, and further on bars and restaurants.
Dining here is a pleasure. Your plate will have things grown locally, and the day's catch is to be recommended. Olive oil is pressed locally, the wines are local and seasonal fruits are wonderful.
You can do a day trip to the island of Scedro, or visit some of its vineyards and wineries. You will find a good range of accommodation, and good value as well. You can even camp or rent a villa.
Stay in Zavala if You prefer to avoid tourist crowds, you enjoy nature, quiet and peaceful family holiday.
Best places to Stay in Hvar in Zavala:
mid-range ($$): Villa Stella Mare, 4-star family-friendly beachfront accommodation, in Zavala, within walking distance from Zavala Port Beach, Skalinada Beach, and Zavala Beach. The hotel offer a bicycle rental service and a car rental service.
budget ($): Cast Away – Eco Resort, great accommodation located in the middle of nature on top of 2 beaches near the small village of Gromin Dolac, offering wooden tents, 5 hammocks, and free shuttle from/to the ferry terminal.
budget ($): Pansion Marjan, 3-star hotel, located within a few steps of Zavala Beach, Stela Beach, and Zavala Port Beach, Pansion Marjan. It has free private parking for those travel with a car.
🔍 MORE HOTELS IN ZAVALA
5. Jelsa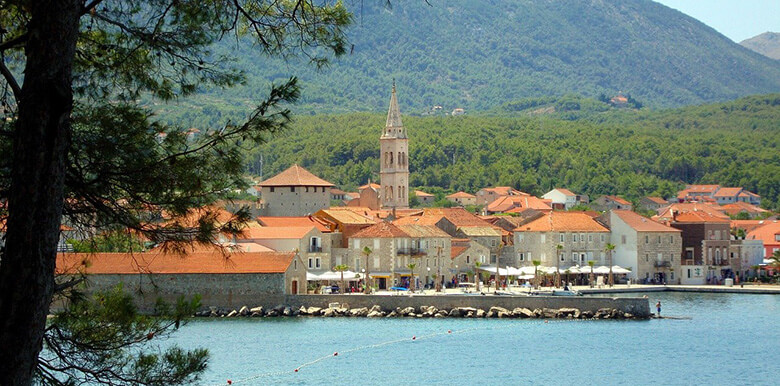 Jelsa is on the midpoint of the north coast of Hvar Island, 16 miles from Hvar Town across the narrow interior. It sits in a bay below forested mountains running down to the sea.
Jelsa's beautiful beaches just outside the town attract tourists, many of whom will have arrived by ferry directly into Jelsa harbor. There is the ferry to Split and the nearby Bol island (Brac island).
Jelsa is surrounded by the two highest mountains on the island, Hum on the east and St. Nikola on the west. It is a great place to stay for nature lovers with beautiful sandy beaches, and diverse scenery of vineyards, pine tree forests, olive groves, and lavender fields.
The best beaches are on the south side of the bay while there is a water taxi that will take you to others, two being natural beaches, Zecevo Beach and Glavice Beach. You also have Preko Vrha Trail, Beach Mina, and Beach Sveti Luka.
Its origins as a small agricultural and fishing town go back to the 14th Century. The architecture of the 15th and 16th Centuries is still evident today.
Tourism is now the biggest contributor to the local economy and the town has much of that to offer without attracting the crowds of Hvar Town. If you wander the streets, you will find them quieter than Hvar Town but they still contain shops, bars, and restaurants to cater to visitors and locals.
The Church of Saints Fabian and Sebastian in a paved square is a notable landmark. It was built in the 16th Century although the surrounding buildings came later. The altar in the Church includes a wooden statue of the Madonna. It was brought from the mainland as people fled from the invading Ottomans.
As you walk through the town, you will find numerous cultural landmarks such as:
the 15th-century Baroque church of St John,
the public Garden of Jelsa with the statue of the captain Niko Dubokovic,
the church of St. Mary,
the church of our Lady of health,
the Jelsa Municipal Museum,
the Civitas Vetus Ielsae (old Jelsa city).
The harbor with its charming seaside promenade is a focal point and sitting back to observe the activity is a pleasure in itself. After sunset, numbers grow to enjoy the cozy pubs, bars, and restaurants. While none close early, you will not find any staying open into the early hours.
Located in the center of the island, Jelsa is also a great starting point for many day trips such as Grapčeva cave and Humac, Tor, the nearby villages of Vrisnik, Pitve, and Svirče.
If you visit Jelsa in August, you will have a chance to take part in the famous traditional Wine fair, "Fešta vina" (Jelsa Wine Festival).
There is a good range of accommodation options including apartments and villas for those wanting independence and hotels from 2-star up to 5-star. In general terms, Jelsa is cheaper than Hvar Town both in accommodation and average daily shopping and eating.
Stay in Jelsa if you are a nature lover; you plan to rent a car;
Best Places to Stay in Hvar in Jelsa:
🔍 MORE HOTELS IN JELSA
6. Vrboska
Known as Little Venice of Hvar, Vrboska is the smallest village on the island, located between Stadi Grad and Jelsa on Hvar's north coast. Back in the 15th Century, it developed as a port with buildings on either side of the estuary, connected by a picturesque stone bridge.
Forested hills with pine trees, olive groves, and orchards surround Vrboska which now depends primarily on tourism for its income. There are local beaches including a couple reserved as naturists beaches.
Soline Beach is one of the most popular beaches in Vrboska. This pebble beach is a family-friendly beach and perfect for families with children.
Campsites are nearby and provide the cheapest form of accommodation you can find. There are family-run hotels, apartments, and luxury villas available for rent but you will need to book early for the latter.
Vrboska is a quiet village, don't expect busy nightlife but there are sufficient good bars and restaurants for you to enjoy your evenings. Most of the amenities are in the harbor area, and that includes the shopping. There is a small marina that offers berths to yachts sailing in the Adriatic Sea.
The Fisherman's Museum is interesting, telling the story of local fishing over the years. It has a collection of traditional fishermen's equipment like nets, tools, and machines from a former salted fish factory.
Some of the churches are also worthy of a mention:
the 16th Century St. Mary of Mercy: was developed into a refuge at a time when there was a serious threat from both the Venetians and then the Ottomans.
the Church of St. Lovre (St. Lawrence) where you will see some wonderful paintings
The Church of St. Peter is one of the oldest religious buildings on Hvar Island.
If you stay in Vrboska, you can also take boat excursions to the famous beach Zlatni rat on the island of Brac; a trip to the Blue Cave at the island Vis; and wine tours and wine tastings activities;
Stay in Vrboska if you want to stay in a quiet and small area with easy access to everything.
Best Places to stay in Hvar in Vrboska:
🔍 MORE HOTELS IN VRBOSKA
7. Gdinj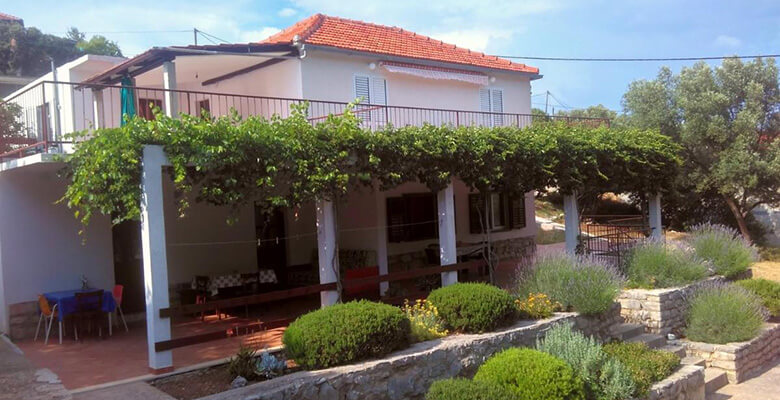 Gdinj is almost 20 miles east of Hvar Town, past both Humac and Zastrazisce. It is a village where settlement started in the 16th Century with tiny hamlets amalgamating into a single village of old stone cottages. It is regularly described as a place where time has stood still but who says that is a bad thing?
Its population of 100 either works in the fields or run a small number of shops, bars, and restaurants. Some of the old cottages are deserted but others have been modernized to provide accommodation for visitors. Accommodation options are converted studios and apartments with a few local houses also available to rent.
At one time, Gdinj was much bigger, with a population of around 800. Socio-economic conditions changed that with people gravitating to larger places. While tourism is very welcome, it is unlikely to result in much population growth, certainly not back to the previous levels.
Although there is a bus service between Hvar Town and Gdinj, realistically, if you want to stay here, you should rent a car on arrival from your ferry. Once in Gdinj, you can enjoy the tranquility and the sunshine. Incidentally, Gdinj is located at almost 1,200 feet. You have lovely views of islands on either side of Hvar, north and Brac, and south to Korcula.
Amenities are simple and basic with some services only available in the nearest larger settlement. In this case, it is Jelsa. The few bars and restaurants are the sum total of nightlife alternatives but staying in Gdinj is about other things. You can buy all your basic needs locally if you want to do some self-catering.
The beaches, indeed the coastal area in general and the pine forests make for a beautiful setting. The Church of St. George, which was built in the 16th Century, is the man-made highlight of Gdinj. It is 5 minutes out of Gdinj, built in Renaissance-Baroque style.
Stay in Gdinj if You want a quiet and small area to relax;
Best places to stay in Hvar in Gdinj:
🔍 MORE HOTELS IN GDINJ
8. Milna
Milna sits in a small bay 6km from Hvar Town on the southwest coast. Its attractions are largely by day with anyone wanting nightlife finding it less than 3 miles away in the island's capital. Its popularity with tourists suggests it has the right formula.
Its origins are in the 16th Century with Baroque architecture still in evidence in the western end of the village. The mansion belonging to the Ivanic family is surely the best example and you can stay there. It is a boutique hotel today.
Lavender is an important crop in Hvar and as far back as the 17th Century, this region was famous for the oil that was exported from other parts of Europe, notably Paris. Tourism has not resulted in the village losing its essence. There are as many restaurants as bars that servers the local cuisine, fresh fish, and homemade olive oil.
Located in a protected cove with beautiful beaches make it an ideal destination for a family holiday. In total, there are four small beaches in the immediate area, pebbles not sand with shallow clear water suitable for all, from young children upwards. There are basic facilities and refreshments on site. If you want a break from the beach, take a walk in the pine trees that line the shore.
There are cycle trails, boats for hire, donkey rides and scuba diving is good. Walking tours are available locally with information on Milna's history as you walk. One of the most interesting is to a small village nearby, Malo Grablje which is now deserted and has been since the 1960s.
Milna is quiet after sunset but you will be able to enjoy a pleasant dinner, and a drink but nothing is really open very late. Perhaps your hotel bar may serve you a late drink, and there is good accommodation available. Demand is high so it is worth booking early to avoid disappointment.
Stay in Milna if you are faimlies, beach lovers, foodies.
Best Places to Stay in Hvar in Milna:
🔍 MORE HOTELS IN MILNA
9. Sucuraj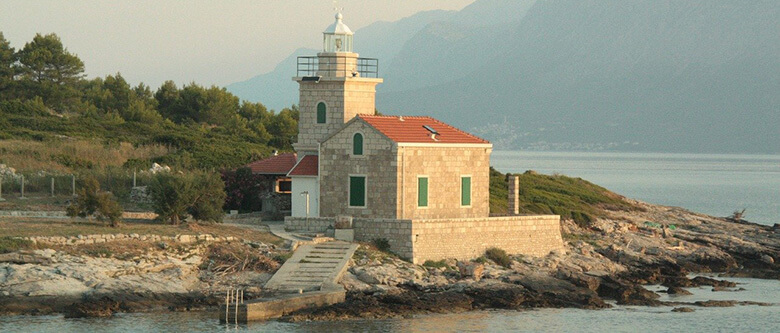 The fishing village of Sucuraj is at the extreme eastern end of Hvar Island. It is surrounded by the Adriatic sea and Biokova hills.
The smallest town in Hvar Island is the closest point to the Croatian mainland. There is a ferry link to Drvenik on the mainland that only takes around half an hour, and runs 12 to 20 times a day in a high season from June to September. Only if you intend to stay at the eastern end of Hvar Island would you take this ferry.
While it is thought that Sucuraj was first settled in the 14th Century, there is no physical evidence for you to see. Augustine monks built a monastery with no accurate information on the date it was built. Rebuilding has been a regular occurrence, the first in 1309, the last in 1994.
Venetians built a Venetian fortress Fortica in the 17th Century. They also built the Church of St. Anthony which is still there today. However, what you see is a rebuild after the original was destroyed in the 19th Century. The old lighthouse is worth a visit, as is the Church of St. Jure.
There is a reasonable choice of bars and restaurants in Sucuraj with shops selling all you might need. It is a typical Adriatic village with stone buildings, twisting, and narrow alleyways. You should explore the many bays and coves, found both on the north side and the south side of Hvar.
The beaches and shallow waters are great for youngsters if you decide that you do not need loads of facilities for a family holiday. The most popular beaches and coves are Perna cove on the south side, Mlaska cove on the north side, Česmica, and Bilina sandy beaches.
You can explore by hiking or cycling or simply take gentle strolls. The small fishing fleet ensures that the restaurants have fresh fish every day. You can go to the sea yourself, visiting any of the small islands nearby.
In terms of accommodation, there is a choice of studios, apartments, in motor camp as well as houses, many offering great views over the harbor and the beaches. Sucuraj is not for everyone and the locals would agree but it can offer a memorable holiday for those wanting something a little different.
Stay in Sucuraj if you are families; you want experience local life.
Best places to stay in Hvar in Sucuraj:
🔍 MORE HOTELS IN SUCURAJ
10. Sveta Nedjelja
Sveta Nedjelja (Sveta Nedilja) is below the highest summit on Hvar, Mount St Nicholas at around 2,000 feet, on the island's south coast. It is a popular destination for free climbing fans, and perfect for tourists wanting a relaxing break away from tourist crowds, yet wanting decent amenities.
There is just a small pebble beach with rental apartments behind typical local buildings elsewhere in the village. Narrow streets and alleyways typify Sveta Nedjelja. Leave the village and head uphill and you will find terraced vineyards which produce its lovely red wine (plavac). There are olive groves as well from which locally pressed oil is produced.
Points of interest in Sveta Nedjelja include the charming small chapel, a cave where you will find a graveyard, old monastery ruins, and another church, all dating from the 16th Century. You will need to have a level of fitness to hike there. The cave is halfway to the summit and will take around 45 minutes.
Climbers wanting a challenge, both from the cliffs and steep climbs seem to have found a place on Hvar Island that appeals to them. However, if all you want is to relax, stay down in the village, enjoying the harbor with its bars and restaurants and the pebble beach.
If you book a self-catering apartment, you can stock up in the local shops or eat out in a cafe or restaurant. The business that produces oils from lavender and rosemary is happy to welcome visitors who want to watch the process.
Then you could go next door to the wine bottling plant and maybe sample some famous red wine, Plavac while you are there.
If you want to see the surrounding area and want help, take a tour with a local who will use trails to show you the small farms and the countryside. If you rent a car on arrival in Hvar, the drive is 20 minutes from Jelsa and 30 from Hvar Town.
Don't expect much in terms of nightlife but a relaxing evening is important to some. The accommodation options available is mostly apartments and villas with balconies and terraces looking out to sea. Just absorb your surroundings! Heaven!
Stay in Sveta Nedilja if You like free climbing and hiking during the day; you like local life;
Best places to stay in Hvar in Sveta Nedjelja:
🔍 MORE HOTELS IN SVETA NEDELJA
Check out the virtual tour about the best places to stay in Hvar in my video:
Where should I stay in Hvar for the first time?
Hvar Town is the best area to stay in Hvar for first-timers due to its close proximity to famous tourist attractions and a wide choice of accommodation. If you stay here, you will be located in the middle of the action.
What are the best areas to stay in Hvar?
Hvar Town, Stari Grad, Vrboska, Jelsa, Milna, Zavala, Zastrazisce, Sveta Nedjelja, Gdinj, and Sucuraj are the best areas to stay in Hvar for tourists because they are the most popular and safe neighborhoods that offer a wide variety of attractions and amenities.
How many days in Hvar is enough?
Based on my experience, I would recommend spending at least 3-4 days in Hvar to fully enjoy the island's stunning beaches, beautiful architecture, and vibrant nightlife.
Summary – Where to stay in Hvar for tourists?
In conclusion, Hvar Town, Stari Grad, Vrboska, Jelsa, Milna, Zavala, Zastrazisce, Sveta Nedjelja, Gdinj, and Sucuraj are some of the best places to stay in Hvar for tourists and first-time visitors. They provides plenty of accommodation options for all budgets and preferences.
Overall, Hvar Town is the best area to stay in Hvar first time due to its central location and proximity to major attractions. If you stay here, you will be located within easy access to tourist sights, restaurants, bars, and shops.