In this blog post, we will be looking at where to stay in Dubrovnik to get the most out of your visit. We will be looking at some of the top attractions the city has to offer and the best areas to stay in Dubrovnik to take advantage of them.
Dubrovnik is very much Croatia's gem on its lovely coastline. It was already very popular even before the release of the blockbusting series, ''Game of Thrones'' that used the Old Town Dubrovnik for many of its locations. That series increased tourist numbers, even more, making tourism the most important factor in the City's economy.
In the high season, the Old Town is packed with tourists. Every hotel, bar and restaurant is crowded yet the appeal of this City deters nobody in their quest to see its highlights.
See Also: Where to Stay in Zagreb
If you are going to visit Dubrovnik, you will need to book well in advance if you are going in the high season. The Old Town and the 16th Century City Walls are the main historic attractions, not solely because of ''Game of Thrones.''
It is not essential to stay within the Old Town, and you may enjoy getting away from it at the end of the day. Dubrovnik is a city of just over 40,000 that UNESCO awarded World Heritage status in 1979, not solely because of the Old Town.
There are several areas in Dubrovnik for you to consider. For example, if you are on a family holiday, a beach location is probably more suitable. You may be looking for budget accommodation. That really precludes the Old Town, certainly in the high season.
Even though Dubrovnik is busy in the high season, the transport infrastructure is good. You can decide on a base then make day trips to see and enjoy the things you have on your list.
>> CHECK BEST HOTEL DEALS IN DUBROVNIK <<
📌7 Best Areas to Stay in Dubrovnik: Where to Stay in Dubrovnik
There is so much to see and do in Dubrovnik that you should do some research before you set out. That way, you will make the best use of your time. By all means, look at Old Town itself, but consider other areas as well. Here is some information that should help you make up your mind about where to stay in Dubrovnik.
Dubrovnik Hotel & Neighborhood Map:
1. 💖 Dubrovnik Old Town, where to stay in Dubrovnik for first time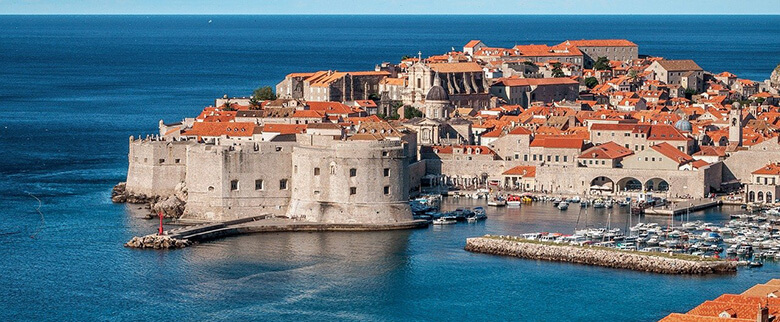 Within the city walls of Dubrovnik, you will find a stunning UNESCO World Heritage site. There has been no modern construction within the Old Town although all the buildings have been modernised to provide excellent restaurants, accommodation and plenty of shopping.
From the moment you walk in under the impressive city walls, your eyes will be attracted to one highlight after another. You can walk around the battlements looking down on the red rooftops and at the eye level of many of the stunning churches.
The Old Town Port and the Adriatic are below. Remember this place was effectively an independent republic until Napoleon arrived in 1806 and a merchant trader for centuries. You will see evidence of its past in the City Museum including a letter from Elizabeth I of England.
What you see today was largely built in the 13th Century, yet restored after a 17th Century earthquake. That earthquake made little impact on the impressive city walls. In the middle of the 14th Century, it escaped from Venetian control. Nominally it remained under the wing of the Croat-Hungarian empire but there was minimal interference.
You may find yourself queuing in the high season but nevertheless, you must walk the walls and visit the Minceta and Bokar Towers while on them. There are a lot of the main attractions of Old Town, ensure you visit these popular tourist attractions.
The baroque style Church of St. Ignatius of Loyola has great frescoes, a dome illustrating Jesus in Heaven. It dates back to the 18th Century but the bell tower is the 14th Century.
The Rector's Palace (Knezev Dvor) in Gothic/Renaissance style. Onofrio's 15th Century Fountain looking down the Stradun.
In the ''Game of Thrones'', the ''walk of shame'' was a memorable moment. Go to the steps at the top of the Jesuit staircase, south of Gunduliceva Poljana Square, behind Dubrovnik Cathedral.
Don't forget to check out Dubrovnik Cathedral and Treasury and the Dominican Monastery and the Franciscan Church and Monastery.
Other attractions including Pile Gate, Stradun street, Onofrio Fountain, the Church of St Blaise, the Orlando Column, the Franciscan Monastery, and Mount Srd.
The Old Town has plenty of good boutique hotels and serviced rooms for rent. Remember there are none of the famous international brands within the city walls. High-quality restaurants and cafes have used the existing buildings to great effect.
Stay in Old Town if You want to experience the Old Town experience, There are no budgetary restrictions on your Dubrovnik holiday, You are not traveling with children who might get bored by the ''history and culture'' and don't mind crowds.
Best places to stay in Dubrovnik Old Town:
Best luxury hotel: The Pucic Palace This five-star hotel is located in the heart of Dubrovnik, a short walk from the Stradun Promenade, Buza Beach, Porporela Beach, and Banje Beach. Rooms are spacious with air-conditioned and come with a flat-screen TV, free wifi. You can easily reach the main attractions on foot such as Old Town Port, Franciscan Monastery Dubrovnik, Onofrio's Fountain, Pile Gate, and Sub City Shopping Centre.
Best mid-range hotel: Vivaldi This 4-star hotel is situated conveniently in the center of Dubrovnik, close to Onofrio's Fountain and Pile Gate. It's also close proximity to Orlando Column, Ploce Gate, Minceta Tower, and Franciscan Monastery Dubrovnik. This guest house offers guest rooms with a flat-screen TV with satellite channels and a seating area.
Best budget hotel: Villa Monte Santo This guesthouse is set a short distance from attractions such as Walls of Dubrovnik, Love Stories Museum, Stradun, Pile Gate, Orlando Column, and Franciscan Monastery Dubrovnik. Ploce Gate and Minceta Tower can be reached in a short ride. It offers units with air conditioning, a flat-screen TV with satellite channels, a fridge, a kettle, a shower, a hairdryer, and a wardrobe.
Other Dubrovnik Old Town Hotels 4 stars ‣Boutique Hotel Stari Grad ‣Fresh* Sheets Kathedral Dubrovnik ‣Rooms Klarisa Palace ‣ St Joseph's
🔍 FIND BEST HOTELS IN DUBROVNIK OLD TOWN
Check out the virtual tour about the best places to stay in Dubrovnik in my video or continue reading:
See more:
2. Ploče, where to stay in Dubrovnik for romantic feel
Ploce is a small coastal area stretching from the impressive Ploce Gate, the eastern entrance to Old Town, Dubrovnik. The Gate and stone bridge date back to the 14t Century. Originally, there was a wooden drawbridge that the locals drew up each night for increased protection.
The Statue above the gate is that of Dubrovnik's Patron Saint, Sveti Vlaho. In addition, Revelin Fortress provides a good lookout position to see anyone approaching. Don't forget to check out St Dominic's tower!
This small neighbourhood centres on Franco Supilo Street that runs along the coast. Here you will find some of the City's oldest hotels, and also some of the grandest. You will also see luxury villas here.
Even if you do not make Ploce your base, there are two compelling reasons to visit Ploce: Museum of Modern Art and Dubrovnik Cable Car.
The Museum of Modern Art was originally a Gothic style palace. Today, it is a place where visitors will see the best of Croatian paintings and sculptures. Some of the exhibits are on permanent display while there are special exhibitions periodically.
The Dubrovnik Cable Car to the top of Mount Srd. The trip lasts 4 minutes and takes you to almost 2,500 feet above the Adriatic and the Old Town. You can imagine the tremendous views you will have and the photographs you will be able to capture.
Stay in Ploče if You are looking for accommodation close to, but not in, the Old Town, Travelling with young children, you need safe swimming areas, You want good transport connections
Best places to stay in Ploče:
Best luxury hotel: Grand Villa Argentina This 5-star hotel features direct beach access and an outdoor swimming pool with sun loungers, it offers an a la carte restaurant boasting a terrace with panoramic sea views. The vivid Stradun Promenade, monumental Dubrovnik Walls, and various historic sights are located within easy walking distance.
Best mid-range hotel: Villa King this 4-star apartment offers modern-style apartments overlooking the Adriatic Sea from a furnished balcony or a terrace. All apartments have modern furnishings, a fully equipped kitchen with a dining area, a living area, a bathroom with a hairdryer, and a washing machine.
Best budget hotel: Villa Gloria offers a garden with an outdoor pool, free wifi. All rooms and apartments have a balcony or a terrace, and Banje Beach is 70 m away. it also provides a spacious shared terrace, a garden with its fountain, lemon trees and flowers, a children's play area, sun loungers, and a barbecue.
🔍 FIND BEST HOTELS IN PLOCE
3. Pile, where to stay in Dubrovnik for families
The Pile Gate and the Old Town walls are an impressive sight when you first see them. This is the western entrance to the Old Town, and if you want to stay close by, Pile is the first place to look. It has the advantage of having good transport connections simply because of the popularity of the Old Town.
Remember, no public vehicles are allowed inside the Old Town but there is a busy bus station in Pile. You don't have to travel far for cafes, restaurants and bars, and shops because Pile has them even though it is largely a residential area.
Pile has a small harbour and two small beach areas. There is more to see in Dubrovnik than the Old Town and within Pile, you might like to see Park Gradac and Lovrijenac Tower, Lovrijenac Fort.
Park Gradac is within walking distance from Old Town. Its clifftop location above Dance Beach ensures visitors have lovely views of the Adriatic Sea. The planners who decided to set up a peaceful area close to the City have succeeded. The Park opened at the end of the 19th Century and provides plenty of shaded seating, those sea views and also views of the rooftops of the Old Town.
Lovrijenac Fort, dating back to the 11th Century. It was the location in ''Game of Thrones'' for the dramatic scene when Joffrey Baratheon died from poisoning. It stands 120 feet above the sea and was important in defending the community from the Venetians.
Stay in Pile if You are looking for good value accommodation options close to the Old Town, Travelling with young children, you need access to some beach areas, You want good transport connections.
Best places to stay close to Pile Gate
Best luxury hotel: Grand Villa Argentina This 5-star beachfront hotel is located within walking distance from the UNESCO-listed Dubrovnik Old Town. You can easily explore various historic sights on foot such as Stradun Promenade, monumental Dubrovnik Walls, Dubrovnik Cable Car, Orlando Column, and Onofrio's Fountain. There're also beaches nearby for swimming, water sport, and watching the sunset: Banje Beach, Porporela Beach, and Buza Beach.
Best mid-range hotel: Villa King This 4-star property provides modern apartments with standard amenities such as TV, a dishwasher, and free wifi. It is close in proximity to Main Bus Station, Ferry Port, and Dubrovnik Airport.
Best budget hotel: Villa Gloria Located just a few steps from Dubrovnik's Old Town, Banje Beach, Revelin Fortress, Ploce Gate, Eastwest Beach Club, Dubrovnik Cable Car, and Dominican Monastery.
Other best Pile Hotels are ‣5-star Hilton Imperial Dubrovnik ‣Apartments ‣Apartments Aquarius ‣Apartments Benussi
🔍 FIND BEST HOTELS IN PILE
4. Lapad, where to stay in Lapad for nightlife
Lapad is part of the peninsula of the same name just to the west of the Old Town. It has a regular bus service and will only take you 10 minutes from Old Town. This area developed in the 60s and 70s when houses and hotels sprang up.
In addition, these days you will find rooms and self-catering apartments for rent. Accommodation here is much cheaper than in the Old Town. The coastal locations remain more expensive than places found in the heart of the peninsula. Beaches nearby are Copacabana Beach, Uvala Bay and Cava Beach.
It remains a popular residential district with some nice walking trails, a promenade with lovely views out to sea and a pebble beach. Its name comes from the Latin word, ''lapis'' which means rock or stone, an apt description of this stretch of coastline.
Scuba divers and snorkelers regularly head here to explore life under the waves. While the majority of the beaches are pebbles, there are a few stretches of sand. The calm, shallow waters make Lapad a good place for young children. Lapad is probably the first place that families should look for their base.
The locals tend to head to Lapad in the height of summer because of the nice places for swimming. Indeed, during July and August, there is a ferry service from different parts of Dubrovnik to Lapad.
Stay in Lapad if You are looking for budget accommodation yet to be close to the Old Town, Travelling with young children, you need safe swimming areas., You want good transport connections.
Best places to stay in Lapad:
Best luxury hotel: Hotel Dubrovnik Palace Set in the Lapad Peninsula offers rooms with views of the Elaphite Islands. It's just a few steps from the local bus station take you to the Old Town. It offers rooms with a sleek design and earthy colors, free wifi, air conditioning, and luxury toiletries, a flat-screen satellite TV, and a minibar.
Best mid-range hotel: Valamar Argosy Hotel Set in Babin Kuk, overlooking the Adriatic Sea, and within a short stroll from Cava Beach and Copacabana Beach. it has air-conditioned rooms with a flat-screen TV, minibar, and a safe, private bathroom that feature a bath, free toiletries, and a hairdryer.
Best budget hotel: Valamar Club Dubrovnik Located in Babin Kuk peninsula with easy access to the Old Town, close to Dubrovnik Copacabana Beach and Lapad Bay. It has a large swimming pool, a multitude of sports courts, aquatic sports, the Maro Club for children, and a rich buffet breakfast.
Other Lapad Hotels:
🔍 FIND BEST HOTELS IN LAPAD
5. Gruz, the best place to stay in Dubrovnik on budget
Gruz is the neighbourhood that looks out into a large bay in the west of Dubrovnik City. Many visitors reach Dubrovnik in this part of the City. The main port area is here so this is where the cruise ships and ferries anchor. It remains sheltered even when strong winds head from the highlands to the coast in winter.
Gruz open air market sells local fruit and vegetables, a real splash of colour. If you make this your base in Dubrovnik, you will also have plenty of shopping options and access to a good transport infrastructure. That includes the chance to take day trips to offshore islands, Elafiti and Mljet. Anyone disembarking will find the bus station here as well.
In the past, Gruz was the area that local wealthy people used during the summer. The main street still has some of those impressive summer mansions built with stone. Gruz is residential today although there was a period when it was the City's industrial zone. Its population of 15,000 makes it the largest neighbourhood area of Dubrovnik.
You will find rooms for rent in Gruz so it is suitable for solo travellers on a budget. There are a number of nice walks around the bay if you just want a relaxing day. If you have spent the previous day in the crowds of Old Town, you may need it.
Stay in Gruz if You are looking for budget accommodation, The Old Town is just one of the reasons for your visit to Dubrovnik, You want good transport connections.
Best Hotels in Gruz
Valamar Argosy Hotel This midrange hotel is within a short stroll from Cava Beach and Copacabana Beach, offers stylish rooms, free wifi, outdoor and indoor swimming pools, an onsite restaurant, and a fitness center.
Villa Gloria offers air-conditioned rooms with free wifi and is located just a few steps from the supermarket and bakery nearby.
You can also choose 4-star hotels like ‣Hotel Adria ‣Berkeley Hotel
🔍 FIND BEST HOTELS IN GRUZ
6. Cavtat, a great place for historical attractions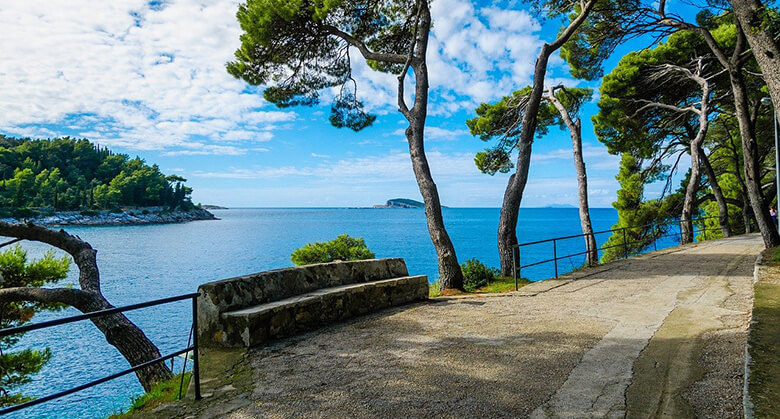 Cavtat is south of Dubrovnik city towards the border of Croatia and Montenegro. It is under half an hour from Old Town by road and quite close to Dubrovnik Airport. It is an attractive place that makes a good base for enjoying the Adriatic Coast, specifically Dubrovnik and its historical attractions.
One of Croatia's most famous painters, Vlaho Bukovac, was born here in 1855 and the House of Vlaho Bukovac that was formerly his home is now a museum. Elsewhere, there are a few other things of interest in Cavtat.
Racic Mausoleum belongs to a family which were significant local ship owners. Ivan Mestrovic used stone from Brac Island to design it.
The Rector's Palace holds a collection of books, coins and notes belonging to a well-known local lawyer, Baltazar Bogisic.
Our Lady of the Snow Monastery is close to the harbour with its clock tower a later addition to the 15th Century structure. The church next door has some interesting paintings.
Other attractions nearby including Cavtat Promenade, Cavtat Bus Station, Bukovac House and Gallery, Saint Nicolas Church, Church and Monastery of Our Lady of Snow, Račić Mausoleum, and Underwater Museum Cavtat.
If you are in Cavtat in the height of summer, you are likely to find several different cultural events taking place. They involve song and dance in the streets so you can't miss them.
Cavtat has several nice bars and restaurants with fresh seafood, a popular choice for dinner. Look for a location that offers views of the Adriatic Sea. Accommodation varies from 5-star luxury hotels to smaller boutique hotels as well as some private options.
Stay in Cavtat if you are looking for a choice of accommodation without being concerned about the proximity of the Old Town, your base needs to have its own attractions, you want good restaurants close by.
Best Hotels in Cavtat: ‣Hotel Croatia ‣Hotel Seventh ‣Hotel Cavtat
🔍 FIND BEST HOTELS IN CAVTAT
7. Babin Kuk, a green area in northern of Lapad peninsula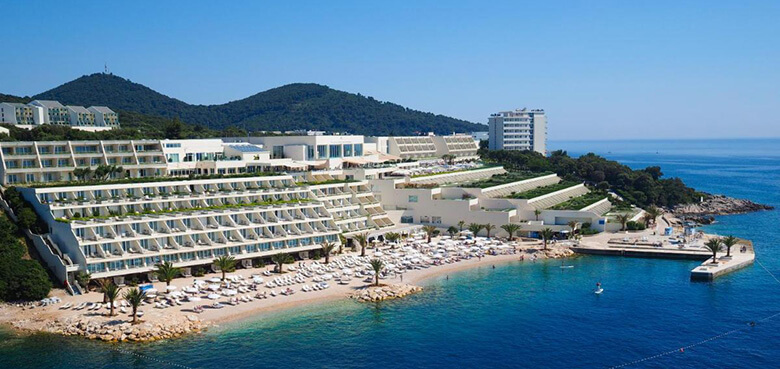 Babin Kuk is the northern point of the Lapad Peninsula. It is an exclusive neighborhood where you will find luxury hotels, quality spas and the best spas around. Its beach, Copacabana, suggests something special because the original in Rio de Janeiro certainly is.
Copacabana is a private beach with facilities to satisfy the most discerning visitors. They include fine dining, a range of water sports, and opportunities to go out on to the Adriatic. Several beachfront hotels line Copacabana looking out to the Adriatic. Fresh seafood is rarely better than in its restaurants.
Cava Beach is a good alternative for families; the atmosphere is distinctly laid back and prices are reasonable. Each of the beaches has deck chairs and parasols for shade while beach bars offer refreshments for all.
You can arrange sailing tours with hotel collections, and the nearby Elaphite Islands are worth a visit. Kayaks are available for hire with the sea generally calm while you can join a snorkelling tour as an alternative.
This area is less than 3 miles from the Old Town yet you are unlikely to encounter much traffic. It is mostly green with good walking trails, promenades and ideal places for jogging.
Stay in Babin Kuk if You are looking for luxury accommodation, Getting away from Dubrovnik's crowds is important to you, You do not want to be remote in terms of distance from Dubrovnik's historical and cultural attractions.
Best places to stay in Babin Kuk
🔍 FIND BEST HOTELS IN BABIN KUK
What Is the Best Area to Stay in Dubrovnik?
There is no best or worst choice when you are thinking about the best area to stay in Dubrovnik. You may desperately want to be in the Old Town, in which case why not look at Vivaldi*** or The Pucic Palace***?
Polce and Pile are both close by but if you are looking for somewhere with all the facilities and a swimming pool, you may get a better choice on the Lapad Peninsula, maybe, Hotel Dubrovnik Palace*** or Valamar Club*** in Babin Kuk if you are travelling as a family?
Is Dubrovnik a Party Place?
While Dubrovnik gets quieter in the off-season winter, you will never be short of things to do at night during the season, and that includes spring and autumn. It is not the number of clubs and late bars in Dubrovnik but the quality of the experience when you are in one of them.
Where Should I Stay in Dubrovnik Old Town?
Boutique Hotel Stari Grad*** is an 8 room boutique hotel serving breakfast on a rooftop terrace overlooking the Old Town. Recently renovated, you will enjoy en-suite rooms with air-conditioning before stepping out into the heart of the Old Town.
How Many Days Do You Need in Dubrovnik?
You should be able to see everything you want to see in 3 days. The Old Town is obviously the main reason to visit the City and you will encounter crowds which will slow you down. Old Town and its city walls are purely walking so be prepared and expect plenty of stairs. Local bus services are good so there is no problem getting there from elsewhere in the City.
More About Europe Traveling:
Dubrovnik is a historic city that is on the ''must see'' list of many travellers. It deserves that status and its use for locations for ''Game of Thrones'' has only increased its popularity. The Adriatic Coast is stunning and Dubrovnik at the southern end does not disappoint anyone.
You must expect crowds in the high season and prices within the Old Town tend to be higher than elsewhere in Croatia, and even in neighboring towns. The price is worth paying because Dubrovnik has few equals when it comes to architecture, history, and culture.