The best areas to stay in Dubrovnik for first timers are the neighborhoods of Old Town, Ploče, Pile, Lapad, Gruz, Cavtat, and Babin Kuk. These are beautiful and safe areas for tourists that offer a wide variety of attractions and amenities.
In this blog, we will be looking at where to stay in Dubrovnik for first-time travelers, for nightlife, for family, budget, beaches, and near the airport.
Dubrovnik, along with Split, Hvar, and Zagreb are the most popular tourist holiday in Croatia. Split and Dubrovnik are two beautiful cities on the Dalmatian Coast. While Split has better nightlife, cheaper accommodations, Dubrovnik is better for those who want to soak up the history and culture, and enjoy the food.
The Old Town is the best place to stay in Dubrovnik for first-timers due to its prime location. If you stay here, you will be located in the middle of everything, within walking distance to the top tourist attractions, as well as many restaurants, bars, and shops.
You may be looking for cheap accommodation. In that case, Gruz is where you can easily find budget-friendly hotels near the bus terminal and cruise port.
If you don't want the hustle and bustle of the Old Town and prefer quieter areas, have a look at Lapad peninsula which just a short bus ride from the Old Town; or beautiful town of Cavtat which is only half an hour from Dubrovnik Old Town. Lapad and Babin Kuk are the greenest parts of Dubrovnik, and has lots of beaches. These are great areas if you are traveling with family.
To book hotels, I recommend spending at least three days in Dubrovnik, but four to five days is a good amount of time to enjoy Dubrovnik at a more leisurely pace. Three days is enough to see the most famous attractions and get a sense of local culture and history. If you have more days, you can take a day trip to Kotor in Montenegro, or Mostar in Hercegovina.
🎬 To get an overall idea of where to stay in Dubrovnik, check out this short video:
7 Best Areas to Stay in Dubrovnik for tourists
1. Old Town, where to stay in Dubrovnik for first time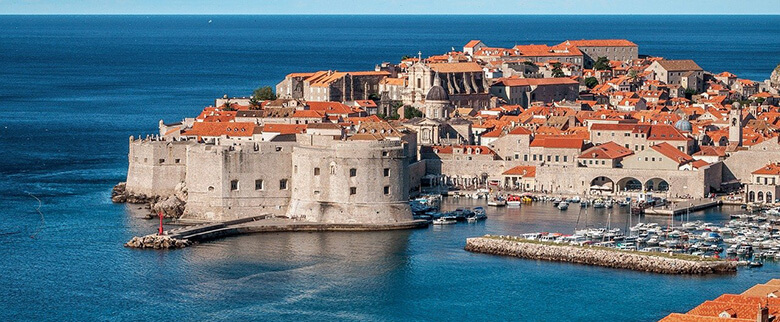 Dubrovnik's historic center, or the Old Town, is the best area to stay in Dubrovnik for first-time travelers because it is the heart of the city. It is a car-free zone, packed with pedestrianized narrow sandstone-paved streets, historic and cultural attractions, bars, restaurants, and well-connected public transportation.
Located within the ancient city walls of Dubrovnik, 2 km long fortifications, which were built between the 11th and 17th centuries. The city was a rival to the famous trading port of Venice and these walls protect the city-state (then called Ragusa) from its enemies.
Dubrovnik's old town is a stunning UNESCO World Heritage site since 1979. There has been no modern construction within the Old Town although all the buildings have been modernized to provide excellent restaurants, accommodations, and plenty of shopping.
From the moment you walk in under the impressive stone walls, your eyes will be attracted to one highlight after another. You can walk around the battlements looking down on the red rooftops and at the eye level of many of the stunning churches.
The Old Town Port and the Adriatic Sea are below. Remember this place was effectively an independent republic until Napoleon arrived in 1806 and a merchant trader for centuries. You will see evidence of its past in the City Museum including a letter from Elizabeth I of England.
What you see today was largely built in the 13th century, yet restored after a 17th-century earthquake. That earthquake made little impact on the impressive city walls. In the middle of the 14th century, it escaped from Venetian control. Nominally it remained under the wing of the Croat-Hungarian empire but there was minimal interference.
You may find yourself queuing in the high season but nevertheless, you must walk the walls and visit:
The Tower Minčeta,
Fortress Bokar,
the Fortress Revelin,
Fortress of Saint John
Fortress Lovrijenac
The City of Dubrovnik originally had four gates to access including:
The Pile Gate: main entrance into the Old Town from the western side
The Ploce Gate: the 14th century gate and the main entrance to the Old Town from the eastern side
the Peskarija Gate: The Fishmarket gate is eastward of the Great Arsenal.
the Ponta Gate: near St. John's Fortress, and leads to the Old Port of Dubrovnik Old Town
There are a lot of the main attractions of Old Town: Baroque churches, monasteries, palaces, Renaissance fountains, marble-paved squares; ensure you visit these popular tourist attractions.
The baroque style Church of St. Ignatius of Loyola has great frescoes, a dome illustrating Jesus in Heaven. It dates back to the 18th Century but the bell tower is the 14th Century.
The Rector's Palace (Knezev Dvor) is in Gothic and Renaissance style. It was built as a defense site in the Middle Ages, but destroyed by fire in the 15th century, and later reconstructed as a palace of the Rector of the Republic of Ragusa. The palace is also home to the Cultural History Museum.
Adjacent to the palace is the 17th-century Baroque Dubrovnik Cathedral and Treasury. The cathedral's treasury is on the left of the main altar contains relics of St Blaise, the patron saint of Dubrovnik.
The 15th century Onofrio's Fountain looks down the Stradun. It was designed by Onofrio della Cava from Naples and used as a water supply for the town.
In the Game of Thrones, the walk of shame was a memorable moment. Go to the steps at the top of the Baroque style Jesuit staircase, south of Gunduliceva Poljana Square, behind Dubrovnik Cathedral.
Stradun street (or Placa street) is the main pedestrianized promenade in the Old Town. It stretches from Pile Gate to the Old Town's harbor. Lined with many cafés, restaurants, souvenir shops, this 300m white limestone paving street is also the nightlife hub with many bars with outdoor seating, wine bars, and Irish pubs.
Stradun street is close to important landmarks such as War Photo Limited which is a photography museum and Luza Square. The Luza (or Loggia) Square is home to the city's major official buildings like Orlando's Column, the Sponza Palace, the Loggia, the Great Clock Tower, the Admiral's House, and the Saint Blaise Church (Sveti Vlaho Church).
The Church of Saint Blaise was built from the 14th-century Romanesque church which was damaged from the earthquake in 1667. It is dedicated to the patron saint of Dubrovnik from the 10th century.
There is also the 14th century Dominican Monastery, which has a 15th-century Gothic cloister and a museum that displays major artworks from ancient Dubrovnik. The charming 14th-century Franciscan Monastery complex contains the oldest pharmacy in Europe, the Baroque interior style Church, the Library, and the Romanesque architecture Cloister.
You can also hike up the Way of the Cross trail, or take the Dubrovnik Cable Car to the top of Mount Srd. The trip lasts 4 minutes and takes you to almost 2,500 feet above the Adriatic and the Old Town. You can imagine the tremendous views you will have and the photographs you will be able to capture.
The Old Town has plenty of good mid-range accommodation including boutique hotels, guesthouses, and serviced rooms for rent. Remember there are none of the famous international brands within the city walls.
High-quality bars, clubs, restaurants, and cafes have used the existing buildings to great effect. There are two famous Dubrovnik cliff bars Buža Bars, the Bard Bar, and the Cold Drinks Buža on the south side of the City Walls.
Another popular and unique bar in Dubrovnik is the Cave bar More is part of the President Valamar Hotel just outside the Old Town.
If you visit the Old town in July and August, you can take part in the famous Dubrovnik Summer Festival, where you can enjoy cultural events like outdoor concerts, ballet, and opera.
Stay in Old Town if You are firs-timers; you want to stay in the heart of the city; you want good nightlife; you're interested in history and culture.
Best places to stay in Dubrovnik Old Town:
🔍MORE HOTEL DEALS IN OLD TOWN
See more:
2. Ploče, lots of luxury accommodations with stunning seaside views
Ploce is a small coastal area stretching from the impressive Ploce Gate, the eastern entrance to Old Town, Dubrovnik. The Gate and stone bridge date back to the 14th Century. Originally, there was a wooden drawbridge that the locals drew up each night for increased protection.
The Sveti Vlaho Statue above the gate is that of Dubrovnik's Patron Saint. In addition, Revelin Fortress provides a good lookout position to see anyone approaching. Don't forget to check out St Dominic's tower!
This small neighborhood centers on Frano Supilo street that run along the coast to the Plaža Sveti Jakov and Park Orsula. Here you will find some of the City's oldest hotels, and also some of the grandest.
You will also see luxury villas and plenty of apartments and guesthouses here. They sit on the hill and offer stunning seaside views of the Adriatic Sea and Lokrum Island.
Even if you do not make Ploce your base, there are two compelling reasons to visit Ploce: the Museum of Modern Art and Dubrovnik Cable Car. The Museum of Modern Art was originally a Gothic-style palace. Today, it is a place where visitors will see the best of Croatian paintings and sculptures. Some of the exhibits are on permanent display while there are special exhibitions periodically.
Ploce is also home to some of the most popular beaches in the city: the pebble beach of Banje Beach and Plaža Sveti Jakov. The beach has a restaurant, cafes, a lounge bar, sunbeds, canopies, and some watersports like kayaks, parasailing, jet skis, tube rides.
Stay in Ploče if You want to stay in an area with lots of luxury accommodations; Travelling with young children; you need safe swimming areas; You want good transport connections;
Best places to stay in Dubrovnik in Ploče:
🔍MORE HOTEL DEALS IN PLOCE
3. Pile, important transport hub, easy access to Old Town
The Pile Gate and the Old Town walls are an impressive sight when you first see them. This is the western entrance to the Old Town that dates back to 1537, and if you want to stay close by, Pile is the first place to look. It has the advantage of having good transport connections simply because of the popularity of the Old Town. It is home to the main bus station.
Remember, no public vehicles are allowed inside the Old Town but there is a busy bus station in Pile. You don't have to travel far for cafes, restaurants and bars, and shops because Pile has them even though it is largely a residential area.
Pile has a small harbor and two small beach areas. There is more to see in Dubrovnik than the Old Town and within Pile, you might like to see Park Gradac and Lovrijenac Tower, Lovrijenac Fort.
Park Gradac is within walking distance from Old Town. Its clifftop location above Dance Beach ensures visitors have lovely views of the Adriatic Sea. The planners who decided to set up a peaceful area close to the City have succeeded.
The Park opened at the end of the 19th Century and provides plenty of shaded seating, those sea views, and also views of the rooftops of the Old Town.
Lovrijenac Fort, dating back to the 11th Century. It was the location in ''Game of Thrones'' for the dramatic scene when Joffrey Baratheon died from poisoning. It stands 120 feet above the sea and was important in defending the community from the Venetians.
Stay in Pile if You want good transport connections; You are looking for good value accommodation options close to the Old Town, Travelling with young children, you need access to some beach areas,
Best places to stay in Dubrovnik close to Pile Gate
🔍MORE HOTEL DEALS IN PILE
4. Lapad, where to stay in Dubrovnik for family
Located just 3 kilometers northwest of Dubrovnik's Old Town, the Lapad Peninsula is the best place to stay for those who want to stay away from the tourist hub. It has a regular bus service and will only take you 10 minutes from Old Town. This area developed in the 60s and 70s when houses and hotels sprang up.
In addition, these days you will find rooms and self-catering apartments for rent. Accommodation here is much cheaper than in the Old Town. The coastal locations remain more expensive than places found in the heart of the peninsula.
It remains a popular residential district with some nice walking trails, a promenade with lovely views out to sea, and a pebble beach. Its name comes from the Latin word, lapis which means rock or stone, an apt description of this stretch of coastline.
water sports enthusiasts, scuba divers, and snorkelers regularly head here to explore life under the waves. Copacabana Beach, Uvala Bay, and Cava Beach are pebbles, there are a few stretches of sand.
The calm, shallow waters make Lapad a good place for young children. Lapad is probably the first place that families should look for their base.
On the south side of Lapad Bay, you will find 43-hectare Forest Park Velika and Mala Petka with many hiking and biking trails among Aleppo pines and Mediterranean shrub.
The locals tend to head to Lapad in the height of summer because of the nice places for swimming. Indeed, during July and August, there is a ferry service from different parts of Dubrovnik to Lapad.
Stay in Lapad if Travelling with young children; You are looking for budget accommodation yet to be close to the Old Town; you need safe swimming areas; You want good transport connections.
Best places to stay in Lapad:
🔍MORE HOTEL DEALS IN LAPAD
5. Babin Kuk, for a quiet and exclusive holiday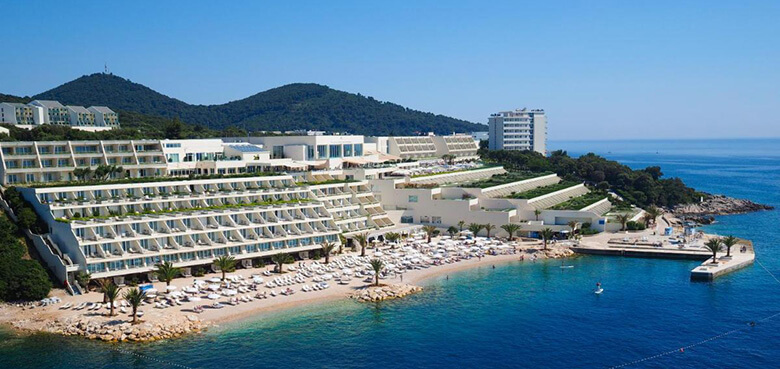 Babin Kuk is the northern point of the Lapad Peninsula. It is an exclusive neighborhood where you will find luxury hotels, quality spas, and the best spas around. Its beach, Copacabana, suggests something special because the original in Rio de Janeiro certainly is.
Copacabana is a private beach with facilities to satisfy the most discerning visitors. They include fine dining, a range of water sports, and opportunities to go out on to the Adriatic. Several beachfront hotels line Copacabana looking out to the Adriatic. Fresh seafood is rarely better than in its restaurants.
Cava Beach is a good alternative for families; the atmosphere is distinctly laid back and prices are reasonable. Each of the beaches has deck chairs and parasols for shade while beach bars offer refreshments for all.
You can arrange sailing tours with hotel collections, and the nearby Elaphite Islands are worth a visit. Kayaks are available for hire with the sea generally calm while you can join a snorkeling tour as an alternative.
This area is less than 3 miles from the Old Town yet you are unlikely to encounter much traffic. It is mostly green with good walking trails, promenades, and ideal places for jogging.
Stay in Babin Kuk if You are looking for luxury accommodation, Getting away from Dubrovnik's crowds is important to you, You do not want to be remote in terms of distance from Dubrovnik's historical and cultural attractions.
Best places to stay in Dubrovnik in Babin Kuk:
🔍MORE HOTEL DEALS IN BABIN KUK
6. Gruz, where to stay in Dubrovnik on budget
Located just a 15-minute walk from the Old Town, Gruz is the neighborhood that looks out into a large bay in the west of Dubrovnik City. Many visitors reach Dubrovnik in this part of the City. The main port area is here so this is where the cruise ships and ferries anchor. It remains sheltered even when strong winds head from the highlands to the coast in winter.
Gruz open-air market sells local fruit and vegetables, a real splash of color. If you make this your base in Dubrovnik, you will also have plenty of shopping options and access to good transport infrastructure.
That includes the chance to take day trips to offshore islands, Mljet, Korčula, and Elaphiti. Anyone disembarking will find the main bus station here as well. There are also shuttle buses to the airport from this station. You can easily take a trip to Split, Kotor, Mostar, Hvar, Brac, Bari.
In the past, Gruz was the area that local wealthy people used during the summer. The main street still has some of those impressive summer mansions built with stone. Gruz is residential today although there was a period when it was the City's industrial zone. Its population of 15,000 makes it the largest neighborhood area of Dubrovnik.
There is a lively farmers' market, exchange offices, tourist agencies, cafes, restaurants, department stores here.
You will find rooms for rent in Gruz so it is suitable for solo travelers on a budget. There are a number of nice walks around the bay if you just want a relaxing day. If you have spent the previous day in the crowds of Old Town, you may need it.
Stay in Gruz if You are looking for budget accommodation, The Old Town is just one of the reasons for your visit to Dubrovnik, You want good transport connections.
Best Places to stay in Gruz:
🔍MORE HOTEL DEALS IN GRUZ
7. Cavtat, cheaper accommodation, easy access to Dubrovnik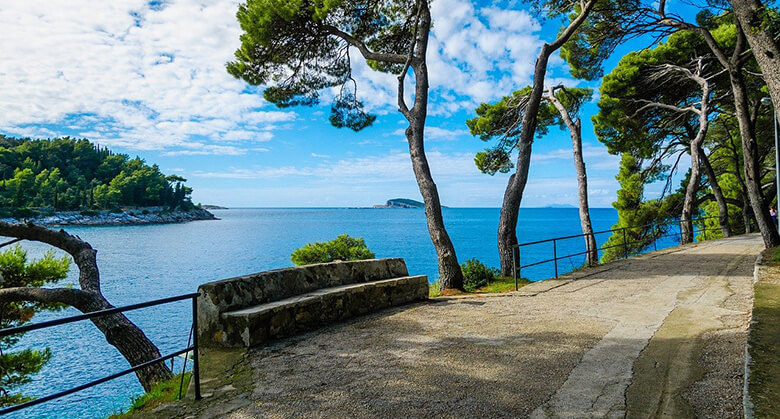 Cavtat is south of Dubrovnik city towards the border of Croatia and Montenegro. It is under half an hour from Old Town by road and quite close to Dubrovnik Airport. It is an attractive place that makes a good base for enjoying the Adriatic Coast, specifically Dubrovnik and its historical attractions.
One of Croatia's most famous painters, Vlaho Bukovac, was born here in 1855 and the House of Vlaho Bukovac that was formerly his home is now a museum. Elsewhere, there are a few other things of interest in Cavtat.
Racic Mausoleum of Cavtat belongs to a family which was significant local ship owners. Ivan Mestrovic used stone from Brac Island to design it. The Konavle County Museum in Cilipi and Underwater Museum Cavtat is also worth a visit.
The Rector's Palace holds a collection of books, coins, and notes belonging to a well-known local lawyer, Baltazar Bogisic.
Our Lady of the Snow Monastery is close to the harbor with its clock tower a later addition to the 15th Century structure. The church next door has some interesting paintings.
Cavtat Seaside Promenade is a beautiful place to walk, along the stunning waterfront, you will see numerous small beaches where you can swim and relax.
The cheapest to get to Cavtat from Dubrovnik, you can take the local bus number 10, and get off at Cavtat Bus Station. Another way is to take a 45-minute ferry from the Old City harbor.
If you are in Cavtat in the height of summer, you are likely to find several different cultural events taking place. They involve song and dance in the streets so you can't miss them.
Cavtat has several nice bars and restaurants with fresh seafood, a popular choice for dinner. Look for a location that offers views of the Adriatic Sea. Accommodation varies from 5-star luxury hotels to smaller boutique hotels as well as some private options.
Stay in Cavtat if you are looking for a choice of accommodation without being concerned about the proximity of the Old Town, your base needs to have its own attractions, you want good restaurants close by.
Best Hotels in Dubrovnik in Cavtat: ‣Hotel Croatia ‣Hotel Seventh ‣Hotel Cavtat
🔍MORE HOTEL DEALS IN CAVTAT
Where should I stay in Dubrovnik for the first time?
Old Town is the best area to stay in Dubrovnik for first-timers due to its close proximity to famous tourist attractions and a wide choice of accommodation. If you stay here, you will be located in the middle of the action.
What are the best areas to stay in Dubrovnik?
Dubrovnik Old Town, Ploče, Pile, Lapad, Babin Kuk, Gruz, and Cavtat are the best areas to stay in Dubrovnik for tourists because they are the most popular and safe neighborhoods that offer a wide variety of attractions and amenities.
How many days in Dubrovnik is enough?
It really depends on your preferences and itinerary, but I'd suggest spending at least 3 to 4 days in Dubrovnik to fully experience its historic Old Town, charming coastal scenery, and nearby islands.
Is 5 days in Dubrovnik too long?
Personally, I think spending 5 days in Dubrovnik could be too long unless you plan on exploring the surrounding areas as well. It's a beautiful city, but can be quite small and expensive.
More About Europe Traveling:
Located south of Croatia, Dubrovnik is very much Croatia's gem on its lovely coastline. This Pearl of the Adriatic is one of the most magnificent walled cities in the world. Established in the 7th century, it has been ruled by the Venetians and the Hungarians for many centuries.
Overall, Old Town is the best area to stay in Dubrovnik for first-time travelers because it is the most central location to see attractions and it offer a widest range of accommodation options for all budget travelers. If you stay here, you will be located in the heart of action.