Where To Stay in Dubai: 8 Best Areas and Hotels
If you are planning a trip to the UAE and are trying to decide where to stay in Dubai, look no further than today's article. I'll be breaking down some of the best areas in Dubai and what each has to offer visitors, so you can decide which sounds best for you.
Located just 86 miles north of the capital Abu Dhabi and bursting with world-class attractions, Dubai is a wildly popular tourist location. Home to the world's only seven-star hotel, the Burj Al Arab, Dubai is particularly popular as a luxury destination.
Dubai is known as a city of exclusive hotels and private beaches, but don't worry if you can't afford the high-end price tags. There's plenty of affordable luxury to be found here too, so even budget travelers can enjoy a trip to Dubai.
Dubai is a big city with many famous locations. If you know what you want and need for your ideal vacation but don't know which postcard perfect location is right for you, I have some quick suggestions before we get into the main article.
Downtown is where you will find most of the iconic attractions. If sightseeing is your goal, you will have plenty to keep you occupied. Downtown Dubai is also the best place to consider if shopping will be a highlight of your vacation, since it's home to Dubai Mall, the world's largest mall.
For those who dream of relaxing on the famous palm shaped beach resorts, Palm Jumeirah is the place you're looking for. Aside from being perfect for postcards, this is the ideal place to relax in luxury.
If you are travelling with children, you will enjoy the family fun and convenience of Jumeirah Beach. Located just outside of downtown Dubai. The beach is surrounded by restaurants and just minutes from the city centre, so there's plenty to keep the whole family fed and entertained.
Business travellers would be best to start looking at the Trade Centre. Aside from being the primary hub for international business offices and conference centres, the Trade Centre is right next to Downtown Dubai, so you will be conveniently located to explore the city in your down time.
The trade centre is also a highlight of Dubai's nightlife scene. A market for wealthy international businessmen relaxing after a day of meetings means this area is full of bars and restaurants. Meanwhile, if clubs are more your speed, the downtown area is just a short walk away.
🔍FIND BEST HOTELS IN DUBAI
📌8 Best Areas to Stay in Dubai
I have selected the eight best areas of Dubai for visitors to consider staying in for their vacation. In this section we will be looking at each of these in more depth and breaking down what they have to offer.
Best areas to stay in Dubai map
1. 💖 Downtown Dubai & Business Bay, where to stay in Dubai for first time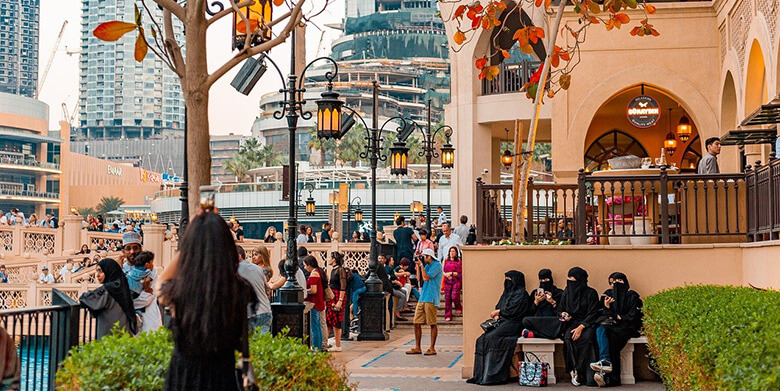 We'll start off with Downtown Dubai, where many of the city's most iconic attractions can be found. A hub of sights, hospitality, entertainment, and shopping, downtown is the heart of modern Dubai.
The star of the show is the Burj Khalifa. Well known for being the world's tallest building, the Burj Khalifa houses a luxury hotel, high-class restaurant, and a 555-metre-high viewing platform. If you want to experience the best panoramic views in the city, you have to come here.
In front of the tower is Burj Khalifa Lake. The lake is home to the magnificent Dubai Fountain. Make sure you take the time to witness one of the 30-minute fountain shows complete with music and lights. It's particularly spectacular at night.
Just across from the fountain is the Dubai Opera. This hypermodern music venue hosts some of the city's best concerts and shows. Make sure to book well in advance if you want to attend an event here, as tickets can sell out fast.
As a city renowned for the luxury and excess that residents and tourists alike can revel in, it is no surprise that the city centre is a hotspot for shopping. In fact, this is where you will find Dubai Mall, the world's largest shopping mall.
Dubai Mall is a huge shopping centre right next to the Burj Khalifa and houses an array of designer brands, chic cafes and restaurants, an ice-rink, and even an aquarium. If that's not enough for you, there are plenty more shopping centres across the city centre to keep you busy.
Other things to do in downtown Dubai is visit Dubai Aquarium & Underwater Zoo, a day trip to Dubai Parks and Resorts, Souk Al Bahar, Dubai Ice Rink, and try some restaurants like Ewaan, and Souk Al Bahar.
As the heart of a city known for wealth and excess, this is where you will find many of Dubai's best luxury hotels and best restaurants. Not ideal for those on a budget, this area is best for those looking to splurge
Stay in Downtown if You want to stay at the very heart of Dubai; Money is no object; Shopping at Dubai Mall is a highlight of your vacation; Nightlife is a priority; It is your first stay in Dubai; You are only in Dubai for a short trip and want to fit in as much as possible.
Best Places to Stay in Dubai downtown
Best luxury hotel: Armani Hotel Dubai This 5-star hotel offers a private entrance and occupies 11 floors of Dubai's iconic skyscraper, Burj Khalifa, also own a deluxe spa and has direct access to Dubai Mall. It's within easy walking distance from attractions such as The Dubai Fountain, Souk Al Bahar, Dubai Opera, SEGA Republic, and KidZania Dubai.
Best mid-range hotel: Manzil Downtown This 4-star hotel is set in the Old Town District of Downtown Dubai, offers traditional Arabesque architecture with contemporary design. It's within a short stroll from iconic Burj Khalifa, Emaar Square, Dubai Mall,and Al Wajeha Al Maeyah Marine Transport Station.
Best budget hotel: DAMAC Maison Dubai Mall Street This accommodation is set in Mohammed Bin Rashid Boulevard, Downtown Dubai. It offers self-catering apartments with views of the iconic Burj Khalifa, the city of Dubai Fountain. It's also in close proximity to Jumeirah Beach, Dubai International Airport, and Mall of the Emirates.
🔍FIND BEST HOTELS IN DOWNTOWN DUBAI
2. Trade Centre, best place to stay in Dubai for nightlife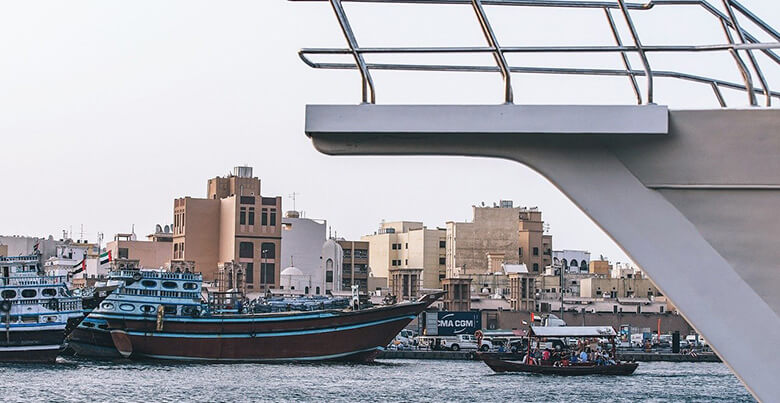 Immediately north of the main downtown area, the Trade Centre is Dubai's primary business district, stretching along the Sheikh Zayed Road. If you are planning to stay in Dubai for a work trip, it's very likely that you will be wanting to stay somewhere in this area.
Many of Dubai's most prominent skyscrapers and architectural wonders are located here. One of the most significant is Dubai's World Trade Centre. The World Trade Centre is a busy conference centre hosting frequent events and is a key aspect of the city's business community.
With so many wealthy businessmen constantly passing through the area, there is a big market here for hospitality and entertainment. After a long day of meetings and conferences, most want to unwind with a drink and a good meal, and the Trade Centre caters to that well.
Here you will find some of the best restaurants in the city, along with some of Dubai's top bars. If you are looking to take advantage of Dubai's vibrant nightlife, this is a neighbourhood to consider. Various rooftop bars along here offer a particularly beautiful view of the city lights.
There's plenty to keep you busy here during the day too. The Museum of the future is a particularly unique building, designed to house a museum dedicated to innovation and invention.
Meanwhile, just north of the Trade Centre is Zabeel Park. The park is full of attractions including the Dinosaur Park, the Dubai Garden Glow illuminations, the Stargate, and the Frame. Dubai Garden Glow is the largest theme park in the world, a great place for families with young children.
As an area known to have many rich and powerful visitors passing through, you will find many of Dubai's best luxury hotels here. This is a neighborhood catering to those with plenty of money to spend, so it's not ideal for budget travellers.
Stay in Trade Centre if you are intending to stay in Dubai for business, you want to stay at the centre of the city, you are not on a tight budget, nightlife is a priority.
Best Places to Stay in Dubai Trade Centre
Best luxury hotel: Shangri-La Hotel, Dubai This 5-star hotel is conveniently located along Sheikh Zayed Roa. It has 2 swimming pools, an extensive health club and spa, free WiFi, and eight restaurants and bars. it's close to Dubai's attractions such as Dubai Mall, Burj Khalifa, Financial Centre Metro Station, Jumeirah Beach Park, Play! Town Dubai, Hareem Al Sultan Exhibition, and DIFC.
Best mid-range hotel: Gevora Hotel This 4-star hotel is centrally located in Dubai's Sheikh Zayed Road in the Trade Centre Area, close to train stations like Financial Centre Station and Emirates Towers Metro Station, The Boulevard Mall, Zinc Nightclub, and Hub Zero Dubai. It has 5 on-site restaurants that serve a variety of cuisines from Mediterranean flavors to Middle Eastern twists.
Best budget hotel: Rove Trade Centre This 3-star hotel is situated adjacent to Dubai World Trade Centre and is 10 minutes drive to Downtown with its Mall and Buji Khalifa. It offers spacious, air-conditioned rooms, with interconnecting family rooms, a flat-screen TV, a free ice machine, and free wifi.
🔍FIND BEST HOTELS IN TRADE CENTRE
3. Palm Jumeirah, artificial offshore islands in Dubai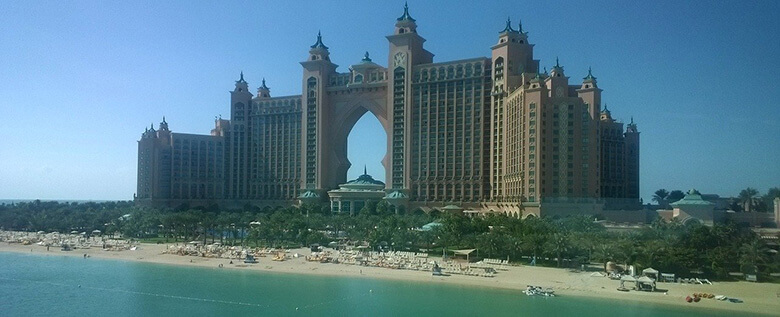 One of the most photographed areas of Dubai are its famous man made islands, better known as Palm Jumeirah. The entirely artificial archipelago is a wildly popular location for tourists looking to indulge in a luxury beach vacation.
Each frond of the palm-tree silhouette is lined with beaches, so there's no shortage of golden sand to relax on. The majority of the hotels are located along the outer crescent. This is where you can find some of the best luxury hotels in Dubai, with particularly stunning sea views.
Meanwhile, the fronds are populated by smaller villas. Whilst many of these are private residences, others are rented out as holiday homes to those looking for a more independent stay in Dubai.
Palm Jumeirah is dotted with various beach clubs, providing ample space to relax with a cocktail by the beach during the day. By night they transition into nightclubs, turning the resort into a thriving party scene. If nightlife is important to your vacation, this is a perfect location for you.
If you grow bored of lazing around on beaches all day you can head to the Atlantis themed Lost Chambers Aquarium on the outer crescent. The whole family can enjoy wandering various underwater tunnels as exotic marine life swims around you.
Alternatively, the Aquaventure Waterpark is a great place for a more exciting day out. This thrilling water park boasts a range of slides and rides including a zip-line.
Other things to do in Jumeirah are wandering around a world-class beachfront – La Mer, check out Pier 7 for stunning views over Dubai, visit one of the best beaches in Dubai- Kite Beach, shop at Mercato Shopping Mall, and try some restaurant such as Dum Dum Donutterie, 3 Fils, Turkish Village Restaurant & Café, and Samad Al Iraqi.
Whilst Palm Jumeirah is a few miles outside of the main city, it is connected straight to Downtown Dubai by the Sheikh Zayed Road. Leading right through the heart of Bur Dubai, you can easily visit all the top attractions despite staying far from the crowded city centre,
Stay in Palm Jumeirah if Vibrant nightlife is important to you, you want to stay in one of the best hotels in Dubai, you want to spend your stay in Dubai relaxing by the beach.
Best Places to Stay in Dubai Palm
Best luxury hotel: Five Palm Jumeirah Dubai This 5-star resort owns a private beach as well as 5 outdoor swimming pools, and elegant-style rooms with views of the Arabian Gulf. its location offers convenient access to Dubai's business districts, as well as the city's many exciting tourist and entertainment attractions. You can easily travel with public transport nearby are Al Ittihad Park Monorail Station, Palm Gateway Monorail Station, Jumeirah Palm Tram Station, and Media City Tram Station.
Best mid-range hotel: Aloft Palm Jumeirah This 4-star hotel is set on the Eastern crescent of Dubai's iconic landmark. It has a rooftop overlooking the iconic Burj Al Arab, the majestic Jumeirah palaces, and the Arabian Sea. You can easily find famous cafes and restaurants nearby such as Mekong Restaurant at Anantara The Palm Dubai Resort, The Beach House, Starbucks Avenues, and A cappella.
🔍FIND BEST HOTELS IN PALM JUMEIRAH
4. Dubai Marina, a residential neighborhood in Dubai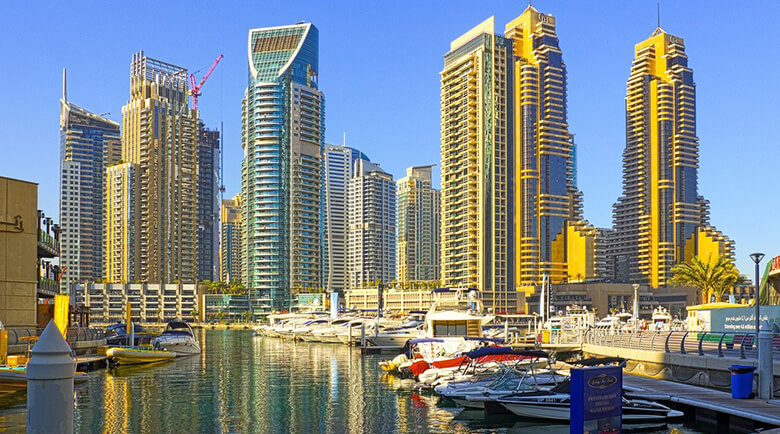 Dubai Marina is right next to Palm Jumeirah. If you are planning to spend your stay in Dubai relaxing on the beach, but don't want to break the bank on the expensive hotels of the palm, then Dubai Marina makes an excellent option.
The marina beach is a long stretch of soft golden sand, perfect for soaking up the sun. You won't need to worry about getting bored though, as there are plenty of water sports on offer to keep visitors of all ages entertained.
If you tire of relaxing by the beach or playing in the sea, there is plenty of shopping to be done in and around Dubai Marina. Dubai Marina Mall is the best spot to head to if you want the best of big-name brands, designer boutiques, and top-quality restaurants and cafes all in one place.
If you don't feel like walking all the way around the marina, you can travel around on the handy Dubai Tram instead. Dubai Marina is the only area of the city where the trams operate, so it's a particularly unique experience.
Many of the best hotels are clustered in the Jumeirah Beach Residence area. The Jumeirah Beach Residence stretches along the west side of the marina, meaning the hotels here offer waterfront views of both the Arabian Gulf and Dubai marina.
If you are looking for somewhere to take a romantic walk, the Dubai marina walk offers seven kilometres of waterside pathways. Lined with palm trees and trendy cafes, and overlooked by the glamourous hotels of the Jumeirah Beach Residence, it's a fantastic way to take in the sunset.
You can check out Stereo Arcade, Zero Gravity, Bice Sky Bar, Bar 44, Bliss Lounge, Lock, Stock & Barrel JBR The Walk, and Inner City Zoo, Azure Beach.
Stay in Dubai Marina if You don't mind being quite far from the city centre; Relaxing by the beach is your priority; You want to ride the Dubai Trams.
Best Hotels in Dubai Marina
Best 5-star hotel: Address Dubai Marina This luxury hotel is directly connected to the Dubai Marina Mall, within 5 minutes walk from the Arabian Gulf beaches. It offers air-conditioned rooms with natural, warm colors and wooden furniture. Close proximity to Dubai Media, Internet Cities, Jebel Ali Free Zone, Dubai Marina Mall Tram Station, and Jumeirah Beach Residence Tram Station 1.
Best mid-range hotel: Millennium Place Dubai Marina This 4-star hotel is close to Marina Beach, the Walk at JBR, Gurunanak Darbar Sikh Temple. It offers a restaurant, free private parking, an outdoor swimming pool, and a fitness centre.
Best budget hotel: Rove Dubai Marina This 3-star hotel is surrounded by stunning high-rise buildings, and a wide variety of shopping and dining outlets including Dubai Marina Mall, and just a few minute's driving distances from The Palm. Its less than 1km from Splash Pad Dubai, The Beach, Dubai Marina Yacht Club, and oxy Cinema JBR.
🔍FIND BEST HOTELS IN DUBAI MARINA
5. Bur Dubai, with Bastakiya (Old Dubai) & Al Fahidihistorical neighbourhood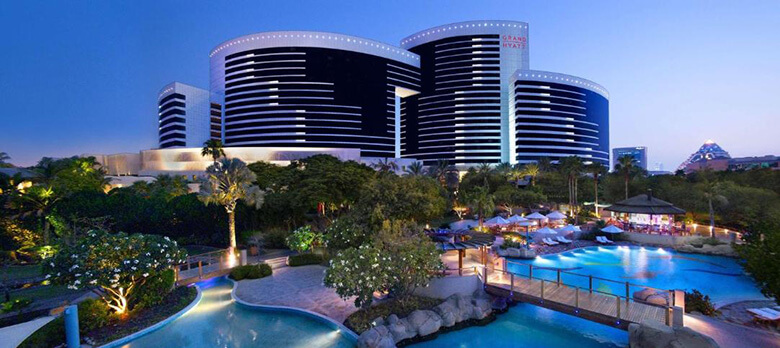 Bur Dubai refers to the main area of the city of Dubai that lies within the Dubai Creek. Essentially a large island, Bur Dubai contains several major areas of the city, including Downtown, Jumeirah, and the Trade Centre.
Since each of those areas has their own detailed section in this article, I'll be using this section to discuss what Bur Dubai has to offer outside of its most popular regions.
As a seafront city, when considering where to stay in Dubai, many people automatically think about sea views. However, the sea is not the only water view available in Dubai. The Dubai Creek that surrounds Bur Dubai in an underappreciated, and more budget friendly, alternative.
In fact, it's along the Dubai Creek that you can find Dubai Old City. Old Dubai is located at the north of Bur Dubai, close to where the creek feeds out into the gulf. The beautiful old buildings are wonderfully preserved. Wandering the historic riverside streets makes for a charming afternoon.
Aside from historic buildings, there are plenty of museums clustered throughout the old town. From the Coffee Museum to the Dubai Museum housed in Al Fahidi Fort, to various modern art galleries, there is sure to be something to appeal to everyone.
One such museum is the Sheikh Mohammed Centre For Cultural Understanding. This cultural centre was established to educate visitors on the local traditions and customs. It's a must visit for anyone interested in learning about the traditional culture of Dubai.
Old Dubai stretches along the creek in various fragments. The Shindagha historic district further west along the river is where Dubai is believed to have first been found. Here you can find the Heritage Village, an open-air museum displaying local artisan and craft traditions.
You also have the 19th century Bastakiya Quarter, one of the oldest buildings in Dubai; Creek Park, one of the best parks in Dubai with modern facilities; Dubai Dolphinarium, Iranian Mosque, Saeed Al Maktoum House, Al Fahidi Souk, Meena Bazaar – Traditional shopping at Bur Dubai's own little India, Abra Creek Crossing, Jaddaf Waterfront, XVA Gallery Art Hotel & Café, BurJuman, Textile Souk (Old Souk), The Dhow Wharfage, Wind-towers, and Marsa al Seef.
To travel to this area, you can use Dubai Metro, you can stop at the Ghubaiba or Al Fahidi station. If taking a water taxi, search for the Bur Dubai abra station or the Al Ghubaiba marine transport station.
It's not only historical culture and attractions that can be enjoyed here. Bur Dubai is the best area to appreciate the contrast between old and new Dubai. Aside from the view of new Dubai from the streets of the old city, there are plenty of contemporary attractions right nearby.
Museum of Illusions is a quirky art museum at the heart of the old town. Full of trick rooms and sets designed to trick the senses, it's the perfect place to take some deceptive photographs.
Further south in Zabeel Park you can find the splendid Dubai Frame. In addition to taking some ready framed sunset photos through the centre hole, visitors can travel to the top of the 150-metre tower to take in panoramic views of Dubai.
Stay in Bur Dubai if you want to stay close to the city centre, but bustling downtown is a bit too crowded, you want to appreciate the history and culture of the region, you enjoy browsing museums and galleries, staying along the Dubai Creek would be ideal.
Best Hotels in Dubai Bur
Best 5-star hotel: Grand Hyatt Dubai This luxury hotel is located near Sheikh Zayed Road, close to Wafi Shopping Mall, Children's City, Creek Park, and Zabeel Stadium. It has luxurious rooms and suites with traditional Arabic touches, 3 outdoor and 1 indoor pools and boasts 13 dining and entertainment venues.
Best mid-range hotel: Grand Hyatt Residence Offers charming views of Dubai Skyline and the Creek, close to the financial and entertainment districts such as Dubai International Financial Centre, Dubai World Trade Centre, Dubai Mall, and Burj Khalifa.
Best budget hotel: Rove Downtown Set in the heart of Downtown Dubai, between the Burj Khalifa and The Dubai Mall. Close to Burj Khalifa Metro Station, Financial Centre Station, and Business Bay Metro Station.
🔍FIND BEST HOTELS IN BUR DUBAI
6. Deira, Garhoud & Al Rigga, where to stay in Dubai near airport

Deira is a large area north of Dubai Creek, home to a large Dubai Creek waterfront residential – Festival City. It's bounded by the Sharjah, Dubai Creek, and Arabian Gulf. Outside of the central area of downtown Dubai, Deira is somewhat more residential than the greater Bur Dubai area. The benefit of this is that hotels here are often cheaper than in the city centre.
There's no need to worry about being too far separated from Downtown Dubai, however. There are plenty of bridges and tunnels crossing Dubai Creek to the city centre. With the well-connected Dubai Metro system, you can easily make your way around all the attractions of the downtown area.
Whilst Deira is still developing as a tourist destination, that's not to say that it is without attractions of its own. The iconic Deira Clocktower is a hypermodern monument that you would never guess was designed and installed over half a century ago, long predating Dubai's rapid expansion.
There are also a good few interesting museums here, appealing to a wide range of interests. The Heritage House and Naif Police Museum host exhibits on the history and culture of the local area. Niche museums such as the Museum of the Poet Al Oqaili honor local artists and historical figures.
Meanwhile the Women's Museum offers a look at the unique situation of the women of the United Arab Emirates throughout the country's history.
If you enjoy shopping, there are plenty of opportunities to do so here. In recent years, modern shopping malls have been built all over Deira, and there are also many more traditional souks to visit.
The Dubai Gold Souk is a particularly unique market. Featuring a number of shops and stalls selling and array of different gold pieces, this is a fantastic example of the kind of opulence and excess Dubai is renowned for.
The nearby Old Souk is a more traditional alternative. The stalls here offer various wares you would expect to find in a Middle-Eastern bazaar. From rich spices and street food to colourful furnishings and lanterns, this market is the perfect place to pick up some unique souvenirs.
Of course, one of the major conveniences of staying in Deira, and Al Garhoud, is being so close to Dubai International Airport. It's home to the Emirates Aviation College, the Emirates Airlines head office, and the well-known restaurant complexes of Century and Irish Villages. If you want to stay close to the airport to minimize travel time between your flight and your hotel, this is the perfect location.
Other things to do and see in Deira including visit Grand Mosque, the Coffee Museum, Dubai Spice Souk, Karachi Darbar, Mumbai Masti Juice Centre, and George & Dragon Pub, the Sheraton Dubai Creek, Maktoum Bridge, the Dubai Creek Golf Course, and the Deira Twin Towers.
If you are only staying in Dubai for a couple of days, or even just on a layover, Deira is ideally located. You can sleep within a few minutes travel of the airport, whilst the impressive public transport system lets you explore Downtown Dubai with just a short journey.
Stay in Deira if you are on a budget but still want to stay relatively close to downtown Dubai, you would like to stay along the Dubai Creek but without the higher prices of the city centre, you want to stay close to the airport, you enjoy browsing markets and souks.
Best Places to Stay in Deira
🔍FIND BEST HOTELS IN DEIRA
7. Jumeirah Beach, where to stay in Dubai for family with children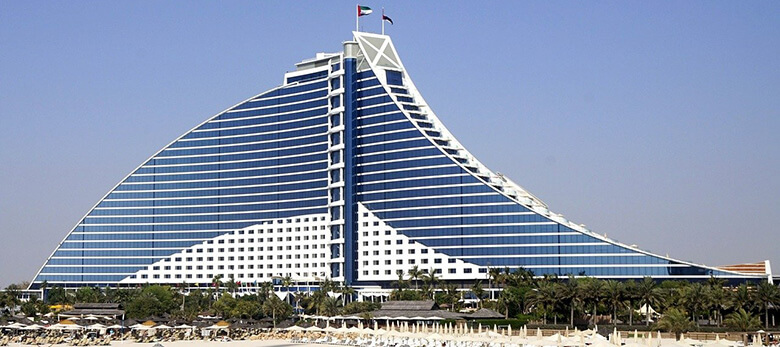 Technically speaking, there are two Jumeirah Beaches. The first is a small yet popular beach right where the Dubai Creek exits into the Arabian Gulf. It overlooks a small private island as well as the more prominent World Islands.
However, the Jumeirah Beach we will be focusing on today is a long stretch of sand just outside of Downtown Dubai. This Jumeirah Beach is a popular resort area due to combining all the best aspects of a fun beach vacation with the attractions and conveniences of a big city break.
The area around Jumeirah beach is absolutely packed full of restaurants and cafes, sure to keep everyone happy. During the day you can stay refreshed with trips to the various dessert, frozen yoghurt, and ice-cream parlours, or grab lunch at one of the beachside burger bars.
For dinner you will have a wide range of restaurants to choose from. With cuisines from around the world on offer, you will be sure to find something to appeal to everyone. If you are travelling with children, you can rest assured that even the fussiest eaters will be catered for.
If relaxing on the sand starts to get dull you can take advantage of the various water sports available along Jumeirah Beach. Or if even that's not enough, head to nearby Laguna Waterpark. Featuring various rides, slides, and aquatic toys, it makes for a fantastically fun family day out.
Of course, it's not just sun, sea, and sand to be enjoyed here. Jumeirah Beach is just a short journey from all the sights and attractions of the city centre. A short trip on Dubai's excellent public transport system will have you at the heart of downtown in minutes.
In fact, Jumeirah Beach makes the best location to appreciate the stunning Dubai Skyline. Especially at night when you can really appreciate the twinkling city lights. Hotels here are almost guaranteed a stunning view of either the city or the Arabian Gulf.
If you don't fancy having to travel into the city centre to enjoy some sightseeing, there are some attractions closer to the beach. The beautiful Jumeirah Mosque is located within walking distance of the northern end of the beach.
Built entirely from white stone, the mosque is particularly stunning in the sun. Although it was built in the 1970s, Jumeirah Mosque is designed in the traditional mediaeval Fatimid style. Non-muslims are welcome to take a guided tour as part of the 'Open Minds, Open Doors' cultural programme.
You should stay in Jumeirah Beach if staying close to the beach is your priority, you want the best of both a beach vacation and city break or you are traveling with children.
Best Places to Stay in Jumeirah beach
🔍FIND BEST HOTELS IN JUMEIRAH BEACH
8. Al Barsha, a residential suburb in Dubai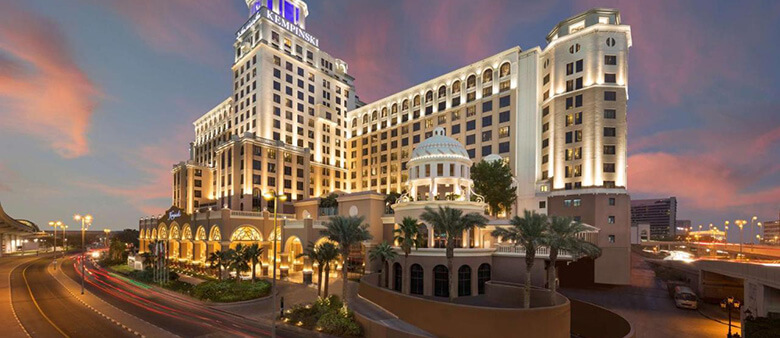 Al Barsha is a residential suburb right next to Palm Jumeirah and Dubai Marina. Whilst it is not the typical first choice for new visitors to Dubai, Al Barsha certainly has plenty to offer guests. As a more homely area, there are plenty of accommodations for families and children in this area.
Catering to its varied residential population, you will find plenty of high-quality restaurants and bars. This is a better place to try to mingle with the locals than the overcrowded and tourist-heavy city centre.
You can spend your days wandering around the various shopping centres and family run cafes, getting a feel for what everyday life is like in Dubai. Alternatively, there are several large public parks to enjoy. If you are travelling with children, there is plenty of space for them to run off their energy.
The Dubai Miracle Garden is a beautiful urban park to explore. Composed of various manicured lawns and gardens, and including a plane as a garden ornament, there's a new floral surprise to discover around every corner.
For a fun family day out by the sea, you could head to the nearby public beach. Or you could try Wild Wadi Waterpark for a bit more excitement. You can spend all day exploring the various rides and pools. Some of the taller slides offer beautiful views over the Arabian Gulf.
With Dubai Media City nearby, this is a good location to stay in Dubai if you are in the technology industry. Dubai Media City is a hub of tech companies and industry events are often held here.
Also known as Dubai Internet City, the bars and hotels of Dubai Media City are a good networking opportunity.
Stay in Al Barsha if You are looking for a quieter neighbourhood away from the crowds of tourists; You would like to get to meet more local people; Being far from the city centre is not an issue; You are visiting with children; It is not your first stay in Dubai.
Best places to stay in Al Barsha:
🔍FIND BEST HOTELS IN AL BARSHA
What is the best area to stay in Dubai?
The best area to stay in Dubai is Downtown Dubai***. This is the central location of Dubai, the hub of all actions.
Where do first time visitors stay in Dubai?
First time visitors stay in Dubai Downtown***. This is the central location of Dubai, the hub of tourist attractions, shopping, nightlife and easy to travel around.
Is it better to stay on the Palm or Jumeirah Beach?
They are both fantastic locations to stay. Palm*** has the best luxury hotels in Dubai, but I prefer to stay in Jumeirah Beach*** with my kids.
See more:
Dubai is a fascinating and distinctly unique location that has won a place as a dream destination for travellers across the world. With so much to offer, it is not difficult to see why so many different people are drawn to this vibrant city.
By now you should have a better idea of where to stay in Dubai for your trip. Do you know which area is the best fit for you? If the answer is yes, then it's time to start deciding on your perfect accommodation, and we have plenty of suggestions there too.