Where to stay in Cyprus for first-time visitors? without a car, for young couples, and families? In this blog post, I will help you to find the best areas to stay in Cyprus for tourists (include map and video), the best hotels in Cyprus for all budgets, and safest places to stay in Cyprus.
Also known as the Republic Of Cyprus, Cyprus is an island located in the Mediterranean sea. Believed to have been settled around 2000 B.C and having been ruled by numerous empires throughout the centuries, it is an island filled with a diverse range of cultures and historic locations.
Even today, the island is split into north and south, with Turkish Cypriot and Greek Cypriot People continuing the theme of diversity into the modern era. Add its collection of stunning beaches and tourist resorts to that already incredible selection of sites, and what you find yourself with is one of the most complete and popular vacation destinations in the world.
Where to stay in Cyprus first time?
The best areas to stay in Cyprus for first-timers and tourists are Limassol, Paphos, Larnaca, Coral Bay, Ayia Napa, Protaras, Pernera, and Nicosia. Each of these areas has its own unique charm and attractions, so the best choice will depend on your preferences and interests.
Nicosia, Larnaca, Limassol, and Paphos are excellent choices for first-timers because they are the main cities and the most popular areas in Cyprus.
Limassol is perfect for those seeking a vibrant city atmosphere, Paphos appeals to history enthusiasts with its archaeological treasures, Larnaca provides a relaxing coastal experience, and Nicosia offers a blend of culture and modernity.
The best way to get around Cyprus is by renting a car. But you don't plan to hire a car, there are plenty of taxi and bus routes that you can use. It's best to base youself in a big city if you travel without a car.
The best areas to stay in Cyprus without a car are Limassol, Larnaca, Paphos, Ayia Napa, and Nicosia. Cyprus has a Mediterranean climate, so walking and outdoor activities are enjoyable during most of the year. Plan your itinerary in advance to enjoy a car-free vacation in Cyprus.
Overviews of best areas to stay in Cyprus for first time tourists
Here is an overview of recommended areas in Cyprus for first-time visitors:
| Best areas in Cyprus for first-time tourists | Why should you stay in this area? |
| --- | --- |
| Limassol | best overall area for first-timers because it is a popular coastal city with a vibrant atmosphere, beautiful beaches, and a lively nightlife. It offers a mix of modern amenities, historical sites, and cultural attractions. |
| Paphos | is known for its rich history and UNESCO World Heritage sites, such as the Paphos Archaeological Park. It has a charming harbor, beautiful beaches, and a relaxed atmosphere. Perfect for history enthusiasts. |
| Larnaca | a coastal city with a bustling promenade, beautiful beaches, and a lively waterfront area. It is home to the Hala Sultan Tekke mosque, Larnaca Salt Lake, and the famous Finikoudes Beach. |
| Coral Bay | Located near Paphos, Coral Bay is a popular resort area known for its stunning sandy beaches and crystal-clear waters. It offers a range of water activities, restaurants, and bars. |
| Ayia Napa | amous for its vibrant nightlife, pristine beaches, and party atmosphere. It is a popular destination for younger travelers seeking entertainment and a lively social scene. |
| Protaras | a popular resort town known for its beautiful sandy beaches, crystal-clear waters, and family-friendly atmosphere. It offers a variety of water sports and has a more relaxed vibe compared to Ayia Napa. |
| Pernera | Located near Protaras, Pernera is a quieter alternative with beautiful beaches and a range of family-friendly accommodations. It is ideal for those seeking a peaceful and relaxing vacation. |
| Nicosia | is the capital city of Cyprus and offers a mix of historical attractions, cultural sites, and modern amenities. The old town of Nicosia is particularly charming, with its narrow streets and medieval architecture. |
Map of areas and towns in Cyprus: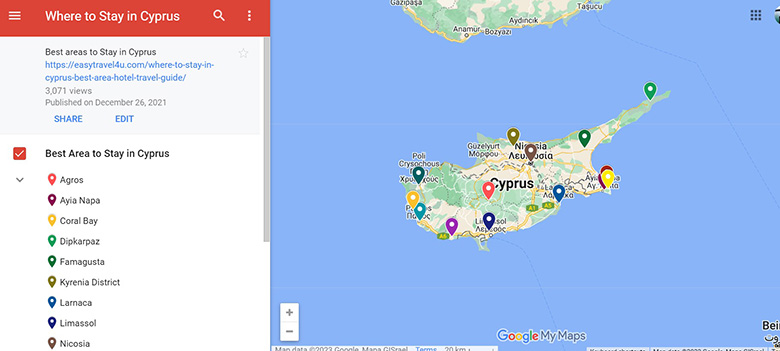 The Best areas to stay in Cyprus for tourists are:
1. Limassol
Limassol (also known as Lemesos in Greek) is the best overall area to stay in Cyprus for first-timers due to its popularity. It is home to many historical and cultural attractions, beautiful beaches, lively nightlife venues. Located on the south coast of the island, it offers easy access to the Troodos mountains, Larnaca and Paphos airports.
The area was inhabited as far back as 2000 B.C, with the city itself being founded in 451 A.D. Throughout the years, Cyprus has changed hands many times, and Limassol bears the mark of most of its former owners. Signs of Greek, Byzantine, British, French, Ottoman, and Venetian empires can all be found on the buildings and monuments in the area.
The Old Town is the heart of the city and packed with narrow streets, historic buildings, churches, squares, cafes, restaurants, and tourist shops. Among the most popular attractions are:
the Limassol Castle
the Cyprus Medieval Museum
the Limassol Archaeological Museum
the Old Port
the Municipal Market
the University
the Old Catholic church.
For shopping, head to the main shopping street of the city, Anexartisias Shopping Street, and Ayios Andreas Street for designer brands, local shops, cafes, and snack bars.
Old Port is the historical part of Limassol, located between Molos and the Marina. It's a traditional fishing port with a picturesque pier, many trendy cafes, and restaurants that offer the perfect spot for a romantic walk or a place to sit, relax and enjoy the stunning sea view.
Molos Limassol is the busting palm trees lined seaside promenade and the most popular place for walks and relaxation. It stretches from the Old Port of Limassol to the Western tip of the beach Akti Olympion, where you find the Molos Seaside Park, a Municipal Zoo, with many playgrounds, cafes, and benches.
Limassol Marina is a waterfront hub that has amazing views of the sea, shopping opportunities, dining, cruises, and exclusive beaches.
There are also other archaeological areas such as Ancient Kourion archaeological sites, the archaeological site Amathous, the Monastery Of St. George the Alaman, Limassol Salt Lake, Cat's monastery or monastery of St. Nicholas, Kolossi castle (Kolossi Castle), the village of Erimi with the Cyprus wine Museum and Church of St. Rafael, and the sanctuary of Apollo of Hilata.
History isn't the only reason to visit Limassol though. In addition to its more cultured background, the area also features a number of the pretty beaches and wine companies in Cyprus.
The beaches in Limassol are mostly narrow, with dark volcanic sand, and there are also some pebbles. Some of the stunning beaches are Akti Olympion Beach, Dasoudi Beach, Aphrodite Beach, Miami Beach, Lady's Mile beach on Akrotiri peninsula, Kourion Beach.
This also makes it a perfect spot for casual tourists looking to spend their days basking in the glorious sunshine on the sand and their evenings sampling some of the finest beverages around.
If you're visiting Limassol in February and March, you can enjoy Limassol Carnival, a festival that lasts for ten days, filled with festive, amusing masquerading. Limassol Wine Festival time is held yearly for two weeks from the end of August till the start of September.
Overall, Limassol is ideal for those seeking a vibrant city atmosphere with a mix of modern attractions and historical sites. Limassol offers a bustling nightlife, beautiful beaches, and a wide range of dining options.
Best Places to Stay in Cyprus in Limassol for first-timers:
luxury ($$$): Four Seasons Hotel This 5-star hotel is set in the private part of Limassol's sandy coastline, among tropical gardens. It offers elegant rooms, studios, and suites with a satellite LCD TV, laptop-size safes, and coffee makers, marble bathrooms, and free wifi.
mid-range ($$): Alasia Boutique Hotel This 4-star hotel is located in central Limassol, it offers stylish rooms with free WiFi, an onsite restaurant, an outdoor pool, and a spa. Within walking distance from Limassol shopping center, the Limassol marina, old and new Limassol ports, and the Cyprus University of Technology.
budget ($): Pefkos City Hotel This family-run hotel is situated near to the old town of Limassol and Limassol Marina, with a short drive by cars from Limassol Port, Ladies Mile Beach, Frederick University of Cyprus, MyMall, and Kolossi Castle.
🔍FIND BEST HOTELS IN LIMASSOL
More About Europe Traveling:
2. Larnaca
Located on the southeastern coast of the island, the bustling port city of Larnaca is the 3rd largest city on the island after Nicosia and Limassol and is a popular destination for a variety of reasons. Larnaca has well-connected public transport and is home to the Larnaca International Airport, the largest airport in Cyprus.
Larnaca is also home to several historic and cultural attractions, ruins, old castles, mosques, churches, beautiful beaches, great nightlife, and a wide range of accommodation options from budget hostels to B&Bs, and luxury hotels and villas.
Here you will find one of the best beaches on the entire island, surrounded by rows of palm trees, beach bars, and shops, turning the entire promenade into a tropical paradise. Mackenzie and Finikoudes are two European Blue Flag beaches, popular with families and couples of all ages.
Finikoudes Beach is considered one of the famous beaches in South Cyprus. The beach is around half a kilometer long and has blue water and pure gray fine sand, good for the whole family with kids to play in.
Mackenzie Beach is set next to the runway of the Larnaca airport, one-kilometer long strip, a fine sand beach that attracts both families and younger couples during the day, and is a destination for clubbing at night.
With a pier and a marina located at opposite ends of the beach, this is the perfect spot to enjoy days lazing on the sand, strolling along the pedestrian, palm tree seaside promenade, or sipping on a cold drink or two.
If you don't want to spend your entire vacation doing nothing though, there are plenty of sights dotted around the area that are well worth the trip here on their own:
The 9th-century Church Of Saint Lazarus (Agios Lazaros).
the 14th-century Larnaca Medieval Castle.
the Hala Sultan Tekke Mosque, with artifacts dating back almost 2000 years.
The Turkish Quarter (Skala)
the St. Lazarus Square
the Larnaca's Salt Lake, a great spot for bird watching to see thousands of pink flamingos.
Other points of interest are the Kamares Roman Aqueduct, the Catacomb's Of The Phaneromeni Church, the busts of Zeno and Kimon the Athenian, Pierides Museum, Ecclesiastical Museum of Larnaca, the Armenian Genocide Memorial, and MS Zenobia Wreck off the coast.
Then, as if the offerings available here weren't diverse enough to tempt you on their own, Cyprus's main airport, Larnaca International Airport, is also situated on the outskirts of town. This makes it ideal for anyone looking for as little fuss as possible when it comes to getting their trip up and running.
Stay in Larnaca if you want to be near the airport; you want to be near one of the best beach resorts on the island, you travel without a car; you like diving;
Best Places to Stay in Cyprus in Larnaca for first-time visitors:
🔍FIND BEST HOTELS IN LARNACA
3. Paphos
We move now to a location 30-miles west of Limassol, to the city of Paphos, on the southwest coast of Cyprus. Historically, there have been two closely situated locations to bare this name, the larger, more modern city, which we currently refer to as Paphos, and the Old Paphos, which is known as Kouklia instead.
Limassol is home to the second-largest airport on the island and countless archaeological sites, it is a popular place to stay in Cyprus for history buffs, beach lovers, couples, families, and European tourists of all ages.
While history is a common theme on this island, perhaps no attraction holds as much notoriety as the Greek and Roman ruins located here, which are preserved as the Paphos Archaeological Park.
Designated as a UNESCO World Heritage Site, it contains an out-of-this-world collection of artifacts, including Roman villas, mosaics, temples, cinemas, theatres, a necropolis known as the Tomb Of The Kings, and even the Basilica Of Panagia Limeniotissa. Such is the breath-taking nature of the display that Paphos was even designated a European Capital For Culture in 2017.
While this site is obviously the main attraction in the area, it certainly isn't all it has to offer, as Paphos Castle, Paphos Lighthouse, the Agios Neophytos Monastery, the House of Dionysus, Kato Paphos, the Byzantine and District Archaeological Museum's are just some of the incredible attractions on offer in the area.
The 13th century Paphos Castle is a medieval Fort and one of the main attractions of Paphos. It is located in the Kato Paphos harbor area where you will find many cafes, restaurants, bars, and shops.
Families can spend a fun day with their kids at Aphrodite Water Park, the biggest water park in the Paphos region, and Pafos Zoo.
It even has a more modern side to the area too, as there are 4 separate tourist resorts located in the city, which is also home to the mildest temperatures on the entire island. So, even in the unlikely event, you aren't interested in any of the history on offer, there are still plenty of traditional tourist amenities to keep you occupied and entertained for the duration of your stay.
Paphos offers a wide range of small beaches and coves such as Vrisoudia Beach (an impressive sandy beach with no rocks), Petra tou Romiou Beach (also known as Aphrodite's Rock), Polis Beach, Coral Bay, Lara Bay, and Blue Lagoon.
Stay in Paphos if you are young couples; you want to visit a UNESCO world heritage site, you are seeking the mildest temperatures possible, you want a variety of tourist resorts in the area to choose from, you want to take a day trip to the most dramatic scenery mountain Troodos Mountains.
Best Places to Stay in Cyprus in Paphos for first-timers:
🔍FIND BEST HOTELS IN PAPHOS
See more: How Much Does a Trip to Europe Cost?
4. Coral Bay
Coral Bay is a popular beach resort for young families, beach lovers, and 18-to-30s, located just 13km from Paphos. Its famous Coral Bay Beach is a wide Blue Flag beach with beautiful golden sands that is ideal to relax on and top up your tan, while its protected waters make it safe to swim for all ages and abilities.
Another beach of Coral Bay is the Laourou beach, which is also a very nice sandy beach well worth your visit.
A small collection of bars, restaurants, tavernas, cafes, and shops line a promenade at the back of the beach, making sure all your needs are catered to throughout the day. Then, when you need a little more choice, the excellent public transport can have you in Paphos in as little as 20 minutes.
There are also plenty of things to keep you occupied, both on land and sea. Numerous water sports activities will keep the kids and the thrill-seekers entertained, while attractions like the Maa Palaiokastro Archaeological Site & Museum are a great spot for more history-oriented travelers.
Stay In Coral Bay If you are traveling as a family with small children; you want a beautiful beach, not too far from a big town, you are a fan of water sports or archaeology.
Best places to stay in Cyprus Coral Bay for first-timers:
🔍FIND BEST HOTELS IN CORAL BAY
5. Pissouri
Located on Cyprus's south coast, Pissouri is a traditional village in the Limassol district on a beautiful stretch of beach almost a mile long. Cafes and tavernas line the sand, providing plenty to help you enjoy a relaxing day by the ocean, while restaurants and small shops, and hotels are located throughout the village.
With few tourists, yet plenty of traditional buildings and picturesque squares, Pissouri is one of the best places on the island to have a truly authentic experience.
Couples can enjoy a secluded break roaming the winding streets and squares, enjoying themselves on less crowded beaches, or even venturing out to one of the many vineyards in the area.
Then of an evening, you can dance the nights away in one of the local bars, sampling traditional food and drink. Be sure to check out Halloumi cheese and small, sweet and seedless green grapes, Sultanina!
The beach area of Pissouri Bay has developed into a popular tourist resort, with good choices of water sports, and hiking on its scenic coast of fine golden sands, small pebbles, and crystal-clear seawaters. Its naturally beautiful surroundings include the spectacular white cliffs of Cape Aspro.
If you visit this village in September, you will take part in a celebration in honor of Agios Andreas, and annual summer and Easter events are held in the village square and the open-air amphitheater.
The resort also has a wide range of accommodation, including luxury, high-end hotels, a host of restaurants serving a variety of cuisines, and plenty of shops.
Stay In Pissouri If you are looking for where to stay in Cyprus for couples who want a romantic getaway, you are looking for a traditional experience, you want to visit a vineyard.
Best places to stay in Cyprys in Pissouri:
🔍FIND BEST HOTELS IN PISSOURI
6. Ayia Napa
Located o the southeast coast of Cyprus and 45 minutes by car from the Larnaca Airport, Ayia Napa is the party capital of Cyprus. If you looking for vibrant nightlife in Cyprus, Ayia Napa is a good choice.
Ayia Napa got its name from the Venetian-era Ayia Napa Monastery located within the center of town, which translates to mean holy wooded valley. However, outside of the aforementioned monastery, 2 marine museums, and a sculpture park, there isn't much on offer in the way of culture.
Instead, Ayia Napa has earned itself a different type of notoriety, as it is renowned as one of the wildest, most party-centric destinations in not just Cyprus but in the entirety of Europe. Fig Tree Bay is one of the best beaches in Protaras, the Ayia Napa region.
Its collection of clubs, bars, and restaurants draws a wider variety of tourists from all over the world, who are looking to let loose and drink, dance, and party the nights away.
Then, when it comes to daytime entertainment, they have an astounding 27 beaches to choose from, 14 of which have been awarded the Blue Flag, one of the highest forms of recognition a beach can obtain.
Among them include Nissi Beach, which consistently ranks among the best beaches in Europe, and Makronissos Beach, which was ranked as the 3rd best beach in all of Greece in 2017.
While they're all perfectly suited for people wanting to laze about on the sand working on their tan or swimming in the crystal-clear waters, most have substantially more to offer.
From beach bars, vendors walking up and down the sand and water sports providers, to shops, restaurants, and other attractions at their rear, you will never find yourself struggling for things to keep you occupied.
Outside of the beaches, they even have festivals, cultural attractions, amusement parks, and water parks such as the Monastery of Ayia Napa, Parko Paliatso Luna Park, and Waterworld to let you enjoy days that are just as wild as your nights. For anyone looking for a wild and wonderful party location, there is simply nowhere better to stay in Cyprus than Ayia Napa.
Stay in Ayia Napa if you're looking for the best place in Cyprus for nightlife; you want wild clubs and bars to dance the evenings away in, you want an incredible selection of great beaches, you like amusement and water parks, you like music festivals.
Best Places to Stay in Cyprys in Ayia Napa:
🔍FIND BEST HOTELS IN AYIA NAPA
7. Protaras (Fig Tree Bay)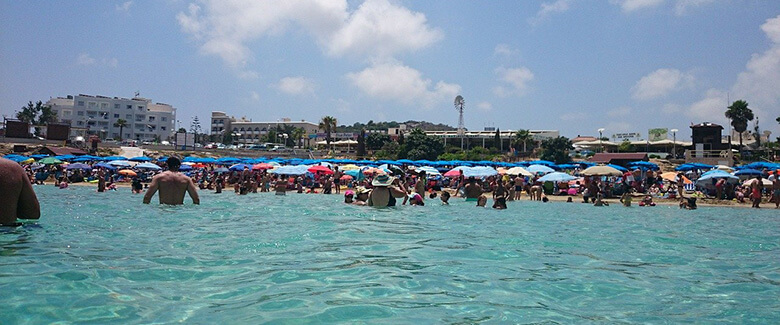 Also known as Fig Tree Bay, Protaras is a popular beach resort for families, couples, and singles, although features slightly smaller crowds than some of the more built-up areas. Located on the southeast coast, it takes its name from the single fig tree that overlooks the bay.
Incredible sandy beaches meet crystal clear, turquoise waters. Protected by the bay, it is suitable for swimmers of all abilities. A collection of sun loungers and water sports ensures you will have a great time whether you want to relax and top up your tan or have a wild experience in the ocean.
A wonderful pedestrian promenade lines the back of the beach, filled with bars, restaurants, and souvenir shops. This allows you to have a completely carefree vacation, without ever having to worry about venturing too far away.
Along the pathway, you will find the Cape Greco National Park, Ayii Anargyri Chapel, Konnos Bay, Saint Elias chapel, and Ocean Aquarium.
Cape Greco's National Forest Park is an amazing natural landscape, you will enjoy the beauty of Cyprus flora and fauna, you can swim or scuba dive in wonderful crystal blue waters and appreciate truly spectacular views of Ayia Napa and the sea.
Cyclops Cave is a charming cave on the coast of Konnos Bay and just 700m from beautiful Konnos Beach. Nearby, Ayii Anargyri Chapel is the picturesque white-washed Chapel dedicated to Saint Kosmas and Damianos.
Sirena Bay, a small secluded bay, ideal for couples who looking for peace and quiet places in the middle of Ayia Napa and Protaras.
Protaras is a good spot for watersports especially scuba diving, don't miss out on popular diving places nearby like Malama Bay, Green Bay, and the Blue Hole.
Stay In Protaras If you want to spend most of your time at, or around, the beach, you want all the amenities of a tourist beach but with smaller crowds, you are traveling with children or less experienced swimmers; you like diving;
Best places to stay in Cyprys in Protaras for first-timers:
🔍FIND BEST HOTELS IN PROTARAS
8. Pernera
Pernera is located on the eastern coast of Cyprus, just a short way from Protaras and Kapparis village, so offers many of the same experiences. However, this is a much quieter location, aimed primarily at families, especially those with small children.
Pernera and Protaras are connected by a beachfront walkway, within 20 minutes between these two areas by foot. It's a popular track for runners and walkers to stroll along and enjoy the sea views.
The beaches are smaller, the hotels are smaller, and the bars and restaurants are much quieter and more family-friendly. This leads to significantly smaller crowds and a slower pace of life, allowing you plenty of time and room to have fun with the little ones.
You will find the two wide spacious beaches with golden sand, Golden Coast Beach and Louma Bay Beach near Paralimni Harbour and Fishing Shack. Pernera Bay Beach is one of the best beaches on the eastern coast with its own dive center.
The lovely sandy beach, Polyxenia Beach is just a 20-minute walk from Fig Tree Bay in Protaras. If you go along the boardwalk in Pernera before Polyxenia Beach, you will find the sandy little beach with a gently sloping bay, Marlita Beach (Potami Bay).
Its slightly more remote location also means a car is a necessity to get around during your stay. However, if that doesn't bother you, you're assured of a relaxing family break you remember for a lifetime.
Stay In Pernera If you are looking for the best place to stay in Cyprus with a family with small children; you are planning to rent a car; you want a smaller, quieter location.
Best places to stay in Cyprys in Pernera:
🔍FIND BEST HOTELS IN PERNERA
9. Nicosia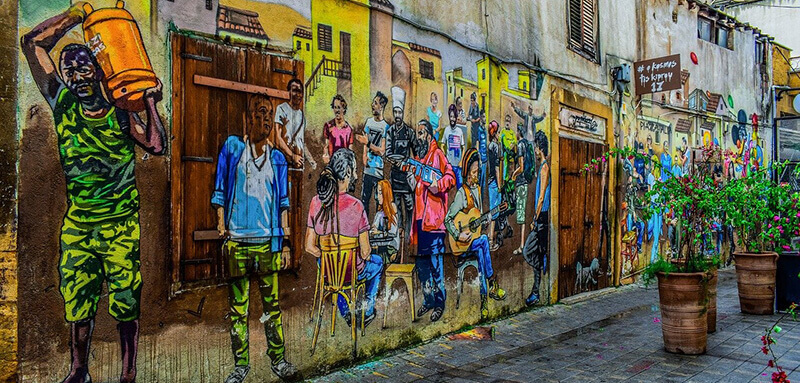 Our 4th destination brings us to the divided capital and largest city in Cyprus, Nicosia. This is our first destination not situated along the coast, instead of being located near the center of the island. Much like the majority of the island, the history here is extensive, having been continuously inhabited since at least 2500 B.C and ruled over by numerous empires throughout the centuries.
Nicosia has the quickest Green Line crossing checkpoint, there are two border crossing points in Nicosia: The Ledra Palace Border Crossing, The Ledra Street Border Crossing.
While the scale and grandeur of the historical sites here don't quite match the caliber of the ones we've mentioned so far, it still has plenty to offer on that front.
The 14th-century St. John's Cathedral; Sarayonu Square, with its towering obelisk; Kyrenia Gate, the historical entrance to the walled part of the city; Buyuk Han, the largest caravanserai in Cyprus; and the Selimiye Mosque, the chief religious center in northern Cyprus, offers a varied range of things do and see.
The major selling point to this location though is its ability to offer a more traditional big-city feel than anywhere else on the island. Streets lined with shops, cafes, restaurants, and bars weave in and out of towering buildings and locations of great importance.
You can check out Ledra Street with its Shacolas Tower, Ermou Street, and Onasagorou Street. Both the archbishop's and presidential palaces are located here, along with the Cyprus Museum, the largest on the island.
You also have the Byzantine Museum, the Leventis Municipal Museum of Nicosia, and the Sacred Temple of Virgin Mary Phaneromenis to explore.
That makes Nicosia the perfect choice if you are looking for a city break in an inviting climate, which can also offer some history and culture on the side.
Stay in Nicosia if you aren't bothered about being near the beach, you enjoy shopping, you want a wide range of bars and restaurants to choose from, you prefer a city break to a tourist resort.
Best Places to Stay in Cyprys in Nicosia:
🔍FIND BEST HOTELS IN NICOSIA
10. Kyrenia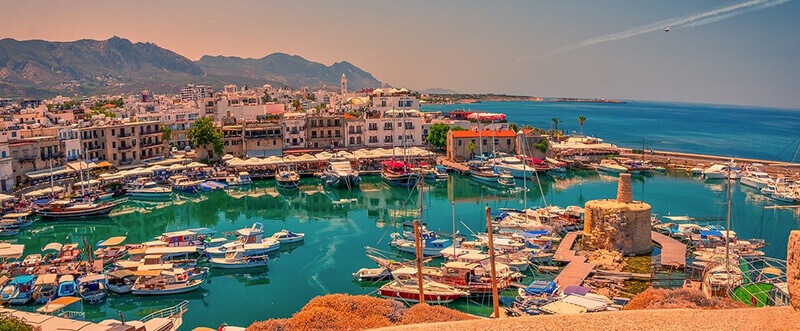 Kyrenia (Girne) is the largest city in the district of the same name, which also happens to be the smallest in Cyprus, located on the island's northern shore. Believed to have been settled in the aftermath of the Trojan war and then expanded upon by the Romans in the 1st-century A.D, it is a region bursting with historical attractions.
The stunning Kyrenia Castle lies at the end of the harbor, with foundations laid by the Romans and adapted and expanded by multiple empires throughout the years, most recently the Venetians in the 16th-century.
This incredible sight is then surrounded by museums, churches, fountains, tombs, cemeteries, and even the ruins of a 13th-century monastery, making it a dream destination for history buffs and archaeology fans alike.
The history even continues into the areas surrounding the town, with Buffavento, Kantara, and St. Hilarion castles dotted throughout the Kyrenia Mountain Range. There's also Venetian tower, Ozankoy village to check out.
This isn't just a destination for history fans though, as it is also recognized as both a tourism and culture hub for the island. Its fairly balanced Christian and Muslim culture influence the wide range of shops, bars, restaurants, and entertainment locations in the area, making for a diverse collection of opportunities.
This is particularly evident in its beautiful harbor, where a dense population of these, along with numerous hotels, many of which are 5-star, draw tourists from far and wide. This is accentuated further by the vibrant nightlife the area is known for, making it an ideal location for anyone looking to party 24/7.
As a final note, it's worth mentioning the city is also home to 4 universities, making it an ideal location for students, or anyone visiting one for that matter.
Stay in Kyrenia if you want to head off the beaten path; a vibrant nightlife is important, you are a student, you want to be near the harbor, you enjoy a culturally diverse range of food and entertainment, you are interested in history, you are taking a cruise or boat ride.
Best Places to stay in Cyprus in Kyrenia:
🔍FIND BEST HOTELS IN KYRENIA
11. Famagusta and the ghost town of Varosha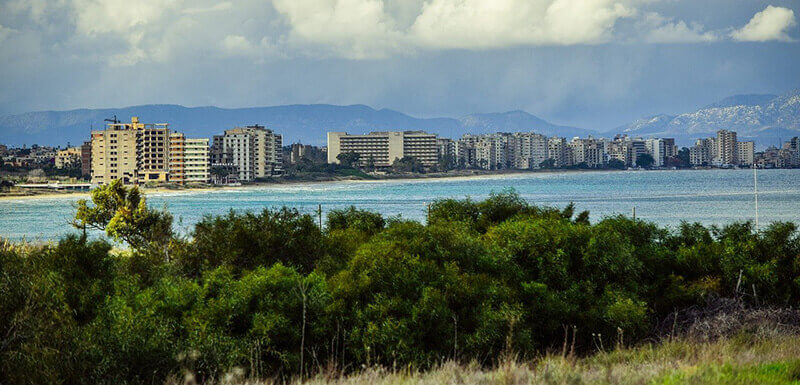 Famagusta, located on the eastern coast of Cyprus, is primarily known for having the deepest harbour and most important port on the island. This has allowed it to remain an active and vibrant destination throughout the years.
Surrounded by the walls built by the Venetians in the 15th and 16th centuries, its unique style is quite a sight to behold for anyone interested in architecture. Its history with numerous cultures through the years, like much of the island, has led to numerous attractions being constructed from multiple faiths and backgrounds.
A large quantity of both churches and mosques make up the main historical draw to the area, with a castle, dungeon, monastery, palace, and a number of smaller historical buildings fleshing out what's on offer here.
There are even more modern, somewhat sombre sights to see, such as The Victory Monument, which stands as a memorial to the Turkish Invasion Of Cyprus in 1974, in which dozens of innocent lives were lost. A day trip to the ghost town of Varosha is a must if you stay in Famagusta.
On a lighter note, the commercial and historical backgrounds have led to the city developing a booming tourist industry, catering to those wanting to let loose for a while as they take in the sights.
Beautiful sandy beaches and tourist-centered shops are abundant, to help you fill out the days when you aren't sightseeing. Then, a number of bars, restaurants, clubs, and other entertainment destinations will keep you occupied in one of the fastest-growing centers for nightlife on the island.
Its university also makes it a popular destination for students. The surrounding area is known to feature an especially vibrant feel, which brings with it the lower prices you often find in popular student destinations.
Stay in Famagusta if you are interested in the island's more recent history, you love sandy beaches, you are interested in taking a cruise or relaxing by the harbor, you are a student, are visiting one, or simply enjoy that type of atmosphere.
Best Places to stay Cyprus in Famagusta:
🔍FIND BEST HOTELS IN FAMAGUSTA
12. Rizokarpaso (Dipkarpaz)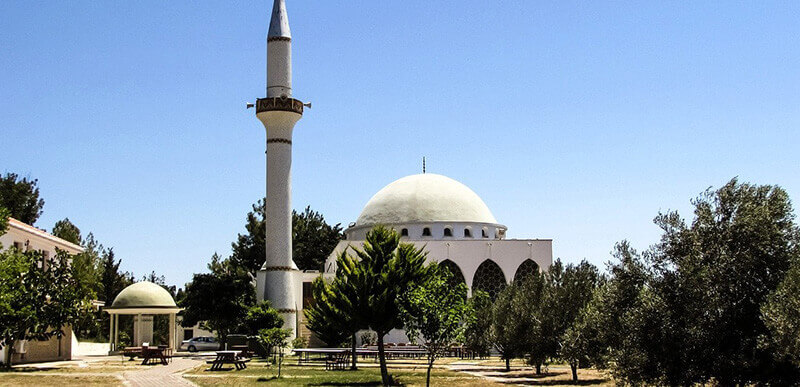 While technically located in the Famagusta district, on the Karpas Peninsula, Rizokarpaso has been controlled by Northern Cyprus since the island was partitioned, during the Turkish Invasion Of Cyprus in 1974.
Despite being one of the largest towns on the island, Rizokarpaso has managed to retain its largely traditional identity. With wild, unspoiled surroundings and a local economy based around farming and fishing, it has, perhaps ironically, developed a niche tourist interest, for those who would prefer to experience the truer side of the island.
Luckily, the region has embraced this newfound interest and has gradually converted a number of old, traditionally styled buildings into guesthouses for tourists. This makes it a perfect choice for those looking for something a little different and more natural from their vacation.
Anyone who does choose to stay in this area will also be pleasantly surprised, as it features some of the most beautiful beaches on the island. Again unspoiled by the mass tourism that is found in many such locations on the island, this is ideal for anyone who wants to spend relaxing days, quietly topping up their tan in their own little slice of paradise.
Beyond the beaches and the traditional feel of the town, other attractions include Karpaz National Park. A stunning location for you to explore, either by car or on foot, where you have the chance to take in some breath-taking landscapes, filled with wildlife, including its native Karpass Donkey.
The spectacular seafront ruins of the twelfth-century Agios Philon church, one of the few Orthodox churches in Cyprus built in the Romanesque rather than the Byzantine style. You also find the Apostolos Andreas Monastery at the tip of the peninsula, a monastery from Byzantine times.
Stay in Rizokarpaso if you want a more traditional destination, you like beautiful, yet quiet, beaches, you enjoy national parks, you want to avoid the hustle and bustle of tourist hotspots.
Best places to stay in Cyprys in Rizokarpaso:
🔍FIND BEST HOTELS IN RIZOKARPASO
13. Trikomo (Iskele)
Our next option of Trikomo is located on the way from Famagusta to Karpaz. The population of the area switched from majority Greek Cypriot to majority Turkish Cypriot during the Turkish Invasion Of Cyprus in 1974, with many of the current residents instead referring to it with the Turkish name of Iskele.
With many of its residents have moved here from Larnaca after the occupation, it has developed a feel somewhat similar to what the old city had, despite being considerably smaller in size.
Said residents even brought with them their festival, which, despite its moving location, is still considered to be the oldest annual event in Cyprus (International Folk Dance Festival). Lasting 10 days and taking place every summer (July) since 1968, it features folk dancing, concerts, sports tournaments, food stall, competitions, and displays surrounding the cultural heritage of the town. Another major regional cultural event is the Mehmetcik (Galateia) grape festival, on the first week of August
Not adapted to accommodate tourists, this is one of the purest destinations on the island for anyone wanting to experience the true, un-interfered culture and history of the Turkish Cypriot people.
Outside of the festival, its most striking attraction is the Panagia Theotokos Church (Iskele's Icon Museum), which is incredibly unique in that it is a twin church, containing both Catholic and Orthodox sections, the former being constructed in the Byzantine era, while the latter was added in the 12th-century.
The 15th-century church of Ayios Iakovos (St. James) is also one of the historical importance churches in the village, and is also well worth a photo stop.
Today, in addition to its unique history and striking architecture, it is also home to a museum, displaying pieces of iconography that detail the history of the island during the Medieval period.
On the way to Karpaz, you will pass the ruins of Kantara Castle with panorama views from its highest watchtowers, the peaceful fishing village of Bogaz (an entertainment center, full of hotels and fish restaurants) which is nice to stop by, and the coastal strip in Bafra where you find the five-star luxury hotels.
Stay in Trikomo if you want to avoid tourists altogether, you are interested in Turkish Cypriot heritage and culture, you want to experience the island's oldest festival, you are interested in the history of the church in Cyprus, you are keen to learn about the island's Medieval history.
Best Hotels in Cyprus in Trikomo Deluxe Seaside Residence Located close to Makenzi Public Beach, next to a beautiful fishing village and a marina – Bogaz, within a short ride from the second largest city of Northern Cyprus – Famagusta. it provides an outdoor swimming pool, a garden, a restaurant, a fitness centre, and an on-site casino.
🔍FIND BEST HOTELS IN TRIKOMO
14. Polis Crysochous (Akamas Peninsula)
Our next destination brings us to the town of Polis Crysochous (Poli of Chrysochou/ Chrysochou), on Cyprus's north-western coast, on the edge of the Akamas peninsula nature reserve. It is a unique destination, in that it is still a small, traditional town, yet has specifically adapted to cater to tourists. This allows it to combine multiple aspects from the previous destinations we've looked at.
Polis Crysochous is located just 30 minutes from Paphos, and the ideal location for those looking for a tranquil spot to escape the stress of a daily routine and want to get involved in outdoor activities.
Home to a community dominated by farmers and fishermen, located in the center of Crysochous Bay, this is the ideal destination for anyone wanting to experience the traditional, natural side of the island, yet still desiring a few of the more modern luxuries associated with tourist resorts.
Containing beautiful, quiet beaches, such as Latsi Beach and Mavralis Beach, the stunning Latchi port, featuring a range of both traditional and more high-end restaurants, as well as the Akamas Peninsula Nature Reserve, the town has plenty for you to fill your time with, during both the day and the night.
Polis Chrysochous is also a favorite spot for camping, the Polis Chrysochous camping site is set in an aromatic eucalyptus forest near a Blue Flag pebble beach.
The campsite and beach also signal the start of a scenic coastal walkway that leads to Latchi Harbour, famous for its excellent fresh fish, served at the surrounding restaurants.
While not as abundant with historical sites as many other parts of the island, there is still the Baths Of Aphrodite (a freshwater grotto shaded by a wild fig tree), the ruins of the Medieval Monastery Of Gialia, and the local archaeological museum of Marion-Arsinoe, containing artifacts that show the history and development of the area, as well as a stage surrounded by seating suitable for up to 400 people.
The church of Agios Andronikos was converted into a mosque from 1571 by the Ottomans, with its 16th-century frescoes.
You combine all of this with the traditional feel and culture of the town, and you get a destination that, while it won't be for everyone, can be ideal for those looking for a more educational, yet at the same time relaxing, vacation.
Stay in Polis Crysochous if you want a quieter destination with more relaxed beaches, you want to experience the island's traditional culture, you're traveling as a couple, you like nature reserves.
Best places to Stay in Cyprus in Akamas Peninsula:
🔍FIND BEST HOTELS IN POLIS CRYSOCHOUS
15. Agros/Troodos Mountains
Located some 1100 meters above sea level, Agros is a traditional Cypriot village located inland within the Limassol district, in the Troodos Mountains or Troodos Massif. Looking like something off of a postcard, red and white buildings nestle among trees and vineyards.
Agros is limited within Agios Ioannis to the south, Kato Mylos to the southwest, Potamitissa to the west, Agridia to the northwest, Polystypos to the north, and Alona and Agios Theodoros to the east.
Known as the Village Of Roses, take the opportunity to sample some of their local delicacies, which include rose water and rose brandy, as well as smoked and preserved meat, fish, and fruit. Plenty of local tavernas provides the perfect opportunity to embrace the village's customs.
You have some important churches such as the 1909 church of Panagia Eleousa in the area of the Monastery of Great Agros used to be. Other churches are the 1860 Church of Timios Prodromos, the church of Agios Gerasimos, the Archangelos Michael Church is located in the charming Pedoulas village, and the church of Agia Kyriaki.
Fans of history and culture will find two museums in the area. the Fragoulidis Museum (in honor of Solon Fragoulidis) and the Olive-mill of the Church of Agios Ioannis Prodromos which displays the olive mill, press, millstones.
Meanwhile, hiking trails off into the mountains allow you easy access to explore the surroundings. Attractions such as monasteries and churches complement the beautiful, natural landscapes and views, ensuring everyone finds plenty to keep them entertained. There are three outstanding nature trails: Agros Down Mill, Agros Madari, and Lagouderas Agros.
Stay In Agros/Troodos Mountains If you looking for where to stay in the Cyprus mountains to stay in a traditional village, you want to explore the mountains, you aren't worried about being near the beach.
Best places to stay in Cyprys in Agros:
🔍FIND BEST HOTELS IN AGROS
See more: Frequently Asked Questions about Best Places to Stay in Cyprus
Check out my virtual tour of the best places to stay in Cyprus in this video:
In conclusion, Limassol, Paphos, Larnaca, Coral Bay, Ayia Napa, Protaras, Pernera, and Nicosia are the best places to stay in Cyprus for tourists and first-time travelers. Limassol is great for its lively atmosphere, Paphos offers historical charm. Larnaca boasts beautiful beaches, Coral Bay is ideal for nature lovers.
Ayia Napa and Protaras are perfect for partygoers, while Pernera provides a more relaxed beach getaway. Lastly, Nicosia offers a blend of history and modernity for those seeking cultural exploration.
Choose the area that aligns with your preferences to have an unforgettable experience in Cyprus.