The best areas to stay in Corsica for tourists are Porto-Vecchio, Bonifacio, Propriano, Ajaccio in South Corsica, and Corte, Bastia, Calvi, St. Florent in North Corsica. These towns are very popular, offering a wide variety of attractions and amenities for tourists.
North Corsica is the wilder, unspoiled area, less touristy, and cheaper than South Corsica. North Corsica is the best base for nature lovers, hikers and those seeking relaxed holidays. South Corsica is the best base for visitors seeking tourist style locations and beach holidays.
The best way to explore the island is by car but it is possible to explore Corsica without a car, although it may require some planning and flexibility. There are buses, trains, and taxis connecting major towns and cities.
Calvi, a little town in North Corsica, is one of the best places to stay in Corsica without a car. Calvi has an international airport and harbor, so it is easily reachable by flights and ferries. The town center is walkable, with lots of restaurants, bars, shops, and a beautiful beach.
Additionally, the town is also well-connected to Tramway de la Balagne, making it easy day trips to northern Corsica towns and villages such as Aljagola and L'illle Rousse.
You can travel to Corsica by air, by ferries from both French ports and Italian ports. Corsica has 4 airports including Calvi and Bastia in North Corsica, and Figari Corse du Sud and Ajaccio in South Corsica. There are also ferries from Marseille, Toulon, and Nice in mainland France.
Map of areas and towns to stay in Corsica:
How to get around Corsica without a car?
It is possible to travel around Corsica without a car, but it may require some planning and reliance on public transportation and alternative modes of transportation. Here are some options for getting around Corsica without a car:
Public Transportation:
Corsica has a fairly extensive network of buses and trains that can take you between major towns and cities. The train network connects cities like Bastia, Ajaccio, and Calvi. The train is very slow but a scenic way to explore the area.
Buses are operated by different companies and serve various parts of the island. Check the schedules and routes in advance to plan your journey.
Taxis and Ridesharing:
Taxis are available in many towns and cities in Corsica. You can catch taxi from all airport to the nearest town.
Biking:
Corsica offers beautiful landscapes and scenic routes, making it a great place for cycling. You can rent a bicycle or bring your own to explore the island at your own pace. Be prepared for some challenging terrain in certain areas.
Walking and Hiking:
Corsica is known for its stunning hiking trails, including the famous GR20. If you're an avid hiker, you can explore much of the island on foot. There are also shorter hikes and coastal paths for those looking for less strenuous options.
Boating and Ferries:
If you're interested in exploring Corsica's coastal areas and nearby islands, you can consider boat tours or chartering a boat. This is a unique way to experience the island's beauty from the sea.
Corsica is well connected by ferry services to mainland France and other Mediterranean destinations. You can use ferries to hop between Corsican towns and cities along the coast.
Local Tours:
Many local tour operators offer guided tours that can take you to various attractions and scenic spots around the island. These tours often include transportation.
While it is possible to get around Corsica without a car, it's important to plan your itinerary carefully, especially if you want to visit remote or less accessible areas.
You can continue reading for the detail of each town in Corsica (include map and video) and best hotels in Corisca for all budgets, or check this article Best areas to stay in Corsica without a car.
Where to Stay in Corsica? Best areas to stay in Corsica for tourists are:
1. Porto-Vecchio
Located on the south-east coast of Corsica, Porto-Vecchio is easily one of the most popular destinations in Corsica for families. Its beautiful beaches, marinas, and mountains provide the beauty, while an incredible range of bars, shops, and restaurants ensure your every need is catered to.
Porto-Vecchio is divided into two different areas including the old town and citadel, and the marina. The imposing ancient walls dated back from the 16th century when Genoese controlled Corsica.
Start with the city's main square called République square, wander around a labyrinth of beautiful stone streets of the old town, you will find numerous of little piazza, charming boutique shops, restaurants, and cutural attractions. You will also find Bel Ombra, the tropical tree in this Place de la Republique area.
There is the 19-century Church of St. John the Baptist, or Saint Jean Baptiste, the patron saint of Porto-Vecchio. Other places of interest in Old Town is the Bastion de France and Porte Genoise gate which is original entrance of the citadel. The annual salt harvest held here in September each year.
If you want to shop for the best homemade ice cream, head to Glacier de la Place. This terrace bar and restaurant has many choices of beers, cocktails and wine.
Vecchio Marina is located just a few minute's walks from Old Town. Pack with cafes and restaurants, it's a perfect place to enjoy meals and drinks in a hot summer evening. Stroll along its seafront promanade or grab a meal at one of its seafood restaurants and admire the views of its natural, lagoon-like harbour.
Porto-Vecchio and surrounding areas are famous for its white sand crystal clear beaches. Some of the idyllic beaches are:
Palombaggia beach, the most famous beach in Corsica with spectacular mountain scenery. The beach is safe for children and there are lifeguards on duty. you can enjoy watersport such as snorkeling, kayaking, windsurfing, diving, and pedal boating.
Santa Giulia beach, located in a sheltered shallow bay with white sand, turquoise sea, granite rocks.
Cala Rossa, a sandy beach overlooking a fabulous sea.
Pinarello beach, a sandy beach located in the Pinarello village.
Rondinara beach, a small bay shaped like a shell with turquoise water Tamaricciu beach, set halfway between Bonifacio and Porto Vecchio.
San Ciprianu beach, or Saint Cyprien Beach.
Carataggio Beach, or Carataghju, a nature reserve between the tips of Chiappa and Palombaggia beach
If you drive up north within 1,5 hours, you will find the Bavella Canyon, great place to hike with waterfalls, green pools, cliffsides, and forests. it's also location of Pulischellu, Vacca, and Purcaraccia canyons.
You can also check out attractions such as Cavu Valley, Ospédale forest, villages of Zonza, Levie, Alta Rocca, Xtreme Sud, Cascade de Piscia. And archaeological sites around Porto-Vecchio such as Cucuruzzu and Capula, Ceccia, Araghju, and Tappa.
Prices on everything from accommodation to amenities and attractions range from cheap options to extremely high-end and exclusive. This means everyone will be able to find something for them, no matter their budget or background.
That diversity even continues on into the available activities. Whether hiking in the mountains, swimming or sailing in the turquoise waters, relaxing on the beach, or signing up for the excursions available for families and kids, everyone is sure to have a great time in Porto-Vecchio, no matter their age.
Stay in Porto-Vecchio if this is your first vist; you travel as families, you love natural beauty, you are a fan of sailing;
Best places to stay in Corsica in Porto Vecchio:
luxury ($$$): Grand Hôtel De Cala Rossa & Spa Nucca Located 6 km from Porto-Vecchio and 80 m from the private beach, in south-west Corsica. Each room has a private bathroxom, air-conditioning, TV and free wifi. Guests of the Cala Rossa can enjoy canoeing, sailing and surfing at the beach. The hotel's pleasure boat offers tours of the bay and trips to secluded beaches where guests can picnic. Spérone Golf Club is a 45-minute drive by car and guided hikes are possible.
mid-range ($$): Santa Giulia Palace These modern apartments are part of a residence located close to Santa Giulia Beach. There are the garden and 3 swimming pools, a hot tub and a sauna. It is a short drive by car from Lezza Golf Club and Porto Vecchio. Boat, yacht and helicopter excursions can be arranged on request. Figari Airport is 30 minutes away by car.
budget ($): Résidence Mari di Soli is located 5 km from Palombaggia Beach and 8 km from Santa Giulia Beach. The property is a 10-minute drive by car from Porto Vecchio and a 20-minute drive from Bonifacio.
🔍MORE HOTELS IN PORTO VECCHIO
See more: 22 Best things to do in Corsica
2. Bonifacio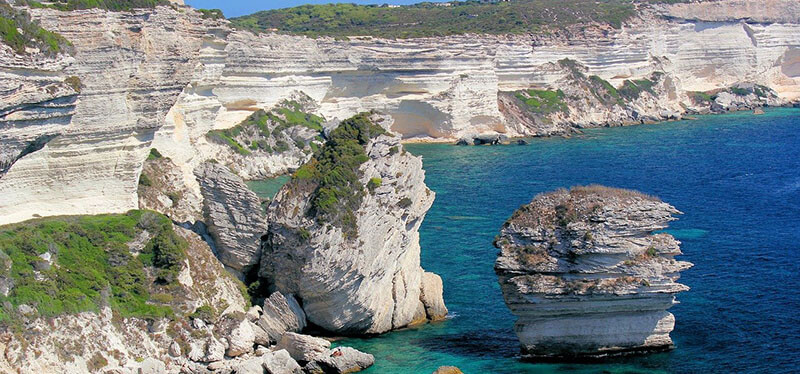 A not-to-miss place is Bonifacio. This is a medieval town and oldest town of Corsica, located on a white limestone cliff on the southern coast of Corsica, in the French department of Corse-du-Sud. Bonifacio has two different areas including the historic old town with the citadel, and harbour and sea front area.
Bonifacio is located only a half hour drive from Porto-Vecchio. The Old Town of Bonifacio is bigger than Porto-Vecchio, and being beautifully located above while cliffs, the atmostphere is much nicer than Porto-Vecchio.
There are several interesting facts about Bonifacio:
The setting of Guy de Maupassant's story 'Vendetta.'
It is where the French leg of the Red Bull Cliff Diving World Cup takes place.
It is located on the only major harbor of the southern coast.
Charming street Rue du Palais-de-Garde
King of Aragon's Staircase
The 12th century Citadel is the most important historical site in Bonifacio.
Take a stroll along Bonifacio old town, you will enjoy the maze of narrow cobbled streets, ancient buildings, stairs, squares and cafes. You can check out some beautiful viewpoints at Bastion de'Entard, Falaises de Bonifacio, Place du Marché, and fortress behind the cemetery.
Other places of interest are the Church of Saint-Dominique, Church of Sainte-Marie-Majeure, Place d'Armes. Head for L'Arinella where you will find a secluded beach. What you will appreciate is the panoramic view of the coastal hiking route.
There are also numerous of beaches nearby which is only a short drive from Bonifacio including Plage Rodinara, Plage Palombaggia, Plage de Saint-Antoine, and Plage de la Tonnara.
Although this is classed as the Hinterland it is only a stone's throw away from the beach. The road leads you through magnificent valleys with stunning views of the moutains. Valleys are dotted with villages.
For walkers and hikers, this is the place to be! You will find walks of every level all over the place. The scenery changes all the time. One minute you may be climbing up the ridges and the next in deep chestnut forests.
From one of three port in Bonifacio, you can take a boats to the Lavezzi Islands, which is just 30 minute away. The Archipelago of Lavezzi Islands a chain of small granite islands including the islands of Lavezzi, Cavallo, Ratinu, Piana.
To reach Bonifacio, you have to take a flight or ferry to Corsica Bastia or Ajaccio and then take a car or bus to Bonifacio. There are several mountain gites and refugees in this area, along with campsites, apartments to rent, hotels, and B&B's.
You should stay here if you walk or hike, you enjoy different landscapes, you like visiting unique villages, you enjoy the great outdoors, you enjoy taking photographs; Magnificent views appeal to you.
Best Places to Stay in Corsica in Bonifacio:
luxury ($$$): Hôtel & Spa Version Maquis Citadelle This 5-star hotels has a year-round outdoor infinity pool, a spa and fitness center, and guests can enjoy a meal at the restaurant. Bike hire is available at this hotel and the area is popular for golfing. The hotel also offers car hire. King Aragon Steps and Spérone Golf Course are short distance away.
mid-range ($$): Hotel Spa Genovese Located on the southern coast of Corsica in Bonifacio, this 4-star hotel has a cliff top position with panoramic views. It has an outdoor pool with a sun terrace, lounge chairs, onsite restaurant, and free wifi.
budget ($): Santateresa Located on the cliffs of Bonifacio and featuring a sea view, this 3-star hotel is 7 km from Sperone beach. It offers 24-hour reception, free WiFi and air-conditioned rooms in the south of Corsica. Free private parking is available on site.
3. Calvi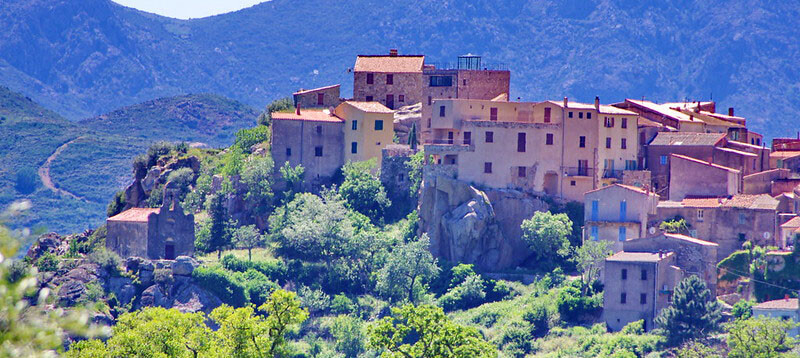 The Balagne region and Calvi delivers a mix of chic and cosmopolitan, artistic, and rural. Many people consider it the perfect introduction to the island. Calvi is the best area for tourist, especially for first-timers. You'll find attractive villages, sandy beaches and secluded coves, all with a backdrop of high mountains which remain capped with snow until the start of summer.
Some of the attractions you can visit are the Scandola island, the Chapel of Notre Dame de la Serra.
The city of Calvi is very accessible and can be visited without renting a car. It can be described as the perfect picture postcard area with colourful buildings and cobblestones streets. There is a very long and sandy beach called La Pinède due to its pine trees and 2km wooden boardwalk to explore.
The Quai Landry connects the marina and the port also worth a visit. Harbourside cafes are plentiful and you will find that the small villages appear to have stood still in time.
You can stroll around the cobblestone streets and shops in Genoese Citadel which is the historic part of Calvi. Located right above Calvi port, the citadel is home to the Cathédrale St-Jean-Baptiste and Museum of Corsican Ethnography.
The airport of Calvi Sainte Catherine is 8km from city center. It's the gateway for Balagne, easy access to Lumio, Calenzana, Galeria and also Ile Rousse. You can take a shuttle bus, taxi, or hire a car from airport.
The town of Calvi is extremely 'kid-friendly' as is Balagne. St Florent and the north East are regarded as family places, along with the town of Patrimonio. Truly, all over the island you will find things to do with kids of all ages. Locals absolutely love children so don't be surprised to find them talking to your children.
Kids are welcomed in most restaurants, although some will advertise that under a certain age is not permitted. Some of the more rugged areas may be difficult for kids to handle and will make pushchairs almost impossible so be sure to check before you go about how suitable the area is for babies.
This area offers all kind of accommodation ranging from luxury hotels, as well as guest houses, self-catering apartments and budget bed and breakfast places, so will suit most people.
Stay in Calvi if Powdery white beaches are what you are looking for; you travel without a car; You want to the Corsican way of life at its best; You enjoy old towns and villages; You like secluded coves; You enjoy taking your family to interesting places;
Best places to stay in Corsica in Calvi:
mid-range ($$): Hotel L'Acquale This 4-star hotel is located in centre of Calvi, within easy walk from the port and white sandy beach., 7 km from Calvi Sainte-Catherine Airport. There is a free, secure, car parking garage, on-site bar, continental or à la carte breakfast options. All guest rooms are spacious with air conditioning and a minibar.
mid-range ($$): Hôtel L'Abbaye This 4-star hotel is loated in the heart of Calvi, within easy walk from the beach and marina. It offers 24-hour reception, air-conditioning rooms, a courtyard with gardens, a car parking. Its locaiton is also easy access to the ferry terminal.
budget ($): Hôtel Méditerranée This 3-star hotel is located in the centre of Calvi, within a short walk from Calvi Marina, La Citadelle, and Calvi beach. All rooms are come with a wardrobe, a desk, free wifi, and a private bathroom. It is also a short drive by car from Saint-Jean-Baptiste Cathedral and Torra di Calvi.
🔍MORE HOTELS IN BALAGNE – CALVI
4. Bastia
Located on the North Corsica, on the south-eastern side of Cap Corse, Bastia is a busy port town and commercial centre of the island. It is also known as the Town of Art and History.
Bastia has an airport called Bastia Poretta, located in Lucciana southeast of Bastia. You can take Autobus Bastiais buses from the airport to the city centre and main station.
You can also take ferries from Livorno, Toulon, Marseille, Nice, and Savona to Bastia port. The train station is located in the hill at av Maréchal Sébastiani, there are trains to Ajaccio, Ile Rousse, Corte and Calvi.
Place St. Nicolas is the most famous place for tourists and locals. It is a tree-lined square that is packed with shops, cafes, bars, a tourist office, and bus stops.
Place St. Nicolas hosts Sundays a flea market and a garment market. The Place du Marché nearby, has a weekend traditional open-air market for local products such as cheese, honey and charcuterie.
From this square, if you head to the west, you will see the Boulevard De Gaulle and Rue Napoleon. Along the way is the Oratoire St-Roch and Oratoire de l'Immaculée Conception.
Located at the south of town is the Bastia Old Port (Vieux Port). Take a stroll around the harbour, take a look at the Church of Saint John the Baptist, or head to the Quai des Martyrs de la Liberation for the best views. You can have dinner here at one of its many bars and restaurants.
If you walk up from the old port to the Genoese Citadel, you will pass through the gardens, le Jardin Romieu, and Terra Nova, the New Town. The citadel of Bastia is home to the 14th century Palais des Gouverneurs, which is now Musée à Bastia.
Other points of interest in d the Citadel are the Baroque Oratoire-Sainte-Croix and the church of Sainte-Marie de l'Assomption.
With its own airport, and port, easy access to the rugged Cap Corse with its beautiful fishing villages, Bastia is a wonderful base to explore the Cap Corse and North Corsica area.
Best places to stay in Corsica in Bastia:
5. Cap Corse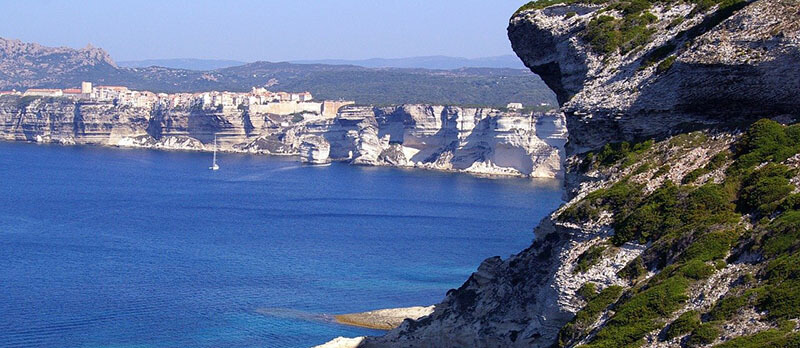 Cap Corse is 40 km of rocky peninsula, at the northern tip of the island, north of Bastia on the east and Saint-Florent on the west. Cap Corse is a wild, rough, and untouched natural in many places. There are numerous scenic highlights and quirky fishing villages to see around the Cap Corse.
In the centre of Cap Corse is Mont Stello, the highest peak at 1307 metres. Stello offers spectacular views from sea to sea and over the mountains.
Many people explore the Cap Corse region by driving along the coast in an anti-clockwise direction from Bastia to St Florent. It is the direction of the sun, you will have the best scenery on the east coast in the morning and on the west coast afternoon. You can do some excursions inland to visit the wine villages in the hills.
If you head north along the D80 from Bastia,within 10km, you will reach Erbalunga. It is a charming village with a small harbour, painted fishing boats and Genoese watchtower.
Continuing north along the D80 on the east coast, you can see some beautiful places such as Porticciolo, Macinaggio, Rogliano viewing point. There are numerous beaches near Macinaggio including Plage de Tamarone, Macinaggio beach, Plage de Santa Maria, and Plage Cala Genovese.
Head down to St Florent on the west coast, you can see Col de la Serra, and Moulin Mattei in the Village of Ersa which is a unique windmill with white facade and red tiled roof.
Still on the east coast, you can take a look at a stop at a stunning village and tiny port of the village of Centuri for a meal. You can climb to the mediaeval castle of Bellavista and the hamlet of Canelle.
After that look for Pino, where you can find an 18th-century baroque church and bell tower.
To the west side, you will see Nonza with its black pebble beach. Noza is also home to a ruined castle, Franciscan convent, Genoese watchtower, Église Ste-Julie church, and a polychrome marble altar.Just north of Saint-Florent, the village of Patrimonio is famous for its red and white wine. It has several excellent wineries where you can do tours of the vineyards and sample wines before buying.
There is plenty of accommodation here, you can choose from budget b & B's to top-class villas.
Best places to stay in Corsica in Cap Corse:
🔍MORE HOTELS IN CAP CORSE
6. St. Florent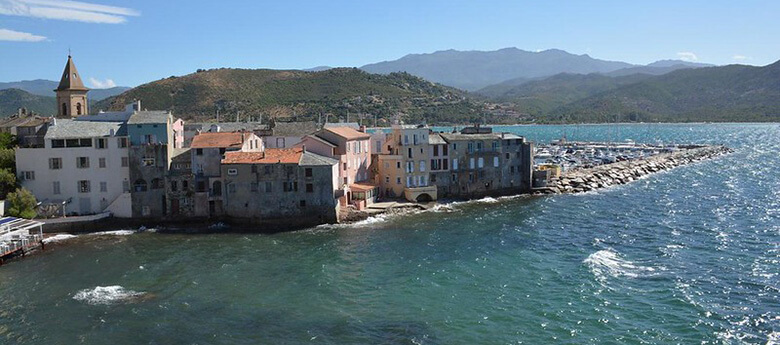 St. Florent is located on the north coast of the island and is a beautiful, traditional little town. Its fabulous architecture seems like something straight out of a postcard. Combined with its small population, St. Florent allows you to truly immerse yourself in Corsica's culture.
Its beautiful harbor is the main attraction. Take a stroll along the seafront or sit and sip a drink in one of the beautiful cafés, while watching the fishing boats bob up and down in the water, as the locals go about their daily business.
Elsewhere in the town, a small fort, a 12th-century cathedral, and a 15th-century citadel give you plenty of historic locations to explore and enjoy the architecture of. This all makes St. Florent an ideal choice for anyone wanting to get a truly authentic Corsican experience.
Other sights in these areas are Nebbio Cathedral, Martello Tower, Plage de Saleccia, Plage de la Roya, and Plage du Loto.
Stay in St. Florent if you prefer to stay in a small town with a quiet, traditional atmosphere, you want to see some historic attractions.
Best places to stay in Corsica in St. Florent:
Demeure Loredana This 5-star hotel is situated in the Gulf of Saint-Florent. It offers en suite accommodation and free parking. It is also easy to access many of Corsica's beaches such as Lotu and Saleccia and the nearby Saint Florent port. It has an outdoor and indoor swimming pool.
Appart Bleu Azur This apartment offers self-catering accommodation in Saint-Florent. This seafront property is located just 40 m from Plage de Galets and 800 m from Saint-Florent Marina. it has a terrace, air conditioning, a flat-screen TV and an equipped kitchen, a bathroom with a shower and a hairdryer, bed linen, and towels.
🔍MORE HOTELS IN ST. FLORENT
Read Also:
7. Ajaccio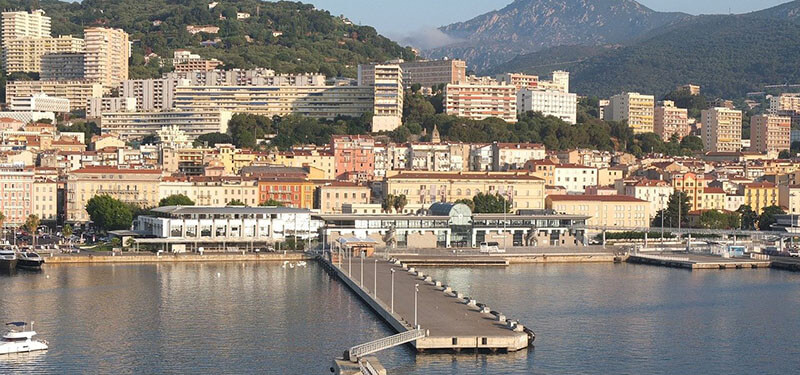 Ajaccio is the capital and largest city of the island and it is famous as the birthplace of Napoleon Bonaparte. Located on the west coast, Ajaccio has its own airport and it is a good base to explore the Valinco Gulf.
Ajaccio has the numerous of historical and cultural attractions, as well as good range of tourist amenities including hotels, restaurants, bars, and shops. You can stroll along atmospheric streets of old town and explore its famous sights.
Visit the Museum of Corsica (Museo Fesch) to learn about Napoleon. The Musée National de la Maison Bonaparte is also well worth a visit. It is the ancestral home of the Bonaparte family and it is a museum open to the public today.
The Old Town is packed with painted houses, narrow streets, cafes and shops. Here stands some sights such as Cathedral of Ajaccio, Church of Saint-Rock, the Imperial Chapel, Rue Cardinal Fesch, and Place Marechal Foch.
If you head to the harbour in Ajaccio, you can stroll along its palm tree lined promenade. The port is where ferries and private yachts moored. Grab a fresh eafood or pizzas for a meal, and enjoy the views of the ocean and harbor.
You can experience local daily life at the main market, Le grand marché, in Place Foch. It's open almost every morning except some certain time of the year. check before you go!
You can also take a boat trip to small island located off the peninsula to the west of Ajaccio, Iles Sanguinaires. The island at its best at sunset. There is also day trip to Olmeto, which is a beautiful moutain nearby.
There are numerous of beaches nearby including Cupabia Beach, Marinella, Isolella, Golfe de Lava, Liscia, and Tiuccia. They are all beautiful sandy beaches with crystal blue water.
The Taravo and Prunelli rivers offer amazing nature in the valleys. You will find scenic waterfalls and wondrous mountain views.The area is less popular than other sections of the island. Both valleys have mountains that reach over 1200 meters in altitude. Where the rivers reach the sea, you will find beautiful beaches. There are lively markets held in the old town.
No need to worry about accommodation in this region as there is plenty of it, ranging from luxury villas, hotels, and pensions, to budget bed and breakfast and camping.
Best places to stay in Corsica in Ajaccio:
🔍MORE HOTELS IN AJACCIO
8. Propriano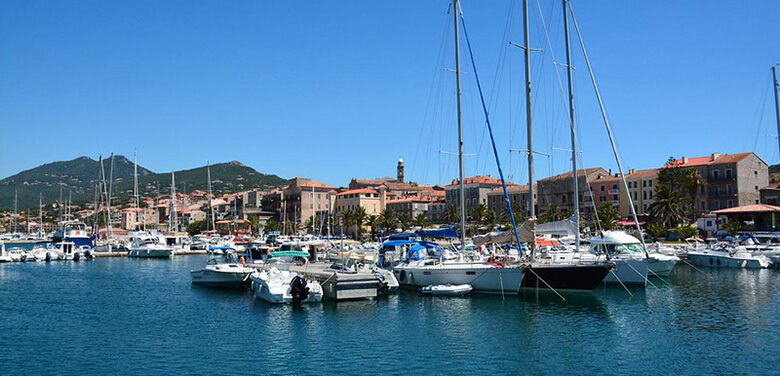 Propriano is located towards the southwest of the island, in Valinco Bay. The area is one of the most stunning beach areas in all of Corsica, with golden beaches and turquoise waters surrounded by rocks and tropical vegetation.
The most beautiful beaches of Propriano are Taravo Beach, Baracci Beach, Capu Laurozu Beach, Portigliolo Beach, Campomoro Beach, Tizzano Beach, Porto Pollo Beach, Propriano Beach.
The town itself is a popular resort but still retains an authentic feel. This means you will have plenty of amenities like cafes, bars, and restaurants, but they all offer a local, traditional experience. Most of these are centered around the beautiful port, where all manner of boats, big and small, sit moored in the water for you to see.
For those who want to get even more culture, there is also a beautiful church, the Notre Dame De La Misericorde. This allows you to take in some of the oldest architecture in the area and learn a little bit about the religious history of Corsica.
Don't miss out on Campomoro village, Sartene village – famous for its local wines, and the charming archaeological site of Filitosa.
Stay in Propriano if you want to spend time at one of Corsica's most fabulous beaches, you want a tourist town with an authentic feel, you enjoy beautiful ports and churches.
Best places to stay in Corsica in Propriano:
Miramar Corsica is located near Propriano Harbour and a 4-minute walk from the beach. The hotel offers panoramic views of the Valinco Gulf, a heated swimming pool, a games room, and a fitness room, as well as a sauna and a spa.
Casa Mare E Vista Set in Propriano, within 1.4 km of Sampiero and 1.5 km of Propriano Port, Casa Mare E Vista offers accommodation with a seasonal outdoor swimming pool and free WiFi throughout the property as well as free private parking for guests who has travel with a car. Guests can use the hot tub or enjoy sea views.
Résidence & Hôtel Aria Marina Located in Propriano, 1.5 km from the beach, this residence boasts a panoramic view of the Gulf of Valinco and features a terrace with a swimming pool.
🔍MORE HOTELS IN PROPRIANO
9. Corte/ Central Corsica
The central area of the island is divided into four sections:
Le Niolu which is a high plateau. Here you will find the highest peaks in the country such as monte Cinto. This is also home to the highest villages on the island.
Le Bozio where you can visit Castagniccia.
L'Ascu which is an area rich in rivers and streams. You will find many natural outdoor pools in the wildlife reserve.
Le Venacais which is a rural forest area. Here you can see the famous forests of Noceta/Rospigliani and Vizzanova.
Be sure to visit the Citadel (built in 1420), the Annonciade Church (1450), and the Santa Mariona Di Talcini Pieve which was built between the 12th and 13th centuries.
Attractions in Corte including the Arch of Corte, the Musee de la Corse, Restonica Trail, Belvedere Point Panoramique, Bouches de Bonifacio, the Eglise de l'Annonciation, and the Chapel of Sainte Croix.
There is a wide selection of accommodation available from apartments and hotels to character properties and hideaway retreats.
Stay in Central Corsica if you are interested in history; you enjoy exploring places like old churches; you want to see the National Palace; you like visiting museums; your family likes to learn about history; you and your partner enjoy tranquillity.
Best places to stay in Corsica in Corte:
Maison San Giovanni Located in Corte in the Corsica Region, 15 km from Lake Melo, Maison San Giovanni features a sun terrace and views of the mountain. Guests can enjoy the on-site bar.
L'Albadu Situated in Corte and surrounded by the mountains,You can go swimming in Restonica Gorges, which are 2 km away. The Corsica Museum is 2 km away. You can have horse rides in the surroundings or do tree climbing in Vizzavona, 35 km from L'Albadu. Corte Train Station is 2 km away and Poretta Bastia Airport is 50 km away.
U Passa Tempu Centrally located in Corte, U Passa Tempu is just 7 km away from the Restonica Valley and its Tavignano gorges, its lakes, its natural swimming-pools and hiking trails. it is close to the museum of Corsica and citadel.
🔍MORE HOTELS IN CORTES
Check out my virtual tour about the best places to stay in Corsica in this video:
10. West Coast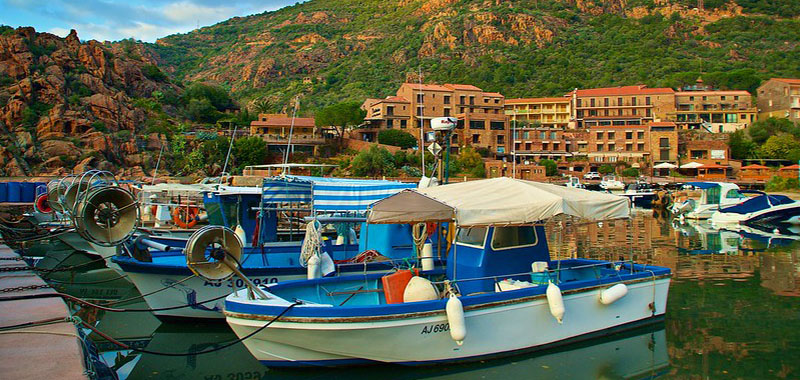 If you enjoy rugged scenery and amazing landscapes then consider the West Coast of Corsica. You will find rock formations that look like they were created by aliens, so weird and wonderful are they!
There are several places to camp here, along with resorts and hotels to suit all budgets.
Gulf of Porto Corsica, in Central West coast of Corsica, is a Unesco Heritage site, has 2 highlight attractions are:
The Calanques de Piana– high cliffs in a hard pink stone.
The Scandola Nature Reserve – a 250million years old Caldera.
the Gulf of Girolata with its isolated village, located facing red granite cliffs, only reachable on foot or by boat.
You can also relax at the beaches around are Porto Ota beach, Arone Beach, Gradelle Beach, Bussaglia Beach or have a road trip to Evisa Village or visit Spelunca Gorges.
Stay around the Gulf of Porto including Piana, Cargèse, Porto Ota. Porto Ota is in the heart of the Gulf, offers a marina, a beach, hotels, and restaurants, and be sure to check out 17th century Genoese Tower. Piana
Stay in Gulf of Porto if You want to see amazing sunsets; Beautiful blue seas; Idyllic seaside resorts; The Gulf of Porto which is one of the most famous landscapes in Corsica; You take photographs or sketch; You enjoy secluded coves; You prefer crystal clear water; You are interested in the archaeological area of Filisota; You are interested in learning about Napoleon
Best places to stay in Corsica around the Gulf of Porto:
Les Flots Bleus is a hotel set on the seafront in Porto Ota. The area is popular for snorkeling. The Creeks of Piana are 7 km away.
Hôtel Capo Rosso is located in Piana, just 8 km from the beach and 11 km from Porto. It offers a heated outdoor swimming pool and a restaurant with panoramic views of Scandola Gulf.
Domaine de Saint Pierre is located in Cargèse and features a garden. Guests can enjoy access to a large outdoor swimming pool. Each accommodation comes with a terrace and sea view. Ajaccio is 50 km from Domaine de Saint Pierre, while Calvi is 100 km away.
🔍MORE HOTELS IN PIANA
11. The East Coast
The East Coast of Corsica consists of one long sandy coastline which runs from southern Bastia to northern Porto Vecchio. You will find mainly small villages dotted along the way as there is no major seaside resort on this side of the island.
The East Coast is divided into three main sections, namely Costa Verde, Costa Serena, and Côte des Nacres.
There are only two seaside resorts here, namely Solenzara and Moriani-Plage, but if you enjoy the nightlife, then this will be ideal for you.
The coastline is unspoiled, and you will notice more solitude once you are away from the resorts. This area also tends to be less populated than other areas, so if taking the 'road less travelled' appeals to you, then think about this area.
You'll find plenty of smaller hotels here, along with bed and breakfasts, and camping.
This area is the best place to stay in Corsica if you like lively seaside resorts; you like unspoiled coastlines; you prefer your beaches not to be monitored; you holiday with your family – this is a great family location; you prefer calmer seas – it is calmer here that the West Coast; Secluded coves suit you.
Best places to stay in Solenzara and Moriani-Plage:
L'Appart de Case Vanille Situated in Sari Solenzara, within 800 m of Port de Solenzara, L'Appart de Case Vanille offers accommodation with free WiFi, air conditioning and a seasonal outdoor swimming pool. This apartment features a private pool, a garden and free private parking.
Casa e Natura Situated in Moriani Plage, 1.5 km from Plage de Poggiole, Casa e Natura features accommodation with free WiFi, air conditioning and access to a garden with an outdoor swimming pool.
🔍MORE HOTELS IN SOLENZARA
See more:
In conclusion, Porto-Vecchio, Bonifacio, Propriano, Ajaccio, Corte, Bastia, Calvi, St. Florent are some of the best places to stay in Corisca for tourists and first-time travelers. They offer plenty of things to do and see for families with kids and couples of all ages, both young and old.
Where to stay in Corsica North or South is really depend on your preferences. South Corsica is the best base for travelers seeking a beach holiday and tourist oriented region. North Corsica is the best location for nature lovers, hikers, or and travelwe who want a less touristy.
If you have time, you can combine both northern and southern Corsica in one trip. I recommend to spend at least 7 days on the island which will allow you explore both northern and southern region including Calvi, Corte, Ajaccio, Bonifacio, Porto Vecchio, and Bastia.