Where to Stay in Cape Town: 10 Best Areas
If you're wondering where to stay in Cape Town, you're in the right place. In this article, I will give an insight into the best areas to stay in Cape Town for all budget travelers; read on as I show you the best of Cape Town.
Cape Town is a sprawling coastal city at the southwestern tip of South Africa. The capital's main hub is centred around the large port in the Victoria and Albert Waterfront but, over time, the city has expanded to include the entirety of its peninsula and much of the nearby coast and farmland.
Covering such a large area, Cape Town offers a particularly vast array of attractions for a variety of visitors. From the modern convenience of the city centre, and the luxury of vineyard tours and beach resorts, to the lush hiking trails of the surrounding mountains and unique wildlife of the coast, Cape Town has something for everyone.
It's easy to see why Cape Town was crowned the 'Best Place in the World to Visit' by both The New York Times and The Daily Telegraph in 2014.
See more: Where to Stay in Durban South Africa
Being that Cape Town covers such a large area and consists of so many different districts, it may seem overwhelming trying to decide where you should stay. However, most neighborhoods have their own distinct attractions so, as long as you know what you most want to see and do in Cape Town, narrowing it down doesn't need to be so difficult.
Are you traveling with a baby or young children? Then you will appreciate the convenience of Cape Town City Centre, or the greener adjacent neighborhood of Green Point.
The City Centre and surrounding neighborhoods are also best for anyone not intending to hire a car, with all the major conveniences in close proximity.
If surfing and water sports are what you are looking for, then try either Muizenberg or Sunset Beach.
For hiking, Camps Bay and Newlands will have you right up against Table Mountain National Park and all the hiking trails cutting through it.
Perhaps browsing vineyards and sampling South Africa's delicious wines is something you would be interested in? In which case you should consider Constantia or Bellville.
Or maybe you want to visit the prison, now a museum, where Nelson Mandela was incarcerated? It is best reached from the port in the Victoria and Albert Waterfront.
>> 🔍CHECK BEST HOTEL DEALS IN CAPE TOWN <<
📌10 Best Areas to Stay in Cape Town
If you're still undecided on where you want to stay, I have selected ten of the best areas of Cape Town that I think have the most to offer to visitors. By providing helpful summaries of what each district has to offer, I hope to help you find the perfect place to spend your time in Cape Town.
Best Areas to Stay in Cape Town Map
To see more detail of where to stay in cape town map, go to google map;
1. Cape Town City Centre, where to stay for first time travelers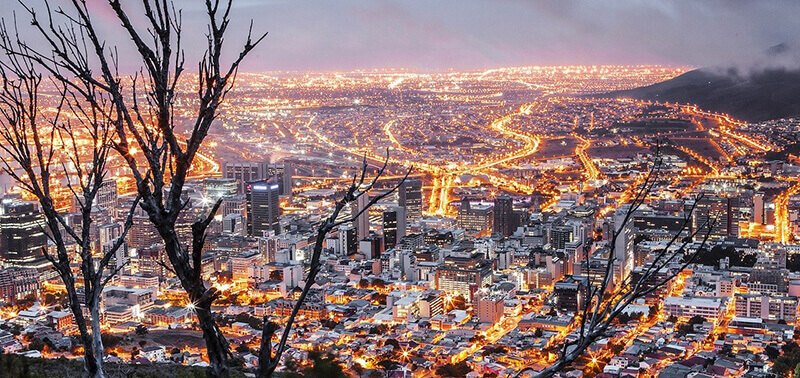 Cape Town City Centre is the primary hub of business, commerce, and tourism. Bursting with shops, restaurants, bars, as well as tour companies and attractions, there is plenty to keep everyone entertained.
There are many fascinating museums in the area, catering to a range of interests. The Iziko South African Museum caters to a broad range of visitors, with exhibits on natural history and science. Other museums focus on more niche, specialist interests, such as the South African Jewish Museum or the District Six Apartheid Museum.
In the evening you can head out to one of the many bars and restaurants that line every street. The variety of restaurants and cuisines on offer here is vast, with something sure to appeal to all tastes. This is ideal if traveling with family or larger groups with picky eaters.
For more active nightlife, particularly clubs, head to Long Street, well known as a hub of tourist friends late night entertainment.
If the attractions available in the City Centre itself are not enough to keep you busy, you will be just a short distance from the Victoria and Albert Waterfront, with its ferries across to Robben Island. Or spend a day exploring Signal Hill and its stunning views across the city and out over the bay.
With all the typical tourist facilities packed into such a small area, the City Centre is ideal both for anyone on a shorter trip, who doesn't have time to waste traveling between attractions, and anyone traveling with babies and young children.
Stay in Cape Town City Centre if you want a central location with easy access to multiple attractions, you want somewhere particularly convenient, with all the facilities you could need nearby, you are traveling with a baby, you are planning a shorter stay, you are interested in museums.
🔍FIND BEST HOTELS IN CAPE TOWN CITY CENTRE
2. Victoria and Alfred Waterfront and De Waterkant

The Victoria and Alfred Waterfront is a resort and commercial complex surrounding the working city port. With plenty of bars, restaurants and beautiful views overlooking the active harbour, this is a wonderful place to stay and spend your time sipping drinks by the water.
The main commercial hub of the area is the V&A Shopping Centre on the west prong of the port. The complex houses over 400 contemporary shops, restaurants, and cafes.
On the east side of the port are several art galleries and museums. From here you can take a ferry to nearby Robben Island and the prison that once held Nelson Mandela. The prison has since been converted into a museum with guided tours of the cells.
Other notable attractions in the area include the Cape Wheel, a ferris wheel with views over the bay, and the Two Oceans Aquarium.
Between the Waterfront and Signal Hill lies the chic neighborhood of De Waterkant. The neighborhood has been nicknamed the Pink District, due to its colourful houses and LGBT friendly community.
Here you will find a host of trendier restaurants and cafes, along with a number of independent commercial galleries. The bars and clubs in the area provide an entertaining nightlife atmosphere away from the tourist heavy City Centre, but close enough to comfortably move between scenes on a night out.
For a more chic shopping experience, head to the Cape Quarter Lifestyle Village, a square shopping district packed with independent boutiques and gift shops, surrounding a central courtyard lined with cafes.
Stay in Victoria and Alfred Waterfront and De Waterkant if Visiting Robben Island is a priority; You would like to stay somewhere with views over the port and Table Bay; Shopping is a key part of your trip; You are looking for LGBT friendly nightlife.
🔍FIND BEST HOTELS IN VICTORIA AND ALBERT WATERFRONT
3. Green Point, open spaces, relaxed commercial streets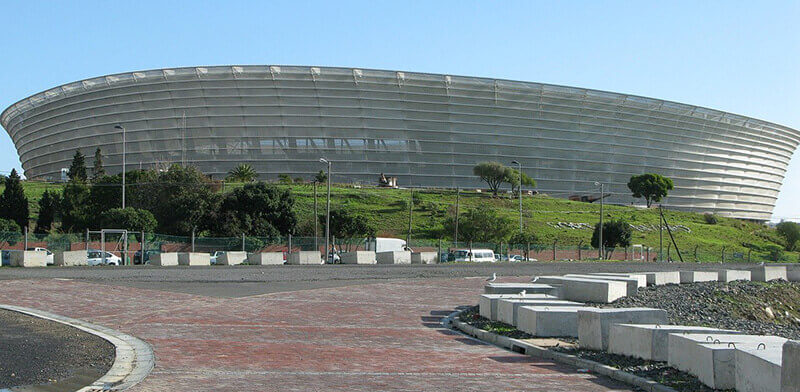 Green Point is a verdant, relaxed district, directly west of the port. Full of open spaces, relaxed commercial streets, and tucked between Mouille Point Beach and Signal Hill, Green Point is a more laid-back neighborhood, just a stone's throw from the city centre.
One of the biggest features of the area is sprawling Green Point Park, home to the Cape Town Stadium. Built for the 2010 FIFA World Cup, the stadium is now the home-grounds of both the Ajax Cape Town and Cape Town City football clubs.
The stadium hosts various sports aside from just football, such as rugby and tennis. Additionally, major music events take place here too, with the stadium hosting big names such as Ed Sheeran, Rihanna, and The Foo Fighters.
The park itself is well worth visiting for a relaxing afternoon. Aside from a large golf course which takes up much of the centre, the park offers sports facilities, play areas, a biodiversity garden, and beautiful lakes.
With its wide-open areas of parkland and green space, Green Point is a perfect place to stay if you are traveling with family, particularly young children. There are also several smaller parks and play areas along Mouille Point beach.
Away from the park, into the tree lined residential and commercial streets, you can find the main hub of Cape Town's LGBT community. By day, the area is full of trendy bars and artsy boutiques, and by sundown the streets come alive with a vibrant nightlife that links up with that of neighbouring De Waterkant.
Stay in Green Point if you are attending an event at Cape Town Stadium, you are traveling with family or young children, you are part of the LGBT community.
4. Camps Bay, where to stay in Cape Town with family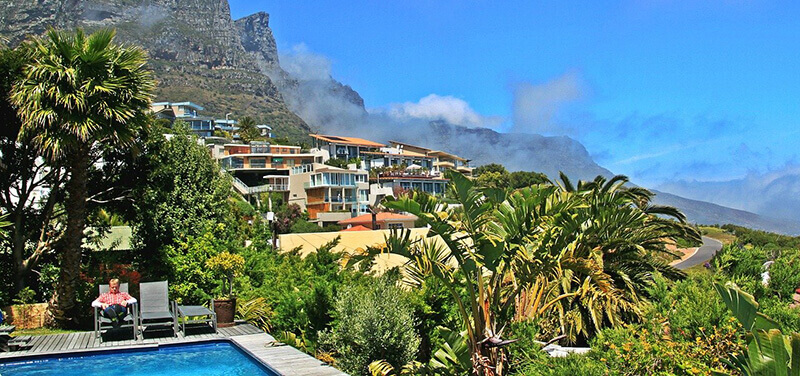 Camps Bay is an upmarket suburb and beach resort on Cape Town's western coastline, known for its upscale dining options and boutiques. Signal Hill and Table Mountain sit between the bay and the city, offering a sense of rural seclusion, despite the major road that cuts directly through them to the City Centre. You can enjoy the beautiful scenic atmosphere whilst never being more than a short journey from the convenience and attractions of the bustling heart of Cape Town.
The area is a perfect balance of adventurous activities and refined entertainment, making it a perfect destination for families and mixed groups. Camps Bay Beach is a beautiful length of soft white sand perfect for a day spent relaxing and swimming, surrounded by bars and cafes to keep you refreshed. Meanwhile Glen beach, directly to the north, is popular with surfers.
Bordered to the north by Signal Hill and to the east by Table Mountain, Camps Bay is a popular destination for hikers. The trails leading into the national parks are perfect for visitors of all ages to work off some energy. There are not many amenities along the route though, so make sure to pack refreshments before you head out.
For less physical entertainment, the Theatre on the Bay, near to the south end of Camps Bay Beach, produces a variety of performances, from traditional plays and musicals to comedy nights and cabaret. It is a popular venue with tourists and locals alike, so be sure to check the show times and book tickets in advance for shows you don't want to miss.
Stay in Camps Bay if you enjoy hiking and want to explore the trails of Table Mountain, you are traveling with family, you want both beautiful beaches and the convenience of being near the city centre.
🔍FIND BEST HOTELS IN CAMPS BAY
5. Constantia, where to stay in Cape Town for South African wine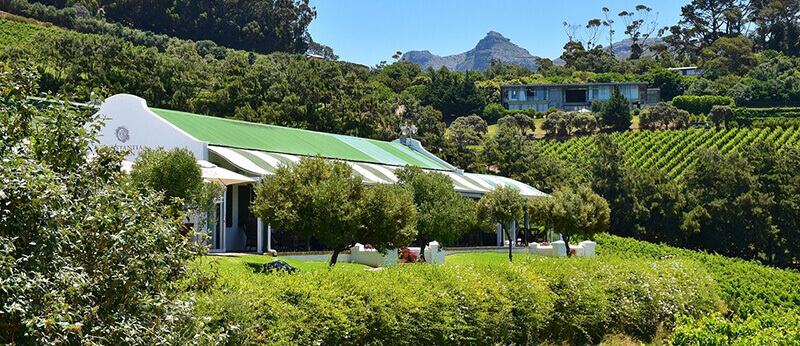 Constantia is a sprawling suburb south of Table Mountain, known for being the primary wine producing region of the city. If you love wine, this is definitely a neighborhood you should consider. With everything from vineyards to tour and barrel fresh wines to taste, to museums dedicated to the history of wine production, there is plenty to keep any wine aficionados entertained.
Most of the vineyards are concentrated in the south end of the district. Being fairly close together, you can easily hop between them, particularly if you are short on time, visiting several in a single day. In fact, several companies offer tours that stop at multiple wineries on their routes. That said, if you are staying for a longer visit, it is definitely worth taking a longer stop at each farm, to really relax and appreciate the experience.
If you want to take a break from wineries, the area is bordered on its west side by mountains, and several hiking trails lead out of the neighborhood and into the national park. The trails here are less extensive than in other areas, so I wouldn't suggest Constantia if hiking is your primary goal. For casual ramblers however, you have the basis for a lovely afternoon trek and some beautiful views.
Alternatively, if your feet are tired from wandering around vineyards, you can explore the mountains, valleys, and even some of the vineyards on horseback. Tour companies offer guided horse treks through the gorgeous scenery, so you won't need to worry about getting lost.
Stay in Constantia if you want to try South African wine from the source, a vacation spent tasting and learning about wine sounds idyllic, you are looking for a quieter vacation in a greener suburb, you would be interested in hiking and exploring the surrounding national parks, but it isn't your main priority.
🔍FIND BEST HOTELS IN CONSTANTIA
6. Muizenberg, best area for surfing in Cape Town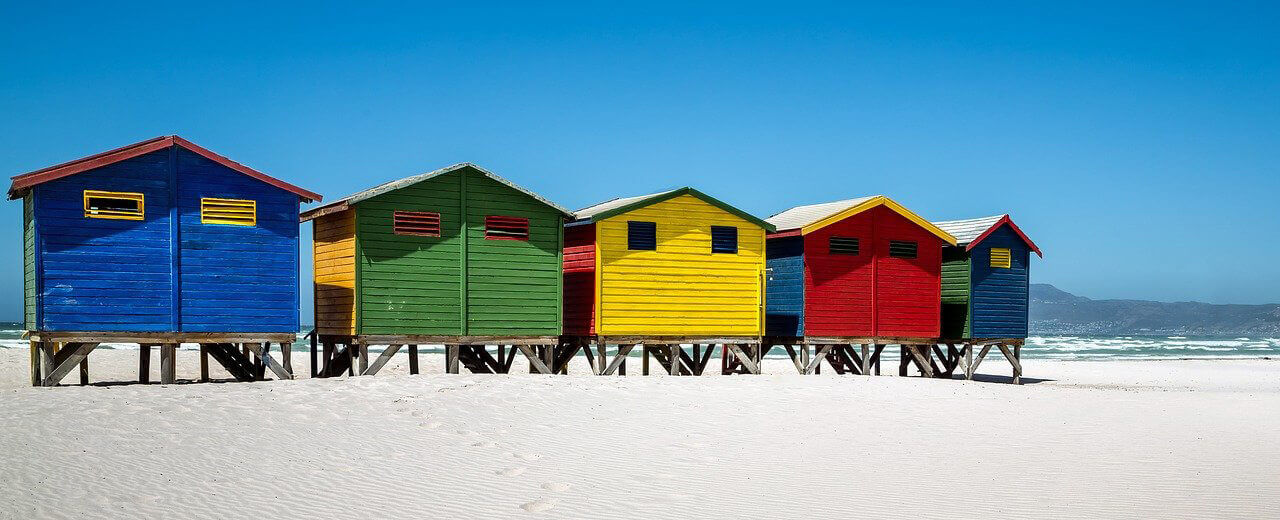 A beach resort in the south of Cape Town on False Bay, Muizenberg is an exceedingly popular destination for surfers. The permanent residential surfer community that calls Muizenberg home brings with them a host of surf shops and related facilities. Whether you are a seasoned surfer looking for board maintenance or a newbie wanting to take lessons, you can find what you need in Muizenberg.
Surfing is far from the only water sport on offer here though, with the area also being popular with wind surfers, paddle boarders, and blokarting.
As is true of many popular surfing resorts, the oceans here do have their populations of sharks. Watchtowers and observation decks along the beaches provide a reliable warning system for when sharks are spotted coming closer to bathers and surfers. Meanwhile, it also offers an excellent opportunity for anyone wanting to go shark-spotting, or even potentially, diving with sharks.
As you may expect from a laid-back beach resort with a large surfer community, there is a distinct crafty, hippy quality to the shopping scene here. Small artisan galleries and craft shops line the streets selling quirky handmade goods. Many of these artsy shops also host events, such as film screenings, live music, and exhibitions by small artists.
If you want to spend a day relaxing by the beach without the crowds of surfers there are also quieter beaches nearby. Sunrise Beach to the east is a vast expanse of soft sand with fewer crowds, whilst St James Beach in the west is popular with families and lined with the area's signature colourful huts.
To the west is the Muizenberg Mountain and the Silver Mine Nature Reserve. Plenty of hiking trails lead up into the park from Muizenberg so, if you get tired of surfing, you can easily spend an afternoon exploring on land instead.
Stay in Muizenberg if You are an avid surfer; Beaches and water sports are a key part of your vacation; You want to hike and explore Muizenberg Mountain and Silver Mine Nature Reserve.
7. Sunset Beach, best place for beautiful beaches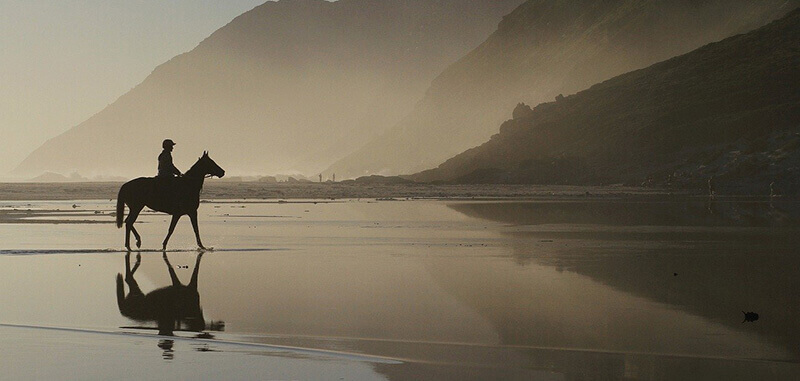 Sunset Beach is an upmarket beach resort in the north of Cape Town. As the name suggests, being situated on South Africa's west coast means this beach is privy to some spectacular sunsets over the ocean. The beautiful white sand beach is popular with both sunbathers and surfers. In early autumn, the area is also popular with whale-spotters, as local whale populations draw nearer to the coastline to calf.
The area is one of the more affluent districts of Cape Town, with mansions and boutique hotels overlooking much of the waterfront. That said, there are still plenty of quality accommodation options for smaller budgets.
The town itself is populated with fine dining establishments and trendy bars. Boutique shops and contemporary shopping centres complete the luxury lifestyle on offer here.
To the east of the resort is the sprawling Table Bay Nature Reserve. The park provides a safe haven for a number of endangered species and habitats. The park is open for daily visitors, requiring a small fee to enter, which goes towards maintenance and conservation. You could easily spend days exploring the various environments and ecosystems, keeping watch for the many resident exotic species.
Stay in Sunset Beach if Beautiful beaches are a priority; You love wildlife and want to explore the nature reserve; The opportunity to go whale spotting sounds lovely.
8. Simons Town, good spot to see penguins
Simons Town is located in the south of Cape Town, on the western side of False Bay. Whilst home to South Africa's largest naval base, the real draw to the area are the beaches, with their colonies of adorable penguins.
The endangered African Penguins were introduced to the area in the 1980's and have since grown their colony to around 3,000, a far cry from the two mating pairs that founded it. It is possible to swim from the beaches but, due to the protected status of the penguins, there are restrictions in place.
The two main beaches in Simons Town for penguin watching are Boulders Beach and Foxy Beach. Boulders Beach is the most famous, and home to the majority of the penguin colony. Despite this, Foxy Beach actually has better viewing facilities. A network of duckboards has recently been erected, which allows visitors to walk within feet of the birds.
Whilst the historic town is very pretty, there isn't a ton to do here aside from visiting the penguins. There are a couple of museums and some lovely restaurants, serving freshly caught seafood, that can fill out a couple of days, but this is an area that really suits a shorter stay.
Stay in Simons Town if you want to get up close and personal with some penguins, you want a beach resort away from the crowds and pollution of the city centre, you are planning a shorter break or a tour with short stops in various spots.
🔍FIND BEST HOTELS IN SIMONS TOWN
9. Bellville, an upmarket neighborhood in Cape Town
Some way east of the City Centre is the district of Bellville. An upmarket neighborhood, the area is particularly well equipped to cater to visitors seeking a more indulgent vacation. From fine dining to high-end, boutique shopping, Bellville presents only the best of what Cape Town has to offer.
Bordered in the north by the Durbanville wine valley, Bellville is an excellent option for anyone looking to explore South Africa's vineyards and sample wines from the source. Tours and wine tastings are available from most of the wineries.
There are plentiful opportunities to shop in Bellville, with a number of modern shopping centres packed with contemporary stores, along with more traditional highstreets filled with boutiques and shops selling traditional African goods.
For anyone traveling with family, there is plenty to keep visitors of all ages entertained. The Ratanga Junction Theme Park and Cool Runnings Toboggan Track make for a great day out for youngsters.
The surrounding mountains and farmlands make for excellent hiking trails, suitable for all abilities. The Tygerberg Nature reserve to the west makes a particularly beautiful spot for the whole family to spend an afternoon walking around in and appreciating the wonderful scenery and diverse wildlife.
Stay in Bellville if You are planning a more luxury vacation; You want to tour vineyards and sample South African wines; A range of shopping facilities is important; You are a fan of hiking in beautiful location;
🔍FIND BEST HOTELS IN BELLVILLE
10. Newlands, good base for hiking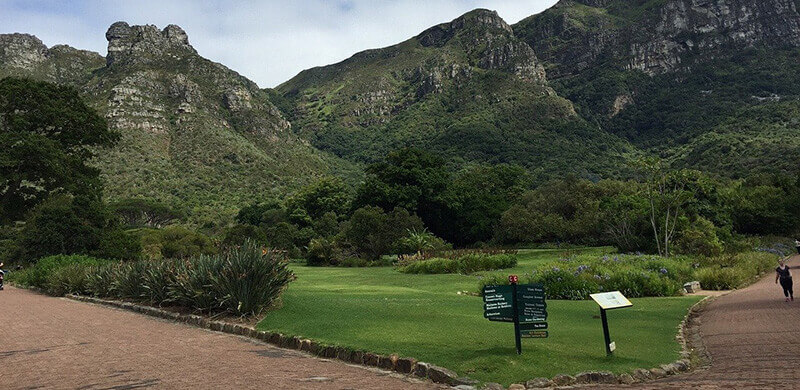 Our final location of Newlands is an inland suburb, pressed up against the eastern side of Table Mountain National Park. This is an ideal neighborhood to stay in if you want to spend your vacation hiking and exploring the mountain, with tons of trails leading up from the suburb.
Somewhat removed from the hustle of the city centre or the tourist bustle of coastal resorts, Newlands is a quieter neighborhood, with more niche appeals.
There is a particularly high concentration of trails behind and around the Kirstenbosch National Botanical Garden. The trails lead through a number of the garden exhibitions before heading up into the mountain.
One particularly interesting path is the Boomslang Canopy Trail, which allows visitors to walk up above the branches of the surrounding forest, offering a unique view of the park and gardens.
In addition to cultivating and displaying exotic plants, the Kirstenbosch also hosts live music events throughout the summer from its open-air stage. Meanwhile, the Galileo Open Air Cinema hosts viewings of big-title films, from golden age classics to modern blockbusters, in the beautiful surroundings of the gardens.
The area has a long history as a hub for beer breweries, with South Africa's first licensed brewery established here in the 17th century. A number of breweries still remain, particularly around the Liesbeek River, which has historically supplied them with water. Several breweries offer tours and beer tastings.
To the north of the district are the Newlands Cricket Ground and Newlands Rugby Stadium, both of which regularly host international events.
Stay in Newlands if You want to hike and explore the local mountains; You love nature and are interested in visiting the Kirstenbosch National Botanical Garden; Brewery tours and beer tastings sound like fun; You don't care about beaches; You are here for a cricket or rugby event.
Best Places to Stay in Cape Town on a Budget?
If you are trying to keep costs down during your trip of Cape Town, you are going to want a location that has plenty to do and see nearby, to minimise travel expenses. This makes the City Centre and its surrounding neighborhoods ideal. Major attractions, such as Robben Island, Table Mountain, and several museums, are all nearby, along with plenty of shopping and hospitality options.
Whilst you may expect the City Centre to be expensive, there are plenty of quality, affordable hotels in the area.
Cape Town Lodge Hotel Situated in the city centre of Cape Town, Cape Town Lodge Hotel offers a deck with a rooftop pool, bar, and fitness center. Table Mountain and the popular V&A Waterfront are both within 5 km.
Best Places to Stay in Cape Town for Self-Catering?
Self-catering apartments are an ideal option if you want to take advantage of the vibrant culinary culture of South Africa and the many food markets in cape town.
The 'fabulous' Lawhill Luxury Apartments in the Victoria and Albert Waterfront are in an excellent location overlooking the port and Table Bay. You will be just within walking distance from several local food markets, perfect for picking up local ingredients to cook in the privacy of your apartment.
Alternatively, the Urban Oasis at The Square hotel is located in the heart of the City Centre. The apartments are fully equipped for preparing meals but are also surrounded by a variety of dining options, for those days when you would rather have someone else do the cooking.
Where To Stay In Cape Town In A Bed And Breakfast?
If you are specifically looking to stay in Bed and Breakfast accommodation during your stay in Cape Town, you will be spoilt for choice. Whilst you can find them across most of the major resorts, the highest density is in the City Centre.
La Rose is a quirky boutique Bed and Breakfast, situated just minutes from the Victoria and Albert Waterfront. It is centrally located close to Table Mountain, and within walking distance from the V&A Waterfront, city centre, CTICC and trendy restaurants.
Meanwhile, the 'exceptional' Dolphin Inn Guesthouse is set right up against the water in Green Point and offers stunning views across Table Bay. Just minutes from the city centre and many major attractions, the contemporary rooms all come with an En Suite, toiletries, flat screen tv, and minibar.
Where To Stay For A 2 Night Stay In Cape Town?
For shorter stays in Cape Town, you should definitely consider the City Centre. With so many attractions and conveniences on your doorstep or just a short walk away, you won't have to waste time traveling between locations. The port, mountains, museums, and hospitality are all within a few minutes of each other.
The Grand Daddy is a 'fabulous' hotel in the heart of the City Centre and just a 15-minute walk from the Victoria and Albert Waterfront. Stylish and comfortable, with breakfast and a rooftop bar, The Grand Daddy is an excellent choice for a weekend break.
Where To Stay In Cape Town For Safety?
Like most cities, Cape Town neighborhoods vary as far as their crime rates go. Generally speaking, the more affluent districts, particularly those close to the City Centre, are considerably safer than the suburbs on the inland borders of the city.
Waterfront resorts, such as Camps Bay and Green Point, are popular, upmarket neighborhoods, with low crime rates and plenty to see and do. Green Point, and the nearby Victoria and Albert Waterfront, are also the hubs of Cape Town's LGBT communities, so are particularly attractive to those who may have safety concerns related to their personal identities.
Of course, regardless of where you stay, it pays to stay alert and practice good personal safety habits.
Places To Stay In Cape Town Near The Beach?
As a coastal city, there are plenty of options as far as places to stay near the beach. Which one to choose all depends on what your perfect beach retreat involves.
For a relaxing vacation lazing on the sand, Sunset Beach, in the north of the city, is beautiful. An expanse of soft white sand, with views across the water to Robben Island, this beach is the perfect place to kick back and relax.
If you love surfing then you will inarguably want to head for the surfing capital of Cape Town, Muizenburg. Home to a permanent surfing community, you will have all the facilities you need.
Where To Stay In Cape Town With A Baby?
If you are visiting Cape Town with a baby in tow, you will benefit from the convenience of staying in the City Centre. The area is a condensed hub of popular attractions, easily accessible from one another with minimal travel and fuss.
Meanwhile, facilities for all of you and your baby's potential needs will always be nearby. Many hotels also offer airport shuttles, so you won't need to worry about keeping your infant soothed as you navigate public transport.
The Onyx Apartment Hotel features a "wonderful" rating on booking.com and offers stunning rooms at the heart of the city, located just minutes from the beautiful waterfront. The hotel restaurant serves breakfast, lunch, and dinner, whilst the onsite deli provides the means for families to prepare dinner in the convenience of their own room. Cribs for young children are available on request.
Cape Town is an expansive city with tons to offer. Whatever you are looking for from your South African adventure, you are sure to find a neighborhood in Cape Town that delivers. The South African capital is waiting to give you your dream vacation, you just have to decide on your perfect location.