Where to stay in Cali, Colombia? In this post, we will be looking at the best areas to stay in Cali for tourits (include map), best hotels for all budget travelers, and the safest places to stay in Cali.
Santiago de Cali, also known by tourists as simply Cali, is Colombia's third-largest city and the only one which is on the Pacific Coast. Cali is the Rumba Capital or Salsa Capital of the world. You will find more salsa clubs, more salsa schools, more salsa competitions in Cali than anywhere else.
Cali is the only city in Colombia to have hosted the Pan American Games. The ninth event of the World Games was held here in 1992, with the Track Cycling World Championships held there in 2014. Cali also played host to the World Youth Championships in Athletics in 2015 and is going to be the first to host the Junior Pan American Games in 2021.
Where to stay in Cali first time?
The best areas to stay in Cali are El Peñón, Centro, San Fernando, Sant Antonio, and Versalles/Granada/Juanambú. Each neighborhood has its own unique charm, so pick the one that aligns with your travel style and desired experiences.
El Peñón, San Antonio, and San Cayetano are the overall best places for first-time visitors. They offer a range of accommodations for all budgets. They are also relatively safe areas for tourists, with a variety of attractions, dining options, and cultural experiences within walking distance.
Some of the safest areas to stay in Cali for tourists are Granada, San Antonio, and El Peñón. While these neighborhoods are generally considered safer, it's still important to avoid walking alone late at night, stay aware of your surroundings, and use reliable transportation options.
Probably the safest place to stay in Cali is El Peñón. There are plenty of policemen patrolling the area at night. It's a safe to walk along the river and stop at a café for a bite to eat. But as in any big city, you should take some common sense precautions and be aware of surrouding.
Granada is a popular neighborhood, located in the north of the city, known for its upscale restaurants, cafes, and bars. It is often frequented by tourists and locals alike, and it has a relatively low crime rate compared to other areas.
San Antonio is a historic neighborhood, located in the city center and is known for its colonial architecture, art galleries, and restaurants. It is generally safe during the day, but it's recommended to take precautions at night.
El Peñón is a trendy and upscale area, located near the Cali River, with luxury hotels, restaurants, and bars. It's popular among tourists and has a relatively low crime rate.
Map of areas and neighborhoods in Cali:
5 Best areas to stay in Cali for tourists are:
1. El Peñón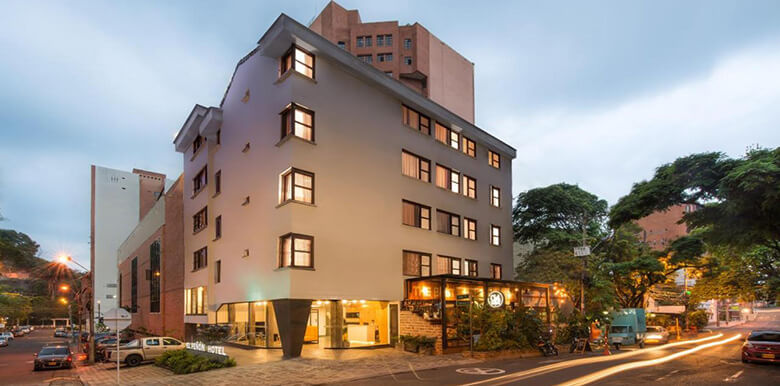 El Peñón is the best overall area to stay in Cali for first-timers because it is the upscale and trendy district of Cali that offers a vibrant atmosphere with a mix of modern and colonial architecture. It's home to trendy bars, upscale restaurants, boutique shops, and art galleries. The area is also known for its stunning views of the city and the Cali River.
Located in the southwest of the Cali River and west of downtown, El Peñón is home to high-end hotels, Parque El Peñon, fine dining restaurants, boutiques, cocktail lounges, and art.
Parque El Peñón is a park and a plaza in the center of the El Peñón, hosts an outdoor art and handicraft market every Sunday. This tiny plaza has a classic charm and attracts hip visitors.
Staying in El Peñón, you will be in short distance from Parque del El Gato del Río, Museo La Tertulia, the old city, San Antonio Church, and the Cali Zoo. While El Peñón area does not have as many tourist attractions as others, it ranks as one of the best places to stay and enjoy the lavishness of the city.
This is a bastion for richer guests and is also the home of the more affluent locals. Because of this, the area is far safer than in other areas. You will constantly see watchmen on duty throughout the neighborhood.
If nightlife is what you enjoy then this area will be just what you want as it offers a very vibrant nightlife. The bars and restaurants tend to be classier and you may meet some of the city's richer citizens.
While you may find some budget hotels here, most of the hotels are more expensive and far more luxurious than the average in other areas.
Best Places to Stay in Cali in El Peñon for first-timers:
luxury ($$$): Hotel Intercontinental Cali. Hotel Intercontinental offers pleasant gold and peach rooms with free WiFi in downtown Cali, 12 km from Alfonso Bonilla Aragón Airport. Facilities include a pool and health club. The floodlit rooms at Intercontinental Cali have wood floors. All are equipped with air conditioning, cable TV and have queen-size beds.
mid-range ($$): Hotel El Peñon. Hotel El Peñon is located in El Peñon neighborhood, only 100 m away from the financial area and the center of the city. The area offers a wide range of restaurants, bars, offices and business centres. Breakfast and WiFi are included. Rooms at Hotel El Peñon are spacious and feature air conditioning, satellite TV and minibar. A private bathroom with a shower is included.
Hotel Obelisco budget ($): Featuring a swimming pool, Hotel Obelisco offers rooms with private balconies, free WiFi and TVs. Breakfast is provided. Pascual Guerrero Stadium is a 15-minute drive away. A buffet breakfast is served daily. There is a restaurant offering a wide variety of dishes, and drinks from the bar can be enjoyed on the terrace.
See Also:
2. Centro – Caicedo Square
Located close to San Antonio, 6th avenue and to the river's promenade, Centro – Caicedo square is right in the center of the city. It is also one of the most historically important areas. The area is a hub of bustling activity where you can do your daily shopping and eating in the same place.
Many people enjoy this area because of the stunning architecture rather than for the nightlife. The area is also considered to be one of the most densely populated places in the city.
One place not to miss is the Caicedo Square which is named after a hero who fought for the battle of independence for the country. This area is lush with floral parks and palm trees.
Highlight attractions are Templo de la Merced, Enrique Buenaventura Municipal Theater, National Palace, Ortíz Bridge, Madrevieja Videles Wetland. Because the area is right in the middle of the city it makes things simple when you travel to other areas in Cali.
The area around Plaza de Cayzedo in the historic center is safe at night because there are many police presence around. There are a wide range of accommodations that suits all budget travelers in this neighborhood.
Best places to Stay in Cali Centro in Caicedo Square:
luxury ($$$): Alko Hotel Casa Nispero. Alko Hotel Casa Nispero is a 5 star hotel, located in Cali, 1.4 km from Jorge Isaacs Theater, Alko Hotel Casa Nispero provides accommodation with a restaurant, free private parking, an outdoor swimming pool and a fitness centre. Phenomenal stay in San Antonio, Cali.
budget ($): La Vaina Hostel Cali La Vaina Hostel Cali has an outdoor swimming pool, bar, a shared lounge and garden in Cali. Boasting a tour desk, this property also provides guests with a terrace.
3. San Fernando
If a hectic nightlife is your 'thing' then San Fernando will be ideal for you. You'll find the great local vibe nightlife right here. Busy bars, innovative restaurants, and salsa dancing make this area very attractive for people who enjoy music and dancing.
The restaurants often hire young upcoming chefs so you can expect to find adventurous dishes as well as local delicacies.
Make sure that you visit the Parque del Perro which means the 'Park of the Dog.' It is a popular place for families to gather and is one of the most pleasant parks in the area. It's one of Cali's most happening Zona Rosas and nightlife zones.
Transport wise, if you head for Street Five you will find the central public bus lines.
Stay in San Fernando if You are looking for cute hostels and boutique hotels; Nightlife is what you want on holiday; Unusual cuisine makes your day.
Best Places to Stay in Cali in San Fernando:
Hotel San Fernando Real. Hotel San Fernando Real has chic rooms equipped with air conditioning, mini-bars and flat-screen TVs. Some rooms feature spa baths and very large sun terraces. An outdoor swimming pool and spa facilities can be enjoyed in Cali.
Hotel Casa Vallecaucana. Hotel Casa Vallecaucana offers accommodations with a shared lounge, free private parking, a garden and a terrace. Among the facilities at this property are a concierge service and valet parking, along with free WiFi throughout the property.
4. Sant Antonio & San Cayetano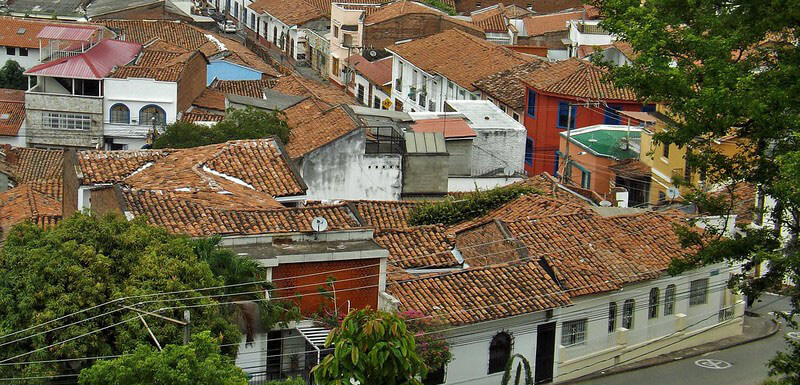 Located within a short walk from south El Peñón, Sant Antonio & San Cayetano are the cultural center of Cali. You can see how creative the residents are while still feeling safe on your vacation.
The Iglesia de San Antonio is a hilltop with an 18th-century whitewashed church surrounded by a pleasant park with panoramic views of the city.
You will find some traditional colonial buildings in this bohemian neighborhood, but you will also find creative murals and interesting graffiti on the walls. This area is classed as 'middle class.'
Most of the restaurants and bars are easy to access by foot so very little need to drive a car to get anywhere here.
Generally, this is a quieter area so there is not that much noise at night, it is the local cuisine that draws people here. Corinne Café and the Zahavi Repostería are sone of the best cafe in the city.
Accommodation ranges from international hotels of the luxury standard to cheap and cheerful bohemian places, boutique hotels, backpacker hostels, with prices to suit all budgets.
Stay near Sant Antonio and San Cayetano if you want a traditional vacation; you like cultural events and buildings; you enjoy walking instead of driving.
Best Places to Stay Near Sant Antonio and San Cayetano:
Magic Garden House. Magic Garden House is set in Cali and has a garden and free WiFi. Offering a terrace, the property is located within 0.8 mi of Jorge Isaacs Theater. La Ermita Church is a 17-minute walk away and Pan-American Park is 1.1 mi from the guest house. Cycling is among the activities that guests can enjoy near Magic Garden House.
Hostal Ruta Sur. Comfortable rooms with regional décor can be enjoyed in Cali, a 5-minute walk from the Gold Museum and historical district. Free WiFi and local calls are included. Hostal Rutal Sur offers 10 rooms with a private bathroom in a house decorated with plants, colorful tapestries and hammocks.
Moonshine Boutique Hostel The location is excellent,stores nearby and good places to eat any time of the day, clean and comfortable. Incredibly spacious rooms with a killer rooftop patio for taking in the surrounding city. Sandra was an amazing host and was very understanding of our limited Spanish and communicated with us effectively.
5. Versalles, Granada & Juanambú
Versalles, Grenada, and Juanambú are very close to each other and can be found at the northern end of the city. Granada is the finest gastronomic district in the city with superb boutique shopping and several upscale nightclubs and gay bars.
All three of them are considered to be the most entertaining places in the city with a high concentration of bars, restaurants, and luxury hotels.
Even though they are so entertaining, they do not seem to attract as many tourists as the other parts of Cali. They are in fact, safer and more pedestrian-friendly, with a cultured nightlife scene.
The restaurants tend to be more up-market and elegant, while the bars are more laid back. The area houses some delightful boutiques where you can see the designs of innovative fashion designers.
Grenada tends to be a little more expensive as far as hotels go although the area is a great place to set up base camp and travel elsewhere in the country.
Stay here if You plan to travel to other parts of the country; You enjoy scouring interesting boutiques; Upmarket restaurants suit you.
Best places to Stay in Cali near Granada:
Cali Marriott Hotel. The modern Cali Marriott Hotel is located in Granada, Cali´s newest entertainment district, where you will find restaurants, bars and boutiques just steps away from the hotel´s lobby. The hotel offers a Spa, a Finnish sauna, a fitness room, 3 restaurants, an ample terrace and a bar that overlooks the outdoor pool.
Castellón de Juanambú. Castellón de Juanambú offers free Wi-Fi and a spa bath. All accommodation is air conditioned and includes a seating area and kitchen. Each spacious apartment at Castellón de Juanambú offers a balcony and modern furnishings. A cleaning service is included.
Now Hotel. Contemporary, luxurious accommodations and a terrace with a swimming pool and a bar offering city views is provided by this design hotel. Now is located in the center of Cali´s Zona Rosa.
Where should I stay in Cali for the first time?
El Peñón is the best area to stay in Cali for first-timers because it is one of the safest neighborhoods in Cali and it offers a wide range of hotels, restaurants, bars, and shops for all budget travelers.
What are the best areas to stay in Cali?
El Peñon, Centro, San Fernando, Sant Antonio & San Cayetano, Versalles, Granada & Juanambú are the best areas to stay in Cali because they are the most popular and safe neighborhoods for tourists that offer a wide variety of attractions and amenities.
Tips for traveling in Cali:
Geting to Cali very easy with Alfonso Bonilla Aragón International Airport, and can easily travel around with the Integrated Transportation System (MIO)
Take care of your belongings. As with most tourist areas, crime will rear its head.
Be aware of your surroundings. Just keeping your eyes open will often prevent an opportunistic thief.
Book cars and hotels early. As with most tourist venues, they tend to be fully booked in high season so book early unless you can go at another time.
Cali's weather is warm and humid, bring comfortable, light, cool clothes and some for salsa dancing in the evening
Check out El Cerro de las Tres Cruces (Three Cross Hill) for hiking, and head for Grenada for salsa lessons.
Cali is a diverse city with plenty to do, whether you enjoy a noisy nightlife scene or exploring small boutiques and cafes. The cuisine of Cali will impress you because it is so wide and different. No matter what your taste in food, you will find something to suit you.
In conclusion, El Peñón, Centro, San Fernando, Sant Antonio, and Versalles/Granada/Juanambú are the best places to stay in Cali for tourists and first-time travelers. El Peñón is one of the safest areas in the city and it offers easy access to popular things to do and see for tourists.