In this post, I will help you to find Where to stay in Busan (for tourists and first-timers), best areas to stay in Busan (include video and map), best hotels in Busan for all budget travelers, and the unique places to stay in Busan like temple stay.
Busan, also known as Pusan, is South Korea's second largest city after the capital, Seoul. Located at the southeast tip of the Korean peninsula, Busan was a major trading port with Japan in the 15th century, and now an important sea port in Asia.
Busan is a peaceful getaway rich in culture and history, beautiful beaches, excellent cuisine, numerous temples, and a film festival.
Like most South Korean cities, Busan is a safe city to visit with a low crime rate. Most neighborhoods in Busan are safe. But as you travel to any city, you should practice common sense, be aware of pickpocketing, and avoid walking alone in dark alleyways at night.
Busan is divided into 15 districts, or "gu" in Korean. Each gu encompasses smaller neighborhoods called "dongs". No matter where you choose to stay, you can easily travel around because public transport in Korea is not expensive and the metro is the easiest way to move around.
Where to stay in Busan first time?
The best areas to stay in Busan for tourists are Seomyeon, Nampo-dong, Haeundae, Gwangan, Sasang, Kyungsung, and Yeongdo. They are all great neighborhoods, but Seomyeon, Nampo-dong, and Haeundae are the most popular places for first-time travelers.
Seomyeon is the best area for first-time travelers seeking a central location and best connection to transportation. Nampo-dong is the best base for visitors seeking a mix of shopping and sightseeing. Haeundae is the best place for beach lovers.
In addition to Haeundae, Gwangan is a great location for beaches. While Haeundae offers a livelier atmosphere and extensive tourist amenities, Gwangan has relaxed vibe, trendy cafes, and eateries.
Seomyeon, Nampo-dong, Haeundae are some of the best areas for families with children. They offer a wide range of family-friendly accommodations and activities for children of all ages.
If you are a first time traveler, I recommend spending at least 3 days exploring the city, which is a good time to enjoy the city at a slow and relaxing pace. You can see famous sights, beaches, try local food, and get a sense of the local culture and history.
Map of areas in Busan: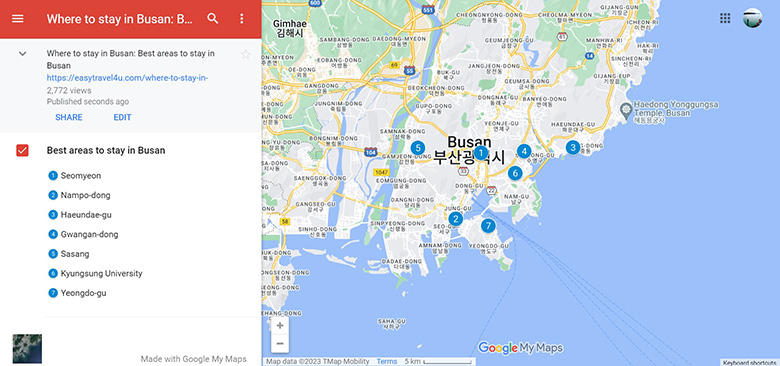 🎬 To get an overall idea of Busan, check out this video, or continue reading:
Best areas to stay in Busan for tourists are:
1. Seomyeon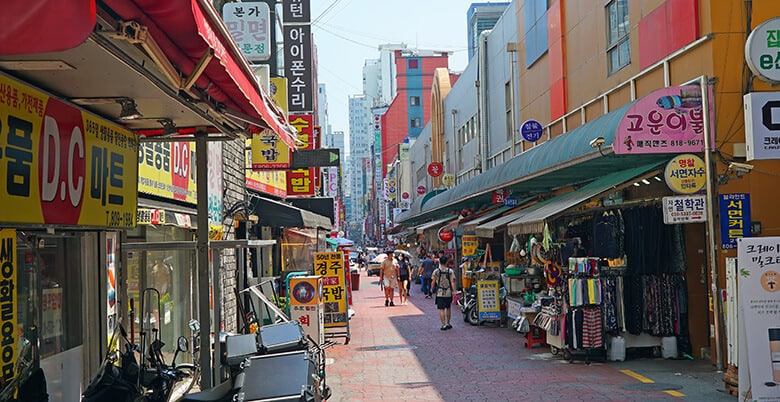 Seomyeon is the overall best area to stay in Busan for first-time travelers who want to be in a central location and best-connected to public transportation. Staying here offers easy access to many shopping, dining, nightlife venues, and popular attractions by public transport.
Centrally located between Busan Station and Haeundae Beach, Seomyeon is a downtown area that is the subway's largest transfer hub in Busan. It is at the junction of Metro Lines 1 and 2, Seomyeon Station is only 6 stops away on subway line 1 from Busan Station.
Seomyeon is home to 133-acre Busan Citizens Park, a former Imperial Japanese Army base and United States Army camp. There is a man-made, white sand beach, lots of trees, a romantic picnic or a family outing. You can take a look at the Dasom Gallery nearby.
Seomyeon is the central commercial district of Busan, similar to Gangnam in Seoul. There are lots of shops, cafes, bars, restaurants along streets and alleyways, as well as large department stores, cinemas and underground malls.
Seomyeon Underground Shopping Center is one of the biggest markets in Busan. It has a number of clothing and accessory shops with a wide range of various fashion styles and affordable prices. Pay cash for a better deal.
The mall is located beneath the Lotte Department Store, which is home to Lotte Hotel, Lotte Town, Lotte Cinema, a wide selection of restaurants, and luxury brands. You can enjoy the views of the city and Busan Towel from its Rooftop Park.
Have a look at the Seven Luck Casino at Busan Lotte. It is a European-style casino which has 6 different types of games including Black Jack, Baccarat, Roulette, Tai Sai, Poker, slot machines and video games. There is an international food menu and extensive bar menu.
If you want to experience local daily life, come to the fish market, Bujeon Market. Busan is a port city with six beaches, so it is famous for its seafood. There are lots of fresh fish just caught from the sea.
Seomyeon 1beon-ga, also known as the Art Street, or Food Street is one of the busiest streets in Busan. Stretching over 330 m, it links the former Cheonujang and LG Service Center.
Food Street is packed with cafes, bars, and restaurants with cheap food and drinks. In addition, there are movie theaters, performance halls, and game facilities. The streets host festivals and performances.
Korea is famous for pojangmacha, which has been featured in many Korean television dramas or movies. Pojangmacha is a very small restaurant in a tent that serves street food, full of people at night after party. You can find lots of them along Lotte Mall, Seomyeon-ro 68 beon-gil.
There are many tteokbokki alleys for rice cakes from the Lotte department store. Tteokbokki is a rice cake and fish cake in a spicy sauce. It is a popular Korean snack that is loved by young and old alike.
Apart from shopping, Seomyeon has a vibrant nightlife with a thriving bar and club scene. Go shopping at Seomyeon, and go clubbing at night. Club Fix is considered one of the hottest clubs in all of South Korea by many foreigners.
Korea is famous for its themed café and coffee culture. Seomyeon Café Street, also known as Jeonpo Café Street, is home to many trendy coffee houses, restaurants, and elegant shops with a modern and vibrant atmosphere.
Nearby, you can find the Busan Coffee Museum which is a great place to see rare and old coffee machines.
Another well-known for Busanites is the Young Kwang Bookstore, which was first opened in 1968. Young Kwang Bookstore is a meeting point for many people.
Overall, Seomyeon is central to the majority of Busan's major attractions, as well as one of the best hotels, cafes, restaurants and clubs of Busan. It doesn't have oceans and beaches, but it offers a unique city life.
Stay in Seomyeon if you are first timers, family, backpackers; you want the best transport network; you want good nightlife and shopping.
Best places to stay in Busan in Seomyeon for first-timers:
Luxury ($$$): Lotte Hotel Busan, 5-star family-friendly hotel, one of the best places to stay in Seoul for first-time visitors, located in a prime location in Busan, 5 minutes' walk from Seomyeon Subway Station (Busan Line 1 and 2). It is also directly linked to underground shopping arcade from Seomyeon Subway Station.
Mid-range ($$): Solaria Nishitetsu Hotel Busan, great 4-star hotel, one of the best places to stay i Busan with kids, located on bustling Seomyeon 1st Avenue, where you can find many local shops, restaurants and bars. It also offer easy access to Seomyeon and Beomnaegol subway stations.
Budget ($): Toyoko Inn Busan Seomyeon, great 3-star hotel, one of the best places to stay in Busan on a budget, conveniently located a 6-minute walk from Exit 8 of Seomyeon Subway Station. It has luggage storage, laundry services, and 24-hour front desk.
🔍MORE HOTELS IN SEOMYEON
2. Nampo-dong
Nampo-dong along with Seomyeon is the best place for first time travelers who want to stay in the middle of the city with good shopping and nightlife. Nampo-dong is home to a big park, a department store, a traditional market, and many tourist sights.
Nampo-dong is referred to as Gwangbok-dong, Nampo-dong, and Bupyeong-dong neighborhoods by locals. It is popular with students and young adults both locals and foreigners.
Nampo-dong is the old downtown of Busan. During the Korean war, many refugees moved to Nampo-dong to rebuild their lives. Business was started around the Jagalchi, Bupyeong, and Gukje Market.
Start exploring the neighborhood at Yongdusan Park and Busan Tower in the Yongdu Mountain. The park's name means dragon's head mountain. It is home to 70 tree species, at its best in autumn when the leaves change the colors.
The highlight of the park is the symbolic 120m high Busan Tower. Busan Tower doesn't have any transmitter like Seoul Tower, CN Tower, or Tokyo Tower. The observation deck offers a helicopter view of Busan.
There are also numerous cultural and historical attractions in the park including Statue of Yi Sun-sin, Museum of World Folk Instruments, Korean Traditional Bell, Bronze dragon figure, Flower Clock, Locks of Love, and Artificial waterfall.
Within walking distance from the park, you can find numerous museums such as The Busan Museum of Movies, Trick Eye Museum, and Busan Modern History Museum.
From the park, you can walk toward Gukje Market, one of Korea's largest markets. The alleyways of the market are packed with stalls that sell kitchenware and clothing. The nearby traditional Bupyeong Kkangtong Market is very popular with locals, while Nampo-dong Food Alley is lined with clothing stores, restaurants, and food carts.
Another food destination in Nampo-dong is the food paradise, BIFF Plaza. Ssiat Hotteok is the most famous street food originated from Busan. It is often seen in Korean TV shows. Ssiat Hotteok is Korean style sweet, filled with a variety of seeds. Stalls visited by celebrities have a long queue.
BIFF Plaza is the main venue of the Busan International Film Festival (BIFF). It was named BIFF in 1996.
You can find the MEGABOX Busan Theater, and a stage at the end of Daeyeong Cinema. There are also hand prints of famous actors and actresses here.
Gwangbok-dong Cultural & Fashion Street nearby is packed with fashion stores with Korean brands and cosmetics, as well as small boutiques, cafes, and many cute stationary stores.
If you head to the sea front, you can find Jagalchi Fish Market,the largest seafood market in South Korea, sells both live and dried seafood. There are also lots of restaurants and street food stalls to have all dishes from the fish like fish soup, fish on stick, and fried fish.
The Lotte Department Store, Gwangbok nearby also offers good shopping opportunities. It is the first seaside department store in Korea, located between downtown Busan and the beach.
You can head to a version of London Bridge in England, Yeongdodaegyo Bridge which was built in 1934 to connect Jung-gu and Yeongdo-gu districts. Yeongdodaegyo Bridge is lifted once a day, great to observe the lifting of the bridge and pose a photo here.
You can also visit the nearby Gamcheon Culture Village, one of the most intriguing and fascinating places to see. Often referred to as The Santorini of South Korea, it is famous for its steep stairs, alleyways, winding streets, colorful terraced houses, amazing art scene, and cute cafes. This is a spot for instagrammers.
Within a short bus ride from Nampo-dong, you can find Songdo Beach and cable car. If you take this cable car ride, you can view Songdo Beach, Amnam Park, Yeongdo, Namhang Bridge, and Songdo Coastal Dulle Road.
Nampo-dong is also accessible by Nampo Station subway via Busan Subway, Line 1.
Stay in Nampo-dong if you are first-timers; you want a central location; you want good shopping; you don't mind away from the beaches.
Best places to stay in Nampo-dong for first-time tourists:
Mid-range ($$): Griffinbay Hotel, 4-star family-friendly hotel, located within walking distance from Gwangbok-Dong and Gukje Market. It has units come with a fridge, microwave, a kettle, a shower, a hairdryer and a wardrobe.
Budget ($): Stanford Inn Busan, 3-star budget-friendly hotel, located only a 5-minute walk from Jagalchi Subway Station (Busan Line 1) and Jagalchi market. It is only 3 subway stops away on line 1 from Busan KTX Station.
Budget ($): Aventree Hotel Busan, 3-star hotel, conveniently located in Busan, close to Nampo Station, Jagalchi Fish Market, Yongdusan Park, and Nampo-Dong. It has family rooms, 24-hour front desk, and free parking for those travel with a car.
🔍MORE HOTELS IN NAMPO-DONG
3. Haeundae
Haeundae is one of the most famous beaches in South Korea along with Gwangalli Beach, Gyeongpo Beach in Gangneung, and Hyeopjae Beach in Jeju City. The beach is packed with tourists in summer months.
Haeundae is famous for its beach and nightlife, so if you come to Busan for beaches, Haeundae is a place to be. The 1.5km long, around 30-50 meters width of white sand beach has a shallow bay, which is perfect for swimming.
Bay 101 is now a stylish area at the base of the skyscrapers of Marine City. There are plenty of cafes and restaurants nearby. Here you can find Haeundae's sailing club, Bay 101 Yacht Club.
You can rent water sports facilities such as paddle boats and surfboards from Yacht Club. There are water sport activities such as kiteboarding, surfing, and swimming. Or just sunbathing or relax at the beach umbrella and enjoy a cold beer.
Families and kids can visit Sea Life Busan Aquarium right at the beach front. It has three underground levels with 250 species of marine life. Make sure to check out a glass tunnel walkway to walk on the seafloor and get up close to marine animals.
Apart from the beach, pay a visit to the Haeundae Market. Full of seafood restaurants and street food, you can try some traditional Korean street food such as tteokbokki, tempura, fritters, or fish cake.
If you head to Dalmaji Hill in Haeundae's center, you can find many coffee shops along art galleries, and cherry tree-lined roads.
Busan is the movie capital of Korea, which hosts the annual Busan International Film Festival. On the seafront walk by Marine City is the 800m Busan Cinema Street, packed with film-related sculptures and images.
Just a short bus ride or short taxi ride from Haeundae, Haedong Yonggungsa Temple is one of the must-see. Located on the edge of cliffs, the temple has a sanctuary built into a natural cave, a pagoda with four lions, and a set of 108 steps that lead up to the main temple.
Another must do here is take the unique sightseeing train ride. There is a choice of Sky Capsule and Haeundae Beach Train, both from Haeundae Blueline Park. The Sky Capsule connects Mipo and Cheongsapo. The capsules are colorful (red, yellow, green, blue) mini trains. You can enjoy beautiful views of Haeundae and a romantic vibe.
Meanwhile, the Haeundae Beach Train connects Mipo to Songjeong. You will pass through the Cheongsapo Station, Dalmaji Tunnel, Cheongsapo Daritdol Observatory, and Gudeokpo. Songjeong beach is Busan's best surf spot.
If you walk all the way along the Haeundae Beach, you will reach Dongbaekseom Island, also known as the Island of Camellias. As the name suggests, in winter and spring, camellias bloom everywhere. There is a Dongbaek Coastal Trail, monument of Choe Chi-Won, mermaid statue, and Nurimaru APEC House.
You can also find Lighthouse and Rock Formations. You will see rocks in various shapes near the famous Westin Chosun Busan Hotel. The Hanging Bridge is also on Dongbaekseom Island. Dongbaek Park is the best place to have a sunset walk in Busan.
Haeundae Beach is one of the best areas to watch the New Year sunrise along with Geumjeongsan and Dalmajigogae.
If you love shopping, you cannot miss the Shinsegae Centum City, the largest department store in the world according to Guinness World Records. Fashion shops in Centrum City have 21 designer brands and 622 famous brands. There is also Spa Land – Korean traditional jjimjilbang, ice-skating rink and multiplex theater. You can find a rooftop, ZOORAJI, and an outdoor theme park.
Other places of interest close to Haeundae are the Busan Exhibition and Convention Center, Busan Museum of Art, GoEun Museum of Photography, and Busan National Science Museum.
Although Haeundae doesn't have a lively nightlife as Seomyeon, it is also good enough with some great bars and pubs in the main tourist thoroughfare. There are also many dining options along the Gunam-ro next to the beach.
Haeundae Beach is very safe for all tourists with police patrollers, especially during high season. There are beach watchers and watchtowers that monitor safety.
Haeundae is easily reachable from Busan Station on the orange line 1, towards Nopo. From Seomyeon station, take green line 2 to Jangsan. From Namhae International Airport take the purple subway to Sasang, take green line 2 to Jangsan, and stop at Haeundae station.
Haeundae provides all kinds of accommodations ranging from luxury hotels to budget private guest houses. Some of the most luxurious and expensive hotels in Busan are located in Haeundae. If you choose to stay in Haeundae, why not choose a hotel with ocean views?
Stay in Haeundae if you want to stay right next to the beach; you don't mind a bit further from the city center; you want hip cafes by the ocean;
Best places to stay in Busan in Haeundae for first-timers:
Luxury ($$$): Paradise Hotel Busan, 5-star hotel, one of the best places to stay in Busan on the beach, located along sandy Haeundae Beach, offering a casino, free parking, and an outdoor spa.
Mid-range ($$): Shilla Stay Haeundae, 4-star family-friendly hotel, located within walking distance from Haeundae Beach, Busan Aquarium, Exit 7 of Haeundae Subway Station (Busan Line 2). It has soundproofed rooms, free luggage storage, currency exchange and concierge services.
Budget ($): Best Louis Hamilton Hotel Haeundae, 3-star hotel, located close to Haeundae Beach, featuring business facilities, family rooms, and free WiFi access. Also near the Haeundae Station, Busan Aquarium, and airport limousine bus stop.
🔍MORE HOTELS IN HAEUNDAE
4. Gwangan
Apart from the famous Haeundae, many travelers who come to Busan for the beach choose to stay in Gwangan, home to Gwangalli Beach. Gwangalli Beach is a more budget friendly area than Haeundae. So if you travel on a budget beach holiday, Gwangan is the best choice.
Gwangalli Beach is a 1.4 km long stretch of fine white sand. The beachfront is surrounded by more than 300 romantic cafes, delicious restaurants, and clothing stores. Gwangalli is a beautiful place to visit at night when there are illuminated lights on the seafront.
You can enjoy a stroll and ride a bike along the beachfront. There are also beach facilities for watersports such as motorboats, banana boats, paddle boarding, and windsurfing. Many performances and events are held here in summer months.
The beach offers breathtaking views of Gwangan Bridge. Also known as Diamond Bridge, it is the longest bi-level bridge in South Korea with 7. 4 km long connecting Namcheon-dong and Centum City. The bridge has thousands of LED lights, and attracts lots of people at night.
Gwangan Bridge offers beautiful views of Oryukdo Island, Gwangalli Beach, Hwangnyeongsan Mountain, and Dongbaek Island Park.
Surrounded by a number of coffee shops and restaurants, it is a great place to enjoy fresh seafood and raw fish, especially around Millak Fresh Fish Street and Fresh Fish Town.
Millak Waterside Park is a romantic place to visit and enjoy the sea. The park has gardens, benches, and it can accommodate up to 40,000 people. Busan Fireworks Festival is held in the park every autumn.
Gwangan is well-connected to public transport. It is served by Geumnyeongsan station and Gwangan station. Within a short train ride away, you can reach famous shopping, Centum City department store, and Kyungsung University.
Gwangan doesn't have luxury hotels like in Haeundae, you will have plenty of choices for budget accommodation options.
Stay in Gwangan if you want a beach holiday but on a budget; you are a foodie; you want a laid-back area;
Best places to stay in Busan in Gwangan for first-time visitors:
🔍MORE HOTELS IN GWANGAN
5. Sasang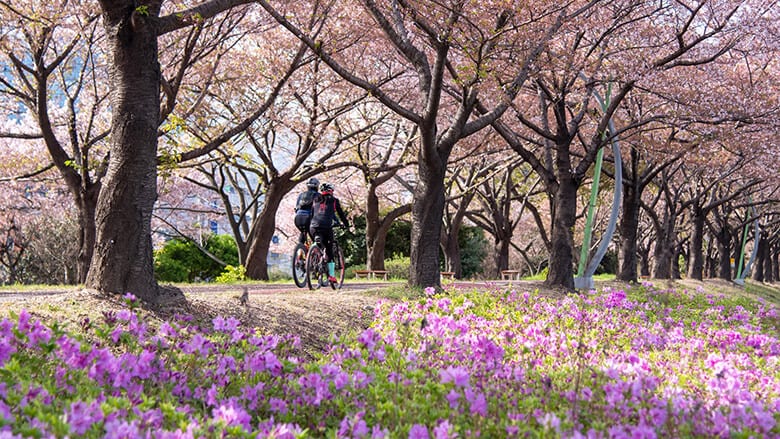 Sasang is a residential neighborhood, located between the city center and Gimhae International Airport. If you want to experience local life, Sasang is one of the best choices.
Sasang is home to the biggest eco-park on the bank of Nakdonggang River, Samnak Riverside Sports Park. Spanning from Eomgung-dong to Samnak-dong, the park is a popular place for visitors and residents.
There are grass squares, wildflower fields, cycling & walking paths, camping sites, and lots of sports facilities. The bike path along the Nakdonggang River is covered by pink in spring. Samnak Ecological Park is a great place for outdoor activities.
Another green space is the Sasang Neighborhood Park, a lovely place for families. There are adventure playgrounds for children and 7 amusement facilities including rock climbing, climbing rope, bouncing dome, seesaw, and slides. There is also an ecological observation center, a family picnic area, benches and parasols for rest and relaxation.
There are many cultural performances and shopping in Luxury Street Park, which is located between Sasang Station and Gwaebeop Renencite, close to the Music Fountain and Gangbyeon nadeulgyo.
You can learn about local history at Sasang Museum of Everyday Life, while Sasang Indi-station is a Container Arts Terminal, food for culture and arts lovers. There is also a complex cultural facility, Danurim Center. You can also enjoy watching laser shows and performances at Samnakcheon Stream Music Fountain.
Other places of interest are the Sanggangseondae and Hagangseondae shrines, as well as the oldest one in the district, Unsusa Temple.
Surrounded by mountains such as Baekyangsa Mountain and Seunghaksan Mountain, Sasang is a great place for hiking, and there are trails for the whole family. You will pass through pine trees, cypresses, and Silla university.
Stay in Sasang if you want to experience authentic local vibe; you want to stay close to both airport and city center; you travel with a family;
Best places to stay in Sasang for first-time visitors:
🔍MORE HOTELS IN SASANG
6. Kyungsung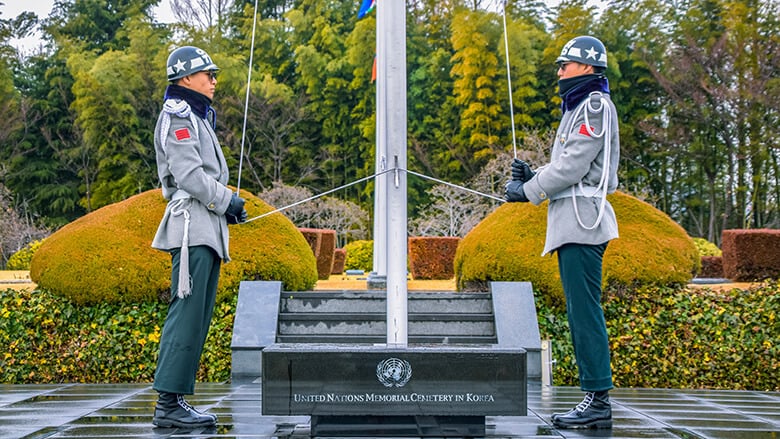 Located 30 minutes away from Gwangalli beach, Kyungsung is a residential neighborhood with a local vibe. Home to Kyungsung University and Pukyong National University, it is a place for university students with lots of restaurants, cafes, and music venues.
If you visit Kyungsung University, check out the Culture Alley in front of it in the afternoon. And explore many more alleys around to explore.
You can find Busan Cultural Center, a venue for Busan's arts and cultural events. There are six theaters, three exhibition halls and seven arts organizations.
There are numerous cultural and historical attractions here. United Nations Memorial Park is the only memorial cemetery in the world dedicated to UN soldiers. You can learn more about local history at Busan Museum and National Memorial Museum of Forced Mobilization under Japanese Occupation.
There are lots of green spaces in this neighborhood. Igidae Coastal Walk is a 4km scenic hiking trail along the ocean, from Igidae Dongsaengmal to Oryukdo Sunrise Park. You can finish the hike at the charming Oryukdo Skywalk that offers stunning sea views, or explore more of the Forest Walkway and Sunrise Park.
There is not much accommodation here, you can choose to stay in the Gwangalli beach nearby, and take a day trip to explore this studently neighborhood.
7. Yeongdo Island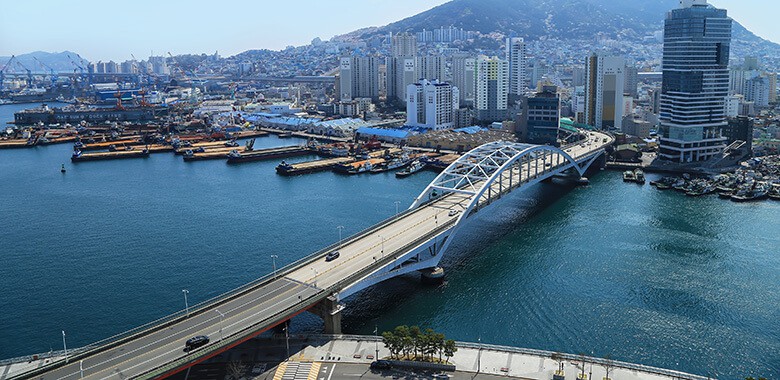 Yeongdo-gu is a small island located in the southernmost part of Busan. This island offers stunning sea views from every corner. It is home to eight scenic sites on the island, including Huinnyeoul Culture Village and the Jeoryoung Coastal Walk.
Yeongdo Island connects with the mainland via the Yeongdo Bridge. Yeongdo Bridge was first opened in 1934, during the Japanese colonial period.
If you walk along the coastal way to the tip of the island, you will find Taejongdae Park, which was built on the site of horse-raising ranches. The park was named after King Taejong Muyeol of Silla, who used this park to do hunting and parties. It has a scenic rocky coastline, pebble beach, and relaxing trails.
Taejongdae Resort Park only allows pedestrians. You can take a Danubi Train to explore the park, passing through Taejongdae Observatory, Yeongdo Lighthouse, and Taejongdae Temple.
There is the 35km Jeoryeong Coastal Trail at the entrance of Taejongdae Park. It was once a military-protected area but converted into a walking trail. There are several attractions along the way including Jungnihang Port, Huin-yeoul Coastal Tunnel, Haneul Observatory Skywalk, and beautiful tiled walls.
You climb up Bongnaesan Mountain at the center of the island, to enjoy spectacular views of the city. Bongnaesan litery means "mountain where a phoenix fly".
Huinnyeoul Culture Village is a colorful seaside place to view art, enjoy cafes and food. There are murals and mosaics, 14 intertwined streets and alleyways for pictures.
Other places of interest are the National Maritime Museum, Dongsam-dong Shell Midden, and Jodo Island near the Korea Maritime and Ocean University.
Best places to stay in Yeongdo Island for first-time travelers:
🔍MORE HOTELS IN YEONGDO ISLAND
8. Temple stay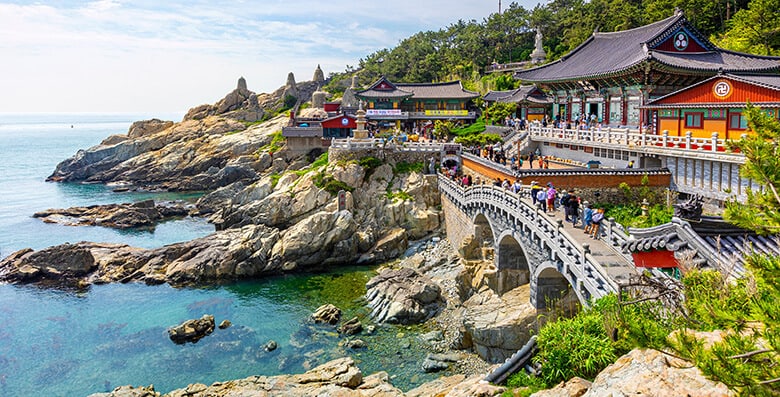 Templestay is a unique way to experience Korean Buddhism. It is considered one of the popular programs for people who want to experience Korean Buddhism.
Templestay is a wonderful place to recharge, meditate and relax. Some of the templestay in Busan are at Beomeosa Temple in Geumjeong-gu, and Haedong Yonggungsa Temple in Gijang-gun. There are also Seokbulsa Temple in Buk-gu and Samgwangsa Temple in Busanjin-gu.
Beomeosa Temple is the third largest temple in the Yeongnam area, which was built during the reign of Munmu of Silla. Located at Geumjeongsan Mountain, the temple has a beautiful valley and stunning mountain.
Haedong Yonggungsa Temple is located on the coast of Sirang-ri, Gijang-gun. It is one of the most beautiful temples in Korea, carved into the cliff face overlooking the East Sea. The Daeungjeon Hall offers stunning ocean views.
See more:
In conclusion, Seomyeon, Nampo-dong, Haeundae, Gwangan, Sasang, Kyungsung, and Yeongdo are some of the best places to stay in Busan for tourists. These are popular and safe districts for tourists that offer a wide variety of accommodation options for all budget travelers.
Personally, I recommend Seomyeon as the overall best area to stay in Busan for the first time because it is the transport hub of the city. But you can also consider booking a hotel in Nampo-dong and Haeundae as they are the favorite neighborhoods of many first-time travelers.