Where to Stay in Brussels: Best Areas and Hotels
This blog post will help you about where to stay in Brussels: what are the best areas to stay in Brussels? What are some other things to know when traveling there? You'll also find out how to get around and which sites not to miss! Read on to find out!
Brussels is one of the best cities in the European continent for travellers. Home to world-famous chocolate, incredible architecture, and vast history, this capital city has been a pillar of European culture for centuries.
Over 18 million tourists visited Belgium's capital in 2019, making it one the world's most visited cities. Popular attractions in Brussels include The Grand Palace, Historic Centre of Brugge, the many gothic buildings.
See more: How Much Does a Trip to Europe Cost?
Brussels has a population of around 1.2 million; it isn't one of Europe's biggest cities. It has numerous areas to stay in, and I will discuss the best ones throughout the article.
If you're visiting Brussels, it's essential to choose the correct area to stay in that suits your requirements and taste. Brussels is a city with perfect locations for nightlife, food, LGBT communities and history enthusiasts.
It's a great idea to look at booking.com and check which areas are the best for your budget requirements, that is the first course of action.
And then you can look at the best locations for what you enjoy. Are you travelling to Brussels to party? Or do you want to spend the week eating Belgian chocolate? I don't blame you. These are the questions you need to ask yourself before you choose where to stay in Brussels.
Here is a quick outline of some of the best places to stay in Brussels.
These are just a few examples of places to stay in Brussels.
>> FIND BEST HOTELS IN BRUSSELS <<
📌13 Best Areas to Stay in Brussels
There are many fantastic areas in Brussels; in this section, I will outline my top places to stay in the city. And I will name the benefits of staying in each area.
Best areas to Stay in Brussels Map
To see more detail, go to google map;
1. 💖 Brussels City Centre, best area to stay in Brussels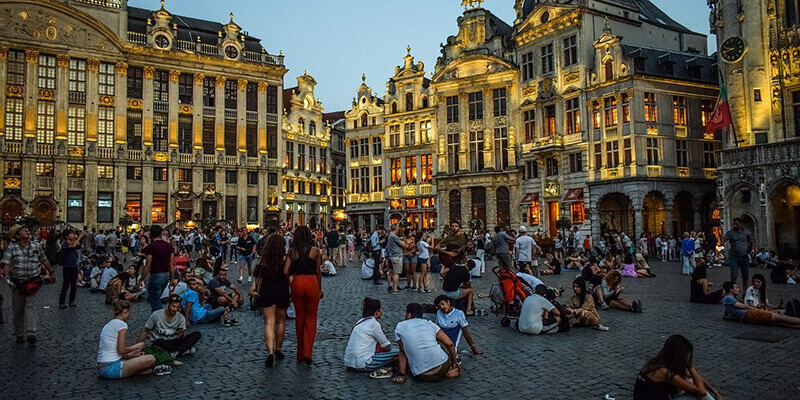 If you want to be in the centre of Brussels, you should stay in the city centre. It offers an excellent location, is home to the best attractions, and historic buildings in the entire city.
Visitors will enjoy a range of attractions in the city centre from the Brussels Stock Exchange, the Grand Place, to the fantastic bars, restaurants, and cafes.
Visitors of all different ages, interests, and cultures will love the city centre. It has a wide range of perfect accommodation for any budget and is a generally brilliant spot to stay.
Brussels City Centre is a great place to stay for first-time tourists and for short trips one night, two nights or just for weekends. It is also an excellent place if you want to stay near the train station, for the Christmas market, and for the gay LGBT community.
Best things to See in Brussels Centrum:
The Grand Place (Grote Markt). The Grand Place is the main town square in Brussels, one of the most popular attractions in the entire city, if not the most popular. The architect first built the structure in 1452. And the square surrounding the grand place is stunning; it has been a UNESCO World Heritage site since the 90s.
Brussels Town Hall, a Gothic building from the Middle Ages in Grand Place, facing the Brussels City Museum.
Manneken-Pis. The Manneken-pis is one of the best symbols of the city. Initially built in the 15th century, the Manneken-Pis is a pillar of the city's history. The statue emboldens the great humor of Brussels.
Mont des Artes, the hill of the arts, is a big green space to relax and is located between the Place Royale and the Place de l'Albertine. You can enjoy movies at Cinematek (the Belgian Royal Film Archive), concerts at Bozar, and exhibitions at the Royal Museums of the Fine Arts, the Musical Instrument Museum, and the National Archives of Belgium.
Royal Museum of Fine Arts of Belgium. The Royal Museum of Fine Arts is one of Belgium's best museums. It's home to 20,000 artworks that include a variety of art from around Europe. If you love art and history, then you should visit this art museum.
Place Royale (Koningsplein) is a good photo opportunity spot, this square houses the Royal Palace (Palais Royal).
You can also visit the Brussels Stock Exchange, the Royal Theatre of the Mint, shop at Royal Galleries of Saint-Huber, the Belgian Comic Strip Center.
Where To Stay In Brussels City Centre:
NH Collection Brussels Grand Sablon This fabulous, 4-star hotel is situated in a central location, in the historic Grand Sablon Square. Guests can enjoy its modern, air-conditioned rooms, which all feature Wi-Fi and a minibar, as well as a wonderful American breakfast each morning. All this comes with the added convenience of being just 450 yards from the Central Railway Station.
The Hotel Brussels This 4-star hotel is one of the city's tallest buildings, so in addition to being iconic, offers stunning, panoramic views of Brussels. The rooms are stylish and feature a range of amenities, such as safes, minibars, Wi-Fi and flat-screen TV's. The hotel also has plenty to offer outside of the rooms and views, as a gym, restaurant, sauna, and spa are all located on-site.
Sleep Well Youth Hostel is a wonderful budget option, that offers a surprisingly stylish destination, considering its price range. With a choice of private rooms or shared dormitories, it's entirely up to you whether you want to mix with the other guests or you prefer a bit of privacy. If you opt for the former, the hotel's bar and terrace are great places to get to know your fellow travellers.
🔍FIND BEST HOTELS IN BRUSSELS CENTRUM
Check out my virtual tour of the best places to stay in Brussels in this video or continue reading:
Read More:
2. Ixelles, where to stay in Brussels with family
If you want to stay in one of the most diversified international neighborhoods in Brussels with an incredible array of accommodations, then Ixelles is for you. You can find everything from luxury accommodation to budget backpacker hostels.
The area's general trend is more expensive apartments and luxury hotels, but cheap Airbnb is easy to find.
It's home to a significant number of cafes, restaurants, and bars. The neighborhood is only a short walk from other famous places in Brussels such as the City Centre or Avenue Louise. Furthermore, visitors enjoy everything from the historic buildings to the great parks, shopping, and multicultural vibe.
Best Things to See in Ixelles:
The Tenbosch Park. Brussels can get hot in the summer months, and there is no better spot to relax during the summer than Tenbosch Park. Situated next to beautiful lakes, houses, and trees, you will find the perfect relaxing Place. It's a popular swimming spot during the summer, and many people will use the cold lake as a refreshing swim. And it's right next to Avenue Louise so that you can enjoy the shops then relax in the summer sunshine.
The Flagey Building. The architects constructed this building in the 1930s to be a radio broadcasting complex. And ever since, it has been a famous studio with some of the world's best recordings. In today's era, the building is home to cinematek, a great spot to catch a variety of modern and classic films. It is a child-friendly spot with numerous kids workshops available.
Chatelin Square. The Chatelin Square is a beautiful square that is between Saint Giles and Avenue Louise. It's home to a variety of outstanding bars and restaurants, and many are upscale. Visitors will enjoy the incredible markets in the area, including the Farmers Market, where you will be able to buy lots of local wine and beer.
Be sure to check out the main shopping street Chausée d'Ixelles, and walk along all the way to place Fernand Coq. Place Fernand Coq, a small square where you can find typical Belgium pubs, be sure to check out an Italian restaurant – the Il Nobile, or a very trendy restaurant Amour Fou, and a wine bar L'Îlor Corse.
You also have the lakes of Étangs d'Ixelles, the Musée d'Ixelles, Matongé, the Congolese quarter, and Abbaye de la Cambre.
Best Hotels in Brussels Ixelles:
Hotel Made In Louise is a superb destination, located just 350 yards from Avenue Louise. The spacious, modern rooms all come with Wi-Fi, toiletries and a rain shower, while some also offer a bathtub and courtyard views. A buffet breakfast is available daily at the hotel, while there is also a snack bar serving drinks and small bites to eat throughout the day.
Radisson RED Brussels is a unique, 4-star hotel, focusing on art, music and fashion, the aim being to try and bring its guests together. Considered to be the first of its kind, all rooms are decorated with wall art, while the communal areas feature temporary exhibitions and DJ performances. It even features its own app to allow guests to record and share their experiences during their stay.
Renaissance Brussels Hotel is a 4-star destination, located at the heart of the city's European District. The hotels beautiful, air-conditioned rooms feature soundproofing, allowing guests to enjoy the flat screen TV's as loud as they like. The hotel also features a fabulous restaurant, serving high-end, local cuisine, as well as an indoor swimming pool, sauna and fitness centre.
🔍FIND BEST HOTELS IN IXELLES
3. European Quarter, stay in international neighborhood in Brussels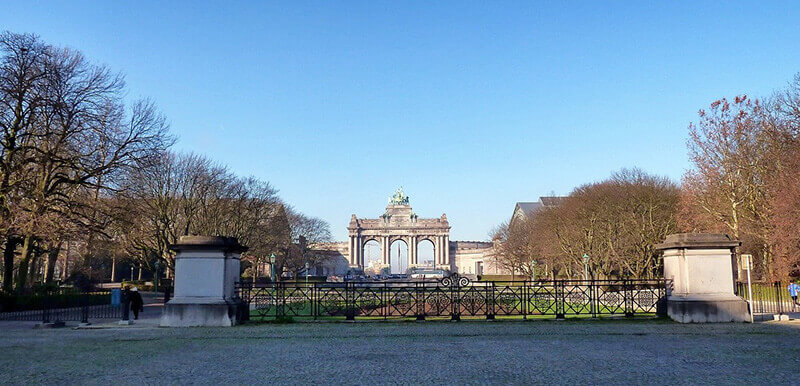 Brussels is home to a global center of world politics. If you're in the European Quarter, you can experience the home of the European Union.
However, this part of Brussels is not only home to the European Union; it's home to an array of fantastic things. One of the best things to do is explore the extraordinary green spaces, museums, and architecture.
You can find a variety of accommodation options in the European Quarter. The majority of the accommodation is apartments and high-end hotels. However, it's possible to find many youth hostels, guest inns, and many airBnBs that are reasonably priced.
Best places to visit in the European Quarter:
European Parliament. If you're in the European Quarter, you should check out the European parliament. You can visit the parliament and do a guided tour of the vicinity, and there are tours in 24 different languages. The guides will give an extensive overview of what happens in parliament. They will show you the building's history and how it became a global beacon of democracy.
Visit the Musée Wiertz. Antoine Wiertz is one of the most popular painters in Belgian history. He is famous for his artwork during the romantic movement in the 1800s. And this museum is an excellent place to appreciate his work. The museum has a massive collection of his work, which has been inside this museum since 1868.
Cinquantenaire Park. If you're looking for a great place to relax in the sun, then Cinquantenaire Park is a superb option. It is home to an array of landscaped gardens. Guests will enjoy the Triumphal Arch, which is an emblem of the history of Brussels. Another option is Leopold park, full of hills and ponds that offer a genuinely fantastic outdoor oasis.
Place du Luxembourg/ Luxemburgplein (Plux) is a neoclassical station square with many terraces and restaurants making it a meeting point for young ex-pats from the EU institutions. Check out the trendy organic market or in Noordzee on Rue du Luxembourg – Luxemburgstraat to experience international Brussels.
Place Jourdan/ Jourdanplein, a local international hub, with terraces, cafés, nice restaurants serving international and local cuisines. Schuman roundabout or Rond-point Schuman/ Schumanplein offer views of Cinquantenaire Park with the Triumphal Arch
Place Jean Rey /Jean Reyplein with its trendy shops and businesses in this new place in EU squares. be sure to check out the trendiest bar Le Grand Central, Maison Antoine for Belgian chips, for Belgian-French food in the Art Deco setting of Residence Palace.
Best Hotels in Brussels – European Quarter:
Courtyard by Marriott Brussels EU a fabulous property, run by the legendary Marriott chain, it offers guests stylish accommodation less than a mile from famous attractions like the European Parliament building, the Palace Royale and the Magritte Museum. A continental breakfast is served daily, while there is also a fitness centre, ideal for working off what you eat each morning.
Thon Hotel EU is a fabulous, 4-star destination, featuring bright, vibrant, modern rooms. A high-tech fitness centre, electric car chargers and smart TVs in every room are just a few of the other ways this hotel is keeping guests with the times. There is a fabulous restaurant on site and many rooms have been adapted to be accessible to disable travellers, so it is a choice that is truly accessible to all.
Aloft Brussels Schuman is a 4-star hotel that follows the chains reputation of providing quality accommodation for a much lower price than you would expect. Chic, modern rooms and exteriors are finished with touches like walk in showers and a self-service snack area. It's wonderful bar also features live music and DJ sets throughout the week, which you can enjoy while sampling something from its range of cocktails.
🔍FIND BEST HOTELS IN EUROPEAN QUARTER
4. Sablon, the best place to stay in Brussels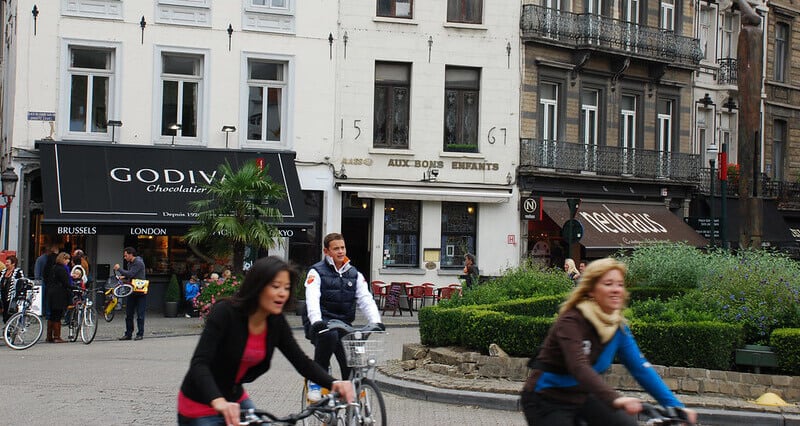 If you want to stay in a quieter area, but one that's still very close to the city centre then you'll enjoy Sablon or Zavel. Although more relaxed than the city centre, this part of Brussels has a vibrant feel to it.
Visitors will enjoy the numerous fantastic bars, restaurants, and chocolate shops. There are many landmarks in this area too, with some great spots for tourists to see.
Best places to visit in Sablon:
The Gothic Notre-Dame du Sablon Church. Europe has a lot of incredible gothic architecture, and Brussels is home to some of its finest. If you love gothic architecture, you should check out the beautiful Gothic Church Notre Dame du Sablon, it is a stunning building. The architects first constructed the building during the fifteenth century. And ever since, it has been a landmark of Brussels. The church has many highlights, but one of the main highlights is the wooden pulpit made in 1697.
Magritte Museum. The Magritte Museum is an excellent option for those who want to see some historic Belgian artwork. It's home to an array of artwork from the great René Magritte. Inside the museum, visitors will see over 230 works of art. You will witness the paintings, sculptures, advertising work, music, photo, and films of René Magritte; it's a must-see.
The Jewish Museum. The Jewish Museum is a fantastic introduction to the history of the Jewish Religion. Visitors will love the exhibits that portray the Jewish religion's birth, symbols and objects related to the Jewish faith, and the variety of artwork linked to the religion. The museum aims to provide guests with an open-minded insight into the history, religion, and culture of a belief that has played a leading role in Belgian history.
Don't miss out on the Square du Petit Sablon Hidden Garde, a beautiful square and garden that was built in the late 1800s with neo-Renaissance style.
Best Hotels in Brussels Sablon:
B&B La Maison Haute is an exceptional bed and breakfast, located at the heart of the historical district. Rooms and elegantly decorated with a modern style, all featuring free wifi, flat screen Tv's, private bathrooms and seating areas. Breakfast is served each morning for all guests and a gluten free choice is available on request. A gift shop containing luxury toiletries is also available on-site.
9Hotel Sablon is located in a quiet part of the city yet is just a 5-minute walk from attractions like the Grand Place and Manneken Pis Statue. The spacious, air-conditioned rooms all contain fridges, modern, private bathrooms and cable TV. Hot and cold buffet breakfast options are available each morning, while the hotel also features a well-being centre, with a whirlpool and Finnish sauna.
🔍FIND BEST HOTELS IN SABLON
5. Saint Gilles, a residential area to stay in Brussels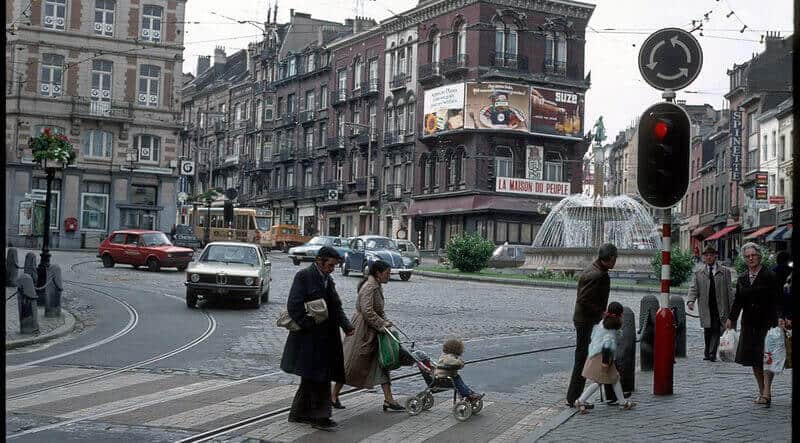 If you want a quiet neighborhood that is still in a superb location, this is a great option. Saint Gilles is home to an array of museums, art galleries, and markets.
Visitors will love the quiet residential streets and marvel in some of the gorgeous architecture of the area. The area has fantastic multicultural cuisine and a considerable number of restaurants. Furthermore, you will find an array of accommodation from budget hostels and B&B to high-end hotels.
Best places to visit in Saint Gilles:
Gare du Midi Market. The massive Gare du Midi Market is the largest in the city of Brussels. And not only that, it's the 3rd biggest in Europe. So I'm sure you can imagine the incredible array of things to see and do here. Visitors will enjoy the vast number of international market stalls that offer guests a variety of colors, smells, cheeses, chocolate, olives, and a general feel of the European continent. Brussels is a hub of Europe, and this market shows that.
Art Nouveau architecture and Indie art galleries. Visitors will enjoy the numerous art galleries in the area, which show the Art Nouveau style of art, which was immensely popular between 1890 and 1910. During this period, the art style is on architecture, interior design, jewelry, and glass. And there isn't a better area in the city than Saint Gilles. It's one of the best places in Europe to witness this kind of art.
The Horta Museum. The Horta Museum is a museum dedicated to the life of Victor Horta. And the creators built the building between 1898 and 1901, ever since it has been a staple of the city's artwork. Visitors will love the beautiful interior made from stained glass, mosaics, and beautiful wall decorations. There is even a research centre inside the building entirely dedicated to Art Nouveau.
Best Hotels in Saint Gilles:
Pullman Brussels Centre Midi is a luxurious, 4-star hotel, featuring a fitness centre, spa and sauna. Its stylish, modern rooms contain amenities like rain showers, Chromecast technology IPTV's, and air-conditioning. The on-site restaurant offers a range of gourmet, European cuisines, while the bar features an extensive wine list. Light snacks and refreshments are also available in the hotel lounge.
Harmon House is a fabulous, modern hotel, which only opened in 2018. All rooms come with flat screen TV's, private bathrooms and coffee machines, while some also offer balconies, for you to enjoy your stunning surroundings from. The restaurant serves international cuisine every day, while preparing a buffet breakfast each morning. A relaxing swimming pool, spa and wellness area is also available on-site.
B&B Hotel Brussels Centre Gare du Midi is a hip, modern bed and breakfast, offering a choice of buffet and continental options each morning. Free wifi is available throughout the property, while both the rooms and communal areas feature a vibrant, new-age style. There is also a bar for you to enjoy light snacks and refreshments while taking everything in.
🔍FIND BEST HOTELS IN SAINT GILLES
6. Avenue Louise, where to stay in Brussels for upmarket shopping
Are you someone who loves to go shopping? If so, you will love Avenue Louise. It's a trendy spot with locals and tourists. It's primarily known as the shopping hub of Brussels. The street is around 2km long, but there are numerous opportunities to empty your wallet.
The road is one of the most luxurious in the world and is a staple of luxury shopping. It's also next to great attractions like the King's Garden and Phoenix 44.
Visitors will enjoy everything from the upscale boutique shops to the luxury restaurants. You can find many luxury hotels in this part of the city, but some budget options nearby are a short walk away.
There are a few art nouveau buildings on Avenue Louise. Art nouveau is a popular internationally style of architecture and art during the 20th century.
The street has a long history that dates back until the 1800s when the builders built the street. One of the darkest moments in the street's history was World War 2 when Nazi Germany occupied the street. The Nazis used the street as the headquarters of their security operations. However, after World War 2 it returned to the vibrant street it is today.
For fine dining, luxury restaurants, check out the popular French restaurant De la Vigne a L'Assiette, or try fine Italian at Gazzetta restaurant.
Best places to visit near Avenue Louise:
Place du Chatelain. The Place du Chatelain is very close to Avenue Louise and one of the most famous squares in the city. The square is home to numerous flower shops, cafes, and a lovely outdoor marketplace. The artisan market in Place du Chatelain is a good spot for a foodie. You will enjoy some delicious local cuisine, wine, and many other delights. Furthermore, it's one of the best markets in the city.
Louise Tower. One of the most iconic buildings in the city is the Louise Tower. This 85-metre tall building peers over Brussels skyline and offers some of Brussels' best modern architecture. The Louise Tower is home to offices and hotels. It's the stand out modern building in the area.
🔍FIND BEST HOTELS NEAR AVENUE LOUISE
7. Saint Josse-Ten-Noode, a residential area in Brussels
If you want to experience a great residential area in Brussels, which is multicultural and vibrant, visit Saint Josse-Ten-Noode. This area is home to many fun things, including gardens, museums, and historical buildings.
The area is the most densely populated in Brussels. However, it is the most deprived area too. But it is home to some of the best shops in the area. Despite being rough around the edges, there is some cool stuff to see here.
Best places to visit in Saint Josse-Ten-Noode:
Le Botanique. One of the best places to visit in Brussels is Le Botanique. This garden was the first botanic garden in Brussels. First built in the 1800s, it has since been a popular place for locals to visit and relax. Visitors will enjoy the art centre inside the Botanique, which showcases a wide range of fine arts, concerts, and contemporary arts.
Charlier Museum The Charlier museum in Brussels is a fantastic spot to go if you wish to check out local art. After being bought by art collector Henri Van Custem, the building was remodelled and made into a museum in 1925. And ever since opening in 1928, the museum has been a pillar of the local art scene. Visitors will enjoy a wide range of art that includes furniture and art objects from different eras. Some of the exhibits date back to the 19th century.
Best Hotels in Saint Josse-Ten-Noode:
nhow Brussels is an elegant, 4-star hotel, which has obtained a certificate in sustainability. Rooms feature air-conditioning and large, ergonomic work areas, as well as a mini bar, flat screen TV and comfortable armchair and footrest. The restaurant provides a fabulous hot breakfast each morning, before switching to its menu of seasonal dishes, local specialities and cocktails.
Thon Hotel Brussels City Centre is located just 3-minutes from such destinations as Rue Neuve and Rogier Square. Not only does this make it convenient but it also provides amazing views from its top floor relaxation centre and panoramic sauna, as well as many of the upper rooms. The site also features a fitness centre, as well as a restaurant and bar, featuring a range of drinks, cuisines and entertainment activities, such as shuffle boards and billiards tables.
Hotel Crowne Plaza Brussels – Le Palace is a pet friendly hotel that offers guests relaxed, homely suites, complete with Wi-Fi access, flat screen TV's and blackout curtains. The restaurant provides Belgian specialities, as well as some international fare, while the bar offers a range of Belgian beers. There is also a fitness centre on site in case you want to work off everything you eat and drink during your stay.
🔍FIND BEST HOTELS IN SAINT JOSSE-TEN-NOODLE
8. Gare Du Midi, where to stay in Brussels near train station
Gare Du Midi, also known as Midi Station, is the busiest rail terminal in all of Brussels. With both national and international trains, including the Eurostar, stopping here, the district is a fabulous choice for anyone going in or out of the city by rail.
In the area surrounding the station you will find numerous affordable options on accommodation, bars, shops and hotels, making it ideal for those travelling on a budget.
There is little in the way of attractions in the area itself, however it is located in the central part of the city. This means many of the most popular and historic locations are within a 20-minute walk, giving you convenient access to everything you could need.
Stay In Gare Du Midi If you are arriving or leaving by train; you are traveling on a budget; you want easy access to the city's attractions; you don't mind staying in a less eventful area.
🔍FIND BEST HOTELS IN MIDI DISTRICT
9. Brussels Expo, home of the Atomium
The Brussels Expo district was the home of Expo 58, the 11th World's Fair. Since that time, it has built on that reputation to become the primary location for fairs and important events held in the city.
Its most popular attraction in modern times is a landmark called The Atomium. Built in 1958 for Expo 58, it stands 102 metres tall and is made of stainless-steel spheres that connect to form a cell unit representing an iron crystal.
Due to the high footfall in the area, there is a huge range of shop, bars, restaurants and accommodation. The styles and prices of each vary dramatically, ensuring everyone will be able to find something to accommodate them during their stay, no matter their taste or budget.
Stay In Brussels Expo If you want to see The Atomium; you are attending an event or fair; you want a wide range of shops, bars, restaurants and hotels.
🔍FIND BEST HOTELS IN BRUSSELS EXPO
10. Saint Gery, a great area for nightlife
Saint Gery was originally an island in the Senne River; however, the waters have since been diverted, connecting the neighbourhood to the mainland. Its location near the historic centre of the city makes it a fabulous option for those interested in culture and history during their stay.
It is also the home of the Les Halles Saint Gery, a converted indoor market that now houses an exhibition centre. This makes Saint Gery a fabulous place to stay for anyone attending an event here.
What truly sets the area apart though, is its reputation for vibrant nightlife. Restaurants, cafes and bars are abundant in the district, even spilling out onto the streets during the warmer months. With live music, drinks, and fabulous cuisine, it makes Saint Gery the ideal spot for those looking to party.
Stay In Saint Gery If Nightlife is a priority during your stay; You want to be near the historic centre of the city.
🔍FIND BEST HOTELS IN ST. GERY
11. Koekelberg, a residential area in Brussels
Koekelberg is an almost exclusively residential area, located around 5km from the centre of Brussels. With the smallest population of any neighbourhood in Brussels, it has a peaceful atmosphere, ideal for those seeking a quiet break away.
However, unlike many residential parts of the city, Koekelberg has a number of incredibly popular attractions too.
You have the Basilica Of The Sacred Heart, one of the largest Roman Catholic churches in the world. The Belgium Chocolate Village, where you can discover how the famous Belgian chocolate is made. You also have the Brussels Aquarium, where you can see and learn about marine life first-hand.
There's even incredible public transport links connecting you to the rest of the city. This all makes Koekelberg the ideal choice for anyone looking for a fun filled trip, without having to be surrounded by the mobs of tourists you'll get in the city centre.
Stay In Koekelberg If you want to stay in a quieter, more residential location; you want to visit the Chocolate Village, Brussels Aquarium or Basilica Of The Sacred Heart.
🔍FIND BEST HOTELS IN KOEKELBERG
12. Schaerbeek, great base for red light or financial districts
Schaerbeek is a neighbourhood that has a number of different sides, suited to different types of travellers. For starters, it is on the outskirts of the Financial District. When combined with its lower prices, this makes it a great choice for those who want to save a little money while on business.
On the other hand, it is home to the city's red-light district. This makes it a good choice for anyone interested in that sort of entertainment, potentially making it suitable for events such as stag dos.
While there are a few other attractions, such as the Botanical Garden, Schaerbeek is a neighbourhood best reserved for those looking to save a little money while visiting the other districts surrounding it.
Stay In Schaerbeek If you are travelling on a budget; you want to visit the red light or financial districts.
🔍FIND BEST HOTELS IN SCHAERBEEK
13. Les Marolles (Marollen), an up-and-coming neighbourhood
Les Marolles is a largely residential area that is one of the oldest parts of Brussels. Its quiet setting plays home to a number of quaint antique stores and a daily flea market, giving it a truly authentic feel.
Without an abundance of tourist attractions, it hasn't traditionally drawn a large number of visitors to the area, meaning the prices have stayed reasonably affordable. However, this combination has slowly begun to draw in more and more people to Les Marolles.
As a result, numerous stores, eateries, bars and hotels have begun to spring up in the district, making it one of the most up and coming parts of the city. This has created a hip vibe that makes Les Marolles ideal for younger travels, those on a budget, or anyone seeking an authentic experience.
Stay In Les Marolles If you are travelling on a budget; you prefer a more traditional, residential area; you want to stay in an up-and-coming neighbourhood.
🔍FIND BEST HOTELS IN BRUSSELS CENTRUM
The best thing about public transport in Brussels is the unified ticketing system which means you can use the same tickets for the different modes of transportation in Brussels. There are a variety of ways to buy public transport tickets which include Kiosks, Newspaper shops and supermarkets, Go machines, Metro, Brussels bus, tram, and train.
Brussels is one of the best cities in Europe for a quick weekend break. If you visit Brussels, you will enjoy the incredible markets, gothic architecture, and delicious cuisine. And the fact that the city is so small means you can see much of the city quickly. 
In my opinion, the best areas to stay are either the city centre or in Ixelles. If you're staying in either of these spots, you will be next to the best attractions, food, and architecture that the city has to offer. And you will be connected to public transport. 
Brussels is one of the most historical, multicultural, and influential cities in the 21st century. I hope this article has helped you decide on the best places to stay.