Where to stay in Bruges first time? for family, Christmas markets, budget, quiet and hotels with canal views and parking. In this blog, I will help you to find the best areas to stay in Bruges (include map and video) and the best hotels in Bruges for all budget travelers.
Bruges, also known as the Venice of the North, is quite famous for its scenic canals. The city of Old Flanders is well-known for crafting some of the most luxurious lace in the world. From picturesque Castles to Potato bars, it ticks all the boxes of a dream destination.
Be ready to experience the spine-chilling ghostly legends while enjoying the walking tour in this small city. Appreciating delicious Belgian Chocolate and Breweries on the cobblestone streets is the most satisfying feeling of all time.
Further, Bruges Concert Hall is a celebrated destination among tourists. The centrally located concert hall of Concertgebouw Brugge is loved for its perfect acoustics. 
Bruges has much more to offer other than cobbled streets and medieval architecture. It is also a designated UNESCO World Heritage Site. When a city has to offer plenty of mesmerizing places, choosing the best option could be exhausting.
Ahead of a trip to Bruges, you might wanna know more about this Flemish Historic Center. 
Where to stay in Bruges Belgium?
The best areas to stay in Bruges for tourists and first-timers are the City Centre, Ezelstraat Quarter, Sint-Anna Quarter, Sint-Gillis Quarter, Magdalena, and Railway Station – Sint-Michiels. These are popular and safe areas for tourists that offer a wide range of attractions and amenities.
The City Center is the best overall area for first-time visitors due to its prime location. If you book a hotel here, you will be located in the heart of action, within walking distance to the top tourist attractions, as well as many shops, restaurants, and bars.
Ezelstraat Quarter is a budget-friendly choice, within walking distance from the City Center. This 800-year-old lane is packed with trendy boutiques and colorful art galleries. Sint-Anna Quarter is a residential area, Sint-Gillis Quarter is a family-friendly neighborhood is a bit expensive compared to other options, but it's worth visiting.
For a quiet and peaceful stay in Bruges, there's no better place other than Magdalena Quarter. It's away from the crowd with lots of beautiful parks. Last but not least, Railway Station – Sint-Michiels. It's that one underrated but the most pleasing suburb of Bruges. It can get you to Grote Markt in just 10 minutes.
🎬 To get an overall idea of where to stay in Bruges, check out this short video:
Map of areas and neighborhoods in Bruges:
The 6 Best areas to stay in Bruges for tourists are:
1. Bruges City Center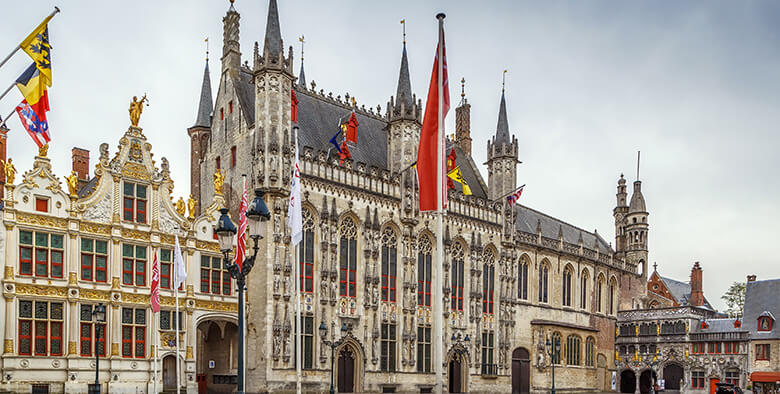 City Center (Historic Center), is the best overall area to stay in Bruges for first-time travelers due to its proximity to the city's top tourist attractions, and its wide range of accommodations, shopping, dining, and nightlife options.
It is an ideal example of a medieval historic settlement with several attractions and sightseeing options. The rich heritage can be experienced in the gothic brick structures and buildings of the Flemish capital. Staying here allows you to be located in the middle of the action!
There are plenty of things to do and see "in the Ring" from beautiful canals, winding waterways, medieval buildings, plenty of shops, restaurants, and many photo opportunities like Groenerei (Green Canal) and The Horse Bridge on Peerdenstraat.
Start exploring the city from Burge Square, which is home to the Basilica of Holy Blood. It is said to contain a vial of Jesus' blood. From there, you can walk in the Gallery XPO Salvador Dali Museum and spectate splendid art pieces.
Pay a visit to the City Hall (Stadhuis) and go up the Belfry Tower. The 83-meter-high tower is the soaring masterpiece in the heart of the medieval city. From there, you can have a magnificent view of the Square Markt. But, you've to climb 366 steps up to the top of the tower to witness the breathtaking scenery.
Take a stroll to Market Square and enjoy some Belgian meals with famous breweries. The Square market is the medieval commercial center of the city and is well-connected to the central canal. The traditional market is open from 8 am to 1 pm every Wednesday.
The Market Square in Bruges plays the best host if you want to buy something traditional. From fresh fruits to flowers, it's has got everything to make your trip noteworthy.
The remaining area of the square is encompassed by restaurants and cafes loaded with hot and cold snacks and delicious meals. The best part about being in City Center is that you get easy access to many attractions on foot. The accommodation options are excellent, which will make your stay memorable.
Bruges Beer Museum might ring a bell to you if you want to make your evening fun and memorable. But, don't forget to cherish the canals of Bruges with a guided tour.
But, keep in mind, City Center is always high in demand. People from all over the world take great pleasure in being a part of this place. So, make your reservation in advance. I am sure you don't want to miss out on the opportunity to stay in this vivid and quaint area.
The high-end hotels are located in the posh area of Bruges. They, without any doubt, are the finest hotel if you don't mind spending some extra money. These aristocratic hotels will give you an opulent stay in Bruges. But, if you're on a budget trip, even then, there's nothing to worry about. The City Center has a number of pocket-friendly hotels with more or less the same facilities.
Stay in City Center if you want to get teleported to medieval times; you want to remain close to the heart of Bruges; you want quick access to the major attractions on foot.
Best place to stay in Bruges Old Town:
MORE HOTEL DEALS IN CITY CENTER
See more: 13 Best Areas to Stay in Brussels, Belgium
2. Ezelstraat Quarter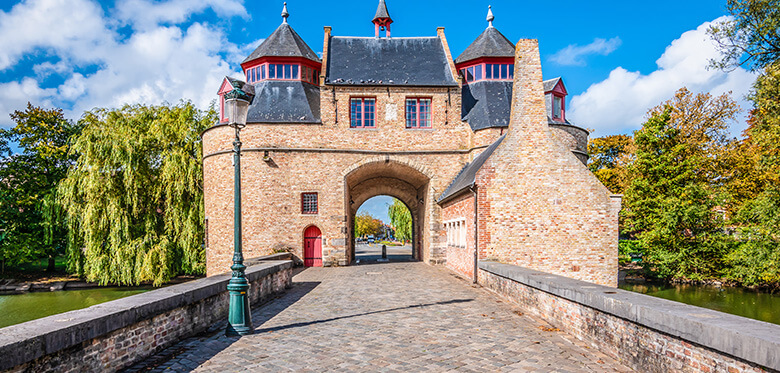 Best known for its 800-year-old street, it is no doubt one of the trendy places in the city. This divine place is located on the northwest corner of the Ring, just 3 km away from the Bruges City Center.
It offers a significant number of low-cost accommodations without compromising on the stay quality. Surrounded by cute gothic buildings, Ezelstraat Quarter is the epitome of beauty and grace.
Parks, museums, shops, modern bars and restaurants, and canals are the major source of attractions if you're planning to visit Ezelstraat Quarter. You will get plenty of dining options. Ezelstraat Quarter is the best area to stay for budget travelers and couples.
Donkey's Gate is from where you should start strolling in Ezelstraat Quarter. Moving ahead, you can explore some appetizing chocolate shops with your loved ones. But if I were to suggest, I would recommend Chocolaterie Spegelaere. For dinner, Ribs' n Beer is a restaurant worth dining.
Not to forget the stunning canals alongside cobbled alleys leading to the City Center. And one cannot simply ignore the splendid parks in this outer territory of Bruges. If you're going to stay here, parks are the must-to-go location.
Saint Constantine & Helena Orthodox Church are the two most prestigious churches of all time here. You won't struggle with finding peace in this holistic designation.
At the 13th century Ezelpoort, you'll witness the most exemplary architecture of Karmelieten Klooster. In the meantime, there are other boutiques and art shops which you can sightsee. Hold your breath! They may leave you astounded.
Be it socializing or strolling in the parks; the 800-year-old ancient street is more than rewarding. I'm sure you'll be going back with heaps of sweet memories and serene experiences. Don't miss out on the famous croissants at Croissanterie Ortiz.
However, Ezelstraat Quarter doesn't only deal in costly service. Next to Bruges market square, you can find low-end hotels with spacious rooms, a great bar, and modern amenities. They are all in proximity to the Old Town Bruges and canals.
Still wondering why Ezelstraat Quarter? It's a great deal with a convenient stay. You are not at the center of Bruges, still get a hold of the main attractions. Sounds interesting, right?
Stay in Ezelstraat Quarter if you want the best neighborhood at a reasonable price; you seek on-foot navigation to the sightseeing without any hassle.; you're going to enjoy canals alongside gorgeous old townhouses.
Best places to stay in Bruges in Ezelstraat Quarter:
MORE HOTEL DEALS IN EZELSTRAAT QUARTER
3. Sint-Anna Quarter
Located 2 km north of Bruges City Center, Sint-Anna Quarter is a peaceful neighborhood with cobblestone streets and alleys. It is a quiet quarter outside the historic center comprising heavenly canals and 17th-century cottages. It is a home for the local people, and you'll find family-friendly accommodations here. Also, this is where Bruges' blue-collar workers spent their lives.
But less crowd doesn't mean fewer facilities at all. There's more than enough to seize your attention in this little tranquil neighborhood. You can still enjoy Belgian and Flemish meals in peace at different outlets. It is well-connected to the Historic Center, although you'll be staying here, you can still travel to Bruges and other places of interest.
You can commence your tour with the renowned Langestraat, a cobbled street filled with bars and cafes. Despite the bustling action, it still offers a placid encounter. To add to your pleasure, you'll also find lots of eateries and some lush green space.
St. Anne's Church (Sint-Annakerk) is the most popular attraction here. It is less crowded than any other part of Bruges. Therefore, the hotel rooms in Sint-Anna Quarter are comparatively more spacious than the City Center.
Sint-Anna Quarter is home to several museums, including the 15th century Jerusalem Chapel. This antique jewel of medieval architecture serves as the oldest landmark. It is a replica of the Jerusalem church of Holy Sepulchre, built by a wealthy Adornes family. The package also covers the Lace Museum.
If you want to experience something exceptional, you may like to visit the parks where the grand windmills are standing amid the picturesque locus. Greenery, tranquility, and the ancient windmills are the souls of the Sint-Anna Quarter.
There are some really nice cafes in this silent Quarter. What if I tell you that there's a 500 years old Bruges Café – Vlissinghe. Yes, that's true! It's still there. Besides, there's T Risico, another elegant restaurant where you can try local Belgian foods.
Talking about the stay, if you're looking at the premium stays, there're many in-demand luxury hotels. They feature spacious rooms, a bar, an indoor swimming pool, and an eye-pleasing garden. Some cost-effective hotels are to be found if you're willing to move further from the center of attractions. Having said that this place is not so busy, I would still recommend you to book in advance.
If I had to phrase this unparalleled destination, I would say, "Sint-Anna Quarter knows well how to win hearts and gain the respect of travelers." You certainly don't want to miss the boat. This holistic excursion will take you away from the crowd and into the city popular with the locals.
Stay in Sint-Anna Quarter if You want a family-friendly area to stay in Bruges.; You don't mind living outside the City Center; A peaceful neighborhood is your priority;
Best places to stay in Bruges in Sint-Anna Quarter:
MORE HOTEL DEALS IN SINT-ANNA QUARTER
4. Sint-Gillis Quarter
Located to the south of the city, Sint-Gillis Quarter is the hippest place in the city. Located on the north of Bruges City Center, it is one of Bruges' most intriguing and in-vogue areas. On a short walk of 15 minutes, you can travel to the Historic Center. It is a stylish place loaded with cool cafes, restaurants, vintage shops, and canal views.
As a first-time traveler, you want to begin walking along the remarkable canal, admiring the sheer beauty of historic buildings. Believe me; it's your best chance to escape the bustling throng. If wandering around remarkable monuments is your thing and you want to groove on local vibes, then Sint-Gillis Quarter is the right choice for you.
Sint-Gilliskerk Catholic Church will leave you awestruck with its astounding architecture. Once reached there, you'll be compelled to adore the interior of the gothic church.
A great way of getting around the city is to visit parks: Hof de Jonge, a hip park where you can enjoy a stroll and never get bored. Further, you can taste the best local foods in the nearby eateries with your family. The cool quarter also boasts some epic upscale restaurants and cafes.
To alleviate your confusion, let me suggest to you some of the excellent preferences for dining here. Bakkerji Desoete can be considered as the ideal point to relish the desserts. And don't forget to grab a Belgian Beer at 'T Oud Handbogenhof to call it a day!
If you're at Sint-Gillis Quarter and you didn't visit Café De Reisduif, then your trip to Bruges is incomplete. This café has the best Belgian-style mussels, which you'll talk about for months. It will only multiply your appetite, and you will crave for more.
Sint-Gillis Quarter is no less than the City Center when it comes to offering extravagant stay. It is steeper, but you can't complain after the kind of service they're providing. Composed terrace, quality bar, and comfortable rooms are the additional perks of living here. Everything's up to the mark, and you'll be leaving on a happy note. Grote Markt and Old Town are in proximity to the hotel.
When it comes to mid-range, there're plenty of great picks waiting for you to choose. Despite being intermediate, they offer modern comforts and a decent lifestyle.
Stay in Sint-Gillis Quarter if you want to stay in a cool neighborhood with Market Square within walking distance; you want to live in a trendy place that is also oozing in culture; you want to discover a variety of mouth-watering eateries.
Best places to stay in Bruges in Sint-Gillis Quarter:
MORE HOTEL DEALS IN SINT-GILLIS QUARTER
5. Magdalena Quarter
Magdalena Quarter is one of the safest and cleanest places in Bruges. It is located at the south of the Bruges City Center. You can take a ten-minute walk from City Center and easily reach here. Compared to the tacky tourist traps of central Bruges, the restaurants, shops, cafes, and parks and Magdalena Quarter feel much quieter and more serene.
It is well known for the family and the residential neighborhood it provides. In contrast to the pricier markets in Bruges, this place is much more casual with a friendly, homely feel. It is far away from the hustle and bustle of city life. Magdalena has world-famous museums, greenery, artistic buildings, shops, and amusing art galleries.
To get a fresh and holy start to the day, you must first visit the Church of Our Lady. From there, within walking distance, you can explore the Smallest Museum and the Groeninge Museum. To add other art to your day, you can go to Absolute Art Gallery and learn more about the history and culture of Bruges.
St. Bonifacius Bridge is the best choice for a family outing. Travelers from all walks of life and all ages come to walk across this spectacular bridge. It is one of the youngest bridges in Bruges. It has a romantic atmosphere which will eventually grab your attention and will surely be a treat to your eyes.
If you still have some energy left, then King I Albert Park deserves your presence. Fresh air is the biggest perk while you're in Magdalena Quarter due to the many parks and playgrounds. Moving ahead to Minnewater Park, which can be your favorite sightseeing for a relaxing walk. Being in this place with your family can surely soothe your mind and fuel your energy.
A trip is incomplete without tasty food. That's why Books & Brunch are at your service to make your evenings better with hot coffee. You can always explore sweets and delicacies in different outlets here as it is easy to find cafes here.
Coming to the accommodation, you can always find a comfortable stay here. Magdalena provides some transcendent hotel services at a reasonable price. These hotels can cost anywhere from €80 to €230 depending on your requirements. If you're on a budget trip with your kids, then you can opt for cheaper or mid-range hotels. If money is not your concern, you can always look up to the grand hotels with imposing services.
Stay in Magdalena Quarter if you're looking for a more relaxed neighborhood with a local atmosphere; you're fond of Museums and have an interest in history; you're in search of a family-friendly environment.
Best places to stay in Bruges in Magdalena Quarter:
MORE HOTEL DEALS IN MAGDALENA QUARTER
6. Railway Station – Sint-Michiels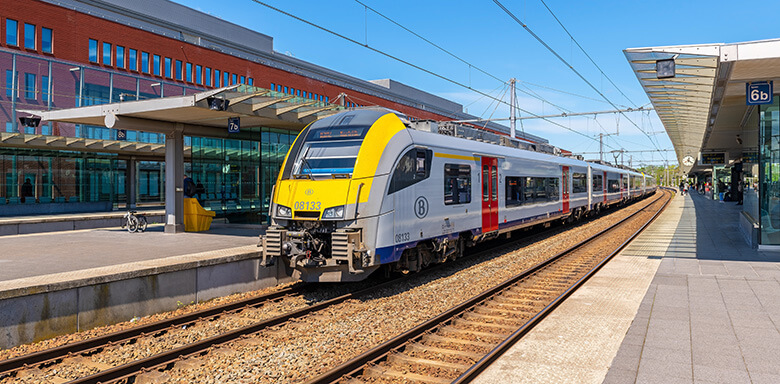 Before you jump right into the middle of the Bruges City Center, Railway Station, Sint-Michiels should be your go-to destination. This may seem like a mere stopping point, but it is special on its own. Let me make this very clear, this place is not as popular as City Center, but that doesn't take away the fact that it is a suburb of Bruges. The prices of the train tickets are low, which makes it the best means of transportation for local traveling.
Wanna drive to Grote Markt? It will hardly take 10 minutes from the train station. And you'll already be setting foot into the heart of Bruges. This brief but exquisite journey holds thousands of unsaid emotions which you'll cherish forever. Although it is isolated from the main city, its charm is unrivaled.
Sint-Michiels is noteworthy for its forests. Kinepolis Bruges is the top attraction established there. Out of several amusement parks, Boudewijn Seapark with the Dolphinarium shines above all. You'll appreciate the absolutely stunning nature offering peace and tranquility.
The nearest airport is Ostend-International Bruges Airport (OST) at a distance of approx. 24 km. Remember, the Center of Bruges is just 3 km away from here any time you feel bored. You can hop up to the train and adore your favorite fascinations.
You get options for both the premium and mid-range as well as budget hotels here with slight variations in services and location. These hotels serve a great purpose for both short and long-term stays. You won't face any inconvenience while staying here at all.
Stay at Railway Station – Sint-Michiels if you want to enjoy Bruges from the outside, away from the crowd; you want great deals on accommodation in a nature-driven area.; you want to witness great amusement parks and travel on the train.
Best places to stay in Sint-Michiels:
MORE HOTEL DEALS IN RAILWAY STATION
Where should I stay in Bruges for the first time?
Bruges City Center is the best area to stay in Bruges for first-timers due to its prime location. If you stay here, you will be located in the middle of the action.
What are the best areas to stay in Bruges?
The City Centre, Ezelstraat Quarter, Sint-Anna Quarter, Sint-Gillis Quarter, Magdalena Quarter, and Railway Station are some of the best areas to stay in Bruges because they are the most popular locations for tourists.
How many days in Bruges is enough?
Well, that really depends on what you want to see and do in Bruges. Three days is generally enough to get a good feel for the city and see its major sights, but if you want to take things slower and really soak up the atmosphere, you might want to stay longer.
Read More:
In conclusion, City Centre, Ezelstraat Quarter, Sint-Anna Quarter, Sint-Gillis Quarter, Magdalena Quarter, and Railway Station – Sint-Michiels are the best places to stay in Bruges for tourists and first-time travelers.
Overall, the City Center is the best area to stay in Bruges for first-time visitors because it is the most central location and it offers a wide range of accommodations for all budgets. If you stay here, you will be located within walking distance to the top sights, restaurants, bars, and shops.