Where to stay in Bordeaux? This is an important question because we want you to have a great experience during your time here. There are many options to choose from in this beautiful city, but there are some that stand out as being the best areas to stay in Bordeaux. Let's take a look at what these top places might be!
Bordeaux is a city in the southwest of France. The namesake city of a region world famous for its high quality wines, Bordeaux offers a convenient slice of the best that France has to offer. From wine and food, to stunning historical architecture, Bordeaux has something to suit every taste.
Whether you are looking to experience France's unique culture, or simply want to spend your vacation soaking in the sights and conveniences of a bustling modern city, this town has whatever you could want. There is sure to be an area of Bordeaux waiting to give you a trip to remember; I hope this article helps you find it.
Best areas to stay in Bordeaux:Tips & Info
There is a lot to see and do in Bordeaux and with so many options, it may be difficult to choose where to focus your time. I've provided some brief tips for those who know what they are looking for but not so much where to find it.
Wine lovers will find wonderful wine bars throughout the city, but Bacalan is home to the mighty Cite du Vin museum, filled with exhibitions and tasting rooms. The museum also helps to organise tours to vineyards outside of the city, but if you would rather explore the surrounding farms and wineries by yourself, you should stay in Bordeaux Lac, on the northern edge of town.
If you are only staying for a short break, the Downtown area is packed full of things to see and do with minimal travel time between them. This is also where you should stay if you want to explore the historical sections of the city.
For a low-key neighborhood, close to the city centre but without the tourist crowds and prices, consider Nansouty and St Genes, in the southern end of town.
If you want to stay near to transport links, Bordeaux airport is in the suburb of Merignac, whilst Gare St Jean is home to the major Bordeaux St John train station.
FIND BEST HOTELS IN BORDEAUX
See more:
Where to Stay in Bordeaux France: 10 Best Areas to Stay in Bordeaux
With so much on offer, it wouldn't be surprising if you are still struggling to decide where to stay. To help you along, I have highlighted and summarised ten key areas of Bordeaux that I think have the most distinct attributes. By breaking down what visitors may find most valuable in each area, I hope you will be able to find somewhere perfect for your trip.
Best areas to Stay in Bordeaux Map
To see more detail of where to stay i Bordeaux map, go to google map;
1. Downtown, where to stay in Bordeaux on budget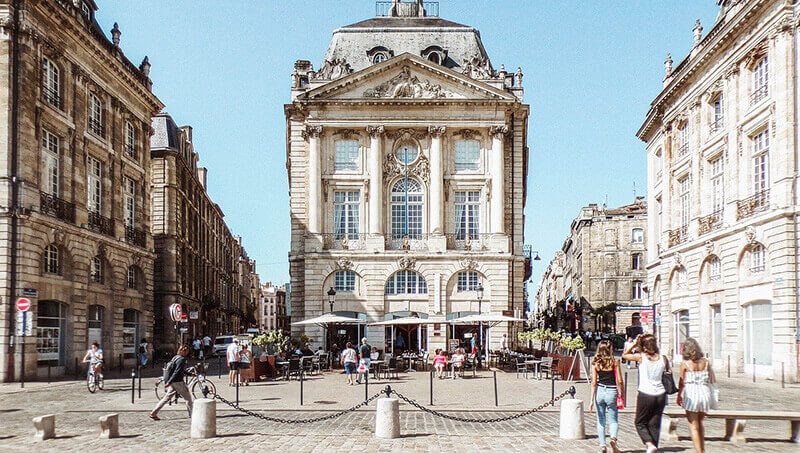 Downtown Bordeaux is the bustling heart of the city. Packed with contemporary shops, Michelin starred restaurants, and trendy entertainment venues, Downtown is the perfect blend of historical city and modern metropolis. The district is home to the city's Old Town, where you will find most of what remains of the old mediaeval architecture and grand buildings, such as the towering Bordeaux Cathedral.
Place de la Bourse is a beautiful 18th century palace, a resplendent example of the architecture of its period. It is now a major attraction for budding photographers, thanks to the mirror pool installation added to the grounds out front. When viewed from the right angle you can see the whole palace reflected in the water, creating a magical illusion.
The area along the riverside is lined with leafy urban parks leading to the Quinconces Square, one of the largest public squares in France, which regularly hosts fairs, markets, and seasonal events. For a particularly relaxed tour of the city, hop on one of the river cruises, which are available to board near the square. On sunny afternoons, a trip out on the water is both beautiful and refreshing.
If you want to escape the press of the tall buildings for a while, the Jardin Public is a network of beautifully landscaped gardens set around a large lake. In the west of the park is a pretty botanical garden, as well as the Bordeaux Science and Nature Museum, ideal for an educational afternoon.
Meanwhile young children can enjoy the shows performed at the puppet theatre in the east wing of the park.
Shortly southwest of the park are the remains of Palais Gallien, a 3rd century roman amphitheatre.
Bordeaux Downtown is a great area to stay if:
You want a convenient location close to major attractions
You love old buildings and grand architecture
You want to be able to comfortably explore the city on foot
You are staying for a shorter visit
You want to visit Monument aux Girondins and Place des Quinconces in Quinconces
You want to visit Pey Berland Tower, the tallest buildings in Bordeaux
Best Hotels in Bordeaux Downtown
Quality Hotel Bordeaux Centre is a fabulous, affordable hotel at the heart of the city, offering a range of accommodation options, from compact single rooms to spacious suites. Set in a 19th century building, just minutes from some top attractions, the hotel blends history with contemporary comfort, providing guest with a convenient opportunity to experience the culture of the city. All the rooms are equipped with air-conditioning, a flat screen TV, and a Nespresso coffee machine.
Aparthotel Adagio Bordeaux Centre Gambetta is a lovely 4-star property, offering spacious rooms and apartments in bustling downtown Bordeaux. Each unit is equipped with a kitchenette and dining space, but breakfast is also served daily in the light and airy dining room. A fitness centre, complete with sauna, is available for use by all guests, while air-conditioning and wi-fi are available throughout the hotel. Pets are also welcome, although additional charges may apply.
Hilton Garden Inn Bordeaux Centre is a lovely modern hotel, providing luxury and comfort on the banks of the Garonne. The rooms are spacious and bright, with some offering beautiful views over the river. The Babette restaurant serves a buffet breakfast and set menu lunch and dinner, while a small snack-bar and self-serve coffee counter are also available 24-hours a day by reception.
Golden Tulip Bordeaux Euratlantique is a stylish, contemporary boutique hotel. The rooms are spacious and comfortable, with city views and en suite bathrooms. Guests can enjoy a daily continental breakfast, as well as sampling local French cuisine and barbeque at the on-site restaurant for lunch and dinner. There are various communal spaces for guests to use, including a coworking area, lounge bar, and streetside terrace.
Hotel Burdigala Bordeaux – This beautiful 4-star hotel offers quintessential French elegance and luxury, at the heart of downtown Bordeaux. Every inch of the interior is impeccably styled, ideal for guests who value fashionable aesthetics. Guests can enjoy a range of luxury facilities, including a spa, gym, gourmet restaurant and comfortable wine bar. The spacious rooms and suites are all air-conditioned, offering city views, stylish bathrooms, and Nespresso coffee machines.
InterContinental Bordeaux Le Grand Hotel, an IHG Hotel Le Grand Hotel is one of the best luxury hotels in the heart of the historic center of Bordeaux. It consists of a fitness center, indoor swimming pool, hammam and sauna.
FIND BEST HOTELS IN DOWNTOWN
2. Capucins & Saint-Michel, in the south of Bordeaux Downtown area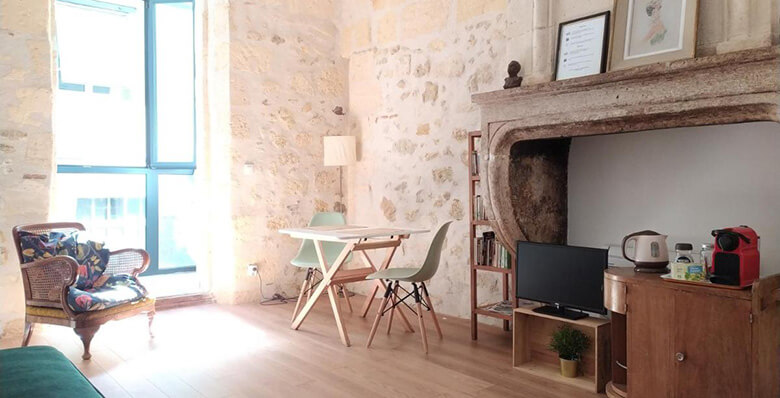 Capucins – Victoire is the neighborhood directly south of the Downtown area. Close to the river and the city centre but with someone lower rates for accommodation than Downtown, Capucins – Victoire is particularly popular with students and artists. They bring with them a thriving nightlife scene, featuring bars and clubs that keep the streets active until well into the early morning.
The area is well known as a hub of restaurants, serving a variety of cuisines, thanks to the thriving immigrant population. The foodie culture of the district is further present in the number of farmers markets and small independent butchers and bakeries, where you can pick up some local delicacies and ingredients.
Bordering the Old Town to the north, the area contains many older buildings and examples of the city's historical architecture. At the border between Capucins – Victoire and the Downtown area stands the mighty Gate of Burgundy. The imposing stone arch was erected in the 1700s to mark the entrance to the city. Bordeaux has expanded well beyond the old city gates, but the arch remains as a popular tourist attraction.
Close to the river is the gothic Basilica of Saint Michel, a grand 15th century church and UNESCO World Heritage site. The church, with its towering spire and gorgeous architecture, is worthy of a visit just to appreciate its history and aesthetics, but on the weekends the grounds host a bustling market, full of antiques vendors and food stalls. It's a wonderful spot to pick up some bargains and quirky souvenirs.
Capucins is a great area to stay if:
You want an active nightlife scene
You love historical buildings and beautiful architecture
You want an area with an eclectic mix of restaurants
You want to visit Musée des Beaux Arts
FIND BEST HOTELS IN BORDEAUX
3. Chartrons, the coolest area to stay in Bordeaux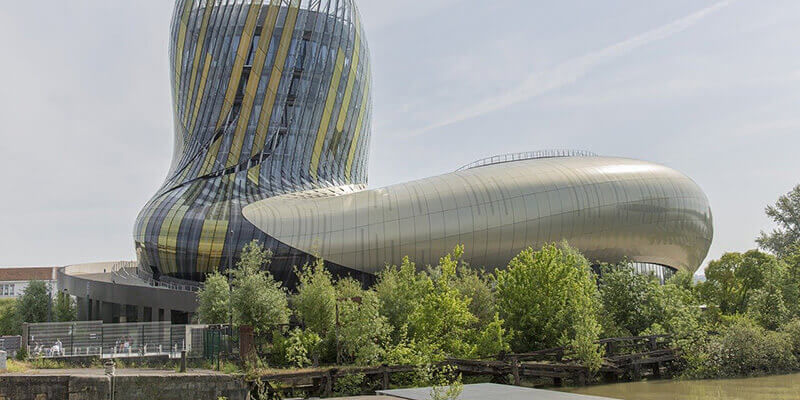 Directly north of the Downtown area, Chartrons is one of the most fashionable neighborhoods in Bordeaux. Full of trendy restaurants, contemporary shopping streets, and hip bars, the district is unerringly popular with the city's younger crowd.
The Quai des Chartrons runs along the waterfront, lined with an eclectic variety of boutiques and restaurants. The Bordeaux Village Shopping Centre, right up against the riverbank, houses even more shops and cafes, with many offering terrace dining right by the water.
The riverside Colbert Skatepark draws skaters of all ages and abilities and is an entertaining spot to spend your lunch break watching them execute some impressive tricks.
If you get tired of shopping and eating, there are several museums and galleries in the area to keep you busy. The CAPC Contemporary Art Museum hosts a frequently changing array of exhibitions and performances.
Meanwhile the Cap Sciences museum hosts one major exhibition each year, giving visitors plenty of time to visit and benefit from the educational programmes on offer. If you are visiting with children, the Junior Workshops are aimed at encouraging kids aged between 8 and 14 to take an interest in STEM fields. For younger children, the Arthur Workshops teaches 6- to 11-year-olds the basics of cooking and food safety.
For those who have come to Bordeaux for the wine, the Bordeaux Wine and Trade Museum is definitely worth stopping by. The museum displays exhibits documenting the history of wine production going back thousands of years. In addition to offering tastings and vineyard tours, the museum hosts a unique wine based escape room challenge which rewards victors with wine upon completion.
Chartrons is a great area to stay if:
You want to stay in one of the hippest neighborhoods in Bordeaux
Shopping is an important part of your trip
A wine based escape room sounds like great fun
Best Places to Stay in Bordeaux Chartrons
Seeko'o Hotel Bordeaux is a stunning, ultra-contemporary, 4-star hotel, with incredible views over the river. The on-site bar offers guests the opportunity to sample a range of quality wines and champagnes, whilst a selection of traditional French dishes is available via room service. Guests have access to a top of the range fitness suite, complete with sauna, as well as hotel-wide air-conditioning and wi-fi.
Hotel Vatel Bordeaux is a fabulous, mid-range hotel at the heart of Chartrons, close enough to the Garonne that some rooms offer river views. The rooms are stylish and spacious, with modern bathrooms, tea and coffee facilities, and plenty of storage space. The on-site restaurant serves breakfast, lunch, and dinner, also available as room service, and guests can relax at the hotel bar.
Mercure Bordeaux Cité Mondiale Centre Ville provides fashionable luxury, convenient location, and exquisite views. The rooms are large, comfortable, and stylish, with spacious modern bathrooms, air-conditioning, and mini bars. Guests can relax at the stylish on-site bar and restaurant, which serves delicious local cuisine, or enjoy stunning city and river views from the roof terrace dining lounge.
FIND BEST HOTELS IN CHARTRONS
4. La Bastide, the best budget area close to Bordeaux city centre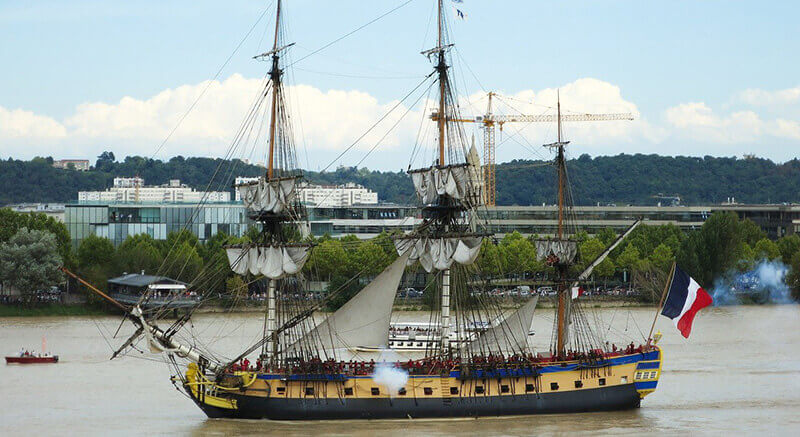 La Bastide is a vast neighborhood on the east bank of the Garonne River. Whilst slightly removed from the city centre itself, the district is graced with particularly beautiful views of the Old Town and iconic structures across the water.
Once a busy warehouse district, La Bastide has since converted many of its buildings into chic entertainment venues. The region now draws crowds for its prominent arts culture, with film festivals and host of live music venues.
A central feature of the neighborhood is the Botanical Garden. Comprised of six sections and including a beautiful water garden housing aquatic plants, the gardens are a charming escape from the bustle of the city. The garden boasts a year-round calendar of events and exhibitions, aimed at educating visitors about the plants and natural science.
La Bastide has its own very distinct atmosphere whilst being just minutes away from Downtown Bordeaux, well connected to the rest of the city by a series of bridges. These bridges themselves are a great representation of the historical development of Bordeaux.
In the south is the beautiful lamp-lined, red-brick Pont de Pierre, commissioned by Napoleon and an elegant example of classic French design. Meanwhile, in the north, is the concrete and steel Jacques Chaban-Delmas Bridge, a mechanical marvel whose middle sections rise up its towering columns like an elevator, to allow ships to pass beneath.
La Bastide is a great place to stay if:
You want some amazing views of the Old Town
You want a vibrant, culturally rich neighborhood with an active social scene
You want to visit the Botanical Gardens
Best Places to Stay in Bordeaux La Bastide
Hôtel des Voyageurs Centre Bastide is a contemporary, mid-range option, conveniently located right at the end of Pont de Pierre bridge. Guests who want to enjoy all that La Bastide has to offer whilst having easy access to the city centre will love this hotel. The property is very bright and airy, and the rooms are spacious with modern bathrooms and complementary toiletries.
ibis Bordeaux Centre Bastide – Guests looking for quality and comfort on a budget are sure to love this Ibis location. The rooms are compact but comfortable, with storage space and modern en suite bathrooms. A varied buffet breakfast is served daily, with plenty to choose from to please everyone. An on-site wine-bar provides space for guests to relax together, and wi-fi is available throughout the hotel.
Barge Tango – If you love staying in unique locations, this is definitely somewhere to consider. Why stay near the river when you can stay on the river? The cabins are compact but comfortable, with en suite bathrooms. There is an onboard bar and dining area, where guests can enjoy a continental breakfast each morning. Guests can also enjoy the rooftop lounge and hot tub.
FIND BEST HOTELS IN LA BASTIDE
5. Bacalan, an artsy suburb in Bordeaux
Bacalan is a district in the north of the city, a little way out of the city centre. Once an industrial district, the region has undergone extensive renovation and now its networks of warehouses have been transformed into a trendy neighborhood of chic restaurants, artsy boutiques, and popular music venues.
The area also developed a thriving art scene. The walls of many of the old warehouses are now canvases for local street artists, whilst out on the river a UFO sculpture hovers over the water. A German WWII bunker has been converted into a contemporary art gallery, La Base Sous Marine. If you enjoy music, the I.boat is a permanently moored ferry that has been converted into a concert venue promoting emerging artists.
Bassins de Lumières is one of the newer features of the area, but already it is a major draw for the area. The ground-breaking, digital art centre boasts multiple exhibition spaces entirely dedicated to the medium of light and projections. It's an immersive experience that is definitely not to be missed if you have the opportunity to visit.
One of the shining stars of Bacalan, and a major attraction of the city, is the La Cité du Vin museum of wine. The building itself is a stunning example of postmodern architecture, a futuristic work of art set against the banks of the Garonne River.
Inside you will find exhibitions and interactive displays on all aspects of wine production and history. Most importantly, there are several tasting rooms, where you can sample and learn about a wide variety of wines, with demonstrations that play on all of your senses for an immersive experience.
If you are interested in exploring the vineyards and farmlands surrounding Bordeaux City, there is a service in the museum that helps connect you to local tours.
Bacalan is a great place to stay if:
You love street art
You want to stay in a quirky, artsy suburb
You want to visit the La Cité du Vin wine museum
FIND BEST HOTELS IN BORDEAUX
6. Bordeaux Lac, one of the best areas to stay in Bordeaux for a quiet holiday
Bordeaux Lac is one of the northernmost suburbs of Bordeaux. A leafy, residential neighborhood, Bordeaux Lac is perfect for anyone looking for a quieter district outside of the city centre.
The area is named after the large lake that takes up a significant portion of its southern half. A public beach on the southern shore, with its sectioned off bathing area, it is a popular destination for locals to cool off during the summer.
On the northern shore of the lake is the Parc des Expositions de Bordeaux convention centre, which hosts a varied calendar of events and fairs throughout the year. There is a cluster of Bordeaux hotels nearby to accommodate visitors attending shows at the centre, with several overlooking the lake.
In the north of Bordeaux Lac is the nature reserve. Containing a mix of preserved wildland for protected plants and animals, as well as landscaped gardens and picnic areas, the reserve makes for a great day out for the whole family. The reserve also boasts a botanical garden, which hosts exhibits to educate visitors of all ages on ecology and the importance of preserving biodiversity.
In the west of the park is the Bordeaux National Forest, which is a beautiful place to take a walk around its winding lakes.
Being so close to the edge of the city and the surrounding farmland, Bordeaux Lac is the perfect place to stay if you are intending to visit and explore the nearby vineyards. Make sure to check availability before you head out, but most vineyards and wineries in the area offer tours and tastings to visitors.
Bordeaux Lac is a great place to stay if:
You want to visit the vineyards and wineries in the region around Bordeaux City
You would like to stay in a quieter suburb away from the city centre
You want easy access to nature and scenic walking routes
You are attending an event at the Parc des Expositions de Bordeaux convention centre.
Best Hotels in Bordeaux Lac
Pullman Bordeaux Lac is a gorgeous 4-star hotel with a heated swimming pool, fitness centre and gourmet restaurant, serving traditional French cuisine. The rooms are spacious and boast large bathrooms, plenty of storage, mini-fridges and tea and coffee making facilities. Guests can enjoy a buffet breakfast each morning, and relax in the on-site wine bar of an evening.
ibis Bordeaux Lac – Offering affordable quality with urban flare, this hotel overlooking the lake is ideal for anyone visiting for an event at the exhibition centre, which is just 550 yards away. The on-site restaurant serves a buffet breakfast and traditional French cuisine for dinner, with guests given the option to dine on the terrace with views over the water.
Novotel Bordeaux Lac is a lovely contemporary hotel, with beautiful, spacious rooms, a pretty pool area with views over the lake, and excellent location close to the exhibition centre and stadium. Guests can enjoy breakfast, lunch, and dinner at the on-site restaurant, with the option to dine on the lakeside terrace. The hotel bar provides space for guests to relax and mingle in comfort.
FIND BEST HOTELS IN BORDEAUX LAC
7. Gare St Jean, where to stay in Bordeaux for nightlife
Gare St Jean is one of the edgier neighborhoods of Bordeaux. It has a reputation for having some shady corners, but recent investment in the area has seen Gare St Jean rising to become quite a trendy area. Popular with locals and tourists looking for a more rough around the edges nightlife scene, the area is on the up and well worth considering as a place to stay.
The influx of youth culture to the area has brought with it a burgeoning arts scene. The riverside La Meca arts and cultural centre is a hub of modern experimental exhibition art. With multiple stages, projection rooms, exhibition halls, and artist residencies, the centre aims to support and present local emerging artists.
The biggest feature of Gare St Jean is the major Bordeaux St Jean train station, the city's main train terminal, which gave the region its name. Trains travel between St Jean and locations across France, making this an ideal place to stay for anyone heading in or out of the city by train, particularly if you are staying for a shorter visit, as less time will be spent travelling between the station and your hotel.
Being slightly removed from the city centre, and bordered by mostly residential and industrial neighborhoods, prices for accommodation in Gare St Jean are typically more affordable than the typically tourist centric districts in Downtown Bordeaux. If you are on a budget but don't want to stay too far out from the centre of town, this may be a good location for you.
Gare St Jean is a great place to stay if:
You are travelling in or out of the city by train and wish to stay near the station
You want to enjoy the city's edgier nightlife scene
Best Places to Stay in Bordeaux Gare St Jean
Best Western Plus Bordeaux Gare Saint-Jean is a fabulous modern hotel, offering chic, comfortable accommodation in an incredibly convenient location. Situated mere steps from Bordeaux's primary train station, this hotel is ideal for those stopping in the city for a shorter break. A buffet breakfast is served daily, whilst the on-site wine bar and giftshop provide additional comfort and convenience.
Hôtel Particulier – Bordeaux St Jean offers beautiful, spacious studios and apartments, within comfortable walking distance of Gare St Jean Train Station. The rooms are stylish and comfortable, with an edgy, urban aesthetic, and each boast a well-equipped kitchen, laundry facilities, and modern bathroom. Guests can relax at the onsite bar and terrace, or enjoy comfort and privacy with the convenience of room service.
Studio proche gare Saint-Jean is a bright and airy, modern apartment in an excellent location. Just minutes from both Bordeaux's main train station and several of the city's top attractions, including the Saint-Michel Basilica, this is ideal for anyone visiting the city for a shorter trip. The apartment is self-catering but the host provides some complementary staple ingredients and welcome beverages.
La Halte Montaigne is a lovely, independent B&B, providing superb, family-run hospitality and welcome in a beautiful building, just a few minutes from Gare St Jean Train Station. The rooms are spacious, stylish and feature a private bathroom. Guests have access to several communal areas, including a lounge and a garden veranda where breakfast is served each morning.
FIND BEST HOTELS IN GARE ST JEAN
8. Nansouty and St Genes, quiet neighborhood in Bordeaux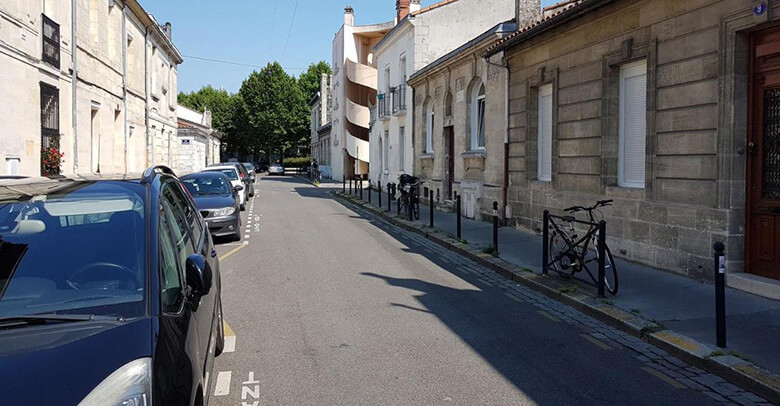 Nansouty and St Genes are two adjacent neighborhoods, just south of the city centre. The neighborhoods themselves are largely unremarkable, primarily residential with little in the way of tourist attractions.
However, being so low key is actually part of the advantage to staying in these neighborhoods. They are conveniently located just a few minutes' walk from Downtown and some of the major attractions of the city, but without the higher rates for accommodation found in the more tourist heavy districts.
All that said, they are not entirely without their own charm. The districts border pretty Capucins – Victoire and the classical architecture spills over into some of Nansouty and St Genes' northern streets.
They are also less crowded, with few major roads and less rowdy nightlife. If getting a quiet night's sleep is a concern for you when staying in a busy city, booking a hotel in Nansouty or St Genes will ease that particular worry.
The neighborhoods are well connected to the city's tram lines, making it incredibly easy to access the rest of the city quickly and efficiently.
Directly to the east you have Gare St Jean, with its major train station, providing convenient transportation to other parts of France. Ideal if you are travelling through multiple cities on a tour.
Nansouty and St Genes is a great area to stay if:
You are on a budget but still want to stay close to the city centre
You want a quieter neighborhood with few other tourists
Staying close to the Bordeaux St Jean train station is convenient
Best Hotels in Nansouty and St Genes
Appart Cosy à Bordeaux is a quirky inner-city apartment, with colourful décor and a strong vintage aesthetic. The apartment is compact but comfortable, making clever use of all the available space to provide all the necessary facilities and storage you will need for a wonderful stay. The apartment is self-catering but the host provides a complementary bottle of wine for all visitors.
Victoria Garden Bordeaux Centre is a delightful, contemporary hotel at the heart of the city. The fresh, modern décor is accented by playful wall murals dotted through the property, adding a sense of fun to your stay. There is a range of options available to suit various needs, from single studios to family apartments and suites, as well as additional facilities for guests with disabilities.
Bordeaux Cosy B&B is a unique boutique hotel, style B&B with plenty of personality and style. The beautifully decorated rooms are all air-conditioned, with modern en suite bathrooms and flatscreen TVs. Wi-fi is available throughout the property and guests can enjoy making use of the comfortable outdoor pool area and garden. Breakfast consists of traditional French fare and can be enjoyed al fresco or in the conservatory dining room.
FIND BEST HOTELS IN NANSOUTY AND ST GENES
9. Caudéran, a residential area in Bordeaux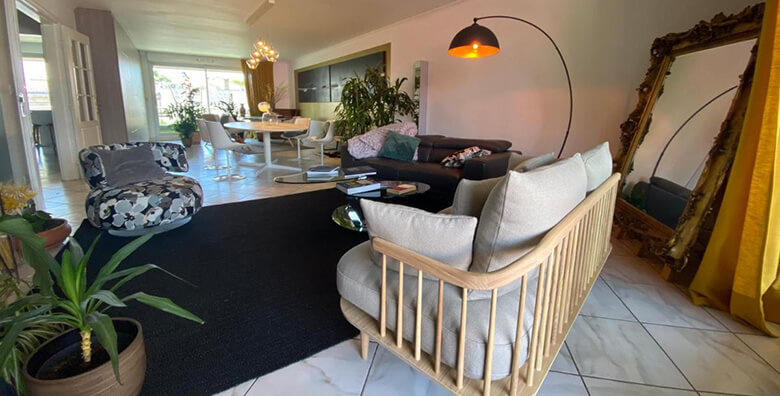 Cauderan is a residential neighborhood directly to the west of Downtown Bordeaux. The neighborhood is not typically considered a hotspot for tourists, but it is known for being a charming, chic neighborhood, that has retained much of its traditional local town vibe.
If you are looking for a slice of day-to-day French community life, in the heart of busy Bordeaux, this may be the perfect spot for you. The region mostly consists of pretty houses, old shops, and lush parks.
Thanks to the lack of tourist hype for the area, crowds are few and prices for accommodation are low. This is in spite of the fact that the main hub of the city centre is just a few minutes away on the other side of the Boulevard du President Wilson road.
In the northeast of the district is the large Bordelais Park, popular with families, particularly those with young children. The park is set around a large lake and contains several play areas, a puppet theatre, and an animal park that is home to peacocks.
Closer to the border with Downtown Bordeaux, the administrative district boasts some of Bordeaux's first skyscrapers. The juxtaposition of building styles between traditional domestic and modern business is a striking demonstration of Bordeaux's growth and development as a city.
Caudéran is a great area to stay if:
You are looking for a chic but understated neighborhood close to the city centre
You prefer a quiet district with a strong local vibe
You are travelling with family or young children
Best Hotels in Bordeaux Caudéran
Chambres du Parc Bordelais is a delightful, modern bed and breakfast, offering a blend of contemporary style and home comfort. All the rooms boast a patio or balcony, private bathroom, wi-fi, and a flat screen TV with access to streaming services. Car rental and free parking are available from the hotel, so this is particularly convenient for guests who wish to explore the city by car.
La Villa Verte is a charming, suburban apartment, ideal for any traveller who wants to experience living like a local. Wi-fi and air-conditioning are available throughout the property, and guests will have a private bathroom and well-equipped kitchen with dining area. There are plenty of shops and restaurants in the local area, or guests can enjoy relaxing on the furnished garden patio.
FIND BEST HOTELS IN CAUDERAN
10. Merignac, where to stay in Bordeaux near the airport
Merignac is the largest suburb in the city of Bordeaux and home to the city's closest airport. If you are looking to stay close to the airport, this quiet residential neighborhood is the perfect location.
Whilst the region may be further out from the busy city centre and the most famous tourist attractions, Merignac is not without sights of its own. The area is home to several castles, parks, and entertainment venues. In the south is Tour de Veyrines, once the gate to the castle's dungeon, it is now all that remains of the mighty fort that once housed the ruling family of the area in mediaeval times.
The Old St Vincent Church in the centre of the district may not look all that impressive, especially compared to the grand gothic structures in the town centre. But, built in the 12th century, it is the oldest church in the entire city of Bordeaux. Having served a number of different functions and survived many fires, the church now acts as an arts centre, hosting exhibitions, workshops, and talks by renowned artists.
In the east of the neighborhood is the sprawling Parc de Bourran, once the private grounds of the Grand Chateaux of the same name. The Park consists of an expanse of manicured lawns and gardens, set around a large lake with an artificial waterfall, and houses species of rare, imported trees.
Merignac is a great area to stay if:
You want to stay near the airport
You prefer to stay in a quieter outer city suburb
You would like to visit the oldest church in the city
Best Hotels in Bordeaux Juderia De Cordoba
Mercure Bordeaux Aéroport is a luxurious, 4-star hotel, just minutes from the airport. The entire hotel exudes style, and the rooms are elegant and spacious. Guests can spend their time relaxing by the pool or in the furnished garden and terrace areas. The city centre is just 20-minutes away, but guests can enjoy plenty of in-hotel entertainment at the on-site restaurant and bar.
ibis budget Bordeaux Aéroport – There's no need to compromise style and comfort for affordability when this Ibis offers it all. The rooms are minimalist and functional, with a futuristic edge. Meanwhile, the garden patio and fashionable bar and dining area offer space for guests to relax and mingle. Air-conditioning and wi-fi are available throughout the hotel, while rooms with additional accessibility facilities are available if required.
FIND BEST HOTELS IN MERIGNAC
Where To Stay In Bordeaux For Wine Tasting?
There are bars and wineries throughout Bordeaux, offering tastings of the local wines. Downtown in particular boasts a dense collection of wine bars, as well as companies offering guided tours and private tastings.
If you really want to get into the culture and production of wine, then stay in Bacalan, near the Cite du Vin. The stunning, purpose-built museum offers guided tours of their exhibitions, multiple tasting areas and unique multi-sensory experiences, as well as an information centre to help you plan a trip to the vineyards surrounding the city.
Meanwhile, staying in Bordeaux Lac, close to the southern edge of the city, provides quick and easy access to surrounding chateaus and vineyards. Most of these vineyards offer tours and on-site wineries for tastings.
Where To Stay In Bordeaux City Centre?
The city centre is where you will find most of the major attractions of Bordeaux. Popular with visitors, there are plenty of options when it comes to accommodation in the area.
L'Hôtel Particulier is a 'fabulous' guesthouse, set just 100 yards from the iconic Bordeaux Cathedral and a short walk from both the Museum of Aquitaine and the Grand Théâtre. The rooms are spacious and stylish, with some offering balconies overlooking the city.
La Loge du 12 offers 'superb' apartments in the centre of Downtown Bordeaux, right near to the river. Fully equipped with kitchen and laundry facilities, the apartments are perfect for anyone who wants to feel like they're living like locals in the city centre.
How To Get Around Bordeaux
Bordeaux is very well connected by public transport, with bus and tram lines running throughout the city. Fares are very reasonable on a trip-by-trip basis but are even more affordable if you pick up a Bordeaux Découverte card, which can be used to pay for unlimited travel for multiple days.
If you stay in or near the city centre, you should be able to comfortably walk around most of the notable attractions. The city is also quite cyclist friendly, with plenty of places where you can rent a bike for your stay.
Best Things To Do And See In Bordeaux
Bordeaux is a historical town that has grown into a world famous hub of culture and cuisine. The first thing that comes to most people's minds when they think about visiting Bordeaux is, of course, wine.
La Cite du Vin is a museum dedicated entirely to the history, production, and appreciation of wine. They offer several tasting rooms, including some designed to provide a full multi-sensory experience. The museum also has a service that helps you to book tours and tastings at vineyards and wineries outside of the city, a convenient way to explore more of the Bordeaux wine region.
If you are interested in the history of the city itself, Downtown is particularly full of iconic sights and attractions. The Old Town, near the river, has buildings that date back to the city's mediaeval founding. La Gross Cloche is an excellent example, dating back centuries to when it was used as the city's main clock tower, it now sits, beautifully preserved, on an ordinary street. It should definitely be a stop on your walking tour.
If you are looking for somewhere to take amazing photographs, head to Place de la Bourse and the water mirror. Place de la Bourse is a gorgeous 18th century palace, well worth visiting by itself to appreciate the artistry and architecture. The 'water mirror' is a more recent addition; a broad, shallow pool of water, designed to reflect the buildings around, a stunning effect that has been drawing photographers, and more recently instagrammers, to the location since its installation.
If you are looking to take in some of the city's wonderful performing arts scene, the Grand Theatre de Bordeaux should be on your itinerary. Built in the 1700s, the theatre is home to the Bordeaux National Opera, but also hosts performances of theatre, music, and ballet. It's worth stopping by to appreciate the majestic building even if you don't have time to take in a show.
Best Place To Eat Bordeaux
Bordeaux is a gastronomic wonderland, with bars and restaurants across the city offering menus designed to take advantage of the region's reputation as a wine mecca.
Madame Pang is a Chinese restaurant in the Old Town, focusing on traditional Hong Kong cuisine. Their in-house sommelier hand selects the best wine pairings for each dish, to deliver a delicious, multicultural experience. On Sundays, the restaurant also welcomes musicians to perform live shows for an even more immersive atmosphere.
Inside the Cite du Vin wine museum you will find the Restaurant le 7, a stylish restaurant with panoramic views over the city. Recognised in the Michelin Guide, the restaurant boasts one of the most comprehensive wine lists in the city, perfect for pairing with their seasonal menus.
If you are visiting around the time of the Les Epicuriales food festival, you should absolutely head to the leafy Allées de Tourny. The festival draws Michelin recognised chefs and local restaurants to transform the square into the most refined al fresco food court you are likely to experience. Usually held in late spring or early summer, the festival lasts for several days, giving you plenty of time to try as much of the gourmet street food as possible.
Best Time To Visit Bordeaux
Whilst the peak season for tourists in Bordeaux is during the summer months of June to August, I would recommend late spring as being the optimal time of year to visit Bordeaux. Being in the south of France, the climate is reasonably warm from around late April, so you can comfortably enjoy wandering the vineyards and wineries.
Spring means avoiding most of the visitors who flock to the city during summer. Museums, attractions, and wineries will be less crowded. Prices for accommodation are also usually lower outside of peak season too.
It is worth noting that Bordeaux hosts a fair few festivals and public celebrations throughout the year. The 'Bordeaux Fête le Fleuve' river festival is particularly popular, whilst the 'Les Epicuriales' celebration of local cuisine is a hit with anyone who appreciates good food. Dates for the various festivals change from year to year so, if you are undecided on when to visit, it may be worth checking for festivals you would be interested in attending and planning your trip around them.
If you are looking to visit the vineyards you should avoid early autumn, as many farms do not accept visitors and tours during the busy harvest season.
See Also:
Conclusion
When most people hear mention of Bordeaux, their minds immediately turn to the wines that are the area's most famous export. But there is so much more to the city than just wine. Whatever you are looking for from your time in France, it is well worth checking to see if there is an area of Bordeaux that can provide it. It is highly likely that you can find your dream destination here.