Where to stay in Bogota for first time? for backpackers, nightlife? In this guide, I will help you to find the best areas to stay in Bogota, best hotels in Bogata for all budgets, and safest places to stay in Bogota.
Bogota is the capital of Colombia, one of the highest capitals in the world located at around 2,640 meters above sea level. Along with Medellin, Bogota is one of the most visited destinations in South America and one of the safest cities in South America.
There are plenty of fascinating sights to see in Bogota from the historic neighborhood of La Candelaria, Zona Rosa, Botero, Gold museums, Monserrate Hill, and the panoramic views of the Cerro de Monserrate. From the world's trendiest restaurants, unique local markets, cathedrals, and churches, Bogota has it all!
Where to stay in Bogota for the first time?
The best areas to stay in Bogota for tourists and first-timers are La Candelaria, Chapinero-Zona G, Teusaquillo, Usaquen, and La Zona Rosa. These areas offer plenty of accommodation options for all budget travelers.
La Candelaria is the best base for travelers seeking history and cultural immersion. Zona Rosa is the best location for a vibrant nightlife and upscale shopping, while Chapinero-Zona G is the best place for visitors seeking a diverse neighborhood with excellent dining options.
Some of the safest areas to stay in Bogota include Zona T (Zona Rosa), Parque de la 93 (Park 93), Usaquen, and Chapinero. While these areas are generally safe, it's always important to exercise caution and take standard safety precautions as you would in any major city.
It's recommended to stay in well-lit areas, avoid displaying valuable items, and be aware of your surroundings. Additionally, it's advisable to consult with local authorities or trusted sources for the most up-to-date information on safety in Bogota.
If this is your first visit, I recommend spend at least three days in Bogota, which is enough to visit the city's most exciting areas, try local food and drink, and get the sense of the city. If you have more day, you can enjoy the city in a slower pace, and take a day trip to surrounding areas.
Overviews of best areas to stay in Bogota for first-time tourists
Here is an overview of recommended areas in Bogota for first-time visitors:
Map of best areas and neighborhoods in Bogota: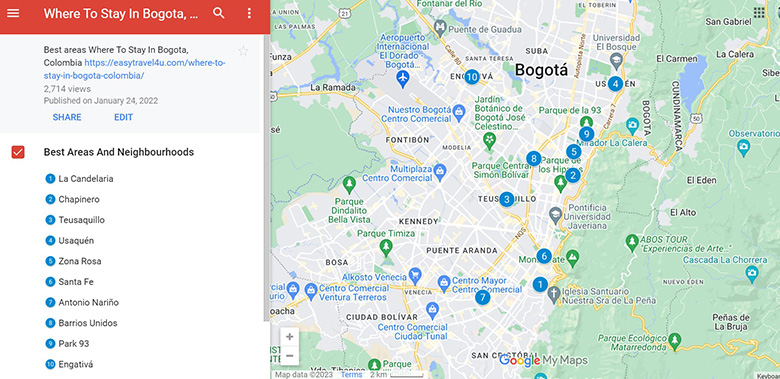 10 Best areas to stay in Bogota for first time tourists are:
1. La Candelaria
Bogotá's Old Town (the historic center of Bogotá) – Candelaria is a less than 1 square mile area that contains some of the most popular museums and attractions, good for sightseeing lovers, first-time tourists, and budget backpackers.
Candelaria was founded in 1538 and takes its name from a Catholic chapel devoted in honor of the Virgen de la Candelaria.
Home to an array of museums, theatres, universities, and historic libraries, all set to the picturesque backdrop of small, cobbled streets and beautifully decorated squares, surrounded by Spanish colonial buildings designed in art deco and baroque styles of architecture.
The 14,000 square meters of Plaza de Bolívar is the main public square, located at the heart of Bogota's cultural capital. The square is surrounded by important attractions like the Palace of Justice, the Cathedral of Colombia, the National Capitol, the Independence Museum, and Palacio Liévano (City Hall).
Nearby, you will find the Botero Museum, a famous art museum that displays works of Fernando Botero, and many world-class artists like Renoir, Money, Degas, Picasso, and Miró; and the Museo del Oro (Gold Museum), which has 55,000 pieces of gold.
There are many more museums if you are interested in Colombian history including:
the Bogotá Museum – Casa Sámano
the Independence Museum – Casa del Florero
the Museo Santa Clara, Museo Colonial
the Military Museum of Colombia
the Archaeological Museum Casa del Marqués de San Jorge
the Museum of Colonial Art.
Another must-see attraction is the Gabriel García Márquez Cultural Center, which was designed by Franco-Colombian architect Rogelio Salmona. Here, you will find the bookstore of the Mexican publisher Fondo de Cultura Economica, an auditorium for 324 people, and Juan Valdez café.
Many people claim Bogotá was founded on August 6, 1538 on the small plaza called Chorro de Quevedo. It is now a popular meeting place for college students and street performers.
If you follow Calle del Embudo (Funnel Street), an old narrow, cobblestone street, you will find a small park with some of the best graffiti and street art in Bogotá and good views of Monserrate hill.
There are also a number of churches in the barrio including the 17-century Church of Nuestra Señora de La Candelaria with its red-and-white striped facade; the Primada Cathedral of Bogotá, the Capilla del Sagrario, and t the Church of Santa Clara.
After sightseeing, you can grab a delicious, traditional Colombian like tamales, ajiacos, and Santa Fe chocolate at La Puerta Falsa, the oldest restaurant in the city, which was built around 1600
Speaking about safety, La Candelaria is safe but be aware of pickpocketing as common sense when you travel to any place, and avoid walking at night.
This is unquestionably the place to come if you're looking to experience the history and culture of the city and with incredible rates available on the inexpensive to mid-range, it's more than accessible for everyone, no matter their budget.
You will find budget-friendly hostels to luxury hotels, many of them feature a garden, a terrace, a 24-hour front desk, free wifi., and within walking distance to the attractions, restaurants, and shops. Candelaria is the best area to stay if you're searching for where to stay in Bogota for one night.
Stay in La Candelaria if You enjoy the culture and historic sights; you want a fantastic deal on accommodation; you are first time traveler;
Best Places to stay in Bogota in La Candelaria for first-timers:
luxury ($$$): Hotel Santa Lucia Boutique Spa This 5 star hotel is located in the historic heart of Bogota, close to Bogota's Gold Museum, Bolivar Square and Bogota Cathedral. It has a charming central courtyard and elegant colonial-style décor rooms.
mid-range ($$): Hotel Casa de la Vega is a beautiful, 4-star hotel, located in a traditional, colonial-style building in the historical center of Bogota. The rooms have a homely décor and feature a seating area, private bathroom, and flat-screen TV, while some even have their own balcony or patio.
budget ($): CGH Candelaria Boutique offers beautiful, homely rooms, all of which come equipped with a private bathroom and flat-screen satellite TV, free WiFi. The hotel boasts a terrace, garden, and lounge for you to relax in, while a bar, business center, laundry service, table tennis, billiards tables, and bike hire are all available.
2. Chapinero
If you're looking for an LGBTQ-friendly neighborhood, Chapinero Alto (Chapigay) is your best bet. Chapigay is the biggest gay community in the city. The neighborhood has great nightlife, and Theatron De Pelicula is one of the nightclubs to go for parties!
While there are some historical sites, such as Chico Museum, Bogota Church, and Our lady Of Lourdes Basilica, the Monument to the Heroes, this is a more built-up area that has features more in line with modern-day cities.
Chapinero is home to Zona G also known as Soho of Bogota (G means Gourmet). If you're a foodie, you will like this high-end restaurant area with all types of cuisines from all over the world French, Italian, Chinese, Spanish, and Peruvian food.
For a shopping experience, be sure to check out Unilago Mall, Avenida Chile Shopping Mall, and Andino Shopping Mall.
It does, however, still feature lots of traditional architecture, even featuring many 19th-century English-style buildings. Chapinero is a good place to stay if you want a normal city break, where a rich history features as a side attraction.
You can also watch a show at El Teatro Libre which was founded in 1973; a football game at El Campín stadium which is the biggest stadium in Bogotá.
It's also a very affluent area, so the quality of hotels is incredibly high to match. However, while it's still a little pricier than our previous two districts, it is still incredible value for what they have offered.
Stay in Chapinero if you love beautiful hotels; you like more built-up areas; you want to be close to the history but not in it; you want a city break
Best Places to stay in Bogota in Chapinero for first-time visitors:
3. Teusaquillo
Located in the center of Bogota, Teusaquillo is most famous for being the location of Universidad Nacional (National University), this area is much more of a residential location, featuring a slower pace to your day-to-day activities.
You're now starting to get a little more into downtown modern-day Bogota and the historical sites are few and far between. Here the highlights include the Simón Bolívar Metropolitan Park, El Campin Stadium, Kids Museum, and Parque de Los Novios.
Families will want to spend a fun day with kids at the 113 hectares of land of Simón Bolívar Park, a central park of Bogota, slighly larger than New York's Central Park. It hosts many activities from outdoor sports to concerts and events like Rock al Parque. Here you will find lakes, public libraries, stadiums.
Sports fans will want to watch a match at El Campin Stadium, the primary football stadium in the city with 36.000 seats. It is the home ground of the Independiente Santa Fe and Millonarios association football team.
Teusaquillo also has several museums like the:
Art Museum of the National University of Colombia
National Geological Museum
Museo de los Niños.
A beautiful part of the city where you can come to learn more about current cultures and traditions of the area, the accommodation is just as good value as everywhere else we've looked at and has a very similar range to Chapinero, perhaps with prices even slightly lower than that.
Stay in Teusaquillo if you prefer more residential areas; you are interested in sports and stadiums; you like parks; you enjoy nightlife; you want incredible deals on accommodation; you would rather modern culture to history
Best places to stay in Bogota in Teusaquillo for first-time tourists:
4. Usaquen
The most north-eastern district in Bogota, as well as one of its largest, Usaquen, was previously a municipality all of its own until it became part of the city in the '50s. Usaquen is one of the upscale districts in Bogota.
Located in the foothills of the Eastern Hills, it features a lot of similar architecture and styles to that found in Candelaria, due to its colonial past, and a 16th-century church features as one of its historical highlights.
However, it also features much more modern attractions too, such as golf clubs, shopping malls, markets, bars, and restaurants. This makes it a great destination to experience a nice balance of modern and traditional Bogota, all while enjoying some of the features you would hope for on a relaxing vacation away.
Usaquen Park (Parque de Usaquén) is a lovely place to relax, and explore the surrounding landmarks like the old Town Hall and Santa Bárbara de Usaquén.
For a shopping experience, head to the Sunday flea market – Mercado de Las Pulgas, where you will find souvenir items and street food. And some of the shopping malls like Unicentro Bogota Giant Shopping Mall, Hacienda Santa Barbara Shopping Centre, and Palatino Mall.
If you want more entertainment, visit the famous clubs and casinos in Bogota: Casino Millionaires and Crown Casino Unicentro.
As you've probably gathered by now, accommodation in Bogota is incredibly good value, with a wide range of options and Usaquen is no different in that regard.
Stay in Usaquen if you like mountains; you want more traditional tourist luxuries; you prefer a balance of history and modern culture; you like value for money; you enjoy shopping
Best Places to Stay in Bogota in Usaquen for first-timers:
5. La Zona Rosa
Many Latin American cities have La Zona Rosa (Zona T), and Bogota is no different. Zona Rosa is the nightlife hub in Bogota in the southern half of the city.
La Zona Rosa is busy all day and night with plenty of hottest bars, pubs, and nightclubs. You can try some Colombian craft beer tasting at Bogota Beer Company, Gringo Tuesdays, Pravda. The price of drinks and casino games can be a little bit more expensive than in other party neighborhoods.
It is locals as well as visitors that fill its streets, shops, restaurants, and discos. Some of the best malls in Bogota located in this district include the Centro Comercial Andino and Atlantis.
The cuisine is varied and certainly international. You will find everything from local, to Mexican and French with snacks and full menus readily available. Local businesses understand the importance of tourism and you will certainly be welcome.
There are some good hostels in La Zona Rosa, but they will charge a little more per night than elsewhere in Bogota. The Pink Zone also has mid-range and luxury hotels so, in fact, it has something for every budget.
You will find 5-star hotels, 4-star hotels, 3-star hotels, and budget hostels within walking distance to all the major attractions and nightlife in La Zona Rosa.
6. Chico and Parque 93
This is a fairly affluent district in the north of Bogota. It is fun just to walk its streets, and certainly safe to do so. It may not be as busy and hectic at night as for example La Zona Rosa, but you will be happy with the choices of what to do at night. The Parque 93 itself is a highlight and hosts concerts and festivals regularly.
Parque 93 is slightly more relaxed than its neighbor, with many sports bars offering sport for soccer-mad locals and anyone who walks through their doors. The restaurants are equally as casual with local cuisine the number one choice.
Parque El Chico has water channels, ponds, nice museums, and fountains, a good place to relax. Chicó is a luxury and safe area with many restaurants, galleries, and shops.
You can easily reach the Old Town by direct TransMilenio bus and the taxi. Accommodation is limited in Parque 93, and you will not find much in the way of hostels.
While there are some mid-range hotels, it is an area where the luxury hotels predominate. As a result, it is wealthy tourists that will pick Chicó y el Parque 93 as a base.
7. Engativá
If you're looking for a place to stay near the El Dorado International Airport, you can consider staying in the Engativá neighborhood.
This is a largely residential district in Bogota with more than 800,000 Colombians, comprising mainly working and middle-class families. It is in the west of Bogota, and you will certainly learn more about the life of locals if they choose this as your base.
The amenities are aimed at the residents but do not expect to see museums or cultural landmarks or find much nightlife. However, you will find plenty of eateries serving local cuisine primarily. What you will not find are many other international travelers and for some, that is a definite plus.
The advantage for budget travelers is that they will find keenly-priced hostels here, and you will not need to book in advance. The transport links into the most popular parts of Bogota could be better. If you can tolerate that frustration, you will save money by choosing Engativa.
Best places to stay in Bogota in Engativa:
8. Santa Fe
If you're looking for a budget-friendly area to stay in Downtown Bogota, Santa Fe is a great place to stay in, with proximity to the sights and landmarks.
A substantially larger area that is almost 22 times the size, it features a number of similar sights to Candelaria but is interspersed with many more modern facilities and built-up areas.
This makes it perfect if you want to experience the history without living in it throughout your stay.
It's also intersected by 4 different rivers, which provide some unique walks and stunning views, both day and night. For adventure travelers, you can make a day trip and hike to Monserrate mountain, enjoy wonderful views of the city from its peak.
For history buffs, you can visit the National Museum, the Gold Museum, and the International Emerald Museum. And more museums nearby like Bogota's Museum of Modern Art, and Military Museum of Colombia.
Unsurprisingly, given its location, it features similar pricing to the deals found in Candelaria but with much more variety of types of accommodation, making it another area that is accessible to all budgets.
Stay in Santa Fe if you are interested in history and culture; you want a great deal in accommodation; you like rivers; you want to be able to take a step back from the historic sights and relax, without having too far to travel to see them.
Best Places to Stay in Bogota in Santa Fe for first-time visitors:
9. Antonio Nariño
Antonio Nariño area, named after one of Colombia's earliest military and political leaders, is one of the smallest districts in the city. This is quite a unique area, as while it features buildings of a similar age and architecture to Candelaria, it is a more residential district with less in the way of tourist sites and attractions.
This makes it a prime location to come and quietly study the buildings and history of the area, without having to worry about groups of tourists all the time. Its location also makes it perfect for you to easily see the sites and attractions in the old city and then retreat to your quieter neighborhood when you're done.
Unfortunately, its lack of tourist attractions means accommodation here is very limited so, while still providing a similar value to the rest of the city, if you do want to stay here then you'll need to make sure you get booked early.
Stay in Antonio Nariño if you like history; you want a more traditional area; you want a quieter, less touristy location; you are happy to book things well in advance
10. Barrios Unidos
Barrios Unidos lies to the southwest of Usaquen, between it and Teusaquillo. An almost completely residential neighborhood, this district is a change of pace from everything else we've looked at, as its primary selling point is its parks.
Featuring numerous wide open green spaces within the confines of the city, while we aren't talking on the scale of Central Park in New York, this still makes it a perfect location to enjoy the freedom and relaxation they provide while you're on a visit.
Its location also further boosts its appeal, like trips to Usaquen for some more built-up attractions and nights out, as well as journeys further south to see the historical sights are just as easy to achieve, meaning you can enjoy a little bit of everything.
As with almost everywhere in Bogota, accommodation is varied and affordable, so can be enjoyed by everyone.
Stay in Barrios Unidos if you enjoy parks; you want to be able to travel to a diverse variety of locations; you are traveling as a family or with children.
Best Places to stay in Bogota in Barrios Unidos:
Check out my virtual tour about the best places to stay in Bogota:
See Also:
Summary – Where to stay in Bogota?
In conclusion, La Candelaria, Chapinero-Zona G, Teusaquillo, Usaquen, and La Zona Rosa are some of the best places to stay in Bogota for tourists and first-time travelers. These areas offer different experiences, so choose the one that aligns best with your interests.
Overall, I recommend La Candelaria as the best overall area to stay in Bogota for first-time visitors due to its close proximity to popular tourist attractions and amenities. If you stay here, you will be located in the middle of the action!