Where to stay in Basel? Some of the best areas to stay in Basel are Altstadt Grossbasel, Altstadt Kleinbasel, St. Alban, Bachletten, Gundeldingen, Centralbahnplatz, and Vorstädte. These are popular and safe neighborhoods for tourists that offer a variety of attractions and amenities.
But, which area is best for first-timers, families, couples? In this post, I will help you to find the best area to stay in Basel (include map and video), best hotels in Basel for all budgets, and the safest places to stay in Basel.
Along the borders of both France and Germany, Basel is an incredibly diverse city full of rich history and some incredible shops. Basel is definitely well worth a vist. Whether you're spending a weekend in the city, or enjoying a longer trip to truly soak up everything this wonderful city has to offer, we'll make sure you find the perfect spot in the city.
Basel has its own international airport, EuroAirport Basel Mulhouse Freiburg. From the airport, you can take public transportation or a taxi to reach your final destination within the city.
Basel is also well-connected to the European train network. The city has three main train stations, including Basel SBB (Swiss Federal Railways), Basel Badischer Bahnhof (German Railways), and Basel SNCF (French Railways).
Basel is an expensive city but it is much cheaper than Zurich and Geneva. Mid-range hotel is from $130 to $280 per night. But there are also a wide range of accommodations that suits all budget.
Where is the best area to stay in Basel?
Altstadt Grossbasel is the overall best area to stay in Basel for tourists, especially for first-timers. It is one of the two sections that make up Old Town, home to some of the most historical architecture. Staying here offers easy access to major sights, with plenty of things to do and see on foot.
If you're looking more for the nightlife of Basel, you should station yourself around Altstadt Kleinbasel. On the other side of the Rhine from Altstadt Grossbasel, Altstadt Kleinbasel has many bars and an incredible night life.
If you're looking to stay where there's plenty to do for families, your best bet is going to be Bachletten. Located around the Basel Zoo and many parks, you're sure to find plenty to do with the young ones in your party.
Wherever you stay, it's good to know that walking and public transport will be your main modes of transportation – as many places, especially Old Basel, aren't as well equipped for cars.
If this is your first visit, I recommend spending at least three days in Basel to explore the city. Three days is enough to see the different faces of the cultural capital of Switzerland, take a cruise on river Rhine; enjoy local food and drink.
Map of areas and neighborhoods in Basel for visitors: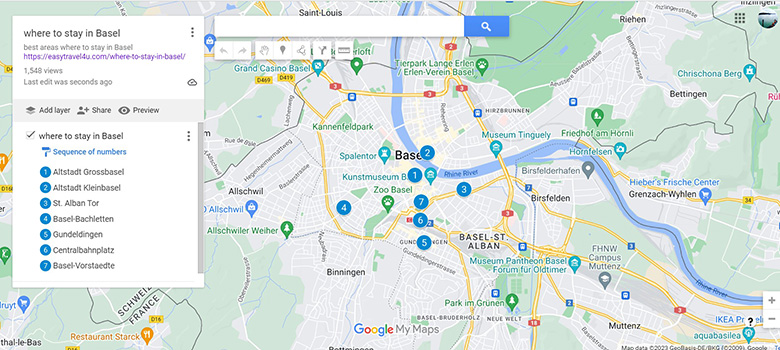 🎬 To get an overall idea of Basel, check out this short video, or continue reading:
The Best areas to stay in Basel for tourists are:
1. Altstadt Grossbasel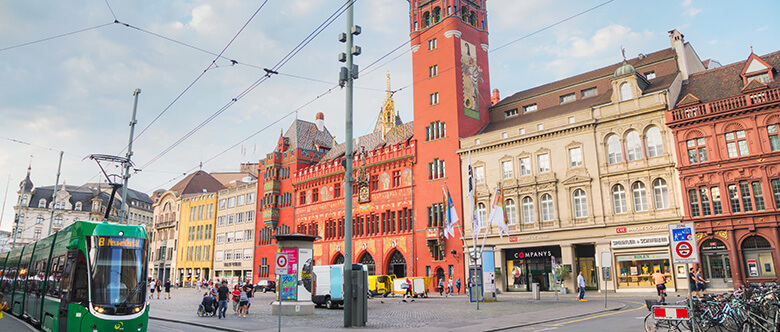 Altstadt Grossbasel is best overall area to stay in Basel for first-time visitors due to its proximity to the city's most famous tourist attractions and excellent connection to public transportation. Staying here allows you to be located in the middle of the action!
Basel Old Town is divided into two areas by the Rhine River: Altstadt Grossbasel on the left bank, and the Altstadt Kleinbasel on the other side of the river. Altstadt Grossbasel is the heart of the old town and where you will be able to find most of the city's culture.
If you want to learn more about the history and culture of Basel, Altstadt Grossbasel is the place to visit. Altstadt Grossbasel is small, you can easily explore on foot.
Not only are you located in the heart of the old town, but you are within walking distance of some of the most interesting art exhibits and museum locations in the city. Including the Basel Historical Museum which takes a look back at the incredible and expansive history of the city dating all the way back to the prehistoric age.
A stroll around winding alleys in the Old Town starts from Market Square (Marktplatz) in the City Hall (Rathaus), to the Pocket Museum (Hoosesagg Museum), and the Museum of Cultures.
You will find many well-preserved 15th century buildings, contemporary structures, and other attractions such as:
the famous Basler Münster (Basel Minster).
the main bridge Mittlere Brücke.
Kunsthalle Basel, a contemporary art gallery.
The magnificent Cathedral has beautiful cloisters, red sandstone walls, colorful roof tiles, and a twin tower where you can climb the 250 steps to the top of the towers and enjoy the views of the city.
Additionally, you will also find Basel's infamous "Freie Strasse" shopping mile on your trip. This shopping mile features a lot of unique boutiques and gourmet chocolate shops for you to explore and enjoy.
One of the most prominent tours they feature in this area is the Urban art tour, allowing you to walk along with a well-experienced guide to view some of the incredible art structures that line the streets. Like the replica of Lällekönig that was placed in 1941, based on the original artwork piece that was created in the Helvetic era
Another wonderful thing to do in this area if you're visiting during summer is to take a dip in the Rhine River. Many of the locals suggest buying a bag called a Wickelfisch to keep your belongings dry and safe. Additionally, many locals suggest skipping this particular attraction if you're not a strong swimmer since the currents of the river are incredibly strong.
From Altstadt Grossbasel, you can walk, bike, or take the ferry to many different parts of town, so you're still incredibly accessible and not cut off from the rest of the incredible city
There are also some incredible restaurants in the area where you can get a true taste of Swiss cuisine, one favorite is Restaurant Linde. Which has some incredible pasta dishes and a cheese fondue that is to die for.
Altstadt Grossbasel is well-connected transport and is where you can find Basel's main train station which has two parts the Swiss Railway station (SBB) and the French Railway station (SNCF).
Accommodations in Altstadt Grossbasel can vary from budget hotels to high-end luxury resorts, and there are even some amazing AirBnbs that offer you incredible views of the rest of the city and the Rhine River.
Being situated in the center of almost everything there is to do in Basel makes Altstadt Grossbasel one of the best places to stay in Basel for first-time visitors if they are not sure of their itinerary but know they want to be in the heart of the city.
Stay in Altstadt Grossbasel if you want to learn more about the history of the city; You're planning to spend time shopping; If this is your first time in Basel and you want an authentic experience;
Best places to stay in Altstadt Grossbasel for first-timers:
luxury ($$$): Grand Hotel LES TROIS ROIS, 5-star hotel, located in the heart of Basel's Old Town, on the banks of the Rhine. The hotel is is one of the oldest city hotels in Europe, where Napoleon, Elizabeth II, Pablo Picasso, Thomas Mann have stayed.
mid-range ($$): HITrental Marktplatz Apartments, great accommodation in central Basel for families and couples. Close to Blue and White House, Marktplatz Basel and Kunstmuseum Basel.
budget ($): Motel One Basel, 3-star hotel, one of the best places to stay in Basel on a budget, within walking distance from major attractions such as the Architectural Museum, Basel Cathedral, and Pfalz Basel. Featuring family rooms and an on-site bar.
🔍FIND MORE HOTELS IN OLD TOWN
See more: 22 Best things to do in Basel, Switzerland
2. Altstadt Kleinbasel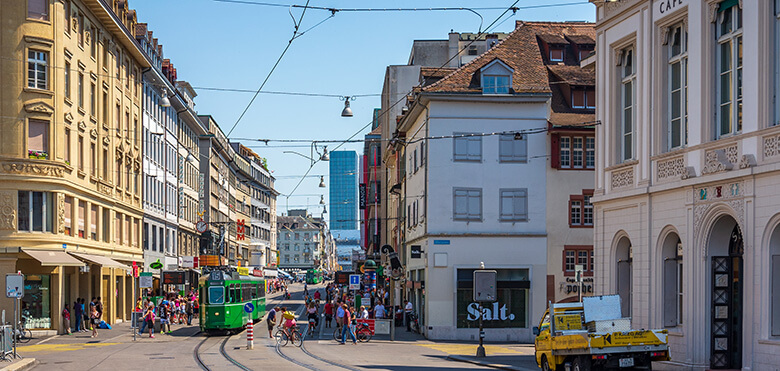 Located on the other side of the Rhine River is the city of Altstadt Kleinbasel. It is here that the nightlife of Basel comes alive with its numerous bars and restaurants which stay open until the early hours of the morning.
Let's talk a bit about the daytime activities Altstadt Kleinbasel offers before we move on to the nightlife. One example of which would be the Tinguely Museum. The museum is a tribute to the works of the artist and sculptor Jean Tinguely. In short, it is a truly stunning museum and one that is highly recommended by many visitors!
If you're visiting between February and March, taking part in Basler Fasnacht is a must-do. This carnival is a celebration that begins the Monday after Ash Wednesday at 4 AM and continues on for 72 hours. Locals dawn costumes and masks and take to the old town to participate in the parade. It is truly a wonderful experience if you're in the area.
When visiting the Altstadt Kleinbasel area in the winter months, you should also be sure to stop by Claraplatz, which is a wonderful little Christmas market that many recommend stopping and purchasing something for one's family back home.
Another must-do experience on your tour of Basel is a guided tour of the old part of the city, during which you will see the traditions and daily life of the churches that date all the way back to the 13th century.
Altstadt Kleinbasel is a beautiful place, but the real fun begins when the sunsets. The first place we recommend you visit is Grenzwert. It boasts both traditional bar food and some of the best drinks in the region, so it's a great place to start the night.
One more very great place to drop by is the 8 bar, which is often regarded as having a great atmosphere, friendly fellow patrons, and absolutely delicious drinks at a cost that is reasonable.
Altstadt Kleinbasel has excellent accommodation and it seems that there are a lot more luxury hotels in these streets than in the rest of the city. Additionally, the city is full of other incredible Airbnbs that put you right in the middle of all the action when it comes to nightlife in the city.
When it comes to the city's nightlife, there is truly no better place to go to if you are looking to experience it all. As well as keeping to the center of the city and being within easy access of anywhere in the city you want to go.
Stay in Altstadt Kleinbasel if you're a lover of nightlife and want to be at the center of the party; you still want to remain central to the rest of the city; you still want to indulge in the beauty of old Basel.
Best places to stay in Altstadt Kleinbasel for first-time visitors:
🔍FIND MORE HOTELS IN KLEINBASEL
3. St. Alban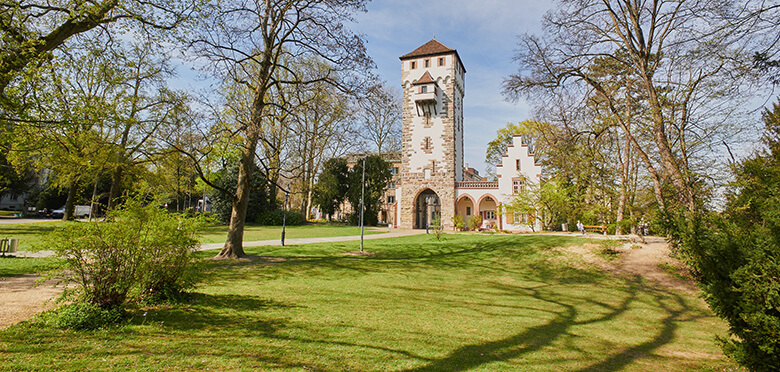 Often referred to as the Venice of Basel, this part of the city is on the more wealthy side than what we've highlighted so far. Even taking a morning stroll through this part is bound to be an incredible experience as you take everything in.
The St.Alban's Gate (St. Alban­Tor) is the gateway to the St. Alban quarter of the city which is home to narrow, winding streets and ancient buildings, is like stepping back into the Middle Ages.
This is the place for any foodies visiting Basel as the restaurant options are incredibly high-end and worth stopping at more than once. One restaurant even offers the option of parmesan ice cream and tomato sorbet if you're brave enough to try!
It is hard to find a better place to enjoy sports than the Stadion St. Jakob Park in Basel if you are a sports fan. Basel is host to a number of sports events, including tennis tournaments and football matches that are played here.
For lovers of the more macabre, this is also where the Wolf-Gottesacker is, which offers a quiet moment from the hustle and bustle of the city into a more somber state. This cemetery holds some of the most notable Basel names and is sure to leave it's mark on you.
You'll also be delighted to find Kunstmuseum Basel in St. Alban, which puts on display paintings from many notable artists from the past, including Paul Gauguin, Vincent Van Gogh, Pablo Picasso, and other extraordinary exhibitions. This is truly an art lover's dream.
One must-do if you're in this area is the Paper Mill Museum. You can watch the actual paper mills at work to this day. The tour also includes an incredible history of how books are bound today compared to all the years in the past.
It is clear that this part of town is one of the most relaxing you'll find in the city. If you're the kind of person who likes to relax and take things at your own pace, then this is the place for you.
While this part of town is swankier, there are some incredible budget hotels you can find here. In this part of the city, there are also a number of hostels tucked away that are ideal if you don't mind staying in a shared room with fellow travelers visiting the city
Stay in St. Alban if you're planning a relaxing trip; you'd like to be tucked away from everything; you have been to Basel before and want to take things easy.
Best places to stay in St. Alban:
🔍FIND MORE HOTELS IN ST. ALBAN
4. Bachletten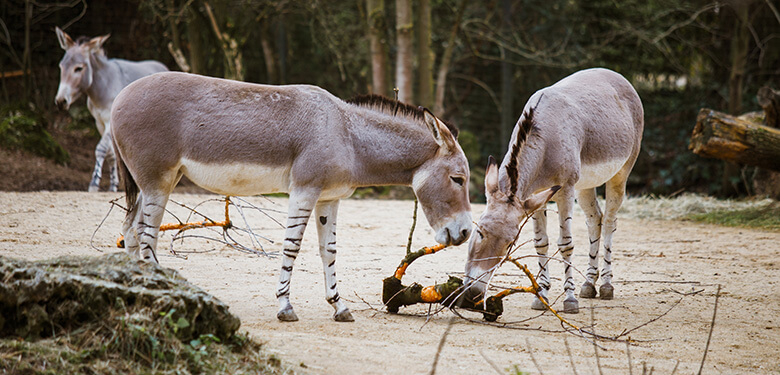 We consider the area around Bachletten to be one of the most family-friendly on our list. In addition to providing a chance to get away from the world and become a kid again, for those with kids of their own, this area of the city is perfect.
One of the best examples of this is Zoo Basel being in this area of the city. Zoo Basel is Switzerland's oldest and largest zoo and is an incredible stop for any animal lover – from their penguin walks from November through March (weather permitting), to their incredible restaurant with a view of the habitat, this is all around an incredible zoo.
Additionally, Zoo Basel has a large number of behind-the-scenes tours which cover an array of topics in relation to the care and biology of the animals that reside there! Because of this, there is bound to be something incredible that you will learn from them.
Families can also spend time together at the Schützenmatt Park, another wonderful scenic spot. This area is made up of half a park and half a stadium that is used for a number of sporting events to take place. If you're looking to stop along the way for a picnic, try something more athletic, or just want to relax, this is the place to go!
Aside from all of these magnificent things, Bachletten also holds a small community swimming pool that is open to everyone and anyone, as well as a mini-golf course close by that any golfer can enjoy and score a hole-in-one
The amount of hotels in this part of Basel is less than what you would find in the city center. However, there are more than enough town rentals and B&Bs to make up for the shortfall in the traditional hotel sector.
Anyone who is looking for a relaxing and fun vacation outside of the city center will enjoy the calm atmosphere of Bachletten. While the zoo is one of the major attractions of Bachletten, it is a hidden corner of the city that will feature a lot of locals with who you will be able to interact and get a true sense of this lovely place.
Stay in Bachletten if you're traveling with kids or planning a trip for the entire family; you're a kid at heart and want to indulge yourself; you want to have a truly unique trip and get a feel for the locals' life in Basel.
Best places to stay in Basel in Bachletten:
🔍FIND MORE HOTELS IN BACHLETTEN
5. Gundeldingen
Gundeldingen is one of the first cities you're likely to encounter if you're coming into Basel by train, as this district of the city is situated right by its main train station. If you're looking for a spot that allows access to the rest of Switzerland and the surrounding countries, this is a fantastic home base for your trip.
This area of the city is known for its wide variety of cultures, which are reflected heavily in the art and dining options, which are found in abundance in the area. With walk-ups, sit-downs, and a myriad of other options to choose from, you will not be disappointed in what you find.
Perhaps the most attractive part of Gundeldingen is the fact that it is situated in close proximity to all the main attractions in Basel. So, at the end of a long and busy day, you can get on a tram and know exactly where you need to be!
It should come as no surprise that one of the most recommended activities is to rent a bike from this district and go off exploring it for yourself. As you bike along the path, you will be able to take control of the route and explore the rest of the city for yourself so you can take in all the sights along the way.
The district of Gundeldingen is another food lover's dream. Having mentioned before, this district is filled with distinct cultures, and you will never run out of things to do. From Vietnamese to Italian, and anything else you can imagine, Gundeldingen likely has it.
Gundeldingen has the distinction of being the most affordable spot in the city, which is terrific news for you and your wallet. With many budget hotels, hostels, and other inexpensive options. Gundeldingen is a no-brainer for those looking to travel on a budget.
If you are looking for a place to stay that is more affordable than some of the options we have shown you so far AND is centrally located to everything you could want to visit, then Gundeldingen is a great option for you.
Stay in Gundeldingen if you're planning on having a cheap vacation and don't want to break the bank; you're interested in all of the different cuisines this part of the city has; you want to be accessible to every part of the city and beyond.
Best places to stay in Basel in Gundeldingen:
🔍FIND MORE HOTELS NEAR TRAIN STATION
6. Centralbahnplatz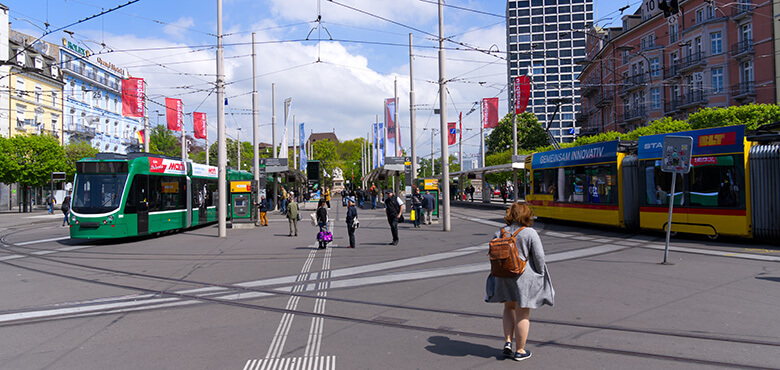 Another part of Basel situated near the train station is Centralbahnplatz. If you're planning to hop on the train and explore more of Switzerland or even Germany or France, Centralbahnplatz will put you in the perfect spot.
From this area, you also have easy access to one of the main tram stations. From here, you can reach wherever you want to be in the city. Which is convenient for those who want to be right in the middle of the action.
You can find some incredible bars and restaurants in this area, as well as escape rooms and shops where you can spend hours walking around and enjoy the area! One Restaurant, in particular, is the Restaurant Steinbock which is just a short walk away and has some fantastic Central European cuisine!
Even taking a stroll through the train station and the buildings outside proves to be a wonderful activity as you can take in some of the beautiful sights and get some fresh air.
The lodging in the area here can range from some true splurges to budget hotels that can keep you right in the heart for a low cost. There's also a wide range of hostels in this area so you know you'll find yourself in great company!
You are in the best district if you want to be right in the middle of the city and take advantage of the many attractions at your fingertips.
Stay in Centralbahnplatz if You are planning to take a day trip out of the city and don't want to have too long of a commute back to the hotel when you arrive back; You're interested in being in the heart of the city and having tram access everywhere; Having access to stores and activities is very important to you.
Best places to stay in Centralbahnplatz for first-time visitors:
🔍FIND MORE HOTELS IN OLD TOWN
7. Basel Vorstadt
There is a wealth of culture and art to be found in the area of Vorstädte. From the many art museums in the area to the city's Pathe Kuchlin cinema, you're sure to discover some wonderful art in this area of the city.
One of the most incredible pieces of artwork in this district is the Tinguely-Brunnen – a fountain that features some incredible moving sculptures that you could watch for hours. Taking some time to stop here is well worth it and there are many other museums right by it so you can continue on and admire other great artwork.
One museum right by this is Spielzeug Welten Museum Basel, which boasts a huge collection of toys including dolls, dollhouses, teddy bears, and miniature playsets from all around the world. It is truly a beautiful snapshot of many different countries all in one place.
If you're someone who is interested in botanical gardens, Botanischer Garten der Universität is an incredible stop. While the garden is much smaller, it still has an incredible array of many unique and exotic plants within its three greenhouses. Best yet, as long as you're visiting during the day the garden is free to visit which makes it a great place to stop and relax without having to worry about your wallet!
For those who take enjoyment in theatre, Theater Basel is a great item to put on your list. As well as a guided backstage tour to learn more about the history of this incredible theater, there's always a show happening. So you can buy a ticket and rest assured you're seeing an absolutely incredible production.
Something many tourists absolutely love is the free walking tours offered that start in Vorstädte if you're looking to meet some fellow travelers and walk the city with them. Then this is absolutely worth taking advantage of. Many visitors say that the tour lasts about an hour to an hour and a half so it is a wise choice to put on your best walking shoes!
It is in this area of the city that you will find a huge range of hotels available – budget hotels, bed and breakfasts, and incredible luxurious hotels that you will not want to leave. No matter what type of accommodation you choose in this district, you will have a wonderful time
Overall, Vorstädte is the best neighborhood to stay in if you truly want to immerse yourself in all the incredible arts this city has to offer. With all the museums and landmarks here you'll never want to leave the city.
Best places to stay in Basel in Vorstädte:
🔍FIND MORE HOTELS IN VORSTADTE
Where should I stay in Basel Switzerland for the first time?
Altstadt, or Basel Old Town is the most convenient location for first-time travelers because it offers easy access to many of the city's top attractions, as well as a wide range of restaurants, bars, and shops.
What are the best areas to stay in Basel for tourists?
The best areas to stay in Basel for tourists are Altstadt Grossbasel, Altstadt Kleinbasel, St. Alban, Bachletten, Gundeldingen, Centralbahnplatz, Vorstädte because they are the most popular neighborhoods for tourists with plenty of things to do and see.
Where is the best place to stay in Basel, Switzerland?
The Old Town of Grossbasel is the best place to stay in Basel for tourists due to its central location and proximity to major attractions. Staying here puts you within walking distance of many of Basel's main attractions, including the Basel Minster, Town Hall, and various museums.
How many days do you need in Basel?
Two or three days in Basel is usually enough to see the main attractions because it is a small city. you may want to stay longer if you want to explore more of the city and do some day trips to nearby attractions. It's up to you how much time you want to spend in Basel.
Is Basel cheaper than Zurich?
Basel is generally considered to be cheaper than Zurich, especially for food, housing, and transportation. The cost of living in both cities can vary depending on the neighborhood you live in and your personal lifestyle.
See more:
Summary – Where to stay in Basel?
In conclusion, Altstadt Grossbasel, Altstadt Kleinbasel, St. Alban, Bachletten, Gundeldingen, Centralbahnplatz, and Vorstädte are the best places to stay in Basel for tourists and first-time travelers. They provide easy access to major landmarks, and a wide selection of hotels for all budgets.
Personally, I recommend Altstadt as the best base in Grossbasel for first-time visitors. If you stay here, you will be located in the middle of the action, within walking distance to the most famous tourist attractions, as well as many range of hotels, restaurants, shops.