Welcome to my guide about Bangkok, all you need to know from where to stay in Bangkok, when to go, what to do in Bangkok. But before we go into the detail of Frequently Asked Questions about the best places to stay in Bangkok, checkout this guide first
Is Bangkok safe?
Bangkok is a safe city for travellers and tourists. It's even safe for women; it isn't necessary to watch your clothing choices or worry about clubbing alone.
However, it's incredibly busy, making it easy to become a victim of bag snatching and pickpocketing.
The biggest things to look out for are taxi and tuk-tuk scams, where you're charged extortionately for your trip or taken on a wild goose chase around stores where the driver receives a commission.
Overall, Bangkok is not a dangerous city and you aren't at risk of violent crime – you are mostly at risk of petty theft or scams, as with any large city.
Where To Stay In Bangkok For Shopping?
Bangkok is peppered with sumptuous shopping malls – so much so that it can be hard to choose between them all. Siam, Pratunam, Silom, Chinatown are the best places to stay in Bangkok for Shopping.
The best overall area to stay in Bangkok for shopping is near Siam Square. Siam is the heart of Bangkok's shopping district, it's well connected to reach other areas of the city by skytrain BTS and subway MRT, fairly close in distance to the Chatuchak market. You will never get bored staying in Siam with the best and biggest shopping centers such as MBK, Siam Paragon, Siam Discovery, Siam Center, Central World Mall. you can also easily find many great restaurants, bars, cinemas close by.
If you want bargain shopping, choose MBK Center – if you're looking for class, go for The Emporium. The best place to find cheap clothes is the Pratunam district, especially the market and fashion mall.
If you want to try one of the best traditional markets, try the Chatuchak weekend market, where you can find everything from beads to vinyl records – and its unbelievable sprawl is quite a spectacle.
Siam Square has no accommodation for stay but you can choose surrounding areas such as:
National Stadium area just a few minutes to Siam Square by BTS. It is located on the northern side of Rama I Road, you'll find many interesting accommodations running from backpacker hostel to old-style guesthouse and luxury hotel. It's a very convenient area with a large number of shopping malls and some interesting cultural attractions within walking distance, including Bangkok Art and Culture Centre and Jim Thompson's House.
Ratchathewi and Phaya Thai areas are near Siam Square and Pratunam, also great areas to stay for street food, and with its BTS station and boast make it easy access to the rest of Bangkok. It's also convenient to travel from Suvarnabhumi Airport to the city center with the Airport Train terminating at Phaya Thai.
Pratunam area is within distance to the Siam Square. Pratunam is also the best place to do budget shopping in Bangkok. If you like bargain shopping, this place will give you a good experience. It's well served by public transport, with an Airport Rail Link station, khlong boat pier and Ratchathewi BTS station are just a short stroll away.
Chit Lom area is in the east of Siam Square with t lots of shopping malls, skywalks and easy access to the Skytrain and khlong boats.
Ratchadamri area is close to Siam Square,Ratchaprasong, Lumpini Park and Silom Road with a wider selection of upscale accommodations.
Best Hotels to Stay near Siam Square:
Novotel Bangkok Platinum Pratunam is a 4-star hotel located in Pratunam district and surrounded by shopping malls: Siam Paragon, Pratunam Market; within walking distance from Chidlom BTS Skytrain Station, and Huala Lamphong station.
Bed One Block Hostel is a cheap hostel near Siam Square, located in Phaya Thai area, just a 1-minute walk from BTS Ratchathewi Skytrain Station, right in the heart of Bangkok city center. Guests can easily access to most of the must-see destinations whether it's shopping in Siam or admiring the culturally significant sights including Wat Arun and the Grand Palace in the old town area.
Anantara Siam Bangkok Hotel is a luxury hotel near Ratchadamri Skytrain Station, close to Central World Plaza and Lumpini Park.
Read More: Best Areas to Stay in Bangkok for Shopping
Where Did Jack Whitehall Stay In Bangkok?
Jack Whitehall and his father started in Khao San Road, and while Jack had planned to stay in a hostel, his father insisted on staying in a five-star hotel.
At the time it was a Four Seasons, but it was later bought by the Anantara group and the hotel is now called the Anantara Siam. It still looks very similar to when they stayed there, and guests will recognise the bar from the episode.
The Anantara Siam is a luxurious and authentic retreat from the bustle of the city and would make a lovely destination for a honeymoon.
Can I Stay In Bangkok Airport Overnight?
The larger airport in Bangkok is the Suvarnabhumi airport.
It has free wifi and first-class lounges, some of which have showers. It has a lot of private, quiet spots for sleeping, especially if you don't mind floor-sleeping.
There is also free drinking water near most of the bathrooms.
There is a transit hotel inside the airport, as well as sleep boxes. There are also plenty of hotels nearby which can be reached by shuttle.
Where To Stay In Bangkok During Songkran?
The best place to experience Songkran is in Silom. The street is packed with people armed with water pistols, so it's the best place to join in with the fun – or, if you want to stay dry, you can get a bird's eye view from the skywalk.
If you're a party animal, then you can experience the festival from Khao San Road – but be aware, you won't escape getting wet at this venue!
If you want to experience the fun side of the festival and get a dose of the traditional and cultural aspects, then the best place to go is the Phra Padaeng district
Best Hotels to Stay in Bangkok During Songkran:
Where To Stay In Bangkok Near Tourist Attractions?
The Khao San area is great for budget travellers, and is near to a lot of cultural attractions – but you can't access the SkyTrain in this area so journeys have to be taken by taxi or tuk-tuk.
The riverside area is where a lot of the best hotels are, and there are many cultural attractions near the river too.
The home to the most famous and spectacular historical attractions is the Old City, home to the Grand Palace and the Temple of the Emerald Buddha. This makes the Old city the best place to stay to be right in the middle of the city's ancient culture.
>> BEST PLACES TO STAY IN BANGKOK OLD CITY <<
Where To Stay In Bangkok Near Night Market?
Bangkok is full of markets, but the two must-do night markets are the Asiatique and the famous Patpong night market.
The Asiatique is the trendiest and most Instagram-worthy night market, situated along the banks of the Chao Phraya River. Staying along the riverbank is a great choice to be able to soak up this market.
If you want to try out your haggling skills and experience the bustling crowds of the famous Patpong Night Market, there are plenty of budget hotels in the immediate area to choose from.
Where To Stay In Bangkok With Friends?
Thonglor is great for groups looking for a bit of nightlife without the touristy feel that other neighbourhoods in Bangkok can succumb to. It is also easy to get to the more well-known nightlife spots in Sukhumvit in case the nightlife is not to your taste.
Another good choice is the intersection between Sukhumvit and Asoke, which is well connected by public transport, and it's also close to a lot of 'westernised' nightlife spots which are popular with non-locals.
This is also a good area as it's possible to find accommodation in every price range within a small radius, to suit every member of the group.
Best Hotels to Stay in Bangkok with Friends
>>FIND MORE BEST PLACES TO STAY IN SUKHUMVIT <<
Where To Stay In Bangkok Sukhumvit Or Siam?
Both Siam and Sukhumvit are great areas for shopping with easy access to the SkyTrain, making them great bases from which to explore the rest of the city.
If you're excited about the biggest and best of Bangkok's malls, then most of these are found in the Siam Square area.
If you're more interested in outdoor markets and stalls, these become thicker on the ground the closer to Sukhumvit you get – and this area is also a great area for street food and restaurants.
The choice between these two vibrant neighbourhoods comes down to taste.
For a more upmarket atmosphere choose Siam with its glittering malls and tempting restaurants, but for a more cultural experience, you should head to Sukhumvit, whose streets teem with traditional markets and food options.
>>Check Best Hotels in Sukhumvit and Siam<<
Where To Stay In Bangkok Pratunam Or Sukhumvit?
Sukhumvit is better served by public transport, being on both the Skytrain and BTS lines, making it easy to access the rest of the city.
In Pratunam, the main choice for transport is taxi, which can be expensive and runs the risk of getting stuck in traffic.
Pratunam has lower-priced accommodation and its markets are cheaper, making it a good budget choice.
Sukhumvit also has a more active nightlife – this can be a benefit or a downside, depending on whether you are looking for a more family-friendly or party atmosphere for your stay.
>> CHECK BEST HOTELS IN SUKHUMVIT AND PRATUNAM <<
Where To Stay In Bangkok, Siam Or Pratunam?
Pratunam is great for bargain shopping and is cheap in general. However, it's not well served by public transport and it doesn't have a great range of restaurants or nightlife.
Siam has better public transport connections, making it a better base for exploring, and the area also offers great options for eating and shopping.
It is easy to walk from Siam to Pratunam; staying in Siam means you're close to public transport, and you can still easily reach Pratunam for an afternoon of shopping. Staying in Siam gives you the best of both worlds.
Siam also has great nightlife – so if you want to be able to go out on the town, Siam is the better choice.
>> CHECK BEST HOTELS IN PRATUNAM AND SIAM <<
Where To Stay In Bangkok As A Solo Traveller?
Bangkok is a great city for a solo traveller, and the best neighbourhood for backpackers is the Khao San area – it's the place to stay on a budget, and to meet other travellers.
Silom is also a good choice for budget hotels and it has great access to public transport, which is the best way to get around the city as a solo traveller.
Bangkok also has a healthy ex-pat community, and there are bars throughout the city filled with foreigners which are great places to make connections.
>> CHECK BEST HOTELS IN SILOM <<
Where To Stay In Bangkok With Toddler & Baby?
People tend to avoid Bangkok with babies and young children, but there's lots to do, such as visiting Bangkok Ocean World and a relaxing canal tour.
Sukhumvit is a great choice, as it's central with easy access to public transport and attractions. Any riverside hotel is also a good choice, as this is a more relaxed area to retreat to at the end of the day.
Many hotels even offer free shuttles into the city centre – an especially enjoyable feature if you're staying on the riverside, as the free shuttle boat is exciting and entertaining for children.
Best Hotels To Stay In Bangkok With Toddler & Baby:
>>CHECK MORE BEST HOTELS IN SUKHUMVIT<<
What Is The Best Way To Get Around Bangkok?
There are plenty of ways to get around Bangkok – there's a very well established public transport system, including the high-speed Sky Train, which stops at 22 stations connecting the north and south of the city. You can get an all-day ticket for just £3.26.
For a more 'authentic' experience you can choose to get around by tuk-tuk and experience the hustle and bustle of the city. You can also get around by taxi, as you can in any major city. Just watch out for the prices, as tourists are often the target of scams.
Is Bangkok Airport Easy To Get Around?
The Suvarnabhumi Airport (BKK) has four floors – one for transportation, one for arrivals, one for departures, and one for shopping and restaurants.
There are seven concourses as well as the main terminal and plenty of moving walkways and escalators to simplify getting around.
It doesn't have any interterminal transportation but it is only a short walk from one concourse to another.
Where To Stay In Bangkok For Sightseeing?
Stretching along the eastern bank of the Chao Praya River, the Old City contains the most famous and historical sights including the Royal Palace, the Wat Pao and the City Pillar Shrine.
Any riverside accommodation will provide easy access to most of the city's famous sites, and is a gorgeous location in itself.
Alternatively, if you'd like to be close to the best of Bangkok's shopping, staying in central district Siam gives you access to all the best malls and the full range of the city's public transport for exploring.
Best Hotels to Stay In Bangkok For Sightseeing – Riverside Area:
Chatrium Hotel Riverside Bangkok is one of Bangkok's most luxurious places to stay in Riverside and makes the most of its enviable riverside location. Rooms have full-wall windows to enable guests to make the very most of the superb views.
Theatre Residencehas a superb river frontage with a pool in a front terrace overlooking the Chao Phraya. It is on the South Bank of the river but crossing is straightforward on one of the ferries that run dawn to dusk. And as soon as you're across the river, you are right by the Grand Palace and other attractions.
Hostel Urby is the best budget hostel in Riverside Bangkok. Hostel Urby is a new riverside hostel where every room has a balcony that fronts the fascinating waterfront of the Chao Phraya River.
Best Hotels to Stay In Bangkok For Sightseeing – Old City Area:
ARUN Riverside Bangkok is a truly five-star option in one of Bangkok's most stunning locations – Bangkok Old City. The river view rooms look out across the Chao Phraya to the famous Bangkok Landmark wat Pho.
The Orchid House 153 is the best mid-range hotel in Bangkok old city. This hotel is a lovely Boutique Hotel set in a pretty Old Colonial building down a small side street just a few minutes' walk from all the shopping, restaurants, bars, and activities of Khao San Road.
Rest Is More Hostel is the best budget backpacker hostel in Old City Bangkok. Resr Is More Hostel is a clean, smart, and bright hostel located right in the heart of the old city. Accommodation is in the form of dormitory rooms with between four and eight beds. These are either mixed or all female.
See Also: Best Area to Stay in Bangkok for Sightseeing
>> MORE BEST PLACES TO STAY IN SIAM <<
Best Areas To Stay In Bangkok For Street Food?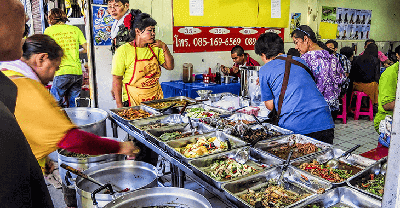 In the evening, those in the know flock towards Yaowarat in Chinatown, known for its fabulous street food.
For a cultural variety, head to Bang Rak; traditionally an immigrant area, over the centuries food from a range of cultures has merged with traditional Thai cuisine, making for a dizzying array of choices.
In the Khao San neighbourhood, the food is a little targeted towards the western palette – for a first time visitor, this might be the right place for you.
Best Place To Stay In Bangkok Near Temples?
The riverside is the best place in terms of access, as it's where a large number of the historical temples are situated, and it also offers stunning views of the ancient buildings.
Banglamphu is also a great place to stay as it's only a short walk before you're surrounded by shops, houses and temples that are generations old.
Another great choice is the Khao San Road, a short walk from many historic temples and near to the river ferry, giving you easy access to all the sights.
Best Place To Stay In Bangkok For Partying?
Sukhumvit has it all when it comes to nightlife, filled to the bring with restaurants, clubs and bars – including rooftop bars which offer unbeatable views over the city. The main street for nightlife in Sukhumvit is Soi 11.
For backpackers, the Khao San Road is somewhat of a holy grail of partying – the bars offer loud music and cheap drinks, and the street is crowded with street food vendors.
Both these locations offer accommodation to suit all budgets, so you should find something to suit you.
>>CHECK BEST HOTELS IN SUKHUMVIT FOR PARTYING<<
Best Places To Stay In Bangkok For Single Man?
For a younger, more laid back crowd head to Khao San, the backpacking neighbourhood, where it's easy to make connections with other solo travellers.
If you don't want to stay in backpacker's or budget accommodation, it's easy to find a range of options near the Khao San area.
Alternatively, Sukhumvit is known for its nightlife, and it's easy to enjoy the bars on your own or to meet new people over a drink.
If you simply want to soak up some culture, then Silom is a good choice as it's very central and the best place to use as a base to explore the city.
>>CHECK BEST HOTELS IN SILOM FOR SINGLE MAN<<
Where To Stay In Bangkok For an Indian Family?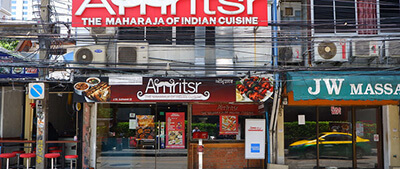 In general, for a family-friendly visit, it's best to avoid regions like Sukhumvit, and especially areas such as the Nana Plaza and Soi Cowboy – home to some of the seedier aspects of city life.
The Pratunam neighbourhood is the most family-friendly in the evening, with very few bars, and it is also quite cheap.
Here you can also find many travel agencies where you can book tours, a great option to explore the city at minimal effort and fun for all the family.
It is also easy to find authentic Indian restaurants throughout the city, but especially in central districts such as Silom and Siam.
Best Area To Stay In Bangkok Honeymoon?
Bangkok is a beautiful city with restaurants and cultural highlights to suit anyone's taste, and it can also be very romantic.
If you're looking for a honeymoon filled with sightseeing, then it is best to stay somewhere as central as possible, such as Silom – from here you can easily access everything from the Grand palace to Chinatown.
Another great choice is to stay in the Old Town, with its traditional buildings and quaint atmosphere.
If you're looking for a more tranquil romantic retreat, then staying along the riverside is the best choice. The combination of the water and stunning views of the city make for a perfect romantic visit.
>>CHECK BEST HOTELS IN RIVERSIDE BANGKOK FOR COUPLE<<
Best Place To Stay In Bangkok Close To Everything?
Sukhumvit is the most cosmopolitan and well-connected area of Bangkok, and also bustling with nightlife.
Staying here will allow you to experience almost every aspect of the city; the best nightlife, the famous red-light district, a huge range of restaurants, markets and street food- plus easy access to public transport.
Siam is an equally accessible region of Bangkok, full of shops and restaurants, and it's more family-friendly as it's easier to get away from the bar scene after dark and there's more choice of family-friendly accommodation.
Best Area To Stay In Bangkok For Muslims?
Bangkok is a Muslim friendly city, offering halal hotels and restaurants dotted throughout which serve a variety of cuisines.
For those wishing to avoid drinking culture, the neighbourhood of Sukhumvit and the Khao San Road should be avoided in the evening – however, in the day Soi 3 in Sukhumvit is home to over 50 halal restaurants.
In terms of accommodation, the Rhamkhamhaeng area has a few halal hotels to choose from, as does Ratchaburi.
Bangkok is also home to many mosques, so finding a place to pray is not too much of a challenge.
Where To Stay In Bangkok Gay?
Considered the gay capital of Asia, Bangkok is packed with nightlife including many gay bars.
Happily, there aren't areas in Bangkok that should be particularly avoided as a gay traveller – so you can choose where to stay based on what you want to do.
If you are looking to explore the gay scene in this vibrant city, the best places to stay are Silom and Siam. Silom has a huge range of bars and restaurants (and great public transport connections). For the best nightlife and gay bars, make your way to Sukhumvit.
>>CHECK BEST HOTELS IN SILOM AND SIAM FOR GAY<<
Which Part of Bangkok Is Best To Stay?
Sukhumvit, Siam, Silom, Chinatown, and Pratunam are the best parts of Bangkok to stay. There are several hotel options in these cities. Whether you are looking for an affordable, cost-saving, or luxury hotel, there is always an excellent place for you to stay in any of the areas.
Aside from the plethora of hotels available, there are also many shopping centers, clubs, bars, and restaurants in Pratunam, Chinatown, Silom, Siam and Sukhumvit.
These cities are also safe areas to stay in Bangkok. The transport system in the cites is easy to use. Besides, you don't have to break up your bank to have a lovely time.
Where Is The Safest Place To Stay In Bangkok?
Riverside, Silom, Sukhumvit, Pratunam, and Siam are all safe places to stay in Bangkok. Likewise, the cites are relaxed and calm, no matter the time of the year you visit. For instance, Riverside has a lesser crime rate over the years compared to other areas in Bangkok.
While there are several security guards in every hotel in Siam, there are also many round-the-clock receptions in Pratunam to ensure you are safe.
You will always find as many people as possible while you move around in the evenings. There are also many security guards in other places, like shopping malls, night clubs, bars, restaurants, etc.
Where Should I Stay In Bangkok For The First Time?
Sukhumvit, Siam, Silom, Old Town, Chinatown, Khao San Road, Riverside, and Pratunam are the best areas to stay in Bangkok for first-timers because they are the most popular and safe neighborhoods for tourists that offer a wide variety of attractions and amenities.
With a short time visit to Siam Square or Chinatown, you would love to see every nook and cranny of Bangkok.
Also, Sukhumvit has all the fun, events, and activities you would love to enjoy as a first time visitor.
There are hundreds of shopping malls to visit in the Silom. The cites are home to some of the biggest and best malls in the region.
Likewise, they are filled with many restaurants that offer both local and international dishes.
Best places to Stay in Bangkok for First Time Visitors:
Where To Stay In Bangkok With Family?
Riverside, Chinatown, and Pratunam are great spots for families as well as friends. The areas are rich in history, culture, and epic novels. Also, these cities are the safest in Bangkok. You can be sure that your family's safety is guaranteed.
The areas home a lot of luxury hotels. While there are unique places for you and your partner to have a great time, the areas also offer exciting events for your little ones. Pratunam, Chinatown and Riverside have plenty of daily life to offer every visitor.
Where To Stay In Bangkok On A Budget?
Chinatown and Rattanakosin are the best areas to stay in Bangkok on a budget. Unlike other cities in the region, Chinatown offers you a memorable experience without breaking up the bank. Irrespective of what you have in your budget, there are many things to see, do, and buy in the Old City. The restaurants in these areas offer world-class foods and drinks at your budget.
There are also a plethora of affordable hotels where your comfort is their major priority.
Best Area To Stay In Bangkok For Couples?
Riverside, Sukhumvit, and Siam are the best places to stay in Bangkok for couples. The areas have a lot of hotels to make your stay in the one-of-its-kind. For instance, Riverside gives you easy access to the BTS Skytrain, which helps you get around the city without difficulties. You and your partner can also visit the major temples in Siam at your convenience. Sukhumvit is also a great place for couples to party and enjoy the nightlife.
Best Place To Stay In Bangkok For Nightlife?
Sukhumvit, Chinatown, Riverside, and Silom are the best places to stay in Bangkok for Nightlife. While there are many tourist attraction centers in these cities, the areas also offer visitors entertainment at its best. The cities never sleep, especially from late in the evening into the early hour of the morning. They are home to several shows, cinemas, theatres, concerts, live music, parties, nightclubs, and bars.
Where To Stay In Bangkok Near Airport?
Sukhumvit, Pratunam, Chinatown, Siam, and Silom are places to stay in Bangkok near the airport. For instance, the S Box Sukhumvit hotel in the city is only 20.4 km far Suvarnabhumi Airport and 21.2 km from Don Mueang International Airport. On the other hand, the Renaissance Bangkok Ratchaprasong Hotel in Siam is only 20.8 km from Don Mueang International Airport. The Crown Plaza Bangkok Lumpini Park is also about 23.6 km from Suvarnabhumi Airport.
Irrespective of the area you wish to stay among the cities listed above, you will never miss your flight or any thrilling action in Bangkok.
Where To Stay In Bangkok Near Tourist Attractions?
Rattanakosin, Sukhumvit, Pratunam, and Chinatown are the best places to stay in Bangkok near tourist attractions. These areas home to some popular landmarks and places in the region like Wat Pho, Kaew, Wat Phra and the Grand Palace. They are great cities for sightseers and backpackers. There is a lot to see, do and enjoy in the towns. There is also a renowned Bangkok National Museum in the Rattanakosin.
Best Area To Stay In Bangkok For 2 Days
Sukhumvit and Riverside, Siam, and Silom are incredible places you can stay in Bangkok for two days. You can choose to spend the first day in Sukhumvit or Riverside, and you visit Siam or Silom on the second day. On the first day at Sukhumvit, you should visit the thrilling nightclubs, bars, and parties in the city. There are other beautiful places you can go for sightseeing in Riverside.
On the second day at Siam, you should visit the amazing shopping malls in the area. You also have opportunities to have a taste of the world-class dishes in the renowned restaurants in Silom. The transport system in these areas is also top-notch and easy to use
Best Area To Stay In Bangkok For 1 Night?
No place offers you an exciting nightlife experience as Sukhumvit, Siam, Chinatown, and Riverside do. These places are the best place to stay in Bangkok for one night. For instance, Sukhumvit is not only full-filled but also a tourist attraction center. On the other hand, Chinatown is considered as the action-packed city of Bangkok. Whether you are a lover of night parties or you love to watch cinemas, Siam is the right place to be. Meanwhile, it is safe to walk in these cities in the evening and late at night.
Best Area To Stay In Bangkok For 4 Nights?
Pratunam, Silom, Siam, and Riverside are the best places to stay in Bangkok for four nights. On the first night, you can enjoy sightseeing in Riverside. This area is also a family-friendly city with lots of things to do. On the second night, you can enjoy shopping at the luxury malls in Pratunam. On the third night, Silom is the best place to have a great time.
Once it is around 5 pm, Silom becomes a nightlife destination with incredible entertainment. On the last night, ensure you visit the renowned restaurants in Siam to have a taste of the amazing dishes.
Best Area To Stay In Bangkok For 3 Nights?
The best places to stay in Bangkok for three nights are Sukhumvit, Chinatown, Riverside, and the famous Old City. These three places are fun-filled areas in Bangkok. Irrespective of your taste of entertainment, food, or lifestyle, they are ready to make your stay home-away-from-home.
You can see the stunning structures and landmarks in the Old City on the first day. Then, on the second day, you can make the Riverside a great spot for a lovely time with the family. End your adventure at Chinatown, where there are many photo opportunities.
Best Place Stay In Bangkok For New Year's Eve?
Sukhumvit is the best place to stay in Bangkok for new year's eve. This area allows you to relax and feel comfortable while the celebration is on. Riverside also put on great shows and events every night of the year.
You also have the opportunity to see incredible fireworks and taste some champagne with friends in Chinatown. Likewise, Pratunam offers dancing and party opportunities for the new year celebration.
Where Do Indian Tourists Stay in Bangkok?
Sukhumvit is the area where Indian tourists stay in Bangkok. This city is an excellent place for sightseeing as well as nightlife experience. There are also a lot of restaurants that offer Indian dishes.
Pratunam is another area where Indian tourists stay in Bangkok since it is the heart of the city where you can shop for jewelry, toys, electronics, clothes, and lots more.
Many Indian tourists also stay in Silom and Siam for shopping opportunities.
Best Time to Visit Bangkok
Bangkok is one of the world's great cities, and a visit here is not as reliant on suitable weather conditions as it is in a more open and natural destination. Many of Bangkok's sights and attractions are equally rewarding in rain or shine.
One thing you can be sure of is that you will never need a coat in Bangkok since it is firmly in the tropical zone. You can describe Thailand's three weather seasons as hot and dry, very hot and mainly dry, and hot and sometimes wet. The clearest, driest, and least humid weather of November to February, is weather-wise the most comfortable time to visit.
Then from February until late May or June, the city heats up and gets increasingly humid. You can quickly feel very sticky and uncomfortable at this time of year.
And then the monsoon begins and runs from roughly June to mid-October, although this is variable. It's important, though, to quash the common assumption that it rains all the time during the monsoon; there are many periods of days and even weeks when it doesn't rain at all.
Bangkok's peak season for international tourists runs from just before Christmas until the end of April. This is when hotel prices and flight costs are at their highest, and rooms in the best places can be hard to find. If budget is a factor in your travel plans, then you might choose to visit Bangkok in the quieter months between May and early December, when room prices will be lower.
Some destinations can die off in the off-peak season, but Bangkok is a massive city, and this just doesn't apply here. Everything remains open and active year-round.
To combine weather and seasonal travel factors and choose the most opportune time to visit Bangkok, you should probably look to plan your trip between late October and mid-December, when you can enjoy the city at its very best. But, as I mentioned before, Bangkok has so many weatherproof attractions and so much to see at all times of year that you can have a great time here whenever you choose to visit.
You may also consider visiting Bangkok during the unique Songkran water festival, which is held here annually from the 13th to the 15th of April. The easiest way to describe this cultural phenomenon is just to say that the whole city goes nuts. This festival sees crowds of people lining the streets throwing water with wild abandon. It's full-on, not for the faint-hearted, and incredible fun. Songkran in Bangkok is definitely an event that Travelers should be looking to tick off their bucket list.
How To Get Around Bangkok
There's no denying the fact that Bangkok has a terrible reputation for traffic jams and snarl-ups. The good news is that things have improved considerably over the past 20 years, and by following a few simple rules you can travel effortlessly around the city by a variety of means.
The first golden rule to observe is to try to never travel on Bangkok's roads during the weekday rush hours between roughly 7:00 a.m. to 9:00 a.m. and 4:00 p.m. to 7:00 p.m.
It is generally okay to travel by road outside these busy periods, but there are better solutions. If you do want to use the streets, then meter taxis are a good option. They are obliged by law to turn on their meter as soon as you enter the cab, so any that demand a flat fee for a journey are ripping you off; just get out and avoid them.
You should ride in a tuk-tuk once or twice just for the classic experience. But used on a regular basis, tuk-tuks can be pricey and quite hot and uncomfortable, not to mention the (lack of) safety aspects.
Bangkok also has an excellent bus service. There are aircon and non-aircon options. I would suggest that even the most budget-conscious travelers spend a tiny bit more to take the aircon option since the alternative is pretty uncomfortable.
Altogether the best ways to get around Bangkok are the excellent BTS SkyTrain and its underground sister, the MRT Rail Link. These reasonably priced travel networks spread across an increasingly large part of the city and are convenient for most destinations these days. They also get very crowded at rush hour, though, so if you have the luxury of choosing to travel off-peak, then that's a good idea.
And don't forget Bangkok's excellent River taxis. These are an experience where the journey is often better than the destination, and they are a phenomenal way to see Bangkok at its best for just a few baht. They are also a traffic jam-free and surprisingly quick way to get from A to B in Bangkok.
Best Places To Visit in Bangkok
Bangkok has a hauntingly long list of fascinating and memorable sights. Just how many you visit depends on your personal preference, but if you can check out a few of the ones listed below, you can be happy that you have caught a good flavor of the city.
Temples
Bangkok has hundreds of temples, both old and new. You can visit as many as you like, but here are the standout ones.
Grand Palace and Wat Phra Kaew "The Most Famous One"
The Grand Palace and neighboring temple of Wat Phra Kaew are fabulous places to visit. Here you will find the famous Jade Buddha and the possibly even more impressive hand-painted frieze that tells the famous story of the Rammakien. The architecture is breathtaking. This is Thailand's most popular tourist attraction, and it can get very crowded in high season, so try to visit early in the day.
The Golden Mount " The One on The Hill"
The Golden Mount is situated on possibly the only hill in central Bangkok. Ascending the steps to the viewpoints and temple overlooking the city is like entering another world away from all the rush of the city center. Bangkok has higher vantage points from the top of skyscrapers, but somehow that just isn't the same as this idiosyncratic little retreat.
Wat Arun "The Pretty One By The River"
With its characteristic pillars and spires, Wat Arun is a well-preserved and intricately fashioned temple on the south side of the Chao Phraya river. It's a compact and beautiful temple with great views.
Wat Pho "The One With The Giant Buddha"
Wat Pho is right next door to the grand palace, so if you're visiting one, it's well worth checking out the other. This temple is most notable for the enormous reclining Buddha sculpture that occupies the building's main body.
Galleries and Museums
Bangkok has any number of art galleries and museums to explore. Here are some of the most centrally located and interesting options
National Museum
Thailand's National Museum is in the old city of Rattanakosin, just a five-minute walk from the Grand Palace. It is a must-see if you want to discover a little bit more about Thai history and culture. There are a wealth of historical artifacts here from many periods and all parts of Thailand. Highlights include the fabulous wooden vehicles that are used in Royal events such as coronations. These are impressively lavish and ornate constructions.
Queen's Gallery
The Queen's Gallery is located close to Khao San Road in the Banglamphu area of Bangkok's old city. For a small entrance fee, you can check out an eclectic, ever-changing collection of modern Thai art.
National Gallery
The National Gallery sits between the Grand Palace and Khao San Road. Inside, you will find a comprehensive collection of modern artwork and classical Thai artistic treasures.
BACC
The Bangkok Art and Culture Center is a vast and modern gallery and artistic meeting point located in Siam square, right in the center of Bangkok. There is a library here, art and craft stores and cafes, and displays showing the very best contemporary Thai and international arts.
Siam Square
Siam square is the heart of Bangkok. Here, you will find galleries, shopping malls of all kinds, restaurants and bars, and an interesting student-friendly area of little shops and stalls. It is a great place to walk around, experiencing all of the vibrancy of this great city.
Erawan and Ancient City
These two intriguing places are located in the city's southeast suburbs but can be reached relatively easily by the BTS Skytrain. Erewan is a massive elephant sculpture that you can go inside, with astonishing tiling and architecture. At Ancient City, there are lovingly recreated small and full-sized Thai traditional temples, palaces, and other grand buildings. You can tour by golf cart or hire a bicycle, and it is a great way to spend a day.
Chinatown
Chinatown is a thrillingly busy and bustling Southeastern suburb of Bangkok. This is where the real markets are, and squeezing through the maze of streets and alleys with stalls selling everything you can imagine and more is a fascinating experience. After braving the crowds, you should reward yourself with some excellent Thai/Chinese food in one of the local restaurants.
Asiatique
This Riverside shopping and dining area is like an upmarket and more refined version of the weekend market. While it lacks the authenticity of that market, it also lacks the thronging crowds and is a more relaxed and classy place to visit.
Best Things to Do in Bangkok
Take a Dinner Cruise on the Chao Phraya
Bangkok is at its best from the river at night. A dinner cruise up the river, enjoying dinner and drinks alongside the stunning city skyline, is a classic Bangkok experience.
Shop til you Drop at Chatuchak Weekend Market
This massive market in North Bangkok sells, well, it sells everything from crafts and clothes to plants and animals to food and drink. A walk through the maze of stalls is a shopper's dream. Get here early in the morning before the heat, and the crowds get oppressive. Many shops in the surrounding area sell arts and crafts and antiques, which open every day, unlike the central market, which opens only Saturdays and Sundays.
Visit Lat Mayom Floating Market
In truth, most of Bangkok's famous floating markets are just for the tourists these days. Lat Mayom is the best one to visit, and it is popular with Thais and foreigners alike. It is packed with canalside stalls selling all kinds of stuff, from crafts items to seasonal food. You will find some nice little seafood restaurants here too.
Shopping Malls
You probably think that you didn't leave home just to visit shopping malls. That makes sense, but if you want to truly experience Bangkok, then you should dip into one or more of the myriad of shopping malls spread out all over the city. There are incredibly high-class malls like Siam Paragon, selling everything from Italian sports cars to designer wear. Then you will find malls like Future City, specializing in IT and electronics, and then there are also Malls like MBK in Siam Square, which feature huge internal shopping markets.
Take A Cycle Tour
I know that this sounds like a crazy idea, especially after all my warnings about Bangkok's crazy traffic, but bear with me. Several businesses organize cycle tours from Bangkok's Rattanakosin old city area. These are a fascinating way to explore the city and take in parks, riverside walkways, and quieter roads so that even a novice cyclist can tour the city safely.
Banglamphu & Khao San Road
The famous Khao San Raod area is located close to all of the temples and museums of Bangkok's old city. But this backpacker's haven has become a tourist site in itself. There are countless bars, restaurants, shops, and activities here all designed with budget travelers in mind. These days the area also caters to more mid-range travelers. Just sitting at a roadside bar and people-watching is a tremendously entertaining way to spend some time, and a stroll around this area is one of Bangkok's highlights.
One-Off Events, Exhibitions, and Festivals
Throughout the year, Bangkok has an ever-changing series of exhibitions, events, and festivals. The best way to make sure you don't miss out on something cool is to check some of Bangkok's what's on sites just before you arrive, and they will let you know what's happening while you are in the city.
Party
You've seen the sights, you've eaten your fill, and now it's time to party. Bangkok, of course, has a venue that will suit you perfectly.
If you're looking for traditional western-style bars and pubs, then you will find plenty of those on Sukhumvit road and in the Silom area.
Many places have live bands. In particular, Saxophone is a famous jazz club that has been popular for decades.
There's a thriving house, hip hop, and dance music scene, and whether you're looking for grime, techno, or even other obscure subgenres of EDM, check out the flyers, and you'll find it.
If you're feeling adventurous, why not take a trip to where the young Thais go to party? Rachada is a large area of Thai oriented bars and clubs where you can immerse yourself in the sounds and atmosphere of a Thai-style night scene.
If you want to experience the city's red-light side, you should visit Patpong, Nana Plaza, or Soi Cowboy, all of which are packed with beer bars and go-go's.
Where To Eat In Bangkok
Thai people are obsessed with food, and even though much of the country's population lives on a meager wage, they eat out very often. This means that their capital city is one of the world's best foodie destinations. Whatever dining you seek, you can be sure that you will find it here in Bangkok.
Every visitor to the city should try some of the fantastic street food on offer in Bangkok. There are Street stalls and little one-unit restaurants almost everywhere you go. Finding out which ones are good is the easiest thing in the world; if a restaurant has Thai people in, then it's probably great. Thai people, as we mentioned before, accept only the best on a plate. Raan Jai Fai is a traditional Street food restaurant that has been awarded a Michelin star. It's well worth a visit, but you will find wonderful food at bargain prices all over the city.
Another great place to eat in Bangkok is in the food halls you will find in every shopping mall, and the city has hundreds of malls. The system is that you buy vouchers at the entrance to the food hall and then pick dishes from whichever of the food stalls take your fancy.
As you move upmarket, you will find an incredible range of top-class world cuisine represented in Bangkok. Some of the best restaurants are located in Bangkok's most prestigious hotels. Many of the city's skyscrapers feature classy rooftop restaurants and bars that offer fabulous cuisine complete with astonishing vertiginous views.
If you are looking for a part of town that has perhaps the highest concentration of international and Western restaurants, then you should beat a path to Sukhumvit Road, and it's sois, or side-roads. Restaurants galore here offer delicious international fare at mid-to-upper range prices.
Day Trips From Bangkok
Bangkok is right in the center of Thailand, and there are quite a few places that you can conveniently visit on a day trip out of the city. These are the most interesting options.
Kanchanaburi
Kanchanaburi is a town a couple of hours' drive to the west of Bangkok, which is probably most (in)famous as the setting of the movie Bridge Over the River Kwai. There is a lot of sobering history here related to this period of the second world war when the Japanese conscripted allied soldiers to build a railway with massive loss of life.
But Kanchanaburi is also a charming town located next to a huge sleepy river, and it offers a great change of pace to the maelstrom of Bangkok.
Pattaya
The famous/infamous beach resort of Pattaya is now just an hour and a half's drive from Bangkok. If you are missing the beach, this is one of the best places to get sand between your toes. Pattaya also has a wealth of trips, tours, and activities such as water parks for the kids, golf courses, huge botanical gardens, diving, snorkeling, and watersports. The city also has a vast red-light scene, but it is a large enough place for you to beagle to avoid this if you choose.
Ayutthaya
Thailand's ancient capital of Ayutthaya is just an hour's drive north of Bangkok. This charmingly sleepy little town is located on an island in the Chao Praya River. Here you will find scores of well-preserved temples dating from the city's time as Thailand's thriving capital city. These are fascinating places to visit and immerse yourself in Thailand's rich history. No trip to Ayutthaya is complete without taking a boat trip around the island.
Bangkok Travel Safety Tips
Bangkok is a huge urban metropolis, and because of this, you should keep your city smarts about you. But if you take sensible and straightforward precautions, the city is a very safe place to visit.
There is very little in the way of muggings in Thailand, but theft and pickpocketing are more common. Keep your valuables safe at all times, and if possible, use security boxes or hotel safes for your most precious items.
Bangkok's most touristy areas are full of touts, often taxi and tuk-tuk drivers, who promise you wonderful experiences for free. These never turn out to be quite what was promised, and more often than not, you will end up getting involved in some kind of scam. If you are going to use taxis or tuk-tuks, it's better to flag one down that's already moving than to choose one who is loitering around waiting for the next mark.
The roads are dangerous here in Bangkok; keep your wits about you at all times when you cross them since road rules are often ignored. It's better to avoid motorbike taxis altogether unless you want to take the ultimate white knuckle adventure tour.
Bangkok is firmly in the tropics, and you should always pack mosquito repellent and make sure you stay hydrated, particularly in the heat of the day.
How Much Money Do I Need For Bangkok?
You can spend as much on as little as you choose in Bangkok; it's all up to you and the kind of experience you want to have.
Bangkok On A Budget
If you're a backpacker or budget traveler, you will find many cheap dorms and guesthouses scattered throughout the city. Southeast Asia's headquarters of budget travel is Bangkok's famous Kao San Road area, which is perfectly suited to budget travelers.
Bangkok has efficient and cheap public transport in the form of the local bus and water taxi services.
Bangkok is famous for its street food, and there are food stalls where you can eat like a king at a bargain price.
If you are a careful and frugal traveler, you can get by in Bangkok for around 1,000 Baht a day.
Bangkok With Budget No Object
At the other end of the scale, this sophisticated city offers five-star plus accommodation, Michelin starred restaurants and designer shopping malls of staggering opulence. If money is no object, you should stay in one of the 5-Star hotels that front the Chao Phraya River.
Is Bangkok safe to walk around at night?
No matter the time of the day, Bangkok is a place you can walk around at night. If you are nightcrawlers, you would love to be in this region. There are a lot of security guards in every social institution available in Bangkok. In areas like Sukhumvit, Siam, Chinatowns and lots more, the evening to the late in the night is when everywhere becomes a nightlife destination.
See more: