The best areas to stay in Amsterdam for first-timer are the neighborhood of Old Centrum, Canal Belt, Leidseplein, Jordaan, Oud-West, Museum Quarter, De Pijp, Plantage, Jewish Quarter, and Amsterdam Noord. These districts are very popular and safe for tourist that offers a wide variety of tourist attractions and amenities. In this blog, we will be looking at where to stay in Amsterdam for tourist, for family, nightlife, couples, and on a budget.
Known as much for its winding canals and cobbled streets as for its lax laws around sex work and drugs, the Netherlands, and Amsterdam in particular has a broad appeal. Whether you are looking for historic sights or booming nightlife, Amsterdam is the place to go.
Amsterdam is a lot more than marijuana brownies and prostitutes. From windmills to weed, Amsterdam is a city of varied attractions. Depending on what it is you are looking for from your trip to Amsterdam, there are certain areas that will interest you, or that you will want to avoid completely.
Old Centrum is the best area to stay in Amsterdam for the first time due to its proximity to the most famous tourist attractions like Dam Square, Red Light District, Royal Palace, and Anne Frank's House Museum. If you book a hotel here, you will be located in the middle of action, within walking distance to restaurants, bars, shops, and everything within the canal belt.
The famous red-light district, actual name is De Wallen is a great place to go for nightlife if you prefer your evening's entertainment on the saucier side. For more contemporary nightlife, by the way of clubs and bars, head to Leidseplain in the Canal Belt. Rembrandtplein is the heart of Amsterdam's LGBT nightlife while De Pijp has the trendier nightlife scene.
Apart from the Old Centrum, the Museum Quarter is also the heart of Amsterdam's top attractions. Alternatively, Grachtengordel is the best place to stay to be surrounded by Amsterdam's iconic canals.
Amsterdam is a safe city for tourist. Some areas are a little edgier than others but most neighborhoods are safe. If you searching for the safest places in Amsterdam, you should look into Museum Quarter, De Plantage, and Southern Canal Belts. As in any big city, it is always helpful to take precautions pickpocketing, bike theft, and avoid walking alone at night in poorly lit areas.
Amsterdam is very compact and walkable. You can easily explore the city by foot. If you are not comfortable walking everywhere, you can rely on Amsterdam's extensive public transport network to get you from place to place in ease and comfort. Between the trams, buses, and metro system, you will always be just minutes from where you want to go.
Once you picked the best neighborhood to stay in, you need to decide How many days in Amsterdam is enough? If you are a first-time travelers, I recommend spending at least 3-5 in Amsterdam to explore the Venice of North. Three days is enough to get the taste of the city, to visit the most famous sights, experience the local food and drink. If you have more days, you can take a day trip to the old Holland fishing villages, Volendam and Marken, the windmills of Zaanse Schans.
Best areas to stay in Amsterdam for tourist
1. Old Centrum, where to stay in Amsterdam for first-timers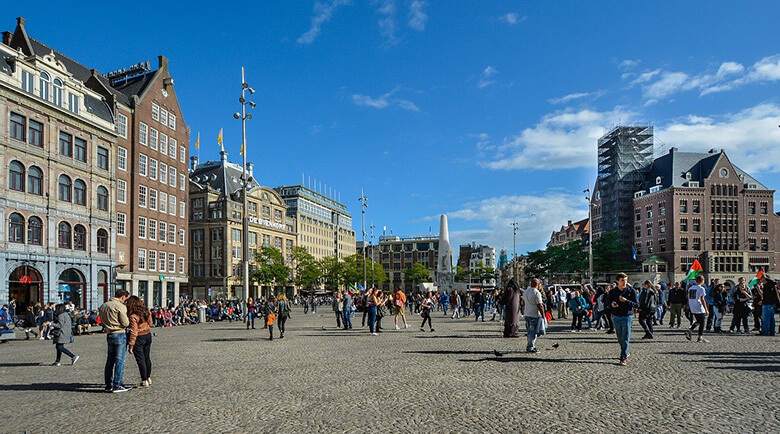 Amsterdam Center, or Centrum by local, is the best place are to stay in Amsterdam for first time travelers because it has a super central location. Located within the Canal Belt, Old Centrum is historical center and the oldest part of Amsterdam. Old Centrum is packed with city's most popular tourist attractions, cool cafes, restaurants, and souvenir shops.
If you take train from Schiphol Airport to Amsterdam main train station, Amsterdam Centraal, you will find your self in the Old Centrum. The Centrum is divided into smaller neighbourhoods including Dam, De Wallen (Red Light District) and Nieuwmarkt.
Dam Square is located just a few minutes walking from Centraal Station. It was built in the 13th century as a dam around the river Amstel to prevent flooding from Zuiderzee sea. Today it become a popular tourist attraction which is home to the Royal Palace, Nieuwe Kerk (New Church), Madam Tussaud's, as well as the Grand Hotel Krasnapolsky and the National Memorial statue.
The neoclassical style Royal Palace was built in the 17th-century as a city hall and become the Royal Palace, when King Louis Bonaparte took up residence in 19th century. It is now still the residence of the Dutch royal family. Visitors are welcome to tour various rooms and exhibitions within the palace and grounds. 
Dam square offers great shopping experience with shopping streets nearby including Kalverstraat street, Rokin Street, and Nieuwendijk. There are also indoor shopping center like de Bijenkorf and Magna Plaza department stores.
Within short walk from Dam square, you can find Amsterdam's red-light district, De Wallen, which is probably the most famous red-light district in the world. With sex work legal in the Netherlands, the red-light industry can operate in the open, which makes for some interesting window displays. 
Whether you intend to utilize any of the services on offer or not, taking a walk through the red-light district is a unique experience. Even during the day, dancers fill the windows, beckoning passers-by into the various brothels and clubs. 
The red-light district leans into its reputation, with several museums around the area dedicated to its unique legacy.The Red-Light Secrets Museum of Prostitution hosts exhibits on the history and development of Amsterdam's sex work industry. The nearby Erotic Museum offers more general displays of sexual paraphernalia and artwork. 
If you are more interested in Amsterdam's marijuana culture, then the Hash Marihuana & Hemp Museum in Amsterdam might be of interest to you. In addition to the artifacts and exhibits on the history surrounding cannabis in the Netherlands, there is even a small garden showcasing various species of marijuana. 
You can also find unique attraction in the Amsterdam's Old Town such as the Our Lord in the Attic Museum. You can explore well-preserved 17th century canal house, narrow corridors and stairs lead to historically living quarters and kitchens.
Although the Red light district may look dodgy, but it is quite safe because it's always packed with tourists, and is patrolled by police. But you should always be alert wherever you stay, and be aware of pickpocketing.
Of course, there is more to De Wallen than just the red-light district. In addition to the many coffee shops, restaurants, and bars to enjoy. If you prefer your evening's entertainment a bit more sedate, there is still plenty to choose from in De Wallen. 
Old Centrum is a super convenient area to stay, within comfortable walking distance of all the major attractions, historic buildings and cultural heritages. Just across the canals from the red-light district, you can find the oldest building in the city, the Oude Kerk, the Old Church. Dating back to the 13th-century, the impressive structure now hosts various cultural events. 
A visit to Old Town is not complete without a canal cruise where you can views the city from the canals and under arched bridges. There are a curise with candlelight dinners and beer.
Due to its central location, accommodations here can be expensive than other neighborhoods but it well worth it because you will be located in the middle of action. If you are planning to spend your Christmas and New year in Amsterdam, there are many hotels still open and you can find cheaper accommodations with Christmas special deals.
Stay In Old Centrum if you're first-time tourists; you want to stay right at the heart of Amsterdam close to everything, in the most historic part of Amsterdam, close to Amsterdam Central Station;
Best places to stay in Amsterdam Oude Centrum:
Luxury ($$$): Hotel TwentySeven – Small Luxury Hotels of the World This 5-star hotel is located right in the heart of the city overlooking the Royal Palace. You can enjoy the meal and drink at the on-site restaurant Bougainville, awarded with a Michelin star, and the on-site award-winning wine director.
mid-range ($$): Swissôtel Amsterdam Located on the famous Dam Square, within walking distance from Centraal Station, this hotel offers spacious rooms with soundproofing and a bathroom with free Swiss bath products.
budget ($): Rho Hotel This 3-star hotel is situated in the real heart of Amsterdam, within easy walking distance from famous attractions such as Kalverstraat shopping area, the Dam Square tram stop, Anne Frank House, and Rembrandt House Museum.
🔍MORE HOTELS IN OLD CENTRUM
2. Canal Belt / Nine Streets, where to stay in Amsterdam for couples
Canal Belt, known as the Grachtengordel in Dutch, is one of Amsterdam's most romantic neighborhoods. This is where you will find most of the city's iconic canals and waterways. Building in 17th-century during the Dutch Golden Age, the canals are a beautiful, historic area that was awarded UNESCO World Heritage Site status in 2010.
The inner canal belt in Amsterdam are made up by four main canals including the Singel, Herengracht, Keizersgracht, and Prinsengracht. The Singel, is the mots innermost canal that dates back to medieval times. Here you can find the daily flower market, Bloemensingel, with floating shops sells Dutch tulips and souvenirs.
The Herengracht is typical Amsterdam with narrow buildings, bike lanes, and quaint bridges. Golden Bend is a great spot to take photo where you can find some of Amsterdam's most opulent canal houses. The Fault in Our Stars was filmed here.
The Keizersgracht, means Emperor's Canal in English, is the widest canal in the belt. The water in the canal freezes in winter and become ice skating spot! The Keizersgracht is famous in the gay community for its homo monument to pay respect to the homosexual victims of the Nazi regime.
The Prinsengracht is the last canal on the belt and is considered the city's prettiest canal by Amsterdammers. From a boat ride, you can see Anne Frank House, Noorderkerk, Westerkerk, and Palace of Justice. Keep an eye out for the door number 7, the narrowest house in the world.
Aside from being beautiful and historic, the Canal Ring is right in the city center. You will be staying just a short walk from most of Amsterdam's top tourist attractions and neighborhoods. Surrounded by popular tourist attractions and the iconic canals, this is one of the best places to stay for those visiting Amsterdam city for the first time. 
If you are interested in the history of the canals, you can visit Museum of the Amsterdam Canals (Het Grachtenhuis), Kattenkabinet (Cat Cabinet), Museum van Loon, Museum Willet-Holthuysen, Bijbels Museum, Foam Photography Museum, and Museum of bags & purses.
The area itself lives up to its romantic atmosphere with an abundance of lovely restaurants and bars in which to enjoy a romantic dinner or drinks. You can spend days wandering the quaint streets lined with boutique shops and charming cafes.
The Nine Streets, or De 9 Straatjes, represent the very best of Grachtengordel's picturesque shopping district. Spend your time taking in the quintessential atmosphere of narrow lanes, crossing the pretty bridges over the canals, and relaxing in chic cafes. Full of a mix of unique little shops and designer boutiques, Nine Streets is a must-visit for anyone who loves a spot of retail therapy. 
The best way to enjoy Amsterdam's canals is to take a guided boat tours, canal cruises or rent a paddle boat and explore the canal belt by yourself.
Being the area of Amsterdam with the most canals, this is, of course, the unique place to stay in Amsterdam if you are hoping to stay in one of the famous canal houses. The waterways are lined with these iconic residences, and many of them have been converted into hotels and B&Bs. Most houseboats are fully equipped with a private kitchen.
Staying in such a desirable area is not cheap. If you have a more generous budget, then you will have plenty of accommodation options to choose from, ranging from luxury hotels to stylish townhouses. 
Best places to stay in Amsterdam's Canal Belt:
3. Leidseplein / Rembrandtplein, where to stay in Amsterdam for nightlife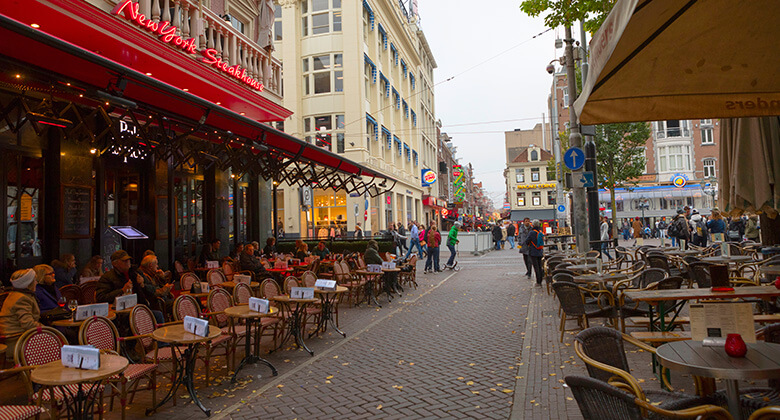 Leidseplein is the best nightlife district in Amsterdam, in addition to the Red Light District and Rembrandtplein. Located at the southern end of central canal ring, between the main station and the museum district, Leidseplein is a busy, leafy public square, home to markets and cozy cafes during the day. At night, the many bars and nightclubs surrounding the square come alive.
There are also cinemas, discos, theaters and a casino around here. Stadsschouwburg Theater is a great place to catch a performance, while The Bulldog is Holland's best-known coffeeshop. You can also find the music temple De Melkweg and the music venue Paradiso nearby.
In summer, Leidseplein filled up with a the large terraces of the bars, musicians, jugglers and mime players. Grab a cup of coffee or a glass of beer, enjoy the sun. In winter, there is an outdoor ice skate ring, Christmas lights, and hot food stalls.
Rembrandtplein (Rembrandt Square) is more LGBT-friendly nightlife. It is a historic public square, named after the famous painter Rembrandt van Rijn. Surrounded by coffee shops, bars, and restaurants, Rembrandtplein is abuzz with gay bars and clubs come nightfall. 
Leidseplein is a safe area but it has lots of tourists, and you should take care of your belongings and be aware of surrounding as you travel to any tourist area.
Leidseplein is a transport hub in the city with a several tram lines crossing here. You can find all range of accommodation options in Leidseplein area from budget hostels to luxury hotels.
Best places to stay in Leidseplein – Rembrandtplein:
🔍MORE HOTELS IN CANAL BELT
4. Jordaan, coolest neighborhood to stay in Amsterdam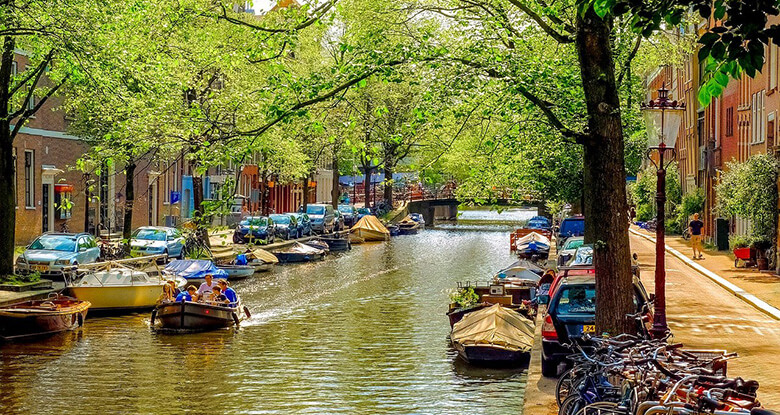 Jordaan is a traditional village-like atmosphere at the heart of Amsterdam. Located not far from Amsterdam's city center, Jordaan is filled with charming narrow streets, quaint shops and boutiques. Once a working class neighbourhood, Jordaan is now a cool hub of urban art galleries and trendy bars and restaurants.
Jordaan has the feel of a much more safe local area than many of the other city center neighborhoods. Despite being a popular tourist area, Jordaan really maintains the atmosphere of a residential area. It has a cozy, home away from home vibe.
Spend your days wandering the charming backstreets, relaxing in cozy pubs, and mingling with the locals. On Mondays, the popular Westerstraat flea market is held in the north of the neighborhood. From flowers and local food to antiques, this is a great place to shop for quirky and unique souvenirs. 
Meanwhile, Lindengracht Market opens on Saturday. Lindengracht is probably the best food market in Amsterdam. There are fresh fish, cheese, good vegetables, as well as clothes, and general goods.
Having been a primarily working-class neighborhood, Jordaan was largely un-renovated until fairly recently. Ironically, it is that lack of investment during past decades that makes this such a lovely place to visit today. Many of the old buildings are totally intact, lending a charming, historic vibe to the area.
Packed with quaint, narrow streets, cozy cafes and pubs, the whole area has a distinctly romantic atmosphere. Jordaan is perfect for couples planning a romantic city break or honeymoon. Right next to the canal belt, you will have plenty of opportunities for romantic waterside walks too. 
Jordaan is home to Anne Frank House. The house where Anne Frank and her family were hidden from the Nazis for years during the second world war has been converted into a poignant museum. The Anne Frank House is an absolute must visit for any first time trip to Amsterdam. 
There are also numerous of museums in Jordaan. The Amsterdam Cheese Museum is a small museum featuring the history of cheese making and tastings. Amsterdam Tulip Museum tells you about the history of the tulip, while Electric Ladyland is the only museum in the world devoted to the wonders of fluorescence. The Amsterdam Houseboat Museum, or Woonbootmuseum is an unique museum showing a traditional Dutch houseboat.
You will have plenty of accommodation options to choose from if you decide to stay in Jordaan. There are tons of sweet B&Bs and charming guesthouses on offer. Most of the options are in the mid-range bracket, but there are a few more affordable hotels and hostels too.
Stay In Jordaan If  you want to stay in a cool neighborhood; you want a romantic break or honeymoon; you want to stay somewhere with a real local community vibe.
Best places to stay in Jordaan:
🔍MORE HOTELS IN JORDAAN
5. Oud West, where to stay in Amsterdam for budget travelers
Just on the fringes of the city center and bordered by Vondelpark, Amsterdam Oud-West is a wonderful place to stay for people who want to stay close to the action, without having to be constantly surrounded by crowds of tourists.
Being a little outside of the main tourist areas, Oud-West maintains a much more local vibe. You will find plenty of local shops and cozy coffee shops to relax in, as well as some quirkier venues.
Oud-West is a decently affordable area. With a good mix of price ranges catered to and some good budget options, you should stay in oud west if you are hoping to stick to a tight budget whilst staying close to the city center.
De Hallen Cultural center is one of the most unique spaces in the area, which is the former tram station turned food hall. De Hallen has a boutique hotel, a cinema complex, library, independent stores, several galleries, and exceptional Foodhallen with more than 20 food stands. Boasting a range of excellent street food vendors offering various cuisines and with many of top restaurants hosting stalls, this is a must-visit for any foodies visiting Amsterdam.
The lifeline of De Hallen is the Passage, connecting the Bilderdijkkade to the Ten Kate Market. The Passage is a covered shopping arcade with the shops sell vintage clothes, furniture, lamps, bags. It hosts regular events like Local Goods Weekend Market.
The Ten Katenmarkt is a open-air market in the Kinkerbuurt with 130 stalls selling various fabrics, street foods and clothing. The local market is open Monday to Saturday except holidat. A small section of the market are on Kinkerstraat.
If you want to relax, head to the popular Vondelpark nearby. It is home to a selection of restaurants and cafés, a skate rental shop, Groot Melkhuis with playground for children, and a rose garden. There are free concerts at the open-air theatre or at the park's bandstand in the summer.
Oud-West is located within walking distance of both Museumplein and Leidseplein. You can easily get around with bicycle, tram or on foot. Tramlines 1, 3, 7, 12, 13, 14, and 17 all service the area. NS Trains Amsterdam Lelylaan Station is also close by.
Stay In Amsterdam Oud-West If you're foodies; you want to stay close to the city center without the constant crowds of tourists; you are working with a smaller budget but still want to stay in a central area;
Best places to stay in Amsterdam Oud-West:
🔍MORE HOTELS IN OUD-WEST
6. Oud-Zuid/Museum Quarter, where to stay in Amsterdam for museums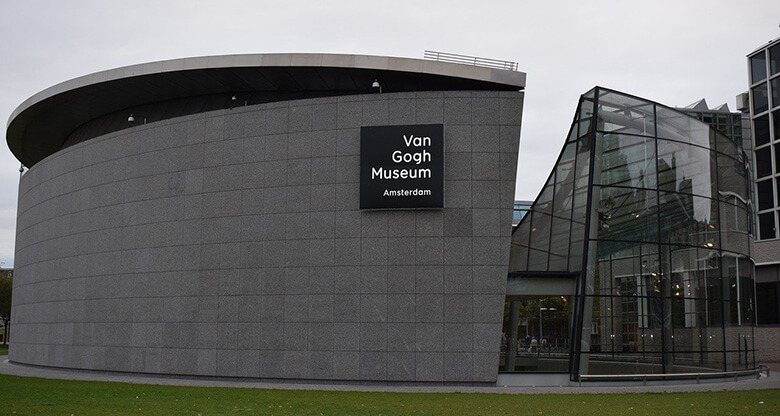 Oud Zuid, and particularly the Museum Quarter, aka Museumkwartier, is a posh and safe area of Amsterdam. Super central and full of some of the top attractions in the city, this is the perfect area for anyone whose priority is seeing all the most important sights. If you are planning an indulgent, upscale vacation, Oud Zuid is also the perfect place to stay.
The Museum Quarter is right next to the canal belt too, so you will be easily able to explore Amsterdam's iconic waterways. If you are staying in Amsterdam for a shorter trip, the Museum Quarter is the best area to stay to get the most out of your time in the city.
The Museum Quarter is centered around Museumplein. The pretty public park is surrounded by numerous museums, including the three biggest art museums in Amsterdam city. Amsterdam's Van Gogh Museum is the largest collection of Van Gogh's works in the world. Along with his paintings, you can also take in exhibits on his life and view various artifacts including sketches and handwritten letters. 
The Rijksmuseum is the largest art gallery in Holland. Housing thousands of classic works of art from across Europe, this is the perfect place to visit for anyone who loves traditional art.
Alternatively, the Stedelijk displays various pieces of modern art in contrast to the classical works of the Rijksmuseum. Housed within a unique building designed to look like a giant bathtub, the Stedelijk is perfect for those who prefer contemporary art and design.
Oud Zuid is particularly well known for its high-end shopping streets. In the elegant P.C. Hooftstraat and Van Baerlestraat you will find many of the world's most exclusive fashion, jewellery, designer boutiques with well-known brands like Chanel and Dior.
As well as shops, Oud Zuid is full of upscale dining and chic bars. This is really one of the best places to stay if you are planning an indulgent, luxury vacation.
Another remarkable hidden gem near Museumplein is the Zevenlandenhuizen, known as the Houses of Seven Countries in English. This is a pretty little street in Amsterdam with a seven houses, each represents a European country.
One of the many things the Netherlands are known for is their lovely windmills. If you want to do more than simply gaze at one from the outside then you will want to visit the Molen van Sloten Windmill. The only windmill in south Amsterdam open to tourists, Molen van Sloten is a comfortable walk from the west end of Oud Zuid. It dates back to 1847 and still functions, with visitors able to take tours and observe demonstrations.
Despite being one of the most upmarket regions in the city, this is also a great place to look for affordable accommodation. If you want to stay in one of the most desirable areas in Amsterdam whilst keeping to a tighter budget, stay in Oud Zuid. Of course, there are plenty of more luxury hotels to choose from too.
Stay in Museum Quarter If you love museums; you want to do lots of sightseeing; you want to stay in a safe area;
Best places to stay in Oud-Zuid and Museum Quarter:
🔍MORE HOTELS IN OUD-ZUID
7. De Pijp, trendy neighborhood with vibrant nightlife
Hip De Pijp is the trendiest area of Amsterdam. If you want to stay in a super cool bohemian neighborhood close to the city center, Amsterdam De Pijp is the perfect choice for you. Despite being right in the heart of the city, De Pijp Amsterdam has a much more laid-back atmosphere.
Also known as Amsterdam's Latin Quarter, De Pijp is abuzz with colorful bars and nightclubs. By day you can take advantage of the neighboring museum district and canal belt. By night you can party until the early hours in some of the funkiest bars in Amsterdam.
A thriving student neighborhood, with the trendiest nightlife scene in the city. During the day, the student influence can be seen in the many cozy cafes and vintage shops, and bookstores, especially in Frans Halsstraat, Marie Heinekenplein and Gerard Douplein.
In addition to the eclectic stores dotted throughout the neighborhood, De Pijp is also home to the biggest daily market in the Netherlands, Albert Cuypmarkt. Running since 1905, it is a lively 300-stall open-air market that sell local produce and street food, as well as craft goods and antiques. 
Albert Cuyp Market is one of the best spot to sample local dishes such as herring, Dutch cheese, and traditional stroopwafels which is crispy, caramelly treats that are somewhere between a waffle and a cookie.
Once you are done browsing the lively market, you can relax in nearby Sarphatipark. The leafy park, with its tranquil lake and various monuments, is a lovely place to enjoy a picnic. Perfect for if you have picked up some tasty local delicacies from the market.
Any beer lovers will definitely want to make a visit to the Heineken Experience. One of the most comprehensive brewery tour experiences around, you will have the opportunity to learn about the history of beer making and the development of Heineken itself. Beer tastings are of course included. 
Stroll along the Amstel River, enjoy watching moored houseboats with scenic rooftop gardens. Have a picnic in Martin Luther King Park, or cycling along Amstel River Countryside.
Family and kids can make some fun time at the Kinderboerderij de Pijp, located just on the right side of Okura Hotel. Children can interact with friendly critters, rabbits, guinea pigs, goats, sheep, and geese, at this petting zoo.
The Huis met de Kabouters, or House with the Gnomes is a 19th-century building that has two figures of gnomes in its facade.
Despite being so close to the city center, this is one of the best places to look for low-cost accommodation. The area near De Pijp metro station offers cheaper hote options.
Stay In De Pijp If Being at the heart of the city's trendiest nightlife is ideal; You want affordable accommodation close to the city center.
Best places to stay in Amstedam in De Pijp:
🔍MORE HOTELS IN DE PIJP
8. Plantage/Old Jewish Quarter, where to stay in Amsterdam for family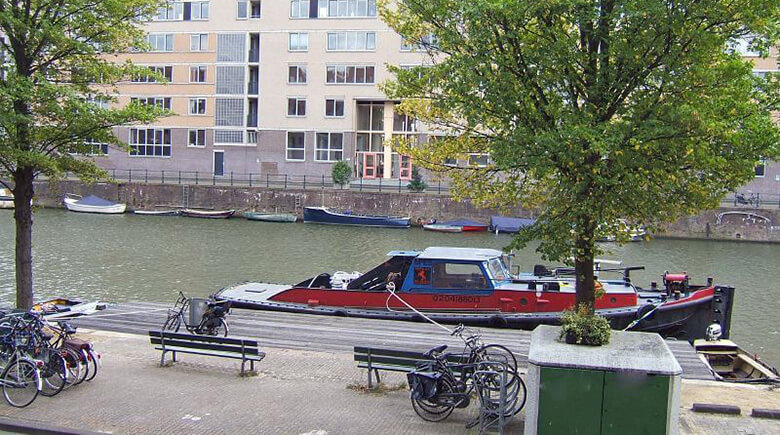 Plantage is the best place to stay for those traveling with children. Close to the city center and with plenty of family-friendly attractions, this is the top pick for parents. This is a quieter, more residential area. It is just around a 20-minute walk into the city center, so you will still be able to get around the sights and attractions with ease. It's even faster if you hop on the metro. 
Plantage is home to the 19th-century Artis Royal Zoo. The sprawling zoo dominates the eastern end of Plantage and boasts numerous exhibits and animal species. There are plenty of cafes and restaurants within the zoo, so it's perfect for a full day out.
The zoo also contains a lovely aquarium, a science museum and a planetarium. As far as educational, family-friendly attractions go, Artis Royal Zoo really has everything you could ask for. 
The zoo is within walking distance of the NEMO Science Museum, which offers even more interactive exhibits to engage the whole family. It is all close enough together to make a full day of it, or spread the attractions out over your trip to be sure there is always something to keep the kids happy.
In the west of Plantage is Hortus Botanicus, the oldest botanical garden in the world. Dating back to the 1600s, you can explore the winding trails through numerous gardens and greenhouses.
The west of Plantage is also where you can find Old Jewish Quarter. In the Old Jewish Quarter you can appreciate grand synagogues dating back to the 17th-century, Jewish Heritage Museum, and various kosher delis and bakeries. 
There are several other museums here. Visit The Dutch Resistance Museum (the Verzetsmuseum) to learn about German Occupation and the Nazi rule in the Netherlands during the World War II. The Junior museum housed inside is considered the best WWII children's museum.
The Old Jewish Quarter is also home to the Waterloopleinmarkt. This popular flea market is open every day except Sunday and, with almost three hundred stalls, makes a perfect place to pick up unique souvenirs.
Just around the corner from Waterloopleinmarkt is the house where Rembrandt lived and worked for twenty years. Now converted into a museum, the house is open for visitors to explore the old residence of the renowned painter. 
Stay In Plantage and Old Jewish Quarter If you are looking for the most family-friendly area to stay in; you want a quieter area, close to the city center and major attractions; you want to stay in a safe neighborhood;
Best places to stay in Amsterdam in Plantage and Old Jewish Quarter,:
🔍MORE HOTELS NEAR PLANTAGE
9. Amsterdam Noord, affordable place to stay in Amsterdam
Amsterdam's hippest area, Amsterdam Noord, also known as North Amsterdam, is one of the coolest parts of Amsterdam. A huge neighborhood north of the river IJ, the urban redevelopment of the waterfront is particularly fashionable.
Once a bustling port, many of the former industrial buildings have been converted into trendy shops and stylish restaurants. There are bars in shipping containers and old warehouses converted into food halls and events spaces. Amsterdam Noord is one of the edgiest places to stay in the city.
The Amsterdam Noord is just a few minutes away from Amsterdam Central Station if you take the free GVB ferry service. The ferry depart from De Ruyterkade, runs every 5 minutes. The ferry is an attraction on itself. Lots of residents use this boat to go to the other side and travel further by bike.
Amongst the modern developments is the A'DAM Toren tower, which opened in 1971 as home to Royal Dutch Shell. With a twenty-story high bar, restaurant, and observation deck, this is the best place to go for a spectacular panoramic view across the entire city. It also boasts the tallest over the edge swing in Europe, for those daring enough to ride it. 
Being such a modern district, Amsterdam Noord is very different to the quaint charm that Amsterdam is known for. As such, it is great for returning visitors who want to see a different side of the city.
It is not all hyper-modern industrial-chic though. There are also enough monthly flea markets and leafy public parks to maintain a community atmosphere. NDSM Werf is a hip skate park that used to be a shipyard. The east of the neighborhood extends out into the Dutch countryside, offering lots of space to get fresh air and enjoy an escape from the city.
You can also watch a movie at the EYE Film Institute, which is home to four movie theatres, a big exhibition area, and a library dedicated to film. Another highlight is the Muziekgebouw aan 't IJ, a huge concert hall that opened in 2005 and is popular with locals and tourists.
If you love architecture and science, head to the 3D Print Canal House; grab a drink under Windmill D'Admiraal; and many more places that you can explore by riding a bicycle.
Being outside of the main tourist district, and across the river from the city center and main attractions, Amsterdam Noord is one of the more affordable places to stay in Amsterdam. In keeping with how old industrial spaces have been converted into various venues, there are some super interesting accommodation options to be found here.
Stay In Amsterdam-Noord If you want to stay in one of the coolest areas of Amsterdam; you want to see something different from the quaint charm that Amsterdam is famous for.
Best places to stay in Amsterdam-Noord:
🔍MORE HOTELS NEAR AMSTERDAM NOORD
10. Westerpark, convenience location close to city centre
Named after the sprawling park at its center, Westerpark is the ideal location for anyone who wants both the convenience of a city center location and the comfort of open space and a community atmosphere. Close to both nightlife, hospitality, and the major sights and attractions, Westerpark is perfect for first-time visitors.
Westerpark is just north of Jordaan. Close enough to the city center that sightseeing is a breeze, yet removed enough from the tourist crowds that it has a much more laid-back vibe.
Even without its connections, the area is lovely in its own right. The streets are lined with indie shops and local bars and cafes. Be sure to check out the best shopping street Haarlemmerstraat and Haarlemmerdijk.
The actual park of Westerpark is a lovely, leafy canal-side park with a pond, fountains, and waterside trails. One of Westerpark's primary attractions is also in the park, Westergasfabriek. Formerly a gasworks plant in the 19th-century that is now a cultural center, Westergasfabriek hosts numerous venues and events spaces. The western part of the factory has also become a popular events venue, hosting various concerts and festivals.
Meanwhile, the eastern building houses a theatre, bars, cafés, and a microbrewery. Small shops, art galleries, and studios create an indie, artsy atmosphere to the complex. There are also several restaurants on the grounds, overlooking the canal.
There is a monthly arts and crafts market held here on the first Sunday of the month. If you are in the area when it's on, then it is certainly worth making a visit. It is a lively event and a lovely opportunity to pick up souvenirs and trinkets.
Westerpark is just far enough out from the city center that prices for accommodation get more affordable. There is plenty of great mid-range and affordable hotels to choose from.There are even some decently priced higher-end options along the waterfront. Perfect if you want luxury comfort without the luxury price tag. 
Stay In Westerpark If You want to stay close to the city centre but without the crush of the tourist crowds; You are planning a family vacation.
Best places to stay in Amsterdam in Westerpark:
🔍MORE HOTELS NEAR WESTERPARK
11. Amsterdam-Oost, diverse cultural hotspot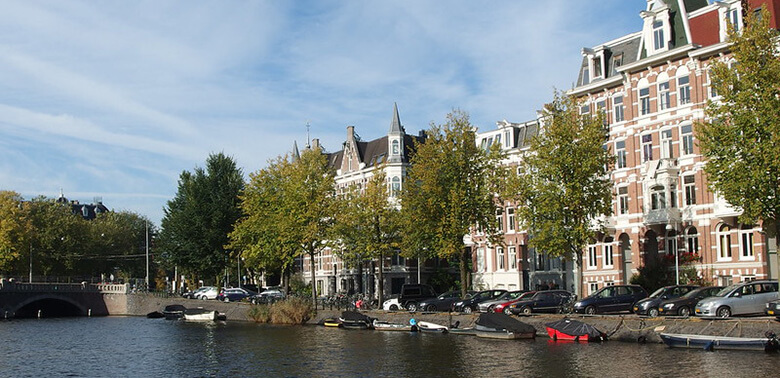 Amsterdam Oost, Amsterdam East, is a sprawling district in the east of the city. Previously a sleepy suburb, it is now one of Amsterdam's up-and-coming trendy neighborhoods. You can find lots of indie bars and restaurants, as well as fashionable shops, taking advantage of the lower rent costs outside of the city center. 
This is a vibrant, multicultural neighborhood, the heart of Amsterdam's immigrant population. This is reflected in the incredible array of cuisines available from the restaurants in the area. From French-Mexican fusion to Surinamese, whatever you are craving, you are sure to find an excellent restaurant serving it in Amsterdam Oost.
The Tropenmuseum is another reflection of the area's multicultural heritage. The museum houses various exhibitions of artifacts from across the eastern and middle eastern world.
Culture vultures will also love to visit the iconic Hermitage on the bank of the River Amstel, the National Maritime Museum in the Oostelijke Eilanden, and the NEMO Science Museum.
Within the Amsterdam Oost, you will find tons of leafy public parks. Oosterpark is one of the best, with a lake, play areas, and numerous sculptures and monuments to discover along the trails. Meanwhile, Flevopark boasts a lake large enough to host water sports and overlooks the nearby canal.
There are also beautiful parks of Amstelpark and Frankendaelpark where you can find Merkelbach, De Kas, and Pure Markt.
If you are visiting in the summer, you might want to take a trip to Strand Blijburg. The sandy beach is a beautiful place to relax on a hot day. There is even a roped-off area for safe swimming for when you really need to cool off.
Other places of interest area a local market of Dappermarket on Dapperstraat; and Amsterdam's famous windmill brewery, the Brouwerij IJ adjacent to the De Gooyer Windmill.
Being just outside of the city center, this is a good place to look for affordable accommodation. Whilst it can still get quite an expensive closer to Plantage and the city center, further east you will have plenty of lower-cost options to choose from.
Best places to stay in Amsterdam-Oost:
🔍MORE HOTELS IN AMSTERDAM OOST
12. Amsterdam-Zuidoost, vibrant multicultural neighborhood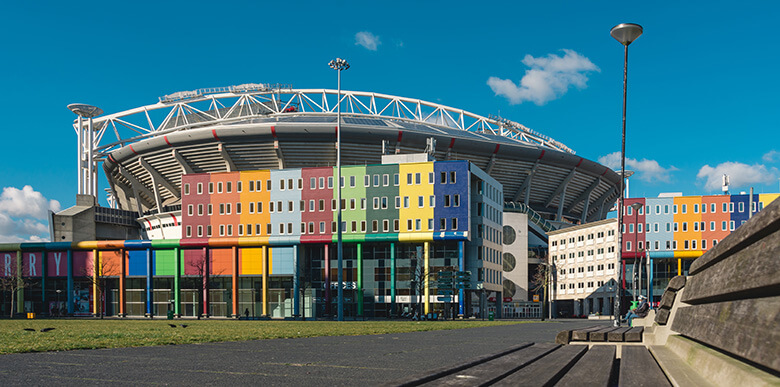 Amsterdam Zuidoost, Amsterdam South East, is located well outside of the main city center. Much less of a tourist district, Amsterdam Zuidoost is primarily visited by those attending an event at one of the many stadiums and arenas in the area. 
The Pathe Arena, Ziggo Dome, and AFAS Live concert hall are all located here in an area known as the Arena Boulevard. John Cruijiff Arena, the home of the Ajax Football Club, is also in the complex.
Even though it's outside of the city, the area can get very busy during times when events are on. This is especially true when there are multiple events at various venues at the same time. If you don't like crowds, I recommend staying away from the Arena Boulevard area unless you want to be really close to a show you are attending. 
Outside of the various events venues, Amsterdam Zuidoost is known for being one of the most multicultural areas of Amsterdam with around 100,000 residents from more than130 nationalities. There is a community of people of Surinamese descent of the Netherlands, South America, West Africa, and the Caribbean.
With a much more modern aesthetic than typical, city center Amsterdam, this area is home to contemporary shopping districts and the chic hospitality industry.
Being so far removed from the city center and the main tourist hubs do mean that the cost of accommodation is cheaper than elsewhere in the city. Hotels around Arena Boulevard can get more expensive around big events, but generally, hotels here are pretty affordable.
Of course, if your main goal in visiting Amsterdam is sightseeing, then you will need to weigh the money-saving benefits against the inconvenience of having to travel much further in and out of the city center. You should also check how the additional travel costs could impact your savings.
Stay In Amsterdam-Zuidoost If You like to stay in multicultural areas; Sticking to a tight budget is your main concern; It is not your first time visiting Amsterdam; You are attending a show at the Arena Boulevard.
Best places to stay in Amsterdam-Zuidoost:
🔍MORE HOTELS IN AMSTERDAM-SUIDOOST
🎬 Check out my virtual tour about the best places to stay in Amsterdam:
Where should I stay in Amsterdam for the first time?
Amsterdam Old Centrum is the best area to stay in Amsterdam for first-timers due to its prime location. If you stay here, you will be located in the middle of action, within walking distance to famous sights, restaurants, bars, and shops. You can easily travel to other parts of the city with the Centraal Station nearby.
How many days do you need in Amsterdam?
How long to stay in Amsterdam for the first time depends on how thoroughly you want to take in everything the city has to offer. Personally, I find that Amsterdam is the ideal destination for a long weekend. Three days in Amsterdam is enough to take in all the major sights and really get a feel for the city.
Read more:
As for when to go, Amsterdam is lovely year-round. The summers are warm and the winters are cool but cozy, especially around Christmas. If you are hoping to see the Netherlands' famous tulips bloom, then you will want to visit in spring, around March and April. Whether you are staying for a weekend or a week, finding your ideal home away from home really makes all the difference. 
Overall, Amsterdam Old Centrum is the best area to stay in Amsterdam for the first time due to its super central location and wide variety of tourist attractions and amenities. The final step to planning your ideal trip is finding the perfect hotel. We have plenty of suggestions for that too, so you can go ahead and start booking your dream vacation.