Where to stay in Amalfi Coast? for first time visitors, without a car, on a budget, for couples, honeymoon, and for families? In this blog, I will help you to decide the best areas in Amalfi Coast for tourists (include video and map), the best hotels for all budgets, and safest places.
The Amalfi Coast is a stunning and picturesque coastline located in the Campania region of Italy. It stretches for about 50 km along the southern edge of the Sorrentine Peninsula, between the Gulf of Naples and the Gulf of Salerno.
The Amalfi Coast is renowned for its dramatic cliffs, colorful fishing villages, and charming towns that cling to the mountainside and all connected via the SS163 highway.
With miles and miles of crystal blue sea, stunning natural landscapes, it's easy to see why the Amalfi Coast is one of the most popular vacation destinations in the world. Whether you are planning a relaxing beach break, a sightseeing tour, or a party weekend, Amalfi really does have something for everyone.
Where to stay in Amalfi Coast for the first time?
The best areas to stay in Amalfi Coast for tourists and first-timers are Positano, Sorrento, Amalfi, Ravello, Praiano, Maiori, Minori, and Salerno. These towns offer plenty of things to do and see for tourists.
Generally speaking, Positano, Sorrento, Amalfi, and Ravello are the best areas to stay in Amalfi Coast for first-timers. They are the most popular towns on the Amalfi Coast, offering a wide range of hotels for all budget travelers to stay and explore the coast.
Positano is arguably the most iconic town on the Amalfi Coast known for its colorful cliffside houses and beautiful beaches, Sorrento offers easy day trips to the coast with cheaper hotels. Amalfi is the namesake of the entire coastline, offering a mix of history and natural beauty.
Ravello is is perched on the cliffs above Amalfi, known for its breathtaking views, stunning gardens and villa, offering a serene escape from the bustling coastal towns.
If you are traveling to Amalfi Coast on a budget, I recommend staying in Sorrento, Salerno, Maiori, Minori, Vietri, Cetara, and Scala, which provides more afforable accommodations and restaurant options compared to the more populars towns such as Positano and Amalfi.
The Amalfi Coast is generally a safe destination for tourists. But like any tourist destination, you should always exercise common sense and be mindful of your belongings, especially in crowded areas or public transportation to avoid pickpocketing.
Where to stay in Amalfi Coast without a car?
Amalfi, Positano, Sorrento, and Maiori are the best areas to stay in Amalfi Coast without a car. These towns are conveniently accessible by public transport and are easily explored on foot. Moreover, they offer a wide range of accommodations, restaurants, bars, and shops for tourists.
You don't need a car to travel around Amalfi Coast because the road is very narrow. There is also the lack of sufficient parking space and parking can be expensive! You need to be a confident driver to drive a car, but you can also hire a car with a private driver!
The closest airport to Amalfi coast is the Naples International Airport. If you fly into Rome's Leonardo da Vinci Airport (which is often cheaper compared to Naples), you can take direct high-speed train from Rome to Salerno.
Naples, Sorrento, Salerno are the main transport hub of the region. From Naples, you can take a private driver, bus, train, car, or ferry to Amalfi Coast. There is also the train from Naples Central Station to Sorrento, or Salerno, where you can take SITA bus to the towns in Amalfi Coast.
Once in the region, there are SITA buses to travel between towns but be prepared that it is crowded in the high season. You have to buy a bus ticket before onboard. Sita buses have 2 routes: Sorrento – Positano – Amalfi and Amalfi – Salerno.
There are also ferries that run in the peak season (April to October) betwwen Salerno and Positano. You can buy tickets directly at the pier of departure. This is also the way to enjoy Amalfi coast by the sea!
Remember that buses and ferries can be crowded during peak tourist seasons, so you should plan your journeys in advance and consider traveling outside of peak hours if possible. Be prepared for some walking and stair-climbing, as many towns are built into steep cliffs.
Where to stay in Amalfi Coast with a car?
The best areas to stay in Amalfi Coast with a car are Sorrento and Amalfi. Parking can be a challenge, so make sure your accommodation provides parking facilities.
Sorrento is a popular choice for those with a car as it serves as a gateway to the Amalfi Coast and has relatively easier parking options compared to the smaller coastal towns. It has various hotels with parking facilities and is well-connected to the rest of the coast by road and ferry.
Consider using public transportation, such as buses or boats, to navigate the coast and visit different towns while leaving your car parked at your accommodation when possible
Overviews of best areas to stay in Amalfi Coast for first-time tourists
Here is an overview of the best areas in Amalfi Coast for first-time visitors:
| Best areas in Amalfi Coast for first-time tourists | Why should you stay in this area? |
| --- | --- |
| Positano | an iconic town that is famous for its colorful buildings cascading down the cliffs. It offers stunning views, charming streets, and beautiful beaches. great location for couples and honeymooners seeking a romantic holiday, |
| Sorrento | a popular base for day trips to Amalfi Coast, Naples, Pompeii, and Herculaneum. It has excellent links to transportation, including trains, bus, and ferry. It offers cheaper hotels and restaurants compared to towns on the Amalfi Coast. |
| Amalfi | is the namesake of the coast and offers a mix of history, culture, and beautiful beaches. It has a picturesque main square and a stunning cathedral. Amalfi has cheaper hotels and flatter town center compared to Positano, which is great base for families with kids. |
| Ravello | Perched on a hilltop above the coast, Ravello is known for its peaceful atmosphere and breathtaking views. It's home to stunning gardens, historic villas, and a renowned music festival. |
| Praiano | Situated between Positano and Amalfi, Praiano is a quieter alternative with its own charm. It boasts stunning views, hidden beaches, and a more laid-back atmosphere. Great area for couples. |
| Maiori | If you're looking for a town with a long sandy beach (which is rare on the coast, most rocky), Maiori is a great choice. It offers a wide range of amenities, a relaxed vibe, and cheaper hotels and restaurants compared to Positano and Amalfi. It is often known as best town for families with your childrens. |
| Minori | Adjacent to Maiori, Minori is a smaller and quieter town with a beautiful beach, historic sites, and a charming waterfront promenade. Similar to its sister town (Maiori), Minori is ideal base for familes with kids and those seeking quieter vibe. |
| Salerno | Although not technically on the Amalfi Coast, Salerno is a convenient and budget-friendly base for exploring the region. It has a lovely historic center, bustling nightlife, and excellent transportation links. |
| Agerola | Located at a higher altitude, Agerola is a tranquil and scenic village with panoramic views of the coast. It's an ideal place for hikers and nature lovers. |
| Vietri sul Mare | Known for its colorful ceramics, Vietri sul Mare is the gateway to the Amalfi Coast. It has a charming historic center and a long beach. |
| Conca dei Marini | Nestled between Amalfi and Praiano, Conca dei Marini offers a more secluded experience. It's famous for the beautiful Emerald Grotto and its stunning coastal views. |
| Cetara | A picturesque fishing village, Cetara is known for its delicious seafood and relaxed atmosphere. It's a great place to experience authentic Italian coastal life. |
| Atrani | Located just a short distance from Amalfi, Atrani is one of the smallest towns in Italy. It has narrow alleys, a charming beach, and a quiet ambiance. |
Map of areas and towns in Amalfi Coast: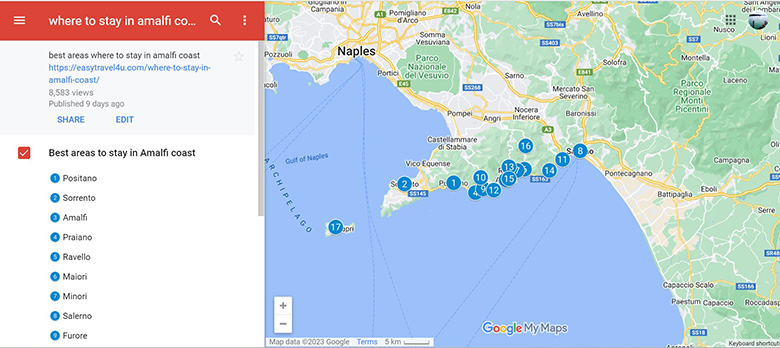 🎬 To get an overall idea of Amalfi Coast, check out this short video, or continue reading:
In general, the best areas to stay in Amalfi Coast for tourists are Positano, Sorrento, Amalfi, Ravello, Praiano, Maiori, Minori, Salerno, Atrani, Vietri sul Mare, Cetara, Conca dei Marini, and Tramonti. They are popular and safest towns in the region, offering plenty of things to do and see.
Here are the detail of the best areas to stay in Amalfi Coast for travelers:
Best areas to stay in Amalfi Coast for tourists are:
1. Positano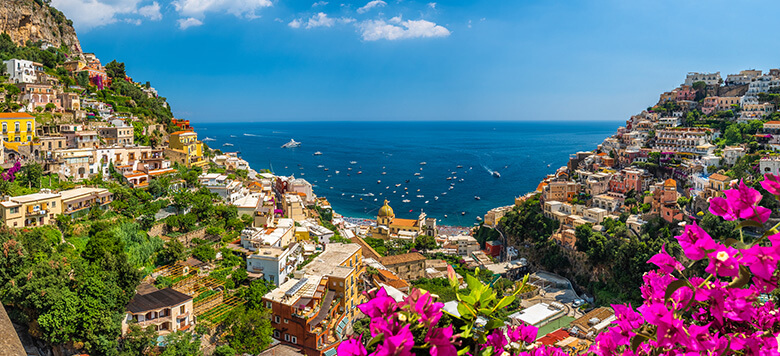 Positano is the first town you'll come across on the Amalfi Coast if you're driving from the west from Naples and Sorrento. Positano is easily reachable by regular SITA buses from Naples, Amalfi, Ravello, and Sorrento, as well as ferries from Naples, Sorrento, Salerno, and Amalfi in summer.
Positano is a compact town with most attractions, shops, restaurants, and accommodations located within walking distance. The narrow streets and staircases that wind through the town create a charming atmosphere that is best explored on foot.
Positano is probably the most photographed town along the Amalfi Coast. Particularly aesthetically beautiful, Positano offers the best example of the Amalfi Coast's iconic multicolored, pastel houses. Buildings in a rainbow of color blanket the hills and cliffs overlooking the sea.
Positano is the best base for those seeking a luxurious vacation with lively nightlife, beautiful beaches. It has many cool pubs, clubs, restaurants, fine Italian dining, and cliffside resorts.
This stunning town is best appreciated from the water, where you can get enough distance to take in the whole town at once. Take a water taxi or boat trip out onto the waves to take in the real impact of the vibrant town.
Known as the vertical town for how steep it is, Positano's streets consist of a network of challenging inclines and narrow staircases. Those with mobility issues, particularly anyone in a wheelchair, will find it difficult to get around much of Positano. In that case, you would be better off visiting for a day trip to take in the scenery and attractions on the lower levels.
The main tourist attraction of Positano is the 13th century Collegiate Church of Santa Maria Assunta. You can admire the grand cathedral with its gold tiled dome and striking black and white façade from down by the beach, but it's certainly worth getting a closer look and heading inside.
Right next door to the church is the MAR Positano Villa Romana Archaeological Museum. The museum covers the site of an ancient Roman villa, abandoned and covered in ash during the infamous eruption of Vesuvius in 79 AD.
In addition to stunning views, Positano is known for its beautiful beaches. Marina Grande is the main beach, located right beneath Santa Maria Assunta Church. Marina Grande is hugely popular with the rich and famous. Who knows what celebrities you will be sunbathing next to?
Lined with waterfront restaurants, beach bars and clubs, Marina Grande is also the center of Positano's ultra-chic nightlife and social scene. This makes it the perfect opportunity to party with those famous friends you made during the day.
There is smaller beach called Fornillo beach (Spiaggia Fornillo), as well as the Spiaggia Arienzo nearby offering sunbathing, swimming, and enjoying the Mediterranean atmosphere.
Positano is one of the only towns on the region in with high-end shopping. In addition to the local craft stores and souvenir shops, there are also fashionable boutiques and chic jewelry stores lining the narrow lanes. You can buy Limoncello liqueur, handmade sandals, and Moda Positano.
Located off shore of Positano are the three tiny islands Gallo Lungo, La Rotonda, and Isola Dei Briganti, which is called Li Galli islands (Sirenuse.) This private island is owned by the Giovanni Russo and accessible only to invited guests.
In the surrounding area, you can visit the Montepertuso (literally means "pierced rock") at the foot of the Lattari Mountains where you some good walking trails, church of Santa Maria delle Grazie, and the Fontana Vecchia.
Nearby, you can also find the sleepy ancient hamlet Nocelle with 461m above Positano. It is only reachable via pathway or by a long 1500 steps stair. Nocelle is famous for being the end point of Sentiero degli Dei, a hiking trail from Agerola and go across the Lattari Mountains.
The major downside to Positano for most travelers is how expensive it is to stay here. Positano offers mostly luxury and boutique accommodation. Restaurant prices are typically higher too. In fact, Positano is known as one of the most expensive places to stay in Italy, so budget travelers will struggle.
Stay In Positano If you are first time visiting Amalfi Coast; You want to get your own snapshot of the Amalfi Coast's iconic multicolored houses; Lively nightlife is a priority; You are planning a more luxurious vacation;
Best places to stay in Amalfi Coast in Positano:
MORE HOTELS IN POSITANO
2. Sorrento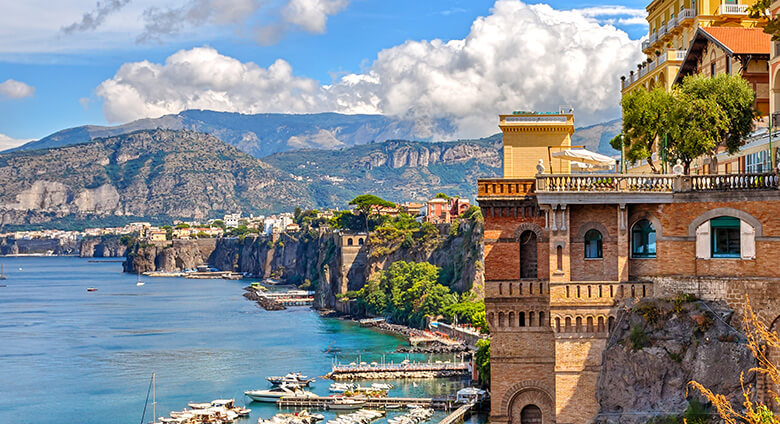 Sorrento is not technically part of the Amalfi Coast but is located on the Sorrentine Peninsula, which is nearby. However, Sorrento is often considered a great base for exploring the Amalfi Coast due to its convenient location and excellent transportation connections.
Sorrento overlooks the Bay of Naples and acts as a The Gateway to the Amalfi Coast. Larger and flatter than many Amalfi Coast towns, Sorrento offers a lot of conveniences and accessibilities that the more scenic, tourist towns lack.
Sorrento is better place to stay than Amalfi if you want more convenient location to do day trips and you want lots of choices in afforable hotels, bars and restaurants. If your main purpose is to experience the Amalfi Coast from morning to late night, it's better to stay in Positano and Amalfi.
Another advantage of staying in Sorrento is how well connected it is to the surrounding area. You can easily take a day trips town towns in Amalfi Coast such as Positano, Amalfi, Ravello, and Capri, as well as day trips to Naples, Pompeii, Herculaneum, and the Mount Vesuvius.
Sorrento along with Naples and Salerno is one of the transport hub of Amalfi Coast. It is well-connected to train, bus, and ferry, making its one of the best places to stay in Amalfi Coast with out a car.
The landscape around Sorrento is stunning too. The public garden, Villa Comunale offers incredible views of Mt Vesuvius, the Marina Piccola port, and the Bay of Naples. Or explore up into the lush hills blanketed in lemon and olive groves for an even better viewpoint.
Just to the west of Sorrento is the Punta Campanella nature reserve. Aside from being a fantastic place to go hiking or cycling, being located right at the western end of the peninsula means you will be granted some particularly spectacular sunsets over the sea.
Bagni Regina Giovanna Cove is an especially lovely spot. Set into the cliffs just outside of Sorrento, this natural swimming hole has a cozy beach, sparkling crystal blue water, and a tunnel through the rock leading out to the sea. There are the ruins of an old Roman villa to explore.
Within the town, there are plenty of historic buildings to marvel at. The Basilica di Sant'Antonino dates back to the eleventh century, making it the oldest church in Sorrento. Meanwhile, the Cathedral of Santi Filippo e Giacomo is notable for its elaborate frescoes.
Alternatively, browse Sorrento's museums, like Museo Bottega della Tarsia Lignea exhibits mostly antique furniture from throughout the ages. Museo Correale di Terranova, on the other hand, is a more typical art gallery.
You can also check out popular streets and squares in Sorrento historic center, and the waterfront area such as Corso Italia, a main pedestrian street, where you can find restaurants, cafes, gelaterias, and souvenir shops.
The heart of Sorrento is the Piazza Tasso, a lively square, for people watching. Be sure to check out Marina Grande, a former fisherman's wharf for delicious seafood and the Marina Piccola where you can find many Beach Clubs and the Leonelli's Beach.
Sorrento also boasts a claim to fame as the birthplace of limoncello, a hugely popular lemon liqueur. You can visit a traditional lemon grove called I Giardini di Cataldo to know how to lemons are farmed in Sorrento.
Being a larger town, and very popular with tourists, there are tons of hotels to choose from. All budgets and preferences are catered for here, from budget apartments to luxury hotels. Sorrento is still a touristy destination but accommodation prices are lower than Positano and Amalfi.
Stay In Sorrento If you travel without a car; you want a wide range of accommodation that suits all budget; you want lots of restaurants, bars, shops with cheaper price;
You can read about 7 Best Areas to Stay in Sorrento to know more about where to stay to book a hotels in Sorrento.
Best places to stay in Sorrento for first-timers:
luxury ($$): Grand Hotel Ambasciatori, 5 star hotel is located in the heart of Sorrento, within easy walking distance from from Piazza Tasso, Sorrento's main square. It has a private beach with free deck chairs, parasols and towels; as well as a rooftop terrace with the views of the Bay of Naples.
mid-range ($$): Imperial Hotel Tramontano Located in the center of Sorrento, close to Sorrento Train Station, this hotel offers an outdoor swimming pool, air-conditioned rooms, and a terrace with the Gulf of Naples and Mount Vesuvius views.
budget ($): Al Parco Verde B&B This bed & breakfast offers bike hire, car hire, private car parking, fully equipped guest rooms. It is within easy walking distance from Sorrento Station and Piazza Tasso.
MORE HOTELS IN SORRENTO
3. Amalfi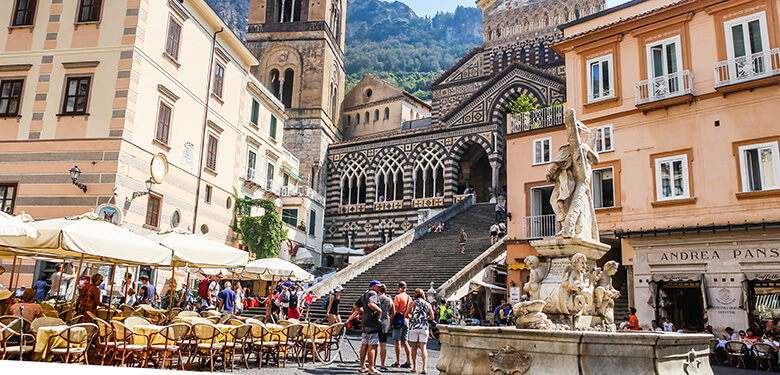 As the town that this entire region is named for, it only makes sense that this is one of the best places to stay in the area. Amalfi is the most popular and the largest town on Amalfi Coast. There's plenty to see and do here, and a wide range of accommodation to suit all budgets.
Amalfi is one of the best towns to stay in if you travel without a car due to its central location, in the middle of the coast, and its well connected to public transport, both by SITA bus and ferry. You can easily take a day trips to other towns without the need of the car,
Additionally, Amalfi is still a relatively small city, with plenty packed into the compact area. You can easily explore attractions and beaches on foot.
The town is centered around the Piazza del Duomo. The bustling public square is lined with cafes and tavernas that spill out onto shaded dining terraces. There's also the lovely Fountain of Saint Andrea to appreciate.
The piazza is overlooked by the Sant'Andrea Cathedral. Initially constructed in the ninth century, the cathedral has been altered and extended numerous times over the centuries, creating an interesting mix of architectural styles.
The interior of the cathedral is similarly grand, with beautiful frescos and numerous artifacts on display. The attached Museo Diocesano di Amalfi exhibits even more relics and artworks.
To the side of the cathedral is the Cloister of Paradise. The thirteenth-century cloister surrounds manicured gardens and houses even more religious relics along the covered walkway.
If you look up at the hills to the east of Amalfi, you will notice a great wall of arches extending along the cliffs. This is Amalfi's Cemetery. Whilst the grand structure is better appreciated from afar, it is well worth heading up to the cemetery itself to appreciate the incredible views over Amalfi and the sea.
Alternatively, if you find cemeteries too morbid, climb up to the Tower of Pogerola in the hills to the west of Amalfi. The ruined watchtower is interesting to explore and also offers incredible views of the town and surrounding landscape.
Amalfi also boasts several interesting museums. The most striking is the Museo Arsenale Amalfi. The museum presents Amalfi's maritime history and heritage within the city's ancient armory. Various naval relics and artifacts are displayed throughout the vaulted stone halls.
Or there's the Museo della Carta, the paper museum at Via delle Cartiere 24 in Cartiera Milano. This super unique museum details the history of paper production in Amalfi, displaying various instruments and machines that have been used throughout the centuries.
You can pick up souvenirs or handmade paper at a little gift shop or head to in Cartiera Amatuda, which has been producing paper since the 14th century. it is near the Canneto river in the Valle dei Mulini.
Whilst there are several beaches, furnished with sun loungers and beach umbrellas, they are very pebbly. Not ideal for barefoot paddling but still great for sunbathing and swimming. The main beach is the Marina Grande. Covered in sun loungers and lined with bars and cafes, it's super popular and gets quite busy.
Lido Delle Sirene is a smaller, quieter beach to the west of town. Out of the way of the busy harbor, Lido Delle Sirene is much more relaxed than bustling Marina Grande.
Amalfi has cheaper accommodation options compared to the more popular Positano. Its historic center is also quite flat compared to Positano, making it easy to navigate around, esspecially if you travel with kids.
Stay In Amalfi If you travel with and without a car; you want a good central location from which to explore the whole Amalfi Coast; you are planning a family vacation;
Best places to stay in Amalfi Coast in Amalfi Town for first-timers:
luxury ($$$): NH Collection Grand Hotel Convento di Amalfi This cliff-top hotel offer free wifi, an infinity pool with Mediterranean Sea views, a heated swimming pool in winter, and a private car parking. You can enjoy Italian and Mediterranean cuisine at the on-site restaurant La Locanda.
mid-range ($$): Amalfi Luxury House Centrally located in Amalfi, this bed and breakfast has air conditioned rooms with a TV, and a private bathroom with free toiletries and a hair dryer. Couple and family love this location and hotel.
budget ($$): B&B Al Pesce D'Oro Located on the panoramic SS 163 national road, this wonderfull hotel offers mediterranean style rooms with balcony overlooking the ocean. There is free wifi, restaurant, bar, and private car parking.
MORE HOTELS IN AMALFI
4. Ravello
Set in the hills high above the coastline, Ravello is the UNESCO World Heritage Site that has is known for its stunning views, beautiful historic villas, and romatic gardens.
This City of Music attracts many famous actors, authors, composers, and artists such as Richard Wagner, Greta Garbo, Gore Vidal, Leonard Bernstein, and Truman Capote.
The beautiful, historic village is settled into the lush mountain landscape of the Valley of Dragons, providing one of the most romantic settings you could wish for. It is even more romantic in the evening, as the crowds of tourists disperse, allowing you to enjoy the glorious sunset in peace. There are plenty of restaurants throughout the town that offer an intimate dining experience coupled with incredible views.
Compared to most towns along the Amalfi Coast, Ravello center is relatively flat, making it easier to get around. However, it is settled up in the hills, well away from the seafront, so it's not ideal if you are hoping to spend a lot of time relaxing on the beach.
Here you can find the 13th-century Villa Rufolo. Once serving as a fort, the old watchtower still remains, looking out over the sea. The grounds of the villa have been transformed into beautiful, manicured gardens, arranged around the ruins of some of the older parts of the villa.
The villa also acts as a popular events space for concerts, art exhibitions, and shows. Each summer the Villa Rufolo hosts the Ravello Festival. Also known as the Wagner Festival, this celebration of music and the arts has been held here since 1953.
Within a short walk from Ravello's main piazza and about 200m from Villa Rufolo lies the Ravello Auditorium was built by Oscar Niemeyer on July 2000. It is the venue to many events, Ravello Concert Societ, and festivals with the magnificent setting of the Amalfi Coast.
Another magnificent villa in Ravello, Villa Cimbrone is renowned for its beautiful gardens, sculptures, and dramatic viewpoints. The Terrace of Infinity is a particularly popular spot, offering breathtaking vistas of the Amalfi Coast.
If you like history, check out Museo del Corallo, to learn more about the history of the area. For such a small town, you will notice a particularly high number of historic churches.
The eleventh-century Cathedral of San Pantaleone, is well worth a look. Whilst its exterior is less ornate than many of Italy's cathedrals, inside you can admire lovely mosaics and frescoes.
The Church of Saint John the Apostle of the Toro is another lovely one to visit. The interior features more rustic stonework than many churches in the area. Part of the floor is made of glass, allowing you to see through to the old ruins over which the church was built.
High in the clifftops, you can venture down to the seafront via a set of steep stairs known as the Sentiero Atrani. Leading through the valley of lush lemon groves, it's a lovely, scenic journey. It's a fairly long walk though, well over an hour, and somewhat precarious, so not ideal for children.
Ravello has all amenities for tourist such as hotels, restaurants, bars, and shops, but it is a bit away from the beach and it is less crowded, cheaper than in Amalfi or Positano. There are luxury hotels, inns, guest houses, B&B, and apartments.
Stay In Ravello If you are planning a romantic break or honeymoon; you plan to attend the Ravello Festival; easy access to the beach is not a priority; you need a town that is relatively flat.
Best places to stay in Amalfi Coast in Ravello for first-time visitors:
luxury ($$$): Hotel Villa Cimbrone, 5-star hotel located within walking distance from Ravello center. Featuing an outdoor pool with hydromassage corner, private helicopter pad, and stunning views, this is one of the best places to stay in Amalfi Coast for couples and honeymooners.
mid-range ($$): Gala Residence Villa Giovanna, great B&B offers both continental and buffet breakfast, featuring spacious family rooms. You will be close to Spiaggia di Castiglione, Atrani Beach and Duomo di Ravello.
budget ($$): La Moresca Located in the center of Ravello, 15-minute drive by car from Amalfi, this hotel offers air conditioning room with the private bathroom comes with a shower, hairdryer and free toiletries. You can enjoy seafood and Mediterranean cuisine at its onsite restaurant.
MORE HOTELS IN RAVELLO
5. Praiano
Praiano along with Positano is a highly recommended area for couples and honeymooners because it offers romantic atmosphere, breathtaking views, tranquil beaches, proximity to other attractions, and romantic dining options.
Stunning views over the Bay of Positano to the island of Capri and beautiful sunsets make Praiano one of the most romantic towns on the Amalfi coast. There are plenty of intimate restaurants, bars, beach clubs, and seafront walks to make your stay magical.
Largely undiscovered by tourists, Praiano is a quiet fishing town with much more local vibe. If you are looking for a quiet town where you can experience living like the locals, Praiano is a great option.
Located midway between Amalfi and Positano, Praiano is a great place to enjoy the peace and quiet whilst still close to popular tourist resorts. Praiano is also a lot flatter than other towns in the region, so it's better for those with mobility issues who struggle with steep inclines and stairs.
The main draw of the town is the beaches and sunset views. It is divided into two tiny areas including area around the Marina di Praiano and the Vettica Maggiore area.
On one side of the town, you will find Marina di Praia, Praiano's main beach. It is protected on three sides by high cliffs. Nearby stands the medieval tower called Torre e Mare.
To the another side of the town lies the Spiaggia delle Praie beach. It is a romantic place to watch sunset. it is only accessed via around 300 steps from the village or by boat. nearby, the church of San Gennaro is also a must-see!
Within the town, there are a couple of interesting churches to visit. The Church of Saint Januarius is the most impressive. The beautiful lemon-yellow church features an elegant clock tower and tiled dome towering over the surrounding buildings.
Within the church, you can admire the particularly beautiful tiling covering the floors. Lovely designs stretch out across the breadth of the church's vast halls, turning the whole building into a work of art.
Parrocchia di San Luca Evangelista, in the east of the town, is another lovely church that is home to works of art and statues.
Praiano has abundance of hiking routes. The Sentiero degli Dei, or Path of the Gods, is the most popular hiking route in the region. Traversing mountains and lush valleys, the Sentiero degli Dei offers some stunning views of the surrounding landscape and sea.
The Path of the Gods winds past numerous interesting sights too. Caves such as the Grotte di Santa Barbara cut into the rocks. The Convent of San Domenico is located along the western leg of the hike. Alternatively, take a walk along the seafront and discover the various old watchtowers dotting the shore. Some have been converted into villas or restaurants, whilst others remain in partial ruin.
It's well connected to Sorrento, Positano, and Amalfi by public transportation with the regional SITA bus, and by ferries. If you are traveling by car, it's easy to reach via SS163 highway.
There are plenty of accommodation options in Praiano, you can find luxury hotels with ocean views, budget guest houses, apartments, holiday homes, and bed & breakfast.
Stay In Praiano If you are planning a romantic break or honeymoon; you are nature lovers; you want a quieter town and local atmosphere; you need a flatter town.
Best places to stay in Amalfi Coast in Praiano for first-timers:
luxury ($$$): Casa Angelina, 5-star boutique hotel in Praiano, great location for couples, offering beautiful rooms with views over the Mediterranean. You can enjoy food and drink at Un Piano Nel Cielo and the poolside restaurant.
mid-range ($$): Hotel Margherita, family-run 4-star hotel offers free shuttle to Praiano Beach and the city center. It has a sun terrace with hydromassage pool, free parking, traditional furniture and majolica tiles rooms. Guest can try regional food and 100 Italian wines at its on-site restaurant.
budget ($): Hotel Le Fioriere Located in Praiano, halfway between Amalfi and Positano, this hotel have spacious rooms with air conditioning, balcony with panoramic views on Capri and Positano. there is bus stop nearby to Amalfi, Positano and Sorrento.
MORE HOTELS IN PRAIANO
6. Maiori & Minori
Maiori and Minori are often known as one of the best places to stay in Amalfi Coast for families with young kids due to its long sandy beaches, family-friendly amenities, flatter, and a relaxed atmosphere.
Quieter and more laid back than the busier tourist towns, the area is perfect for a rejuvenating vacation spent relaxing on less crowded beaches.
Flatter than many of the hillside towns along the Amalfi Coast, the streets are easier to navigate here. If you have mobility issues, or a stroller to push, that would make the steep, winding inclines in a lot of the other villages a struggle, so Maiori may be a good alternative.
Maiori is most notable for boasting the longest stretch of unbroken beach in the Amalfi Coast. Well furnished with sun loungers and lined with numerous bars, restaurants, and cafes, this is one of the best places on the Amalfi Coast to enjoy a relaxing vacation on the beach.
You will find the Maiori main beach with 930 meters long and 40 meters wide, the smallers Salicerchie beach, accessible via 160 steps. Nearby you can find Sulphur Grotto, The Dead Horse beach (Caia Bellavaia), and Erchie Beach which is guarded by Saracen towers.
Surrounded by lemon groves and vineyards, the landscape around the villages is perfect for hiking and exploring nature. In fact, a walking route between the two towns is known as the Path of the Lemons.
Aside from natural beauty, the landscape is also dotted with historic sites to discover. Take an afternoon to climb to the historic Castello di San Nicola de Thoro Plano and explore the fifteenth-century fortress perched in the hills north of Maiori.
If you prefer seafront walks, then you are in luck there too. Each town has stunning beaches and marinas to stroll along. Both have small harbors or ports, so you can often watch the boats drift along the waves.
A walk along the seafront east of Maiori will take you to Torre Normanna. The stunning medieval watchtower looming over the waves has been converted into a delightfully unique restaurant.
Minori is the smaller village to the west. Known as the 'City of Flavour,' Minori was once home to many pasta producers and that legacy lives on in the town's excellent restaurants.
Minori's main square (piazza centrale) is surrouned by the quaint little houses, souvenir shops. Nearby is the 19th century Basilica of Saint Trofimena.
The main attraction of Minori is the ruin of a first-century Roman villa. Considered one of the most important archaeological sites in the area, the villa retains evidence of its courtyard gardens, swimming pool, and various rooms.
You can visit the Santa Maria de Olearia. First constructed in the tenth century and considered one of the most important monasteries on the Amalfi Coast, this is a must-visit for anyone interested in Italy's religious history.
Abbey of Santa Maria de Olearia was built right into a cave overlooking the sea. About a mile outside of Maiori, it's an easy place to visit even for those without a car. Part of the abbey has been converted into a unique hotel and restaurant, whilst the rest is preserved as a museum.
You must check the famous sentiero dei limoni, or Path of Lemons, an ancient footpath that connects Maiori and Minori. Along the path, be sure to visit lemon grove, the hamlet of Torre, and Belvedere della Mortella.
Quite removed from the bigger towns, accommodation in these two villages tends to be more affordable than elsewhere on the Amalfi Coast. If you are trying to keep to a tighter budget, you will find plenty of low-cost, high-quality accommodation options here.
The main caveat you will be faced with is the lack of nightlife. There is plenty of restaurants, bar, and tavernas to enjoy in the evenings. However, they close pretty early, so if you are hoping to spend your nights partying until the early hours of the morning, you will need to go elsewhere.
Stay In Maiori and Minori If you are planning a family vacation; you want a quieter town but still with plenty of tourist amenities; you plan to spend plenty of time relaxing on the beach; you want plenty of opportunities to go out walking in beautiful scenery; lively nightlife is not a priority.
Best places to stay in Amalfi Coast in Maiori:
luxury ($$$): Hotel Botanico San Lazzaro Located in a small seaside town of Maiori, this is a 5-star boutique that has a private beach with free sun loungers and deck chairs. Enjoy regional dishes and pizza in the the sea-view terrace. Beautiful place for families and couples.
mid-range ($$): Hotel Sole Splendid Located in Maiori, this hotel has free wifi, air conditioned rooms with a mini-bar, a private bathroom, a desk and a safety deposit box. There are family-rooms with sea views, non-smoking rooms, and private car parking.
budget ($): Hotel De Rosa This family-run hotel is only 50 m from Maiori's beautiful beach, one of the largest on the Amalfi Coast. All rooms have a balcony. Enjoy spacious, air-conditioned rooms, buffet breakfast, and rental bike.
MORE HOTELS IN MAIORI
7. Salerno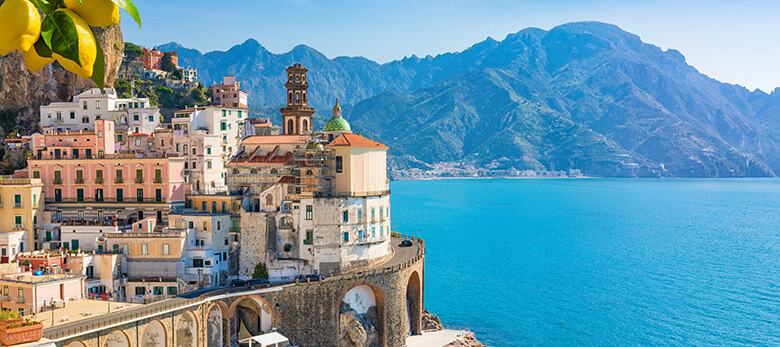 Salerno along with Maiori, Minori, Vietri, Cetara, and Scala is one of the best places to stay on Amalfi Coast on a budget because it provides an excellent base to explore the Amalfi Coast while offering affordable accommodations, convenient transportation, and a genuine local experience..
Technically a few miles to the east of the Amalfi Coast, Salerno is a popular stopping point for many people coming into the Amalfi Coast. Although it's the largest city on this list, being just that little bit removed from the iconic coastline keeps it comparatively tourist-free.
Well connected to Italy's public transport network, Salerno is a perfect stop for anyone traveling around the country by train. Likewise, if you are planning a road trip and want to visit the Amalfi Coast without contending with precariously narrow, winding, clifftop roads, Salerno is ideal.
Salerno has a important railway station with train connections to Naples, Rome, Paestum and the south of Italy. The SITA regional bus lines, and CSTP bus lines connect Salerno to the Cilento National Park area.
If you are looking to enjoy all the perks of both a city break and a beach vacation, then Salerno has a lot to offer you. There are lots of long beaches within Salerno itself. Meanwhile, the popular beach resort town of Vietri sul Mare is just a comfortable walk around the bay.
Following heavy bombing and an infamously significant battle during the second world war, many of the ancient structures in Salerno now lay in partial ruin, though they are still fascinating to explore. Most of the older structures lay in the old town, or Centro Storico, in the west of Salerno.
Remnants of the historic city can be found in the winding cobbled streets and numerous old churches. The remains of a Roman aqueduct now tower over the city center streets. Roads wind through the huge arches, creating a dramatic meeting of historical and modern infrastructure.
Built in the eleventh century on the ruins of a Roman temple, Salerno Cathedral is one of the main tourist attractions in the city. The exterior of the church boasts a mighty bell tower and elegant cloisters.
Along the same road as Salerno Cathedral is the Chiesa di San Giorgio, an exquisite baroque church that dates back as far as the seventh century.
Up in the hills just outside of Salerno you can spot Arechi Castle. Some nice walking trails lead up to the castle through the trees, so you can enjoy a short hike in the fresh air. An attached museum will allow you to learn more about Arechi Castle's history.
Those who make the comfortable climb will be rewarded not just by the castle but also with stunning views over the city and sea. Alternatively, Fort La Carnale is a little easier to get to, located by the seafront just east of the city centre.
Minerva's Garden is well worth a visit too. The serene medicinal garden was established in the fourteenth century and is still home to numerous rare species arranged into beautiful gardens.
If you like museums, take a look at Diocesan Museum in Piazza Plebiscito, Provincial Archaeological Museum in the former medieval abbey of Saint Benedetto.
Salerno also offers great nightlife scenes called the movida. People gathers around the town hall, and piazza Largo Campo in the historic center to chat and drink.
Without the high profile and demand of the resort towns on the Amalfi Coast proper, the prices for accommodation in Salerno are actually quite affordable. You will still have the beautiful seafront views, and the comfortable beaches of Vietri sul Mare are less than a mile away.
Stay In Salerno If you want the best of both a city break and a relaxing beach vacation; a well-connected city with lots of public transport links is ideal; you travel on a budget;
Best places to stay in Amalfi Coast in Salerno:
luxury ($$$): Hotel Montestella this family-run hotel is located on Corso Vittorio Emanuele in Salerno, only 400 m from the train station, 801 m from Salerno Cathedral. It has modern rooms with parquet floors, mini-bar and private bathroom.
mid-range ($$): Hotel Plaza This family-run hotel is ocated in the heart of Salerno, directly opposite the railway station, and close to the bus terminal and the pretty seafront promenade. It's very convenient to catch a ferry to Sardinia and Sicily.
budget ($): B&B Salernoway Located within a short walk from Salerno Harbor, this bed and breakfast is also close to Tribunale di Salerno and Stadio Arechi. Couples can choose to book a room with balcony and sea views.
MORE HOTELS IN SALERNO
8. Furore
Located midway between Positano and Amalfi, Furore is also known as "the town that doesn't exist" because there is no center or main piazza. Like Praiano, Furore is popular with hikers who flock here to head out onto the Path of the Gods. Furore is a good option for a quieter base from which to explore the two busier towns.
Furore is a part of the Italian Painted Towns, you can find 85 white washed houses that are decorated with colorful murals, landscapes with typical characters of the Amalfi Coast.
Most of the coastline around this area is rocky and pebbly, meaning there are few beaches to relax on. However, there is one that is unique enough to draw visitors to the area just to see it, the Fiordo di Furore beach.
Fiordo di Furore, the only Fjord in Italy, is the star attraction of Furore. The dramatic valley between the towering cliffs creates a tiny, sheltered cove, perfect for swimming. The beach here is small, quaint, and well furnished with sun loungers.
The impact of the fjord is amplified by the grand, arched stone bridge that crosses high above the water. The road that travels along the bridge then proceeds through a tunnel carved straight through the cliff face.
If you visit town on the first Sunday of July, you can attend the exciting World High Diving Championship.
There are two nature trails that start from Furore Fiord including La Volpe Pescatrice Path (The Fishing Fox) and I Pipistrelli Impazziti Path (The Crazed Bats). There are more walks such as Sentiero dei Nidi di Corvo (Crows Nests Path) from Agriturismo S. Alfonso towards Positano.
Furore is a UNESCO-listed World Heritage Site, you can also visit Church of San Giacomo Apostolo, Chiesa di San Michele, and the Chiesa di Sant'Elia.
The majority of the town is set further up the hill, away from the waterfront. This is where you will find all the restaurants, bars, and tavernas. Whilst not right by the water, the elevation does mean that you can enjoy some wonderful views from up in the town.
Being out of the way of the larger towns, and less popular with the general population of holidaymakers, accommodation in Furore is typically much more affordable. There's a great range of options available here, from cozy B&Bs to five-star hotels.
Stay In Furore you enjoy hiking and particularly want to head out onto the Path of the Gods trail; If you want a quieter town away from the crowds of tourists; having tons of comfortable beaches within walking distance is not a priority.
Best places to stay in Amalfi Coast in Furore:
mid-range ($$): Da Clotilde Located on a mountain side 4 km from Furore, this B&B offers free private parking and an restaurant that serve local specialities. It is a short drive from the Amalfi Coast and Grotta di Smeraldo cave.
mid-range ($$): La Mela Blu Located close to Cantine Marisa Cuomo – Winery, Fjord of Furore Beach, and Marina di Praia Beach, this property has free WiFi and free private parking, Italian breakfast, and a sun terrace. The B&B can help you with car rental.
budget ($): Holidays Fico D'India This 3-star hotel is set in village of Furor. It has rooms with bathroom, free wifi and satellite TV. You will be relaxed and surrouned by nature.
MORE HOTELS IN FURORE
9. Agerola
Settled high up in the Park of Lattari Mountains, a little more inland than most areas on this guide, Agerola is a large district of hills and valleys. Just behind Praiano and Furore, Agerola is also primarily popular with hikers who come to wander the mountain trails.
West of Agerola you can pick up the start of the Path of the Gods, which leads across the mountain towards Positano. The trails heading north out of Agerola lead into the Lattari Mountain National Park and the vast expanse of wildland to explore within.
Affectionately known as Little Switzerland, Agerola has a very different vibe to the various tourist towns along the coast. Considerably fewer tourists come here, so it has a much more authentically local vibe. If you are looking for the opportunity to live like a local, this is one of the best places to stay.
Interestingly, the hills around Agerola are covered in chestnut forests rather than lemon and olive groves. It makes for a bit of variety if you've already spent some time trekking through the pretty fruit farms along the coast.
Of course, being further inland, this is not the best place to go if you want to spend most of your vacation lazing on the beach. That said, you won't be a million miles away from the beaches of Furore or Praiano or Conca dei Marini.
Accommodations in Agerola are mostly budget guest houses, inns, bed & breadkfast, and holiday homes with basic facilities. There are no chain hotels.
Stay In Agerola If being close to the beaches is not your priority; you love being surrounded by nature; you are planning an adventurous hiking trip; you are looking for a quieter, more local town with fewer tourists.
Best places to stay in Amalfi Coast in Agerola:
luxury ($$$): Hotel le Rocce – Agerola, Amalfi Coast Located in Agerola, close to Marina di Praia Beach and Fjord of Furore Beach,, this hotel has free private parking, a bar, garden views, a terrace, a 24-hour front desk.
mid-range ($$): B&B Kebontà This accommodation can help you arrange a bicycle rental and a car rental. There is free WiFi and private parking, and air-conditioned rooms.
budget ($): B&B Casanova Beautiful location and facilities for couples, close to the beaches. Naples International is 50 km away, you can use hotels' paid shuttle bus.
MORE HOTELS IN ANGEROLA
10. Vietri sul Mare
Located only 10 minutes drive from the city of Salerno, Vietri sul Mare is a small beach resort town and gate way to Amalfi Coast from the east. It offers a quieter, more laid-back alternative to the larger town, whilst still proving easy access to Salerno's various attractions and conveniences.
One of the main draws to Vietri sul Mare are the lovely beaches. There are three large beaches within the town itself, all fully furnished with sun loungers and lined with cafes and restaurants. They get pretty busy though, but there are also plenty of smaller, quieter beaches within a short walk too.
Vietri sul Mare is the ceramics capital of Campania. Vietri sul Mare's place at the center of the region's ceramics industry is celebrated throughout the town. You will find numerous tiled murals decorating the streets in between little boutiques selling various majolica wares and trinkets.
If you are looking for somewhere to pick up regionally significant souvenirs, you can't beat Vietri sul Mare. There's even a museum, the Museo della Ceramica Vietrense inside Villa Guariglia in Raito, where you can learn more about Vietri sul Mare's history and the culture around the traditional pottery.
Another interesting place to visit is the 18th-century Church of St Giovanni Battista with the majolica-tiled cupola on top.
Being close proximity to Salerno, it's convient for public transportation. You can visit beaches like La Baia, and La Crespella beach. There are wide range of cozy guest houses, villas, B&B, airbnb, inns, and apartments rentals in Vietri sul Mare.
Stay In Vietri Sul Mare If you want to stay in a laid back, quiet beach town, close to the conveniences of a larger city; you are interested in picking up some of the traditional local pottery as souvenirs; you are planning to spend a lot of time relaxing on the beach.
Best places to stay in Vietri sul Mare:
MORE HOTELS IN VIETRI
11. Conca dei Marini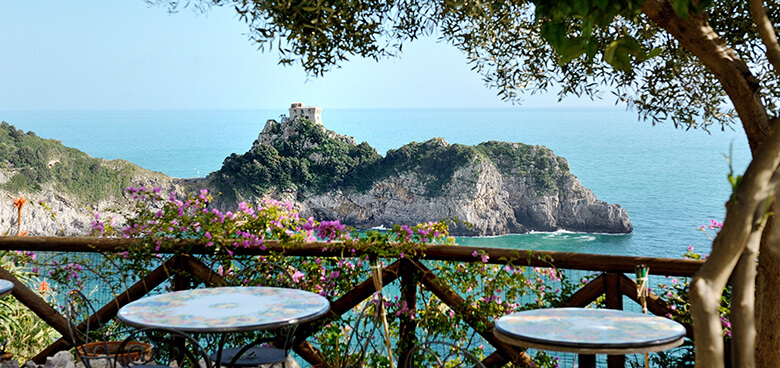 Located between Amalfi and Positano, Conca dei Marini is a quaint and unassuming little town. With a history dating back as far as the Etruscan civilization, and a much smaller tourist presence than other towns along the Amalfi Coast, Conca dei Marini has an authentically historic vibe about it.
With most of the town up in the hills and the shoreline largely rocky, there aren't a ton of great beaches here. Your best bet would be the Capo di Conca beach running along the little Capo di Conca peninsula. The beach is directly beneath the old Capo di Conca watchtower.
If you are in Conca dei Marini, you must try the local delicacy Santa Rosa sfogliatella. This dessert, developed in a local monastery in the seventeenth century, is so beloved that they have an annual festival in its honour.
For all its history and culture, the main attraction of Conca dei Marini is a naturally occurring one. The La Grotta dello Smeraldo (Emerald Grotto), draws visitors from all over to marvel at the ethereal green glow of this pretty sea cave.
The Emerald Cave is only accessible by boat. Helpfully there are plenty of boat tour companies offering trips to the grotto from all along the Amalfi Coast.
This village has two parts: the upper part with white houses, the olive, and the lemon groves; the bottom part have charming houses directly on the ocean. There are also several churches in this town including the Church of San Pancrazio in the upper part of the town, Church of San Giovanni Battista, and the Saracen Tower.
You can easily find accommodtions in Conca Dei Marini that suits all type travelers from budget to luxury with infinity pools, terraces, pool, and sundeck.
Stay In Conca Dei Marini If You want to stay in a quiet town with a local atmosphere; Visiting the Emerald Cave is one of your top priorities; Being close to tons of comfortable beaches is not a huge priority.
Best places to stay in Conca dei Marini:
luxury ($$$): Monastero Santa Rosa Hotel & Spa This adult-only hotel is perched on a cliff with charming views of the Gulf of Salerno. Enjoy Neapolitan pastries in the morning, as well as local and national cuisine at its gourmet restaurant.
mid-range ($$): Hotel Belvedere Located in Conca dei Marini, within easy distance to Salerno, Praiano, Amalfi and Ravello, this 4-star hotel has a free private parking, a seafood restaurant and a private rocky beach.
budget ($): Hotel Le Terrazze the adult-only Le Terrazze is easily accessible from Amalfi coast. There is buses to Amalfi, Positano or Ravello, there is directly access to a public rocky beach nearby.
MORE HOTELS IN CONCA DEI MARINI
12. Scala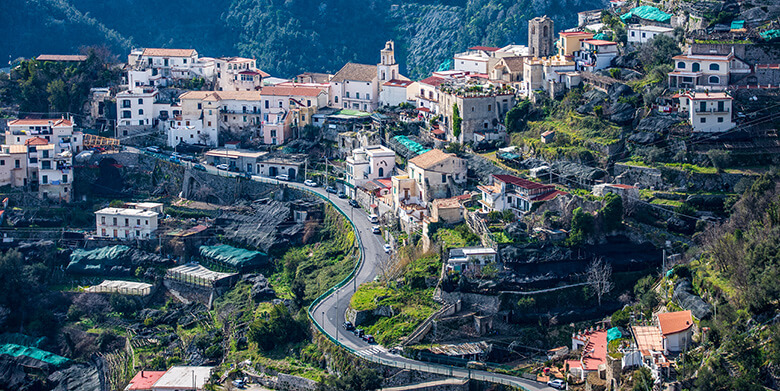 Located 1 km from Ravello, separated by the Dragon Valley, Scala is the oldest town in the Amalfi Coast boasting some truly stunning views. Scala is the birthplace of the founder of the Knights of Malta, Gerardo de Saxo.
Nestled well into the lush mountains, Scala is mostly popular with hikers who use it as a stepping-off point into the various trails. One of the best places to go hiking in the area is the Valle delle Ferriere. The route follows the natural valleys of the mountains, leading past beautiful waterfalls, ancient carriageways, and mysterious ruins.
Aside from hiking, the main benefit to staying in Scala is its neighbor Ravello. Scala is just a couple of hundred meters from the more popular Ravello and all the attractions therein. Scala is where you can find interesting natural heritage with large chestnut forests, the lemons terraces, and piennolo tomatoes.
The heart of Scala is a Piazza Municipio, surrounded by the town hall. You can see the 12th century Duomo di San Lorenzo, the 20th-century cathedral of St. Lawrence, the patron of Scala.
Scala is quite a bit quieter and the accommodation is a little bit cheaper, making it a convenient alternative, especially around the time of the Ravello Festival.
Of course, like Ravello, being so high in the hills means there are no beaches nearby. The nearest beaches are a couple of hours by foot, so, unless you are going to have a car for your trip, don't stay in Scala if you plan to spend a lot of time relaxing on the sand.
Stay In Scala If You enjoy spending time hiking in the great outdoors; Easy access to beaches is not a priority; You want to attend the Ravello Festival but want a quieter place to stay, nearby but out of the crowds.
Best places to stay in Scala:
luxury ($$$): Palazzo Pascal This 5-star hotel is located in the Minuta, 500 m from Scala's center. It has a pool, a restaurant, fireplace, a lounge bar and gardens. There is Italian breakfast that have hot drinks, croissants and pastries.
mid-range ($$): Admiring Amalfi Located close to Spiaggia di Castiglione and Atrani Beach, this property has free private parking, a terrace, and air-conditioned units with tiled floors, an equipped kitchen, balcony.
budget ($): Villa Amì This B&B is located in Scala, it has a seasonal outdoor swimming pool, sun terrace, a garden, and a shared lounge. You can choose unit with patio or a balcony with pool or garden views.
MORE HOTELS IN SCALA
13. Cetara
Located six kilometers west of Salerno, at the foot of Mount Falerzio, Cetara is a seaside village that dates back to Medieval times. It's an authentic fishing village in the Campania region. It can easily reach from Salerno and Amalfi on the SITA bus.
If you like seafood, you will love the fishing village of Cetara. Home to the best seafood on the Amalfi Coast, Cetara may be small but it is bursting with excellent restaurants all stocked with fresh, locally caught fish. Tuna and anchovies, in particular, is especially good here. Cetara is home to an entire fleet of tuna fishermen, one of the most important fishing fleets in Italy.
In fact, the vital fishing industry here means that Cetara is much less reliant on the tourism trade than other Amalfi Coast towns, allowing it to retain its local charm and authenticity. If you are looking for a town that is entirely unblemished by pandering to tourists, you can't beat Cetara.
Complementing the wonderful seafood available, you must try the local delicacy, Colatura di Alici. A delicious anchovy sauce believed to date back to Roman times, Colatura di Alici was created in Cetara but can now be purchased across the world. Of course, you will never have it fresher or more authentic than this, so don't miss the opportunity to try it whilst you're here.
There are a few historic sites in the area too. The old Torre di Cetara watchtower sits on the rocks by Cetara's main beach. Meanwhile, nearby Erchie boasts a Norman watchtower of its own, as well as the legend that the town was founded by the mythical Hercules.
There are many restaurants and shops on the main road Corso Garibaldi. There are also attractions like the Church of San Francesco, the Church of St. Peter the Apostle.
When you're not eating delicious food or exploring the historic sites, you can relax on one of several beaches. They may be smaller than those in the more popular resort towns, but they're much quieter too.
Stay In Cetara If you want to stay in an authentic local fishing town unblemished by the tourism industry; you love seafood; you want some nice, quiet beaches to relax on.
Best places to stay in Cetara:
mid-range ($$): Hotel Cetus This 4-star hotel is located in Cetara. It has sea-view restaurant, private beach area, and free private car parking. Guest can enjoy windsurfing and kayaking nearby.
budget ($): Sopra il Limoneto Located 200m from Travertini Beach, this farm stay is also close to Spiaggia Addò Francesca and Riva del Fuenti. There is private parking, children's playground, and bicycle rental service.
budget ($): CETARA – ALBERGO DIFFUSO This B&B is located in Cetara's historic centre. You can choose to stay in the units with free wifi, a flat-screen TV and private bathroom, and a kitchenette.
MORE HOTELS IN CETARA
14. Atrani
Known to be the smallest town in southern Italy, Atrani is the definition of quaint. It's a tiny little town immediately to the east of Amalfi, making it popular with those who want to enjoy the attractions of the larger town whilst being able to escape back to peace and quiet.
Even as small as it is, Atrani still manages to pack in some interesting attractions. Atrani is walkable, and many things happen around its main square, Piazza Umberto I. Enjoy steep streets, narrow alleys, tiny gardens, ancient houses with beautiful balconies full of flowers.
There are several pretty churches in town. The Church of St Salvatore is particularly lovely, with a pretty bell tower and clock, as well as a public walkway passing through a tunnel below. You can also find 11th century Santuario di Santa Maria del Bando and 13th century Collegiate Santa Maria Maddalena church.
Next to the church, on the eastern side of Mount Aureo, you will find the Grotta di Masaniello and the house of Tommaso Aniello, a famous Neapolitan.
In the hills between Atrani and Amalfi you can spot Torre del Ziro. The remains of the old watchtower and fort are worth the scenic trek up into the hills to explore. There is a Cave of the Saints on the old road that connect Atrani and Amalfi.
Atrani also boasts a couple of nice beaches. The eponymous Spiaggia di Atrani is the main beach. Covered in sun loungers and backed by restaurants, cafes, and ice cream parlors, Atrani beach is lovely but can get quite crowded.
Castiglione Beach is less than a hundred metres down the road, yet is much quieter and more laid back. It has its own seafood restaurant and cocktail bar, so you won't be missing out on the comforts of the larger beach.
Stay In Atrani If You want a quieter local town with easy access to a larger city; You want to stay near Amalfi but stick to a smaller budget; Having several comfortable beaches within walking distance is a priority
Best places to stay in Atrani:
mid-range ($$): Palazzo Ferraioli – Hotel & Wellness Located in a pretty fisherman's village just outside Amalfi, in Atrani, this hotel is also close to sandy beach and the small harbour. It provides air conditioning rooms with a private bathroom, and hydromassage bath in some rooms.
budget ($): FRENNESIA luxury rooms Located within a short walk from Atrani Beach, Spiaggia di Castiglione and Marina Grande Beach, this B&B provides sea views and free WiFi. there is Italian or gluten-free breakfast that is served every morning.
MORE HOTELS IN ATRANI
15. Tramonti
Tramonti is a region that consists of thirteen smaller villages clustered at the foot of the Lattari mountains. Well inland, away from the pretty coastline that draws most visitors to the region, Atrani has far fewer tourists than the seaside towns.
Tramonti is famous for its Neapolitan pizza, cheese, vineyards and chestnut trees. You can find full-bodied wines, known as Tintore Wine. There are many location of wine tours and tasting in Tramonti.
Most visitors who stay in Tramonti do so for the hiking trails. Settled amongst valleys and mountains covered in chestnut woods, olive groves and sheep farms, the Tramonti area is super scenic and a wonderful place to trek amongst the trees.
Aside from the naturally beautiful landscape, there is plenty for you to discover along the trails throughout Tramonti. The Grotta di Pietrapiana cave sits right at the edge of Tramonti, with religious statues and relics hidden inside.
The remains of the Santa Maria la Nova castle are a little more central. Meanwhile, the ruins of another ancient castle, Castello di Montalto, are more overgrown and concealed by trees, making finding it a fun challenge.
Other places of interest are Chapel of San Michele Arcangelo in Gete district, the Church of Sant'Erasmo in Pucara district, and the Church of San Pietro Apostolo in Figline district.
Even though Tramonti is a less popular area with tourists, there are still plenty of places to stay. It's mostly B&Bs or family-run hotels rather than the five-star luxury you can find along the seafront. It's mostly super affordable too.
Stay In Tramonti If You want a quiet, local town, well away from most tourists; Staying close to the beach is not a priority; You plan to spend your vacation hitting the hiking trails.
Best places to stay in Tramonti:
Farfalle E Gabbiani Located within a short drive by car from Amalfi, Salerno, and Positano, this B&B has a garden and sun terrace overlooking vineyards and chestnut trees. Each room has Vietri ceramic lamps, air-conditioning, free wifi. Enjoy Italian style breakfast with cakes, croissants and cappuccino coffee. There is a bus stop nearby to Naples.
B&B Bouganville Located around 3km from Maiori Beach and Minori Beach, this hotel also offers a paid airport shuttle service to Naples International airport.
MORE HOTELS IN TRAMONTI
16. Capri Island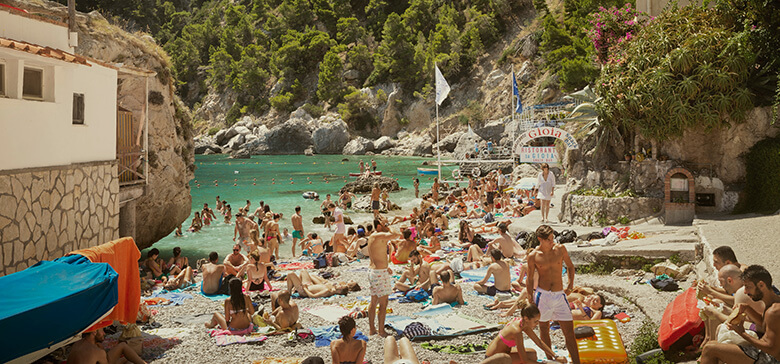 Capri island just off the west of the Amalfi Coast is a particularly stunning place to spend your vacation. Ferries connect Capri Island across to both Sorrento and Naples on the mainland.
Only accessible by boat or by helicopter, cars are few and far between here. That really lends itself to the quaint, quiet atmosphere that separates Capri island from the bustling tourist towns on the mainland. This is especially true in the evening, once the day-trippers have all hopped on their ferries home.
Despite being a delightfully small island, there are two villages squeezed onto Capri. Capri village, nestled in the island's foothills to the east, and Anacapri, situated at the very highest point of the island in the west.
Throughout Capri, you can find numerous interesting sights, both natural and manmade. Saint James' Charterhouse, for example, is a lovely, fourteenth-century monastery, set into the Giardini di Augusto Botanical Gardens.
The ruins of the sprawling palace of the Roman emperor Tiberius, Villa Jovis, sit atop the cliffs at the eastern tip of the island. Dating back to the first century, the palace is spread over multiple levels offering plenty to explore.
One of the most impressive natural rock formations around the Amalfi Coast is the Arco Naturale. Formed in the palaeolithic age, the massive archway of rock creates a stunning frame against the view of the sea, sure to inspire any photographers.
Various sea caves speckle the shoreline of the island, mostly accessible only by boat. Grotta Bianca is so named for the bright white rock into which the cave is carved. The most famous cave on Capri Island, the Blue Grotto, is closer to Anacapri in the east. Known as the Grotta Azzurra, due to its crystal blue waters, this is a hugely popular destination for boat trips with passengers hopping overboard to swim.
One of the best aspects of Capri island are the stunning views from the top of Anacapri. With no other landmass west of the island for hundreds of kilometres, the unobstructed sunsets over the sea are especially wondrous.
Anacapri has its own share of ancient ruins and historic sites to visit. The cliffs and coastline are dotted with old forts and watchtowers. The island is small enough that you can spend a day walking around the shoreline, discovering the remains of various old buildings as you go.
Keep an eye out for the lovely, red brick Punta Carena Lighthouse. It sits right on the southwestern tip of the island and is a very popular location to stop and watch the sunset.
Whilst the island has a distinctly high-end, exclusive vibe, it's actually reasonably affordable. Anacapri in particular offers lots of lower cost options.
You can read my blog about the best things to do and the best areas to stay in Capri in this guide where to Stay in Capri.
Stay On Capri Island If you want to stay somewhere super exclusive ; you don't mind being a bit cut off from the mainland; you enjoy exploring ancient ruins; you want to witness some of the most spectacular sunsets the Amalfi Coast can offer.
Best places to stay in Capri Island:
MORE HOTELS IN CAPRI
See more:
Where should I stay on the Amalfi Coast for the first time?
Positano is the best place to stay in Amalfi Coast for first-timers because it is the most photographed town along the Amalfi Coast. This cliffside town offers lively nightlife, beautiful beaches with plenty of pubs and clubs, fine dining restaurants, high-end shopping, and amazing cliffside resorts.
Is it better to stay in Sorrento or Amalfi?
It is better to stay in Sorrento if you travel on a budget and want more affordable accommodation and restaurant options than in Amalfi or Positano. You will need to pay more when you choose to stay in Amalfi but it is well worth it because you will be located in the middle of action!
Summary – Where to stay in Amalfi Coast?
In conclusion, Positano, Sorrento, Amalfi, Ravello, Praiano, Maiori, Minori, Salerno, Atrani, Vietri sul Mare, and Cetara are the best places to stay in Amalfi Coast for tourists and first-time travelers. They are beautiful towns that have a wide range of accommodations for all budget travelers.
Positano is ideal for luxury seekers, while Sorrento provides a convenient base for day trips. Amalfi and Ravello enchant with their historical charm, and Praiano offers a quieter alternative.
Maiori and Minori are family-friendly, while Salerno appeals to budget travelers. Agerola suits nature lovers, and Vietri sul Mare is famous for its ceramics. Conca dei Marini and Cetara offer peaceful retreats, while Atrani showcases a charming village atmosphere. Lastly, Tramonti is perfect for those seeking an authentic local experience.