So, you've heard a lot about the fabulous capital of northern Thailand, and now you just need to decide when is the best time to visit Chiang Mai?
There are quite a few factors to consider in planning when is the best time for you to visit. Your ultimate choice will depend on your specific wants and what you're looking for from your travel experience.
Below I'll cover all the factors that you should consider to make an informed choice. So, together, we will make sure that you have a great experience in Chiang Mai.
The Best Time for Good Weather
The weather, of course, has a big influence on when to visit Chiang Mai. I'll look at temperatures and rainfall below. It is important to remember, though, that Thailand only really has three seasons a year (warm dry, hot dry, and hot wet) and does not experience the extremes of weather that other parts of the world do.
Temperature
Chiang Mai is situated 18.79° north of the equator. So we are still in the tropics. Because of this, you can expect the weather to be warm, even during the "coolest" months of the year.
Since Chiang Mai is a long way from the sea, it doesn't experience the same oceanic temperature-calming effects as the coastal parts of Thailand. So when it is hot in Bangkok, you can expect it to be a couple of degrees hotter in Chiang Mai. And then when it is less hot in the south, Chiang Mai is even "cooler."
The coolest months of the year in Chiang Mai are from October to January. Still, daytime peak temperatures remain nice and toasty, with monthly averages never dipping below 26°C. It can get quite nippy in the evenings, and on the coolest nights, the lows to drop below 10°C. On rare occasions, you'll even see frost on the highest peaks of Thailand's mountains.

So, if you plan to visit during these months, just pack some warmer clothes for going out in the evenings, and you will be fine.
Things change quickly during the following months and the hottest time of year in Chiang Mai occurs between March and May. It can be brutally hot then, and daily average peak temperatures are in the mid 30°s.
If you are visiting at this time of year, then you should remember to wear sunscreen and drink plenty of water, especially if you plan to be out in the heat of the day. Or, you could just stay in the cool at that time and then do all the outdoor things in the mornings and late afternoons. When in Thailand, do as the Thais!
Rainfall and Humidity
Here's a quick summary of Chiang Mai rainfall patterns. The months from November to January have little rain and low humidity. From February until the end of May, Chiang Mai is humid, but there is still little rainfall. Then it rains during the monsoon from May until late October, but not all the time.
Actually, I feel sorry for the monsoon. It gets a terrible press, so I'm going to defend it a little bit. The rainy season months can be a wonderful time to travel to Chiang Mai. You see, the thing is, it rarely rains all of the time. In reality, it is very common to have whole weeks without rain during the monsoon months.
If you are a nature lover and you're planning to get out and explore the fantastic national parks and natural scenery of northern Thailand, then this is the time of year when you will see them at their greenest and most beautiful. Just make sure that you take a raincoat when you go out, just in case.
Read Also:
🎬 Check out my virtual tour about the best places to stay in Chiang Mai:
The Best Time for Best Air Quality
At certain times of the year, Chiang Mai can experience extremely poor air quality, especially for a comparatively rural location. There are several reasons for this. The first is agricultural since the burning of arable land to clear it for the next crop is a long-established practice in this part of the world. There are also forest fires with which to contend. Some of these occur naturally, and some are human-made, through accidents or deliberately, as forest land is, regrettably, stolen for farming.
I guess that we are all used to the idea of mask-wearing now. If you have asthma or other respiratory conditions, then consider wearing a mask if you visit Chiang Mai during February, March, and April. Or perhaps choose another time to come.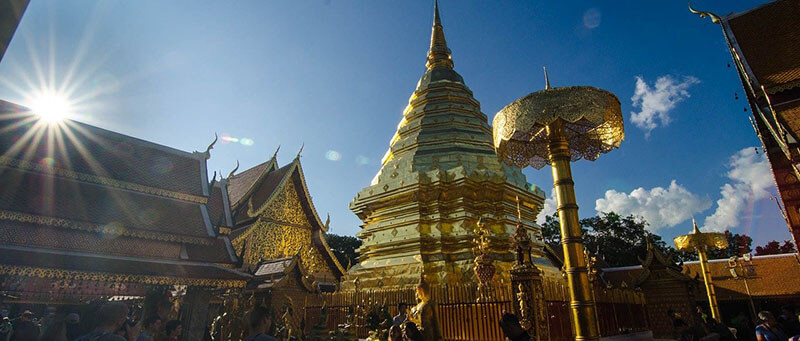 The Best Time for Lower Cost
Like every other business, the tourism and travel industry operates according to the iron rules of supply and demand. If you want to enjoy some great deals on hotels, trips, and tours, then you should plan to come to Chiang Mai outside the peak months from December to April.
During the quieter months of May to November, you will find a greater choice of accommodation too. The best and most popular hotels and hostels are far more likely to have availability, so you should have no trouble booking the place you want at a reasonable price.
The Best Time for Avoiding Crowds
Some people like the buzz and excitement of traveling in peak season. Maybe that's one of the reasons why it is so busy then! Chiang Mai is pumping with visitors and activities from December until April. The city is also busy during the Loy Krathong festival in November every year (the date varies). Also, on Thai public holidays, hotels often fill up, but only for a couple of nights.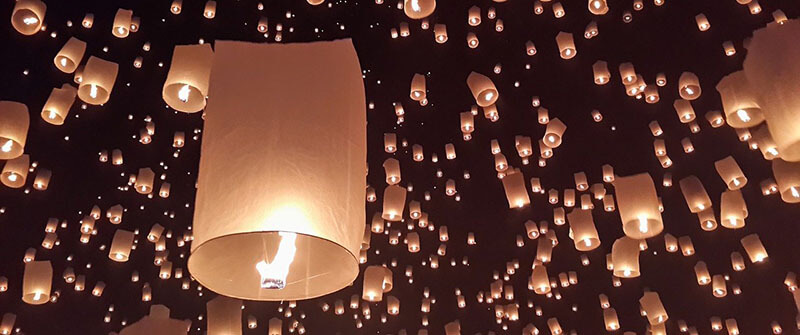 So, if you like to visit a place when it is busy, then travel to Chiang Mai at these times. But remember that Chiang Mai is a capital city that thrives without tourism, so even if you come in the off-season, there will always be plenty going on. You will also find the main tourist sites like Wat Doi Suthep far less crowded in the quieter months from May to November.
What is the best month to visit Chiang Mai?
The best month to visit Chiang Mai is from November to February, as the weather is cool and dry, making it ideal for exploring the city and its temples. During these months, the temperature is pleasant and comfortable, making it perfect for sightseeing and outdoor activities.
Which month is the high season in Chiang Mai?
The high season in Chiang Mai, Thailand typically falls between November and February, when temperatures are cooler and there is less chance of rain. This is also when the city sees the most tourists and hotel rates tend to be higher.
How many days in Chiang Mai is enough?
Chiang Mai is a city with many attractions, but it can be seen in a few days. A minimum of 3-5 days is recommended to experience the city's culture, temples, and street food.
Now you have all the information that you need. Just pick a date based on your personal preference and book a trip.
You may have noticed that I haven't mentioned my favorite time to visit Chiang Mai. So, let me do that. November is great because the weather is fresh and hot in the daytime and pleasantly cool in the evenings. If you visit during Loy Krathong and the lantern festival, it will be super busy and exciting. But before and after that it will be quiet. Perfect.