Traveling by train in Thailand, especially the overnight Bangkok to Chiang Mai train is always a bucket list item and a unique Thai experience. In this guide, I'll give you all the information you need to know about the overnight sleeper train from Bangkok and Chiang Mai.
See Also:
How far is Chiang Mai from Bangkok?
Distance from Bangkok to Chiang Mai is approximately 600km
Bangkok to Chiang Mai train or flight?
The answer is, it depends… Taking the flight is the quickest and most expensive way, you need to book in advance to have a cheaper deal. Flight time from Bangkok to Chiang Mai is around 1 hour. You can sometimes find a great deal with Thai AirAsia, Thai Airway, Nok Air, Vietjet Air… Go with the flight if money is not a problem and time is tight.
Taking the train is cheaper than flying, much more comfortable than a bus and it is a unique experience, more enjoyable. It usually takes between 12 to 15 hours. Overnight sleeper train from Bangkok to Chiang Mai is the best option as you save money for a night for a hotel in Bangkok and the scenery is lovely a few hours out from Chiang Mai.
Bangkok to Chiang Mai train how much?
Go to Thai Railway to check the price and timetable of the train. There are different prices for different classes, types, services; The first class, an upper berth costs 1,453 baht and 1,653 baht for a lower berth; the second class, an upper berth cost 941 baht, a lower berth cost 1,041 baht.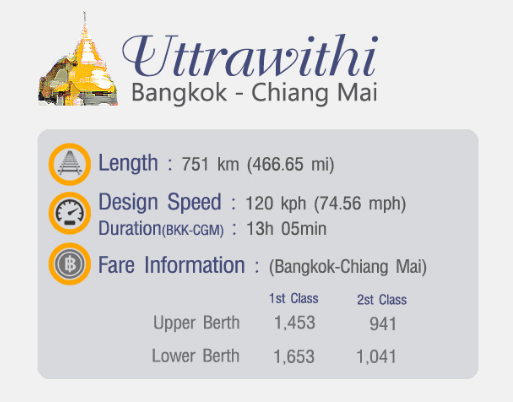 Bangkok to Chiang Mai train how much
You need to book in advance to get the class you want as the first class does sell quickly because it has only 12 first-class rooms each train.
Bangkok to Chiang Mai train station
The train station in Bangkok to Chiang Mai is Hualamphong station.The train station in Chiang Mai is Chiang Mai train station which is about 2 km to the city center. You can have a tuk-tuk, taxi or shared car to go to the old city.
Bangkok to Chiang Mai train schedule
Go to Timetable & Fare in Thai Railway website to check the schedule. There are 5 direct trains from Bangkok to Chiang Mai every day.
Both train #9 and #13 leave Bangkok in the evening and arrive Chiang Mai in the morning but you want to be in #9 because it is newer with high quality. The train #9 is the best overnight train, departs Bangkok train station at 18.10 pm and arrives at Chiang Mai station at 7.15 am.
Bangkok to Chiang Mai train timetable
For the same reason choose #10 train if you are taking an overnight train from Chiang Mai to Bangkok.
Make sure you arrive at the train station 15 minutes earlier to find flatform, the walk down to the platform can take a while and you don't want to run late at the last minute!
Bangkok to Chiang Mai train first class
If you want a little bit more space and privacy and don't mind to pay extra then go for first class. Each train has only 12 first-class rooms so make sure to book in advance to have the class you want.
This class is ideal for a couple or families, you will have your own compartment with a sliding door with a lock on it.
2nd class sleeper train Bangkok to Chiang Mai
Most people are quite happy using 2nd class sleepers, which are comfortable and cheaper.
The lower bunk is the seat for passengers and transforms into sleeper bed in the evening, the stewards will make up the beds around 8.00 pm.This class is suitable for backpackers, you will share the compartment with other 20 people.I do not recommend to buy the third class ticket as there is only seats, no beds and it is hard to sleep for a long hour journey.
Read Also:
Why you should book online overnight train from Bangkok to Chiang Mai?
Although it's easy to book at the station and buying a ticket online will cost more than buying at the station but you should book sleeper train online in advance for those reasons:
The overnight Bangkok to Chiang Mai train has been always a popular route of travelling between two cities of Thailand and sleeper bunk tend to sell out quickly a few days before the day of departure.
Booking online will secure your seat especially in high holiday season. 12Go.Asia.com is the best website for booking train tickets online.
If you intend to travel on a specific date, or you travel with a large group or you don't have a lot of time, go book online with 12Go Asia . It is SAFE and SECURE.
How to book an overnight train from Bangkok to Chiang Mai
I booked my train tickets for about a month in advance at 12Go Asia. I'm not sure if there are other ways to book tickets, but I would recommend it because I found it is easiest, quickest, safe way to book the train ticket online.
The way it works is you select your train number, the dates and times you wish to travel. You then give 12Go Asia your preferred seating options and they sort the rest.
Bangkok to Chiang Mai train booking online
After booking, I got a confirmation email. I was instructed that I would need to bring my confirmation and pick up my actual train tickets at the 12Go Asia office near the train station in Bangkok, no later than 60 minutes before departure.
Some tips for taking overnight sleeper train Bangkok to Chiang Mai
Try to book lower bed as the vent of the aircon points directly to the top berth, it will be very cold also the glaring overhead light makes it harder to sleep.
Choose the middle of the train so you are less affected by the toilet, people walking past and the noise of creaking interchange.
Take water on board with you.
Bring your jacket because it is freezing inside.
Can take your own food or buy food on the train.
Bring toilet paper in case the toilet run out the paper.
Don't wait too long to book in the peaking holiday season, the tickets sell out quickly
Remember to bring your headphone to enjoy and an earplug to sleep well.
Read More:
Ready to taking the overnight train from Bangkok to Chiang Mai? Go to 12Go Asia and book it online! Easy and simple way to secure your seat!
Bangkok and Chiang Mai are the must see attractions in South East Asia route, taking the overnight sleeper Bangkok to Chiang Mai train will be the truly authentic Thai experience.