How Many Days in Prague is Enough? I recommend spending at least 3 days in Prague if you are visiting Prague for the first time, but to really see the Golden City, it's best to spend 4 to 5 days.
That time will allow you to see Prague's top attractions such as the Charles Bridge, Astronomical Clock, Old Town Square, and Church of Our Lady before Týn, as well as enjoy local food and beer, and get a sense of local culture without rushing.
If you have more time, you can take a day trip to nearby attractions such as Pilsner Urquell Brewery, Krivoklat Castle, Terezin Concentration Camp, Karlovy Vary, Kutna Hora, Konopiste Castle, Castle Karlstejn, Cesky Krumlov.
Prague is one of the most charming and magical cities of Europe, a city with a skyline that's stood for over a millennium, earning itself the nickname the Golden City of A Thousand Spires. People flock to Prague for its beautiful gothic architecture, to immerse themselves in the culture, or to take in some of the beautiful sights like the famous synagogues in the Jewish quarter.
Prague was once the capital of the Holy Roman Empire, a position of such grandeur that its legacy lives on in the beautiful sights left behind. It's one of the most beautiful cities for all European backpacking routes.
You could spend weeks in Prague trying to soak in all the sights and sounds. If you're on a time limit, though, you can try and cram as many experiences as you can into a short time.
How many days in Prague are enough?
Two to three days in Prague are generally enough to see the major tourists attractions and experience the city's culture. However, if you have more time, you can explore the city's many museums, galleries, and neighborhoods in greater depth.
Is 3 days in Prague enough?
Three days in Prague is enough to see the main sights and get a feel for the city, but it may not be sufficient to fully experience all that Prague has to offer. If you want to explore beyond the city center and delve into the city's rich culture and history, you may want to consider staying longer.
Is 2 days enough in Prague?
Two days may not be enough to fully experience all that Prague has to offer, but it can still be a worthwhile visit. You can see the most popular landmarks, such as the Charles Bridge and Prague Castle. With careful planning, you can make the most of your time in the city and create lasting memories.
Is 3 days too much in Prague?
Three days is a good amount of time to spend in Prague, as it allows you to see and do many of the city's top attractions and activities. You may want to stay for longer if you want to really explore the city. There is plenty to see and do in Prague, from touring the city's historic castles and churches to enjoying the local cuisine and nightlife.
Where to stay in Prague?
If you travel to Prague very soon, you will want to settle with your accommodations. Stare Mesto, aslo known as Old Town, is the best area to stay in Prague for the first time because it is the most central location to see the top attractions. If you stay here, you will be located in the middle of action, within walking of the most famous sights, as well as many restaurants, bars, and shops.
You can take a look at some of the best hotels in Prague here:
To know more best areas and hotels to stay in Prague for tourists, check out these articles:
Check out my virtual tour about the best places to stay in Prague in this video:
What Sights Should I Check Out?
Prague is an area so full of natural wonders that traveling solely to sightsee among the landscape would be amazing. Fortunately, Prague is also graced with the marvels of civilization that stand to inspire awe in passers by.
There's no way you could check everything in Prague out in a day, so prepare yourself the best walking shoes to enjoy all attraction places in Prague.
These area the top tourist attractions in Prague, you can add to your Prague itinerary:
Prague Castle
Charles Bridge
The National Library and The Clementinum
The National Museum
Wenceslas Square
The Astronomical Clock and The Old Town Square
St. Vitus Cathedral
The National Gallery in Prague
The Church of Our Lady before Týn
The Municipal House
Prague Zoo
The Olšany Cemetery
The Jewish Quarter: Josefov
The Strahov Monastery and Library
The Lennon Wall
The Petrín Lookout Tower
St. Nicholas Church
The National Theatre
The Dancing House
The Hilltop Fortress: Vyšehrad
The Old Town Square and Astronomical Clock
This is a good place to start. The Old Town is the historic central hub of Prague. The Old Town Square grants access to other wonderful sights. There are many fine churches, including the Tyn Church.
You'll find tons of old buildings dating back to the eleventh century. Just north of the square is the Jewish Quarter, another area of fascinating history. The Charles Bridge connects Old Town to Lesser Town.
The Jewish Quarter (Josefov)
The Jewish Quarter was considered, for many years, to be a slum. The jews were disregarded as a people and treated unfairly. This continued for many hundreds of years, and it was only in the last 200 years that the Jewish Quarter began to change into the respected area we see today.
Large areas of the quarter were destroyed and replaced with Art Nouveau buildings. There is a Jewish museum, as well as various synagogues and the Old Jewish Ceremony. The cultural impact that the Jewish Quarter had on Prague has hardly been forgotten.
The Charles Bridge
Connecting Old Town to Lesser Town (also known as Mala Strana), the Charles Bridge is a beautiful monument. It was originally known as the Stone Bridge. It was first constructed by the Czech king in 1357, Charles IV.
A tower stands on each end of the bridge, which can each be climbed for an amazing view of Prague.
The bridge is dedicated with statues on either side. They were placed there in the 17th century and offer tributes to various figures of historical importance.
Nowadays, the bridge is filled with musicians, street vendors and artists. It's a top stop on a lot of tourist's checklists.
The Pilsner Brewery
Even for those who don't drink beer, the Pilsner Urquell Brewery can lend a fascinating experience. It was founded in 1839 and produced its first beer in 1842.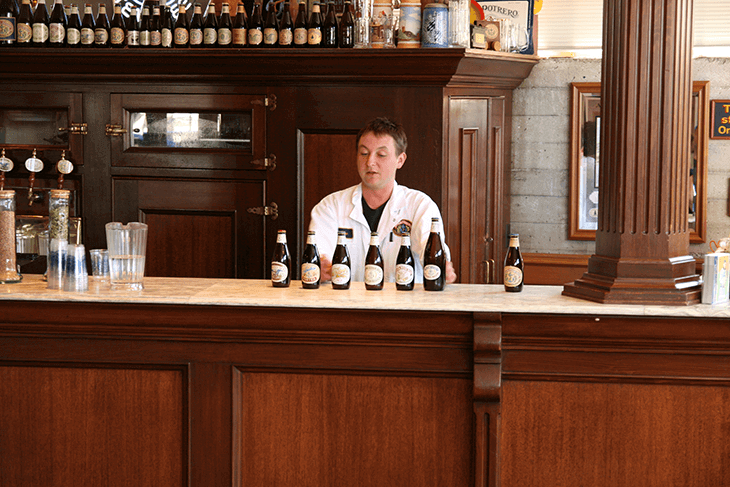 The Pilsner Brewery is ripe with history. Its purpose has changed multiple times, its name has changed, and the brewery has come to be the largest producer of beer in the Czech republic.
The Terezin Concentration Camp
The Terezin Concentration Camp (also known as Theresienstadt) was considered a ""camp-ghetto" because of the abysmal conditions. It was active for three and a half years. It had three purposes:
It was a transit icamp for Czech jews before being deported to different camps
It was a ghetto-labour camp that hid the true nature of the German genocide of the jewish people
​It served as a holding cell for Jews that hadn't been marked for deportation or labour
For those who like to appreciate the beauty of freedom and the fact that Hitler didn't succeed in killing the jewish population, they can take a day tour of Terezin.
The Olšany Cemetery
Another darker historical monument, this graveyard was built to accommodate victims of the plague in the 1600s.
The graveyard was divided into sections – the jewish section is the final resting place of Franz Kafka; and the Christian cemetery. These are further divided into a total of 12 different sections, including the Old Jewish Cemetery and a small Orthodox section.
It's still the biggest graveyard in Prague – one of the largest in the entire Czech Republic. The graves extend chronologically from the 17th century in the north end of the graveyard to the 20th-century ones near the center.
Best Hotels in Prague?
This list hardly covers all the wonderful sights in Prague. There's lots more to see. If you get a good place to stay, then there's no need to count how many days in Prague you spend enjoying things.
There are a ton of good places to hole up for a night or a week. Some are cheap, some not so much. We've compiled a list of a few budget hostels and a few upper class hotels.
This is the cheapest hostel currently available in Prague. It clocks in at just over five bucks a night! The accommodations, of course, aren't incredible. The hostel caters to individual backpackers or schools & groups on trips that don't mind shared rooms. They offer computers with free internet and a shared kitchen to cook meals with your traveling companions. You can take a look at The Chili Hostel here on booking.com.
There might only be four seasons, but the Four Seasons Hotel has a five star rating. It's also got a massive price tag, coming in at almost five hundred bucks a night.
The Alchymist Hotel is located right near some of Prague's best sights, including the Prague Castle and the Charles Bridge. The hotel offers lots of amenities. It's a 5-star hotel built in a great baroque style. Their special Aquarius restaurant has a great Italian flavour that it offers to patrons of the hotel.
See more: European backpacking routes
When your travels take you to a fantastic place like this, nobody's counting how many days in Prague go by when you're checking out beautiful monuments like these. If you want to stay a week, stay a week. If you want to stay a month, stay a month! Prague has enough to keep sightseers busy for as long as they'd like.
If you are interested in How many days in Prague, you might want to check out Best day trip from Prague.