This article will give you an insight into "how many days in Phuket is enough", a definitive guide on " how many days do you need in Phuket". Of course, that's a tricky proposition, and the answer may be different for every traveler. But what I'm going to do is to make suggestions on the best way to spend your time in Phuket, however long you have to spend there. That way, you can pick an itinerary and decide on how long to spend and what to do while you are on this fabulous island.
Phuket has almost 10 million visitors a year, the vast majority of whom come here for the island's world-class beaches. If you are making an Intercontinental journey to Phuket, then you should be looking to stay for a minimum of at least a week, just to be sure that you get over the jet lag and do some serious unwinding.
However, if you are visiting from a nearby location, or if you plan to travel to another destination on a multi-stop holiday, then you can see much of Phuket in just three or four days.
How many days in Phuket are enough?
It depends on your personal preferences and the activities you want to do in Phuket. A minimum of 3-4 days is recommended to see the main sights and experience the culture, but for a more relaxed vacation, 7-10 days would be ideal.
Where to stay in Phuket?
Before heading to Phuket, you want to settle with your accommodations, take a look at some of the best hotels for you:
Novotel Phuket City Phokeethra Hotel Located in the heart of Phuket Town, Novotel Phuket City Phokeethra – SHA Extra Plus offers an outdoor swimming pool and 180 stylish rooms and suites. A short walk from Old Phuket Town and the nearby shopping area, less than 4 km from Central Festival Phuket. Rassada Pier, which has regular boat services to Phi Phi Island, is 3 km away. Popular beaches on Phuket's west coast are a 45-minute drive away. Phuket International Airport is a 1-hour drive from the hotel.
The Malika Phuket Hotel Set in Phuket Town, 1.8 km from Old Phuket Town, The Malika Hotel – SHA Extra Plus offers accommodation with a shared lounge, free private parking, a garden and a terrace. Among the facilities at this property are a 24-hour front desk and a tour desk, along with free WiFi throughout the property. The property is allergy-free and is located 2 km from Chinpracha House.
Phuket Sunny Hostel Located just 300 m from Thai Hua Museum in Phuket Town, Phuket Sunny Hostel offers accommodations with free WiFi in all areas. It has an on-site restaurant. Phuket Sunny Hostel is 200 m from Old Phuket Town and 400 m from Chinpracha House. Phuket International Airport is 26 km away.
Is One Day in Phuket enough?
One day in Phuket is better than nothing, but only just. You will be able to get a quick flavor of the place, and perhaps the best thing to do is visit a local travel agency and book a one-day sightseeing tour. On such a tour, you can expect to visit Phuket's charming old town on the island's East Coast and then head over to the West Coast, where you can spend at least a little time at one or more of the stunning beaches.
With just one day in Phuket onward, travel should be the fact that decides where you stay.
If you are leaving by air, then stay on the northwest coast close to Phuket international airport. Mai Khao Beach is a good beach that is just a stone's throw from the airport.
If you plan to leave Phuket by ferry, then stay in Phuket Town, close to the pier where the ferries depart.
Is Two Days in Phuket enough?

If you spend two days in Phuket, you can do a little bit more. My recommendation would be to take a one day tour of the island on your first day, and then spend the second day at the beach,
Your day at the beach could be spent just chilling out in the sun and enjoying a tropical sunset, or you could go the all-action route and parasail, jet ski, stand-up paddle, or try whatever watersport takes your fancy.
In the evenings you can dine very well. That's a host of international restaurants, and if you want to kick on and party then there are plenty of places for that too.
It's a good idea to stay in one of the more developed tourist centers if you only have two days in Phuket, just for the convenience of having everything close at hand. If you are a party animal, then stay in Patong, and if you want convenience at a slightly more restrained location, or if you're traveling with family, then stay at Karon beach.
Is Three Days in Phuket enough?

Three days in Phuket gives you a reasonable degree of flexibility about your choice of location and the things you do while there. You will have time to visit Phuket town and see a little of the island, and also to explore the local area where you are staying.
If you want to take a boat trip for diving or snorkeling or to explore some of the beautiful neighboring Islands like the famous James bond Island in Pan Na Bay, then you can squeeze that in too.
Three days is still a comparatively short stay in Phuket, so you should stay somewhere central to be close to restaurants, bars, and entertainment, and you don't have to spend too much of your time traveling.
Kamala Beach is an excellent choice of destination since it has a lovely beach and an exciting and busy town with temples, markets, and all tourist facilities.
Is Four Days in Phuket enough?
With four days in Phuket at your disposal, you can get a good feel for the island, perhaps visiting a couple of beaches and Phuket town. A boat trip is a great idea, and you can catch rays on the beach or jump on parasail jet skis and the like.
You should check local travel agencies for other activities too, a day taking a Thai cooking course, for example, is tremendously fun and a great way to meet people.
If money isn't an object, you could stay in one of the classy resorts at Bang Tao beach. At the other end of the scale, if you're on a budget and trying to conserve funds, then why not stay in Phuket Town. There are some great hostels here, lots to see and do, and you can always take a taxi over to the West coast beaches when you feel the need for sand between your toes.
Is Five Days in Phuket enough?
Five nights in Phuket will give you all the time that you need to see and do everything that you want, without feeling rushed or pressured. With this amount of time, you can choose pretty much any area on Phuket that you'd like to stay in and use it as a base to do the things that you want when you want. You can explore the island at your leisure without the whistle-stop one-day tour; you are free to spend as much time as you like exploring.
You should visit a few of Phuket's West Coast beaches, which are all a short journey from each other by taxi.
You might even choose to stay in two different places, a night or two in historic Phuket Town combines very well with a few days at one of the beaches. Travelers looking for a convenient but quieter location should stay in Surin Beach. And if you are traveling as a family, Kamala Beach, with its lounge activity-filled, family-friendly hotels, is a great choice.
A Week to a Month in Phuket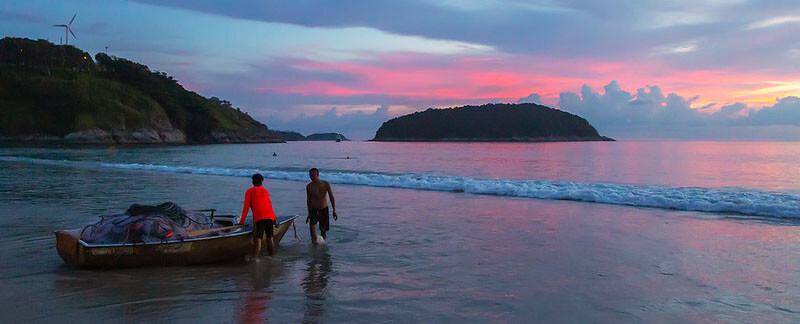 Now you're talking! If you can spend a week to a month in Phuket, you can become an island expert. With this much time, you're free to explore the island, and the neighboring Islands, at your leisure.
You can visit temples and some more obscure attractions like the orchid farm close to Phuket town. All of the West Coast resort beaches have hotels designed for one to two-week stays, so if you want to be beside the sea, just pick any beach that sounds like your kind of place.
If you're able to stay for up to a month, you could look to rent an apartment or a villa if you have the money. You can find good longer-term accommodations in Phuket Town. Rawai Beach is Phuket's Villa rental headquarters. If you're staying for the month, then you will find that the prices of even extremely luxurious accommodations can be heavily discounted, so you can find some real bargains if you have the time.
How Many Days In Phuket And Phi Phi?
Huge Phuket and its tiny neighbor, Koh Phi Phi, are an interesting complimentary choice of Thai Islands. Beautiful Koh Phi Phi is all about the beach and small island atmosphere. A couple of days in Koh Phi Phi will give you the time you need to enjoy the beach, and take a boat trip to explore some of the more remote spots, diving and snorkeling if you fancy.
You could then spend two or three nights in Phuket; this gives you the time to take an Island tour and spend a little down-time on one or two beautiful beaches. Make sure that you visit Phuket town, which is a highlight.
How Many Days In Phuket And Krabi?
You will need a minimum of four or five nights to get a real flavor for Phuket and its mainland neighbor, Krabi. You need two or three days in Krabi to take in the fabulous limestone scenery, catch a little Beach time, and visit some of the stunning nearby beaches like gorgeous Rayleigh with its two-sided Beach.
The journey between Phuket and Krabi is relatively short, so the journey won't add much time to your trip. If you leave Phuket early in the morning, you will still have a full day in Krabi or vice versa. That leaves you two or three days to get a good flavor for Phuket.
How Many Days In Phuket And Bangkok?
The flight between Phuket and Bangkok only takes an hour or so and the waiting time for domestic travel is shorter than for international, so you won't lose a day traveling between the two.
You can begin to do justice to these two superb tourist destinations with a trip of five or six nights. If the beach is your thing, then spend more time in Phuket and less in Bangkok, and vice versa if you're a city lover.
Two or three days in Bangkok gives you time to visit The Grand Palace, shop yourself silly at the weekend market or one of the hundreds of shopping malls, and enjoy some of the city's famous or infamous nightlife. Perhaps visit Bangkok first, giving yourself the chance to unwind on one of Phuket's lovely beaches afterward. And then, if you still have the energy, you can tour the island or explore some of the stunning nearby Islands by boat.
Check out this guide on where to stay in Phuket to find the best accommodations for your holiday. 🎬 Check out my virtual tour about the best places to stay in Phuket in this video:
See More:
So, armed with all that information, you don't need to be a prisoner of time. Now you can take an approach to your visit to Phuket that allows you to make the most of this delightful destination, no matter how long you can spend there. Have a wonderful trip!