How Many Days in Oslo you might ask, and the answer depends on whether your priority is to enjoy the beauty of Norway. If that is the case, Oslo is just a starting point and the likely city from which you leave Norway. Many travelers want to hike in its pristine landscapes or see the Northern Lights rather than see what Oslo has to offer.
In my case, I was interested in Oslo itself, and its immediate hinterland. From my research, I realized that Oslo was a very underrated capital city. My visit over just a weekend confirmed that.
How Many Days Do You Need in Oslo ?
Oslo is steeped in history, is known for its great cuisine and offers a relaxed atmosphere for all visitors. It doesn't feel like a city; it's too quiet for that. Its population is in excess of 600,000 but with so many open spaces, I never felt that I was in a large city.
I hoped that I could get to know Oslo fairly well in 2 days. There was never going to be too much time to travel further afield The Oslo Pass with so many benefits seemed to be good value.
I would certainly recommend it to every traveler. It offers free access to many of Oslo's highlights.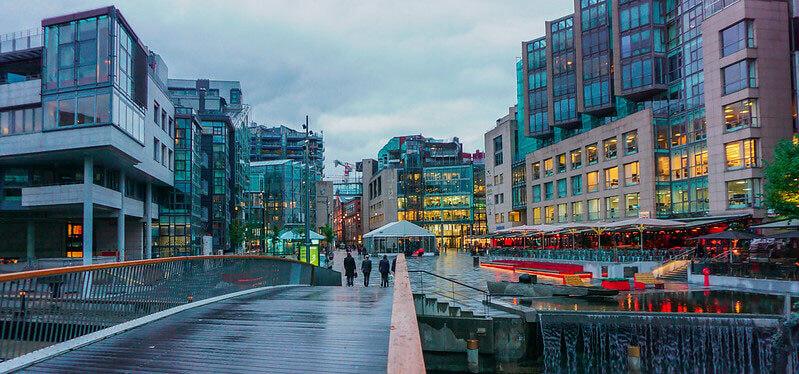 Where To Stay In Oslo For First Time Visitors?
Sentrum is one of the best areas to stay in Oslo for tourists because it is central with quick and easy access to famous attractions and landmarks, and public transport enabling easy travel to other regions of the city.
Aker Brygge is also a great choice for tourists as it offers a great selection of dining options, bars and cultural activities such as galleries, on top of beautiful architecture and interesting walking routes.
>> READ MORE BEST PLACES TO STAY IN OSLO <<
What to Do & See in Oslo in 2 Days?
I was happy to start early each day in order to see as much as I could of Oslo. I planned everything in advance but was prepared to change things where necessary. I was able to enjoy Oslo and think you will too if you follow this itinerary.
I bought a 48 hour Oslo Pass as the ideal way to explore; free transport and entry into Oslo's impressive museums.
Day 1 in Oslo Itinerary
I began by heading to the Bygdøy Peninsula where the museums are the major attraction.
The Fram Museum tells the story of Arctic and Antarctic exploration.
Next door is the Kon-Tiki Museum, the tale of navigating the Pacific Ocean on a raft.
The outdoor Norwegian Museum of Cultural History has reconstructed buildings,from the Middle Ages onwards.
The Viking Ship Museum is probably the best of all.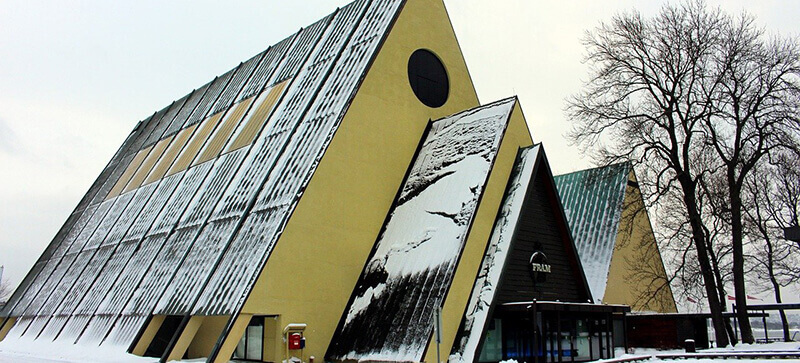 It may be a bit of a rush to visit all four but I gave them each an hour before planning a late lunch. I wanted to get close to the part of the City where I intended to spend the afternoon. If you like seafood, Oslo is for you, lunch and dinner.
The Vigeland Sculpture Park is home to more than 200 sculptures by Gustav Vigeland. The centerpiece is ''The Monolith'', intertwined human bodies, just one of an amazing range of work. Next door is Frogner Park which contains the Vigeland Museum but I had had enough culture by then so I gave it a miss.
Some people have a drink pre dinner. I had a sauna close to Oslo Fjord but didn't join the locals who regularly jump into the Fjord before returning to the sauna.
I had been told about Norwegian meatballs even though the seafood was fabulous so I tried them at Kaffistova, delicious! An early night after a busy day because there was still much to see in Oslo.
Day 2 in Oslo Itinerary
I had another early start because I had yet to explore the center of Oslo. There were also Oslo's major landmarks to see.
I joined a walking tour to get information from a local guide. We started at the Oslo Cathedral and continued on to the Norwegian Parliament. After passing Oslo City Hall, we ended our tour at the Oslo Opera House. We climbed to the top for some great views.
That left me with two major landmarks to see in the afternoon:
The Royal Palace is a beautiful building, home to the Norwegian Royal Family since 1849. The Changing of the Guard is daily at 1.30pm and lasts 40 minutes. I made that time quite easily. I had booked the hour long tour of the Palace in advance because I had heard it was very popular.
Akershus Fortress overlooks the Oslo Fjord and over the years since the end of the 13th Century it has been the subject of many sieges. It has also acted as a royal residence and a prison during its history. I was able to explore inside, the banqueting halls and the Royal Mausoleum included. Incidentally the photos I have of the views from the Fortress are memorable.
I enjoyed that huge plate of meatballs the previous evening but it was seafood for my dinner on the last day of my visit.
Suggestions if You Have More Time in Oslo
In many ways, I regretted that I didn't have a third day in Oslo to take a trip out of the City to see a little more of the countryside. In winter, it is covered in snow but in summer, a day out hiking in its wonderful scenery must be special.
A boat tour around the Oslo Archipelago certainly appeals to many visitors to Oslo in the weeks of summer. There are public ferries that run between the various islands.
How to Get from Airport to City Center
Oslo is served by two airports. However, Torp is nearly 70 miles away so forget that. I flew into the other, Gardermoen which is less than 30 miles from the city center. The Flytoget Express Train is the more expensive of the two options with the ordinary train taking 25 minutes at half the price.
Conclusion
Oslo is an expensive city but buying a 48 hour pass means that you can enjoy its many highlights without spending a fortune. I avoided buying a bottle of wine with my meal but still enjoyed a beer or two. I certainly enjoyed the city and would recommend it to anyone.
I visited in the summer but if you don't mind the cold, Oslo still has much to recommend it in the winter, even if you spend more time inside. Think museums!
---
---