Cinque Terre is a charming and unusual destination with lots to explore, and it can be hard to answer the question – how many days in Cinque Terre is enough? Below, we've put together some suggested itineraries and sights to see to help you decide how long to spend in these charming Italian villages.
As usual, the answer to this depends on what you want from your visit. The five villages are connected by trains, so it is doable to visit them all in one day – you will get to enjoy how pretty they are, but you won't get to experience each one's character or explore them properly. If you want to explore each village properly, it's probably best to spend about 3-4 days here.
However, if you're happy to just enjoy a cafe in each village or even just explore one village, then one or two days will be fine.
One thing to bear in mind is that the hike which takes you through all the villages lasts about six hours allowing for only short breaks, so if you are planning to do the hike then you should either be prepared for a long day or choose to stay for two days so you can split the walk and enjoy it at a more leisurely pace.
Where to stay in Cinque Terre?
If you are going to Cinque Terre very soon, you can take look at some of the best accommodations in Cinque terre in Vernazza:
La Polena Camere Vernazza This property is 1 minute walk from the beach. Featuring free WiFi, each room at this guest house is air conditioned and is fitted with a flat-screen TV. Some rooms have a seating area for your convenience. You will find a kettle in the room. All rooms come with a private bathroom equipped with a bath or shower and bidet.
Agriturismo Costa di Campo The bed and breakfast comes with a satellite flat-screen TV. Towels and bed linen are featured. Corniglia Beach is 2.4 km from vernazza vacation 3. The nearest airport is Genoa Cristoforo Colombo Airport, 107 km from the accommodation.
Camere Fontanavecchia This property is 6 minutes walk from the beach. Offering spacious rooms with free Wi-Fi, Camere Fontanavecchia is close to Vernazza Station and just 5 minutes' walk from the beach. Train links run to La Spezia and along the Cinque Terre National Park.
Check out my blog where to Stay in Cinque Terre to have better understanding of the best areas to stay in Cinque Terre.
What to See in Cinque Terre?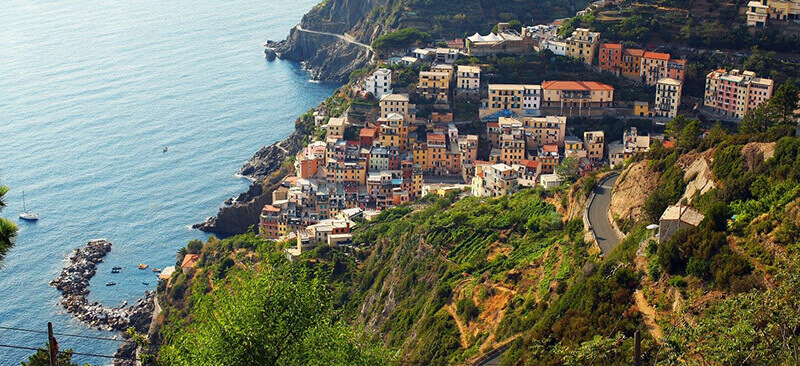 Manarola is considered the most beautiful of the five villages, with its picturesque colorful houses and fishing boats, it looks just like a postcard.
Another unmissable view is the Lardarina in Corniglia. At the top of 382 zigzagging steps which trail across the face of the mountain, you reach the only point from which you can see across all five villages – definitely not a sight to miss.
Although not technically a part of the Cinque Terre, just a stone's throw away is UNESCO world heritage site Porto Venere. It consists of three villages and three islands and is peppered with stunning medieval churches and a beautiful castle that is more than worth a day trip in itself.
These are some of the top tourist attractions you can add to yout Cinque Terre Itinerary
Piazza Guglielmo Marconi in Vernazza
Lardarina, San Pietro in Corniglia
Fegina Beach in Monterosso
Monterosso al Mare
Manarola Marina
Castle of Riomaggiore, Colle di Cerricò, church of San Giovanni, Sanctuary of Madonna di Montenero
Is One Day in Cinque Terre Enough?
It will be a bit of a whistle stop tour, but with the right itinerary, you can certainly see the best bits of Cinque Terre in one day. Mostly, you should take advantage of the regular trains connecting the five villages to get around efficiently, and enjoy each trip as part of the experiences – some of the best views of Cinque Terre are to be had through the carriage window.
That said, start the day early in Monterosso, and after passing through the beautiful old town take the hiking trail to Vernazza. The trail takes about 2 hours, so you can enjoy a mid-morning coffee on reaching Vernazza, before exploring a bit and then continue hiking to Corniglia (about 90 mins) where you can enjoy some lunch.
Walk down the 200 steps to Corniglia's seaside train stations to travel to Riomaggiore where you can enjoy the charming waterfront views, before heading to Manarola to enjoy a stunning view of the sunset and a lovely evening meal.
Is Two Days in Cinque Terre Enough?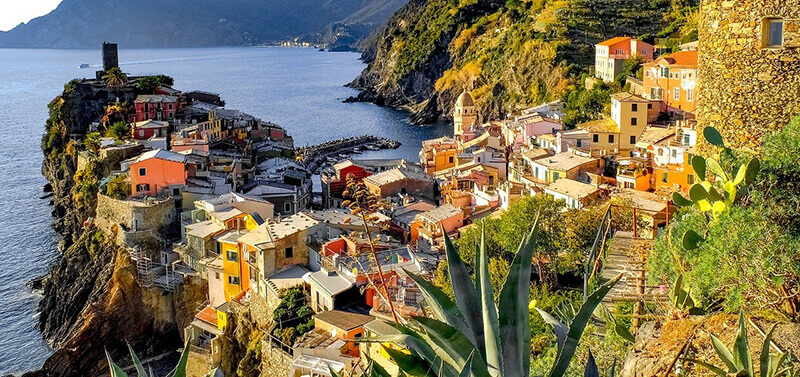 Two days in Cinque Terre is enough to get the taste of the town. Spend the first day of your two-day trip visiting Monterosso, Vernazza, and Manarola. Enjoy the early morning calm of Vernazza and explore the castle there before hiking to Monterosso and enjoying some light lunch and a stroll on the sandy beach. In the late afternoon, move on to Manarola for some well-earned drinks and to watch a beautiful sunset.
On the second day, explore Riomaggiore in the morning while it's quiet and tranquil – a lovely place for a leisurely morning coffee and to drink in the beautiful, traditional charm of the village.
Spend the afternoon exploring Porto Venere – as mentioned before, it isn't technically a part of the Cinque Terre but it is an unmissable stop.
Is Three Days in Cinque Terre Enough?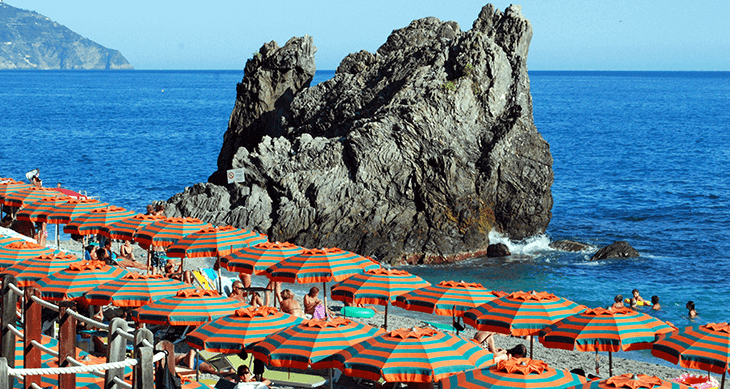 A three day stay in Cinque Terre is a happy medium between a whistlestop tour and a long stay. On the first of your three days, enjoy the mixture of hiking and train travel outlined in the one-day itinerary above so that you get to see each of the five beautiful villages. The five towns are a short train ride away. You can easily catch the train and travel between attractions.
Day two can be spent exploring your two favorites – spend a picturesque morning in Manarola perhaps, and an afternoon in lively Vernazza.
Day 3 can be ideally split between a leisurely beach morning in Monterosso followed, of course, by an afternoon exploring Porto Venere. You could round out the trip by heading back to Monterosso for an evening meal, enjoying the local specialty of seafood and particularly anchovies.
Check out my virtual tour about the best places to stay in Cinque Terre in this video:
See Also: Where To Stay In Sicily Italy
Is Four Days in Cinque Terre Enough?
Spending four or more days in the Cinque Terre will allow you to really explore each and every one of these charming traditional villages. For a four day stay, I would recommend spending the first day enjoying the hike between all the villages, then choosing your two favorite villages to explore on days 2 and 3.
Spend the fourth morning enjoying the famous beach at Monterosso (get there early to beat the crowds!) and the rest of the day exploring nearby Porto Venere.
If you're there for more than four days, I would just dedicate each extra day to exploring one of the other villages in-depth, and sampling as much of the local seafood and wine as you can manage. A longer stay also means you can incorporate a full beach day without missing out on exploring!
See More:
Cinque Terre is a stunning destination, well deserving of a longer stay so it can be properly appreciated and explored – but if you need to squeeze your visit into a shorter timespan, you can definitely see the best of the villages in just a day or two.
Now as you know how many days do you needs in Cinque terre, all you need to do is to book your hotel and ready for your trip!