So, you've picked the destination, and now you need to decide How Many Days Do You Need in Bali and where to stay in Bali? Fear not! I'll give you the best options and itineraries for short and long stays, and then all you need to do is to decide which of these options sounds best to you.
If time is short, and you're desperate to just spend a little time on a tropical beach, then Bali can easily offer you that. However, if time isn't an issue, you will find that this vast Indonesian Island has a wealth of different environments and experiences that will reward much further exploration.
Bali is an increasingly popular destination for long-term travelers and digital nomads, so there is plenty here to reward people who can spend a little more time.
How many days is sufficient for Bali?
A trip to Bali can be as short as a few days or as long as a couple of weeks, depending on your preferences and the activities you want to do. However, a good starting point for a first-time visitor is to plan for at least a week to get a taste of the island's culture, natural beauty, and recreational activities. This will give you enough time to visit the main tourist attractions, relax on the beach, and try some of the local cuisine.
How long to stay in Bali is really a personal choice, you can spend a week to months and still has a lot of things to do. I personally spend 5 days in Bali and able to see some of the best attractions in Bali.
Where to stay in Bali?
Bali is a large and incredibly varied island. Broadly speaking, your choice of places to stay here is between beach resorts like Kuta and Sanur and the pretty towns of the mountainous interior like Ubud.
There are beaches like Legian for budget visitors and those like Seminyak that cater to five-star travelers. You can dive from Amed or surf from Legian. If you are a family, you can enjoy the great facilities and comfortable atmosphere of Sanur. If you're with friends and want a no-holds-barred party experience, then look no further than Kuta.
For a brief stay, somewhere like Legian with good facilities and proximity to the airport is a perfect choice. And if you're a hip, long-stay digital nomad, then Canggu has a coworking space with your name on it.
A great tip, if you have the time, is to combine a shorter three or four-day stay in a mountain town like Ubud with a longer chill-out stay at the beach. This approach gives you the perfect opportunity to experience the many different sides of Bali during your visit.
Ubud Nyuh Bali Resort & Spa This 5-star resort features air-conditioned accommodation with an outdoor pool and free WIFI in every unit. Guests also enjoy complimentary using onsite gym, bicycle, morning walk and authentic Balinese classes. All of the units feature a private bathroom, a living room with a flat-screen TV and a fully-equipped kitchen with coffee tea maker facility
Bliss Ubud Spa Resort Surrounded by large expanses of paddy fields, peaceful retreats await in the quiet environs of Bliss Ubud Spa Resort. Featuring a beautiful outdoor swimming pool and a hot tub, it provides a massage services, free Wi-Fi and a free shuttle to Ubud Centre.
Meruhdani Boutique Hotel Ubud Set in Ubud, 300 m from Saraswati Temple, Meruhdani Boutique Hotel Ubud – CHSE Certified offers accommodation with a restaurant, free private parking, a bar and a garden. Featuring family rooms, this property also provides guests with an outdoor pool. The accommodation provides a 24-hour front desk, room service and currency exchange for guests.
See more:
Is Two Days in Bali enough?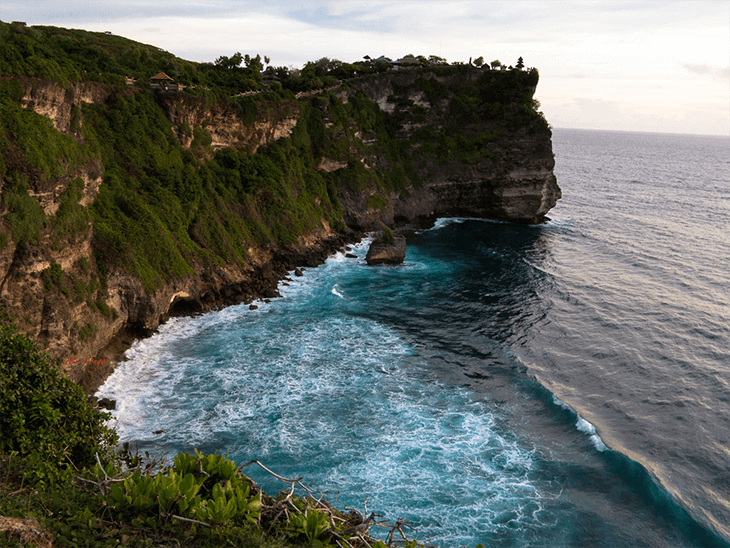 Given its relative remoteness and the fact that it's an island, then you should see a two-day stay in Bali as a bare minimum. Nevertheless, you can do a lot with a little, and the best thing to do on a two-night stay is to find a good beach location that isn't too far from the airport.
If you are traveling with family, or you're a couple looking for an excellent relaxed place, then Sanur is a great choice. And if you're traveling with a group and looking for a vibrant party town, then head to Kuta, Bali's tourist heartland.
Both of these destinations are very well developed for tourism, and there's plenty of tourist infrastructure, so you can pack a lot of experience into a couple of days. You can spend the days chilling by the beach or doing water sports like surfing, and then party away the evenings, or just enjoy great food in a classy restaurant.
Is Three Days to Five Days in Bali enough?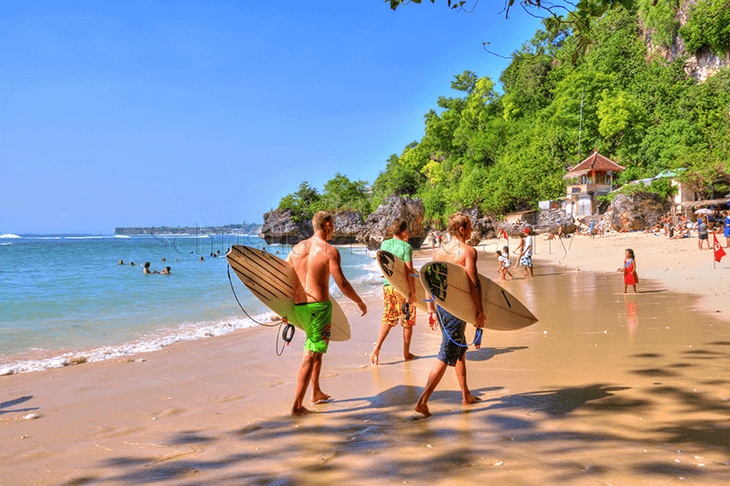 If you have three to five days to spend in Bali, this gives you a great deal more freedom to explore the island. I suggest that you choose a beach resort with good facilities as your base, making it easy to book and arrange trips and activities.
One of the resorts on the southwestern coast is an excellent choice of base. You could try Legian if you're on a budget, or if you want something a bit more sophisticated, then stay in nearby Seminyak at one of the five-star resorts here.
You can, if you choose, just spend your time unwinding on the sand. But if activities and action are more your kind of thing, why not go surfing, or take a course if you've never tried. This coast of Bali is world-renowned for its excellent, board-friendly surf.
Bali's mountainous interior is justly famed for its culture and beauty, and it is a great idea to take a one-day trip from your Beach base up to the town of Ubud. Rising up into the mountains through beautiful tiered paddy rice-fields makes the journey an experience in itself.
Is Seven Days in Bali enough?

if you can spend a week or more in Bali, it's a great idea to consider a two-stop holiday. You could spend some time at a beach resort of your choosing and then head up into the mountains for a few days to explore the interior of the island.
Ubud is the tourist capital of inland Bali, and it is a classy town with fabulous architecture and excellent boutique guesthouses and hostels. There are a wealth of restaurants and bars here, and shoppers will be particularly interested in the world-renowned local handicrafts for sale in local shops.
For the beach leg of your trip, younger groups and party animals should choose to stay in Kuta, with its clubs and party atmosphere. Families will prefer nearby Jimbaran or Sanur on the southeastern coast.
Two Weeks to a Month in Bali
If you have more than a fortnight in Bali, you can really get to grips with exploring this huge and fascinating island. If you're happy moving from place to place, you could start with a few days on the beaches of the south. Then move on to Ubud in Bali's interior, and head on to some of the more remote Inland locations like Kintamani, next to the fascinating volcanic caldera of Lake Batura.
If diving is your thing, you will want to head over to the East Coast, staying in Amed, a charming little town close to some stunning dive sites.
If you want to explore further, you will find lovely beaches off the tourist track on Bali's north shore. Lavina is an excellent example that rewards more intrepid travelers.
How Many Days in Bali for Honeymoon?

Honeymooners who can survive without a sandy beach would be well advised to stay in picturesque and atmospheric Ubud up in Bali's mountains. There is a fascinating history and beautiful scenery to explore here, and lots of charming and private boutique hotels and guesthouses that are perfect for newlyweds.
But if you want to celebrate your union at a beachfront destination, then why not choose Jimbaran Beach, a friendly and quiet resort with some excellent hotels and facilities, down in the southeast corner of the island?
If money is no object, then Seminyak is the beach for you. If you rent a serviced five-star villa here, you can enjoy luxury and privacy. This area also has top-class restaurants and designer stores.
See More:46 Best things to do in Bali, Indonesia
So, there are some great ideas of places to stay and things to do in Bali. Now, no matter how long you have to spend on this fabulous tropical island, you are sure to have a wonderful experience. I hope you have a great stay.