Many people, especially those who travel to South East Asia are often curious about a happy ending massage. For those less informed such a treatment may seem something of a traveller myth but the happy ending massage is a real thing and we have some answers to your questions.
What is Happy Ending Massage?
What is Happy Ending Massage? A question often asked by travellers, usually men, who find themselves in a massage parlour in South East Asia towards the end of their massage treatment.
To put is plain and simply a happy ending massage is a massage that ends in orgasm for the client, using via a hand-job from the masseuse. The orgasm can be archived through sexual contact of any kind but the hand-job is the preferred method for it is a little more in personable.
There are some sure-fire clues that your massage spa or parlour is a venue for happy ending massages. For example, 'Pleaser's Spa' is a common coverup for such venues or treatment lists that offer 'Asian Massage','Tantric Massage' or even as explicitly as 'Body-to-Body' Massage.
Happy ending massage parlours have for decades been the front face for prostitution and brothels, although, in some parts of the world the happy ending massage is far less seedy and lewd as it may first seem.
Are they Legal?
Are they legal? That's a very good question! The simple answer is, 'that depends'. In the United States of America, a happy ending massage is strictly illegal and will not be conducted in reputable spas and beauty parlours.
Hinting or even outrightly asking for a happy ending massage in a spa in the United States of America will not only humiliate and mortify your massage therapist but also give them the good reason to refuse to serve you, however much money you decide to offer!
Whether you're a man or a woman, if you ask for a happy ending massage in the US you will be swiftly met with a stern and somewhat offended explanation of the professional boundaries of a massage therapist.
What a Happy Ending Massage Overseas?
Overseas is a different kettle of fish as we say for the happy ending massage. Although not a minefields you should still tread carefully if seeking a happy ending massage overseas, especially in Asia.
The happy ending massage has become synonymous with South East Asia and is often the first joke that comes out when you tell your friends where you are headed!
Commonplace in Bangkok, Bali, Cebu in the Philippines the sexual massages are readily available if you know what you're looking for.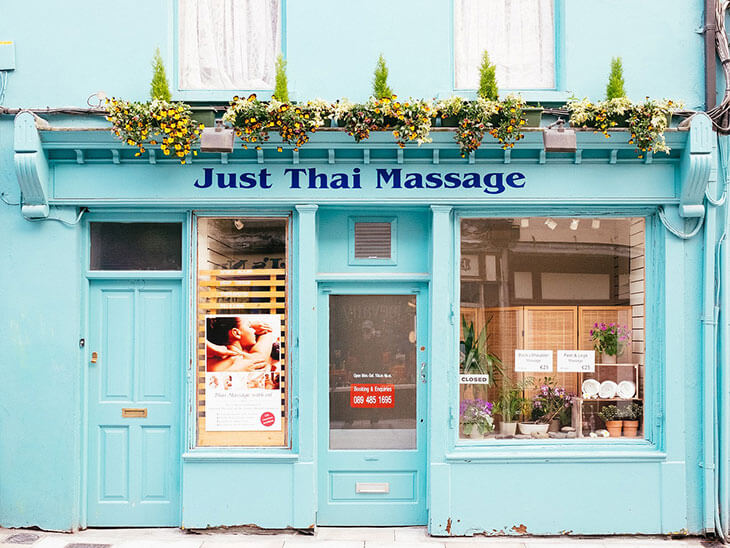 In Cebu City in particular, the massage parlours are famed for their 'lingam massages'. A lingam massage is more skills than what you would anticipate from a happy ending massage and involves gentle and strategic massage of the whole body that culminates in a massage of the penis.
As with the United States of America, you could cause extreme offence if you asked or suggest at a sexual massage in an establishment that does not offer anything of that nature.
Again, as with spas in the States, the signs are very obvious, but not obvious enough to attract police interest. Be sensitive and endeavour never to cause offence on any occasion when travelling abroad.
To suggest a happy ending to a therapist who is not of that ilk will question her integrity and soon see you back out on the street again unfulfilled in every way.
Happy Ending Massage in Chiang Mai
A happy ending massage in Chiang Mai is a big temptation for men travelling to Thailand's northern capital.
If looking for a happy ending massage in Chiang Mai then steer clear of the Old Town. The spas in the old town are designed for the everyday tourist looking for a foot massage or classic Thai massage. As this is a very popular area such massages are not available here.
Your best bet is to head to Los Kroh Road. Stricken with 'girly bars' and sexy massage parlours you will be sure to get a massage of the desired effect on Loi Kroh Road in Chiang Mai.
As the leading nightlife area, also is wary of conmen and pickpockets. Pickpockets won't be your concern if you're naked though, will they?!
Happy Ending Massage in Siam, Bangkok
As with Chiang Mai, massage parlours in the main tourist hubs of Bangkok will certainly not offer erotic massage of any kind.
Siam seems to be the most popular destination to head to in Bangkok for a sexy massage but those in the know suggest that you will have more luck in Sukhumvit Soi 4 & Soi 5.
In Sukhumvit Soi 4 & Soi 5 are popular streets for sex tourists or 'sexpats' as they are also known. The Nana area has a greater choice of venues than Siam and as this area of town is more dedicated to sex tourism you have less risk of being seen by families and the more innocent traveller as you would in Siam, as they are coming out of Hard Rock Cafe after enjoying a nice family meal for example.
Happy Ending Massage
A happy ending massage is a type of massage that is intended to provide sexual gratification to the person receiving the massage. If you are seeking a massage for therapeutic or relaxation purposes, it is important to choose a reputable therapist who is trained in ethical massage practices and adheres to the standards of the profession.
See more: South East Asia
The golden rules are; don't cause offence and keep yourself safe. Happy travels!