When is the Best Time to Visit Singapore? Singapore is the smallest country is the world. You'll actually be able to navigate your way around in just a day or two! But that doesn't mean you won't appreciate the modern sights and cultural festivals they have to offer. But when exactly is the best time to visit Singapore, though? In this article, we tackle the months you should visit Singapore, basing it on the activities and weather.
When is the Best Time to Visit Singapore?
If it were up to me, then I would definitely recommend you to visit Singapore anytime! No matter the month, you'll be able to find the perfect festivities your family or friends will enjoy. But that all depends on what you're there for.
Singapore is a tropical city-state that experiences a hot and humid climate throughout the year. The temperature typically ranges between 25°C and 35°C. The best time to visit Singapore depends on your personal preferences and the type of activities you want to do.
There are factors for deciding the best time to visit Singapore such as weather, festivals & events, and crowds & prices.
Singapore experiences two monsoon seasons – the Northeast Monsoon from December to March and the Southwest Monsoon from June to September. The Northeast Monsoon is generally drier, with less rainfall and slightly cooler temperatures, making it a good time to visit. The Southwest Monsoon is characterized by heavy rainfall and higher humidity, which may be less comfortable for some travelers.
Singapore celebrates a variety of festivals and events throughout the year, including the Chinese New Year, Singapore Food Festival, and Singapore Grand Prix. If you want to experience these events, you may want to plan your visit around them.
Singapore is a popular destination all year round, but the peak tourist season is from June to August, when schools are on summer break. During this time, prices for flights and accommodations may be higher, and attractions may be more crowded.
If you want to avoid the crowds and find better deals, you may want to visit during the shoulder season (April to May or September to November).
To help you out, here are the various activities and usual seasons you'll experience by the month:
Visit Singapore in January, February and March
January to March is the new year season for Singaporeans. This means that there are a ton of festivities and celebrations held during these three months! If you're one who wants to truly live the culture while celebrating, then these are the months you should visit Singapore.
One of the most memorable would be Chinese New Year, taking place between January and February. You'll find a lot of markets, lion dances, and parades all throughout the period.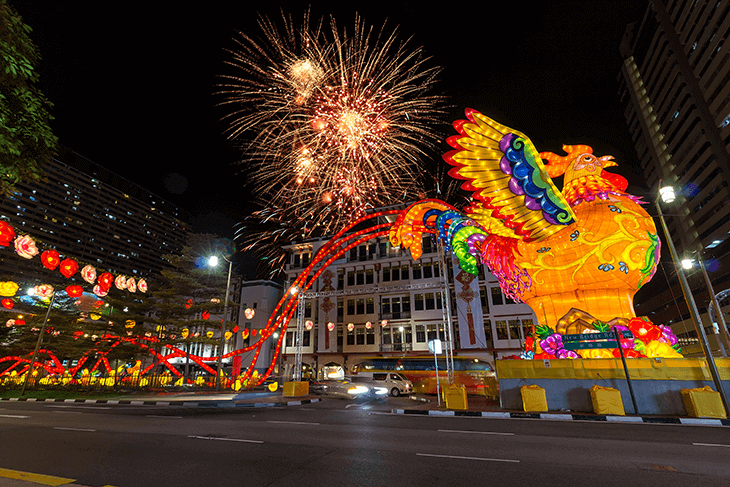 Singapore also celebrated Holi Festival, which is the most colorful of Hindu festivals. People celebrating throw colored powder while spreading joy around the streets, dancing and playing live music.
The St. Jerome's Laneway Festival is held around this time as well. It's one of the most popular and awaited music festivals, where you can dance to indie musicians with fellow music lovers.
Visit Singapore in April, May, June and July
Between these four months, you'll be experiencing one of the hottest and driest times. If you're up for some summer fun, then you'll want to consider booking your trip anytime during these months.
The Dragon Boat Festival is held every last week of May, where you'll see and hear thrumming drumbeats and eat a ton of delicious dumplings as celebration! You will also get to witness Savour (in May) and the World Gourmet Summit (From March to April), memorable food festivals that will leave your stomach satisfied and wanting more!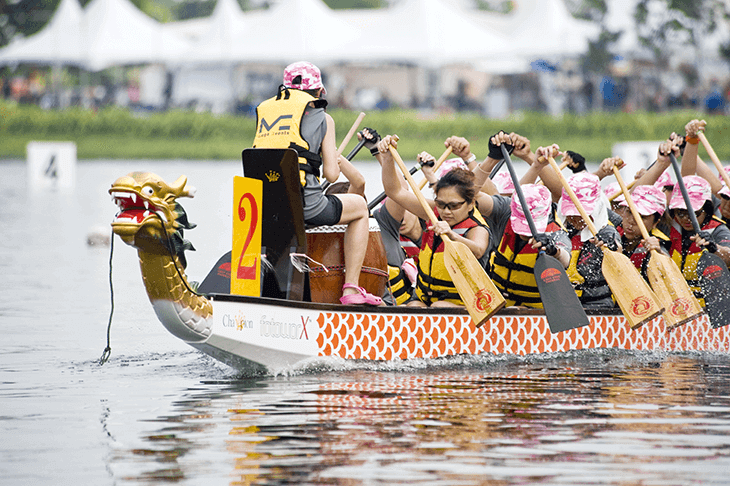 The biggest sale of the year is held in June and July, where all retail shops around the country reduce prices drastically. The Singapore Food Festival is also held between these two months, so you'll get to taste some of SIngapore's finest!
Visit Singapore in August, September and October
It's the time of the year when the air starts being cooler and the rain starts coming. Perfect for those who want the cold weather! This time is perfect for sports enthusiasts and more cultural festivals!
The National Day Parade is held every August 9, where Singapore celebrates their independence day! The mid-Autumn Festival falls around this time as well (on the 15th day of the eight month, based on the Han calendar), with a lot of moon cakes and lantern lighting.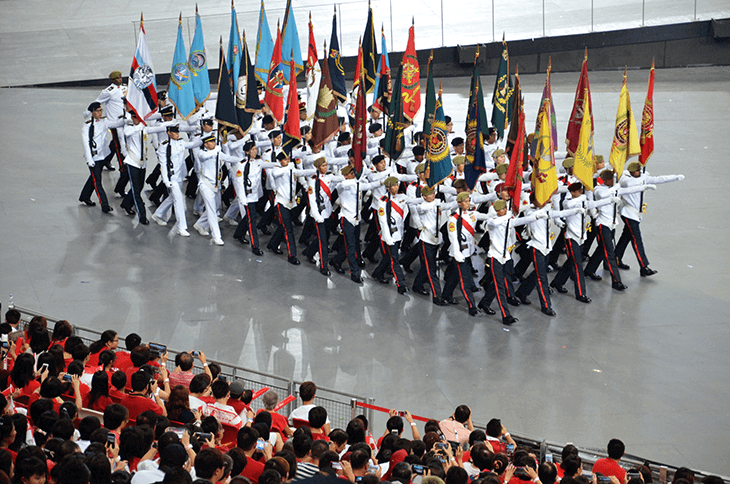 For those who love sports and racing, the F1 Singapore Grand Prix weekend is in September, while the WTA (Women's Tennis Association) Finals are held in October. Support your favorite racer or tennis player as they battle it out to win the gold!
Visit Singapore in November and December
November to December is the last blast of activities for the year, so they make it count through the celebration of lights and happiness. You'll find dark clouds some days, but that doesn't beat the positivity of Singapore! You'll get to enjoy a lot of parties and a yuletide experience, whether you're with family or friends.
Deepavali is the Hindu festival of lights, where the whole city is aglow! You will also get to visit tons of bazaars that have traditional outfits, trinkets, and Indian delicacies.
For the family or group of friends celebrating Christmas in Singapore, you'll definitely enjoy the Christmas Wonderland in Gardens by the Bay. There are a ton of light sculptures and Christmas markets, where you can purchase a gift for loved ones!
If you want epic parties to celebrate your Christmas and New Year, then ZoukOut or the Siloso Beach Party is the one for you.
In Conclusion
When it comes to traveling, you'll want to add Singapore to your list! There are tons of activities and places to visit, with Universal Studios being one the most popular. If you're planning to travel to Singapore, then you must start planing when you'll be visiting.
Hopefully, this article on the best time to visit Singapore will help you know when you should plan your trip and enjoy the weather and festivities! So what are you waiting for? Get the vacation you deserve and book the perfect date for your Singapore trip today!
We hope you enjoyed the article. If you have any other tips on the best time to visit Singapore, then do comment down below. We would love to hear what you have to think.
Which is the best month to go to Singapore?
Singapore is a tropical city with high humidity and temperatures all year round, with an average temperature of around 31°C. The best time to visit Singapore is from November to January, during the cooler and drier months, when the weather is pleasant and comfortable.
What is the cheapest time to visit Singapore?
The cheapest time to visit Singapore is typically during the country's low season, which runs from January to March and September to November. During these months, hotel prices and airfares tend to be lower, and crowds are typically smaller.
It's worth noting that Singapore is a popular destination year-round, so it's always a good idea to book your trip well in advance and to compare prices from multiple travel providers to find the best deals.
What are the rainy months in Singapore?
The rainy months in Singapore are November to January and June to September, when the country experiences monsoon seasons.
How many days is enough to see Singapore?
Singapore can be explored in as little as three to four days, although a week would allow for a more relaxed pace and the opportunity to see more of the city-state's attractions and neighborhoods.
See More:
Check out my virtual tour about Singapore in this video: