Do you know where Bratislava is? Could you point to it on a map? Do not worry if the answer to both these questions is no, by the end of this Traveler's Guide you'll know everything you need to know about Slovakia's spectacular capital city. Some of the best things to do in Bratislava are free or only incur a small entry fee.
Best Things to Do in Bratislava
Whether you have just 24 hours in Bratislava or plan a weekend getaway there is a hold host of things to do to keep you entertained.
Bratislava is the epitome of Eastern European charm, although, this has not always been the case. Once the stomping ground of failing Communists, the city centre is now a charming and vibrant area that should feature high on your to-visit cities. Colourful buildings that ooze quintessentially Slovakian architecture, quaint and classy boutique shops and laid back (beer filled) cafes to enjoy at your leisure.
See more: Where to Stay in Bratislava
Straddling the Danube River one can draw parallels with other Eastern European cities like Budapest. But unlike popular and busy Budapest Bratislava has still retained its under the raidar status.
The Old Town is a joy to behold, meandering side streets lined with shops, restaurants and traditional eateries this area of the city should be your first point of call.
#1. UFO Tower
In the early morning visit the UFO Tower. The UFO Tower really does look like a UFO and is located right atop of Bratislava's main car bridge. From the top of the tower you can see for miles and miles across the cityscape below. This is a great way to gain a panoramic perspective of the city and get some brilliant photographs for your album and to share on your social media to make all your friends envious.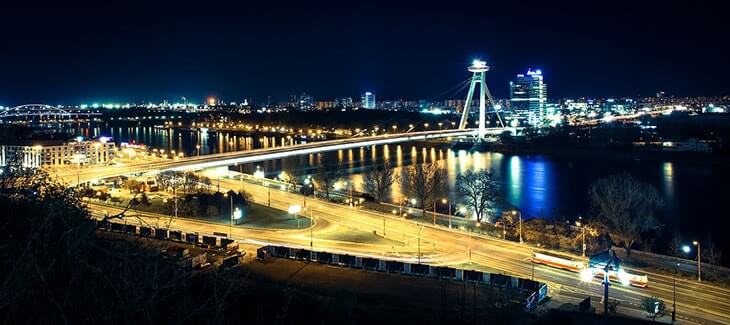 The admission free to the UFO Tower is just €7.40 and opens at 10am. After a hearty breakfast in town this is a great way to get to grips with the city before exploring it close up. In the evening the Tower gets very busy and the entrance queues stack up, getting the early also helps avoid the queue and long waiting times.
While you are up in the UFO Tower locate the Bratislava Castle from afar, pin point it in your mind for this is your next stop.
#2. Bratislava Castle
On a sunny day the bright white cladding of the Castle provides a glorious contrast to the bold blue skies above. To get to the main Bratislava Castle entrance you must walk up the hill for about 15-minutes at a leisurely, lazy, holiday-strolling pace. The walk up to Bratislava Castle is a wonderful activity in its own right. The cobbled street is line with gorgeous little traditional Slovakian houses with window boxes overflowing with sweetly scented flowers.
This walk alone is perfectly photogenic but be careful not to intrude on anyone's privacy when taking photos of homes and the windows.
As castles go, Bratislava Castle is one of the most modern and recently built in all of Europe. Built in just 1950 the original castle was lost in a fire, so to see Bratislava Castle is a wonderful way to see the old and the new sides of the city all in one space.
There are lots of view points along the walk up to the castle main entrance. So to say the walk takes 15-minutes is to say walking fast and not stopping sees you reaching the entrance in that amount of time. If you adopt a leisurely pace and stop to admire the view and take some photographs then 20-30 minutes is more accurate. Even on a 24-hour turnaround you have time to give to the walk. It is well worth it.
Then there is the castle itself and the Slovak National Museum which is really quite interesting. Admission fees are just €6 and for those with a keen interest in European history this is a must visit.
#3. Old Town
By hitting up Old Town you are getting a glimpse at over 90% of the tourist orientated side of Bratislava. It really is the heart of the action and is the epitome of Slovak culture. There is so much to see and do but in a relax and laid back way, Old Town is far from overwhelming. As the name would suggest Old Town takes life at a more slow pace in the most endearing way.
After having a lunch and a beer or two in Old Town be sure to head to the Blue Church. A real architectural gem. Not hugely popular and if you are enjoying being lazy in Old Town don't rush over there. If you are keen to cram in as much as possible then the Blue Church is the next logical step.
Depending on your transport out of Bratislava this will either conclude your day in the city or just your day time. In the evenings the city really does come to life and you would be wise to snap up tickets to the opera. Far, far, cheaper than tickets in Vienna tickets to the opera in Bratislava are easy to buy and watching the show is another fine way to experience the versatile Slovak culture.
If the opera is not your kind of activity then there are plenty of cool bars to explore, as well as nightclubs too. Book yourself on to a pub crawl to meet likeminded travellers and experience Bratislava's party culture.
#4. Obrazáreň pri Dóme
The Obrazáreň pri Dóme is a true hidden gem. This long abandoned church now features modern stain glass windows that depict dreamy images. For art lovers and those keen on the quirky this should feature high on your list. Heading here at sunset is a good idea to see the light glisten and gleam through the glass panes.
#5. Cumil the Sewer Worker
Go on a hunt for gold, or rather bronze and try and find the city's much loved Cumil the Sewer Worker. This bronze statue emerges from the ground. He can be found in the Old Town but we won't tell you where!