In this post, I will help you to decide Where to stay in Koh Lanta (for first-timers, families, couples, and backpackers). I'll give you the list of the best areas to stay in Koh Lanta (with a map and video), and the best hotels in Koh Lanta for all budgets (including the hotel where I stayed).
Located just off the coast of Krabi, Ko Lanta is one of the most beautiful islands in Thailand. Most visitors stay on the west coast where the Koh Lanta's best beaches are located.
Research ahead and book boat tours, diving, or even explore the island with a rented scooter! You can also visit their national park and mangrove to experience the beautiful greenery. Make sure you pack for hot weathe as it gets REALLY hot during peak season!
🎬 You can watch this short video about the best areas in Koh Lanta, and continue reading:
Where to Stay in Koh Lanta first time?
The best areas to stay in Koh Lanta are Saladan, Khlong Dao, Phra Ae Long, Klong Klong, Klong Nin, Kantiang Bay & Bamboo Bay, and Old Town. These are popular and safe areas for tourists that offer a wide variety of attractions and amenities.
Saladan is the island's main town and transportation hub, offering a wide selections of hotels, restaurants, bars, and shops. It is a great area to stay if you want want easy access to restaurants, shops, and the ferry pier.
Khlong Dao is one of the most popular and developed beaches on Koh Lanta. It is suitable for families, couples, and travelers who want a lively beach atmosphere.
Phra Ae Long Beach is great for travelers looking for a quieter and more serene atmosphere. Klong Khong Beach offers great nightlife, and Klong Nin Beach is best place for couples.
Old Town is a charming and historic area with traditional wooden houses and a unique cultural atmosphere. It is located on the eastern side of Koh Lanta and is best suited for travelers interested in cultural exploration and a peaceful ambiance.
I recommend that you stay in Koh Lanta for at least three days to truly experience life in the area. It's also best to visit from April to December, which is the best time to visit because it isn't as rainy, with optimum beach weather.
Where did I stay in Koh Lanta?
When I first visited Koh Lanta, I stayed for 3 nights in Saladan at the 3-star Lanta Pura Beach Resort. It was a great beachfront accommodation on Saladan Beach with beautiful views of the ocean. It has a good location, close to the ferry port and a market.
Map of areas and neighborhoods in Koh Lanta: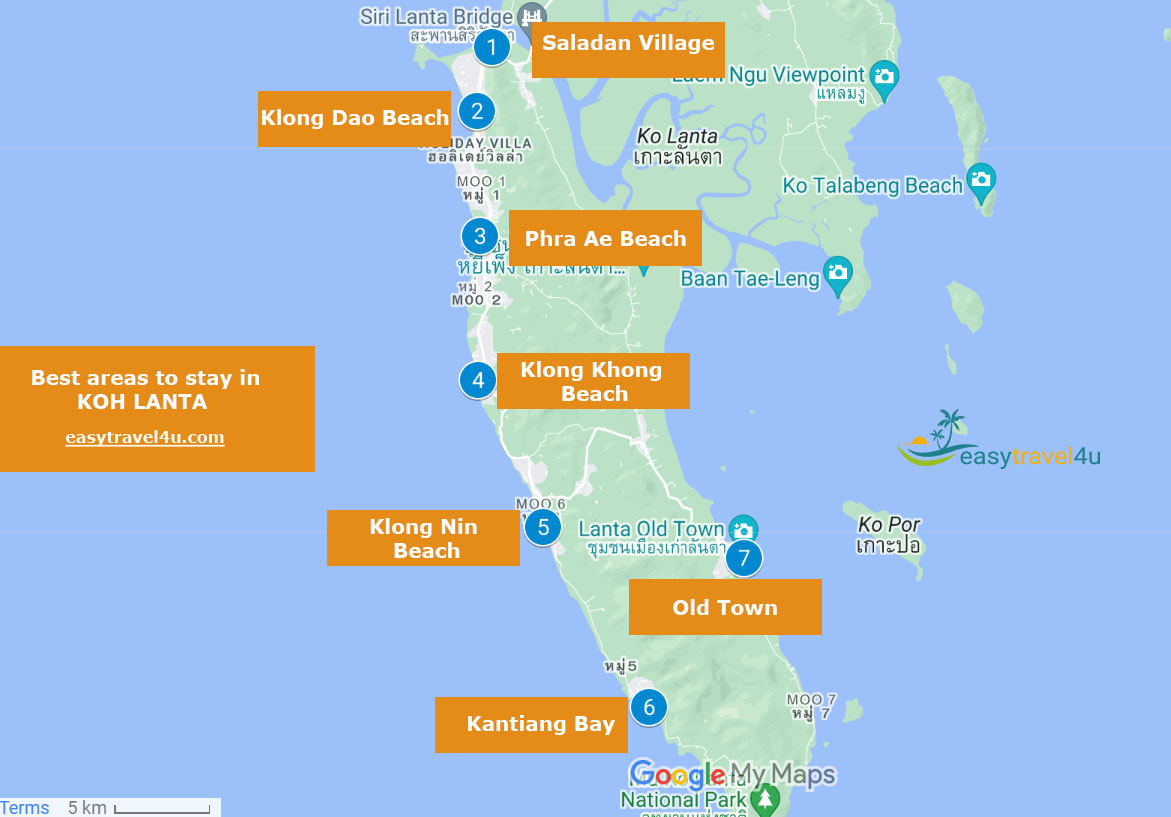 The 7 Best areas to stay in Koh Lanta are:
1. Saladan Village
Saladan Village is the first arrive on the island, both by ferries, speedboat, or minivan from Koh Phi Phi, Phuket, Krabi and Koh Lipe. Located on the northern tip of Koh Lanta, Saladan is a short car drive/tuk tuk ride from numerous beaches such as Kaw Kwang, Klong Dao, and Long Beach.
This the main entry and exit point from Koh Lanta is best known for its amazing wooden houses over the waters, as well as a wide range of amenities such as restaurants, resorts, bars, shops, banks, travel agencies, pharmacies, massage and spas.
You can find many dive centres office in Saladan where you can buy equipment and book diving and snorkeling trips.
Saladan is home to numerous island's best seafood restaurants. There are lots of fresh seafood at good prices along the waterfront. You can aslo find a couple of western bakeries in the village.
This villages has the most shopping on Koh Lanta, with several minimarts. It has an interesting night market on Wednesday evenings for paintings, clothes and Thai handicrafts.
Advantages: Convenient location, Proximity to the ferry pier, Diverse accommodation options, a lively and bustling ambiance;
Disadvantages: Crowded during high season, Limited beach access, some traffic congestion and noise;
Best places to Stay In Koh Lanta in Saladan Village:
Luxury ($$$): Avani Plus Koh Lanta Krabi Resort, 5-star hotel on an elevated peninsula in Ko Lanta, offering views of Andaman Sea. There are restaurants and a bar, free mountain bikes, kayaks, snorkelling gear, and a gym. There are transfers from the Airport in Krabi and shuttle transfers to Saladan centre.
Mid-Range ($$): Twin Lotus Resort and Spa – SHA Plus, 4-star hotel located a 3-minute walk from Klong Dao Beach, 10-minute drive from Sala Dan Pier, and a 1.5 hr drive from Krabi Airport. ar Sight Restaurant serves a wide array of Thai and western dishes.
Budget ($): Coco Cape Lanta Resort – SHA Extra Plus, 3-star hotel is located 700 m from Kaw Kwang Beach. Car hire is available at this resort and the area is popular for snorkeling.
2. Khlong Dao Beach
Khlong Dao Beach is located within walking distance to Saladan. If you're traveling with the entire family, I highly recommend you to stay in Khlong Dao Beach in northern Koh Lanta for its family-friendly accommodation and facilities.
Klong Dao Beach has clean, calm, shallow water, safe for swimming, no rocks on the sea floor near the shore. Kids will have fun making sandcastles, parents can lounge by the beach or spend quality time in spas, and seniors can enjoy delicious food by the pool.
Advantages: Convenient location, Beautiful beach, Wide range of accommodations and dining options; a vibrant nightlife scene;
Disadvantages: can get crowded during the peak tourist season, especially from November to April.; lacks extensive shopping options; can be noisy at night;
Best places to Stay on Khlong Dao Beach Koh Lanta:
Luxury ($$$): Lanta Sand Resort & Spa This 4-star hotel offers beachfront accommodation with direct access to the beach. The hotel features free Wi-Fi and 3 outdoor swimming pools.
Mid-Range ($$): D.R. Lanta Bay Resort This 3-star hotel is located along exclusive Klong Dao Beach in Ko Lanta. Just 1.5 km from Saladan District, the resort offers and 2 outdoor pools.
Budget ($): Khlongdao Sunset Villa This holiday home has a restaurant, an ATM, bar, garden, children's playground and sun terrace. Close to Klong Dao Beach, Saladan School and Police Station.
3. Phra Ae, Long Beach
Koh Lanta is a huge and beautiful island, a fun area to be with no matter what kind of tourist you are. Many people will love the romantic surroundings for a walk around the beach, while digital nomads will adore the surroundings as they work. Backpackers and tourists will also have fun with the nightlife and scrumptious food waiting for them!
In fact, you can even find areas to stay in when you're on a budget, with Phra Ae Long Beach being the ultimate choice.
Located just south of Klong Dao, Phra Ae Beach is also known as Long Beach. It is a 4 kilometres long white sandt beach with tropical trees, including coconut and pine. The water here is deeper than in Klong Dao.
Long Beach has a good choice of beach front restaurants that serve both Thai food, international food, fresh seafood BBQ. There is also good nightlife with several bars, cocktail bars, and a Karoke bar.
Advantages: stunning, long sandy beach; Variety of Accommodation; good selection of restaurants and bars; various amenities;
Disadvantages: can get quite crowded during the peak tourist season; Limited Nightlife; located towards the southern end of the island, it might take some time to reach other attractions or beaches in the northern part of Koh Lanta.
Overall, Phra Ae Beach offers a beautiful beachfront location with a variety of accommodations and amenities, making it a popular choice for first-time visitors to Koh Lanta.
Best places to Stay on Phra Ae Long Beach Koh Lanta:
Luxury ($$$): Layana Resort & Spa – SHA Extra Plus This 5-star hotel is surrounded by tropical greenery, within Mu Koh Lanta National Park. The hotel has a fitness centre, a well-stocked library, and award-winning Linger Longer Spa offers massage services and facial treatments.
Mid-range ($$): Lanta Casa Blanca – SHA Extra Plus This 4-star hotel offers a private beach area, room service and free WiFi. The property offers bike hire and features a garden and sun terrace. Close to Relax Bay Beach, Long Beach and Secret Beach.
Budget ($): Lanta Casuarina Beach Resort – SHA Plus Offering direct beach access to Phra-Ae Beach, this 3-star hotel has free WiFi, free on-site parking and an outdoor swimming pool.
4. Klong Khong Beach
Are you single and ready to mingle? Then you'll want to experience the party and nightlife in Koh Lanta! While the island is peaceful and quiet, you'll be able to go barhopping when the night comes. Of course, you can only do this when you're in the right place, and Klong Klong Beach in Middle Koh Lanta is the ultimate destination for partygoers!
Have fun as you meet new people in their line of bars and clubs, and even get something good to munch on after in their many popular restaurants and world-class accommodation.
Klong Khong Beach is a 3 kilometre beautiful soft sand beach with palm trees in the middle of Koh Lanta. The beach has a collection of cafes and bars and hotels, and affordable private villas.
Advantages: Budget-friendly accommodations; Good beach access; local character and authenticity;
Disadvantages: Fewer amenities; Lack of public transportation;
Overall, Klong Khong Beach is a good choice for first-timers who prefer a quieter and more budget-friendly stay, and who are looking to immerse themselves in the local atmosphere.
Best places to Stay in Koh Lanta in Klong Khong Beach:
Luxury ($$$): Alanta Villa offers all the services you need to have a mini-party in your room, from huge villas to local restaurants within 10 minutes of the property.
Mid-Range ($$): Arthaya Villas features everything one needs for fun and relaxation, being less than a kilometer from Long Beach where all the fun is at!
Budget ($): DOX Ko Lanta is affordable but comes with the private rooms you need, as well as its own bar that holds fun events and parties.
5. Klong Nin Beach
Planning to pop the question or want to spend your honeymoon in Koh Lanta? Head to Klong Nin Beach located in the Middle Koh Lanta area. This area offers some of the best luxurious accommodation options suitable for couple getaways!
Here, you can find couples spending their celebrations as well, with hotels offering candlelit dinners, the romantic sunset view, and other fun activities to help you and your partner relax or have the time of your life in adventures.
Advantages: Beautiful beach; wide range of accommodation options; good selection of restaurants, bars, and beachfront cafes;
Disadvantages: Crowded during high season; Limited shopping; Limited nightlife;
Best places to Stay on Klong Nin Beach:
Luxury ($$$): Lanta Intanin Resort is the absolute best for honeymoons, as they have the friendliest staff ready to accommodate any surprise you plan to make! SriLanta Resort and Spa is perfect for the romantic views you can share with a drink and massage.
Mid-Range ($$): Lanta Infinity Resort is just 150 meters away from the Klong Nin Beach, also having its own pool and garden to walk around in with loved ones. If you want adventure, The Valley Kon Lanta offers tours and will surround you with lush greenery, beaches, and a spacious room.
Budget ($): You can still spend a romantic getaway on a budget in Lanta Mattia Bungalows and Resort, which is just 2-minutes away from Klong Nin Beach, or in Samati Best House, a guesthouse offering privacy with family and couple rooms.
6. Kantiang Bay & Bamboo Bay
Another huge plus is that this underrated island in Thailand isn't as jam-packed compared to other beaches worldwide, so you'll feel like you have the whole place to yourself. All without the hefty prices on food and accommodation!
So if your main focus is to have a calm and relaxing vacation, then you'll love both the Kantiang Bay and Bamboo Bay located in Southern Koh Lanta.
Advantages: a quiet and relaxed atmosphere; picturesque beach; outdoor activities like snorkeling, diving, and hiking.
Disadvantages: relatively secluded and may require transportation to reach other parts of Koh Lanta; Limited dining and entertainment options;
Both Kantiang Bay and Bamboo Bay offer beautiful natural surroundings and a sense of tranquility. Your choice depends on your preferences for activities, amenities, and level of seclusion.
Best places to Stay on Kantiang Bay & Bamboo Bay:
Luxury ($$$): Pimalay Resort and Spa will give you the ultimate relaxation, not just with its beachfront but with the massages and spa facilities they offer. But if you want your own jacuzzi and absolute privacy, Baan Puteri Lanta Villa is for you.
Mid-Range ($$): Alama Sea Village Resort is settled around a quiet beach without the noise from bars and clubs, 200 meters away from Ba Kan Tieng Bay. If the view calms you, then you're going to love the Kantiang View Resort, which features an infinity pool with a spectacular view of the sky and beach.
Budget ($): Aha Lanta Cozy Hostel with their serene ambiance even when sharing in dorms. Kantiang Oasis Resort and Spa offers spa packages and the convenience of being near Kantiang Beach.
7. Old Town
Are you well-traveled and searching for the hippest place to stay for unique experiences the typical tourist doesn't know about? Head a bit out of the beaches and to Old Town in East Coast Koh Lanta! You can still visit amazing beaches, but you get to learn more about the culture here, along with other interesting experiences.
In Old Town, you can go sightseeing in caves, beach bumming, or explore the Lanta Old Town and meet the locals and National Park for more of a green change.
The Old Town has a Chinese influence and a laid back vibe. There are the wooden shop houses on the main street. If you dont mind to stay near the beaches on the west coast of Koh Lanta Yai, the Old Town is a good base.
The first place to see when enter Old Town is a small roundabout with a large Buddhist shrine in the middle. Nearby, you can find Koh Lanta Community Museum, Old Town Pier, and a Chinese temple.
Advantages: Tranquil atmosphere; Cultural experience; Scenic views; Unique shopping.
Disadvantages: Limited beach access; Fewer entertainment options; If you plan to explore other attractions on the island, it might take longer to reach them from Old Town due to its location on the eastern side.
Ultimately, if you prefer a peaceful and cultural experience, Old Town can be a great choice. However, if you prioritize easy beach access and a livelier atmosphere, you may want to consider other areas on the western side of Koh Lanta.
Best places to Stay on Koh Lanta Old Town:
Luxury ($$$): The Mango House is the best for those who want the mix of natural and modern design, which offers water sports facilities and rooms with a patio and kitchenette.
Mid-Range ($$): I Talay Lanta is perfect for those who want the luxurious hotel vibe without the higher price. It's also near many different attractions and has you receive the privacy you need after a long day. Deep House Sea View also gives you the privacy and aesthetic perfect for taking photos in. Lounge by their terrace and garden, or rent a bike to roam around the area!
Where should I stay in Koh Lanta for the first time?
Saladan Village is the best area to stay in Koh Lanta for first-timers because it is the main town and the first point when visitors arrive on the island. It is home to some of the island's best restaurants, bars, and shops.
What are the best areas to stay in Koh Lanta?
Saladan Village, Khlong Dao, Long Beach, Klong Klong Beach, Klong Nin Beach, Kantiang Bay & Bamboo Bay, and Old Town are the best areas to stay in Koh Lanta because they are the most popular and safe neighborhoods for tourists that offer a wide range of attractions and amenities.
Read Also:
In conclusion, Saladan Village, Khlong Dao, Phra Ae Long, Klong Klong, Klong Nin, and Old Town are the best places to stay in Koh Lanta for tourists. Whether you're looking for a vibrant beach scene, a relaxing escape, or something in between, Koh Lanta has something to offer for everyone.
I'm in love with the relaxed atmosphere and quiet beaches within Koh Lanta in Thailand, especially when you choose the perfect place to stay in. No matter who you're with or what kind of tourist you are, the beautiful island has something for everyone, and with the unique and amazing facilities, each place has, you won't go wrong with whatever you choose.
I hope that my list of where to stay in Koh Lanta helped you find a beautiful hotel or village to relax in. So start looking into these areas and plan out your next vacation now!