Top 25 Best Puerto Vallarta Luxury Hotels
The decision on the best hotels in Puerto Vallarta for you depends on your personal circumstances. You may be on a budget or looking for a romantic break. Likewise if you are looking for something for all the family, the places you seek must be close to activities and be kid friendly.
Puerto Vallarta's location on the Pacific Coast of Mexico offers a warm climate all year round. It is in Banderas Bay with warm waters and lovely beaches. That is always a good start for any holiday.
Tips for choosing Best Hotels in Puerto Vallarta
Puerto Vallarta has good flight connections with North America right around the year with increased numbers of planes flying in outside the low season. In addition, there are links with Europe, primarily the UK. It means that with its large range of accommodation, it is suitable for all.
All inclusive hotels suitable for families are popular, especially those on the beach. If you are looking for a kid-friendly hotel, you do not automatically need to go all inclusive.
The Romantic Zone, Downtown and Old Town, has plenty of choice. It is probably the best place for singles to start their search. When looking for a party hotel, you search might start here.
Playa de los Muertos is a beach close to the heart of the city. There is plenty of daytime activity there and it is close by where you are likely to find a gay hotel.
In the south you will find five star hotels, some suitable for weddings. A luxury hotel will be found here, although not exclusively so. The nicest hotel in the end depends upon your personal wishes and interests.
The 25 Best Luxury Hotels in Puerto Vallarta
Based on my research, and overall customer reviews, here are my top 25 choices on the best Puerto Vallarta Hotels.
This boutique hotel located on the beach in Downtown is a great base for a relaxing holiday. A luxury hotel, it is for adults only so it is ideal for couples, even for weddings. It has won praise from many travel critics, all recognizing the quality of service it provides.
There are three a la carte restaurants in the hotel. Some guests opt for the gourmet all inclusive package which includes meals, 24 hour room dining, a mini bar and premium drinks.
There is a discount from the nearby golf course for guests, excellent spa and health facilities. Day passes are available for tourists not staying in the hotel.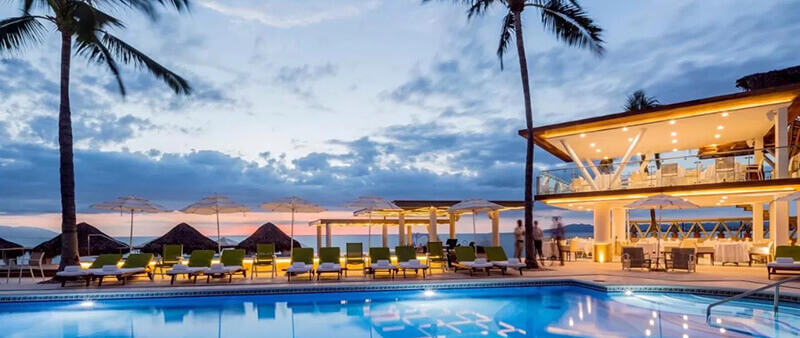 If you are interested in celebrities, this lovely luxury hotel has an intriguing story. The main villa was bought by the film star Richard Burton for his then wife Susan as a Valentine present over 40 years ago. Other surrounding properties were acquired years later resulting in the Hacienda opening in its present form.
Its location above Puerto Vallarta's cobbled streets and Our Lady of Guadalupe Church is stunning. The views out over the Bay add to its appeal. Its furnishings are elegant throughout. There are 12 romantic suites in total set within lovely gardens with exotic foliage and beautiful fountains..
Guests have a choice of three pools and a rooftop restaurant.
This luxury boutique hotel with just 10 rooms is located in the Romantic Zone of Puerto Vallarta. Palms and mangoes are there in the grounds with orchids adding real color. Each room is spacious with glass and marble adding to their attractiveness.
Ground floor rooms have a private seating area facing the pool with balconies in other rooms. The owners are conscious of the environment and avoid the use of chemicals, with solar power producing energy.
It is a place for couples and for singles as well, all of whom can enjoy breakfast on shared tables under the mango tree.
Part of the OYO Chain, this hotel in the heart of Puerto Vallarta has balconies in private rooms. Each has a kitchenette and there is a larger shared kitchen. Rooms are spacious, each with a desk, large seating area, TV and bathroom with shower and toiletries.
It ticks all the boxes in terms of its proximity to the beach and the main landmarks of Puerto Vallarta. You can expect good personal service with help and advice about anything around the City, including tours.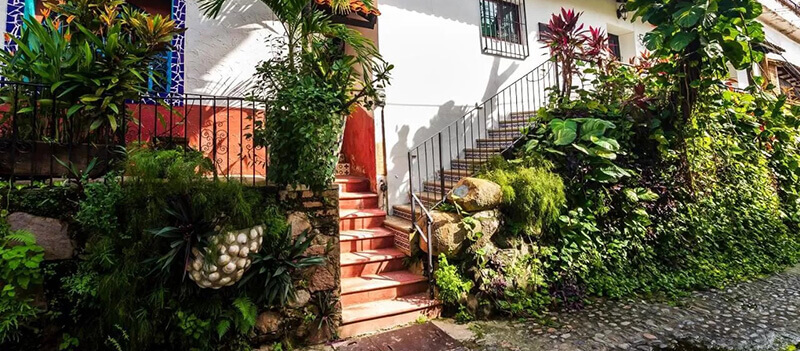 This beautiful hotel on the Rio Cuale has real style and character. The breeze off the river is pleasant on a hot day as you relax in unique surroundings, a jungle paradise. This central hotel has its own bar and restaurant for breakfast, with private parking available for guests.
Each air-conditioned room has a TV, a private bathroom with bathrobes and free toiletries. There is a shared kitchen for those wanting to cater for themselves.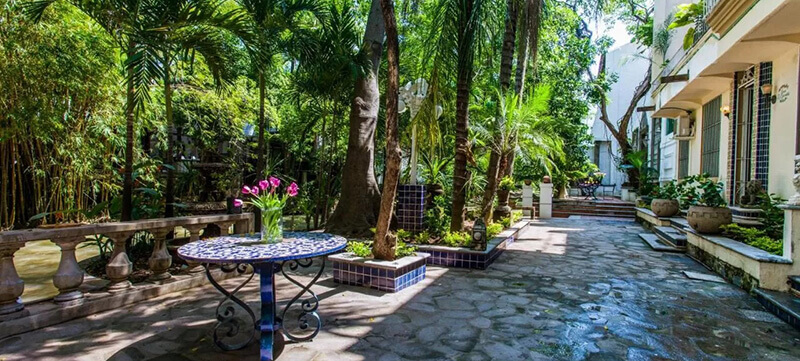 Another boutique hotel in the Romantic Zone, Rivera del Rio provides an ideal setting if you are looking for somewhere for a wedding or honeymoon. It is also a gay hotel option. On the banks of the Rio Cuale River, enjoy its elegance and lovely design features.
Its reputation has been enhanced by celebrity patronage and its use in Hollywood movies. Soak in the pool or spa and you will find true relaxation.
Each unit is air-conditioned with marble fireplaces while the purified water system reinforces the Hotel's commitment to providing luxury service.
If you want a hotel for adults located right on the beach then Secrets Vallarta Bay is definitely worth consideration. You can expect 24 hour room service, mini bars and plenty of entertainment. It is a great venue for a relaxing holiday with spa amenities available for all guests.
.Secrets is in the North Zone where the tourist infrastructure is well-developed; shopping, restaurants and entertainment. It has three bars and the cuisine on offers includes everything from Mexico to France, and plenty of Asian favorites. With the airport just a mile away, it is a great choice for travelers.
This five star all inclusive hotel is for adults only, all of whom can enjoy the lovely views over Banderas Bay. The terrace for breakfast is popular while with five a la carte restaurants, there is plenty of choice by night.
Each room has a balcony and features that have been upgraded in recent years. If you want to relax, try the heated infinity pool which also includes a jacuzzi. Make sure you have your camera at hand when the sun sets because you will get an unforgettable photograph.
If you are here during the winter, you may even catch sight of humpback whales out at sea.
Another luxury hotel in the North looks out to sea. The setting is relaxing with tropical gardens that guests can enjoy from early in the morning until after sunset. Every room has 24/7 personalized service with in room spa treatments available as well.
Three heated pools including an infinity pool only for adults, are surrounded by beds and loungers. It also qualifies as a hotel for families who can enjoy a pool with a bar with children having a kids' option. The Kids Club ensures this is a kid-friendly hotel.
There is plenty to do at night, bars, and several dining alternatives with themed evenings.

Nuevo Puerto Vallarta where you will find this hotel is a developing district as the City continues to grow. This resort and spa offers views of both Banderas Bay and the Sierra Madres Mountains.
Fine dining and excellent spa treatments are a feature of Grand Velas Riviera Nayarit. International cuisine from Europe and Asia is on hand to satisfy even the most discerning of guests. Its slogan ''Beyond all inclusive, Beyond all compare'' symbolizes the confidence that the resort can provide you with a memorable holiday.
You can relax on the beach or swim either in the sea or the infinity pool by day before you sit down to have your taste buds challenged. The wine list is impressive with beers and spirits ''on the menu'' as well.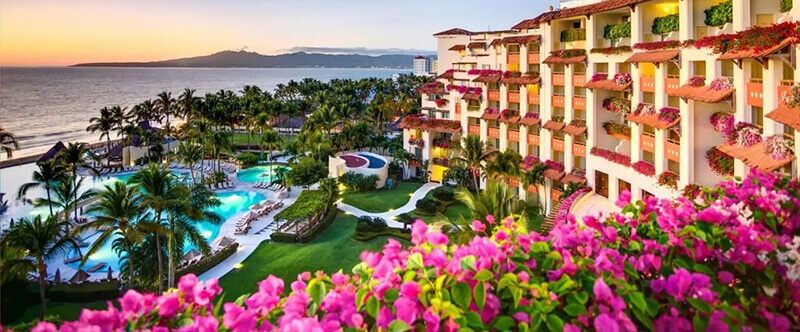 This kid-friendly hotel makes it a priority to ensure that children are entertained. There are private pools in the villas and penthouses. Ground floor demi-pools are found in the Residences with adult jacuzzis featured as well.
The gourmet quality restaurants are part of all inclusive packages available for guests. Local fresh seafood is a real treat and available every day. International cuisine is a very popular alternative so you will never tire of eating at Marival Distinct Luxury Residences.
There are five bars and restaurants in all to choose from in the luxury Residences in Nuevo Vallarta.
This five star all inclusive luxury hotel in Nuevo Vallarta is an ideal family hotel. Features include a multi-level pool, a great spa and several restaurants. Amenities include a fitness center, kids' club, tennis courts and private balconies in each of the suites.
The Resort's architecture blends beautifully with the natural environment. It has a range of activities to keep everyone, young and old, occupied by day. You may just want to relax and take in the lovely views across Banderas Bay.
If you want a venue for weddings, put this Resort on your shortlist.
If you want a luxury hotel, there is plenty of choice south of the heart of Puerto Vallarta. This hotel in Conchas Chinas is for adults only and comprises 18 suites, each with stunning views over Banderas Bay and the Pacific Ocean. Constructed in typical Mexican style, it is surrounded by jungle.
Your photo album will be filled by lovely shots as you relax at Patio Azul and enjoy its facilities. They include a lovely restaurant offering gourmet food, a great way to finish your day.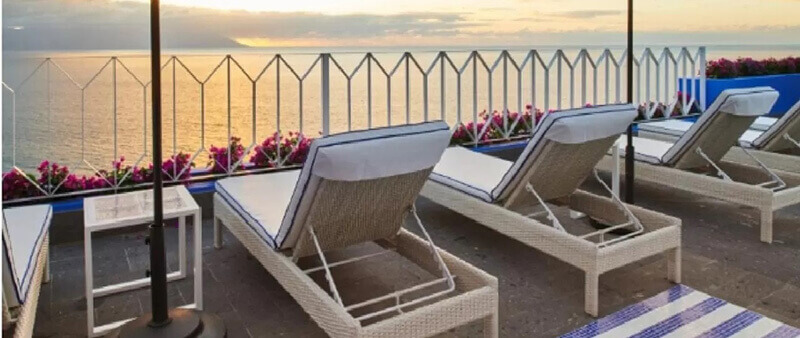 Another option in Conchas Chinas, Grand Miramar is located at the high point in the district. As a result, it offers fantastic views of the Bay and Ocean. You are still very close to the beach and while on site, can enjoy the gym and spa amenities.
Each suite is spacious and with fine dining, this is a lovely alternative for a couple wanting to enjoy their honeymoon in a relaxing environment. There are 80 suites and 20 residences with this luxury hotel that reviews regularly describe as the nicest hotel that the reviewer has stayed in.

Casa Culupa is a gay hotel in the Romantic Zone close to the heart of Puerto Vallarta. The hilltop setting provides great panoramic views. It is a retreat despite being so close to the busiest part of the City.
Breakfast and lunch in the open air by the pool is a daily treat. Happy hour, 2 for 1, runs for 2 hours in late afternoon. You can choose from a wide range of massage treatments, enjoying dining at the poolside before or after treatment.
Still in the south on Garza Blanca Beach, this five star luxury hotel for adults has beautifully furnished suites. They feature walk-in showers, air-con, TVs and ceiling fans. LED lighting and the highest quality materials make Mousai sheer luxury.
Some rooms have hot tubs on private terraces from where you can just absorb your surroundings. If you enjoy hiking, that is on the doorstep while the infinity pool on the rooftop is another one of the places you get a panoramic view out to sea. There is regular entertainment, music and a DJ on the rooftop as well.
There are 4 a la carte restaurants in total while other amenities on site include spa facilities and a tennis court.

Hyatt Ziva is just a two minute walk from Conchas Chinas Beach south of the center of the city. In the hotel itself, there is a choice of 4 a la carte restaurants so you have an excellent choice of international cuisine. Each room is air-conditioned with a private bathroom and shower, TV, DVD, and CD player.
The outdoor pool and a spa and wellness center are excellent amenities at the Hyatt Ziva. You can also enjoy a 24-hour coffee shop, 24 hour room service and a tennis court. The tour desk will help with any questions about the region and arrange tours as required.
Mondavi is an elegant spa hotel that looks across Banderas Bay from the neighborhood of Conchas Chinas, south of the City center. It has its own beach club with free transfers to and from the beach provided by the hotel. Airport transfers are also available.
Enjoy the infinity pool which incorporates a jacuzzi from where you will get panoramic views of the Bay. The spa offers a range of treatments for guests.
Each room is beautifully decorated and well equipped with all you might need. Larger units are available which have a kitchen as well. If you dine on site, you can eat sushi or sample traditional Mexican cuisine and much more.
This luxury hotel for adults only is another that is located south of the City Center. Guests can enjoy the outdoor swimming pool and 24 hour assistance from the front desk. There is a terrace with BBQ facilities.
Each room has its own kitchen as well as satellite TV, shower, microwave and coffee making facilities. Air-conditioning ensures a comfortable stay while you also have a private seating area.
This luxury hotel is purely for adults. It offers all inclusive accommodation with an outdoor pool as well as a fitness center. It does special promotions during the low season so that time of year is worth consideration. It could even be described as a party hotel in July and August.
Each room has satellite TV and a terrace on which to relax. Free toiletries are provided in the private bathroom where you will also find a hair dryer.
The 24 hour front desk helps with all enquiries and it can arrange golfing, scuba diving or snorkeling. There is also a gift shop on site. If you are looking for late night entertainment, head to the Sky Lounge which has its own DJ.
Garza Blanca Preserve in the south looks out over Banderas Bay and Los Arcos as well as providing guests with a private beach to enjoy at their leisure. Diners are invited into its gourmet restaurant while the 24 hour concierge will assist with any questions or needs.
Guest rooms include 1 and 2 bedroom as well as Junior suites. All include TV, with the former two having kitchens and washing machines. The all inclusive package that the Resort offers includes kids staying for free.
The outdoor infinity pool is popular as is the hot tub. Fine dining in the Blanca Blue Restaurant with a great wine list has the added treat of the views out over the Bay. As an alternative, you can sample Aquazul, the Beach Restaurant.
This accommodation in the Marina district of Puerto Vallarta is just minutes from the international airport. This is an exclusive part of the Resort and guests will experience that during their stay. The views of the nearby mountains are rather special.
Each apartment has cable TV, room service and 2 bathrooms. Enjoy the terrace and a drink at the bar while you relax. The outdoor pool is open all year round with this establishment happy to accept guests 12 months a year.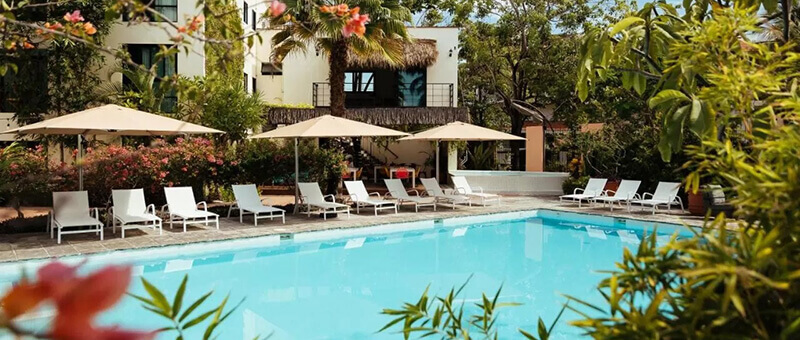 Marina is an area with rental accommodation mixed with residential property. Casa La Columna is located in an exclusive neighborhood with plenty of bars, restaurants and shopping. There are day passes available for guests to go to larger hotels with extensive facilities while offering personal service for guests.
Although parts of the beach are private there is access to the public beach close to Casa La Columna. There is an outdoor swimming pool in lovely gardens with bed and breakfast accommodation making Casa La Columna a great base.
This luxury resort in the Marriott Group has a private beach. The infinity pool overlooks Banderas Bay while the Spa has an indoor pool, steam bath and hot tub. A gym and tennis courts are there for the active but you can just relax if you wish.
Each room is brightly decorated with air-conditioning, private bathrooms and seating area. Satellite TV and an iPod dock are other features.
Amenities include 4 different restaurants serving international and local cuisine. The bar has tapas and cocktails as you enjoy views of the Pacific. The Marina Vallarta Golf Club is nearby if you fancy a game.

This Resort looks directly onto the beach in the Marina district. This is a kids-friendly hotel offering all inclusive packages allowing families to budget for their holidays. Kids' activities are supervised while nighttime entertainment suits every age group.
Guests are welcome to play tennis or can head to the nearby golf course. The health and spa facilities are excellent and the concierge will help with any advice or questions. Accommodation includes kitchenettes or full kitchens.
Best Hotels in Downtown Puerto Vallarta
Downtown which is part of the Romantic Zone is a colorful district known for its cobbled streets and beautiful flowers. There remains a charm about Downtown despite its being fairly busy. As the oldest part of Puerto Vallarta, it contains the majority of architectural landmarks.
It is a protected district now largely because of those landmarks. The statues along the boulevard Malecon may not be old but they are worth some time of yours. Our Lady of Guadalupe is the church which is regularly featured as the symbol of Downtown. Its bells ring out each day, a well-known sound in Puerto Vallarta.
The choice of bars and restaurants here is all anyone might want. There is traditional Mexican food, street food and fine dining. In High Season, you may need to book a table in the most popular restaurants.
El Zocalo (Main Square) will be busy. People watching is fun and like many major squares around the world, pigeons have found their home here. Feed them before you stroll down the boardwalk.
Some of the hotels in Downtown to consider:
Best Hotels in North Hotel Zone
The North Zone stretches down the coastline to the heart of Puerto Vallarta. The best known beach is Playa de Oro (Golden Beach) which has ''blue flag'' status, recognition of its quality and cleanliness. There are plenty of tours available here while the beach is wide enough to cater for sports such as volleyball.
There has been plenty of recent development here, anticipating that its popularity will continue. Good shopping, restaurants including some from the large US chains, as well as theaters and cinemas are a feature.
Real estate opportunities exist, though that is not really an issue for tourists. Residential properties surround the hotel accommodation in the north which includes:
Best Hotels in South Puerto Vallarta
If you head for the south of Puerto Vallarta, you will find a series of small neighborhoods. The jungle is on your doorstep which males the south a great base for those who enjoy walking trails in the natural environment. Sandy beaches are a feature as well so the South attracts sun and sand lovers.
This is an affluent part of Puerto Vallarta so if you are looking for a luxury hotel, you will certainly find one here. Quality hotels are a feature of the South as well. If you are looking for places for weddings, and honeymoons, you may well decide on one of the five star hotels in this district.
Conchas Chinas is known locally as the Beverley Hills of Puerto Vallarta. If you want a quiet environment in which to relax, here may be the place. It is an ideal base for adults.This list will provide you with some names to research:
Best Hotels in Marina Vallarta
The Marina in Puerto Vallarta is another exclusive part of the City. You will see some really expensive yachts in the Marina and here is where you can get a boat to take you out into the Pacific.
North of Puerto Vallarta and close to the international airport, the Marina is a lovely place at sunset. Walk the promenade to El Faro Lighthouse and you can get a lovely photograph for your album. The bars and restaurants will then keep you occupied for the rest of the evening.
Street performers add to the atmosphere while there is plenty of shopping here as well. Some of the beachfront hotels have their own private beaches directly in front. If that appeals to you, try looking in this list of Marina hotels:
Best Hotels in Nuevo Vallarta
Nuevo Vallarta is exactly that; ''new.'' The natural environment is certainly an attraction when deciding to make your base in Nuevo Vallarta. You will find condos to rent as well as the option of booking a quality hotel.
Golfers are attracted to this district because there are two quality golf courses nearby. If you want a choice of water sports including jet skiing, this is the area for you. The beach area has plenty of activity by day, although you will find a space to relax as well.
Conclusion
If you decide on a beach holiday, you will not be disappointed when deciding on Puerto Vallarta. The climate is excellent and there are only around three months a year when rain will fall. Even then, there will be plenty of sunny days.
All inclusive hotels, some suitable for families and others for adults only can be found in several parts of the City. A kid-friendly hotel offering just bed and breakfast is easy to find as well. If you want a five star luxury hotel, you will have read about examples earlier in this article.
There are plenty of hotels located on the beach with several offering packages for weddings and suitable for subsequent honeymoons. If you want a party hotel, with plenty of action around you, the Romantic Zone is worth considering. That is arguably the best area for singles.
If you are looking for a gay hotel you should start your search near Malecon in the heart of Puerto Vallarta. Whatever your personal requirements, you can expect to find the nicest hotel alternatives in Puerto Vallarta.
---
---