Today, we're going to be looking at the best beachfront hotels in Tulum. Located in the Riviera Maya region of Mexico, Tulum is a town that perfectly combines history and culture with stunning beaches and beautiful resorts.
This makes finding the right hotel crucial, in order for you to get maximum value from your stay. So, if you're planning a trip but haven't settled on a particular hotel yet, I highly recommend reading on.
Best Beachfront Hotel In Tulum: Tips & Info
Before we begin, there are a few tips I want to give you. These are things to keep in mind when reading, that if you do so, should make coming to a decision on your perfect accommodation considerably quicker and easier.
For example, while all of the hotels are beachfront, if you are particularly looking for a private beach during your stay, then the Dune Boutique Hotel would be a good option to consider. While those who enjoy a little diversity to their environment may prefer the La Valise Tulum, as it is sandwiched between a beach on one side and a jungle on the other.
Or what about if food is a main priority during your stay? If you like a range of cuisines, as well as places to eat, then The Beach Tulum may be your best bet, as it has a choice of three different places to dine. Meanwhile, those who simply seek out the highest quality of food while they're away might prefer the Mezzanine A Colibri Boutique Hotel, as they have an award-winning chef on site.
You could even add the Alea Tulum by Blue Sky into the mix on the food front for anyone particularly fond of a hot breakfast, as they serve full English and Irish breakfasts each and every morning.
In a similar vein, those who are more interested in drinking than eating during their stay also have a few unique options. The Encantada Tulum features one of the best beach bars in the area, allowing visitors to sit in comfort on the golden sands while they sip their drinks. Meanwhile, the La Zebra A Colibri Boutique Hotel features a pool bar you can actually swim right up to, without ever leaving the water. Perfect for those who don't want to waste a second of their trip.
For the more active and adventurous among you, I would suggest taking a closer look at either the Hotel Ma'xanab Tulum or the Kai Tulum, as both feature beautiful gardens for you to roam and explore. While the formers garden is undoubtedly a little grander, the latter makes up for that with its location, as it is situated less than a mile from the region's legendary Mayan ruins, which is closer than any other hotel on this list.
On the opposite side of the spectrum, those who want a relaxing, secluded vacation, especially couples seeking a romantic getaway, may be best suited staying at the Mi Amor A Colibri Boutique Hotel. Featuring live DJ sets, private plunge pools, an adults only policy and a secluded location, it offers perfect conditions to let loose and get away from real life for a while.
If you take factors like these, and other major requirements you may have, into consideration while reading, you will make your job of finding the perfect location much less of an issue than it otherwise could be.
The 10 Best Beachfront Hotels In Tulum
Now that you know what to keep an eye out for, I am going to show you what I believe to be the 10 best beachfront hotels in Tulum. I have complied the list based on a combination of location, review score and star rating.
Hopefully, by laying out what each one offers, I will be able to help you determine which hotel is best suited to your own personal needs.
We begin with Encantada Tulum, which is located in south Tulum, in the Zona Hotelera. A beautiful, 4-star hotel, with an "exceptional" rating, it may be the most well-rounded hotel in the area.
The traditional stylings of the hotel and its rooms are perfectly balanced with fresh, modern interiors and furnishings. This gives you all the comfort you could desire, while still being able to immerse yourself in the culture of your surroundings.
Located directly on the beach, you can step straight out of your room onto golden sands, bordered by stunning, turquoise waters. A beach bar with on sand seating, protected by traditional straw umbrellas, allows guests to relax with a drink and take in the stunning views.
It also has a full-service kitchen, meaning you can enjoy a lunch of Mexican or numerous other international cuisines, all without ever having to leave the beach. There is also a second restaurant inside the hotel too, which serves a complimentary, continental breakfast each morning.
If relaxing on the beach isn't enough to help you unwind, the hotel also features a spa and wellness center. Here you can book massages and treatments, to help you wash away every ounce of stress.
All rooms come with Wi-Fi and tea and coffee-making facilities, while free parking is available for all guests. For those who choose not to rent a car, airport shuttles are available to transport guests to and from the hotel, although they do need to be booked in advance.
As for attractions located near the hotel, it is located directly between Tulum National Park and the Sian Ka'an Biosphere Reserve. This is perfect for anyone who wants to break up their laid-back trip and incorporate a little adventure and exploration into their vacation.
Our second destination, La Valise Tulum, is located in the same region as Encantada Tulum, a mere 200 meters further down the beach.
A 5-star hotel, with a "superb" rating, it delves even further into the rustic art style, offering a destination that looks like it has been plucked straight out of a tropical dream.
Views are, perhaps unsurprisingly, almost identical to what you may find at Encantada. However, this time you can enjoy them from the luxurious, king-size sunbeds on the beach. These are perfect whether you want to top up your tan during the day or enjoy a romantic evening under the stars, listening to the waves crash against the shore.
On the opposite side of the hotel, there is also a heated pool, overlooking the dense tropical jungle to the rear. So, no matter what views you prefer or how you like to swim, you will have options available to keep you more than satisfied.
The choice of available rooms is just as diverse as the swimming options as well. Open air terraces, jungle bungalows, sea-front suites, and more are all on offer, providing quality and comfort, no matter your personal taste.
The beautiful on-site restaurant offers all guests an exceptional complimentary breakfast each morning and room service is available throughout your stay. The hotel also features a bar, serving drinks and snacks, while all rooms are equipped with tea and coffee making facilities.
The hotel's spa and wellness center are designed to further aid their guests in having a stress-free vacation during their stay. The airport transport also aims to achieve the same goal at the beginning and end of their visit.
Our next destination of The Beach Tulum is located just over a mile to the north of our previous two, on the eponymous Tulum Beach. A 5-star hotel, with a "superb" rating, it advertises itself to be a hotel where you can experience celebrity treatment and receive world-class service.
The area isn't the only thing that has changed from our first two options here either, as The Beach Tulum is also an "adults only" hotel. While this will certainly put off anyone planning to visit as a family, it also enables those seeking a peaceful, relaxing vacation, to have confidence that they will be able to achieve just that.
The hotel features 2 restaurants and a beach club, where you can enjoy a full breakfast and then purchase drinks and snacks throughout the day. The beach itself is lined with loungers and umbrellas, allowing guests to relax with their drinks while enjoying the views and sounds.
The hotel features a stunning pool, for those who would rather not do their swimming in the sea, while many rooms feature private hot tubs on their own terraces. You even have the option of staying in beach-front cabanas, described as swim up rooms.
A spa is present for guests to book treatments, while a fully kitted out gym is also present, for those who would prefer to work up a sweat during their stay.
All guests also have tea and coffee making facilities in their rooms and have access to complimentary Wi-Fi and a shuttle to take them to and from the airport.
Attractions in the immediate vicinity of the hotel include Tulum National Park, which is just 2.5 miles away, while the area's legendary Mayan ruins are only 4.3 miles away themselves.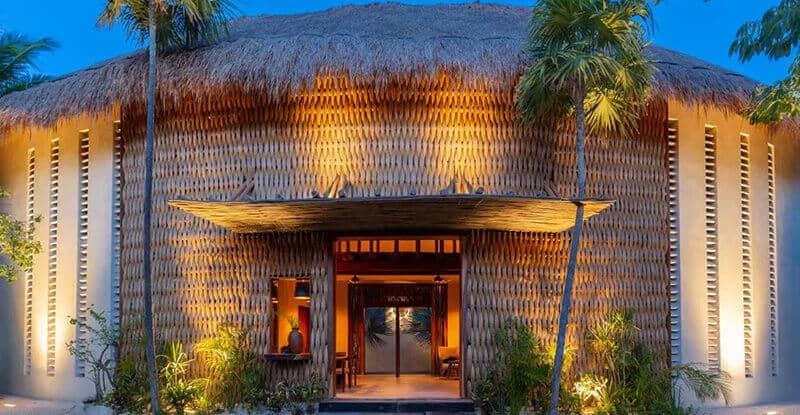 Located just half a mile north of The Beach Tulum, the Hotel Ma'xanab Tulum is situated a mere 50 yards from South Tulum Beach. A 5-star hotel, with a "superb" rating, it is a luxurious hotel, ideal for those looking for a little space during their stay.
All of the hotel's rooms come with a seating area and either a balcony, terrace, or private patio, making it an ideal choice for guests who are visiting as part of a large group. In addition to their spaciousness, the rooms all feature modern furnishings, Wi-Fi, tea and coffee making facilities, and stunning views.
The grounds of the hotel contain beautiful gardens for guests to stroll around, as well as a swimming pool and a well-equipped gym, to ensure you don't struggle to meet your exercise requirements. For those who are more interested in relaxation, the is an on-site spa, where you can book indulgent treatments, such as massages.
On the beach there are plenty of high-quality sun loungers and umbrella's, to ensure your daily sunbathing is as comfortable as possible. There is also a restaurant, serving drinks and meals throughout the day, from sun-up to sunset.
An airport shuttle is available to take guests to and from the hotel if required. That said, there is also an on-site car rental station. This makes getting out and exploring the area by yourself as easy and convenient as possible.
Speaking of the adventures you can have here; the Tulum Archaeological Site is just 6.2 miles from the hotel and you even have Tulum National Park less than 2 miles away.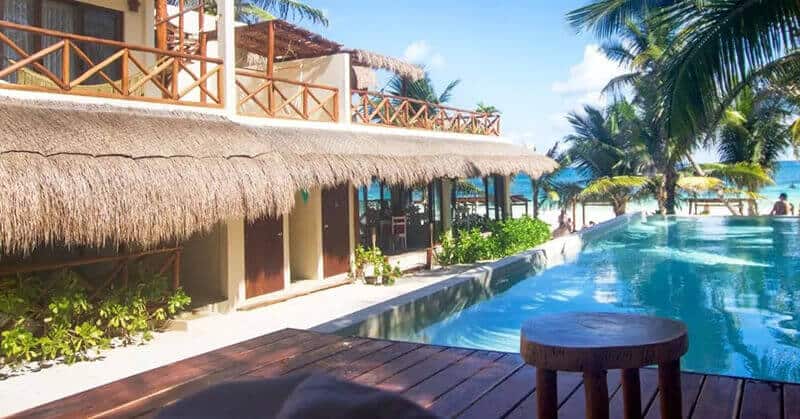 Just a five-minute walk to the south of Ma'xanab, you will find our next destination, the Dune Boutique Hotel. A 4-star hotel, with a "superb" rating, features the type of quality you dream of when planning a tropical getaway.
The traditionally styled hotel is perfectly complemented by elegant, comfortable, modern rooms, expertly combined to allow visitors to remain in the spirit of the trip, while getting to kick back and relax in luxury each night.
The on-site restaurant and beach club offer visitors a choice when it comes to where to dine or have drinks during their stay, each with their own unique selling points. There is also a juice bar, where diners can sample a wide range of tasty, tropical cocktails.
Accompanied by its own private beach, residents here will be able to relax in the sun throughout their stay, knowing they won't have to worry about issues like overcrowding. Whether you want to bask in the glorious sunshine on the golden sand or take trips, snorkelling, diving and windsurfing in the crystal-clear water, you will be able to do so in an environment that suits you.
All guests will have access to in room Wi-Fi and tea and coffee making facilities during their stay. There is also a fabulous swimming pool for them to enjoy, as well as an airport transport service, making the start and end of your trip just as relaxing and carefree as the time spent in between.
For those who want to get out and about, the hotel offers bike rental to all guests, while the free parking allows you to rent a car, if that's the way you prefer to go. With attractions such as Tulum National Park located less than two miles away, it's highly recommended you do indulge in a little sightseeing however you choose to go about it.
A mile south of the Dune, you will find our next destination, the La Zebra A Colibri Boutique Hotel. A 5-star hotel, with a "superb" rating, they bill themselves as one of the best "beach chic" destinations in Tulum.
With a beach bar, ample seating, shading, and sun loungers, guests can enjoy days sipping cool drinks while basking in the glorious sunshine or splashing about in the beautiful, clear water.
Despite being a beach hotel, it is perhaps the magnificent pool that will be one of the main selling points for many. Wrapped around a fabulous bar, you can simply swim or float up and order your next round, without ever having to leave the water.
The rooms are the epitome of modern style, with marble floors and crisp, clean, white interiors, surrounded by the more authentic stylings of the hotel's exterior.
All guests will receive free Wi-Fi and tea and coffee making facilities in their rooms, as well as access to an airport shuttle at the beginning and end of their trip.
Incredibly, considering the sort of hotel we're looking at here, one of the number one selling points to the La Zebra A Colibri is the value on offer. Despite being such a stylish, high-end resort, guests regularly rave about how little it costs, compared to other hotels of a similar calibre.
While that shouldn't by any means lead you to believe this is a "cheap" hotel, it certainly makes it a little more accessible to those on a tighter budget than you may initially have thought.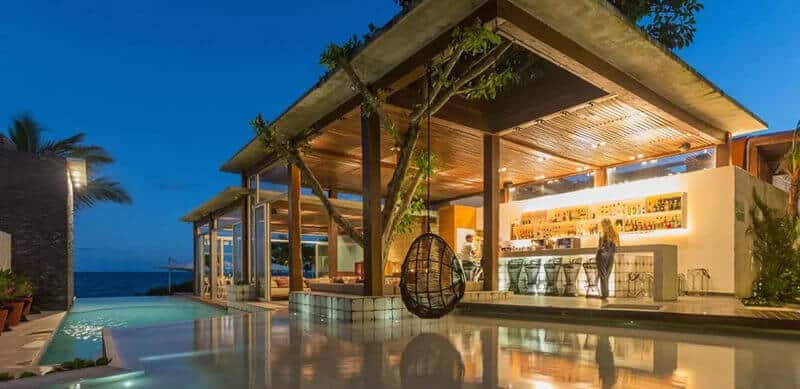 We move a little more than 3 and a half miles north now, to near the heart of the town of Tulum. The Mi Amor A Colibri Boutique Hotel is a 5-star, adults only hotel, with a "superb" rating.
Nestled in a rocky bay on the shoreline, this is the perfect choice for couples looking for a secluded, romantic getaway. Its sleek, design and décor offers visitors a luxurious place to stay, reminiscent of the tropical millionaire's playgrounds you will have seen in films throughout the years.
Rooms come with private plunge pools and mini bars, allowing guests the ability to spend large amounts of their time confined to their rooms if they choose, for a truly personal experience. For those who prefer to get out and socialise, there is a stunning bar, offering fabulous cocktails and live DJ sets, to really let you get into the party spirit.
There is even a beautiful restaurant on site, offering a fabulous range of cuisines, meaning you never have to venture too far away to dine.
All guests will also have access to free Wi-Fi during their stay and an airport shuttle to take them to and from the resort at the beginning and end of their stay. This ensures the upmost level of connectivity and convenience for the duration of your vacation.
Located just a short walk north of our previous destination, the Mezzanine A Colibri Boutique Hotel is another adult's only establishment, offering guests an exclusive and relaxed environment. A 5-star hotel, with a "superb" rating, it is a location that sets itself the highest standards and, based on the reviews, is clearly meeting them.
Its beautiful location and stunning décor are perhaps only bettered by the fabulous dining options available on site. Featuring an award-winning chef, cooking a combination of Thai, Mexican and traditional beach foods, you can ensure you will be well fed throughout your stay, no matter what time it is when you get a little peckish.
For those who want to make the most of a beachfront location but aren't a fan of swimming in the sea, the property's beautiful pool has a stunning sea view. This allows you to enjoy a swim, without worrying about missing out on the view you've spent your money on.
All rooms come with Wi-Fi access and tea and coffee making facilities, while all guests will also be offered a shuttle to and from the airport at the beginning and end of their trip. This should all add up to make your stay a comfortable and convenient one throughout.
Our penultimate destination, the Alea Tulum by Blue Sky, is located right at the very northern end of the area. A 4-star hotel with a "superb" rating, set on the Tankah Bay Beach, this more out of town location not only leads to a slightly more private, secluded feel, but has also led to the resort cramming as much in as possible, so guests don't have to worry about travelling during their stay.
There is a fully equipped fitness centre, a bar, a garden, a terrace, an outdoor swimming pool and even water sports facilities, all available on site. A 24-hour front desk is also present, to ensure your needs can be met at any time of the day or night.
The on-site restaurant offers an ideal place to dine during your vacation and serves cooked meals around the clock, starting with the full English and Irish breakfasts they offer each morning. You can even order it to be served directly to your room if you are having a lazy day or want to dine with a little more privacy.
An airport shuttle is available to take you to and from the property at the beginning and end of your trip, while for those who do wish to leave the resort, all guests will receive free parking throughout their stay.
There is also free Wi-Fi throughout the property, meaning all guests can stay connected, no matter where they are on the resort.
Our final destination of Kai Tulum is located back towards the centre of the region. A 4-star hotel with a "superb" rating, it has a beautiful, traditional style, with chic, modern décor. However, this is an option that's main selling point is really all about location.
Not only does its stunning beachfront location make it ideal for visitors looking to spend lazy days on the beach, but it is equally well versed for those who like to explore. This is because it is situated less than a mile from the two most famous sets of Mayan ruins in the region, making it perfect for anyone wanting to take in the history and culture of the area during their stay.
In the hotel itself, you will find a beautiful restaurant and bar, allowing you to drink and dine in stunning surroundings with gorgeous views.
Its is also a pet friendly hotel, meaning you are welcome to bring your furry friends with you if you simply can't bear to be separated from them.
The hotel has Wi-Fi throughout the property and an airport shuttle is available to transport all guests, ensuring the upmost convenience for the duration of your stay.
Conclusion
With the amount of stunning beachfront hotels available in Tulum, you can't really go wrong, no matter which you pick. That said, finding the ideal one could still take your trip from a great one to one you'll remember for the rest of your life.
With that in mind, all that's left to do is pick your favourite from the list above and go and get it booked, before all the rooms get snapped up by somebody else.
---
---