When you're booking a beach holiday it's obvious a nice beach is a priority, so when you see an article like the 15 best beaches in Menorca you can be pretty sure you're looking at the right destination.
While some locations may only have one beach or a few that are very similar, Menorca has a diverse collection of beaches. With such an abundance though, it can be hard to work out which one looks like your type of beach.
Well, fear not, as in this article I'm going to take you through the 15 best beaches the island has to offer so you can get your destination just right.
To see more detail of the best beaches in Menorca, go to Google Map.
Best Places To Stay In Menorca
1. Playa De Son Bou
Located in the village of Son Bou, this is the longest beach on the island at over two miles long. Its golden sands are sandwiched between the crystal-clear ocean and a nature reserve.
The area features a free car park, sun loungers, and umbrellas to rent, as well as bars and beach sellers to purchase refreshments from.
A perfect choice to spend the day walking or sunbathing without a care in the world, it also has shallow waters for you to wade in alone or with small children or toddlers.
2. Cala Macarelleta
Cala Macarelleta lies on the south-eastern coast of the island, in the municipality of Ciutadella. It is situated in a cove, surrounded by cliffs and forests.
While that means it takes a bit of a walk to reach, when you arrive you will be presented with deep blue waters and a small beach that is less populated than some of the more accessible options on the island.
A perfect choice if you prefer a quieter, more secluded beach.
3. Cala Mitjana
This is a beach that is very similar to our previous entry, although this time in the municipality of Ferreries just to the east.
Another fairly secluded cove, although this time the beach is even smaller and perhaps a little trickier to get to.
This means it's a bit of a gamble as to what sort of day you'll have there. If quite a few people go it can end up feeling very busy due to the size, but if you get lucky you can end up with the whole beach to yourself, the perfect setting for a romantic getaway, or just some quiet time alone with your thoughts.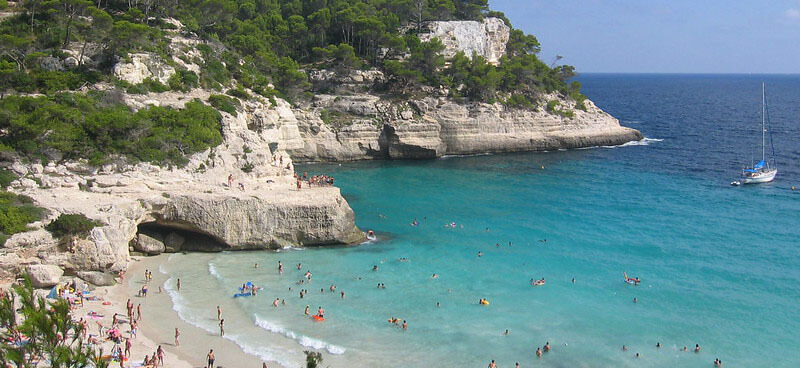 4. Cala Turquetta
Another similar beach along this stretch of the coast, although this time to the west of Cala Macarelleta.
This one is both more accessible and a little more popular than the previous two. You'll still get the same stunning views and scenery only you're guaranteed to have other people around this time.
On the plus side, there's a regular vendor selling fruit and refreshments on the beach, as well as the chance you may find some of the local wildlife roaming through the sands.
5. Cala Pregonda
We move now to the region of Es Mercadal, on the rocky northern coast of the island. As with many of the beaches in this part of the island, while the beach itself is nice, it's the activities that make this beach stand out.
The peaks around the edges of the cove are perfect for a little bit of diving and the small rocky islands just offshore will give snorkellers plenty to explore.
If you did just want to relax on the beach it's certainly a lovely location, there just happens to be others that are superior for that elsewhere on the island.
6. Cala Algaierens
Located just outside the city of Ciutadella, Cala Algaierens is back to a more traditional style of the beach.
Featuring long stretches of golden sands, a car park for ease of access, and beautiful clear waters.
Being located so close to the city there are also more opportunities to purchase refreshments and beach gear, as well as transport options that make it reachable for those without a car.
7. Cala Galdana
Located at the tourist resort of Cala Galdana, this is what most people imagine when they think of a Spanish beach.
Perfect location, beautiful sands, and clean waters are just some of the highlights. Its location close to the town means there are ample opportunities to buy refreshments and is easy to access, with or without a car.
Its big selling point is that it is specifically designed for tourists, so there are also activities such as pedal boats that can be rented for a fun-filled day out. It's shallow waters also make it perfect for families with small children.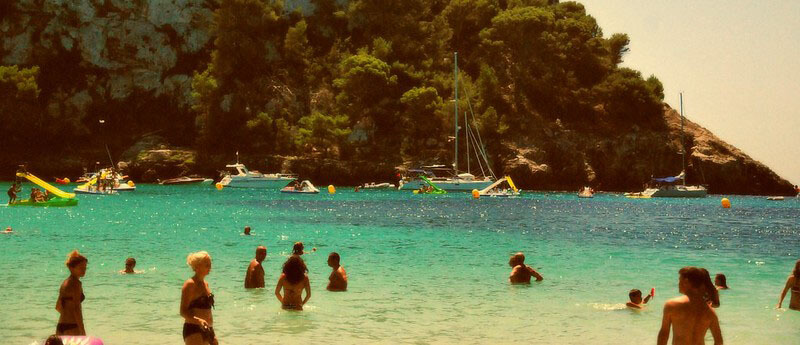 8. Playa Arenal De Son Soura
Back to the east coast, a little south of Ciutadella is Playa Arenal De Son Soura.
Much like Son Bou, this is a lengthy beach with a laid-back vibe. Its white sands meet turquoise waters and are backed by tall trees. It's the distance from a major resort also makes it a little quieter than some other beaches of its size.
It has a car park so is easily reachable by car but there are no services around, so make sure you bring everything you need with you.
9. Cala Blanca
Located in a similar region to our previous entry but in a slightly more built-up resort.
Cala Blanca beach is smaller too, but it makes up for it with a couple of beachfront bars and locations to rent loungers and umbrellas.
You can experience the same white sands and beautiful turquoise waters you could before, you just have to be willing to trade the tranquillity of the previous option for the convenience of the amenities provided here.
10. Cala En Bosch
Located on the south-eastern tip of the island, this is a much more famous beach and as such will be busier than a lot of the previous entries.
Located near the marina there's the chance to see plenty of boats out in the water. There's also plenty of rock formations around the ends of the beach that are perfect for diving, snorkeling, or searching to spot some wildlife.
There are minimal services provided on the actual beach but there are numerous restaurants and bars located close by, as well as having a good public transport link and places to park close by.
11. Cala En Porter
Another of the islands more famous beaches, Cala En Porter is located back down on the south coast, near Son Bou.
It is a very deep beach that stretches inland almost afar as its length. That characteristic continues in the water, as its shallows go out a great distance, making it perfect for small children.
It is located near the resort so is easy to access and has ample facilities, including restaurants, toilets, and even lifeguards, as well as places to rent loungers, umbrellas, and kayaks. This is a perfect beach for those who want to be a little more active than just laying in the sand.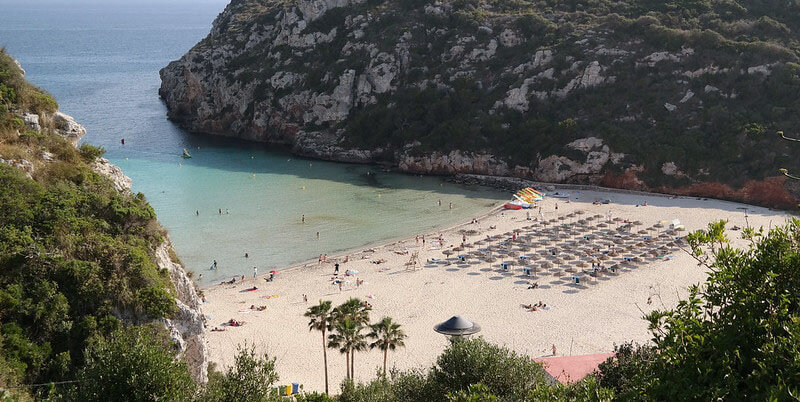 12. Platja De Sant Tomas
In the same region as our previous entry, this time to the north of Son Bou.
Platja De Sant Tomas beach is located on the edge of a small, quiet resort. This gives it the perfect combination of easy access but without the huge crowds that usually come with the more built-up resorts.
There are limited facilities on the beach itself, including a small bar on the sand, but most other things can be obtained locally if needed as there are shops not far from the beach.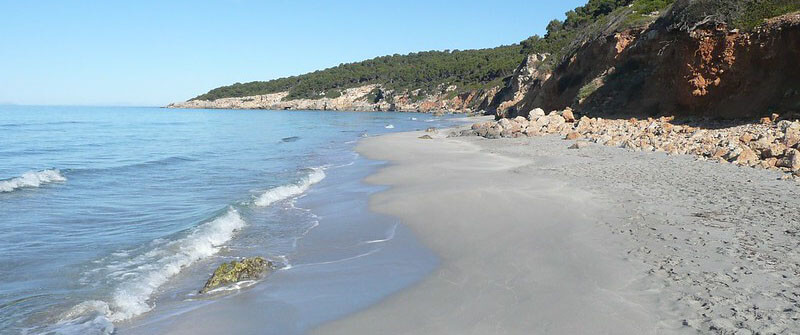 13. Cala Es Talaier
Located right in the middle of Cala En Bosch and Cala Galdana, it is like neither of those beaches.
Much smaller and more secluded, this is another beach that will require a bit of a hike to get to.
While it has limited facilities on the beach itself, the white sands and turquoise waters are much quieter than other beaches in the region.
If you are staying near either of those two resorts but want a quieter beach experience, then this is definitely the place for you.
14. Playa Arenal Den Castell
A complete opposite to our previous entry in every way, including its location on the northeast coast of the island.
One of the most famous beaches on the island, it is quite large but always incredibly busy. That's due to both its proximity to the massive resort, as well as the abundance of facilities and activities available at the beach.
Other than it being busy, its only drawback is that the prices are quite steep and if you do need to rent a lounger or want to book an activity it will cost you-but at least the option is there.
15. Playa De Binigaus
Our final beach is back on the south of the island, just to the north of Santo Tomas.
Playa De Binigaus is a little different from most of our previous options, as it is not a beach focused on lazing in the sun.
Don't get me wrong, it still has beautiful soft sand and clear waters, but the sand only covers a small part of the area. It's the rocky outcrops and shallow waters that make this the perfect beach for those that want to take a stroll and enjoy the nature of the island.
When you do want to sit and rest in the sand though, the quiet area makes this the perfect place to have a relaxing lie-down and listen to the waves hitting the shore at your feet.
16. Cala Cavallería
Cala Cavallería is a small beach that is known for its crystal-clear waters and fine white sand, as well as its natural surroundings of cliffs and pine forests.
The beach is located in the municipality of San Clemente, and is a popular spot for swimming, sunbathing, and snorkeling.
There are also several restaurants and cafes nearby, as well as rental facilities for water sports equipment. C
ala Cavallería is a popular tourist destination, and can get quite crowded during the peak summer season. However, it is also a beautiful and peaceful spot to visit during the off-season.
17. Cala Tortuga
Cala Tortuga is a small cove located on the island of Menorca in Spain. It is known for its crystal clear waters and white sandy beach, making it a popular destination for swimming and sunbathing.
The surrounding area is also home to several small restaurants and cafes, making it a great spot to relax and enjoy the Mediterranean scenery.
18. Cala Trebalúger
Cala Trebalúger is a small cove that is known for its crystal-clear waters and sandy beach, which makes it a popular destination for swimming and sunbathing.
The cove is surrounded by cliffs, which provide natural shade and shelter from the wind.
There are also several restaurants and cafes in the area where visitors can enjoy local cuisine and refreshments.
19. Cala Pilar
Cala Pilar is known for its crystal clear water and fine sand. The beach is surrounded by cliffs and pine trees, providing a beautiful and natural setting.
There are also several restaurants and cafes nearby where you can grab a bite to eat or have a drink. Cala Pilar is a popular destination for swimming, sunbathing, and other beach activities.
20. Cala Rafalet
Cala Rafalet is a small cove that is known for its crystal-clear waters and sandy beach, making it a popular spot for swimming and sunbathing.
The cove is surrounded by cliffs, giving it a secluded and peaceful atmosphere. It can be reached by car or by a footpath from the nearby town of Sant Lluis.
There are also several restaurants and bars nearby where you can grab a bite to eat or a drink.
Check out more about Menorca travel guide in this video:
See Also:
Conclusion
So that's our list of the 15 best beaches on Menorca. We've got busy beaches, quiet beaches, beaches by resorts and beaches way out by themselves.
There's also beaches laden with activities and facilities and those with nothing but sand, sea, and sunshine. Whatever type of beach it is you're looking for though, you can be pretty sure that Menorca has you covered.