When it comes to looking for the best all inclusive resorts in Tulum for families, there are quite a few options to choose from. Whilst Tulum is a destination better known for its cultural heritage and historical sites than for its commercial resorts, the tourists who flock to visit the sights and beaches, of the area have driven demand for an increasing number of large hotels.
If you are looking for a vacation where you can enjoy exploring all of the fascinating local attractions, whilst knowing that you can relax in the comfort and convenience of an all-inclusive resort when you're done, you are sure to love Tulum.
In this article, I will be breaking down exactly where you will want to start looking to stay for your dream vacation.
Best All Inclusive Resorts in Tulum for Families: Tips & Info
The various resorts available to choose from will appeal to different visitors based on their individual needs and preferences. If you know what it is you are looking for, but are struggling to find accommodation that fits, I have a few suggestions on where you should consider.
If staying close to Tulum town is vital, Dreams Tulum Resort and Spa sits right at the northern edge of Tulum National Park. Less than a mile from the town, it's the perfect location for anyone who wants to experience the local atmosphere and culture, whilst still benefiting from the convenience and luxury of a five-star resort.
If you have a larger budget, and value privacy and independence, the Bahia Principe, TAO, Luxury Penthouse is ideal. With both the convenience of an all-inclusive resort, and the freedom of a fully equipped apartment, this penthouse is perfect for those who want it all.
If being as close to the beach as possible is top of your list of priorities, the Bahia Principe Grand Tulum is about as close as you could get. The pool area backs directly onto the sand and both the pool bar and many of the rooms offer beautiful sea views.
The 5 Best All-Inclusive Resorts in Tulum for Families
If you are still not decided on which is the best all-inclusive Tulum resort for you, I have provided a more comprehensive summary of five of the best options in the area. Ideally, once you are more familiar with what each one has to offer and how they suit your preferences, you will be better equipped to choose where to book your dream vacation.
The 5 Best All-Inclusive Resorts in Tulum for Families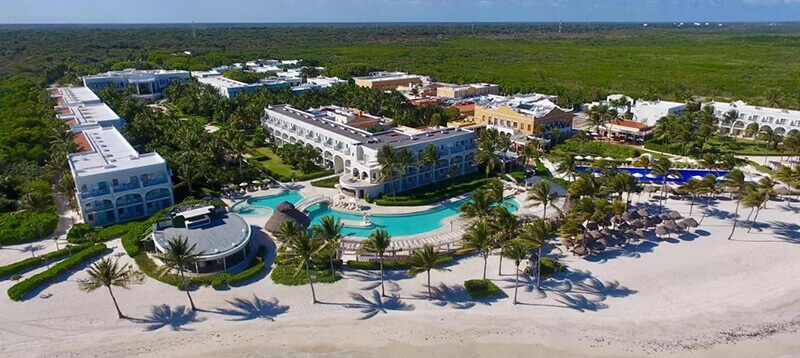 If staying as close as possible to Tulum and the Mayan ruins is a priority for you, then Dreams Tulum Resort and Spa is ideal. Less than a mile from the town and right at the edge of the national park that surrounds the ancient city, the resort is the perfect blend of convenient location and luxury.
The architecture of the resort blends seamlessly with the Mexican-colonial style of the surrounding villages. Ideal for immersing yourself in the local atmosphere, despite staying in a commercial complex.
The rooms are the height of modern luxury, with marble bathrooms, stylish interiors, and furnished balconies or terraces. Each offers beautiful views, whether of the gardens, pool area, or ocean.
There are eight restaurants to choose from, including pool and beach side bars, and a coffee shop. There is a wide range of cuisines available, with dishes from across the world, and all dietary requirements can be catered for on request, so no one will be left struggling to find food they can enjoy.
The onsite spa offers a full range of services, from beauty treatments to massage and wellness therapies. The resort prides itself on offering unique Mayan spa treatments, sharing the local ceremonial and cultural heritage.
If you want something more thrilling than relaxing, there are plenty of activities available. The fitness centre, golf course, and tennis courts will keep you feeling energised. Meanwhile, the range of water sports to be found along the private beach has activities suitable for guests of all ages and activity levels. Whether you prefer snorkelling and diving, or windsurfing and canoeing, you will definitely find something to keep you entertained.
With dedicated adults-only areas, as well as a kids' Explorers Club and teens' Core Zone, the resort really does cater to the whole family.
YOU SHOULD STAY AT THE DREAMS TULUM RESORT AND SPA IF:
You want to stay closer to the town of Tulum
You don't want to sacrifice the local atmosphere and culture despite staying in a luxury resort
Adults only areas and childcare services sound heavenly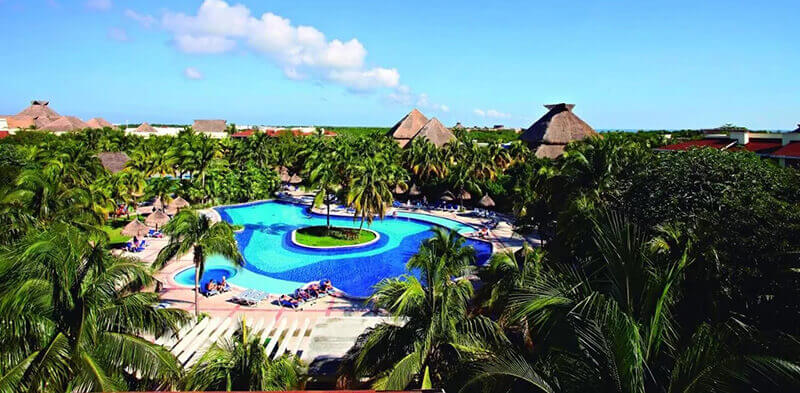 Located in the 700-acre Bahia Principe resort, the Grand Coba is set near to the entrance of the complex's south-eastern quarter. Closer to the main road than the beach, the hotel trades ocean views and beachfront dining for more convenient access to the surrounding areas and attractions. If being near aquatic fun is a deal breaker for you, it compensates by being right next to the resort's waterpark, with its various pools and slides.
The complex provides a selection of luxuries and services to complement your stay. There are dozens of restaurants, bars, and nightclubs to choose from. Onsite golf clubs, aquariums, shops, private beaches, and spas mean you can keep happily occupied for the duration of your stay without ever having to leave the resort.
Of course, if you want to explore the local area and various historical attractions, the resort offers tour planning and transportation services too. There is free parking available at the hotel, so guests who chose to hire a car, or bring their own, can easily explore the region independently.
YOU SHOULD STAY AT THE BAHIA PRINCIPE GRAND COBA IF:
You don't mind being a little further from Tulum town
Being right against the beach is not a priority
Being opposite the waterpark is ideal
Bahia Pricipe Luxury Akumal is situated right next to the beach, with views from both the rooms and various bars and restaurants overlooking the sea.
The rooms are all fully air conditioned and have conveniences including mini-fridges, coffee machines, and spa baths. All have balconies or terraces, with either garden or ocean views.
The beautiful pool area is dotted with palm trees and is just metres from the beach. Perfect for relaxing in a luscious tropical atmosphere. The large pool itself winds around garden islands and under arcing footbridges, providing a more interesting environment to swim, play, and explore.
Amongst the various hospitality venues available are a poolside restaurant and a sports bar. If you would rather wine and dine by the waves, you can try one of several restaurants spread along the back of the beach.
Families with young children will particularly enjoy this resort, due to the wide array of amenities offered to keep the kids entertained and you relaxed. With the kids' club, indoor and outdoor play areas, pool toys and slides, and a nearby waterpark, even the rowdiest of children will be kept occupied.
And if you need a break from watching over the young ones, there are also babysitting and child-minding services available at the resort, although additional charges may apply.
YOU SHOULD STAY AT THE BAHIA PRINCIPE LUXURY AKUMAL IF:
You are travelling with young children
You want to stay close to the beach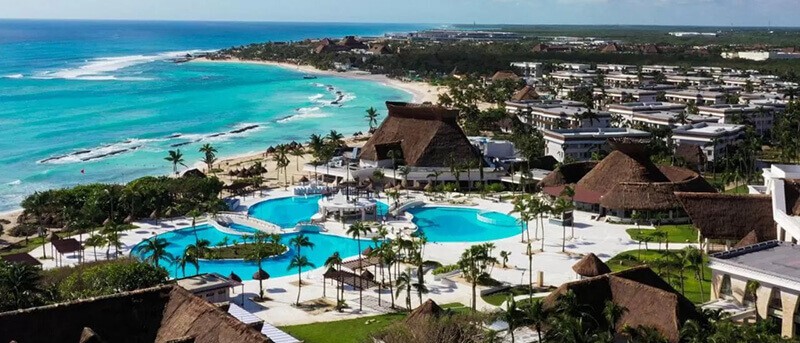 If staying near the beach is a priority for you, you can't beat the location of the Bahia Principe Grand Tulum. Located right by the beachfront, many of the rooms offer ocean views. Even those that don't still provide sweeping views across the resort's gardens, and you can be on the beach in just a few minutes.
The hotel boasts a magnificent pool area, consisting of three large pools arranged around a central bar area. The poolside area is well furnished with plenty of sunbeds and leads directly onto the sand of the adjacent beach. If you struggle to decide between spending your days by the pool or at the beach, you can have both at this resort.
The beach itself is perfect for both relaxing and playing. Sun-loungers line the sand as far as the eye can see, so you won't have to worry about reserving a spot. For more adventurous visitors, there is a variety of water sports and activities available, from windsurfing to diving.
For wining and dining, you will have your pick of nine bars and four restaurants to choose from. Offering an array of cuisines from around the world, you won't have to worry about growing bored of the same old buffet every day. Some of the restaurants even offer themed evenings, so make sure to check the event schedules when you arrive.
For post-dinner entertainment, there are various shows, performances, and live sports broadcasts, hosted at the resorts numerous venues.
The hotel offers a wide range of amenities to keep the whole family entertained for the duration of your stay. Older guests can let their hair down at the on-site casino and nightclub, whilst everyone can enjoy splashing about at the nearby waterpark.
Just a short walk away is a dolphin aquarium, where you can enjoy the once-in-a-lifetime experience of swimming with dolphins.
YOU SHOULD STAY AT THE BAHIA PRINCIPE GRAND TULUM IF:
Being close to the beach is a priority
You want plenty of options for entertainment, both day and night
You want to go swimming with dolphins
This two-bedroom penthouse is located just a few kilometres north of Tulum, in a sprawling residential complex overlooking the ocean. If you are looking for the perfect place to really relax in the sun, sea, and sand, this is the resort for you.
The luxury apartment is fully fitted with everything you could possibly desire from your vacation home. There is even a personal entrance for absolute privacy. In addition to two bedrooms, there are also two fully fitted bathrooms. For larger groups, there is a sofa bed in the open plan living area to provide extra sleeping space, allowing the apartment to comfortably accommodate up to six people.
The kitchen is fully fitted with multiple cooking appliances, a coffee machine, and a refrigerator. There is also a dishwasher for complete convenience. There are both indoor and terrace dining areas to suit your preference. Of course, cooking for yourself is entirely optional, as your all-inclusive pass entitles you to all of your daily meals and a range of selected drinks at the resort's restaurants and bars.
The private terrace offers beautiful views of the surrounding gardens, furnished with lounge seating, sunbeds, a hot tub, and barbeque facilities.
In addition to all the luxuries and comforts of the penthouse itself, you will also have access to the numerous facilities and conveniences across the 700-acre resort. Whether you are relaxing on the private beach or at the spa, or seeking thrills at the onsite casino, there is plenty to keep you entertained.
The nearest airport is the Cozumel International, 28 miles away, but the resort offers an airport shuttle service, so you won't even need to worry about transport.
Of course, as you would expect, the penthouse apartment does demand premium rates, so this is not the best option for anyone working with a smaller budget. However, if money is no object, particularly if you are splitting it between a larger group, the luxuries of this suite are definitely worth the price.
YOU SHOULD STAY AT THE BAHIA PRINCIPE, TAO, LUXURY PENTHOUSE IF:
You want both the convenience of a luxury resort and the independence of an apartment
You are a larger group or family, hoping to stay together
Privacy is paramount
Money is not a concern
Are There All Inclusives In Tulum?
Tulum is best known for being a relatively small, local town, populated with smaller hotels and guesthouses. However, growing interest in the region has led to a number of larger developments springing up around the area, particularly along the waterfront.
Whilst the town itself is still on a smaller scale, just a short way outside the town's borders lies an array of all-inclusive hotels and resorts. Particularly notable is the sprawling Bahia Principe resort, a few kilometres to the north. Consisting of a variety of luxury hotels, hospitality and entertainment venues as well as even a few shops, spread across a 700-acre development, Bahia Principe is practically a small town of its own. You can find helpful summaries of four of the best areas of this massive resort up above in this article.
Best Areas To Stay In Tulum With Family?
Tulum is a beautiful, local little town, with tons to offer in both historical heritage and modern culture. However, if you are travelling with family, especially younger children, you may want to forgo the cosy guesthouses and boutique hotels found within the town in favour of the convenience of all-inclusive resorts in the surrounding area.
Just a couple of miles north along the coastline, you can find a wide variety of hotels and resorts. Arranged around the direct Route 307 Road, they have quick and easy access to both the vibrant town of Tulum and a selection of modern attractions, from theme parks to aquariums.
These resorts, such as the Dreams Tulum Resort & Spa, or the various accommodations across the Bahia Principe complex, will provide you with the perfect mix of convenience and entertainment to give the whole family the vacation of their dreams.
If you really want to stay in Tulum itself, Col Huracanes and Villas Tulum both sit on the east side of the town. Right on the edge of Tulum National Park, close to the archaeological zone and the Mayan city, and straddling the main road leading to various other attractions, these areas are ideal for hopping between sights and keeping everyone entertained.
What To Do In Tulum With Kids?
Tulum is a great place to visit to take in some culture and soak up the sun, but it is particularly great for families with children. There's just so much to do and see here that you will have no problem keeping the whole family entertained.
Starting with the typical vacation fare, the beaches around Tulum are some of the most beautiful in the world. The soft sand and crystal-clear waters are ideal for spending your days playing in the waves. Various water sports and activities are available to suit all ages and thrill preferences, from snorkelling to windsurfing.
If you prefer the contained safety of a pool, there are several waterparks dotted along the coastline. There's even the option to go swimming with dolphins at the Bahia Principe Hotel dolphin aquarium or Xel-Há Park Natural Aquarium. Alternatively, stay dry and head to one of the multiple theme parks in the region. There's a mix of venues offering both typical mechanical rides as well as adventurous assault courses.
Finally, with such a rich cultural history, Tulum is a great place to take your kids on some educational excursions. The Tulum Archaeological Zone surrounds the ruins of an ancient Mayan walled city, set right up against the ocean. The city contains a number of well-preserved ancient structures, including pyramids, temples, and residential buildings.
Conclusion
If you are looking for a relaxed summer vacation for the whole family, where you won't have to worry about a thing, Tulum certainly has some great options. Hopefully this article has given you a better idea of what is on offer in the area.
Now that you are more familiar with some of the best all-inclusive family resorts in Tulum, it's time to start seriously thinking on which is the perfect one to book.
---
---