If you're planning a shortbread in Berlin and you're wondering what your 2 days in Berlin itinerary should be and how many days in Berlin is enough, we've put together some top tips and attractions to help you make sure you make the most of your trip.
Berlin is a great city for walking tours, varying from historical tours that will teach you about the history of the city to art tours to general sightseeing tours.
Any of these is a great choice to start off getting to know the city, followed by choosing your can't-miss sightseeing attractions. As well as a bit of organization so you don't miss anything, you should make sure you leave some time free (even just a couple of hours) to just enjoy exploring the city and its various sites, cafes, and cultural attractions.
Check out my virtual tour of best areas to stay in Berlin in this video:
What to Do & See in Berlin in 2 Days?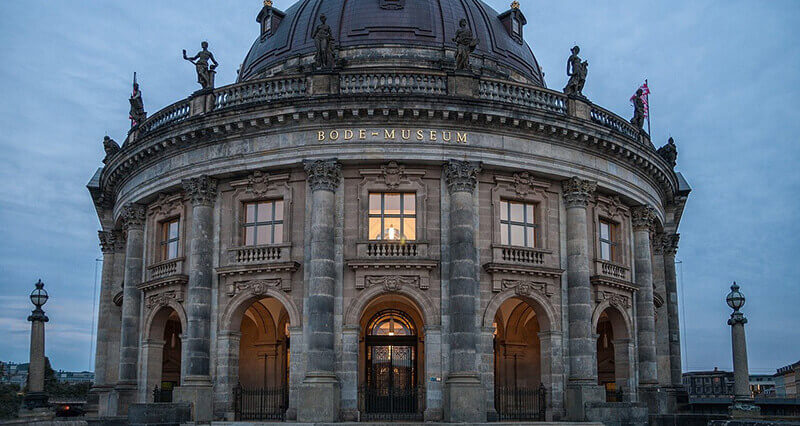 Pick some of Berlin's most famous attractions – the bucket list of the city if you like. An absolute must see is Museum Island right in the historic heart of Berlin – a UNESCO world heritage site filled with museums of every flavour, you could easily spend a whole afternoon or even a day here.
You should also make sure to visit the famous and beautiful Brandenburg Gate – best visited lit up. The final unmissable stop has to be Tiergarten, a stunning garden home to beautiful avenues, water features and even a zoo.
Is 2 Days In Berlin Enough?
Berlin is a fascinating city filled with history and culture – with a whole lot to explore, 2 days isn't a long time to stay here.
If you try to explore everything the city has to offer in two days, then you'll end up feeling rushed off your feet and not manage to actually enjoy it – however, as long as you don't try to do that, and instead just pick a few things you'd like to explore in depth, then you can have a relaxing and interesting 2 day stay.
Picking a few things that you're really excited about and sticking to it will make sure you feel like you've made the most of your short stay, and leave you wanting to come again!
How Much Money For 2 Days In Berlin?
To properly enjoy your 2 days without worrying about running out of money you should expect to spend about 100 euros a day outside of accommodation. This will allow you to stop and snack in as many cute cafes as you like, enjoy a nice evening meal, visit attractions and buy any souvenirs you might want to.
Day 1 in Berlin Itinerary
A great way to start off a visit to any city is with a walking tour, and there are plenty to choose from all over Berlin which will take you through different places and different histories.
For the general overview of the city choose the Discover berlin tour which lasts about 4 hours and will take you all around the main points of the city.
For history buffs there are also plenty of historical walking tours to choose from, including a 3rd reich tour, or a 'hidden treasures' kind of walking tour called the off the beaten track tour which will take you through the lesser known spots of this fascinating city for those looking for a more unique experience.
After you've familiarized yourself with the city via the walking tour, it's time to really get into the sightseeing. I'd recommend spending the afternoon exploring the five fascinating museums on the iconic museum island, before enjoying dinner at one of the city's fantastic restaurant and then visiting the Brandenburg Gate after dark when it's beautifully lit up.
Day 2 in Berlin Itinerary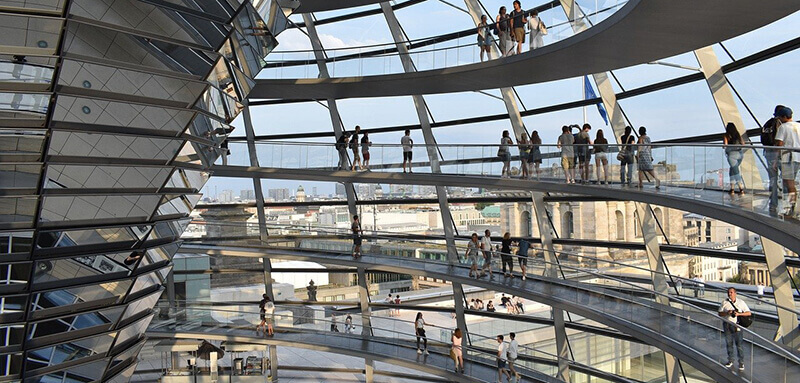 Start off your second day by visiting the Reichstag dome for spectacular views of the city and stunning architecture. Admission is free, but you should make sure to book in advance as this is a really popular thing to do.
Apart from the stunning dome and views, the Reichstag has a fascinating history as the home of the German parliament which is well worth taking an interest in.
In keeping with the historical theme, you should make sure to visit the beautiful and solemn Holocaust memorial, which is beautiful and a perfect opportunity to pay your respects and acknowledge some history.
Appreciating the complex history of the city helps you to appreciate the city itself and shouldn't be neglected.
After finding somewhere to enjoy lunch, I recommend spending your second afternoon visiting the trendy, lively neighbourhood of Kreuzberg to get a feel for the authentic local berlin and enjoy the many independent shops and cafes this up and coming neighbourhood has to offer – and get some unique souvenirs!
Where to Stay in Berlin for 2 Days?
This depends on what you want from your stay, short as it might be. If your main objective is ticking off the sights from the list, then stay in Mitte so you're right in the centre of the action and you can easily get to all the famous spots you want to see.
However if you're after a more relaxed break where you can just explore and enjoy cafes and bars, you might be happier in an authentic neighbourhood like Prenzlauer Berg, where you can't help but feel like one of the locals whether you're staying for 2 days or 2 weeks.
Some of the best places to stay in Mitte:
Best Luxury Hotel: Titanic Gendarmenmarkt Berlin offering a traditional Turkish Spa and a grill restaurant as well as stylishly furnished and spacious rooms, the Titanic Gendarmenmarkt is a short walk to Friedrichstrasse and other public transport options.
Best Mid-Range Hotel: Arte Luise Kunsthotel Berlin with artist-designed, individually furnished rooms, this unusual hotel is within walking distance to the Brandenburg Gate and the Reichstag.
Best Budget Hotel: Hotel Graf Puckler Berlin Cosy and peaceful, the hotel Graf is easily accessible via public transport and close to many famous sights and attractions.
>> MORE BEST PLACES TO STAY IN BERLIN <<
How to Get Around in Berlin
It's easy to get around Berlin on the U- and S-Bahn, which make up one of the largest city transportation systems in Europe, and in addition there is a great and easily navigable system of buses 24 hours a day. Tickets are affordable, especially if you buy a day ticket which gets you unlimited public transport for 24 hours.
Got More Than 2 Days in Berlin?
If you've got more than 2 days in Berlin – perfect! This is one of the most exciting and interesting cities to explore in Europe, and you could spend a month here without running out of things to do.
I'd still recommend getting to top things off your list in the first days you're there, and then spend the rest of your trip exploring as you feel like it rather than having too much of a plan.
That said, make sure you set an afternoon aside to explore the lively district of Kreuzberg and spend the evening there for dinner – there's an amazing selection of restaurants and bars here where you can spend an exciting evening.
Berlin is a fantastic city, packed with more history than many cities in Europe can claim and a melting pot of different cultures. You can spend your whole visit sightseeing, enjoy exploring some of the city's trendier neighbourhoods in a relaxed way, or take advantage of many of the amazing walking tours Berlin has to offer.
Berlin isn't a city to do all at once, and you'll definitely want to come back for more – but two days is the perfect amount of time to cross off some of the most famous sights and experiences and get a taste for this amazing place.
How Many Days In Berlin Is Enough?
Berlin is one of the biggest capital cities in Europe (5x the size of Paris), so how long you need to spend there completely depends on how much of the city you want to explore. You could easily stay in this cultural hotspot for months and not get bored!
You should give about three days to visiting and enjoying all of the bucket-list spots in the city, plus another two to explore the neighborhood you're staying in and any other area you want to know more about. 5 days to a week should scratch your Berlin itch, but rest assured that if you stay longer you won't run out of things to do!