If you're planning a shortbread in Berlin and you're wondering what your 2 days in Berlin itinerary should be and how many days in Berlin is enough, we've put together some top tips and attractions to help you make sure you make the most of your trip.
Berlin is a great city for walking tours, varying from historical tours that will teach you about the history of the city to art tours to general sightseeing tours.
Any of these is a great choice to start off getting to know the city, followed by choosing your can't-miss sightseeing attractions. As well as a bit of organization so you don't miss anything, you should make sure you leave some time free (even just a couple of hours) to just enjoy exploring the city and its various sites, cafes, and cultural attractions.
How many days do you need to do Berlin?
It is impossible to accurately determine how many days are needed to fully experience Berlin as it depends on an individual's interests and priorities. However, a typical visit to Berlin may last anywhere from 3 to 5 days, allowing for ample time to explore the city's various neighborhoods, museums, and cultural attractions.
Is 3 days enough for Berlin?
It is possible to see many of the major sights in Berlin in three days, but it may not be enough time to fully experience the city and all it has to offer. It is best to prioritize your must-see attractions and allow some flexibility in your schedule to allow for unexpected discoveries.
Are 4 days enough for Berlin?
It is possible to see many of the major attractions in Berlin in 4 days, but it may be a bit rushed depending on your interests and pace of travel. It is a large city with a lot to offer, so it may be helpful to prioritize your must-see sights and activities in advance to make the most of your time.
Is 2 Days In Berlin Enough?
Berlin is a fascinating city filled with history and culture – with a whole lot to explore, 2 days isn't a long time to stay here. If you try to explore everything the city has to offer in two days, then you'll end up feeling rushed off your feet and not manage to actually enjoy it – however, as long as you don't try to do that, and instead, just pick a few things you'd like to explore in-depth, then you can have a relaxing and interesting 2-day stay.
Picking a few things that you're really excited about and sticking to it will make sure you feel like you've made the most of your short stay, and leave you wanting to come again!
To properly enjoy your 2 days without worrying about running out of money you should expect to spend about 100 euros a day outside of the accommodation. This will allow you to stop and snack in as many cute cafes as you like, enjoy a nice evening meal, visit attractions and buy any souvenirs you might want to.
Where to stay in Berlin?
If you planning to go to Berlin and haven't settled down with your accommodations, you can take a look at some of the best hotels in the Mitte district:
Titanic Gendarmenmarkt Berlin Hotel This luxury hotel features a grill restaurant and a spa with an authentic Turkish hamam/steam bath. The Titanic Gendarmenmarkt lies in the heart of Berlin, 200 m from the elegant Gendarmenmarkt square. All rooms at the Titanic Gendarmenmarkt Berlin are air-conditioned and beautifully furnished.
Arte Luise Kunsthotel Berlin Offering stylish rooms designed by renowned artists, this unique hotel in the heart of Berlin is just a 10-minute walk from the Brandenburg Gate, the Reichstag Building and Friedrichstrasse Train Station. Each individually furnished room at Arte Luise Kunsthotel includes modern, artistic décor and features its own original concept. Rooms have either a private or shared bathroom and free wifi is available in the lobby.
Hotel Graf Puckler Berlin This hotel offers cosy rooms in the Wedding district of Berlin, a 5-minute walk from Wedding Train and Underground Station. It offers excellent public transport connections to central Berlin and Tegel Airport.
Check these articles about the best places to stay in Berlin:
What to Do & See in Berlin in 2 Days?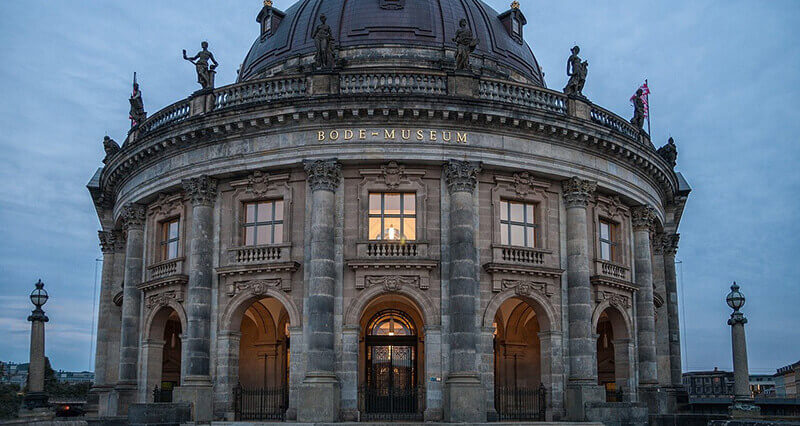 Pick some of Berlin's most famous attractions, the bucket list of the city if you like. An absolute must-see is Museum Island right in the historic heart of Berlin which is a UNESCO world heritage site filled with museums of every flavor, you could easily spend a whole afternoon or even a day here.
You should also make sure to visit the famous and beautiful Brandenburg Gate, the best visited lit up. The final unmissable stop has to be Tiergarten, a stunning garden home to beautiful avenues, water features, and even a zoo.
Here is the detail of the must-see attractions in Berlin that you can consider to see on your next visit:
Berlin Cathedral
Located on Museum Island in the Mitte district, Berlin Cathedral, also known as Berliner Dom the largest church and one of the largest Protestant churches in Germany.
You can admire its inside and outside architecture, the highlights are Sauer Organ, the 70m tall Dome, Viewing Platform, and the Hohenzollern Crypt.
You can climb to the dome via 270 steps, enjoy the amazing over the city, the Spree River, the Lustgarten, and Museum Island.
The Dome is open to the public from 9 am to 8 pm every day. The entrance fee is 7 €.
Brandenburg Gate
Located at the intersection of Unter den Linden and Ebertstraße, west the Pariser Platz, Brandenburg Gate, or Brandenburger Tor is a must-see sight for any tourists.
It attracts around 12 million visitors each year.
This former symbol of the divided city into East and West during the Cold War is now a national symbol of peace and unity.
It was first built as the city's main entrance before it became part of the Berlin Wall.
Brandenburg Gate opens from 10 am to 7 pm. It is free for all visitors.
East Side Gallery
East Side Gallery was once a part of the Berlin wall, now it's the 1.3 kilometers open-air gallery that runs along Mühlenstraße and the Ostbahnhof, very close to the River Spree.
After the unification in 1990, many artists come from all over the world came to paint murals in this section of Berlin.
The most famous mural is Fraternal Kiss, created by Russia-born Berlin artist, Dmitri Vrubel. You can find it halfway along with the gallery, 200m to the left of the Mercedes Benz Arena.
It was based on a photograph taken in 1979 of Erich Honecker, the former General Secretary of the Socialist Unity Party, and Leonid Brezhnev, the former General Secretary of the Communist Party of the Soviet Union.
Museum Island
Located on Spree Island in Mitte district, Museum Island, also known as Museumsinsel in Germany, is the UNESCO World Heritage site since 1999.
It encompasses five world-famous museum buildings which were built under the Prussian rulers and the modern James Simon Gallery.
Five famous museums are The Altes Museum (Old Museum), Neues Museum (New Museum), Alte Nationalgalerie (Old National Gallery), Bode-Museum, and Pergamon Museum.
With Berlin Welcome Card Museum Island, you can visit all the museums on Museum Island over three consecutive days. And with the Museum Pass Berlin, you can visit other more 30 museums in the city.
The Reichstag
Located just as the stone throw from the Brandenburg Gate and Tiergarten, The Reichstag is home to the Bundestag or German federal Parliament.
Reichstag was built between 1884 and 1894 and was home to the German Empire's parliament until 1933. It was largely unused during world war II. After the unification, it was renovated and opened in 1999.
Reichstag's dome and the rooftop terrace offer spectacular views across the city.
Admission is free but you need to do registration online on the Bundestag website.
Memorial Of The Berlin Wall
Memorial Of The Berlin Wall, or Gedenkstätte Berliner Mauer in German, is 1.4 kilometers open-air memorial site that stretches along Bernauer Strasse between the S-Bahn Nordbanhof Station and the Bernauer Strasse U-Bahn Station
It contains a Visitor Center and the Documentation Center, which has the observation tower, an outdoor exhibit, Chapel of Reconciliation, and Window of Remembrance.
Charlottenburg Palace
Charlottenburg Palace, also known as Schloss Charlottenburg, is the largest palace in Berlin.
It was built in 1699 as a summer residence for Sophie Charlotte which is the wife of Friedrich III.
The highlight of the palace is the French baroque-style garden, and two nice museums nearby the Bröhan Museum and the Berggruen Museum to explore if you love arts.
Day 1 in Berlin Itinerary
A great way to start off a visit to any city is with a walking tour, and there are plenty to choose from all over Berlin which will take you through different places and different histories.
For the general overview of the city choose the Discover berlin tour which lasts about 4 hours and will take you all around the main points of the city.
For history buffs, there are also plenty of historical walking tours to choose from, including a 3rd reich tour, or a 'hidden treasures' kind of walking tour called the off the beaten track tour which will take you through the lesser-known spots of this fascinating city for those looking for a more unique experience.
After you've familiarized yourself with the city via the walking tour, it's time to really get into the sightseeing. I'd recommend spending the afternoon exploring the five fascinating museums on the iconic museum island, before enjoying dinner at one of the city's fantastic restaurants and then visiting the Brandenburg Gate after dark when it's beautifully lit up.
Day 2 in Berlin Itinerary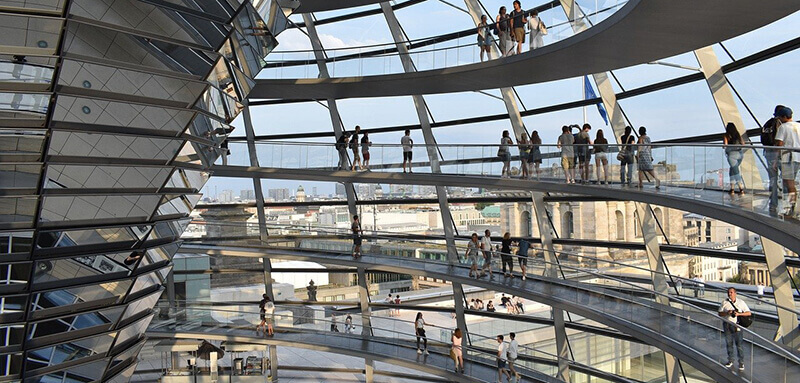 Start off your second day by visiting the Reichstag dome for spectacular views of the city and stunning architecture. Admission is free, but you should make sure to book in advance as this is a really popular thing to do.
Apart from the stunning dome and views, the Reichstag has a fascinating history as the home of the German parliament which is well worth taking an interest in.
In keeping with the historical theme, you should make sure to visit the beautiful and solemn Holocaust memorial, which is beautiful and a perfect opportunity to pay your respects and acknowledge some history.
Appreciating the complex history of the city helps you to appreciate the city itself and shouldn't be neglected.
After finding somewhere to enjoy lunch, I recommend spending your second afternoon visiting the trendy, lively neighborhood of Kreuzberg to get a feel for the authentic local berlin and enjoy the many independent shops and cafes this up-and-coming neighborhood has to offer – and get some unique souvenirs!
How to Get Around in Berlin
It's easy to get around Berlin on the U- and S-Bahn, which make up one of the largest city transportation systems in Europe, and in addition, there is a great and easily navigable system of buses 24 hours a day. Tickets are affordable, especially if you buy a day ticket which gets you unlimited public transport for 24 hours.
Check out my virtual tour of the best areas to stay in Berlin in this video:
Berlin is one of the biggest capital cities in Europe (5x the size of Paris), so how long you need to spend there completely depends on how much of the city you want to explore. You could easily stay in this cultural hotspot for months and not get bored!
You should give about three days to visiting and enjoying all of the bucket-list spots in the city, plus another two to explore the neighborhood you're staying in and any other area you want to know more about. 5 days to a week should scratch your Berlin itch, but rest assured that if you stay longer you won't run out of things to do!