When looking at the best hotels in Cancun for partying, knowing which to pick can be quite a tough decision. As one of the undisputed party capitals of the world, there are so many to choose from that it can actually be a little over whelming.
That's why today I will be looking at the very best hotels Cancun has to offer for partygoers and explaining why you might personally like each one. So, if you're heading to Cancun to party but don't know where to stay yet, I highly recommend reading on.
Best Hotels In Cancun For Partying: Tips & Info
Before we begin looking at the hotels, there are a few tips I want to give you, which may help you come to your decision easier. Things you want to keep in mind while reading that you may not have even thought of, which could be deal breakers when it comes to picking your destination.
For example, is staying connected with the people back home important while you are away? If it is, then you may want to consider staying at Secrets The Vine Cancun. With a number of gadgets in your room and an app that allows you to freely call anywhere in the world, you will always be able to get in touch with your family, no matter where they are.
While many people like to stay in the popular hotel zone while visiting Cancun, there are others that would prefer to stay in the centre of town instead. If that's the case, I would recommend Oh! Cancun – The Urban Oasis. Situated in the heart of town, it puts you right in the centre of everything Cancun has to offer.
On the other hand, perhaps you would rather stay outside of Cancun altogether, only travelling in to visit the bars and clubs. In that case, either the Desire Riviera Maya Pearl Resort or the Desire Riviera Maya Resort would be worth looking at. That said, I will point out that both of these are "clothes optional" resorts, which in and of itself could either sell or rule out the location for different people.
You could even just be someone who wants plenty daily activities available, to keep your days as wild as your nights, in which case I would recommend somewhere like Panama Jack Resorts Cancun.
The point is, if you make sure you consider every little thing that could make or break a trip for you while reading, it is sure to make coming to your decision as easy as it could possibly be.
The 13 Best Hotels In Cancun For Partying
Now that you know exactly what to look for, to ensure your party filled trip to Cancun is a success, I am going to show you what I believe to be the 13 best hotels in Cancun for partying.
I will tell you what each one offers, from location to facilities, in order to give you the best chance possible to select the perfect one for you and your needs.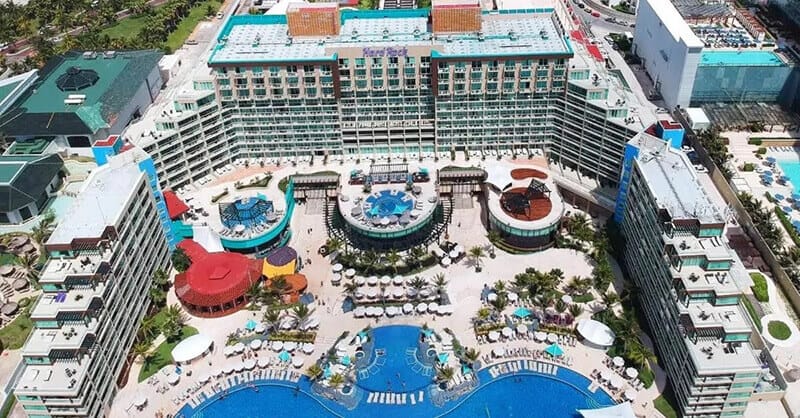 Located in Cancun's legendary Hotel Zone, the Hard Rock Hotel is one of the crown jewels for partygoers in an already rave ready city. This sprawling complex has everything a reveller could need to provide an exhilarating trip, both day and night, for the duration of their stay.
With a stunning outdoor pool and 2 tennis courts, anyone seeking to have action packed, fun filled days are certain to be satisfied. For those who would prefer to take things a little slower, the on-site spa and selection of 5 different gourmet restaurants provides ample choice to allow you to treat yourself and enjoy a relaxing stay.
A range of vibrant night-time entertainment on site, as well as the hotels willingness to help arrange other excursions for you, means no matter how you like to party, one will never be too hard to find.
The suites themselves are equipped with private hot tubs, mini bars and balconies, so even on those days when you don't want to get all done up for a night out, you can still go wild and live like royalty.
On top of all of that, we haven't even mentioned the sheer luxury of the property and its all-inclusive nature yet. When you put it all together, the Hard Rock Hotel is a prime choice for partygoers, that ensures their vacation will be fully catered and care-free, from start to finish.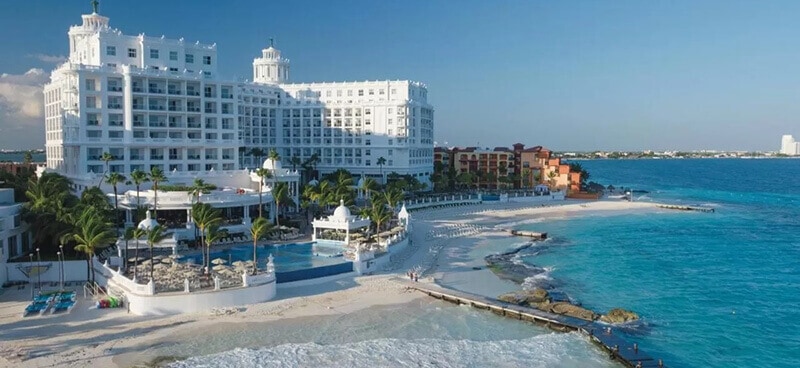 Just a 5-minute walk from the world-famous Coco Bongo bar and club, the Rui Palace Las Americas is a partygoer's dream. In addition to its perfectly situated, beach front location, its styling looks like a palace fit for the Greek gods, providing that true sense of indulgence to guests during their stay.
Its stunning pool opens out onto the beach and a small pier, meaning you never have to choose which location to spend your days relaxing at, as you can simply combine all three. The site also offers a terrace and sauna, while rooms feature private balconies, flat screen tv's and luxurious furnishings. This provides guests with even more options for how to recuperate from their wild nights during the days.
For anyone wanting to stay a little more active, the hotel also features a fully equipped gym, and they are more than happy to arrange activities such as cycling or snorkelling tours for you.
The fabulous restaurant serves a range of cuisines, offering food from sun up to sun set, to keep you fed throughout the day. Combine this with the bar, serving everything from beers and wines to fruit juices and soda's, with even a number of cocktails thrown in for good measure, and you have a destination that really lets you make the most of its all-inclusive nature.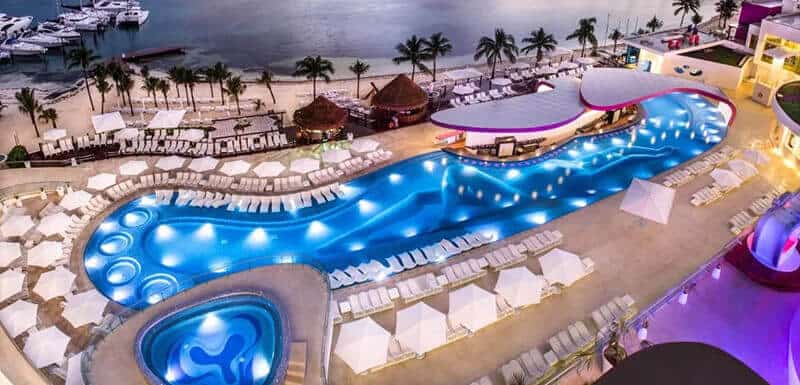 A stunning and unique destination, the Temptation Cancun Resort is set on a beautiful, white sand beach, half-way between both the hotel zone and Cancun town, giving guests the best of all worlds.
Everything from the rooms and pools to the hotel grounds is designed with a contemporary, new-age décor. It provides a feeling that is perhaps a little more akin to that which your typical club goer may feel at home with, as opposed to some of the more ostentatious alternatives.
The site is almost unmatched in terms of facilities, featuring 7 restaurants, 6 bars, 3 themed pools, 7 hot tubs and a full-service spa. In addition to all of this, all rooms also feature a private hot tub and balcony, as well as having access to 24-hour room service.
While the location gives you access to some of the best entertainment in the region, there is also plenty on offer at the hotel as well. Fitness classes, organised sports, live music, themed parties and nightclubs all take place within the grounds. This offers guests the perfect opportunity to party to their hearts content and enjoy what Cancun is most famous for, all while ensuring they can make the most of the benefits of their all-inclusive accommodation.
Located at the heart of the hotel zone, Krystal Cancun is a 4-star hotel, offering chic and understated style in a perfect, central location, all for a reasonably affordable price.
Its beautiful pool opens up onto a stunning, white sand beach, lined with rows of sun loungers and tropical umbrellas. This offers guests the ability to easily alternate between the crystal clear, turquoise waters of the ocean and the fresh water of the pool.
Around the pool, you also have additional extra's, such as sauna's and hot tubs, giving you a taste of what is on offer at some of the larger spa resorts, without having to pay the premium they charge.
The hotel's restaurant offers a complimentary buffet breakfast each morning and then serves fabulous Mexican cuisine throughout the remainder of the day, while a number of on-site bars cater to whatever drinks you may desire. There is even traditional Mexican music being played live by Mariachi's, to fully immerse you in the spirit of your location.
Surrounding the hotel are numerous shops, bars, beaches, restaurants and attractions, further adding to its perfect location. While the all-inclusive resorts often try and discourage guests from venturing off site, this is a location that better accommodates it. In fact, they even encourage you to explore by yourself, having car rental services on site and offering all guests free parking.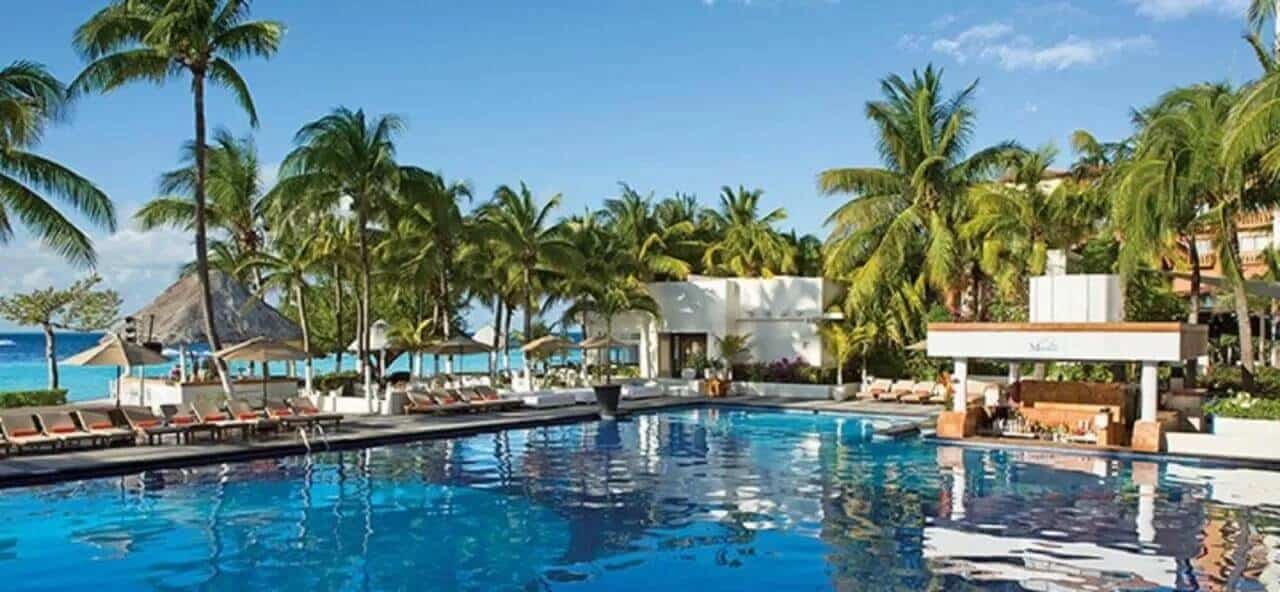 Located in the heart of the hotel zone, the Dream Sands Cancun resort And Spa is a spa hotel that is perfect for pampering yourself during the days, while recovering from hard nights of partying. In addition to its full-service spa, the hotel also features two fabulous pools and an outdoor hot tub, making getting space for a day of relaxation as easy as it could be.
There are also plenty of options available for when you're feeling a little more energetic too. A fully equipped fitness centre, a nearby golf course with complimentary access for guests and a range of non-motorised water sport activities are available, which are sure to keep your blood pumping just as hard during the day as it does in the clubs at night.
On the nights when you don't want to hit the town, the hotel also offers a range of options on its own premises. A whopping choice of 9 gourmet restaurants and 4 fully stocked bars and lounges give you plenty of options when it comes to where to eat and drink, in terms of both atmosphere as well as the drinks and cuisines that are on offer.
You may even prefer to spend the odd night in your room. In this case, the fully stocked mini bar and iPod docking station will allow you to create your own ambience, as you take in the stunning views of Isla Mujeres and the Caribbean Sea.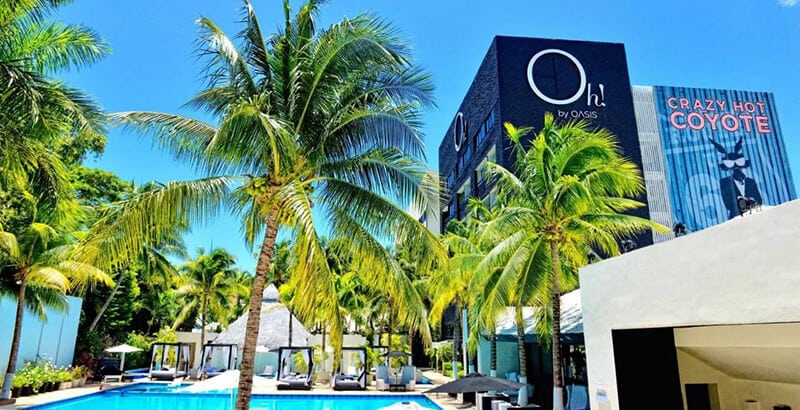 Located in downtown Cancun, Oh! Cancun – The Urban Oasis is a destination perfectly designed to allow guests to unwind and enjoy some quality down time, while recovering from wild nights at the city's clubs and bars, which it provides easy access to.
Featuring a beautiful pool and sun terrace, surrounded by loungers and cabanas, you can spend your days relaxing in the sun and swimming in the refreshing water. Alternatively, its prime spot in the heart of the city means you can just as easily spend your days exploring the range of nearby shops and tourist attractions on offer in Cancun.
For those who want to explore further afield, the hotel has a 24-hour reception desk that will be able to arrange taxi's and rental cars for you. If you opt for the latter, all guests are also entitled to free parking in the grounds.
Featuring a fabulous bar and restaurant on site, all of your food and drink requirements will be taken care of for the duration of your stay, without ever having to venture too far away. On the off chance there is something you fancy that the hotel doesn't have available, the incredible range of bars and restaurants in the surrounding area are sure to have you covered.
The rooms themselves are simple yet stylish, offering comfortable furnishings, free toiletries, flat screen tv's and gorgeous views of the pool or city. No matter how late (or early) you get back from a night out, you're sure to enjoy a well-earned bit of rest and recuperation here.
Aloft are a chain known for their convenient locations and for offering quality accommodation at a price much lower than you would usually expect based on the quality. In regard to both of those aspects, the Aloft Cancun is no different than its reputation suggests.
Located at the heart of the hotel zone, the colourful, modern décor, creates an atmosphere ideal for kicking back and relaxing. This is exemplified by the stylish, air-conditioned rooms, all of which feature a mini bar and safe.
The Nook restaurant on site offers guests the chance to enjoy international cuisine throughout the day, from breakfast to dinner, while a lobby bar is also available for those who would rather just have a drink or a light snack.
On the days when you aren't too partied out from the night before to do anything, there are also plenty of amenities at the hotel to keep you occupied. An outdoor swimming pool, fitness centre, steam room and rooftop garden are all available for you to spend your time however you choose.
It is also located just 350 yards from 2 stunning beaches, as well as being surrounded by some of the best, most famous, bars, clubs and attractions Cancun has to offer. This means no matter how you plan to spend your days or nights; you will be well positioned to achieve your goals if you stay here.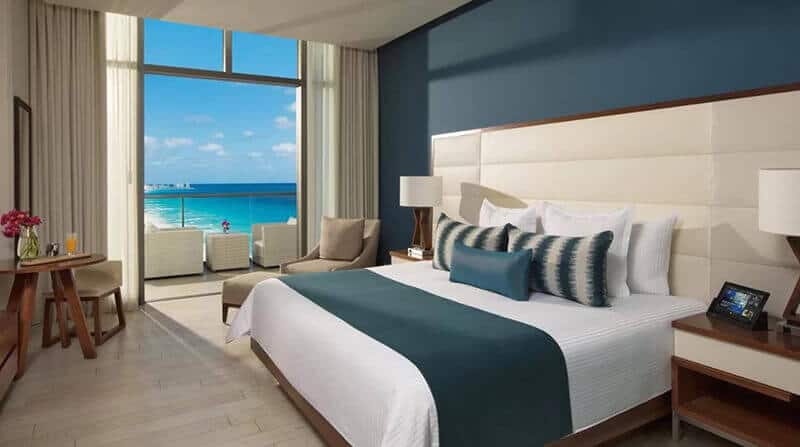 Located in the southern section of the hotel zone, Secrets The Vine Cancun is a stunning, modern looking hotel. Situated right on the waterfront, it towers over its surroundings, offering guests stunning views out across the ocean from its upper floors.
A destination for the modern age, the hotel comes kitted out with technology, such as flat screen TV's and an interactive tablet in each room. Using these devices and the hotels free Wi-Fi, you will also have access to The Vine's very own app, which allows guests to send messages and make free phone and video calls anywhere in the world.
The amenities at the hotel are also world class and feature a variety of options for guests of all different tastes and interests.
The 6 restaurants and bars offer a wide range of drinks and cuisines from around the world, ensuring there is always something to match your tastebuds. The sauna, steam room, sun deck, hair salon, hydrotherapy centre and range of available beauty treatments are ideal for anyone wanting to relax and pamper themselves on their trip. Meanwhile, the 3 outdoor swimming pools and fully kitted out gym will provide options for those looking for something a little faster paced during the day.
While not necessarily in the best location in relation to the clubs and bars, it is perfect for those who like to keep their wild nights and relaxing days completely separate. On the other hand, its location is perfect for those interested in some of the other activities on offer in the area. These include cycling, golfing, scuba diving and deep-sea fishing, among other things.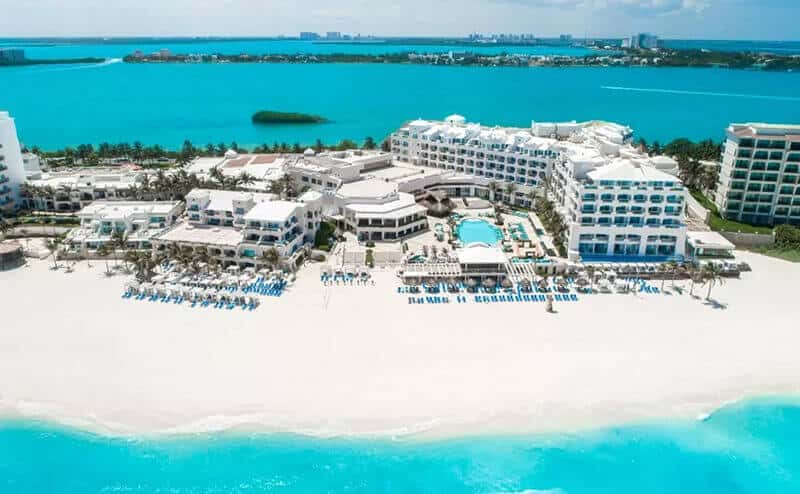 Located halfway between the centre of the hotel zone and La Isla, the Panama Jack Resorts Cancun is a stunning complex, featuring beautiful beaches and crystal-clear waters on either side. With all of their rooms featuring a terrace or balcony, as well as a fully stocked mini bar, you could easily spend your entire stay in your room, relaxing and taking in the stunning views.
That isn't really the reason people stay at Panama Jack though, in fact quite the opposite. The reason many stay here, is the impressive number of activities on offer each day. With options like mini golf, scuba diving, snorkelling, an on-site water park and even guided bicycle tours, you are sure to have days that are just as wild and exhilarating as your nights tearing up the clubs and bars.
There are plenty of options for those days when you do need a little quiet time to relax and recover too though. On top of the luxurious rooms, the hotel boasts 2 swimming pools, 5 bars and restaurants, a number of boutiques and live entertainment running day and night. This makes it ideal no matter how you're feeling or what you want to get up to during your stay.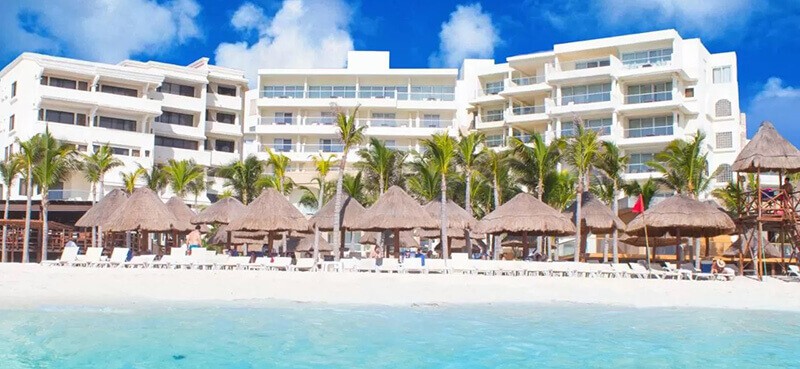 Located right where La Isla meets the main stretch of the hotel zone, the Hotel NYX Cancun is a hotel that likes to give its visitors options. With 2 pools, one regular and one an infinity pool; 2 bars, one in the lobby and one at the pool; as well as 2 restaurants, an Italian and one featuring international cuisine, you will always have a choice of where to go and what to do or eat during your stay.
Its rooms offer a modern, minimalist style, with all the essentials you could need, plus a few extras, as well as a range of supremely comfortable furnishings. Depending on your rooms' location in the hotel, you will have a view of either the Caribbean Sea or the Nichupte Lagoon, either of which is a perfect backdrop for those lazy days you want to spend unwinding.
On the days you don't want to take it easy though, there is plenty surrounding the hotel to keep you entertained. The beaches offer a variety of water sports and there are even scuba diving expeditions to the 2 coral reefs just off shore. Meanwhile, on land, some of the area's legendary Mayan ruins are located just a short distance away.
This means whether you want to relax or go full throttle throughout your trip, there will always be an option to accommodate you.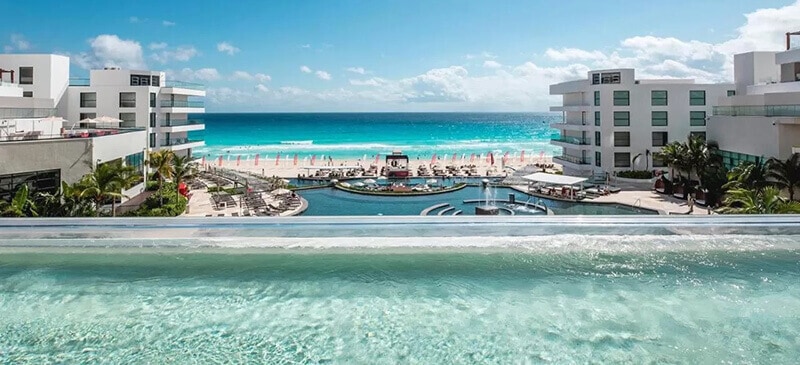 Separated from our previous destination by a single hotel, the Amar House offers an incredibly similar range of views and off-site attractions as its neighbour. That said, within the grounds of this beautiful, Marriott operated hotel, you'll also find a range of things to enjoy throughout your stay.
There is a choice of 3 pools for you to spend your days at, swimming and sunbathing to your hearts content. There is a hot tub and spa centre for you to unwind in, while recovering from your wild nights on the town. For your more energetic days, there is even a fitness centre and billiards table, to get your blood pumping and satisfy any competitive urges you may have.
In terms of dining, there is a restaurant and bar, serving food and drink from the buffet breakfast in the morning, through to dinner with the evening entertainment.
As an all-inclusive resort, everything you eat and drink is included. You are even free to enjoy it in your beautiful room, thanks to the room service provided at the hotel. This means you can waste less time and energy searching for what to eat and where to get it from, so you can save it for when you get to whatever bar, club or party you plan on attending that night.
For our final two destinations, we are going to look at a couple of options that aren't technically located in Cancun itself.
The Desire Riviera Maya Pearl Resort is, as the name suggests, located just to the south of Cancun, in the Riviera Maya region of Mexico. Just 20 minutes outside of town, it offers guests a chance to stay in a calmer, more exclusive location, while being easily able to get back into the thick of things at a moments' notice.
Designed in the style of a traditional villa, it offers stunning guest rooms, suites and penthouses, all with either a balcony or terrace. The hotel's "adult only" policy is strictly enforced, as it is also a "clothing optional" establishment. This offers guests the chance to indulge in a range of adult themed activities, free and as nature intended.
With oceanfront pools, beach beds, 3 bars, 3 restaurants, a night club and a spa, you can ensure that even though you are removed from the city, your days will be just as wild as your nights here, if not perhaps even more so.
Many aspects of our next destination are akin to that of its similarly named counterpart above, just with a few differences; one of which being the location, with this one being slightly closer to Cancun.
One of the major differences' worth mentioning is that this is a "couples only" resort, meaning you can feel safe from the leering eyes that sometimes are found at nudist resorts.
The other noticeable difference is the number of activities on offer here. Volleyball, water polo, kayaking, scuba diving tours and yoga classes are all available daily. Meanwhile, of an evening, you can enjoy the themed parties that are held each night or dine in one of the 4 on-site restaurants. The latter is something particularly worth noting, as this is an all-inclusive resort, so all drinks and food are included and available around the clock.
It is worth mentioning though, that while everyone can enjoy the nude beach, there is an additional fee for anyone who wants to visit the pool.
Conclusion
So, there we have it, our list of the best hotels in Cancun for partying. Hopefully, you'll now be much clearer on which hotel offers everything you want, to make sure your trip is a success. Now, all that's left to do is go and get it booked, so you can get the party underway as quickly as possible.
---
---